Name a brand that is both cuddled and cussed. It is a makeup label that has amassed many followers to fan its popularity. As you may have guessed, I'm talking about Maelys Cosmetics. But why does it have differing views all over the internet? The brand claims to have a clean chit for all its products. Then why do some customers disagree with it? To know the reality, we must get through our Maelys Cosmetics Reviews.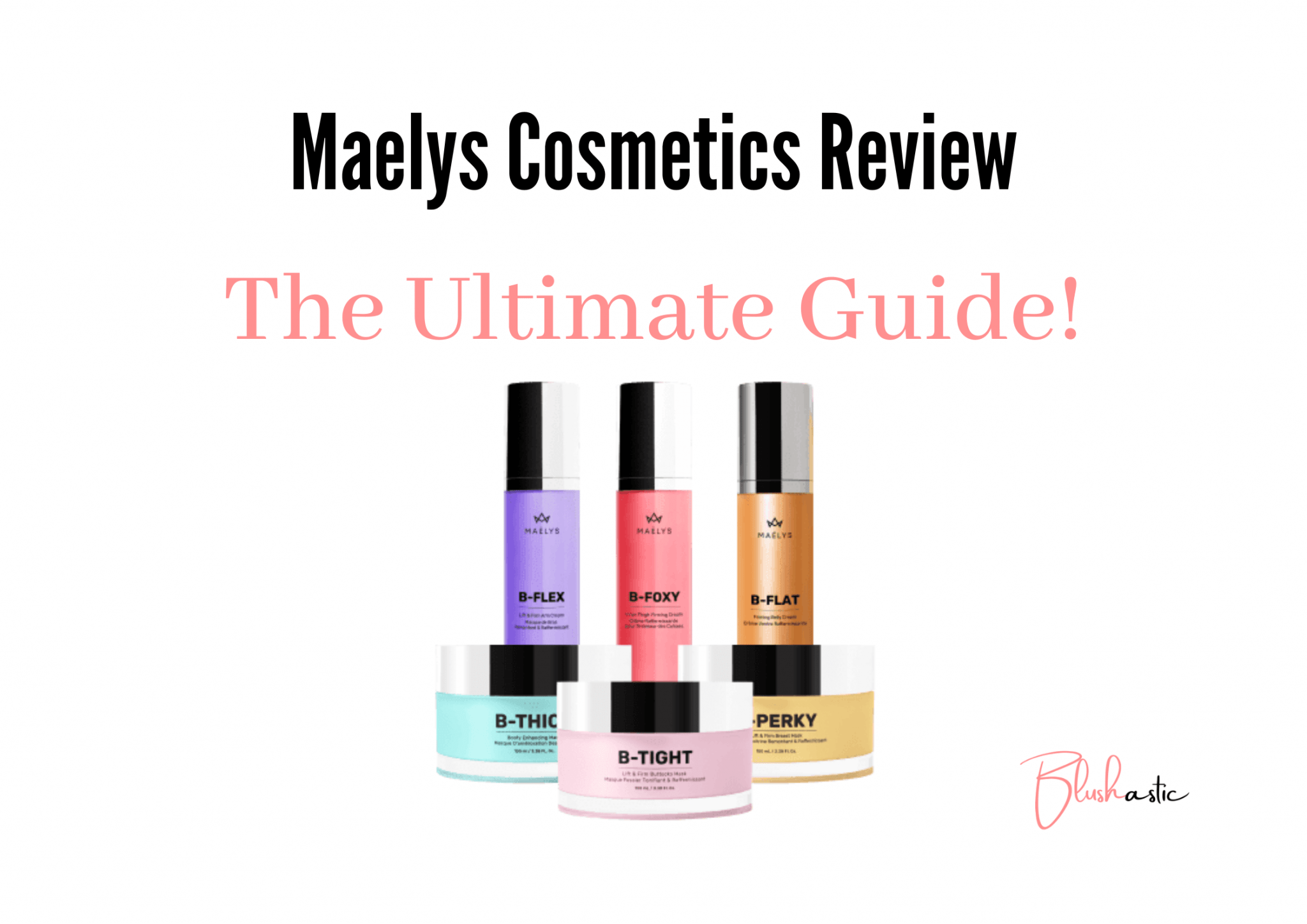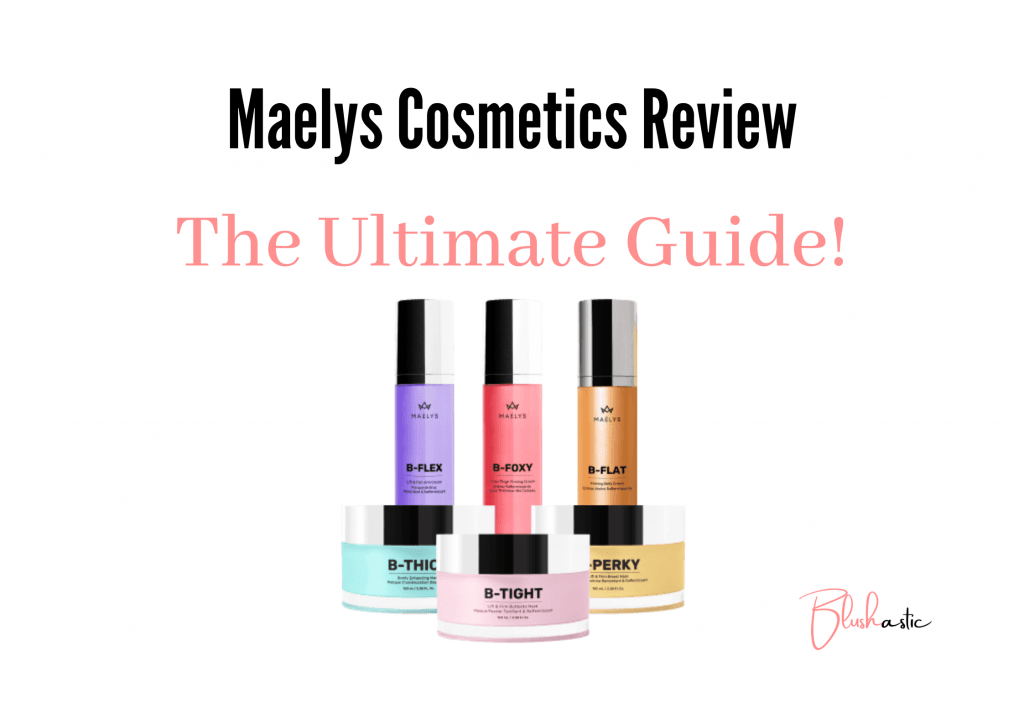 It is not rare when some of us fall for the marketing trap that the brands throw. So to know their credibility, an honest review is highly anticipated. And that's why this article is critical to know whether Maelys is good for you.
Maelys Cosmetics Reviews | Fad Or Worth The Hype?
You want to take advantage of a comprehensive report of this brand and its product. Especially a brand that claims to be clean and transparent in its formulations. This review aims to present the complete picture of Maelys products. You get to see their full review discussing their details, ingredients, pros and cons, etc. So without any further ado, let's get straight into it!
About The Brand
Maelys Cosmetics is a cosmetics brand that is cruelty-free and based in the USA. This company bears different body shaper treatments under its name. All its products are free of parabens, SLS, and Phthalates. They are PETA-certified and safe to use on the skin and body. The brand has clinically tested all the products in-house among a panel of real women to support its claim of successful results. They offer a 60-day money-back guarantee if any products fail to meet your expectations. But their products are not fragrance-free.
Maelys Cosmetics vouches for a 24-hour patch test before you begin any of their product's use. The brand offers individual products as well as bundles & kits. Each group of products has its tag named "Icons," Queen B's, and others. You may check out the discounts it gives on them. I am about to review all its products aptly below, so have a good time reading them!
B-Glowy
B-Glowy is a body serum that helps reduce dark spots and skin discoloration anywhere on the body. This product must be under your scanner if you are dealing with hyperpigmentation and uneven skin tone.
This 100 ml bottle has a pump in its mouth to help you with the on-spot application. When I bought this product at my friend's suggestion, I barely believed it was potent. I wanted to give it a try for my dark and highly-pigmented armpits. The fruity smell of this oily serum impressed me on its first go.
I noticed that my armpits lightened slightly in 3 weeks of regular use. Though I could not see any glow or radiance that this product claims, my skin complexion was somewhat brighter than before. So if you want to check it out yourself, I'd give you a thumbs up. Also, see the other details given below.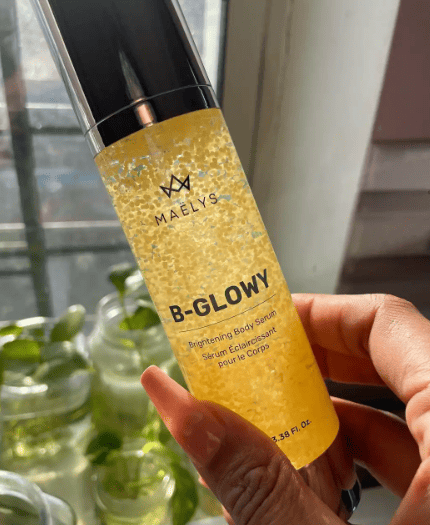 How to Use It?
Apply a thin layer of this serum directly on your dark spots (on the chest, armpits, elbows, hands, or any other body part).
Massage in the area, making circular motions until it's soaked completely.
Use it daily, twice a day, to get the best results.
Key Ingredients
The vital ingredient Acetyl Tetrapeptide-2 is a skin conditioner. Compensating for hormonal loss in the skin, it helps to fade the appearance of hyperpigmentation. The anti-inflammatory Niacinamide locks in the moisture and brightens the complexion. It is a known ingredient often used in anti-wrinkle products. Meadowfoam Oil is high in antioxidants, vitamins C and E. It thus softens the skin to protect it against environmental aggressors.
Pros
Suitable for all skin types.
It is cruelty-free and easy to use.
B-Glowy serum helps you to achieve even, toned, and radiant skin.
Sale
MAËLYS B-GLOWY Brightening Body Serum
Help even the complexion of the skin for a more radiant look.
Proven to decrease the appearance of spots on the skin.
Promote a more even-looking skin tone.
Made with zero parabens, phthalate and SLS.
Safe for all skin types.
Cons
This product contains fragrance.
It may not go well on some sensitive skin
Sodium Hydroxide in this product may cause severe irritation on the skin.
B-Flat
If you are tired of your lumpy belly and want a tightening solution to your stretch marks, then B-Flat may amuse you with what it offers. As the name suggests, the prime focus of this cream is to fade the stretch marks masking the flat edge of your tummy. Though I do not have first-hand experience with this product, I'd still recommend this as I saw with my bare eyes what it did to my best friend's belly. She wanted to diminish her post-pregnancy stretch marks, and it worked! What's even more interesting is that she started seeing results within a month.
The fruity fragrance and a warming sensation post-application bugged her a bit, but she wasn't bothered much. She is planning to continue this product, and if you wish you start your journey with it too, take her example as a sign to go ahead with its purchase.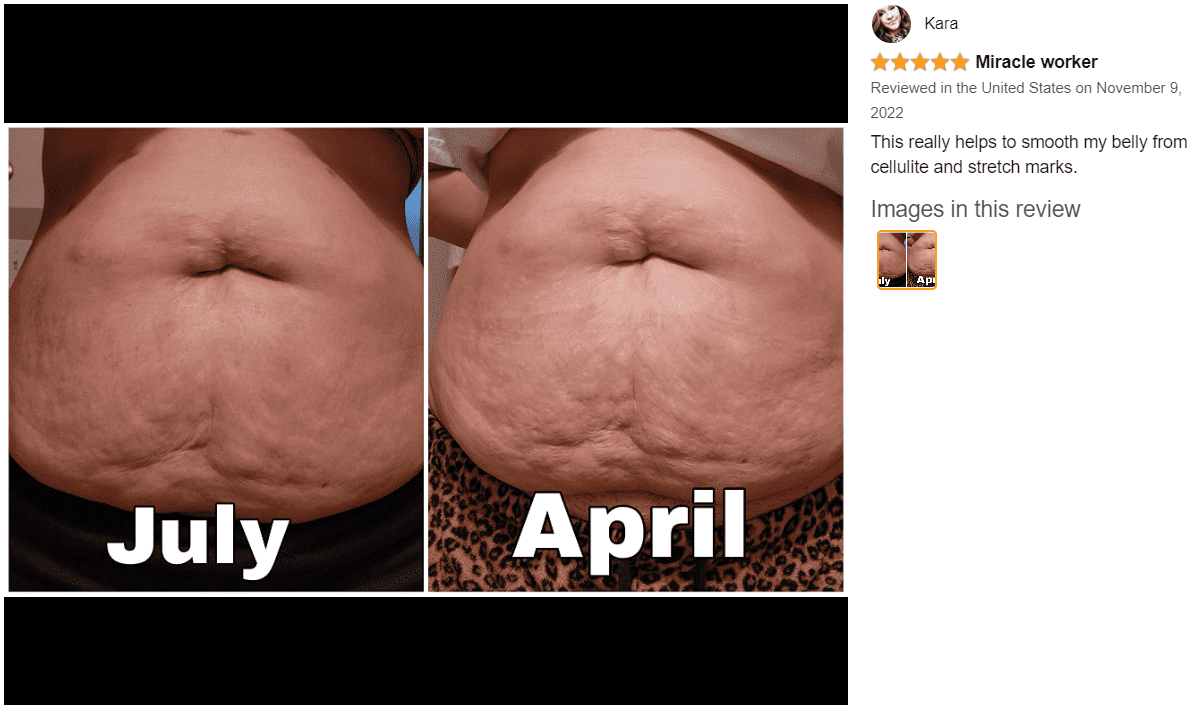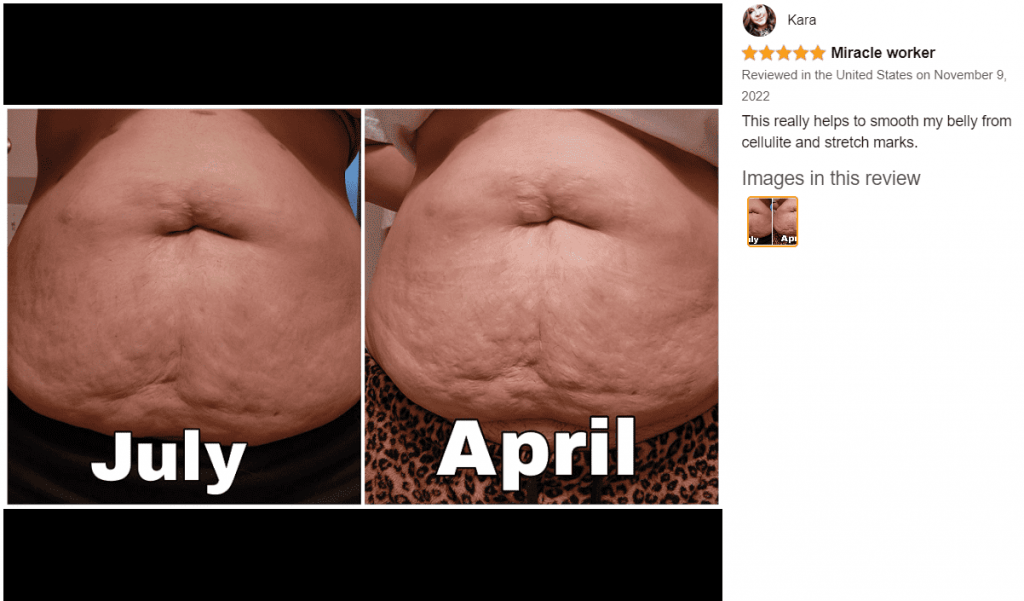 Key Ingredients
The key ingredients used in the product are Avocado Extract, Shea butter, and Pink PepperSlim. While Avocado extract and Shea Butter diminish the stretch marks by moisturizing the skin to give it a supple-looking finish, Pink PepperSlim (known for its burning sensation), with its lipolytic action, reduces the protection of fat reserves. This slimming agent is mainly used in skin care products for toning women's waist, hips, and thighs.
Pros
Smoothen the look of fatty skin.
Free of parabens, SLS, and Phthalates.
It diminishes the look of stretch marks on the belly.
Sale
MAËLYS Cosmetics B-FLAT Belly Firming Cream
Reduce the Look of StretchMarks - Get a smoother-looking belly with our B-Flat Belly Firming Cream! B-Flat has helped many women get their confidence back by reducing the look of belly roughness and stretchmarks.
Enjoy Visible Results - This Belly Firming Cream includes shea butter and avocado extract to reduce the look of stretchmarks and helps to keep the skin feeling supple. Apply daily in circular motions for maximum benefits.
Smooth the Look of Fatty Skin - B-Flat also has pink pepperslim to help reduce the appearance of fatty skin on the belly. This ingredient may cause a warming sensation on your skin, which lets you know that it is working.
Our products are made in the USA, paraben-free, SLS-free and cruelty-free.
We're Only Happy When You Are - Your satisfaction is our top priority here at MAËLYS Cosmetics. If, within 60 days, you are not satisfied with our product, let us know right away so we can make things right.
Cons
It may not be suitable for all skin types.
B-Flat leaves a burning sensation on your belly.
Some sensitive-skinned folks may find Sodium Hydroxide used in it as an irritant.
B-Tight
Say bye to your bumpy bum with this booty mask. B-Tight is a cream that treats cellulite on your booty and thighs. It works to deliver a lifted and plumped booty for an even-toned appearance. This smooth textured cream has a firm consistency and a warming sensation in its application.
So, my sister sent me a bundle of this cream that comes in a set of 3 on my birthday. Honestly, I thought it to be like any other bogus cream initially. Surprisingly, it turned out to be a great one!
My first experience was not good, though, as it felt like someone had put a bunch of burning coal over my hips. The burning sensation stayed for 4 hours or so. But it is effective. The wavy lines that inflicted my bum got slightly firm, and I saw my bumpy patches turn into a more even surface. I saw results in the 6th week, so you may need to be tranquil with the process. What is the proper method to use it? Check it out below.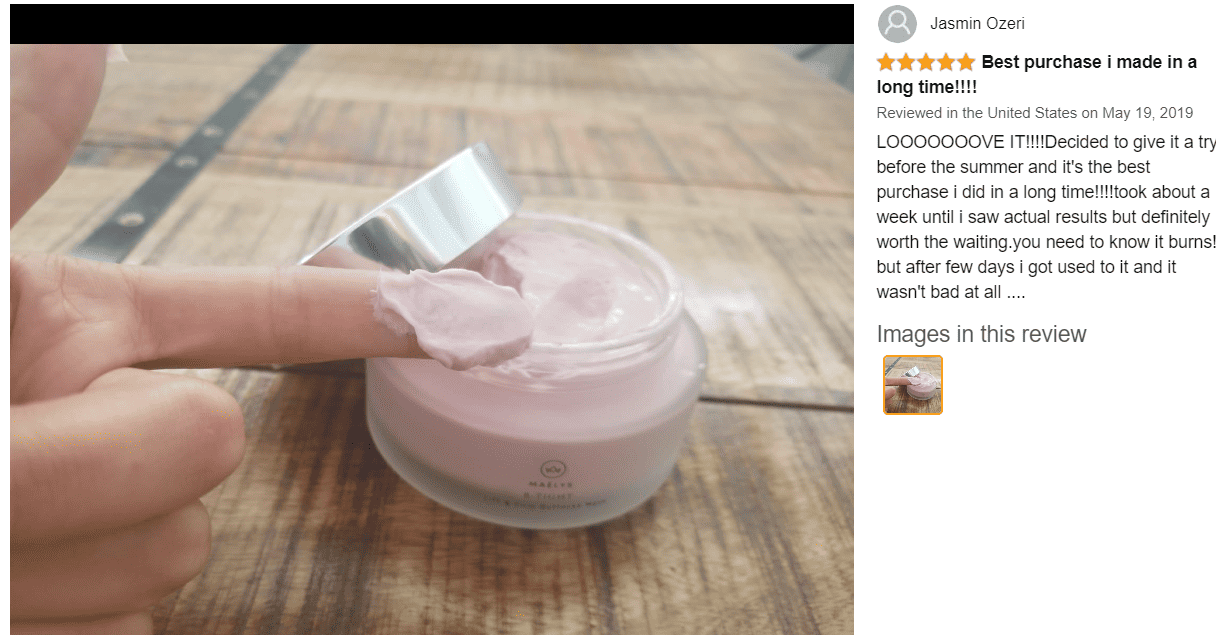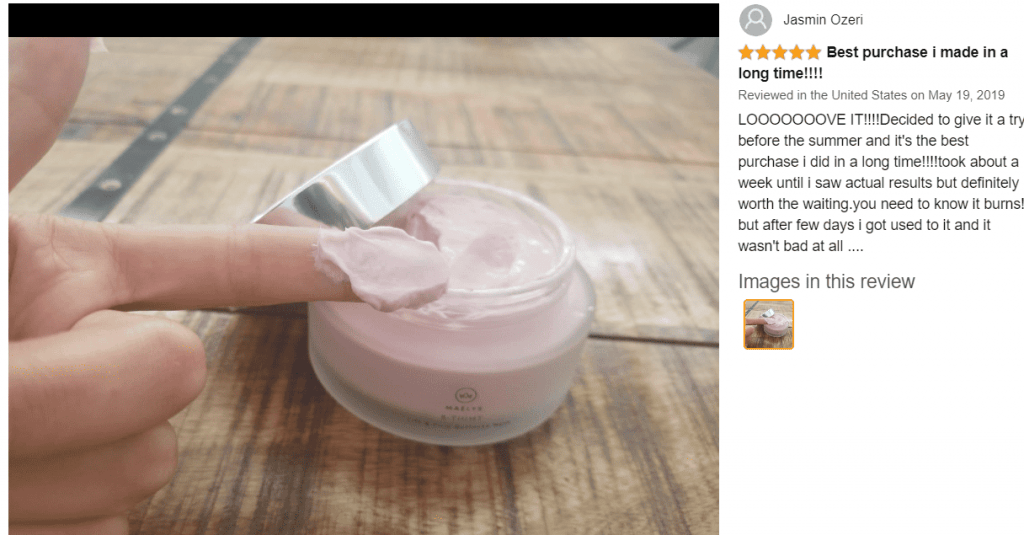 How To Use?
Take some cream on your fingertips. Apply it all over your booty and thighs affected by cellulite.
Massage gently on it in circular motions and wait a few seconds for it to be absorbed.
Wait for at least 20 minutes after a shower to apply it.
Use it daily twice a day to see the best results.
Note that a burning sensation may follow after applying B-tight, which is normal. Use it twice a day for the first month, after which use it once or twice a week.
Key Ingredients
The key ingredients are vital in aiding the product to deliver its functions. Pink Pepper Slim in B-Tight stimulates microcirculation and helps to reduce waist circumference and smoothen the look of fatty skin.
Hyaluronic Acid is a well-known ingredient that keeps the skin intensely moisturized, giving it the edge of a plump look. Even if you look into professional cellulite treatments, hyaluronic acid (HA) dermal fillers are widely preferred. Guarana Seed Extract energizes and refreshes tired skin. It mainly protects the skin from lipogenesis, i.e., renewed fat accumulation in cells.
Pros
B-Tight lessens the signs of cellulite.
It even tones the look of your booty.
Suitable on all body and skin types.
Cons
It is a bit pricey!
There is no applicator available along with the product.
The fragrance of this product may bug a few people.
Has a burning sensation post-application that lasts long.
B-Thicc
Maelys B-Thicc cream is a booty enhancer. If you seek a plumper-looking and voluptuous booty, then B-Thicc may be on your call. Not only does it tighten your saggy bum, but it also makes it appear firm and thick. The results show that the bum looks more voluminous and toned than before.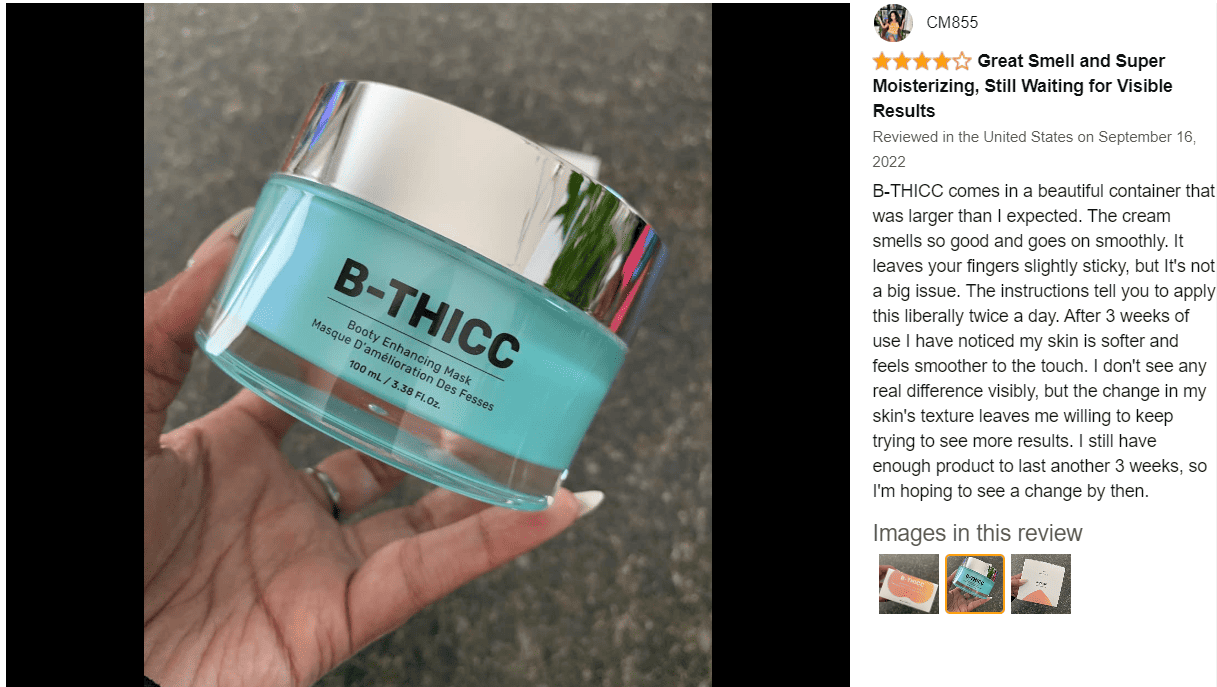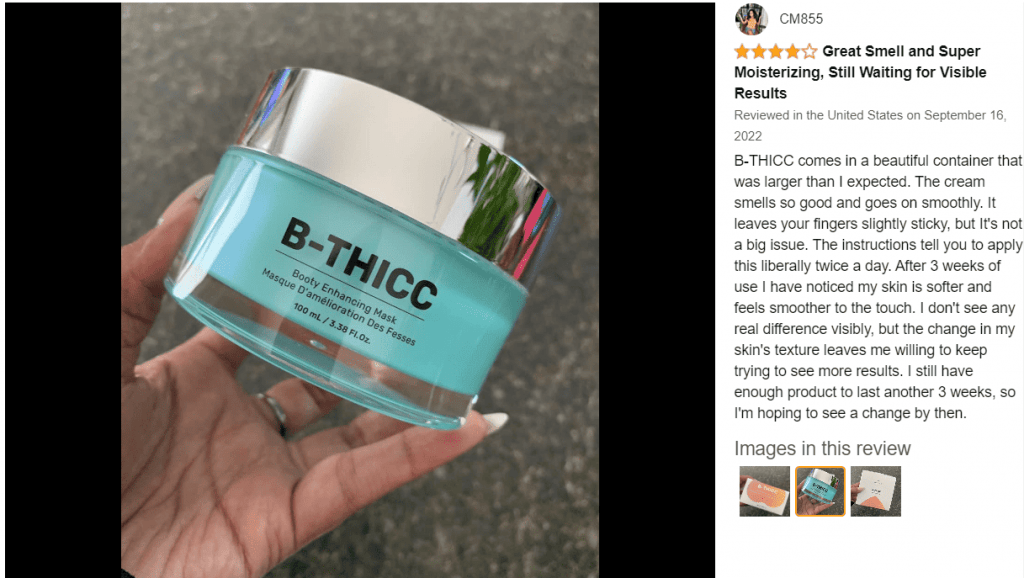 How To Use?
Start by generously applying this cream all over the booty area.
Massage into the skin in circular motions until fully absorbed.
Use it twice a day for best results.
Key Ingredients
This product mixes Mangosteen, Algae, and Quince, forming a perfect bust formula to help your skin appear visually full and plump. The Patented Glucose Complex decreases potential water loss, thus promoting a smoother and tighter complexion. Grape Seed Oil nourishes the skin well to bring out the supple look of the skin.
Pros
It makes the booty look soft, thick, and firm.
It is clinically proven to show well-shaped booty.
Sale
MAËLYS B-THICC
Tight & Firm - B-THICC Bum Mask visibly tightens skin and increases skin elasticity for firmer skin.
Smooth Skin - It's clinically proven to significantly smoothen the appearance of skin in the bum area. This serves as a cellulite cream that tackles rough skin texture.
Lifted for a Plumper Look - This plumping cream helps add volume to your skin for a more voluptuous-looking bum.
Restores Fullness & Skin Elasticity - As you age, your skin slowly loses elasticity. With our bum cellulite cream, you can now visibly reduce the appearance of cellulite.
Proven Effective & Safe - A 56-day clinical study with 32 participants found that B-THICC was clinically proven to help smooth, and tighten skin for a sleeker, lifted bum.
Cons
It is not free of fragrance.
It has synthetic blue dye used in it.
Some ingredients may not be suitable for sensitive skin types.
B-Foxy
Our inner thigh is one of the most ignored parts. It sags as the skin there is generally loose. B Foxy cream firms the inner thighs and brings them to a proper, well-toned shape. Your thighs may get a smoother silhouette when the effects of this cream contour them. Plus, the roughness of the skin takes a back seat when the skin texture is improved.
After B-Flat worked on my best friend's tummy, she got this product for her mum. Her mum uses it daily without fail. When I asked her about the results after 2 months, she said it didn't work as well as expected, but she noticed a modest firmness than before. She's continuing its use but is expecting little from it.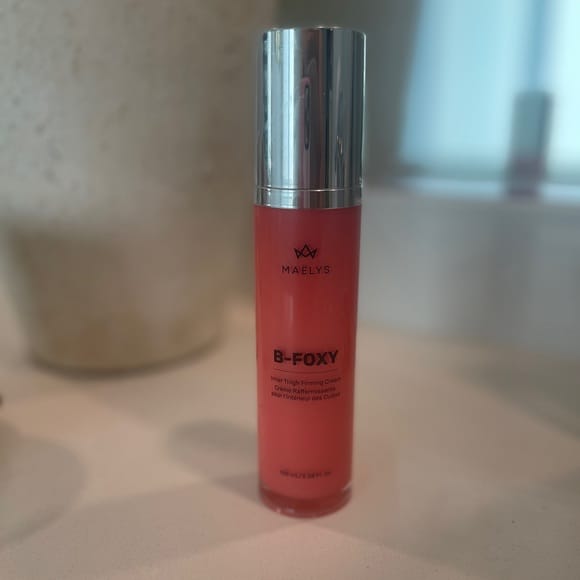 How To Use?
Apply a thin layer evenly to the loose skin in your inner thigh area.
Rub it lightly to let it set. The cream dries into a soft powdery finish.
Use it twice a day for best results.
Key Ingredients
It contains microalgae that target the look of fatty skin. Tapioca Starch absorbs the extra moisture in the chafing zone, and Coconut Oil moisturizes to smoothen the appearance of the skin.
Pros
Cruelty-free and safe on all skin types.
B-Foxy lifts the look of the saggy inner thighs.
Clinically proven to show results of a smoother skin texture on the thighs.
Sale
MAËLYS B-FOXY Inner Thigh Firming Cream
Get Tighter-Looking Thighs - Show off an all-around smoother-looking silhouette with B-Foxy! Our clinically proven reshaping cream helps to firm the appearance of thighs and contour the look of saggy skin.
Be Irresistibly Touchable - B-Foxy has microalgae, which has been shown to target the look of fatty skin and cellulite. It also has tapioca starch, which helps absorb the extra moisture in the chafing zone.
Smoother-Looking Skin - B-Foxy also has coconut oil to help fade the appearance of stretch marks. For best results, use B-Foxy with Maelys B-Tight Lift & Firm Booty Mask and B-Flat Belly Firming Cream.
Cruelty-Free, Zero Harmful Ingredients - Our products are made in the USA, paraben-free, SLS-free, and cruelty-free.
We're Only Happy When You Are - Your satisfaction is our top priority here at Maëlys. If, within 60 days, you are not satisfied with our product, let us know right away so we can make things right.
Cons
B=Foxy contains fragrance.
It may not show results on some skin.
B-Flex
Like B-Foxy targets the inner thighs, B-Flex is designed especially for the arms. They have similar functions. However, in the case of B-Flex, it targets saggy and loose underarm skin giving you firmer-looking arms. To put it flatly, the loose flap of your arm gets a toned life. It regains the shape of a tighter and sleeker-looking arm.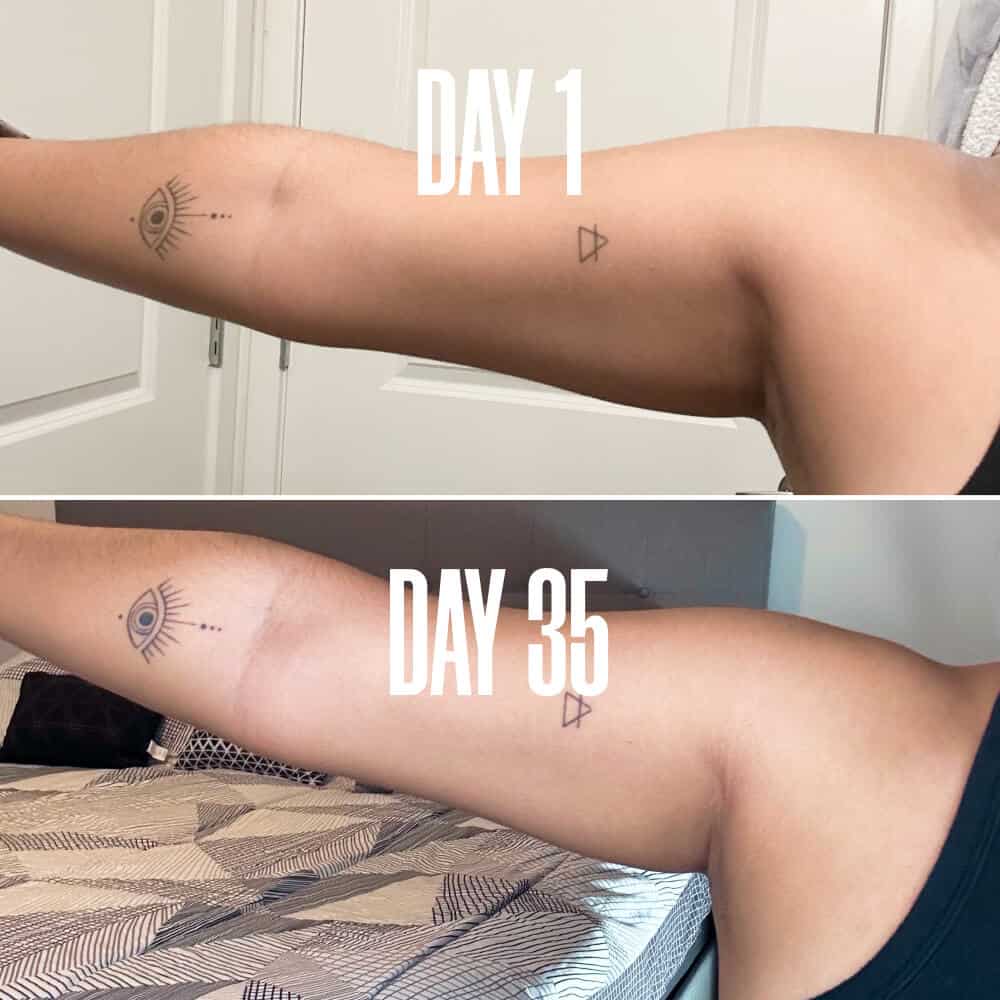 How To Use?
Apply a layer generously on the loose skin of your underarms.
Massage into the skin in circular motions.
It is normal if you feel a warming sensation. Wait for at least 20 minutes after a shower before applying.
Use twice a day for the best results.
Key Ingredients
Red Algae targets loose skin and makes smooth and tight skin appear. Kangaroo Paw Flower Extract, a clinically proven botanical extract, also helps tighten the saggy underarms look. Pink PepperSlim smoothens the look of fatty skin.
Pros
B-Flex reduces the appearance of crepey skin.
It tightens up the loose skin of the underarms.
This product (like all the Maelys products) is safe to be used during pregnancy or breastfeeding.
Cons
This product contains fragrance.
It has a warming sensation that may last long.
FAQs | Maelys Reviews
Does Maelys Cosmetics really work?
Yes! Maelys Cosmetics does work. Many people have reaped benefits from their products targeting various skin conditions. You can rest assured of the quality as they are up to the mark. Bar a few ingredients in their products that may trigger a reaction. Nonetheless, I advise you to go for a patch test before starting its prolonged use.
Where is Maelys Cosmetics located?
Maelys Cosmetics is a USA Inc. located in Wilmington, Delaware, where all its products are manufactured. They offer domestic shipping within the United States and 12 European countries. And for the rest of the countries, such as Australia, Canada, New Zealand, and Singapore, they offer international shipping.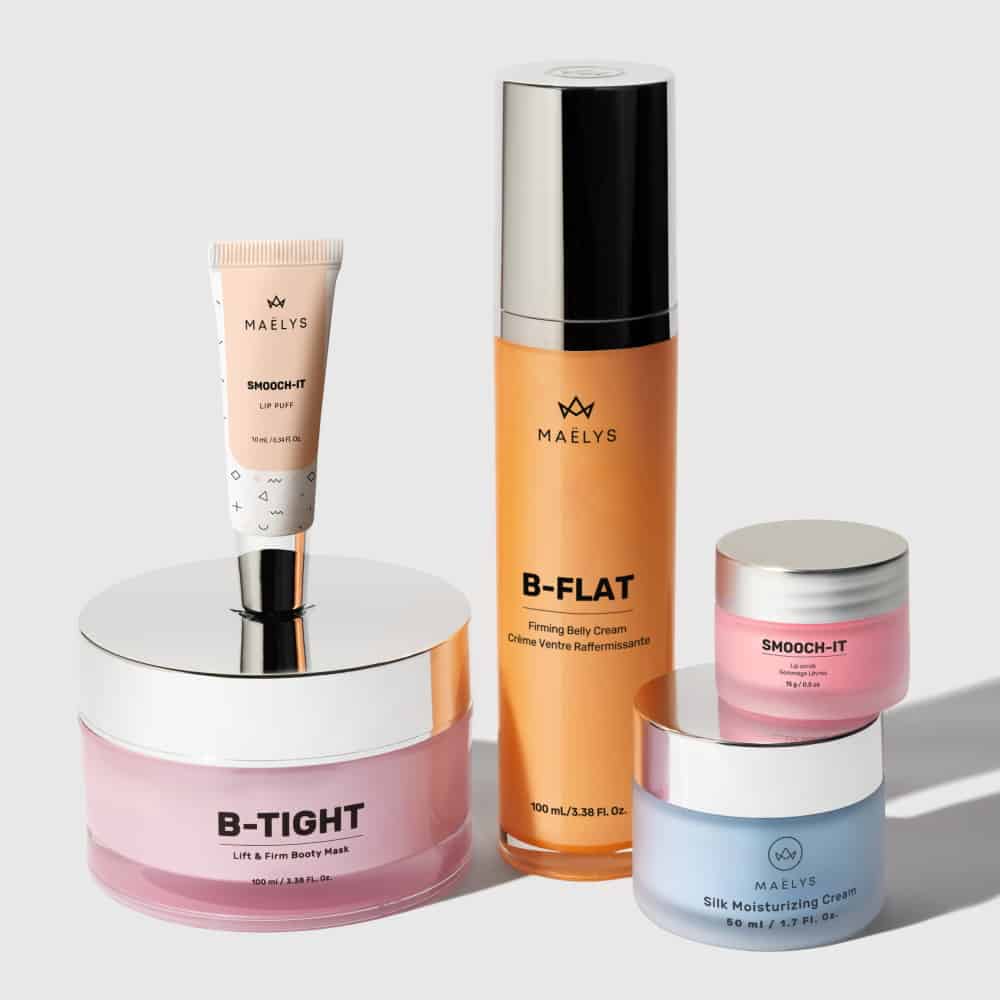 Where to buy Maelys Cosmetics?
You can buy Maelys Cosmetics from their official site. Or you could even get them from different retail sites like Amazon, Walmart, and eBay. Type their name in the search box to land on all Maelys products.
Is Maelys Cosmetics cruelty-free?
Yes, Maelys Cosmetics is a cruelty-free company and is certified by PETA. Their ingredients and products do not undergo testing on animals. And so you can shop for your favorite products and remain guilt-free. That's a plus point, you see!
How long does Maelys take to work?
Depending upon which Maelys product you use, expect to see initial results between 2-4 weeks from the day you start. Here also, the time may vary depending on each body type, and you may need to be patient to see them eventually.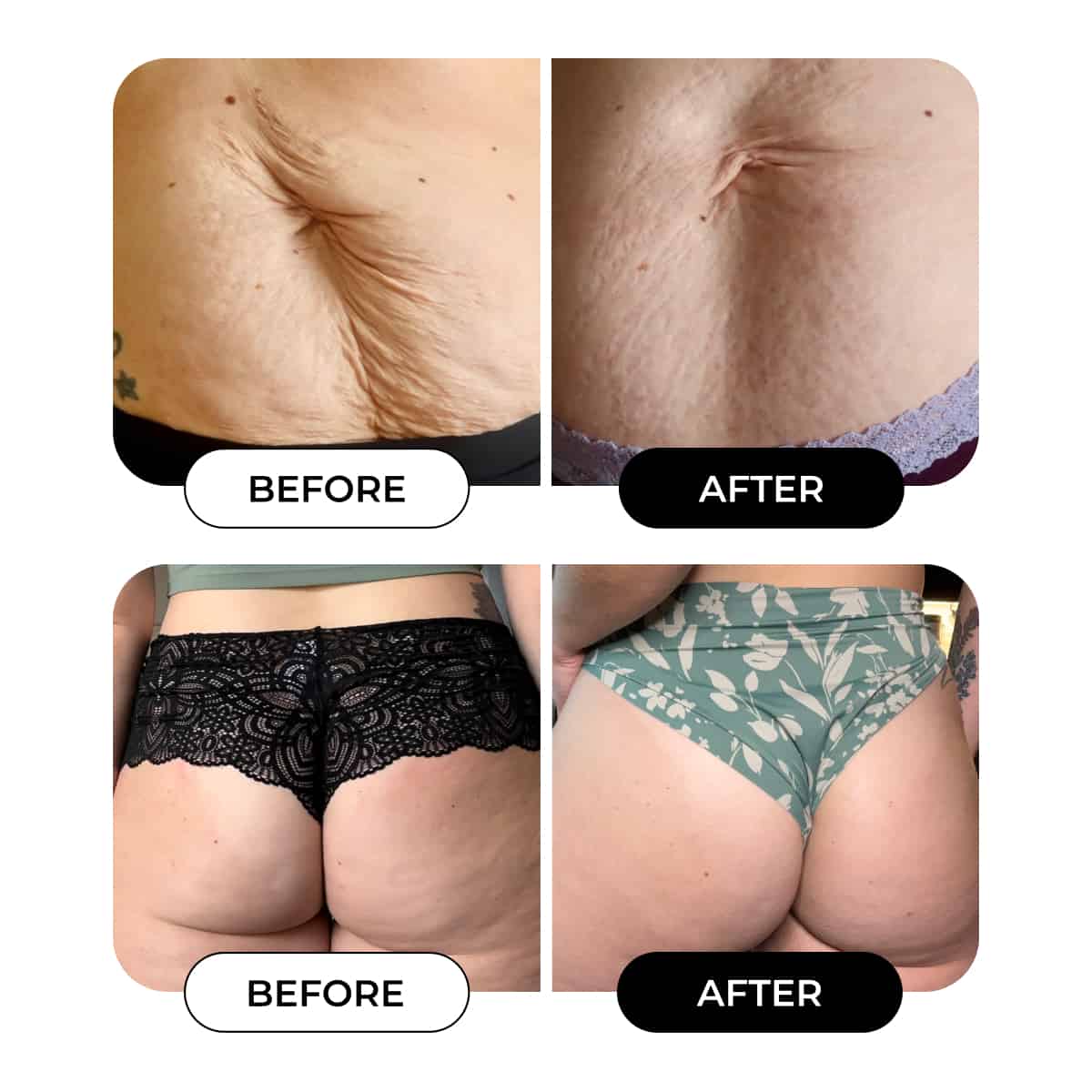 Is Maelys Cosmetics safe?
Maelys Cosmetics is safe for all body and skin types. But some of their ingredients, as pointed out earlier, may be unsuitable for a few of you. I suggest a patch test to check if your skin may react adversely to a new product. Even the brand recommends trying the newly-bought product on the wrist or forearm and leaving it for 24 hours. If any reaction occurs, then you may be allergic to the product. And if not, then go ahead with it.
Do Maelys Cosmetics have any side effects?
Most customers do not find any noticeable side effects, except for some products that burn or irritate the skin. I have not undergone any side effects while using some of its products. Given that we all have unique body types, the outcome of any product may also differ.
Final Thoughts | Maelys Cosmetics Review
So we are finally done with our report based on Maelys Cosmetics reviews. All the products offer an excellent treatment for different skin conditions that your body may face. Just check the product's ingredients once, and you're good to go if you don't have a history of reactions. But to be on the safer side, a patch test is recommended.
Though Maelys is infamous for the burning sensation caused by the use of PepperSlim in some of its products, they may fare as good products overall. But the time taken by initial results to display may vary from person to person due to our distinct body types.
Well then, this is it! Remember how our bodies are unique; we should flaunt them in any condition. There are no scars to your beauty. We're all stars, and we're all beautiful. At least Alessia Cara agrees to this.
Do you still have any doubts? Comment below, and we will respond as soon as possible.
I'm Sarah Abraham, the founder and co-author of Blushastic.com and a professional makeup artist. Beauty is more than just skin deep, and that's why I'm passionate about sharing my knowledge and experience to help people feel confident and beautiful on the inside and out.
Whether it's skincare, haircare, or fashion, my goal is to empower women to feel their best. With my expertise in the beauty industry, I strive to provide practical advice and tips that are accessible to everyone, regardless of their skill level or budget.