Remember when you finally mustered the courage to step inside the gym and begin your fitness journey? We are confident that your determination and hard work are working like a charm to make your body look better than ever. But did you ever anticipate that fat loss could lead to sagging commonly on the upper arms, belly, and inner thighs? It is not a severe problem that demands your attention. However, we are aware that it can be frustrating and have an impact on one's self-esteem.
In this article, we'll look at a specific product called B-Foxy Inner Thigh Firming Cream, which claims to contour the appearance of sagging in your inner thighs, giving you an overall smoother silhouette. Let's decode the potency of this cream to see if it's worth a shot. We'll also share some B-Foxy Inner Thigh Firming Cream reviews to see if customers have benefited from it.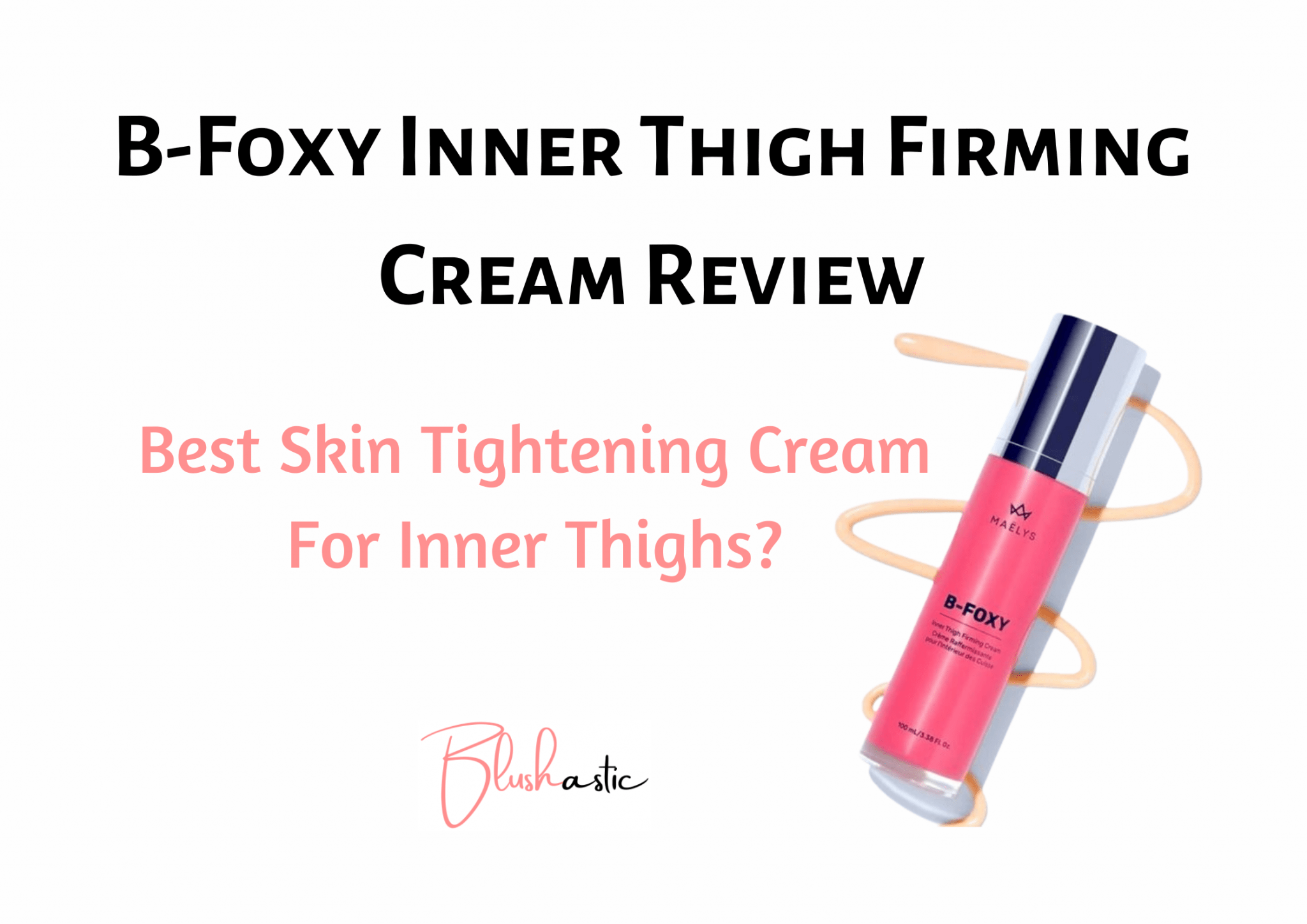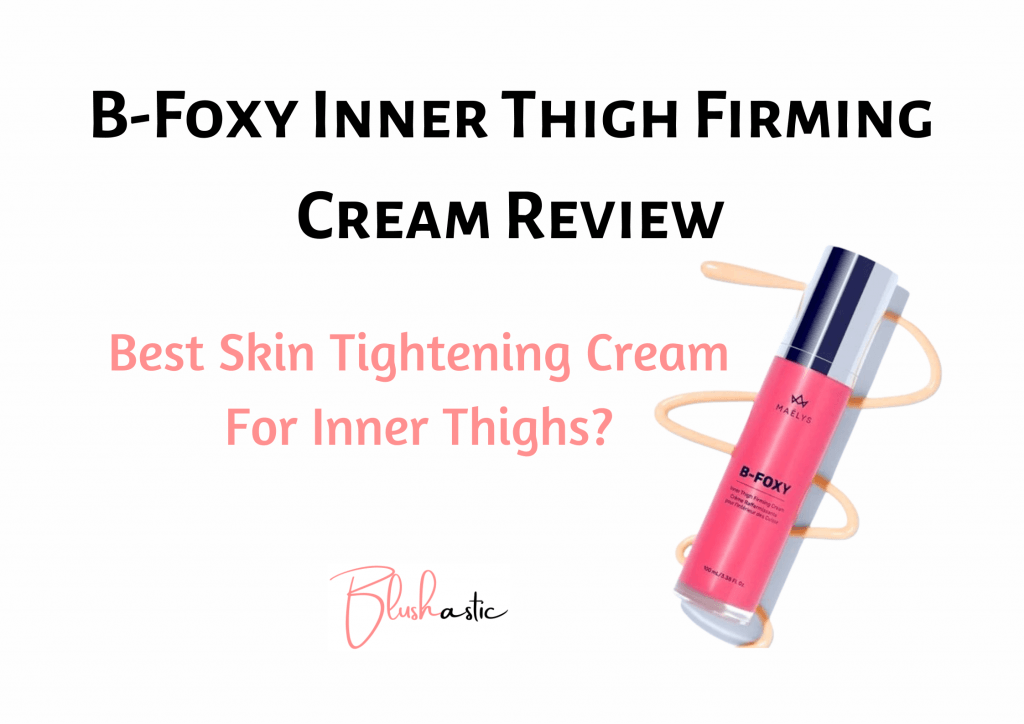 Skin sagging is a common phenomenon caused by various factors such as aging, rapid or significant weight loss, genetics, sun exposure, deterioration of collagen and elastin, and more. Several medical procedures and supplements can effectively target, reduce, and prevent sagging. Nonetheless, for those seeking non-invasive and low-cost solutions, topical gels, creams, and lotions containing potent ingredients proven to inhibit sagging can be highly beneficial.
They are safe, easily accessible, and less expensive than medical procedures. The B-Foxy Inner Thigh Firming Cream claims to be effective in achieving smooth and firm inner thighs. Let's find out if its formulation is powerful enough to deliver on its promises.
B-Foxy Inner Thigh Firming Cream Reviews | Best Skin Tightening Cream For Inner Thighs?
Mainstream skincare primarily addresses various facial skin concerns, leaving the skin on our bodies unaddressed. Maelys Cosmetics stepped in after noticing that our bodies were not getting the attention they deserved. They create result-driven products that will give you the confidence to proudly own and flaunt your body. They carefully formulate their products and clinically test them on a diverse group of women of varying shapes, skin types, and tones.
Maelys Cosmetics offers a diverse range of beauty products, including skin-firming creams, deodorants, scrubs, body butter, body oils, and more. These products are free of harsh chemicals to ensure the highest level of safety and help reveal lifted, firmer, and smoother-looking skin.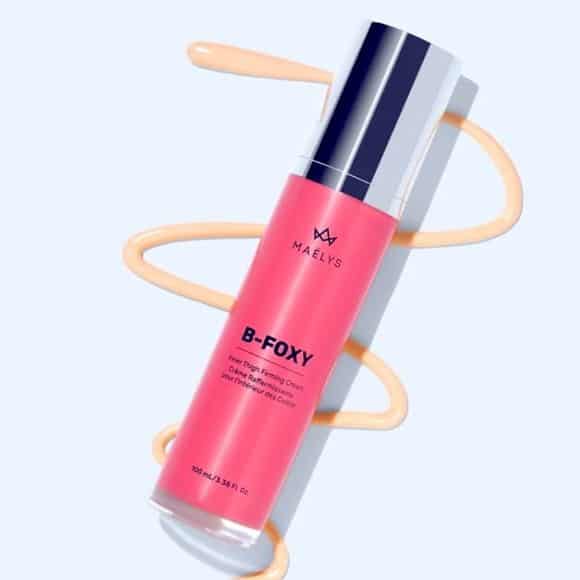 B-Foxy Inner Thigh Firming Cream is a potent blend of ingredients that promises smoother, tighter, and firmer-looking thighs. According to a 56-day clinical trial on 31 participants, B-Foxy helps contour the appearance of saggy thighs, eliminates rough skin texture, restores firmness, fades stretch marks, and adds smoothness to the thighs. It has a silky texture that glides on smoothly and settles to a powdery-matte finish.
It also has a sweet fruity fragrance that instantly lifts your mood and makes the application process more enjoyable. The manufacturer guarantees that this product is suitable for all skin types and is free of parabens, phthalates, and SLS. According to some B-Foxy Firming Cream reviews, it can produce noticeable results in as little as three weeks to a month.
Alternatives You Might Want To Purchase
B-Foxy Ingredients 
Cocos Nucifera (Coconut) Oil
Coconut oil is well-known for its ability to moisturize the skin. It contains medium-chain fatty acids, which reduce dryness and help the skin retain moisture. The moisture boost provided by this oil aids in the reduction of wrinkles and sagging skin. It also has a smoothening effect that helps to reduce rough texture and makes the skin appear more even. Coconut oil has skin-soothing and calming properties as well. It instantly reduces redness and relieves discomfort or redness. It also contains antioxidants, which help your skin fight environmental stressors that accelerate the signs of aging.
Butyrospermum Parkii (Shea) Butter
Shea Butter is a fat extracted from the nuts of West African shea trees. Its high concentration of vitamins and fatty acids makes it an excellent ingredient for smoothing, soothing, and nourishing the skin. Because of its high concentration of fatty acids, such as linoleic, oleic, stearic, and palmitic acids, it is a potent moisturizing agent that instantly relieves dryness and irritation.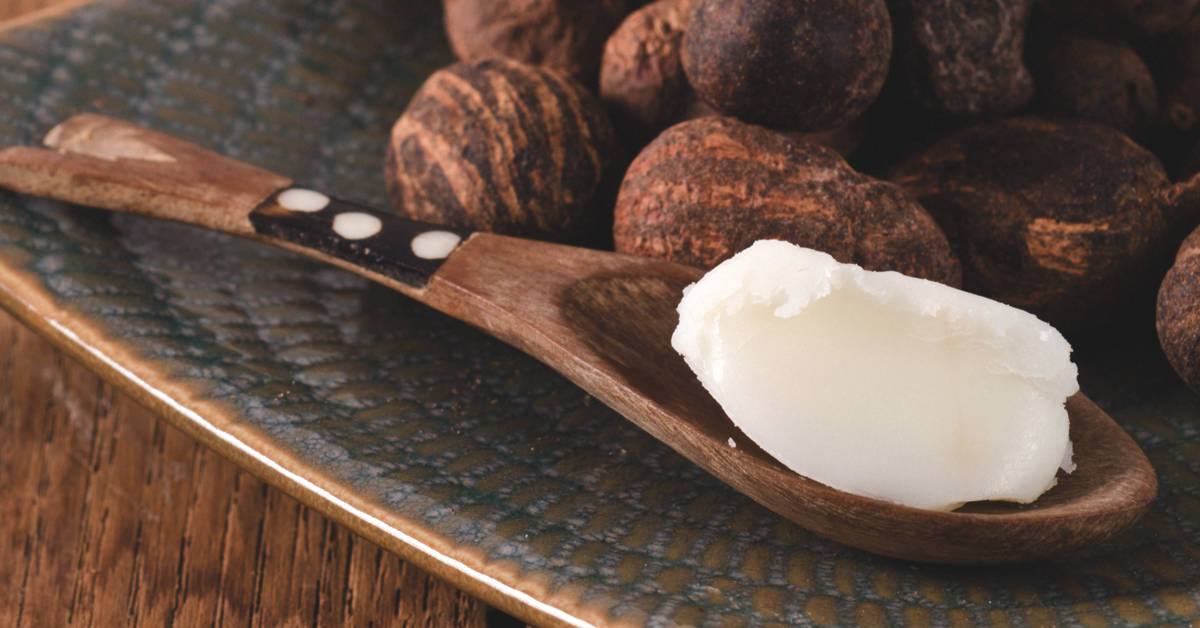 Shea Butter is said to increase collagen production, which reduces the appearance of fine lines and results in plump, firmer-looking skin. It also encourages the regeneration of healthy skin cells, which aids in the reduction of lines, wrinkles, scars, and stretch marks.
Tocopherol (Vitamin E)
Vitamin E is a powerful antioxidant that protects the skin by fighting free radicals (molecules that damage the DNA in cells). These molecules also cause collagen (essential for keeping the skin firm and taut) damage. As a result, Vitamin E can aid in the reduction of visible signs of aging. According to research, applying products containing Vitamin E to the skin moisturizes and nourishes it instantly.
Vitamin E also reduces inflammation, a common cause of discoloration. It promotes wound healing and can help reduce the visibility of scars. Furthermore, Vitamin E is said to be effective at fading stretch marks; however, research has not supported this claim.
Microalgae 
Algae is said to be a potent powerhouse due to its numerous skin benefits. Microalgae are types of algae that are seen only through a microscope. Algae has a high concentration of lipids, proteins, minerals, and amino acids, making it an excellent ingredient for skincare products. It is an incredible humectant, a component that aids in retaining moisture, making it an excellent source of hydration.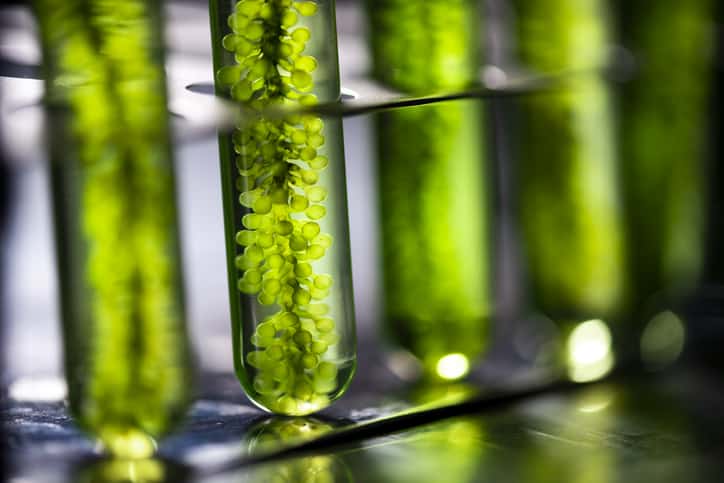 Algae's anti-inflammatory properties instantly soothe irritated skin. It effectively removes dark pigmentation and helps achieve bright and even-toned skin. It also contains antioxidants, which help to reduce the appearance of wrinkles and fine lines. 
B-Foxy Inner Thigh Firming Cream Benefits 
B-Foxy is a specialized treatment that firms, tones, and smoothes the look of saggy, rough, and uneven inner thighs.

It contains ingredients known to restore firmness, reshape, and provide a smoother silhouette to the skin.

The brand states this cream is proven to reduce the appearance of fatty skin, absorb extra moisture in the chafing zone, and aid in fading stretch marks.

This cream has undergone a clinical study with 31 participants, proving that it helps contour sagginess, improves skin texture, and tightens the skin.

This cream's formulation is free of parabens, phthalates, and SLS. It is also free of animal cruelty and PETA-certified.

This cream is suitable for use on all skin types and tones. Moreover, both men and women can use this cream.

B-Foxy has a smooth consistency that absorbs quickly into the skin, leaving a matte finish. It also has a fruity scent to it.

This product is safe to use while pregnant or breastfeeding.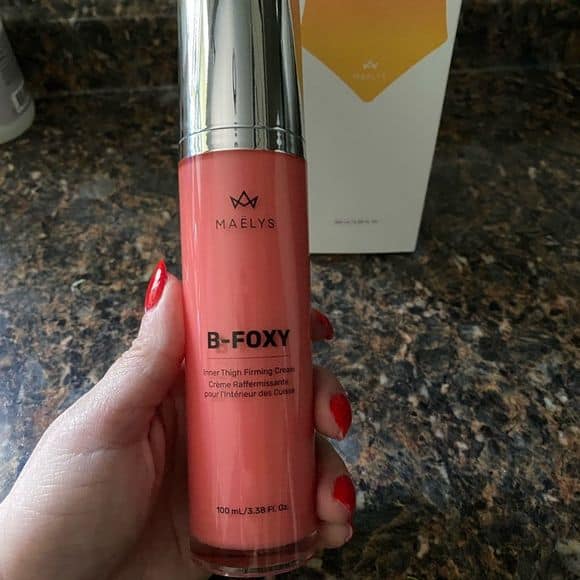 Drawbacks 
The B-Foxy results will vary significantly from person to person.

In the case of severe sagging skin, it may be ineffective in delivering its claims.
B-Foxy Inner Thigh Firming Cream is pricey, making it unobtainable for many people. If you're looking for a low-cost way to firm and tone your skin, you may want to try Nivea Body Goodbye Cellulite Smoothing Gel Cream. This affordable option has received numerous positive reviews, with many people claiming that it works beautifully for the price. It contains Q10, a powerful antioxidant that aids in the neutralization of harmful free radicals that cause aging signs.
Another decently priced cream less expensive than B-Foxy cream is the famous Sol De Janeiro Brazilian Bum Bum Cream. It effectively moisturizes your skin while also tightening it over time. Not to forget, it has an incredible texture and fragrance everyone adores.
Customer Reviews | B-Foxy Before And After Pictures 
Laura stated, "I was recently diagnosed with a medical condition that has resulted in significant weight loss. So, my inner thighs began to look a little saggy than before. After reading positive reviews, I purchased B-Foxy right away. I expected to see results slowly, but I was pleasantly surprised to see subtle changes in the appearance of my thighs in just one month. My skin appears firmer and smoother than it has in recent months. Furthermore, the stretch marks on my inner thighs appear to be faded. This cream is fantastic, and I will surely repurchase it."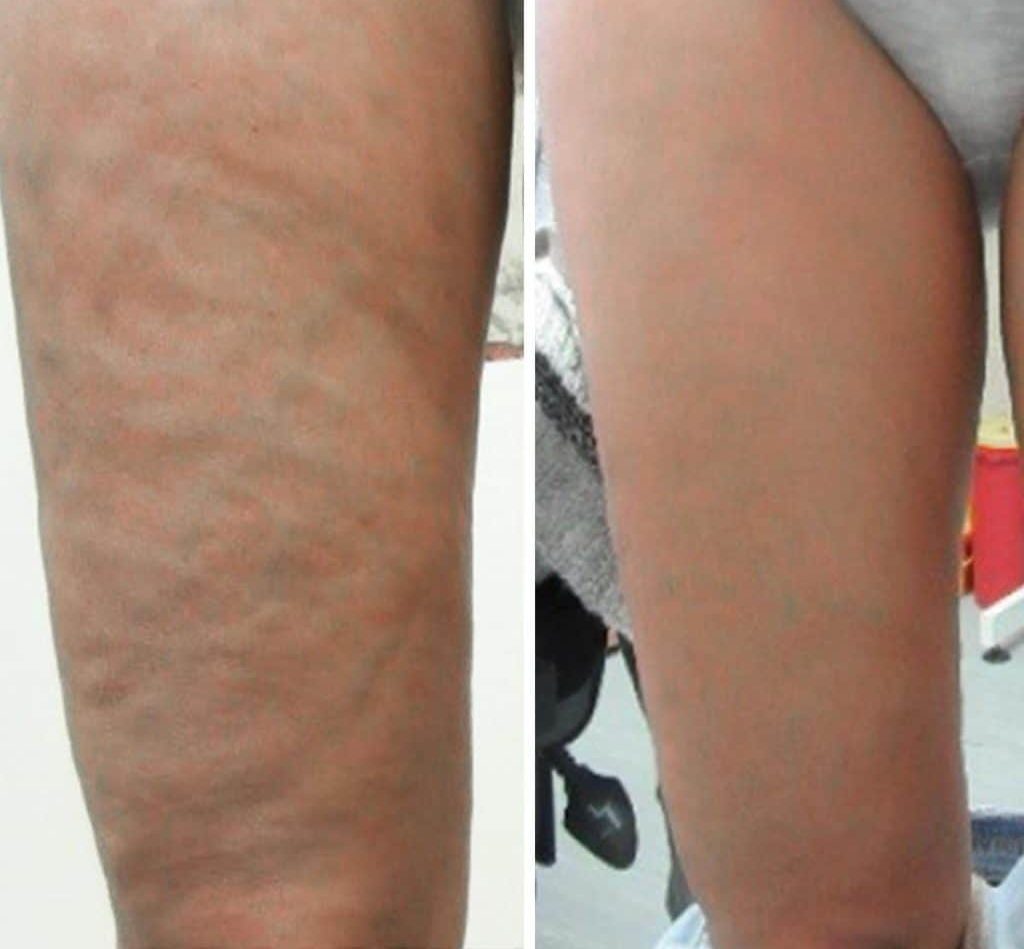 Lizzy stated, "I've been using this cream for about a month. My thighs feel more taut and firm than they did previously. However, the result is not dramatic. Nonetheless, I at least know that this cream works, so I will surely continue to use it. It has a light consistency that gets absorbed into the skin quickly. It also smells wonderful. I've also received a few compliments after using it."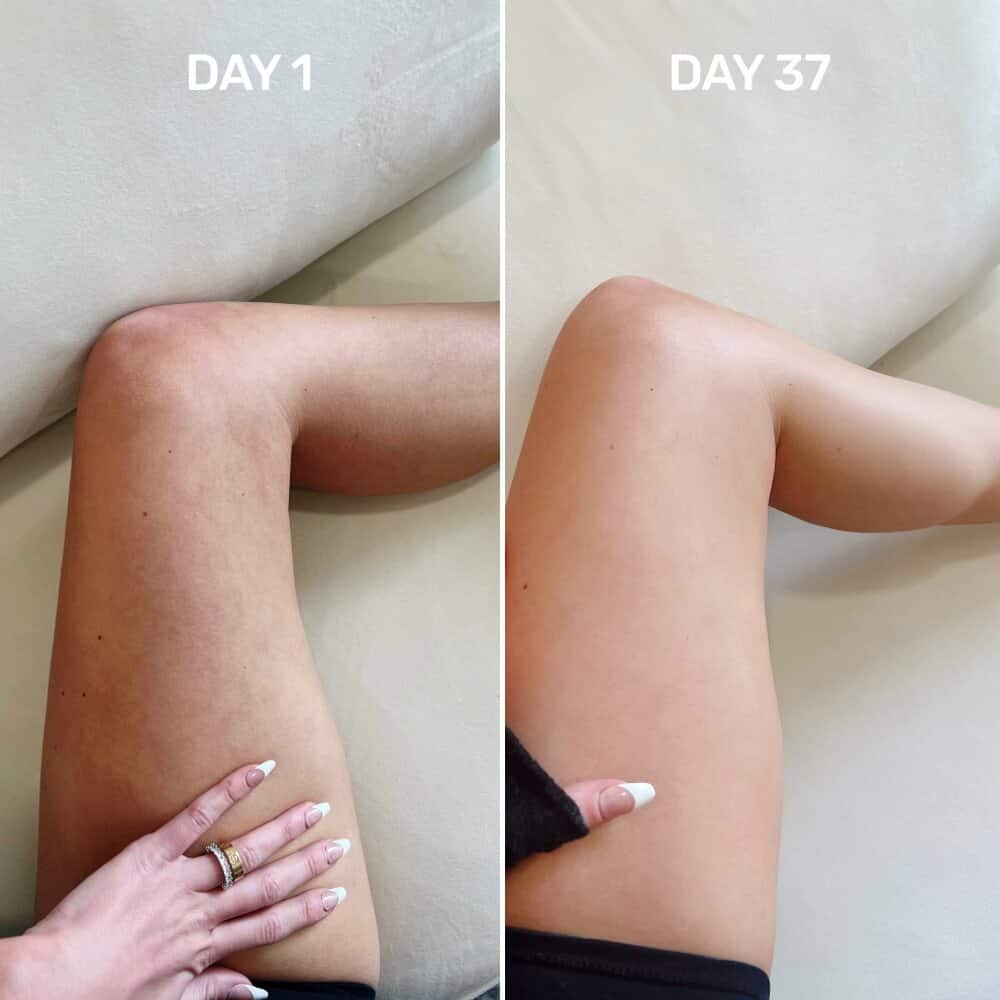 Kathy stated, "I had high hopes for this cream because I have previously used B-Thicc and got fantastic results from it in just 3 weeks. However, it's been over a month since I started B-Foxy, but I haven't noticed any significant changes yet. This cream smells wonderful and instantly hydrates my skin without leaving a greasy residue. I believe it is an excellent moisturizer, but I would like more skin-tightening effects. I'm still hoping it will show positive results over the next few months."
Frequently Asked Questions 
Does B-Foxy Inner Thigh Firming Cream work? 
The ingredients in B-Foxy Inner Thigh Firming Cream are known to moisturize, firm, tone, and brighten the skin. It claims to absorb excess moisture in chafing areas, fade stretch marks, and improve smoothness. According to the brand, a clinical trial demonstrated that this cream effectively reduces sagginess, increases smoothness, and eliminates bumpy texture. Many B-Foxy Inner Thigh Firming Cream reviews on the brand's official website state that this cream lives up to its claims.
How to use B-Foxy Inner Thigh Firming Cream?
Maelys Cosmetics recommends applying a thin and even layer of B-Foxy on the loose skin of the inner thighs twice daily for best results. When gently rubbed, the lightweight product quickly absorbs into the skin and leaves a powdery finish. It is appropriate for all skin types and tones. Furthermore, men and women can use this cream to achieve tightening and smoothing effects.
Final Words | B-Foxy Inner Thigh Firming Cream Reviews 
Our skin undergoes several changes throughout our lives. Sagging is a common skin concern caused by factors such as weight loss, aging, and the deterioration of collagen and elastin, among others. Topical creams, if the formula is potent, can cause noticeable changes in your skin with each application. B-Foxy is a clinically proven formula that can reduce sagginess, roughness, stretch marks, and discoloration. It contains gentle yet effective ingredients suitable for all skin types and tones.
Many B-Foxy Inner Thigh Firming Cream reviews state that the cream lives up to its claims by visibly transforming the skin. While the formulation of this cream is clinically proven to work, it is essential to remember that individual results will vary. Provided you use the cream daily, you can see improvements in the appearance of your saggy thighs in as little as 4 weeks.
I'm Sarah Abraham, the founder and co-author of Blushastic.com and a professional makeup artist. Beauty is more than just skin deep, and that's why I'm passionate about sharing my knowledge and experience to help people feel confident and beautiful on the inside and out.
Whether it's skincare, haircare, or fashion, my goal is to empower women to feel their best. With my expertise in the beauty industry, I strive to provide practical advice and tips that are accessible to everyone, regardless of their skill level or budget.