Adhering to a strict skincare routine can be difficult. We need good skincare products that are compatible with our skin type. Knowing your skin issues and choosing good skincare products is not as difficult as it seems. It can be easy if you target specific problems. If anti-aging is your skin issue, you should look for wrinkle-repair night creams. If hyperpigmentation and discoloration are your primary problems, you should probably find an activating or vitamin C-enriched serum. These are some of the common issues that people face.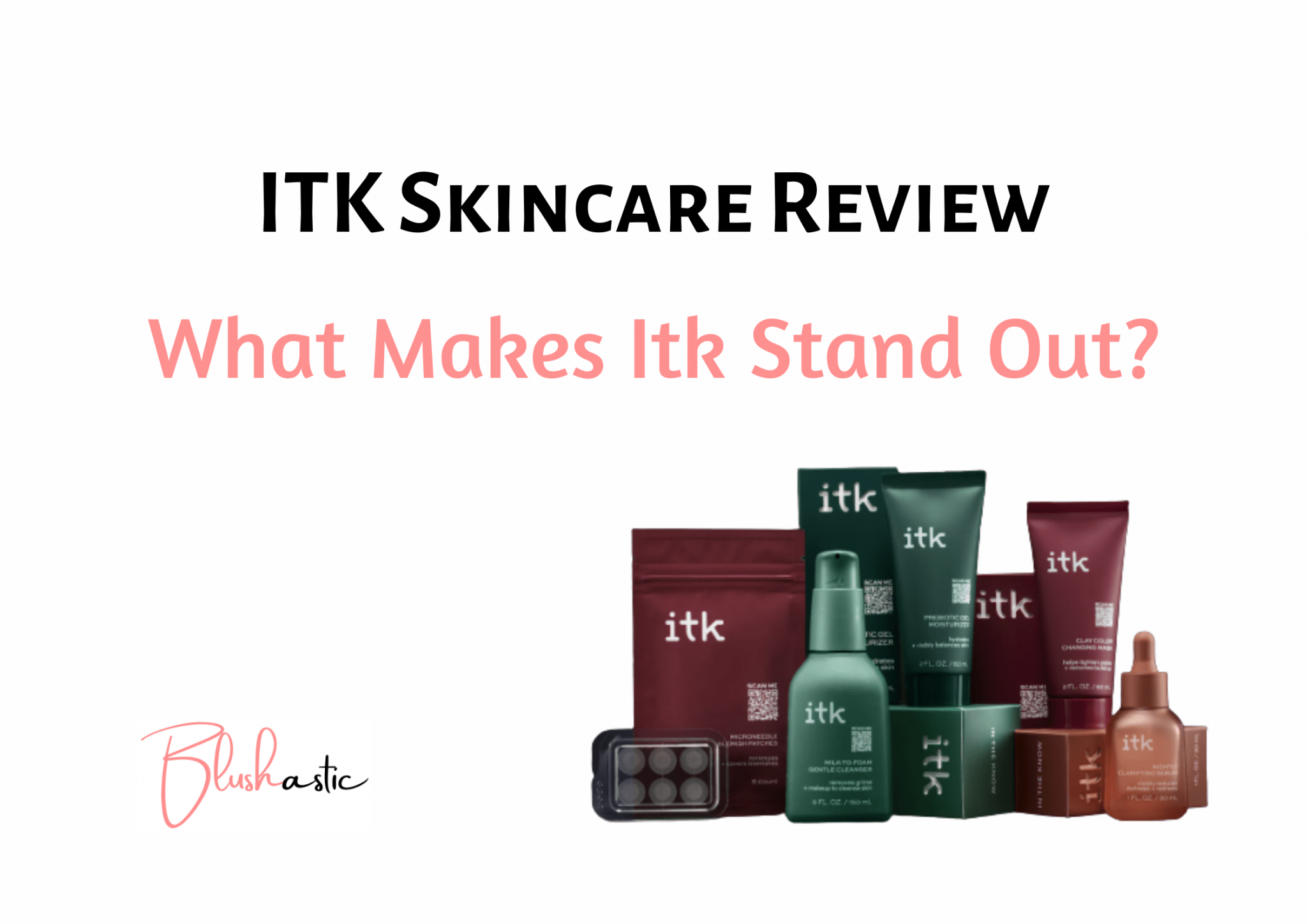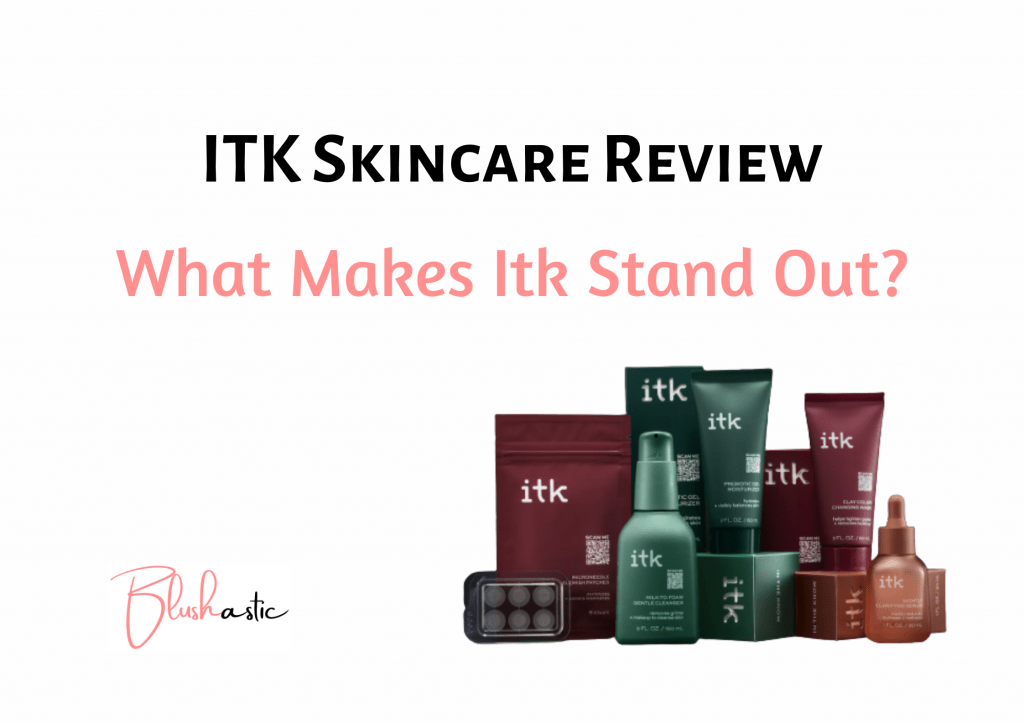 Exfoliation and cleansing also form the basis of your skincare regime. Cleaning dead skin cells and cleansing your pores can promote healing and repair in your skin. Choose products with good reviews which have skin-friendly ingredients. Itk skincare claims to have products that can benefit the skin in ways you have not imagined. But, we must go through the Itk Skincare reviews to determine whether this is a trustworthy brand. 
Itk Skincare Reviews | What Makes It Stand Out?
The name of the company Itk Skincare stands for In The Know Skincare. There are two founders, Brooklyn and Bailey. After years of working on the internet, they co-created the skincare brand. The primary aim of the brand is to make affordable skincare for people. They want healthier skin and do not have to spend much on it. They are a vegan, cruelty-free, and dermatologist-approved brand. Their products also don't have parabens and sulfates either.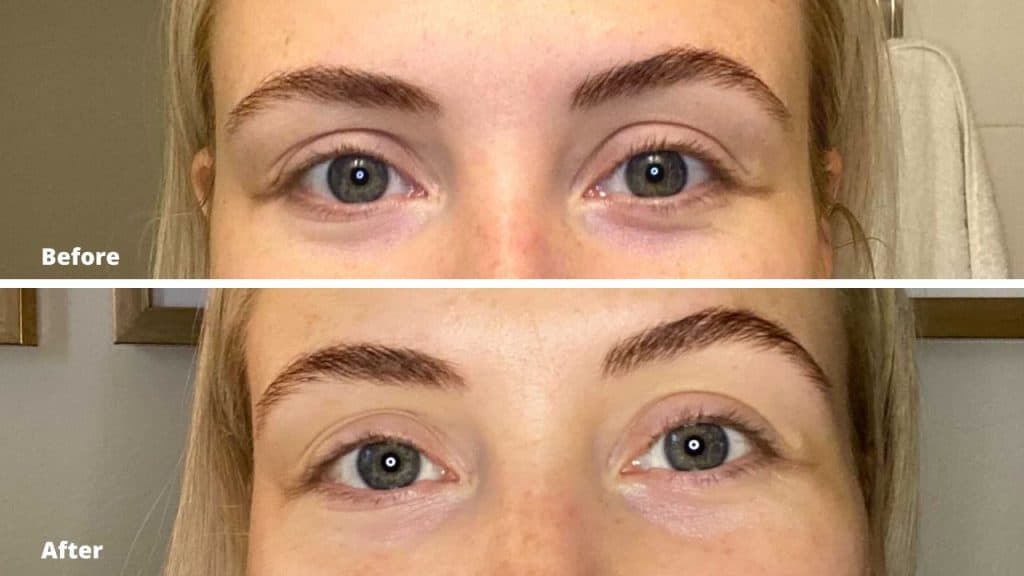 All of their products are readily available online. Most products are associated with everyday skincare and can be added to your daily routine. They are gentle on your skin and suit your skin. Their customer service as they claim is prompt, and the response is valid. Itk Skincare products have a wide range of options for you to choose from. 
Popular Alternatives
Itk Exfoliating Gel Cleanser 
A good cleanser is essential as you must clean your pores thoroughly every day. Removing dead skin cells from your skin is vital as it gets a more radiant look. Unclogging your pores with the Itk skincare gel cleanser can make your skin used for exfoliation, and in this way, the skin starts healing. It does not result in any breakouts and helps you control oil.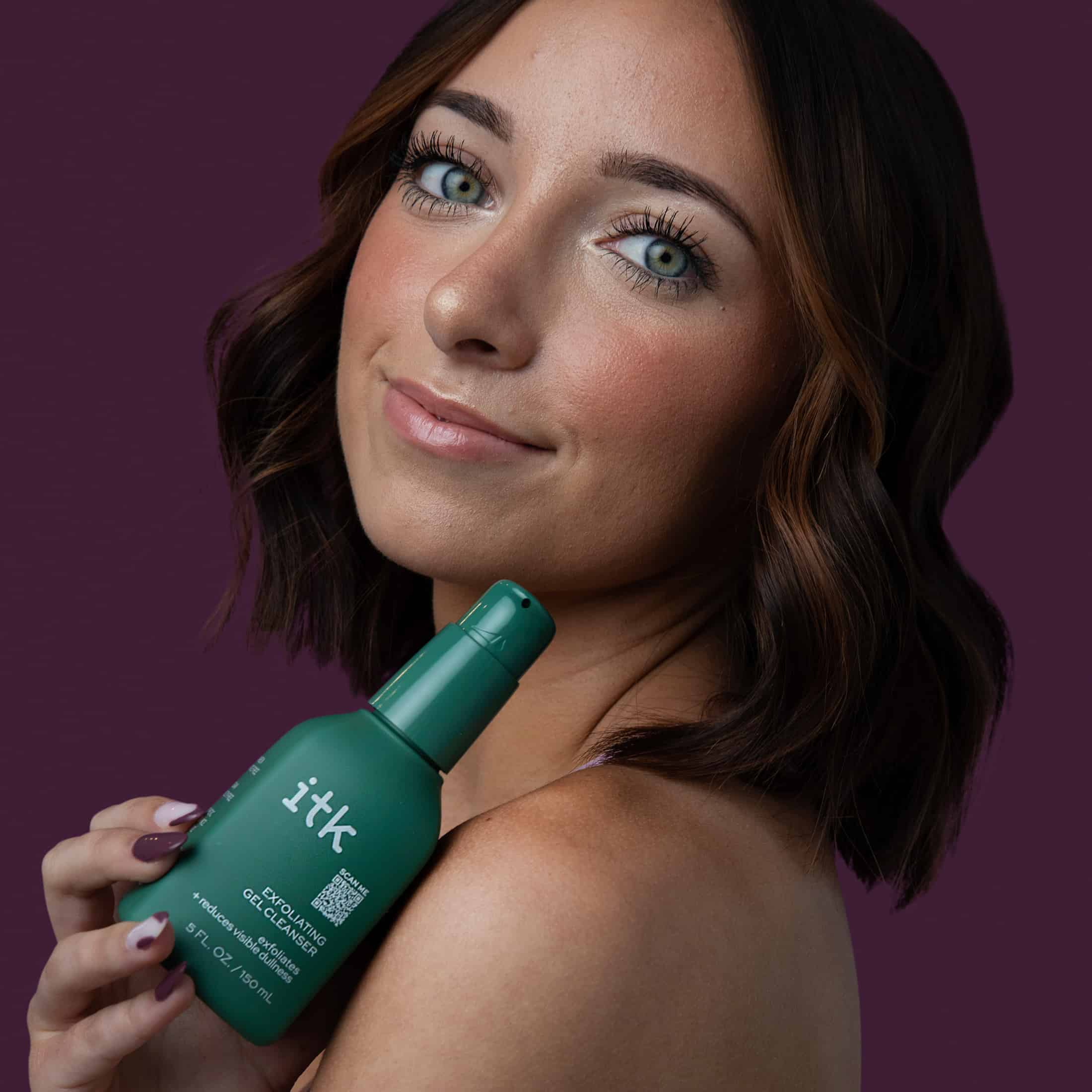 Pros 
Itk gel cleanser has excellent exfoliating action, removing dead skin cells and cleaning your pores. 

It has a gel-based formula and feels light on your skin. The texture is just right and not running. 

The formula contains AHA's exfoliation and can help the skin get refined. 

Itk cleanser can help you clear the dead skin cell surface and reveal the underlying brighter skin. 

Your skin feels smoother, and the texture of your skin is improved. 

The exfoliating action of the cleanser can even out the skin tone. This gives an even complexion to your whole face. 

The formula is rich in proteins and amino acids. 

It can also help your skin to reduce any dullness from before. It can be your escape after a long day at work. 

The application process is easy, and there is no hassle involved. 
Cons 
Some users did not like the product's smell and found it to be like a chemical. Thus, people preferred Peter Thomas Roth's cleanser with almost the same formulation.
Itk Broad Spectrum SPF 50 Sunscreen 
Itk Skincare has a moisturizer that works more like a serum. It contains SPF 50 and is a sunscreen with a moisturizing effect. You can use this serum every day, and it can also be used as a base for makeup. We need to use sunscreen every day.
Most sunscreens are like a cream and feel a little greasy on your skin. This one is a little different; the texture of the sunscreen is like a serum. However, it doubles as a moisturizer and does not feel heavy on your skin.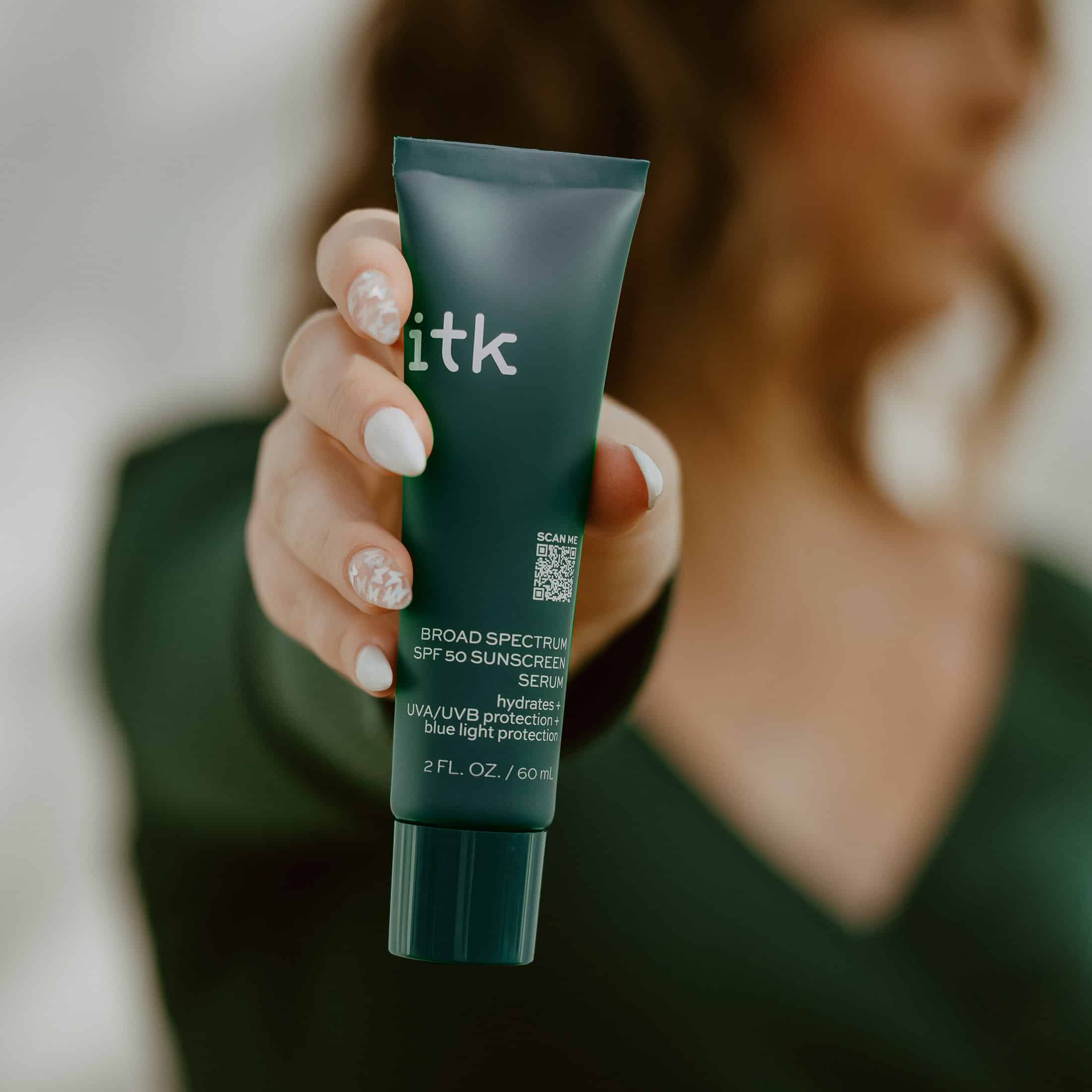 Positives 
The sunscreen has a good SPF of 50 and protects against UVA and UVB rays. It also has a broad spectrum coverage for your skin. 

It can moisturize your skin and retain moisture in it. 

The sunscreen makes your skin very soft and smooth. 

Some people use it as a setting spray that keeps makeup in place. 

Antioxidants in the formula fight against radicals and protect from the sun's UV rays. 

The sunscreen can make a good base for your makeup and protect against environmental stressors. 

It can hydrate your skin and lock in moisture in your skin. 
Negatives 
Some reviews say the product leaves a white cast on your skin and is very visible. 

The sunscreen is not waterproof. 

According to some reviews, the texture of the sunscreen is very watery, which is why Replenix Antioxidant Hydrating sunscreen with SPF 50+ emerged as a liked option.
Itk Prebiotic Deep Moisture Rich Cream 
Itk Moisture Rich Cream is a typical hydrating cream that only hydrates and moisturizes. It increases hydration in your skin and moisturizes your skin well. It can make your skin softer and improve the moisture retention quality of your skin. The cream is a traditional moisturizing cream, and it has a lot of soothing ingredients.
It contains oils and ceramides for protein and healing. Your damaged skin barrier can be restored with the help of the cream. Shea butter in the formula makes your skin incredibly soft and supple. Its only job is to hydrate skin and make it smoother.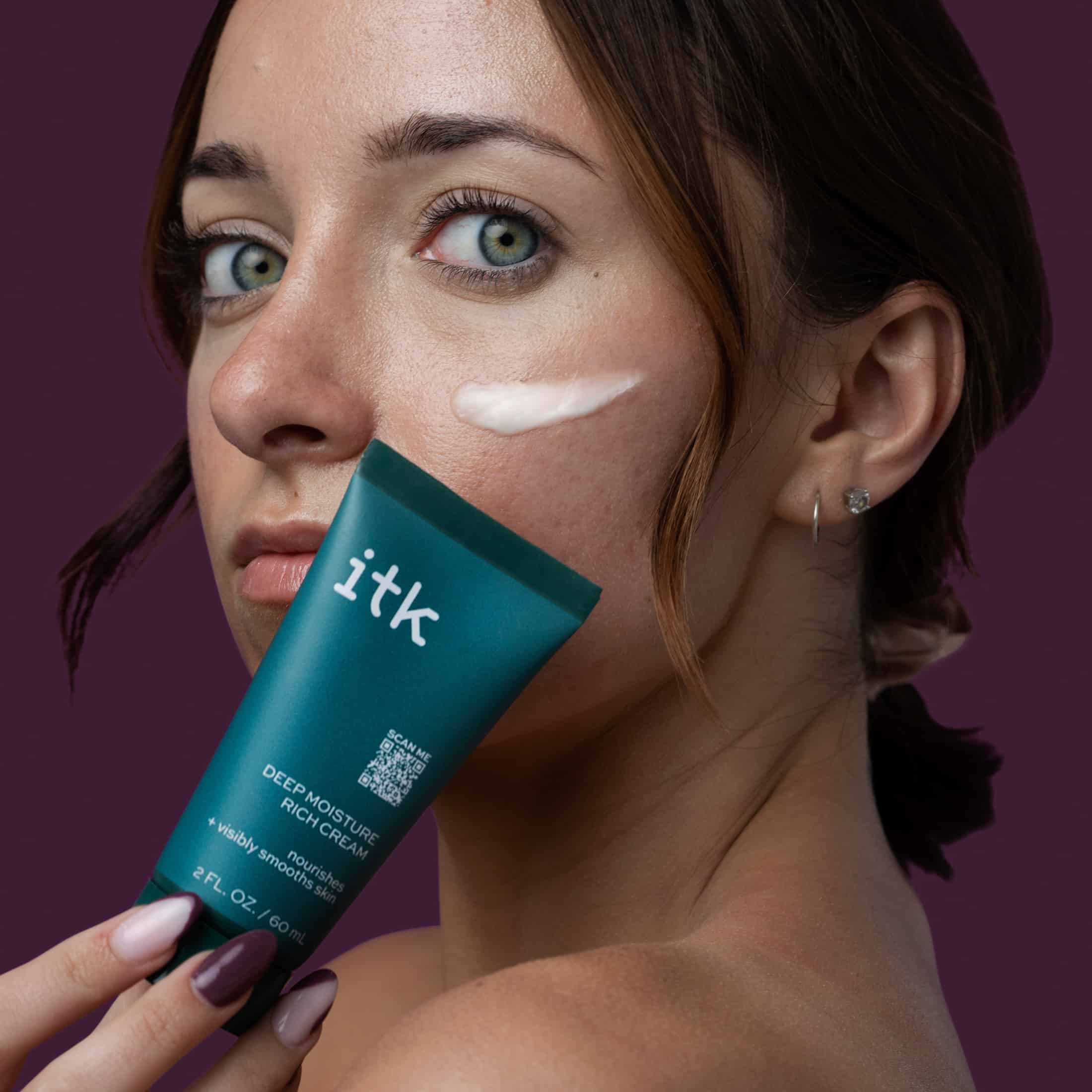 Benefits 
The formula is packed with humectants, and it can draw moisture. It can restore the skin's natural barrier. 

It keeps your skin hydrated, and your skin starts feeling smoother. 

Ceramides in the formula can nourish your skin and speed up healing. 

The formula can improve your skin tone and give you a healthier complexion. 

With prolonged usage, your skin starts feeling hydrated and healthy over time. 

It maintains a good amount of moisture in the skin, making it feel soft. 
Drawbacks 
Itk Tri Acid Toner 
Itk Tri Acid Toner can solve many skin issues in a single product. This toner does more than just hydrate your skin; it can solve significant skin issues. It contains three acids that help in the exfoliation and toning of your face. Toning here means that your complexion and skin issues, such as hyperpigmentation and discoloration, are resolved.
It can visibly make your skin healthy looking and hydrate your skin. Enough moisture retention in your skin allows it to heal and increase radiance in the skin. It can solve your skin issues without being harsh on your skin.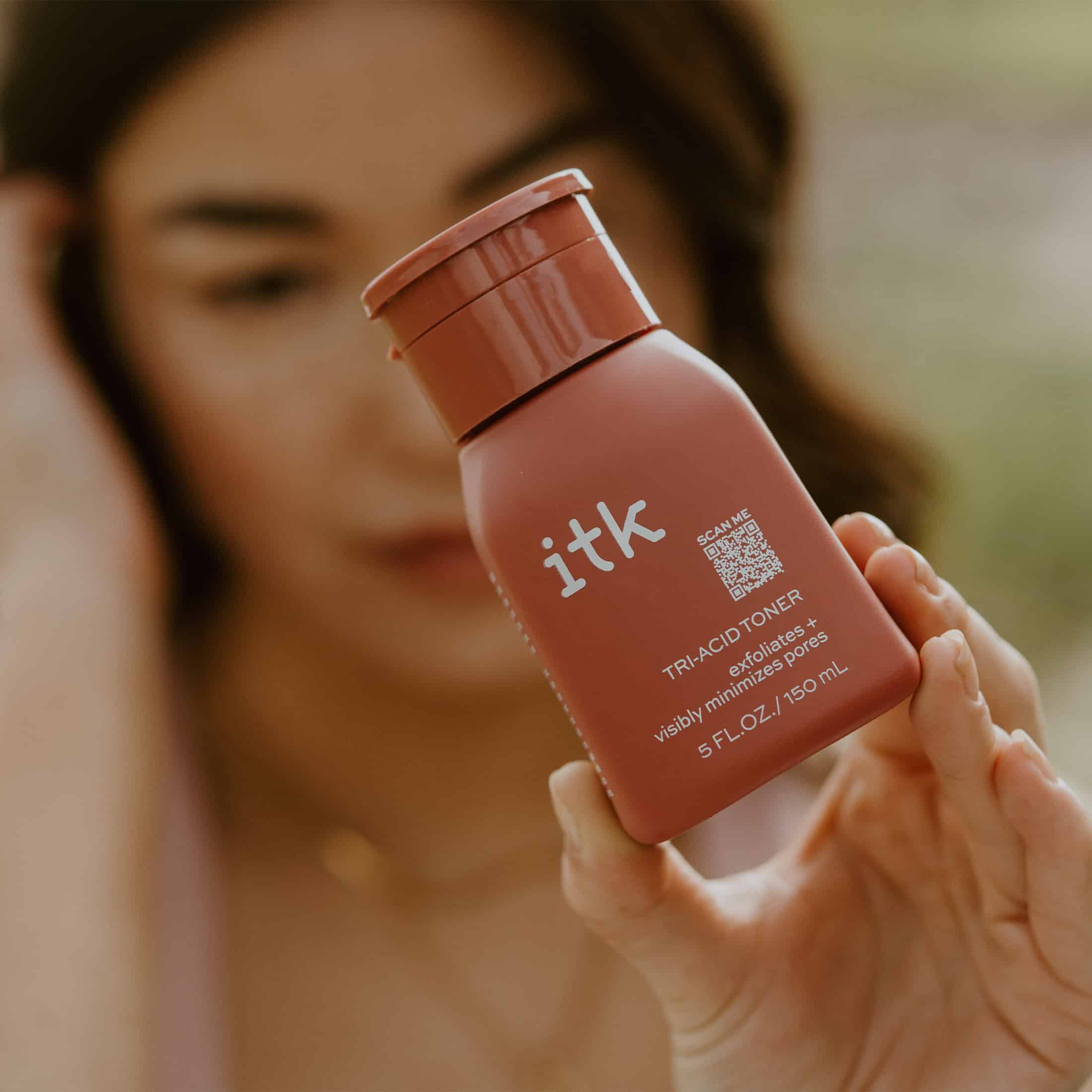 Pros 
The toner contains three types of acid to exfoliate your skin and remove all the dead skin cells. 

It can be described as a PHA toner. 

The toner's texture is very bouncy and light. It does not feel heavy on your skin. 

It can brighten your dark spots and correct the discoloration on your face. 

The toner can improve your complexion and bring about radiance to your skin.

It is incredibly hydrating and locks in moisture in your skin. 

The application process is straightforward, take cotton pads and bad the toner in the problem areas. 
Cons 
Some reviews say that the toner made their skin burn and get rashes. 

According to some reviews, it caused a breakout for some women. But, StriVectin Advanced Tri-Phase Toner with the same formulation was a superior alternative for people. 
Itk Brightening Vitamin Serum
The central part of the Vitamin Serum results from vitamin C on your skin. Vitamin C can brighten and nourish your skin. This is the ideal vitamin serum for women with skin discoloration and hyperpigmentation in different areas of their faces. It contains various other skin-loving ingredients that can transform your skin. It also includes peptides, niacinamide, and omega acids.
These can nourish your skin and increase the healing process in your skin. They can make your skin look and feel healthy. It improves your complexion and evens out skin tone throughout your face.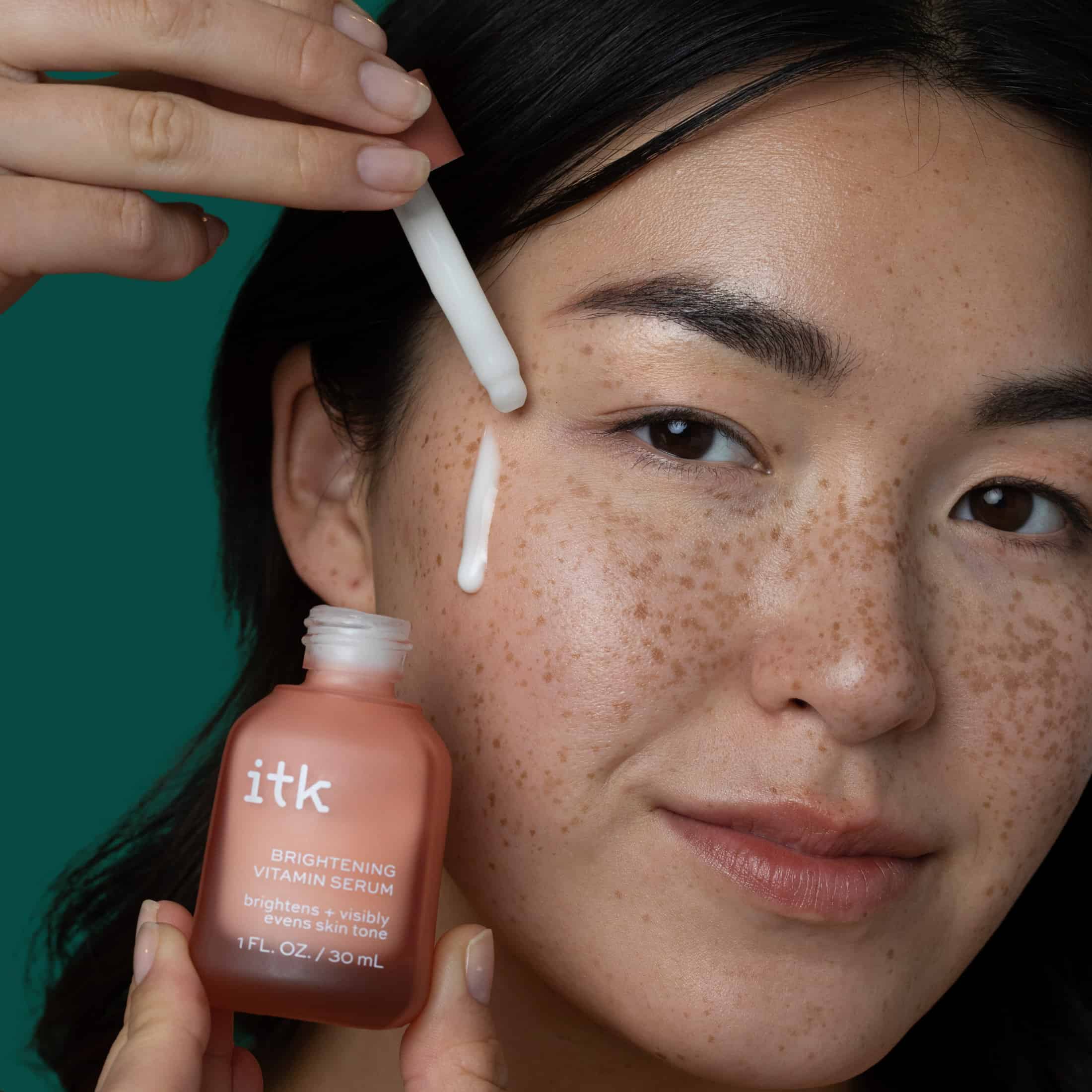 Positives 
The serum's texture feels light on your skin and absorbs quickly in your skin. 

It improves your complexion and gives you an even skin tone throughout your face. 

The serum is suitable for all skin tones and textures. 

The vitamin C in the serum brightens your complexion and brings back radiance to your skin. 

It can also improve the texture of your skin and make it soft. 

Use this serum at night to get the best results. 

The serum can also be effective for some signs of aging. 
Negatives 
There are not enough reviews about the product, and we can't say if it's an ideal serum. Consequently, Skin & Lab developed a vitamin C serum for skin brightening that users loved with all their hearts. 
Itk Eye Day and Night Cream 
The day and night cream is targeted toward your eyes. Eye issues such as puffiness and under-eye bags are quickly reduced and treated with a suitable night cream. It can keep the region near your eyes fresh and energetic. The cream works well as an eye cream and treats many issues. It contains vitamin C, collagen, ceramides, and antioxidants.
These ingredients help your skin to rejuvenate and make your skin feel soft. It brightens your skin and reduces the appearance of your under-eye bags. Collagen and ceramides help replicate skin protein which can cause the skin to be tighter and increase the rate of new skin generation.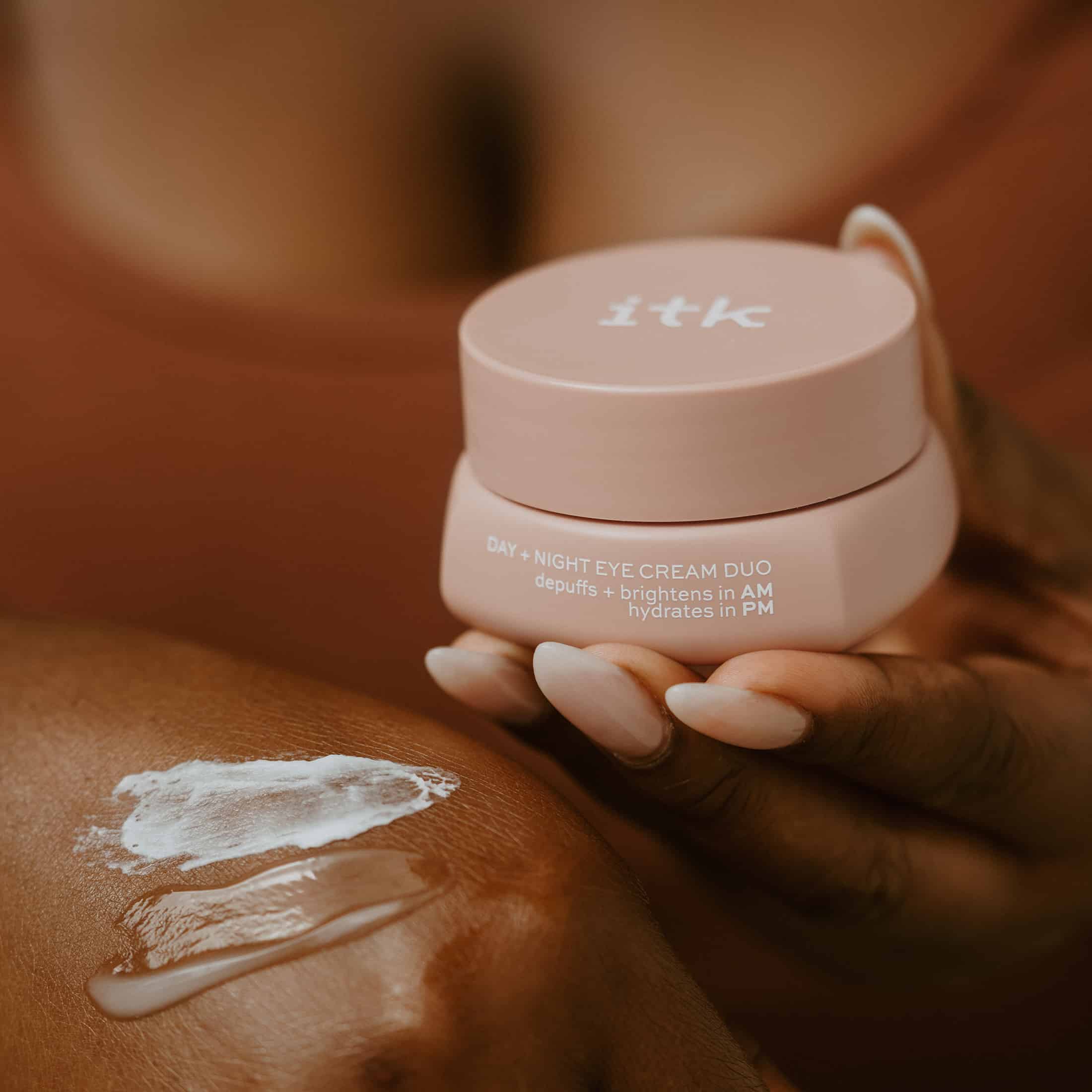 Benefits 
The cream can depuff your eyes and make them ready for the day. It reduces the appearance of puffiness in your eyes and makes them look fresh. 

It can deeply hydrate your skin, and its moisture makes it look healthy and improved. 

The day and night cream also brightens the skin around your eyes and reduces the appearance of under-eye circles.

Vitamin C in the cream brightens your skin and reduces the discoloration in those parts. 

A perfect night eye cream should be moisturizing and hydrating, providing a night-long moisturization for your under-eye skin and what Itk skincare eye cream claims to be.
Drawbacks 
There are two containers in a box; there is no differentiation for which. Users get confused about which cream has to be applied in the morning and which one at night.  

The quantity of the product is significantly less, and there should have been more to it. 

According to some reviews, there was some burning associated with the cream. Remedial has an eye day & night cream with niacinamide that is anti-aging and can replace the Itk cream. 
Itk Clay Color Changing Mask 
This is a mask treatment for your skin. The clay color-changing mask has an enjoyable application process. It has a gel texture, and as you apply it, it starts changing texture.
Sometimes, the gel texture becomes a decongesting mask. This is specially made for having tighter pores and making skin feel fresh.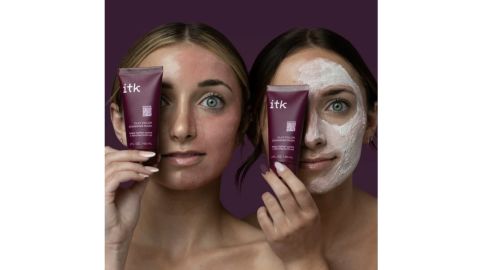 Pros 
The application process is straightforward, and there is no mess involved. 

It starts as a gel but can form into a decongesting mask after applying it for some time. 

The mask is beneficial in tightening your pores and cleaning the skin. 

It makes your skin refreshed and clean with the help of the mask. 

The gel cleans your skin and removes oil from your pores. 

You can use the mask for any skin type. 
Drawbacks 
According to some reviews, it did not show changes instantly. They could not observe the tightening or moisturizing of their skin till some use. O!geti's color-changing mask with vitamin C can be a perfect option for people.
Itk Blemish Treatment Mist 
You should consider using a blemish spray if you are troubled with body acne or other issues. It doesn't matter if you have acne on your chest, back, or legs; this spray has got you covered. The spray has an exfoliating action on your skin and aims to balance the skin.
It can exfoliate your skin well as well as balance it. It has a cooling effect on your skin and does not irritate it.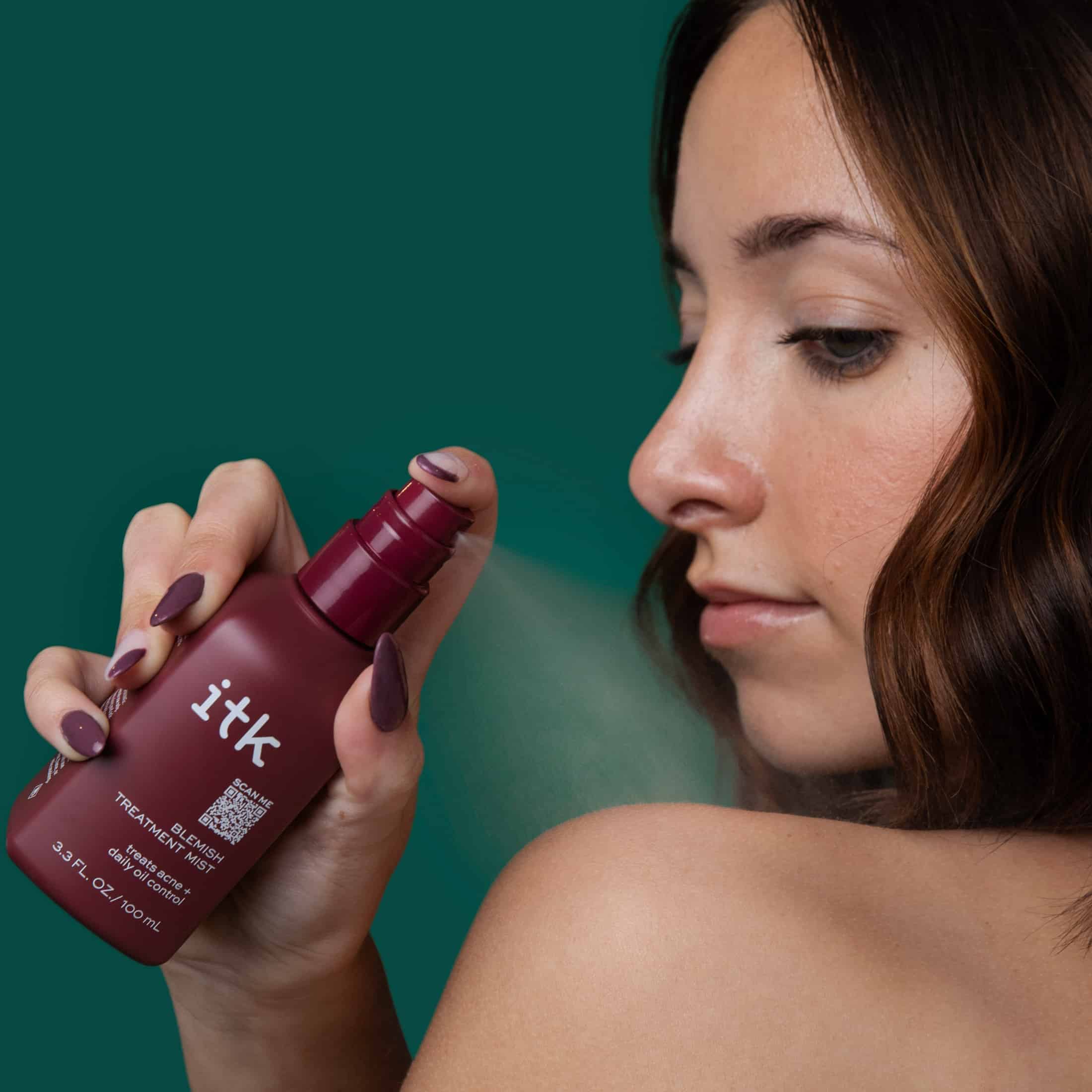 Positives 
It can brighten your skin and reduce acne issues in your skin. 

The spray exfoliates and balances the skin.

The blemish treatment can also brighten your skin and even out your complexion.

It is not harsh on your skin and has a cooling or soothing effect on your skin. 

The pump bottle makes it easier to spray it anywhere you want. 

It works for all skin types and works well on your whole body. 
Negatives 
Customer Feedback | Itk Skincare Before And After Reviews 
Courteney says, "I love using Itk skincare Blemish Treatment mist on my body. I have acne issues on my back and my chest. The blemish mist makes my skin very well-balanced and manageable. It does not contain any ingredients that bother my skin and hence does not irritate. The spray feels soothing and refreshing on my skin. It controls the oil in my skin and makes a perfect addition to your skincare routine. The spray works for oily skin, as I have been battling acne and oily skin issues for a long time. This helped me through my hormonal changes and reduced the bumps on my body." 
Nia says, "The Itk foam feels light on my skin and cleanses my face well. It can cleanse your pores and have some oil control on your skin. It also keeps my skin hydrated and locks in a good amount of moisture. Skin does not feel irritating or sticky on your skin."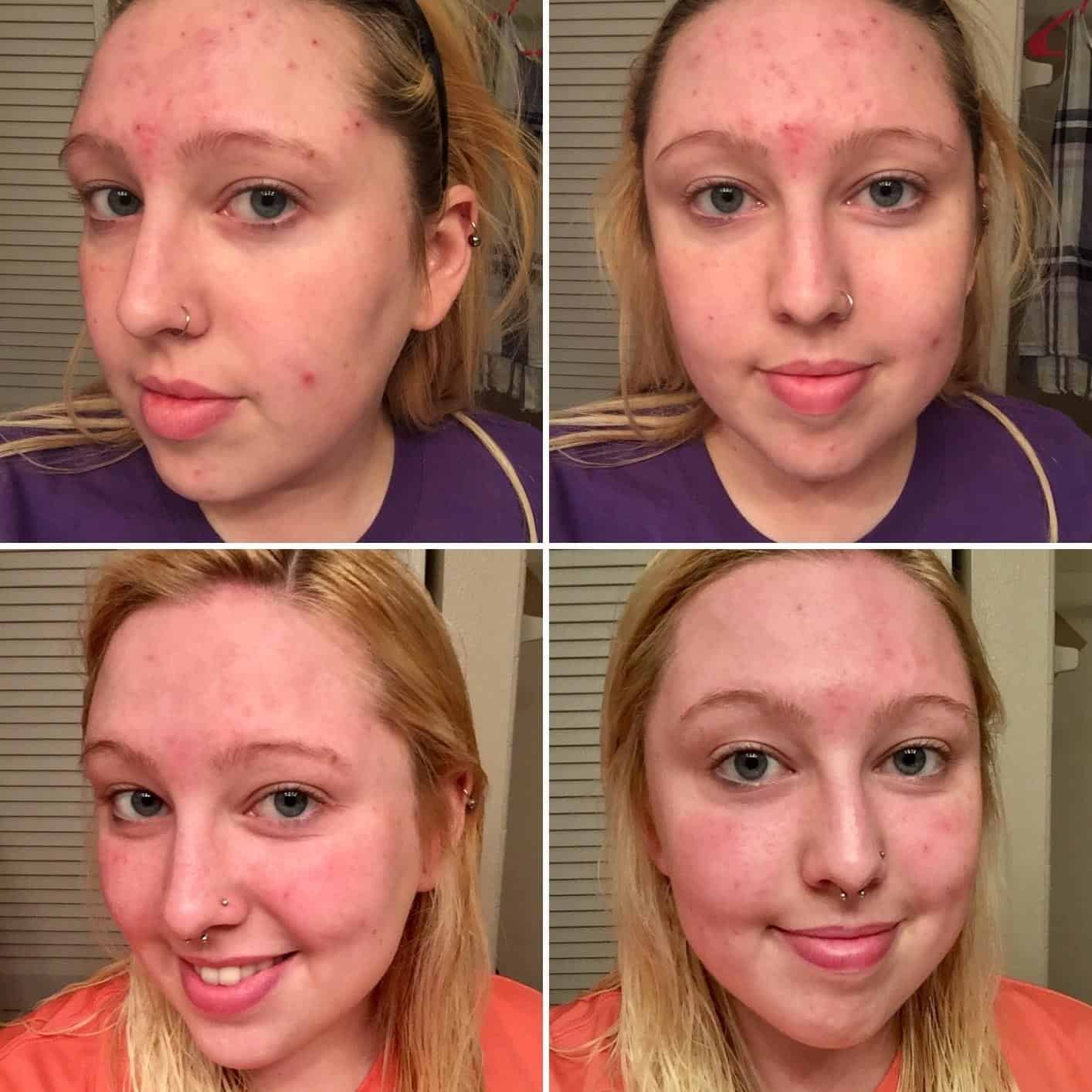 Abigail says, "I use the Itk sunscreen on an everyday basis. I have started using this sunscreen, and I apply it everywhere. It provides a good amount of protection and a broad spectrum coverage. It is not sticky and does not feel heavy on your skin. The sunscreen does not cause burns, and my skin is well protected whenever I apply it. One of the major benefits is that it does not feel greasy on my skin." 
FAQs | Itk Skincare Reviews 
Can skincare products cause cancer? 
Skincare products can cause cancer if they contain perfume, sulfates, and other harmful chemicals. Check the ingredients, as prolonged exposure can cause cancer later. However, following a skincare routine is crucial if you want clear, glowing, and younger-looking skin.
Is Itk Skincare good for the skin? 
Itk Skincare is suitable for your skin's health. It claims to make your skin feel bright and radiant. The amount of moisture and hydration it holds is also loved by users. 
Closure 
It would help if you went through the Itk Skincare Reviews to know how good or bad it can be for you. Although most reviews have been positive, you can choose this brand without thinking twice.
Marilyn's deep interest in fashion, beauty, and lifestyle has led her to pursue a fulfilling career as a freelance writer and blogger. With her bachelor's degree in fashion design from the Fashion Institute of Technology, she has developed a keen eye for style and trends, making her well-equipped to offer valuable insights into the latest fashion and beauty trends.