The term "under-eye bags" is commonly used to describe swelling and puffiness seen under the eyes. They are typically caused by aging because the tissues around your eyes weaken over time, allowing fat to shift into the lower eyelids, giving them a puffy and inflamed appearance. Fluids can also pool in this area, causing edema (swelling).
While numerous eye creams claim to reduce the appearance of swollen, puffy eyes, we occasionally require a quick fix. Creams that provide instant tightening effects are becoming increasingly popular for achieving a smooth and even appearance in minutes. This review will discuss a similar eye cream from Maelys Cosmetics that claims to reduce puffy eyes instantly. We will also provide some genuine Wow-It Eye Cream reviews to help determine whether it lives up to its claims.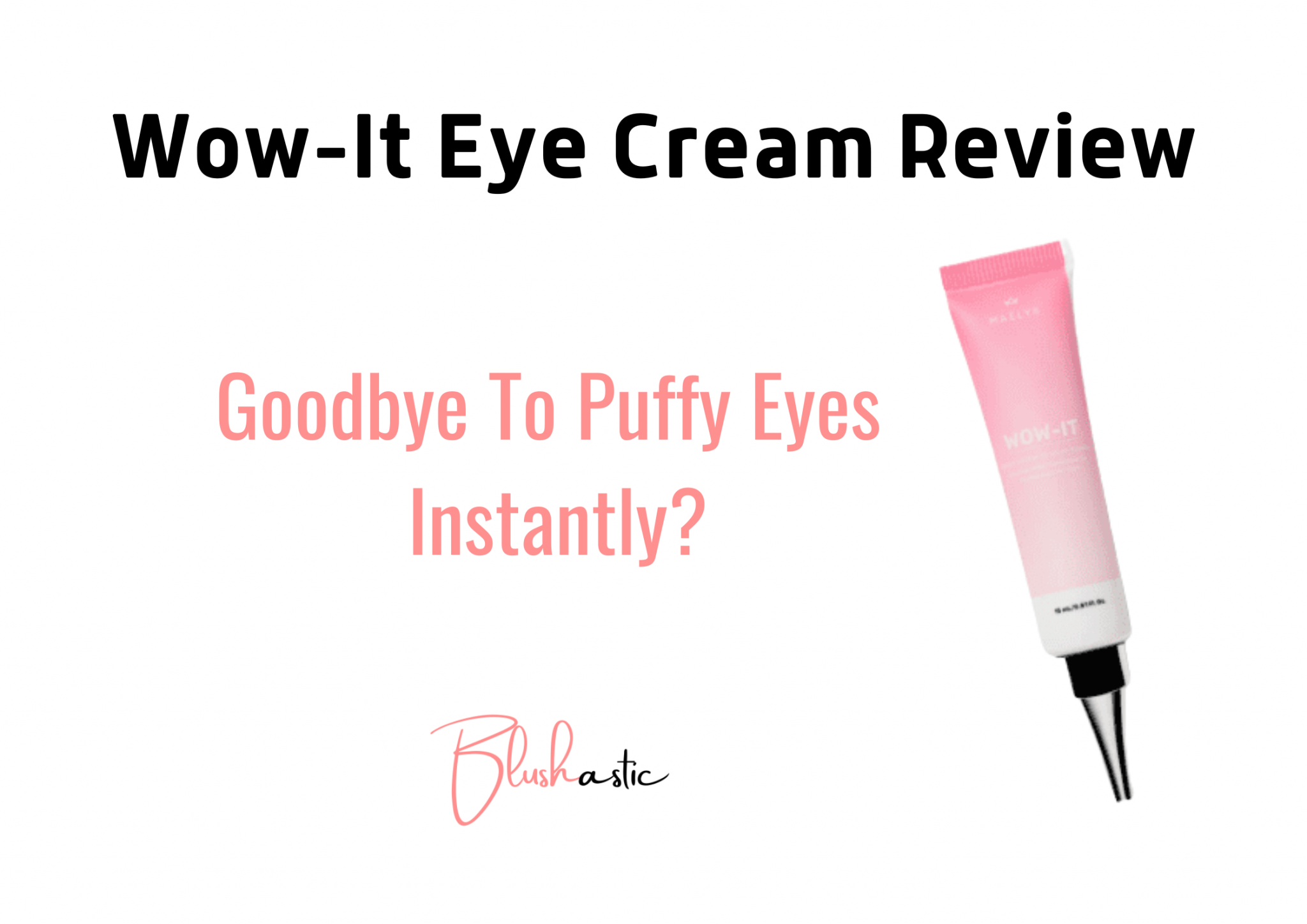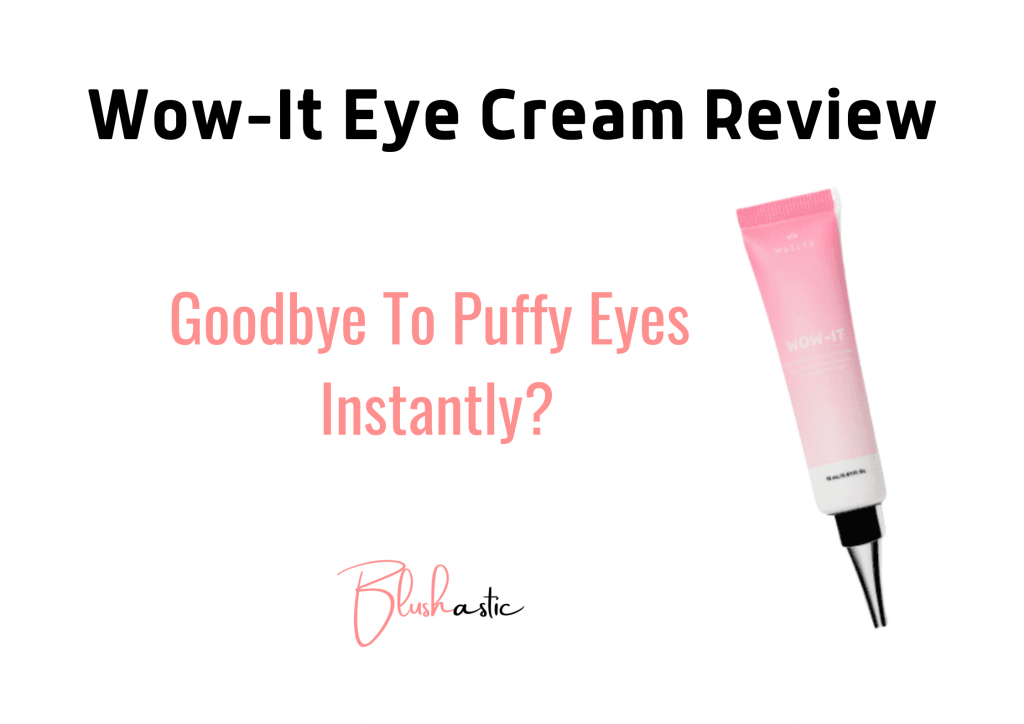 Along with the causes mentioned above, genetics, allergies, lack of sleep, smoking, and stress are all common causes of under-eye bags. A few lifestyle changes and treatments can bring about some subtle differences in the appearance of under-eye bags, but expecting drastic results is futile. One should also always use a good quality primer to avoid skin damage from makeup resulting in premature aging.
Nevertheless, creams that instantly tighten the skin around the eyes and reduce puffiness are available to temporarily achieve a smooth and youthful appearance. They contain Sodium Silicate, a mineral and astringent, which tightens the skin, reducing wrinkles, under-eye bags, and dark circles within minutes. 
Wow-It Eye Cream Reviews | Say Goodbye To Puffy Eyes Instantly? 
Maelys Cosmetics entered the beauty industry after noticing that essential areas of our bodies were getting overlooked by mainstream skincare and that our changing and growing bodies were not receiving the attention they deserved. They work tirelessly to create result-driven products that will give you unstoppable confidence. Their formulas are developed in-house and subjected to rigorous clinical trials and consumer testing with panels of real women of various shapes, sizes, and skin types. Maelys Cosmetics offers a diverse range of products for multiple body parts that can help achieve firm, lifted, and smooth skin.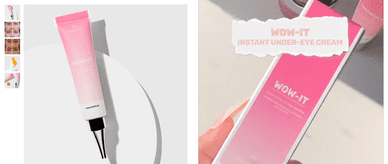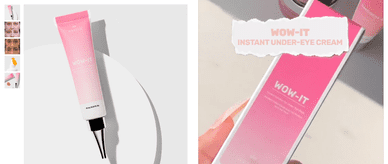 Wow-It – a cult classic under-eye cream, claims to instantly reduce puffy eyes and lock in the natural moisture that the under-eye skin requires to look firm and evenly toned. This cream contains powerful proteins called collagen and elastin, which are the building blocks of great skin. This formulation also contains hyaluronic Acid, a powerful humectant. HA gives the skin an intense hydration boost, making it look plump, supple, and smooth. This eye cream contains other potent ingredients that help banish stubborn under-eye bags in the blink of an eye. This product is free of harmful chemicals such as parabens and SLS.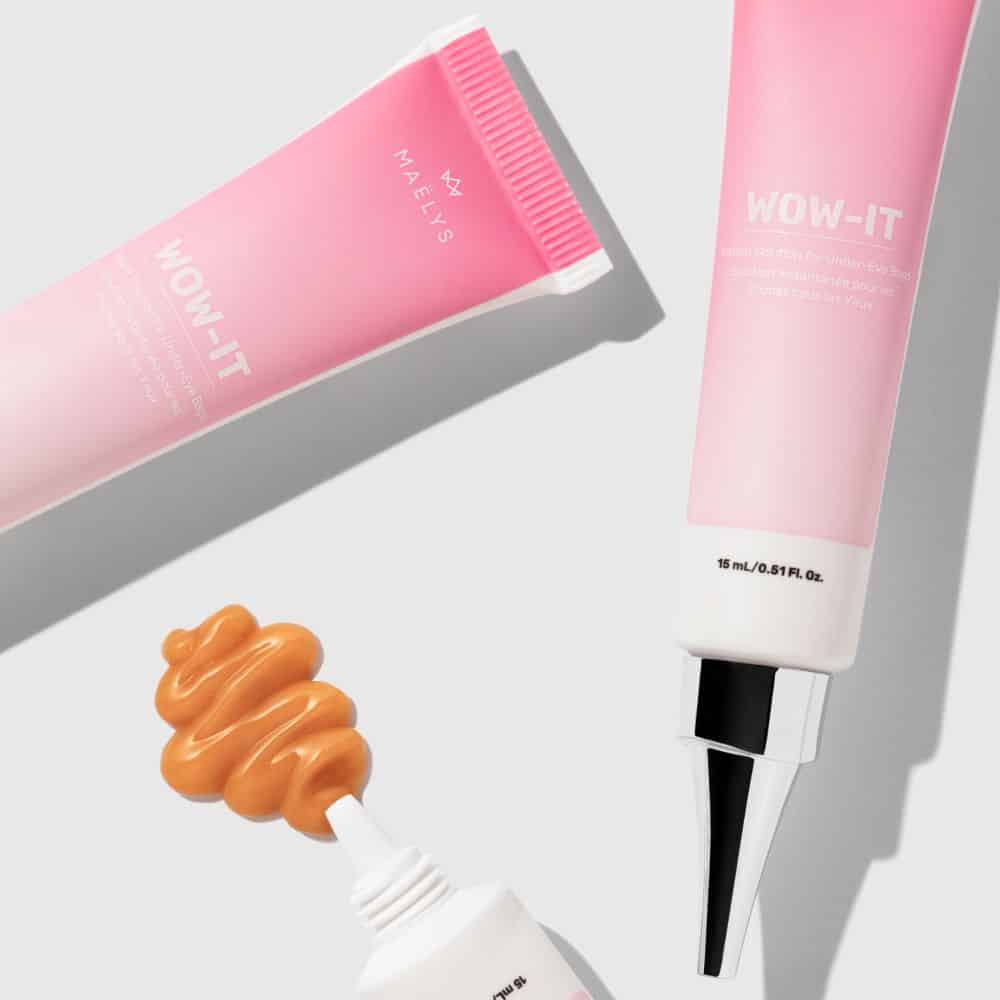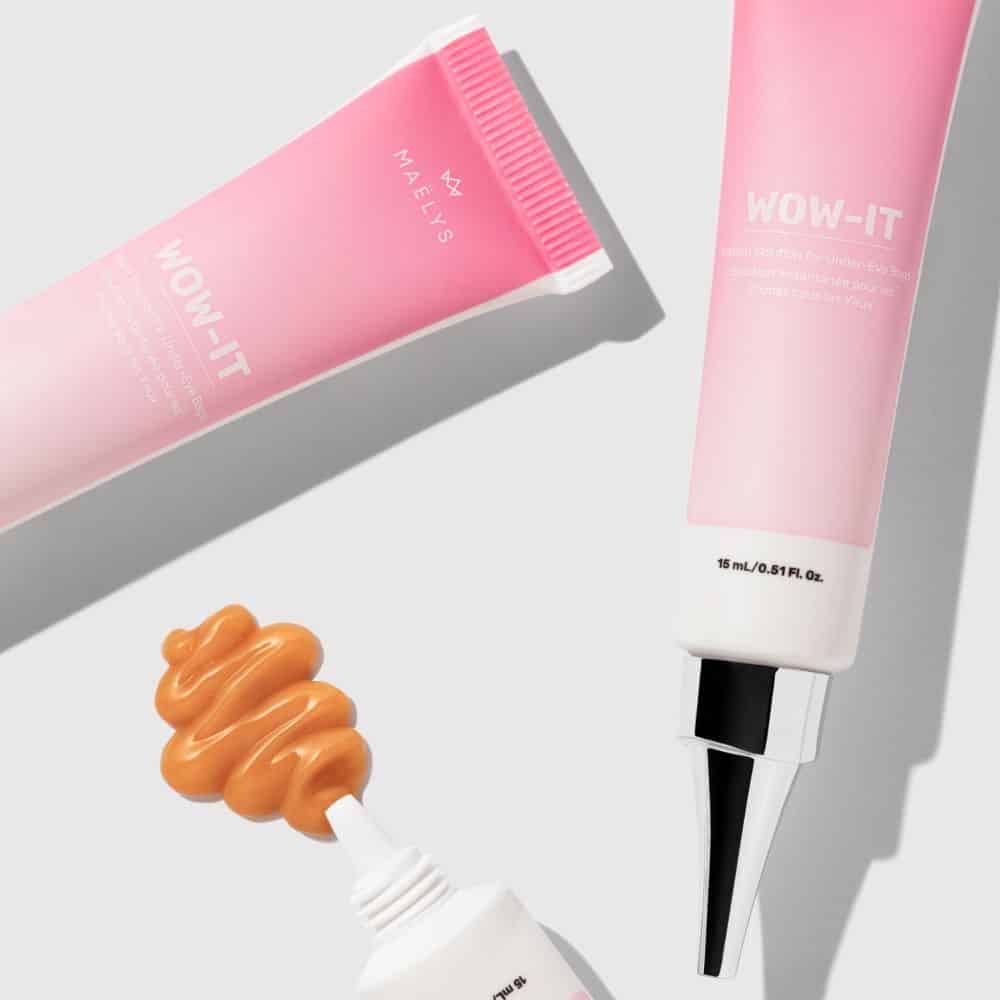 Wow-It Eye Cream Ingredients 
Hyaluronic Acid 
Hyaluronic Acid is a molecule with a high affinity for binding and retaining water. Because the skin around our eyes is delicate, wrinkles and fine lines appear quickly. Hyaluronic Acid hydrates and nourishes this area, making it appear taught and firm. The increased hydration also combats dryness, giving the skin a plump and smooth appearance. Hyaluronic Acid also aids in the reduction of puffiness and the appearance of dark circles.
Sodium Silicate 
Sodium Silicate is a chemical compound composed of sodium, silicon, and oxygen. It is used commonly in a variety of industries, including cosmetics. It acts as an astringent (shrinks or constructs body tissue). It also thickens and stabilizes products and has cleansing and buffering properties. It glides on the skin uniformly. As it dries, the skin contracts due to Sodium Silicate's tendency to pull on fine lines and wrinkles. As a result, the skin appears smoother, more even, and tauter.
Glycerin 
Glycerin is a powerful humectant that draws water from the environment to keep the skin hydrated. It works by providing moisture to the skin and forming a protective moisture barrier on the skin's surface to prevent and reverse aging. Its hydrating properties help to tighten and firm the skin, brighten it, and give it a smooth and plump appearance. Glycerin also promotes skin cell regeneration and increases skin cell turnover by keeping the skin cell renewal cycle moving.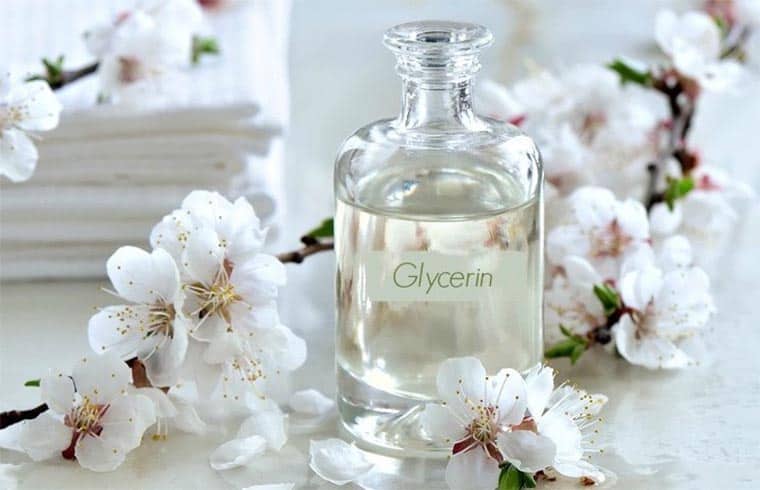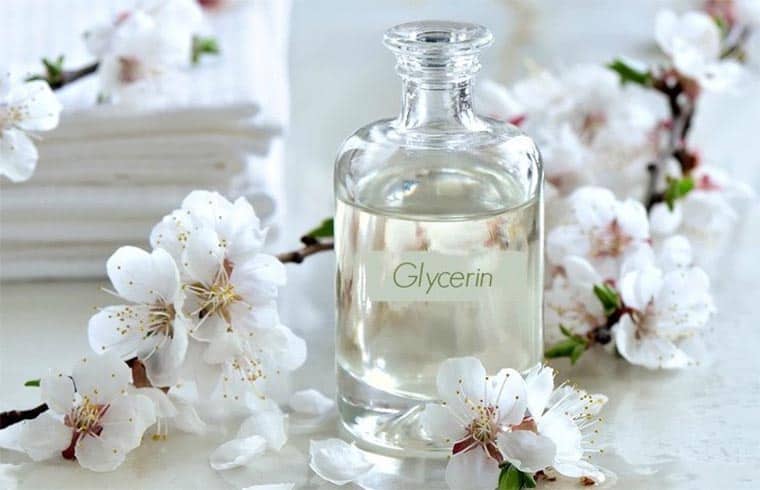 Collagen And Elastin 
Collagen and elastin are proteins that occur naturally in our tissues. Collagen provides strength and structure to the skin, whereas elastin provides resilience and elasticity. As we age, the production and breakdown of these vital skin components naturally decrease. UV light, pollution, and the sun all contribute to the loss of these proteins. Topically applying collagen to the skin can help to moisturize it. Elastin, on the other hand, stimulates cell growth, so its renewing effect makes the skin look smoother and younger over time.
Benefits Of Wow-It Instant Under-Eye Cream
Wow-It Eye Cream offers an immediate tightening effect, thereby reducing the appearance of wrinkles, lines, and under-eye bags.

It works quickly to give you a fresh, smooth, and youthful appearance.

Sodium Silicate is present in the formulation, which helps tighten harsh lines and temporarily reduces puffiness.

The formula contains potent humectants like Hyaluronic Acid and Glycerin, which intensely hydrate the skin, making it look plump, soft, and supple.

Wow-It eye cream employs essential proteins- collagen and elastin to help restore strength, elasticity, and firmness.

It helps to lock in moisture for the delicate under-eye area, preventing dryness and making the skin look firm and even-toned.

The product has been meticulously formulated to avoid skin irritation and is free of parabens and SLS.

This eye cream is an excellent solution for quickly reducing the appearance of under-eye bags, dark circles, and wrinkles on special occasions.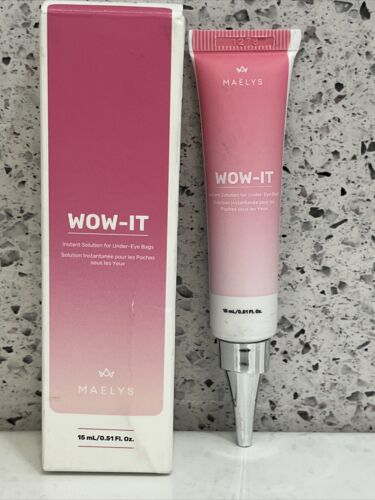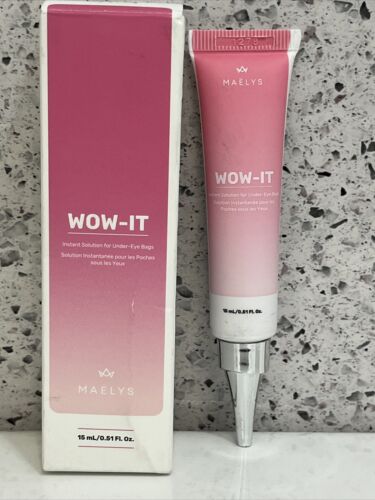 Drawbacks 
Wow-It Eye Cream may be risky for individuals suffering from fungal acne (Malassezia).

This cream contains perfume. Those who prefer fragrance-free products may want to avoid this product.

Linalool and Limonene, both potential skin irritants, are present in the formulation.

Although the company claims to use collagen, experts believe that using collagen-based products topically can only help moisturize the skin. Because collagen has a high molecular weight and cannot penetrate the skin quickly, its topical application is considered insignificant in stimulating collagen synthesis or growth.
Wow-It Instant Under-Eye Cream Alternatives 
Peter Thomas Roth Instant FIRMx Eye Temporary Eye Tightener 
This cream recently went viral on the popular video-sharing app TikTok after 54-year-old TikToker (@trinidad1967) showed her followers her favorite skin-smoothing product to instantly reduce the appearance of under-eye bags. Her video has received over 41 million views resulting in a massive increase in sales and demand for the product.
The Peter Thomas Roth Instant Eye Tightener claims to provide immediate temporary results while also providing long-term anti-aging benefits. Their innovative formula instantly tightens, firms, and smoothes the delicate eye area, temporarily reducing the appearance of crow's feet, fine lines, deep wrinkles, and under-eye puffiness.
The Instant FIRMx Eye Temporary Eye Tightener by Peter Thomas Roth contains a potent blend of silicates, antioxidants, peptides, and moisturizing agents. This formulation includes three skin-tightening silicates (Sodium Silicate, Sodium Magnesium Fluorosilicate, and Magnesium Aluminium Silicate) that provide an instant tightening and firming effect.
Using silicates in creams helps to contract the skin, giving it a smooth and even appearance. The formula also contains Eyeliss, a potent peptide complex that visibly helps reduce the appearance of under-eye bags, puffiness, and wrinkles over time. Glycerin is a natural moisturizer that keeps the skin lipids between our skin cells healthy, protects against irritation, and aids in barrier restoration.
Benefits Of Peter Thomas Roth Instant FIRMx Eye Temporary Eye Tightener
Peter Thomas Roth Eye Cream is a safe, quick, and effective eye treatment for reducing the appearance of wrinkles, lines, dark circles, and under-eye puffiness.

Ophthalmologist-tested and clinically tested on women aged 36 to 65.

It contains a potent blend of three silicates that tighten and firm the skin in just 3 minutes.

The formula contains peptides, moisturizers, antioxidants, and several other skincare ingredients that help achieve long-term anti-aging benefits.

This cream contains Glycerin and Panthenol that moisturize, soothe, hydrate, and nourish the delicate eye area.

People of all ages can use it, and it is safe to use daily.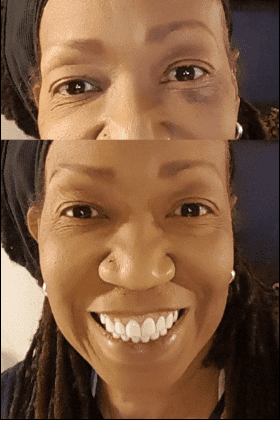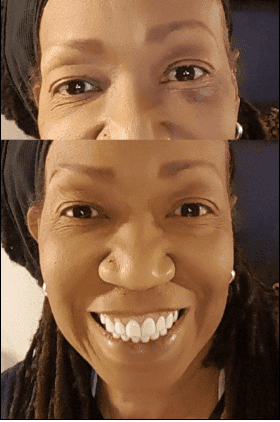 Drawbacks 
Peter Thomas Eye Cream may leave a white/yellowish residue if used excessively.

It may cause skin dryness.
See Also: Elvive Wonder Water Review | Gorgeous Hair In 8 Seconds?
Plexaderm Rapid Reduction Serum 
Plexaderm Rapid Reduction Serum is a tried and tested instant eye-tightener that has long been popular. In 2019, a clinical study on 43 people in Florida concluded that all participants saw significant reductions in wrinkles, fine lines, and under-eye bags.
The manufacturer claims this potent serum can remove visible lines, dullness, and puffiness in under 10 minutes. This serum is suitable for use around the eyes and other areas of the face and neck to achieve immediate tightening and firming effects. Plexaderm's study revealed that it is also highly effective at visibly reducing the appearance of forehead and smile lines.
Sale
Plexaderm Rapid Reduction Eye Serum - Advanced Formula - Anti Aging Serum Visibly Reduces Under-Eye Bags, Wrinkles, Dark Circles, Fine Lines & Crow's Feet Instantly - Instant Wrinkle Remover for Face
ANTI-AGING ADVANCED GOODNESS – Plexaderm Rapid Reduction Serum harnesses the power of silicate minerals derived from shale clay to create a temporary skin tightening layer on your skin that lifts, tightens and smooths the skin for a more youthful appearance.
SMOOTHER THAN EVER – Our facial serum was formulated to be easier to spread and more evenly applied than previous formulas. It has a smoother feeling when dry and a more satin finish, leaving you with a natural youthful glow.
AT HOME INSTANT FACE LIFT – Our clinically tested anti wrinkle repair formula gives instant results in as little as 10 minutes that leave you looking years younger. Get immediate results without turning to expensive cosmetic treatments that can be painful and time consuming!
10 HOURS OF ONGOING BEAUTY – Our advanced skin serum was clinically tested and shows that results can last for up to 10 hours. Apply to clean and dry skin. Allow Plexaderm Rapid Reduction Serum to set and dry for 10 minutes after application. Avoid moving the areas in which you've applied Plexaderm so that you can achieve optimal results.
PERFECT FOR ALL – Plexaderm goes on clear so nobody will know you are using it and it is easy to apply! This anti-aging serum has both men and women nationwide happy with their youthful-looking skin and younger appearance.
Plexaderm's hero ingredient, similar to Wow-It Instant Under-Eye Cream, is Sodium Silicate, which temporarily tightens the skin to achieve a youthful appearance. This formula also contains soluble collagen, which helps to restore firmness and elasticity. Improved strength can significantly reduce the appearance of wrinkles, crow's feet, and fine lines.
Plexaderm contains humectants like Propylene Glycol, which help retain water in the skin and make it look plump, supple, and glowy. Humectants also combat dryness and irritation caused by it. Another effective humectant is Acetyl Hexapeptide-8, which helps reduce wrinkles around the mouth, eyes, forehead, and cheeks. There are a lot of brands offering a value-offering variety of eye creams and Plexaderm is one of them.
Benefits Of Plexaderm Rapid Reduction Serum
Plexaderm Rapid Reduction Serum works in 10 minutes to reduce lines, wrinkles, and bags under and around the eyes.

It uses silicate minerals from shale clay to form a temporary tightening layer on the skin.

To give you a more youthful appearance, it visibly tightens and lifts crow's feet, shrinks under-eye bags, and reduces forehead and smile lines.

Plexaderm is said to produce results that last 7-10 hours.

The formula contains humectants, which help the skin look smooth, even-toned, and nourished by retaining moisture.

Suitable for use on the face and neck daily. It is ideal for people of all ages.

For trial purposes, a blister package of 30 pods is available.

Plexaderm is lightweight in texture and easy to use.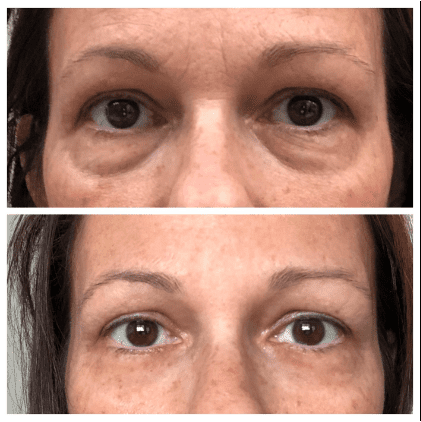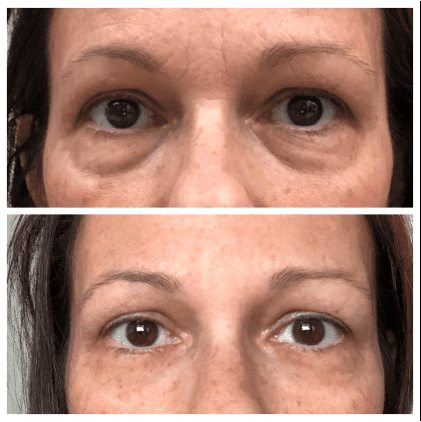 Drawbacks 
Plexaderm is a bit pricey.

It may cause mild irritation or discomfort or leave a white residue.
How To Use Wow-It Instant Under-Eye Cream?
Begin by washing your face with a mild cleanser. Afterward, pat your skin dry with a soft towel or dry tissue.

Apply the Wow-It cream to your lower eyelids and dab lightly.

To allow the product to set, fan the skin for about 2 minutes while maintaining a natural facial expression. During this step, avoid moving your facial muscles.

Ideal for special occasions, but you can also use it daily.
Customer Insights | Wow-It Instant Under-Eye Cream Before And After 
Laura said, "I'm so glad I found this product because it works like magic. Because of prominent under-eye bags, wrinkles, and dark circles, I've always looked dull and tired. Wow-It cream immediately reduces their appearance, giving me a more youthful appearance. I use it under my eyes every day without any irritation. I've gotten a lot of compliments since I started using this cream. I recommend that everyone try it at least once."
Roseanne explained. "I was hesitant to try this cream because it seemed gimmicky. However, after reading numerous positive reviews, I decided to try it. So far, I've used it 4-5 times. As claimed, it reduces puffiness under the eyes, but the results are nothing dramatic. In terms of formulation, it is smooth and easily glides without leaving any unwanted residue. It's a good product to have on hand for those days when you need a quick fix to avoid looking glum or dull."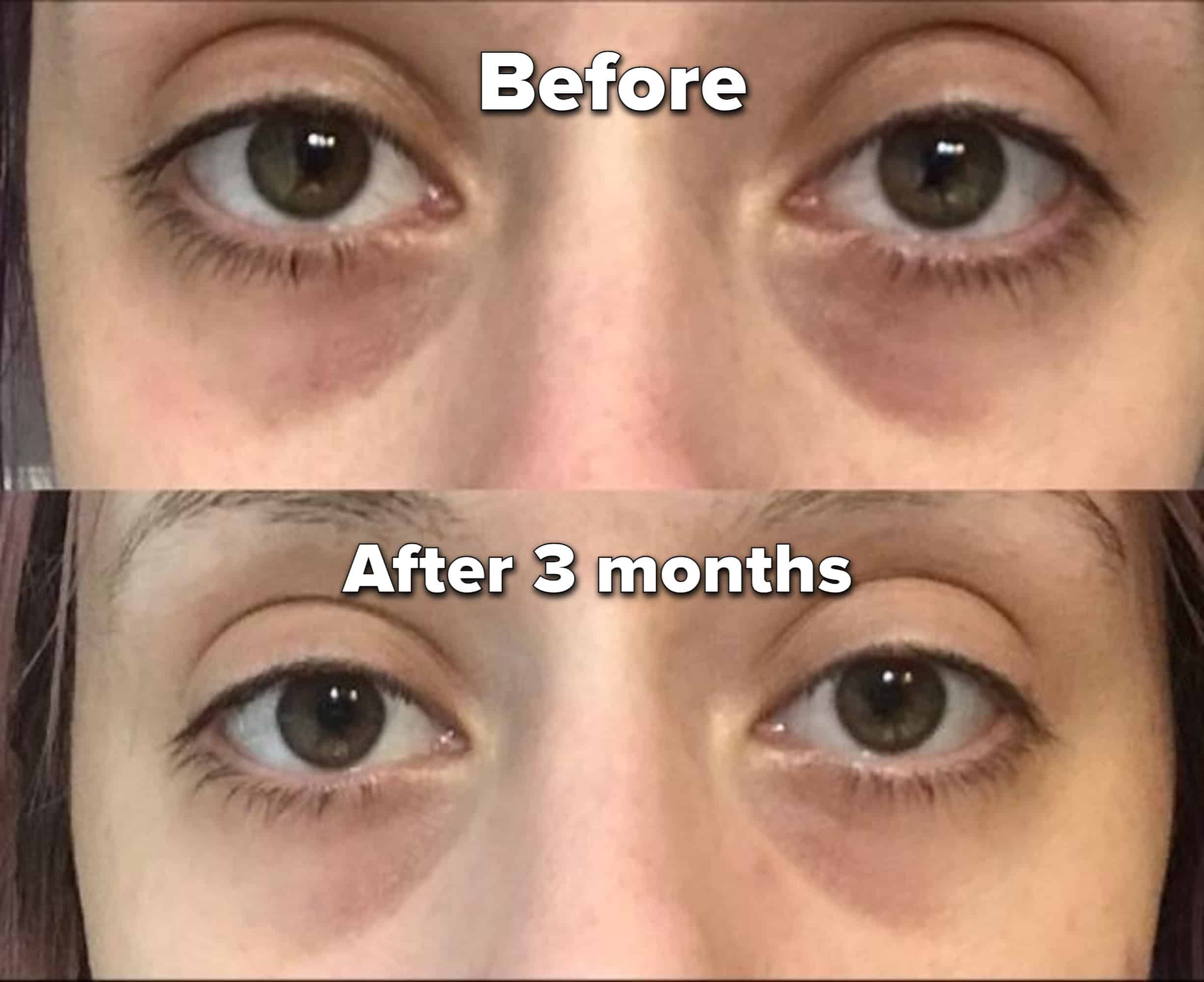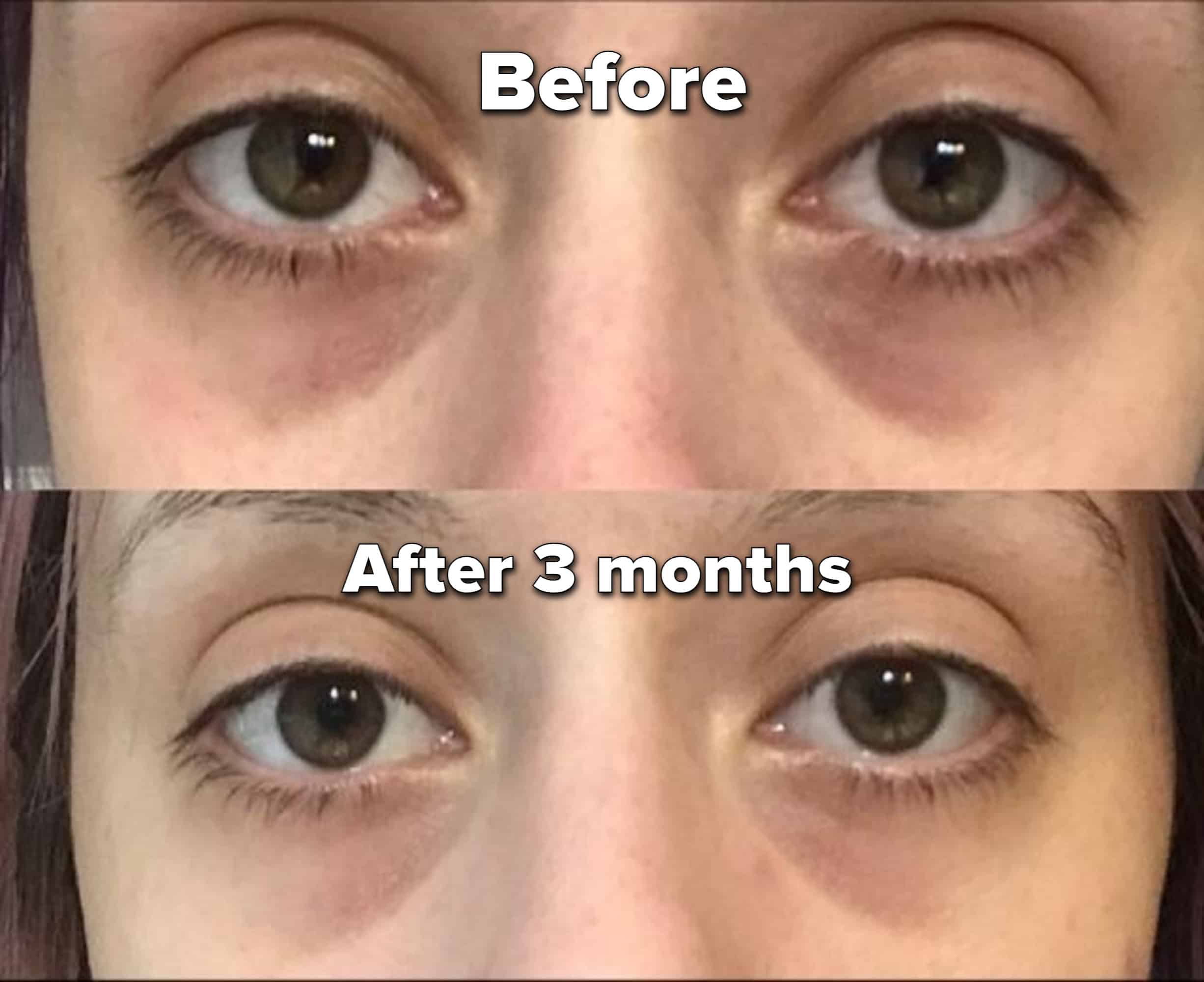 Caroline stated, "This is an amazing product. So far, it has worked well for me. Here's a tip: don't apply too much product at once. I initially made that mistake a few times, resulting in prominent lines and residue beneath my eyes. A small amount of cream goes a long way."
Frequently Asked Questions
Does Maelys Wow-It Eye Cream have any side effects? 
Maelys Cosmetics Wow-It Eye Cream is formulated carefully and tested rigorously to ensure that it does not cause severe side effects. Nonetheless, keep in mind that everyone's skin reacts differently to products. Most importantly, the skin beneath the eyes is extremely thin and fragile, making it susceptible to sensitivity and irritation. Before using the eye cream, please perform a patch test to avoid future irritation or problems.
Does the Wow-It Eye Cream work? 
Wow-It Eye Cream contains effective ingredients that instantly tighten the skin while providing adequate moisture and hydration. As a result, there is a visible reduction in the appearance of puffiness, dark circles, lines, and wrinkles. This cream contains Sodium Silicate to achieve instant tightening effects. This component is potent to work as claimed and is found in various other eye creams. Several customers have also reported that this product works well. Nonetheless, the outcomes will differ from person to person.
Closure | Wow-It Eye Cream Reviews
The Wow-It Eye Cream attracts attention with its appealing tagline, "Banish stubborn bags in the blink of an eye!". It may appear to be a gimmick at first glance, but it uses scientifically proven ingredients to reduce the appearance of puffy under-eye bags, fine lines, pigmentation, and wrinkles. This cream's formulation is ideal for achieving hydrated, smooth, and even-toned skin because it contains potent ingredients such as Hyaluronic Acid, Glycerin, and essential proteins. The key ingredient in this product, Sodium Silicate, visibly tightens the skin, giving you a fresh and youthful appearance. Given the numerous positive Wow-It Eye Cream reviews, it is safe to say this product is well worth a shot.
Because the skin around our eyes is thin, fragile, and sensitive, it is critical to use the right products to avoid severe irritation or side effects. Maelys Cosmetics promises that its products undergo rigorous testing to ensure their safety. Linalool and Limonene are two controversial ingredients in the Wow-It eye. Furthermore, Sodium Silicate, a vital component of this cream, can also irritate the skin. As a result, we strongly advise you to conduct a patch test before using the Wow-It Eye Cream. If you experience severe irritation, please discontinue use and consult a doctor if necessary.
Rebecca is a skilled writer with a passion for makeup and skincare. With years of experience in the beauty industry, she has a deep understanding of the latest trends and products and a talent for creating engaging content that resonates with her readers. Whether she's writing about the latest skincare products or sharing her favorite makeup tips, Rebecca's writing is always informative, entertaining, and inspiring.