From demure to bold, the complete guide to perfecting your makeup always depends on you to invest in some good primer options. And by good, we mean something that will help your makeup lock in place like a pro! The sensational talk-of-the-town, the Hydro Grip Primer from Milk, has officially raised the bar with its sparkly and hydrating formula that will diminish the tired hangover from your skin and revive it with an ethereal glow that lasts! This primer gives your makeup a flawless look you would love to wear all year round to meet all your makeup goals without sweating!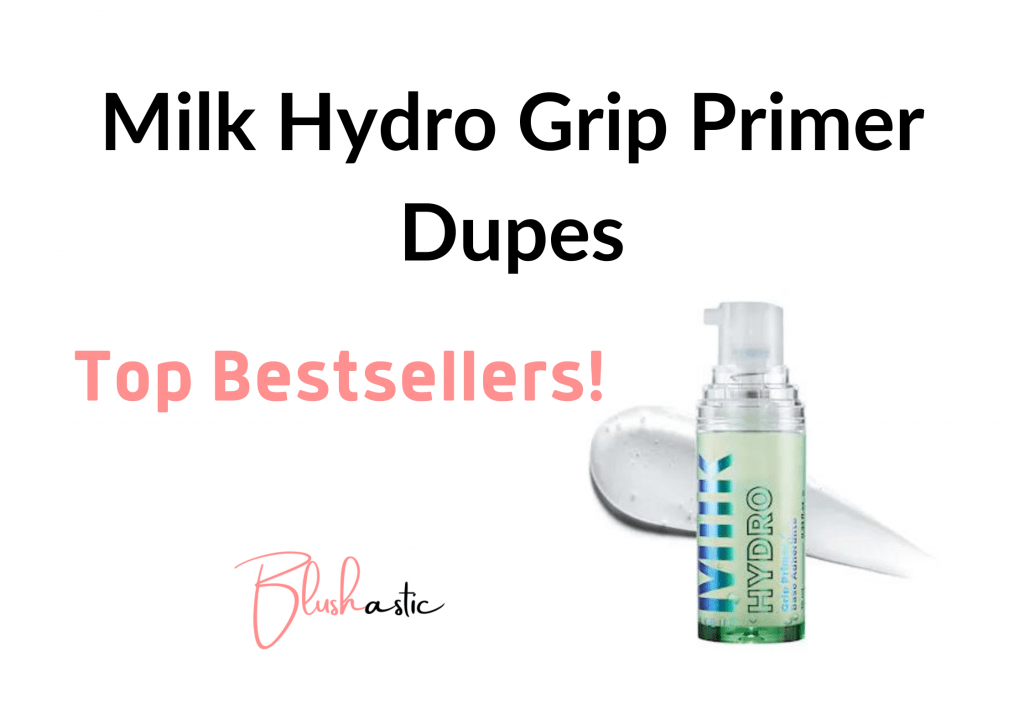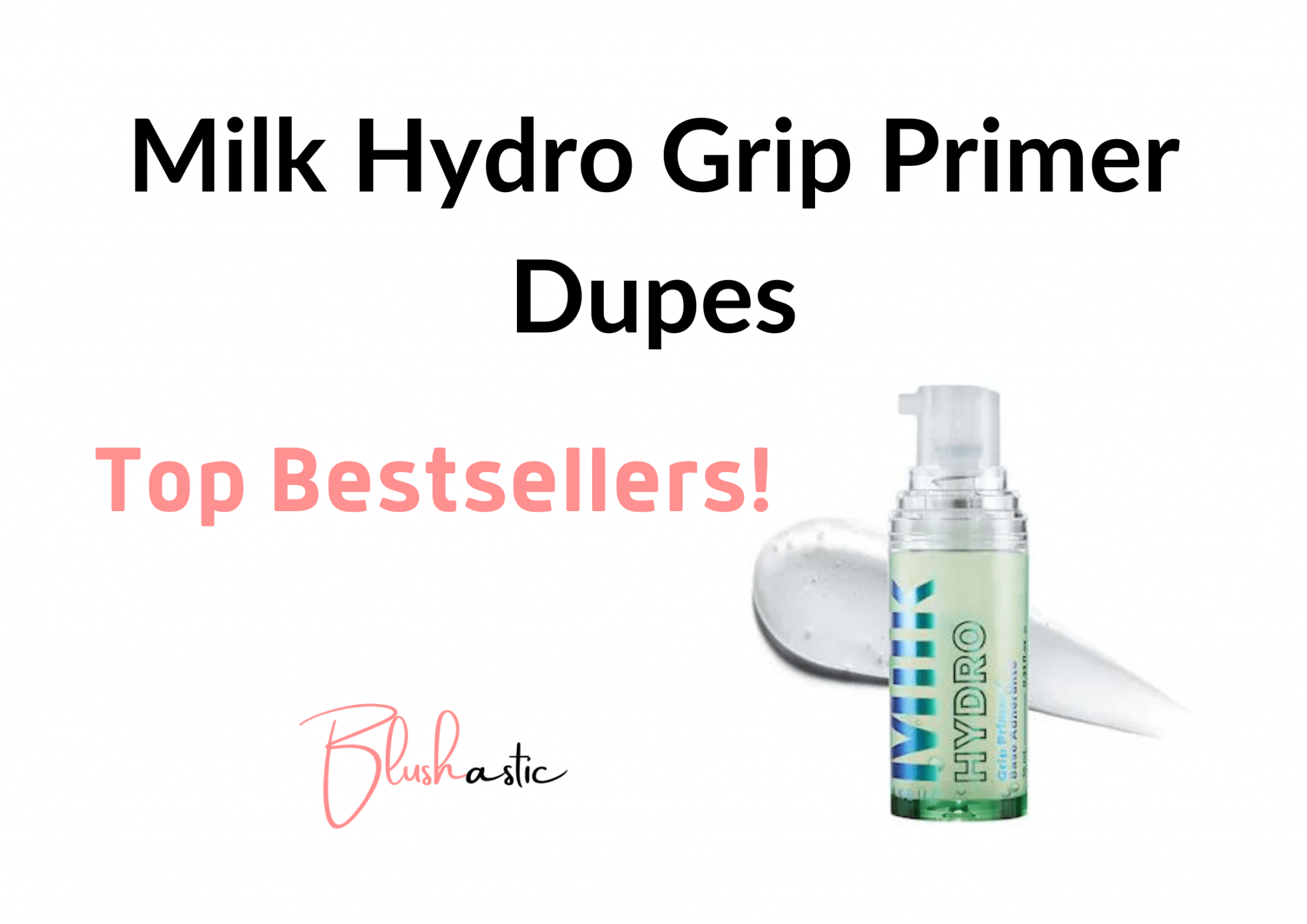 Do you always feel that flaking and creasing have become a part of your everyday life? And that your makeup isn't as appreciated as it should be? Good for you because we are here to surprise you! When beauty lovers unfurled the Hydro Grip Primer from drugstores, everyone was awe-struck by its refreshing properties that enhance the longevity of your makeup, spread quickly like jelly, and bring out an illuminating glow! 
However, it does not come without flaws, which come in the form of a hefty price tag that threatens to empty your wallet. So we have picked up 11 Milk Hydro Grip Primer Dupes exotic primer options that are as good as the real thing and are begging to be your mates for all those red letter days!
Milk Hydro Grip Primer Dupes to

Spice Up Your Primer Routine
Do you need a primer? We aren't sure about you, but your face needs the help of one if you want to save yourself from a patchy makeup look. This hyped-up step in your makeup routine creates a new canvas that allows your makeup to glide like velvet and blend in better like butter. According to Milk Hydro Grip Primer Dupe Reddit reviews, users who tried their luck with this cult-favorite makeup revealed that this was what they had always wanted! So why are people looking for an alternative when the original has only outstanding sass to offer all skin complexions? 
Irresistible ingredients like blue agave extracts are present in the composition, which are hailed for forming an invisible layer on your skin to help keep the makeup in place. Apart from this, hyaluronic acid and hemp-derived cannabis seed extract are also present, which play a vital role in pumping up hydration and giving your skin a visibly smoother surface. 
MILK Makeup Hydro Grip Primer - Hydrating Gel Formula - Paraben, Oil, and Silicone Free - Mini .33 Fl Oz
Invisible primer that can be worn under makeup for smooth coverage that lasts all day, or on its own for a naturally dewy, fresh look
Blue Agave Extract helps form a sticky layer that locks make up down for less fading and transfer
Hyaluronic Acid, Hemp Seed Extract, and (Niacinamide) vitamin b3 boost skin's hydration
94% natural gel formula is vegan, clean, cruelty-free, paraben-free, silicone-free, oil-free, fragrance-free, and gluten-free; Suitable for sensitive, normal, and dry skin types
Milk Makeup has one simple product philosophy - Use good, effective ingredients. Products are made to be easy-to-use and 100% vegan, cruelty-free, and paraben-free always.
Niacinamide, popularly known as vitamin B3, and the presence of aloe water serve as reservoirs of moisture for your skin and infuse your dermal layers with a soft, dewy radiance. However, if you get too greedy and apply more, Milk Hydro Grip Dupe reddit reviews shared that it can cause flaking of your makeup. Also, it may not be an answer for those looking for a mattifying finish as it tends to be more hydrating. 
Therefore we are here to present you with this defined guide of 11 Milk Hydro Grip Primer dupes that won't cause you a fortune and stand out from the rest, keeping your makeup intact! 
TOUCH IN SOL Primer
When finding a good Milk Hydro Grip Primer Dupe for your skin, missing out on the rich powerpack formula of the TOUCH IN SOL Primer is impossible. The blurring primer is infused with plant-based extracts like peony flower extract, which improves your elasticity, and cocoa which soothes the skin. Just kike the origial. This too has cherry blossom and sodium hyaluronate, ensuring your skin feels moisturized, protected, and repaired against any damage.
TOUCH IN SOL Icy Sherbet Primer 1.05 fl.oz. - Hydrating Primer Face Makeup for Dry or Oily Skin - Silk Pore and Wrinkle Minimizer - Silicone and Oil Free Gel Formula with Cooling Effect
Smooth Textured Skin - Having trouble with uneven skin and large pores? Smooth and prepare your skin for foundation with our Korean makeup primer; the silicone free formula blurs your pores without clogging the skin for a flawless and radiant skin texture.
Moisturize Your Skin - This hydrating primer helps your dry or damaged skin stay moisturized and nourished all day without looking greasy; improve skin elasticity and keep your makeup flawless when working, running errands, or meeting friends.
Minimize Pores and Wrinkles - Our pore blurring primer conceals blemishes and minimizes the appearance of wrinkles; the cooling formula feels great and absorbs into your skin quickly providing seamless coverage of pores and other imperfections for a perfect finish.
Beneficial Silicone Free Formula - Fall in love with plant-based extracts from cocoa, peony blooms, and cherry blossoms that sooth your face with incredible hydration and antioxidants; the antioxidants in these plant extracts help protect and repair skin damage.
Simple to Apply – We recommend that you use this hydrating primer after your skin care routine and before you place any makeup on your face; you only need a thin layer of our primer to create a smooth surface and hold your makeup.
This icy silk formula gives a cooling sensation that actively assists in masking blemishes, and hiding wrinkles, by effortlessly being absorbed onto your skin. You can kickstart your makeup routine with this one, as users who tried this said that they got the results they were hoping to achieve. The Korean makeup primer is non-comedogenic and does your skin justice with its touch of silicone-free smoothness!
Perks 
It has a lasting power of 24 hours

Reduces the appearance of pores 

Free of silicones 

Possesses a silky sherbet gel formula 

It gives a cooling effect on the skin 

Does not clog your pores

Keeps skin moisturized and nourished all-day

Enhances skin elasticity 

Rich in plant-based extracts like coca, peony, cherry blossom 

Antioxidants help heal the skin from damage 

Hides imperfections easily 

Absorbs quickly onto the skin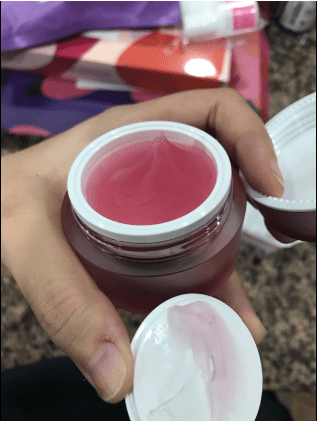 Drawbacks 
According to an Amazon user, the gel feels very sticky on drying up. 
NYX PROFESSIONAL MAKEUP Bare With Me Hydrating Jelly Primer
Face primers are crucial to our makeup routine, and NYX understands it just the right way! The Bare With Me primer is a hydrating jelly primer like Hydro Grip and coats your skin surface with a mattifying look to lock in the makeup in one place. The water-based primer is a nourishing blend of cucumber and aloe leaf extracts that pump your skin with a satisfying feeling of hydration and keep dryness at bay.
NYX PROFESSIONAL MAKEUP Bare With Me Hydrating Jelly Primer, Vegan Face Primer
Hydrating Gel Primer: Bare With Me Hydrating Jelly Primer has a touchable, jelly like texture that creates a moisturized, matte finished barrier for a smooth makeup application, or wear alone as a light hydrator
Infused Gripping Primer: The first step in achieving that even toned, no makeup look, this water based gripping primer is infused with cucumber and aloe extracts that leave your skin feeling fresh, hydrated, and ready for other Bare With Me products
Face From Foundation To Finish: Complete your makeup look with our full line of face products to aid in color correction and coverage from concealer, blush, bronzer, foundations and contouring to palettes and powders
Cruelty Free Cosmetics: We believe animals belong in our arms, not in a lab; All of our makeup is certified and acknowledged by PETA as a cruelty free brand; We don't test any of our products on animals
Discover NYX Professional Makeup: Try all of our professional makeup products today from eyeshadow, eyeliner, and false lashes to liquid lipstick, lip gloss, primer, concealer, setting sprays and eyebrow makeup
It also acts as an excellent pore minimizer and helps conceal stubborn wrinkles and fine lines. The soothing gelly works on all skin types and possesses a vegan composition. NYX believes animals belong in arms and not in labs, so all their products have the stamp of being cruelty-free.
Perks
It has a transparent jelly texture 

Enriched with aloe, and cucumber extracts 

It has over 1k reviews on Amazon

It matches all skin types

It can be worn alone or with makeup 

Leaves skin feeling fresh and hydrated 

Acknowledged by PETA 

Primer grips and holds onto your makeup for long

It leaves a sultry dewy glow

Entirely vegan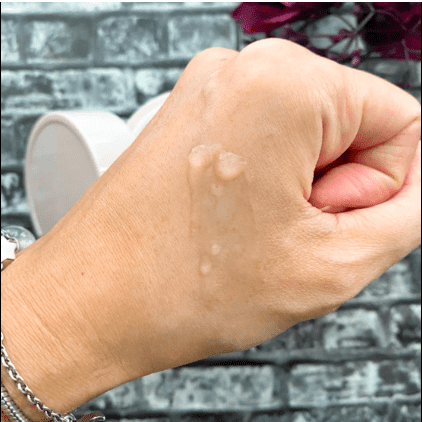 Drawbacks 
It may take time to absorb on your skin. 
wet n wild Photo Focus Dewy Face Primer
Users who tried this were the first to reveal that they loved this primer because it helped add life to their makeup and allowed it to stay on for hours. Wet N Wild has a knack for creating formulas that help diminish the appearance of your nasty pores, fill in fine lines, aid in evening out skin tone, and keep your foundation from forming into patches.
Sale
wet n wild Photo Focus Dewy Face Primer, Till Prime Dew us Part, 0.84 Fluid Ounce
PREP & PRIME: Infused with Vitamin E, this lightweight primer formula helps smooth your skin for an even makeup application. Apply under foundation, concealer, & powder for a flawless look that lasts.
This primer is infused with pearl pigments to add dimension for that glow-from-within look. Use under
BEST FACE FORWARD: From bronzer & blush to primer, highlighter, natural finish powder, & concealer, we've got you covered & photo ready for your next big thing. You've met your true makeup match.
ALWAYS CRUELTY FREE: wet n wild is 100% cruelty free, & always has been. We also carry vegan makeup & tools such as foundation, nail polish, contour palettes, lipstick, makeup brushes & more.
STAY WILD: wet n wild is the trusted beauty destination for beauty lovers of all ages, ethnicities, skin colors, & economic statuses. No matter who or where you are in life, we have a product for you
Loaded with the healthy goodness of vitamin E, the formula has pearlescent pigments, adding more to a dewy and voluminous look. The primer clings to your makeup seamlessly and has never been tested on animals. So go on, bless your skin with this one! 
Perks 
Super cost-effective 

Compliments all skin types seamlessly 

Lightweight formula 

It contains vitamin E and helps get a smoother base

It has pearl pigments to add a radiant glow 

Makes you photo ready instantly 

It leaves a dewy sheen 

Free of toxic elements like gluten, paraben, and fragrance 

Vegan and cruelty-free 

It helps add more definition to your face

Leaping Bunny certified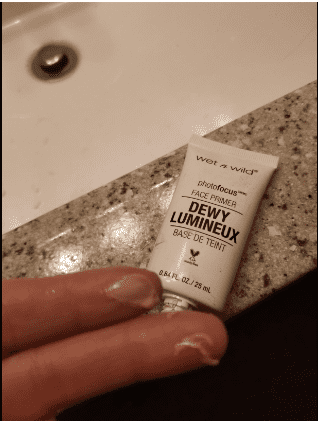 Drawbacks 
Not very moisturizing

It may feel a bit oily later, especially to people with oily or combination skin. 
NYX Honeydew Me Up! Plumping Dewy Face Primer
The NYX Honeydew Me Up! Plumping Dewy Face Primer targets uneven texture and exhausted skin and helps remedy it in minutes. Available at a super economical pricing structure, the primer forms full coverage and allows your makeup to stay longer than you want. Users said this formula boasts of the presence of Centella Asiatica, a native Asian plant, and serves as a medicinal herb.
Sale
NYX PROFESSIONAL MAKEUP Honeydew Me Up Face Primer, NEW Vegan Formula
Dewy Finish Face Primer: Infused with honeydew melon extract, this vegan primer creates a smooth makeup canvas with a dewy finish on skin; Wear alone or under makeup or mixed in with your favorite foundation
Create a Smooth Canvas: Apply it all over your freshly cleansed and moisturized face and wait 2 minutes for it to set before applying foundations and concealers; Apply a bit more to extra dry or irritated areas of the face
Face From Foundation To Finish: Complete your makeup look with our full line of face products to aid in color correction and coverage from concealer, blush, bronzer, foundations and contouring to palettes and powders
Cruelty Free Cosmetics: We believe animals belong in our arms, not in a lab; All of our makeup is certified and acknowledged by PETA as a cruelty free brand; We don't test any of our products on animals
Discover NYX Professional Makeup: Try all of our professional makeup products today from eyeshadow, eyeliner, and false lashes to liquid lipstick, lip gloss, primer, concealer, setting sprays and eyebrow makeup
It helps in collagen synthesis, offering multifold benefits like retaining a younger-looking skin, soothing sensation, and intensely hydrating all areas by relieving any irritation. Smoothening the irritated areas of your face builds a clean and soft canvas for the makeup to glide in like butter!
Perks 
Easily affordable price

Gives full coverage 

Illuminates skin with a soft dewy glow 

100% vegan composition 

It can be worn alone or with makeup 

It contains Centella extracts, which help keep irritation at bay

Cruelty-free certified by PETA

It helps plump up your complexion 

The gel formula is easy to apply to the skin 

Has honeydew present, which offers a moisturizing feel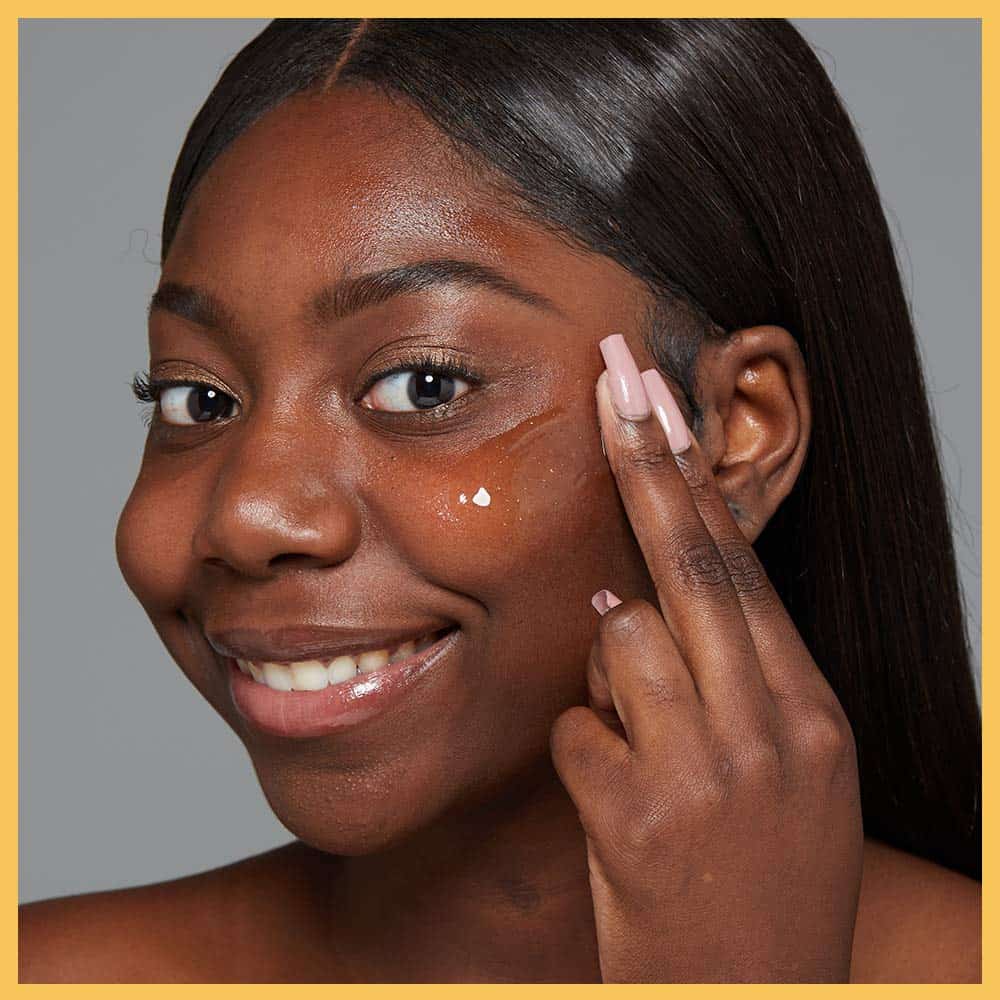 Drawbacks 
It may not work for everyone. 
Dermablend Insta-Grip Jelly Primer Face Makeup
You can consider adding the Dermablend Insta-Grip Jelly Primer Face Makeup to your makeup routine for this dermatologist-tested formula claims to boost your skin with ample moisturization. The primer offers a recipe that grips onto your makeup for 24 hours and gives you a flawless base by minimizing your tough pores.
This primer has many premium and top-quality pigments, making clear jelly a perfect step in your beauty regimen. The formula is devoid of silicones and contains no added fragrance. It has been efficiently tested for allergies, so even if you have sensitive skin, you can melt your worries in the thin air and plant your makeup!
Perks 
Lightweight and clear 

Jelly primer just like Milk Hydro Grip

Free of silicones

It helps in minimizing the appearance of pores

Lasts as long as 24 hours

Instantly moisturizes skin 

Sticky application to extend the longevity of your makeup 

Contains high-performance pigments 

Free from fragrance, phthalate 

Vegan formula 

Does not clog your pores

You can use it on all skin types, including sensitive 

Tested for allergies 

Cruelty-free composition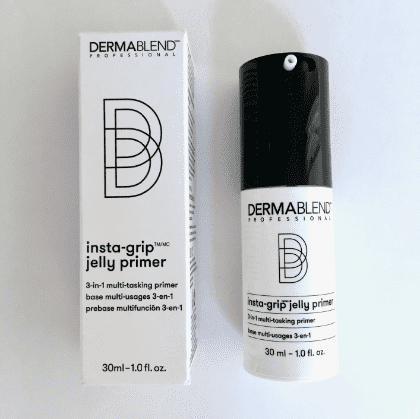 Drawbacks 
The makeup may become cakey after a few hours of wearing this primer. 
Good Molecules Priming Moisturizer
Including the Good Molecules Priming Moisturizer in your makeup vanity will be a thoughtful addition on any fine day of the year, as revealed by a Reddit user! The formula is pampered with handpicked ingredients like macadamia seed oil, shea butter, and plant-derived silicone, which helps make your surface smooth. It enhances the hydration levels of your skin. This lightweight formula, in turn, helps in lasting your makeup longer.
Those worried about the composition should know earlier that Good Molecules is strictly vegan, does not use silicones, and does not believe in testing its products on animals. Macadamia seed oil is associated with enhancing the turnover of cells, whereas shea butter helps in keeping your skin soft, nourished, and supple. 
Perks 
Free of silicones

It gives a smooth effect

Deeply hydrates skin and lightweight 

Evens skin's texture 

It helps in plumping up fine lines

Encourages cell regeneration 

Filled with antioxidants like vitamin E 

Shea butter helps soothe any signs of irritation 

Loaded with essential fatty acids 

Vegan composition 

Never been tested on animals 
Drawbacks 
Not many reviews to ascertain its efficacy 
Olay Regenerist Whip Face Moisturizer
While this creamy, whipped formula has been on the wishlist of many makeup divas, the moisturizer can replace your boring everyday primers with its lifted feel. It readily targets wrinkles and fine lines and works hard to remove them from your pretty face, which often dulls our natural beauty.
Sale
Olay Regenerist Whip Face Moisturizer, 1.7 Ounce
LIGHT AS AIR MOISTURE: Reduces the appearance of fine line and wrinkles
DELIGHTFULLY WHIPPED: Made with Active Rush Technology to transform skin
SCIENCE MEETS BEAUTY: For a lifted look
INSTANT ABSORBTION: Leaves skin feeling soft
POWERFUL BUT BREATHABLE: Your skin will feel hydrated
The Olay Regenerist Whip Face Moisturizer has been designed with Active Rush Technology, which features an advanced Amino-Peptide Complex II presence. This enhances your skin's elasticity, making it tighter and firmer. The paraben-free composition is ultra-lightweight and gives your skin a breathable feel. 
Perks 
Creamy and weightless 

It has a non-greasy finish 

Blends effortlessly onto the skin

Designed with Active Rush Technology 

Diminishes wrinkles, and fine lines

Free of phthalates, parabens, mineral oils, and synthetic dyes

Turns skin softer and smoother

Rich in vitamins and essential peptides

Delivers intense hydration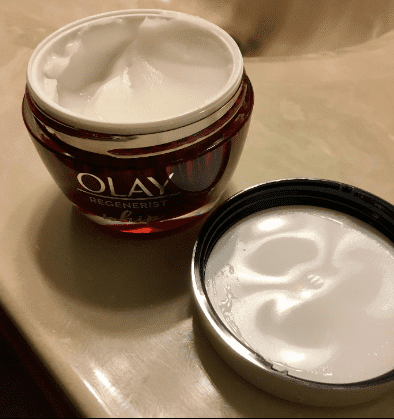 Drawbacks 
It does not make your makeup smooth. 
Elizabeth Mott Thank Me Later Face Primer 
The Elizabeth Mott Thank Me Later Face Primer is undeniably a fool-proof choice for many makeup enthusiasts who like to keep it casual without missing out on that imperfection-less look. The luminous formula gives your skin an instance of radiance and claims to go an extra mile to combat oiliness from your skin and creates a poreless canvas by balancing your skin tone.
Sale
Elizabeth Mott Thank Me Later Face Primer - Illuminating Makeup Base Primer for Glowing Skin - Pore Minimizer, Shine Control Makeup Primer to Hide Wrinkles and Fine Lines, 30g
BASE MAKEUP FOR PREPPING: This makeup primer readies your face after your skin care regimen and before applying makeup so it holds on tight, all while bringing out your natural glow!
GET FLAWLESS FACE MAKEUP: Lock in your makeup with the help of our make up primer. This makeup primer for face helps protect the staying power of your makeup from day to night.
SKIN PRIMER FOR FACE WITH SKIN BENEFITS: Besides evening out your skin tone, this primer adds instant radiance to your skin and balances your complexion. This pore minimizer primer is perfect for layering under makeup as it protects against creasing.
FACE PRIMER FOR FOUNDATION: Formulated for every skin type, our well-balanced hydrating face primer is weightless, non-greasy, and long-wearing so you won't need constant touch-ups.
PREMIUM FOUNDATION PRIMER: Crafted with high-quality ingredients, this is a paraben-free and cruelty-free primer that's also Leaping Bunny approved.
Being sweatproof and waterproof, you don't have to worry about your makeup dripping from your face or running to the restroom for frequent touch-ups. It delivers sufficient hydration and also surprises your skin with a lit-from-within glow it has been craving for. Elizabeth Mott ensures all their products are cruelty-free, so their users can be at ease and enjoy a real taste of wholesome makeup. 
Perks
Adds a natural glow to your skin 

It works nicely for all skin types

It prevents makeup from creasing 

Helps in minimizing pores 

Designed with high-quality ingredient s

Leaping Bunny certified 

It offers skin-smoothening properties

It gives your skin a rich hydration payoff  

Gives you a plain canvas for makeup application 

The formula is free of parabens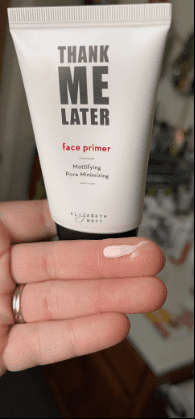 Drawbacks 
It may not work for everyone. 
Rated as Amazon's Choice, this primer & serum from the revolutionary brand Neutrogena is known for its diverse and versatile take on skincare. As the name suggests, the product will give you a dewy complexion in no time. Enriched with a high dose of sodium hyaluronate or hyaluronic acid, the primer focuses on hydration, which is a primary step in prepping your skin for gorgeous makeup.
Many users who tried this revealed that they could feel their skin had awakened after using this primer as it essentially locks in the moisture and boosts a youthful-looking glow. So if you thought you could say no to this, you are probably wrong! 
Perks
It helps in plumping up the skin

Infused with purified hyaluronic acid 

Does not clog your pores 

It helps lock in essential moisture 

Approved by dermatologists 

It makes skin supple and glowing 

Instantly hydrates and rejuvenates skin

It has a non-sticky finish to itself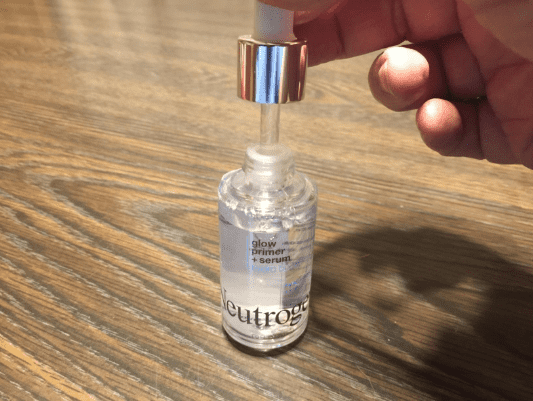 Drawbacks 
It does not help much in keeping your makeup in one place. 
TULA Skin Care Filter Primer Blurring & Moisturizing Primer
Available in six different shades, the TULA Skin Care Filter Primer Blurring & Moisturizing Primer is here to please your skin, just the way you want it! The moisturizing formula contains golden, light-infused pigments which form a reflective action on your skin and give it a shining dewy glow. The clinically proven formula has no live cultures, so you and your skin can relax!
TULA Skin Care Face Filter Blurring and Moisturizing Primer | Smoothing Face Primer, Evens the Appearance of Skin Tone & Redness, Hydrates & Improves Makeup Wear | Original / Sunrise 1 fl. oz.
TULA & PROBIOTIC EXTRACTS: We combine powerful probiotic extracts and skin superfoods for healthy, balanced and glowing skin. All our products are clean, clinically proven, and effective. Does not contain live cultures.
INSTANTLY SMOOTH: The look of uneven skin tone & hydrate for a glowy, "filter" like finish. Probiotic extracts help balance while licorice helps even the look of skin tone over time.
BLURRING EFFECT: Golden, light-infused pigments give skin a glowy, "filter" like reflective quality. Non-tinted formula looks radiant on all skin tones.
SUITABLE FOR ALL SKIN TYPES: Perfect for oily, combination, mature, sensitive, dry, normal and blemish-prone skin.
WORRY-FREE RETURN POLICY: Try TULA worry-free with our 30-day return policy. We stand behind our products and want you to love them as much as we do.
Its blurring effect minimizes the appearance of pores and creates a filter-like finish to ace all those Instagram selfies! This primer suits all skin types with finesse, whether oily, combination, mature, dry, sensitive, regular, or blemish-prone. So add this miracle to your beauty routine, and get the chance to look stunning every hour of the day!
Perks 
It comes in different shades to suit your complexion 

It is crafted with unique probiotic extracts

Clinically proven and clean 

Licorice extract helps get an even skin tone 

Recharges skin with hydration 

The primer adds a definite glow to your skin

Non-comedogenic formula 

It helps restores skin to its natural health 

It calms any chances of irritation 

Perfect for all kinds of skin, including blemish-prone skin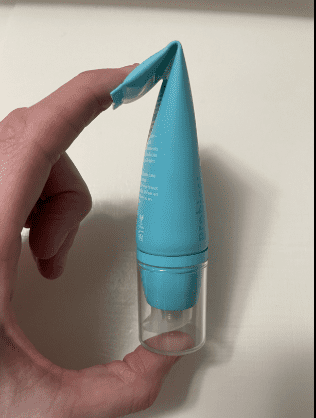 Drawbacks 
Quantity is too less according to the price. 
Laura Geller New York Spackle Sup
This long-wear foundation face primer is loaded with hyaluronic acid, which offers a shower of nourishment and hydration to your moisture-deprived skin and restores its healthy bounce. The 2-in-1 product acts as a moisturizer and a primer at once and saves your skin from chances of dryness. As reported by users, the formula is non-greasy and hugs your makeup for a long time.
LAURA GELLER NEW YORK Spackle Super-Size - Hydrate - 2 Fl Oz - Skin Perfecting Primer Makeup with Hyaluronic Acid - Long-Wear Foundation Face Primer
HYDRATE 2-IN-1 MOISTURIZIER AND MAKEUP PRIMER: Farewell, dry, flaky skin. Create a smooth canvas for improved foundation application and wear and keep your face feeling fresh all day! Wear it with or without makeup.
LIGHTWEIGHT NON-GREASY GRIPPING FORMULA: The lightweight, non-greasy formula hydrates and preps skin the for a smooth brightened complexion.
FORMULATED WITH GOOD FOR YOU INGREDIENTS: Featuring a blend of Hyaluronic Acid, Glycerin and Antioxidant Botanical ingredients, this nourishing formula brightens and replenishes skin for a healthier, suppler complexion.
PERFECT FOR DRY TO NORMAL SKIN TYPES: Free of synthetic fragrance, parabens, phthalates. Cruelty free. Clear formula can be worn with or without makeup
EASY TO APPLY: Add one to two pumps on the back of your hand. Blend a thin layer onto clean skin before makeup application. For best results, allow the formula to dry for about one minute to fully absorb before applying the rest of your makeup.
Mixed with hyaluronic acid, glycerin, and antioxidant botanical ingredients, this composition is a powerpack of replenishment that wakes your skin from within and wards off its lackluster. It is free of synthetic fragrance, parabens, and phthalates and can be worn under makeup or alone. The skin-perfecting primer has never been tested on animals, so you can trust it to get a healthy base!
Perks
Free of synthetic fragrances, parabens, and phthalates 

Never been tested on animals 

It leaves a non-sticky finish 

It gives a fresh makeup look all-day

Made with vitamin E, shea butter, and edelweiss extract

Lightweight and transparent 

It gives a luminous shine 

The primer helps minimize the look of pores

Protects skin against free radicals and environmental pollution 

It leaves a mattifying effect on the skin 

Long-lasting and smooth coverage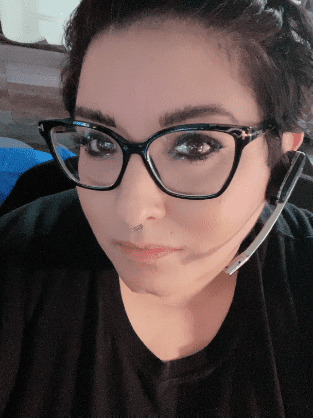 Drawbacks 
It may not be worth the hype. 
FAQs | Milk Hydro Grip Primer Dupe
Which ELF primer is a dupe for milk?
According to many reports, the e.l.f. Jelly Pop Dew Face Primer is a perfect alternative to the original Milk Hydro Grip Primer. The formula mirrors the formula of the Milk effortlessly, as both are gel primers, offer sufficient moisture and hydration to your skin, and make your makeup last longer. 
Is Milk Hydro Grip Primer good for acne prone skin?
Oily skin requires more moisture content to remain balanced, as lack of moisture leads to more sebum production. The Milk Hydro Grip Primer possesses a water repellent formula that allows your foundation to last longer without feeling heavy. It has a non-sticky finish and does not weigh your skin down. This makes the recipe good for usage on acne-prone, sensitive, and oily skin. 
Does Milk Hydro Grip Primer have spf?
The formula may not precisely have an spf factor to it as there is no sunscreen property mentioned on the bottle. Some of the essential ingredients of the award-winning recipe include rare elements like blue agave extract, hyaluronic acid, aloe water, and niacinamide. These form into a nourishing blend and bring benefits like boosting hydration, locking your makeup in place, and giving your skin a boost of freshness and a dewy glow. 

Can you use Milk Hydro Grip Primer on eyelids?
Users should know a significant difference between eyeshadow primers and face primers. The formula contrasts the two as face primers usually contain water, and silicone, just like the Milk Hydro Grip Primer. This makes the procedure touchably smooth and fills in your imperfections like pores, etc., thereby blurring them. The presence of silicone would force your makeup to be cakey and crease, making it difficult to blend the product. On the other hand-eye, primers have been specially designed to get a slight grip on the skin so that your eyeballs will last. 
Is Milk Hydro Grip Primer water or silicone based?
The formula is water-based, with a 94% natural gel formula that makes your skin incredibly smooth upon touch. 
What does a gripping primer do?
According to many reports shared by users, an excellent gripping primer helps keep your makeup in place for an extended period. Unlike other primer options, which tend to make your makeup crease and cakey, a gripping primer promotes the skin's health with an enhanced moisture and makes your skin soft without ruining your flawless makeup. 
Is Milk Hydro Grip Primer non-comedogenic?
The primer formula will not make your skin breakout according to the nature of the forgiving ingredients present in the recipe. The hydrating elements inside it help to mattify the excess sebum on your face, leading to reduced oil production.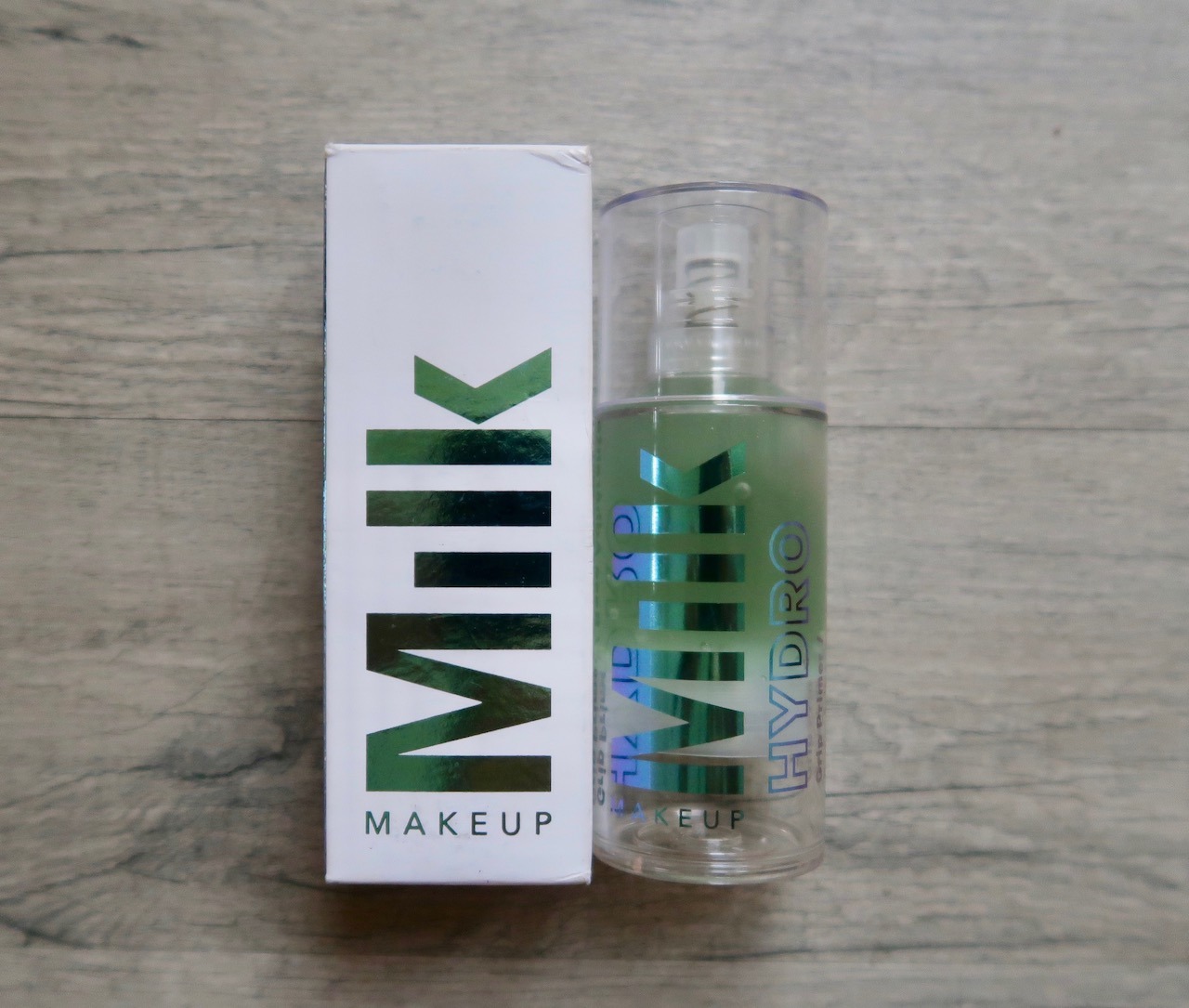 Is Milk Hydro Grip Primer safe for pregnancy?
The primer constitutes ingredients that are 94% natural, entirely vegan, and not tested on animals. The composition does not contain traces of toxic elements like parabens, silicones, oils, synthetic fragrances, or gluten. 
Where to buy Milk Hydro Grip Primer?
You can purchase the Milk Hydro Grip Primer from Amazon, Sephora, and other places. You can also visit the beauty brand's official website and place your order from their page. 
Closure 
Makeup lovers will be happy to know that before and after reviews suggest that Milk Hydro Grip Primer Ingredients serve a platter of nourishment to your skin by supplying it with ample hydration and keeping it happy and supple. Just like this classic makeup product creates an extra barrier on your skin to shield your makeup, this mentioned Milk Hydro Grip Primer Dupe group also claims to help you create a lasting look, rain or shine.
The formulas are smooth, just like the original, and feel refreshing with a promise to cause minimal creasing. It's time to lock your coverage in place because this gold mine of content will make you reconsider all your primer choices twice!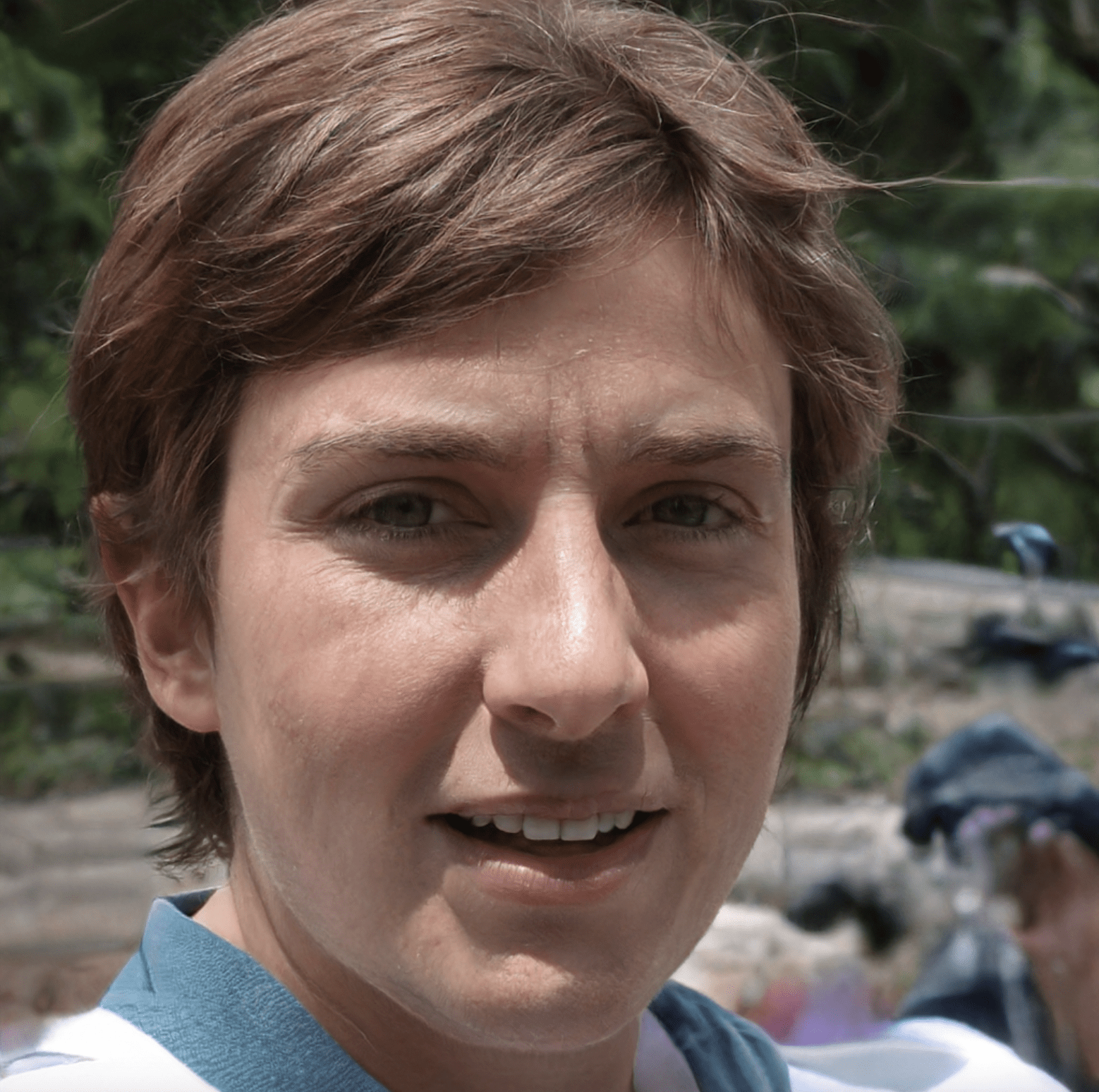 Rebecca is a skilled writer with a passion for makeup and skincare. With years of experience in the beauty industry, she has a deep understanding of the latest trends and products and a talent for creating engaging content that resonates with her readers. Whether she's writing about the latest skincare products or sharing her favorite makeup tips, Rebecca's writing is always informative, entertaining, and inspiring.