Finding the right moisturizer for your skin is a more challenging match to make than finding yourself a suitor will ever be! Just like using your chapstick and sunscreen is non-negotiable, a hydrating water-based moisturizer is necessary to pack in your vanity to keep away the greasiness and enjoy a plump skin tone from this monsoon to the other! So what do all the best moisturizers in the skin-care market look like? Are their recipes so irresistible you can't help but buy another? Or do they only exist in the vlogs of celebs?
According to reviews, the Tatcha Water Cream had emerged out to be the hero on many lips when people were asked about their choices in moisturizer. If you are worried, you won't get your hands on this one, and we still have a packed list of options to feed your skin with the best Tatcha Water Cream Dupe!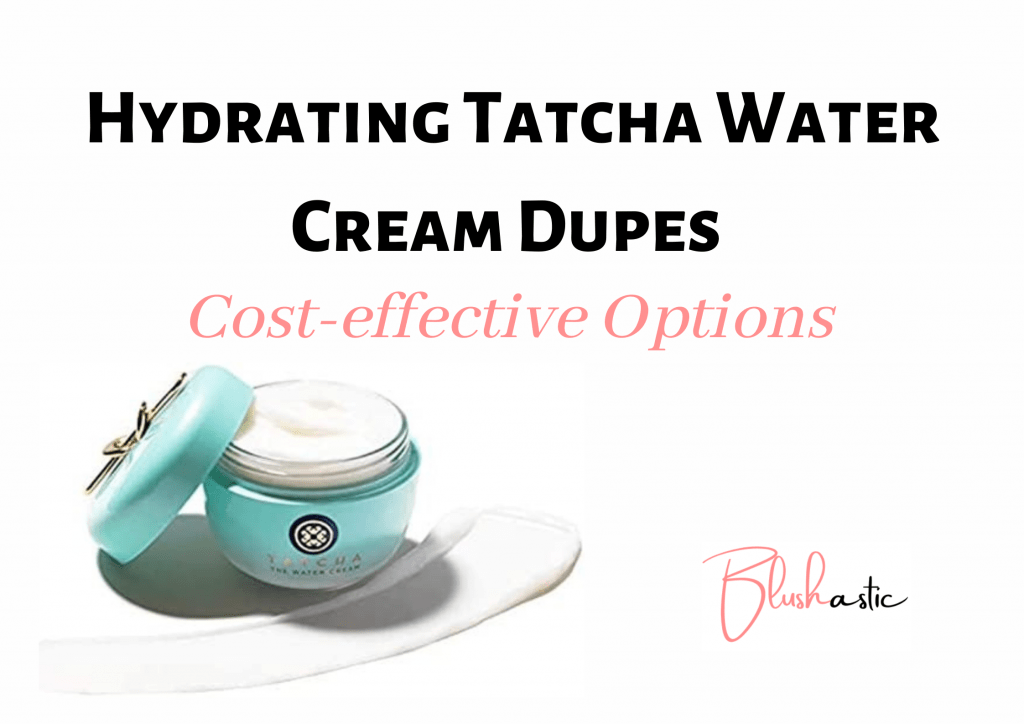 Plenty of hydration is something your skin craves, even when you feel you are having a good skin day. However, you must not ignore this call. Hydration can be one of the trickiest steps, but if done from suitable sources, in the right amount, you can beat all seasons with finesses without falling prey to dry patches and rough skin. Tatcha Water Cream Dupe talks about the flexibility of these 11 options you can indulge yourself in to give your skin the best moisturization without trial and error.
Tatcha Water Cream Dupe |
Much Needed Skincare Options In 2023
Why is everyone talking about the Tatcha Water Cream? We are sure you have come across this question in your skincare quest, and we are here to give you the answers you have been looking for. Tatcha has quite the reputation for being a luxury skincare brand, and its Water Cream edition has been winning hearts all over the beauty globe. The Lightweight Pore-refining Hydration cream is a brand fav because of all the spicy benefits it has to offer.
The oil-free water cream has been put together with Japanese botanicals, which help provide a splurge of hydration to your skin and ward off any signs of tiredness. The cream also helps tighten the pores, improve a smoother skin texture, control excess sebum, and promote a clarifying skin tone by boosting cell turnover.
Fans are swooning over the benefits of Tatcha, as they can notice many improvements in their skin. Some experienced a less oily T-zone, whereas others saw a silky smooth finish. The formula restores youthful radiance and lets you revel in a shine-free glow with a touch of 23-karat gold. As reported by many users, it is hands-down the best in business. However, if you don't want to pay the high price, and drain all your savings at once, then we have some too-good-to-be-true similar options that are cheap, and you will want to settle for! Let us look at all the Tatcha Water Cream Dupes we have hunted.
If you are dreaming about unlocking a burst of hydration on your tired and dry skin, you are in for a delicious treat with the Neutrogena Hydro Boost water gel. This moisturizer has topped all lists and charts for choosing the best Tatcha Water Cream Dupe, and with good reason. Just like the original, this cream mirrors its texture. The drugstore pick has amassed an impressive rating of 75k reviews on Amazon, making everyone's heads turn their way.
The moisturizer revolves around sodium hyaluronate, and this sugar molecule, concerning humectants, helps attract moisture and bind the skin with it o keep it plump, energetic, and away from dullness. Don't worry about oil or grease; this softening hydrator feels refreshing and quenches your bare skin's undying thirst! Besides, have you ever noticed how cheap it is?!
Perks
Gel-cream hybrid formula

Rich in hyaluronic acid to give a plumping effect

Extremely cost-effective

Infuses a dewy complexion that is oil-free

Keeps skin smooth and supple all-day

You can wear it under makeup

Quenches your skin's thirst in seconds

Keeps skin loaded with hydration till 48 hours

Free of fragrance

Naturally attracts moisture

Available everywhere, both online and offline

Does not clog your pores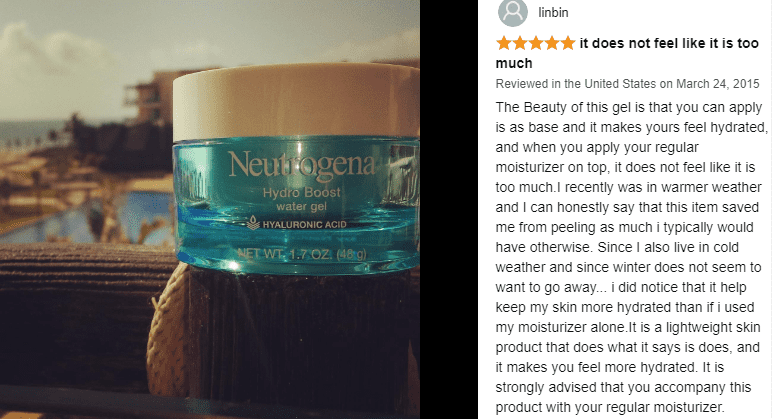 Drawbacks
The mild odor can be disturbing.
People born with dry skin will understand the lengths to go to ward off the sheet of irritation, chapped skin, and dryness on their faces. So, we picked up this cream-to-water moisturizer, which claims to work just like Tatcha seamlessly. Upon application, the cream encompasses the entire crust of yoru skin with 10,000 marine micro-droplets made of four dynamic hyaluronic acids.
This ensures your skin gets multiple layers of hydration and does not dry out. The cream bursts when opened and contains unique ingredients like purified microalgae, chamomile, and vitamin C. While the former pampers your skin with antioxidant goodness, chamomile soothes your skin, and vitamin C helps add a brightening glow. So, if you want to drown your skin in a sea of moisture, Bliss promises you 24 hours of heaven!
Perks
It makes skin soft instantly

Improves skin.s moisture barrier in just 4 weeks

Ultra lightweight

It Shares the same consistency as Tatcha

It contains 4 kinds of hyaluronic acid

Purified microalgae bring in antioxidant properties.

Improves water retention by skin

Non-comedogenic

Formulated for all skin textures

Brightens complexion from within

Offers more than 10,000 marine micro-droplets to moisturize

It does not leave a greasy residue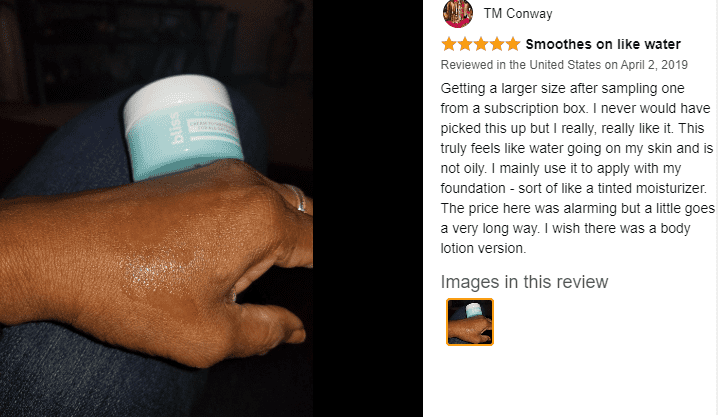 Drawbacks
The quantity gets over very soon.
belif The True Cream Aqua Bomb | Rich yet Weightless Face Moisturizer
Korean Beauty is all the rage, and Belif's Aqua Bomb has successfully made its place in the pageant! Your skin may be sensitive, combination, oily, dry, or acne-prone. The cream just works with flair. The lightweight moisturizer has been formulated with squalane, and three unique types of ceramides, that keep the skin's moisture barrier intact and amplify hydration levels. Be it night or day, and you can use this to get a moisture boost whenever possible.
The formula forms a protective coating around your skin to help combat all environmental stressors. Panthenol, a vitamin B derivative, is also present here and offers a soothing effect. Like the real thing, this moisturizer also boosts moisture splurges on your skin, reviving it with radiance.
Perks
It has a faint citrusy scent

Dermatologist tested

Forms a protective barrier around the skin

Amps up hydration levels

Locks in moisture

Users can apply it during the morning and night

Lightweight consistency

Absorbs onto the skin in no time

It wards off dullness and gives an even texture

Contains Lady's mantle, which reduces the appearance of enlarged pores

Reduces excess sebum

Matches all types of skin tone

Shields skin against photo-aging from UVB rays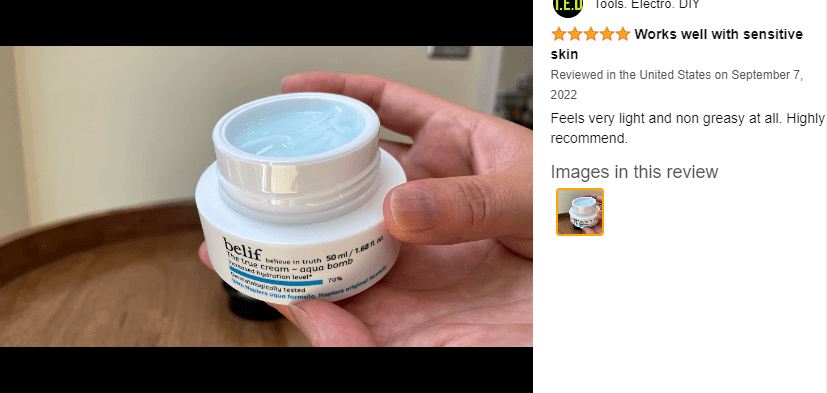 Drawbacks
It may not be very hydrating.
Peter Thomas Roth | Water Drench Hyaluronic Cloud Cream | Hydrating Moisturizer
Feel the weightlessness of the Peter Thomas Roth | Water Drench Hyaluronic Cloud Cream as you revel in its goodness. This cream understands the importance of hydration and offers potent benefits at a lesser price than Tatcha. Given the harsh effects of the fluctuating weather, this acts as a skin-hydrating primer that locks in hydration for 72 hours, and promotes a younger-looking skin tone. The formula features a 30% hyaluronic acid complex that attracts vapor from the atmosphere and replaces dryness with suppleness and moisture.
The cream floods your skin with sufficient hydration, thanks to the 1% Pentavitin in the composition. It absorbs quickly and does not leave any greasiness behind, so your skin will be in good hands. The brand does not believe in adding fragrances to its formulas, so if you have sensitive or highly-irritated skin, bid goodbye to your worries.
Perks
It has over 4k reviews on Amazon

Offers 72 hours of hydration

It feels lightweight on the skin

Hydrolyzed silk makes the skin velvety upon feel

Promotes a youthful-looking complexion

Minimizes the look of fine lines

Fades away wrinkles

Contains hyaluronic acid complex

Helps retain moisture

Available at an affordable price

The formula is free of fragrance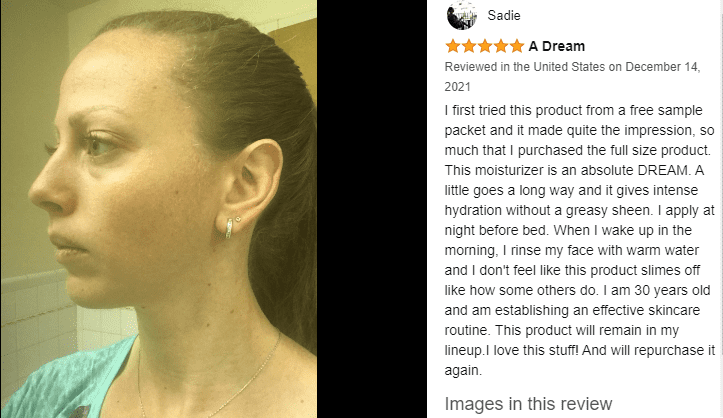 Drawbacks
It takes time to absorb onto the skin.

It may not be suitable for oily skin tones.
First Aid Beauty Hello FAB Coconut Water Cream – Lightweight, Oil-Free Face Moisturizer
We know you love sipping coconut water, so we thought you would love to add it to your skincare even more! The First Aid Beauty Hello FAB Coconut Water Cream is a formula fueled up with everything yoru skin needs to look good! From electrolytes, amino acids, enzymes, and antioxidants, to phytonutrients, the moisturizer checks all the boxes to nourish your skin from within.
Even if a shiny T-zone and acne visit you every week, you can embrace this water cream with open arms. When we asked users about their experience with this moisturizer, 97% revealed that their skin felt healthier and youthful. The formula also assists in making your skin texture plushy and soft so that you crave to tough it repeatedly!
Perks
Less than half the price of Tatcha

Compliments sensitive skin effortlessly

Absorbs in seconds

Feels intensely hydrating

Does not clog your pores

Smoothens your skin texture

Charges up the dullness with energy

It contains many potent ingredients like electrolytes, antioxidants, amino acids, enzymes, and phytonutrients.

Free from harsh chemicals

It leaves behind a soft, fresh finish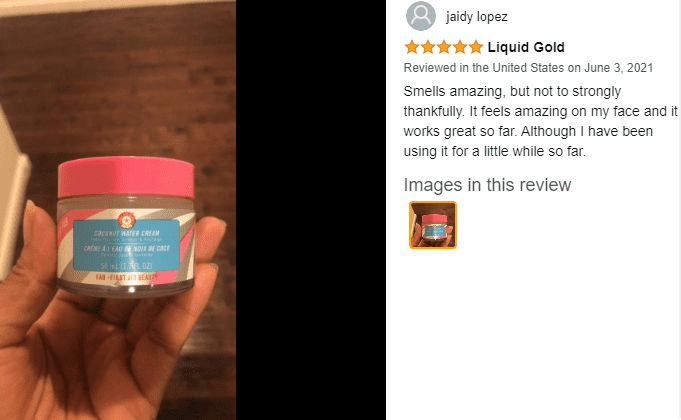 Drawbacks
The smell might put off some users.

The moisturizing effect is very vague.
[DearKlairs] Fundamental Water Gel Cream
The K-Beauty mania has got people crazy, but should you include the [DearKlairs] Fundamental Water Gel Cream in your beauty routine? Yes, and yes! As broken down by many trusted sources, this gel cream is a vegan composition that swears to protect the delicateness of your skin without irritating it at any cost. Natural extracts like Jeju Green Tea Water and Panthenol are present there, which penetrate deep into the skin and set into action so that you can wake up to a prettier version of yourself.
This helps the skin improve water retention, which builds up its capacity to hold moisture for extended periods, thereby preventing irritation, inflammation, or dryness. So, stop confusing your skin, and switch to Klairs if you want some Tatcha experience!
Perks
Panthenol softens the skin

It contains Jeju green tea water

Deeply nourishes skin with hydration

Pampers all skin types equally

You can wear it on the whole body

Water-based gel, just like the original thing

Features truckloads of antioxidants

Smells exotic, like rosemary

Relieve the skin of oxidative stress

It has antibacterial and astringent benefits

It helps bring down the severe effects of acne

Costs about one-third of Tatcha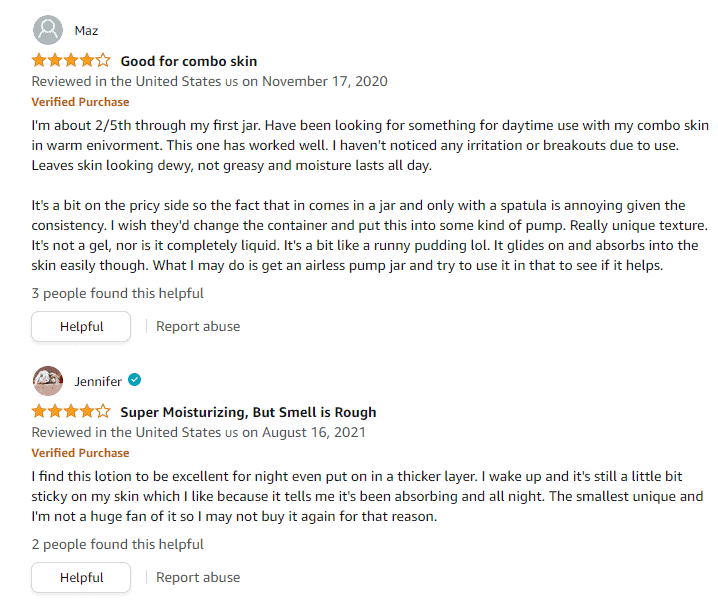 Drawbacks
It may make yoru skin oily after some time of wearing it.
Pacifica Water Rehab Cream – Coconut Probiotic
Coconuts will be your best friend if you want a pleasing moisturizing effect! We are not saying this. Reviews are! According to reliable reports from users, the Pacifica Water Rehab Cream – Coconut Probiotic is one such generous addition that your skin care regimen will fall in love with. The cream is a delightful combination of ingredients like vegan probiotics, plant extracts, and coconut water which comes together and acts as a wake-up call for your tired skin.
This helps maintain a protective barrier on your skin, reduce inflammation, lessen chances of breakouts, encourage firmness, and infuse your skin with a glow. Rub a thin layer on your face or body as you please, for this crema has been spiked with elements that won't fail to surprise you!
Perks
Forms a protective barrier

It imparts a radiant glow

Delivers a luminous and dewy look

Minimizes chances of inflammation

A similar water-based formula like Tatcha

It contains hyaluronic acid and vitamin E

Locks in essential moisture

Smells fresh like coconuts

Perfect for distressed skin

Promotes a firmer skin tone

Reduces ugly breakouts

Users can also use the cream on their whole body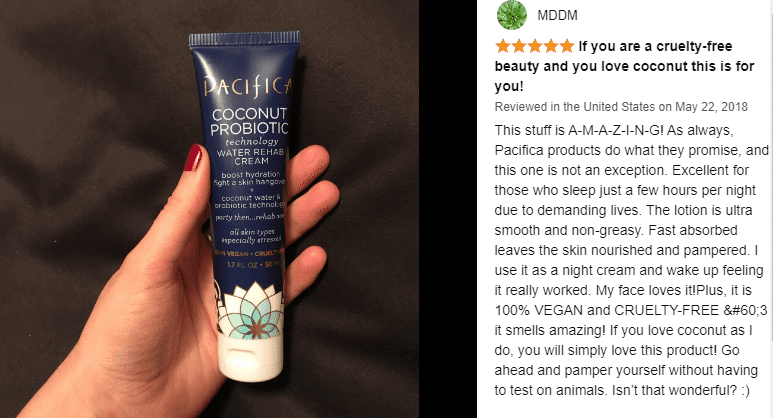 Drawbacks
It remains out of stock most of the time.
Boscia
Cactus Water Moisturizer
We are sure you have heard about how cactus plants survive in harsh deserts by storing water in them, but did you know that there is something called cactus water? Also, did you know that this term has been associated with beauty? That's right! The Boscia Cactus Water Moisturizer is a gel-cream hybrid specially fashioned to calm your skin from all the harsh effects of the outside environment.
It feels like aloe vera gel, releasing irritation and inflammation and keeping the skin soft. Basil and turmeric extracts are present here, which heal your compromised skin from within, in the true sense, and give you relief. It may not be a perfect dupe for Tatcha, but it might feel the same.
Perks
It feels weightless on the skin

Controls excessive sebum production

Never been tested on animals

Free of harsh preservatives, gluten, or artificial fragrance

It helps moisturize even desert-dry skin

Wards of signs of dehydration

You can use it both day and nighttime

Suitable for sensitive skin

100% Vegan composition

It has a soothing aloe vera scent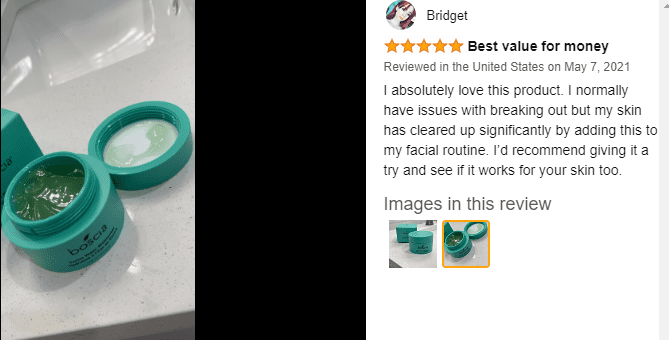 Drawbacks
It takes time to absorb.

Feels heavy after some time.
MAKEP: REM Hydrate Me Micro Tension Cream
Tired of rubbing and blending the residue left by your moisturizer, but it just won't go away? We have something that will leave no trace behind so that you can sleep at ease at night or sit for your ZOOM meetings during the day! The MAKEP: REM Hydrate Me Micro Tension Cream has been designed with 3 types of hyaluronic acids and raspberry extracts that will turn the clock back on yoru skin by traveling deep into the layers of your skin.
The non-irritating cream hydrates the skin by supporting healthy metabolism and restores moisture content to different layers equally. It also comes to your rescue by diminishing your aging signs like fine lines and dulling their intensity. If you want to know the secret of beauty influencers' soft and flawless skin, this cream will give you the right sneak peek!
Perks
Does not irritate your skin

Hypoallergenic formulala

Increase moisture levels by 80%

Raspberry extracts fortify the skin's natural barrier

It makes skin texture soft and smooth

It can be used by both men and women

Suitable for all types of skin

Provides all day, and night-long hydration

Formulated with an organic formula

Cheaper than Tatcha

It does not have gluten, added color, or fragrance

Cruelty-free composition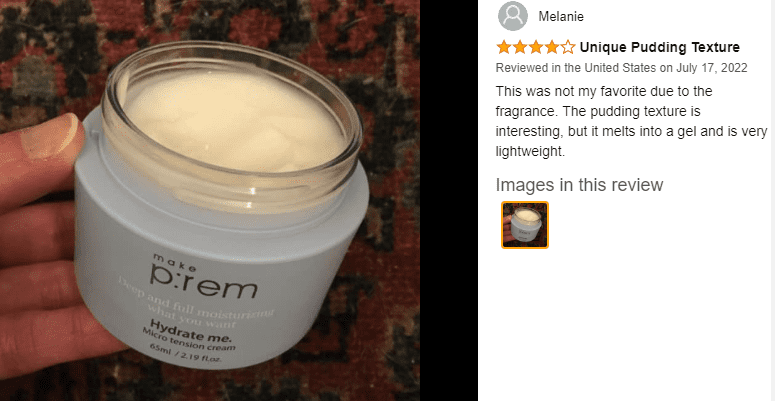 Drawbacks
The procedure might irritate the skin at times.
purlisse Blue Lotus Balancing Moisturizer
The purlisse Blue Lotus Balancing Moisturizer is packed with exotic ingredients to save you from skin troubles. Blue lotus helps ward off free radical damage with the help of its anti-inflammatory effects, white tea rejuvenates the skin from within, vitamin E improves skin texture and remedies premature aging, and french marine helps to get an illuminating skin complexion by retaining moisture.
It also actively controls excessive sebum production and offers a soothing effect on the face of any irritation. The cream also possesses antibacterial properties and prevents inflammation from setting in. If you have sensitive skin or rosacea and feel that your moisturizer options are limited, this cream claims otherwise! Even experts have narrowed their search and consented to this affordable baby!
Perks
Never been tested on animals

Possesses anti-aging properties

Free of parabens and sulfates

It adds a soothing effect

Deeply moisturizes and nourishes

It contains vitamin E, which prevents fine lines, and other signs of premature aging.

Do not clog pores

Non-tinted formula

It has many exotic ingredients like

Lotus Seeds, White Tea, Vitamin E, and French Marine Plants.

Suitable for sensitive skin or rosacea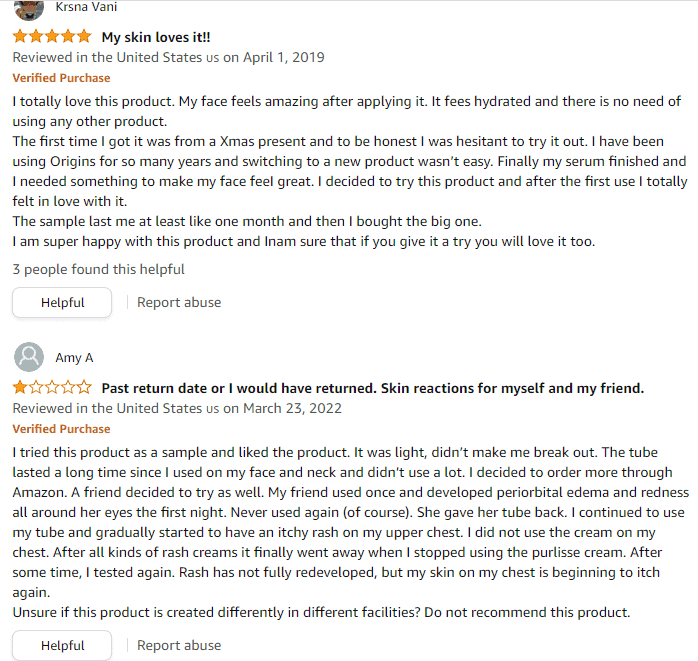 Drawbacks
It may cause itchiness on rare occasions.
LANEIGE Water Bank Blue Hyaluronic Cream Moisturizer
This updated version of Laneige's best-selling Water Bank Moisture Cream has made its place known for being one of the best Tatcha Water Cream Dupes. With good long-lasting hydration for 100 hours, this moisturizer knows precisely how to treat your skin right! The cream is cooling and leaves your skin radiant and dewy upon application. What stood out the most for users is the cream works on micro-sized Blue Hyaluronic.
This is fermented from sea algae living in the deep waters after undergoing the 10-step microfiltration process. If your face is covered with dry patches, the cream will help soothe the dryness and remedy sebum production. If you have sensitive skin, do a patch test because it exudes fragrance to some level.
Perks
Lasting moisture throughout the day

Lightweight and thin

Offers intense hydration for 100 hours

Features fast-absorbing formula

It makes skin touchably soft

It has a sweet floral scent

It does not leave greasy residue behind

It contains next-generation ingredients like blue HA

It adds a refreshing touch

Infuses a well-lit glow from within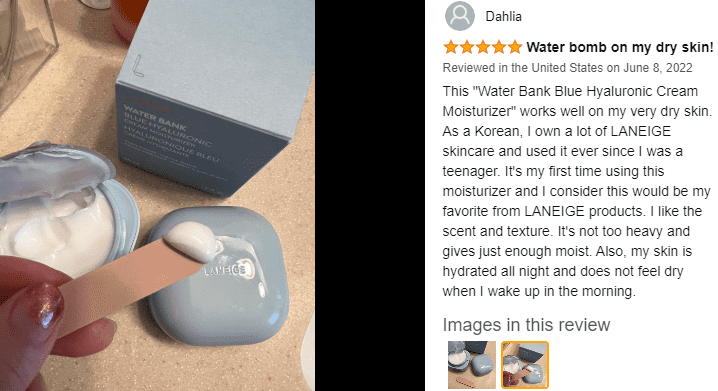 Drawbacks
You cannot apply it under makeup.

The distinct floral scent may be too intense for some people.
FAQs | Tatcha Water Cream Dupe
Why is Tatcha Water Cream so famous?
The luxury cream gives your skin a burst of nutrient-rich hydration, rejuvenating it from the inside. The cream travels deep and offers benefits like delicate skin, tight pores, and smoother skin texture without irritating or making it greasy. As most of the globe tries to target these skincare concerns, they fall back on Tatcha to help restore their skin's natural beauty.
What are the Tatcha Water Cream ingredients?
The key ingredients of this most sought-after skincare product highlight potent elements like the Japanese wild rose, Japanese leopard lily, and a unique Hadasei-3™ Complex. The latter is a trio of superfoods for your skin, offering a truckload of antioxidants to detoxify the aging signs and help in the renewal process. Leopard lily helps encourage turnover, soothes skin, and reduces oil. On the other hand, wild roses help in improving circulation and refining your enlarged pores.
What celebrity uses Tatcha?
Celebs from tinsel town are high on using Tatcha products, and some of them are Meghan Markle, Jennifer Aniston, and Selena Gomez. What attracts everyone most is that Japanese products are made from pure ingredients and pamper all skin types in a kind manner.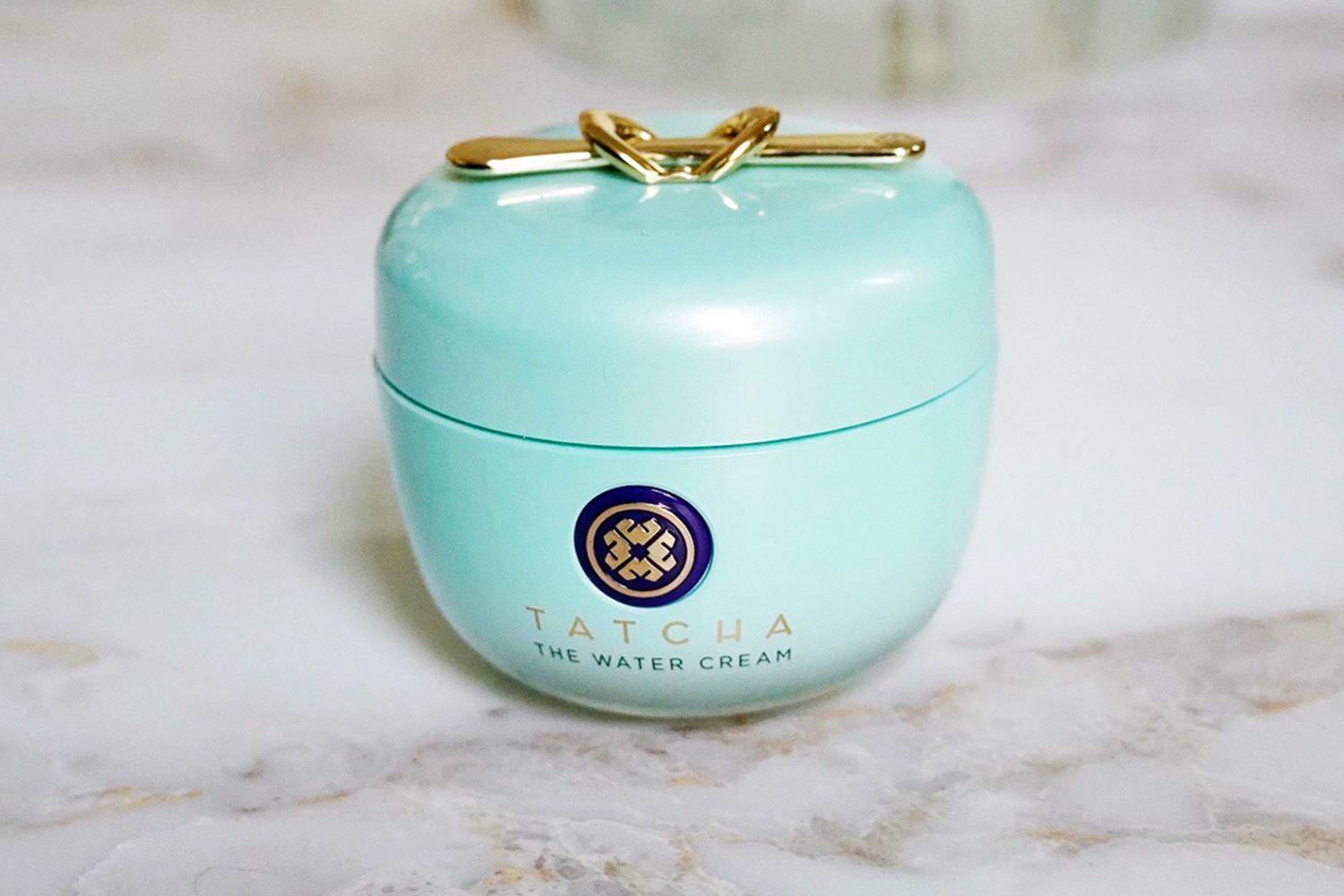 Is Tatcha Water Cream fragrance-free?
Tatcha products like soap, tree leaves, and wildflowers possess a very subtle fragrance. The brand's cleanser exudes a faint natural aroma because of all the natural ingredients in its composition.
Is Tatcha Water Cream good for sensitive skin?
Yes, the cream is suitable for sensitive skin as well, in addition to oily, combination to oily, and form skin tone. This is because the formula features handpicked botanicals and special Japanese herbs that will soothe your entire skin, encourage a healthy appearance, and keep your skin looking balanced, young, and smooth.
What is comparable to Tatcha Water Cream?
Alternatives like the Neutrogena Hydro Boost Gel, Belif True Aqua Bomb, Bliss Drench and Quench moisturizer, FAB Coconut water cream from First Aid Beauty, Boscia Cactus water moisturizer, and the purelisse Blue Lotus cream are some of the options that come pretty darn close to giving you a feel, and similar benefits like Tatcha.
Closure
The ocean of skincare s vast, and you might need a boat if your journey is long. To save you time, we have some tips that will protect your breath! The best moisturizers should sink into your skin's surface without leaving a trace. It was even there. Tatcha Water Cream Dupes is about indulging in affordable options and finding the best things that your skin will love.
They claim to hydrate your skin intensely by offering moisture reservoirs so that your complexion looks dewy, your aging signs disappear, and other good things. Compliment your beauty regimen by introducing these harmless edits because if we have learned anything so far, it is that our skin demands and deserves our utmost attention before anyone else. We are ready to give it to our skin. Are you joining us too?
Done with moisturizer? Here are some cleanser-related blogs worth every scroll:
I'm Sarah Abraham, the founder and co-author of Blushastic.com and a professional makeup artist. Beauty is more than just skin deep, and that's why I'm passionate about sharing my knowledge and experience to help people feel confident and beautiful on the inside and out.
Whether it's skincare, haircare, or fashion, my goal is to empower women to feel their best. With my expertise in the beauty industry, I strive to provide practical advice and tips that are accessible to everyone, regardless of their skill level or budget.