Did you know that less than 20% of people worldwide have naturally curly hair? So if you want to give your curls some touch-up and style with heat, you must depend on heat protectants to let those beautiful curls stay on forever, undamaged. But if you want the best heat protectant for curly hair, then you are at the right place. We have gathered 11 products to help you get those curls in place without damaging them.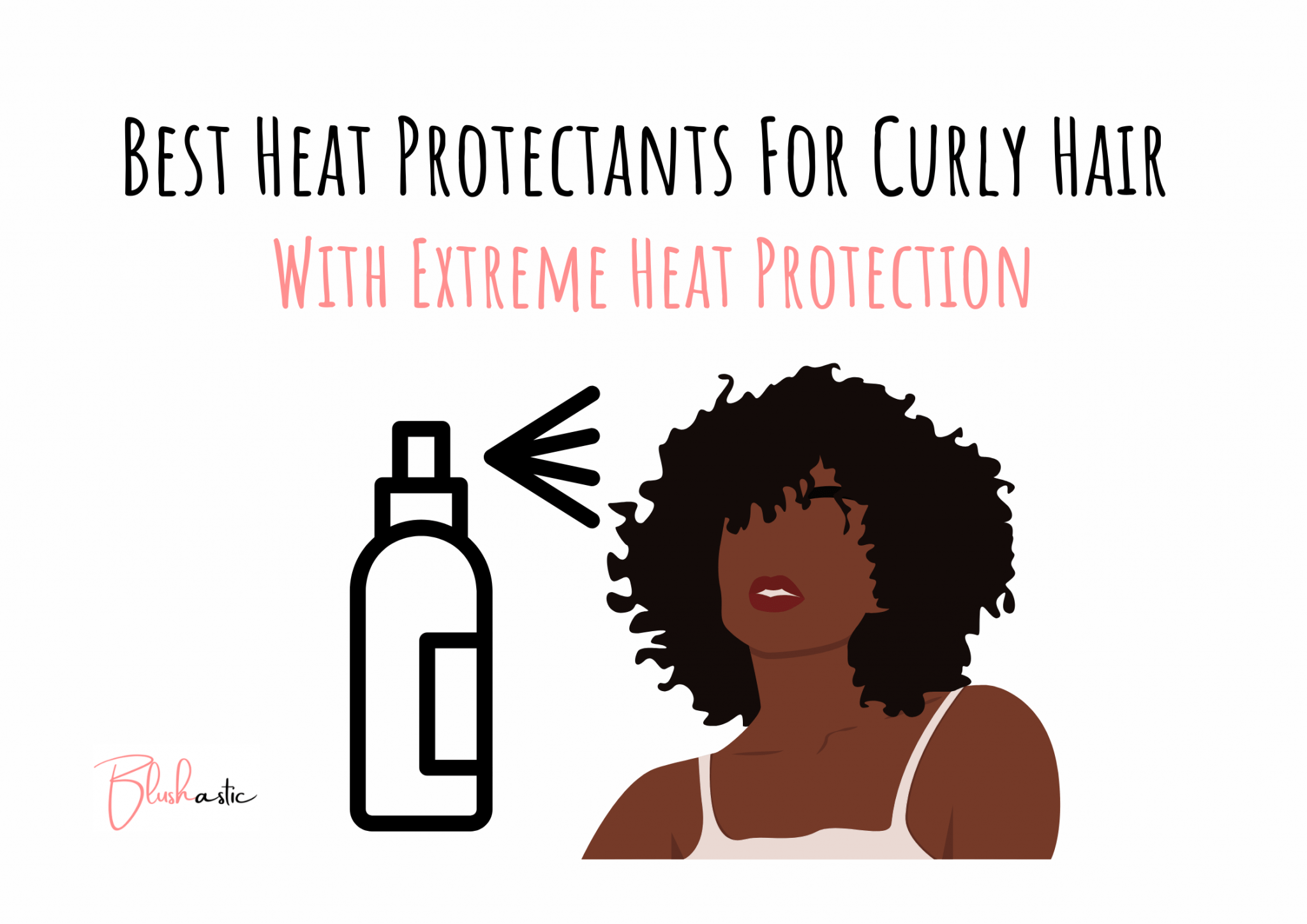 Best Heat Protectant For Curly Hair | Top 11
People who cherish their natural curls know how important it is to keep them bouncy and healthy. For this reason, a good quality heat protectant should contain some suitable humectants that serve the purpose of providing moisture as well as preventing unwanted frizziness.
Apart from this, heat protectants have keratins that will help strengthen our hair and some extracts that will help cover the cuticle and protect it from heat damage.
Cantu Thermal Shield Heat Protectant with Shea Butter
Cantu Thermal Shield Heat Protectant is a fantastic addition to the hair care routine that protects hair from heat damage. Got frizz and flyaways? Well, this heat protectant right here got you covered. Not only does it prevent damage, but it also smoothes and conditions your hair. It protects your hair from the damage caused by heated styling flat irons or curlers up to 220°C/425°F.
Sale
Cantu Thermal Shield Heat Protectant with Shea Butter, 5.1 fl oz (Packaging May Vary)
SHEA BUTTER SHIELD: moisture barrier help protect hair from damage caused by heated styling tools up to 425°F / 220°C
SMOOTHER STYLING: added hydration creates smoother results when using heated styling tools
TAME FLYAWAYS: creates light hold on styled hair
HAIR TYPES: great fit for relaxed, permed & color treated hair
CRUELTY-FREE: absolutely no testing on animals
With the infusion of the globally famous shea butter, this heat protectant returns the lost moisture and gives you healthier and stronger hair and a natural shine. The pre-treatment will only add hydration to your hair to give you a frizz-free and smooth finish, making it the best heat protectant for curly hair.
Benefits
It is infused with one of the most widely known and trusted ingredients – shea butter.

It has a perfect formulation and consistency.

Gives your hair the hydration it requires.

Can be a good fit for permed and color-treated hair.

A small amount can work great.

Adds a light hold.

It has a pleasant smell.

Very affordable.

Cruelty-free.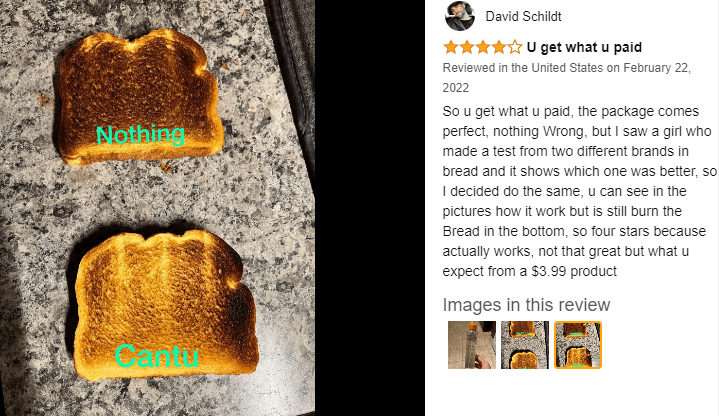 Drawbacks
Some people said it left a residue on their hair.

It contains alcohol, which many users resented as it can leave your hair dried out.
Mielle Organics Mongongo Oil Thermal & Heat Protectant Spray
Mielle Organics Heat Protectant Spray is a heart-throbbing product, especially for curlheads. This spray provides a defense mechanism against heat and protects your curl patterns. It doesn't end here. This heat protectant works well in kicking away the frizziness in your hair.
Sale
Mielle Organics Mongongo Oil Thermal & Heat Protectant Spray, 4 Ounces
Heat Protectant Spray: If you use heat in your styling routine, this protectant spray helps protect hair from the effects of heat and provides Intense Heat Defense and Curl Pattern Protection and even helps eliminating frizz
Mongongo Oil Collection: This collection is our most versatile line of hair care products; For those seeking to hydrate, repair, and protect their hair with every hairstyle, our Mongongo Oil hair products are made for you; Designed for all hair types
Hair Products for All Hair Types: We promote the health and maintenance of natural hair from Types 3A to 4C natural hair, however our products are suitable for all hair types and we feature products for both low and high porosity levels
Natural Haircare: We continue to produce quality natural hair care products like oils, detanglers, shampoo, conditioners, moisturizers and more that help nourish hair through all three phases of growth
Women Owned: With a heavy emphasis on incorporating organic ingredients being its "root to results," Mielle Organics continues to create a line of natural beauty products by women & for women of all hair types
A blended mixture of Mongongo Oil will make you go gaga as this oil hydrates your hair and forms a protective layer to prevent that hydration from escaping and any Sun rays from entering your beautiful curled hair locks. It is suitable for all hair types and nourishes them by protecting them well.
Benefits
Contains Mongongo Oil, which provides hydrating and protective benefits to your hair.

It is suitable for all hair types.

It protects the curls and leaves them feeling bouncy.

Provides an intense heat defense.

Has a pleasant smell.

The alcohol present does not leave any strong smell.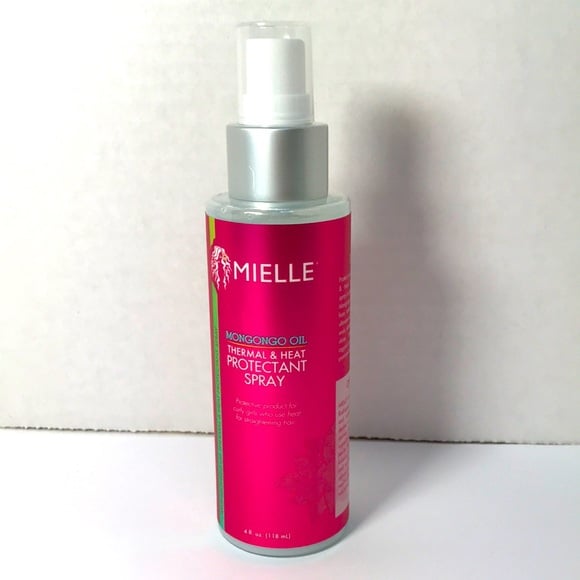 Drawbacks
Some users said that it left a residue on their hair.
Head Kandy Third Wheel Heat Protectant Hair Spray
Want no damage but also want that shine to your hair? Then Head Kandy's The Third Wheel Hair Protectant does its job of keeping your hair safe by preventing it from damage. Talking about damage, the heat protectant protects your hair from 3 major irritators, frizz, split ends, and hair breakage.
Head Kandy Heat Protectant Spray For Hair | The Third Wheel | Thermal Protection Spray With Amino Keratin | Protects Against Heat Damage, Breakage, Humidity | 13.5 oz
KEEP YOUR HAIR SAFE WHILE ADDING SHINE- This unique thermal hair protection formula prevents frizz, split ends, and hair breakage. Protect your hair from heat while styling with dryer, flat irons, curlers, hair wands.
🧪 AMINO KERATIN FORMULA - Your hair will love this bath of vitamins and minerals. This lightweight protectant conditions and encapsulates your hair. Increase the strength of your hair and help to restore elasticity and protect your hair from damage.
FOR ALL HAIR TYPES - No matter what type of hair you have; straight, curly Head Kandy Third Wheel Hair Spray Heat Protectant leave in conditioner controls frizz and protects to prevent damage caused by hot curling, hair straighteners, and blow dryers.
SAFE FOR COLOR TREATED HAIR - Maintain your color treated hair with Head Kandy Third Wheel Heat Protection Hair Spray. This all-in-one is the secret to sealing and preventing split ends while boosting shine and improving the overall health of your hair.
Heady Kandy is a US based company who proudly supports our military veterans. At Head Kandy, we believe that beauty is for everyone. Our products are made to empower you to feel your best, most beautiful self — whatever that looks like!
With its highlighting formula – the AminoKeratin formula, the heat protectant is enriched with various vitamins and minerals. Thus, people call it the best heat protectant for curly hair.
Benefits
Keratin amino acids are potent moisturizers that enhance your hair and provide impressive conditioning effects.

Provides UV protection.

Gives your hair a good shine.

Suited for all color-treated, damaged, and curly hair.

Has a pleasing fragrance.

Cruelty-free.

100% vegan.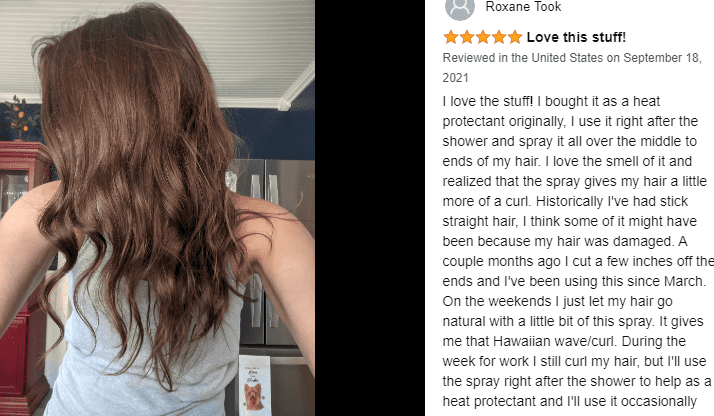 Drawbacks
Some users complained that the product makes your hair feel greasy.
OGX Protecting + Silk Blowout Quick Drying Thermal Spray
OGX's thermal spray will make you spend less time blow-drying your hair while making you feel relieved about protecting your hair from heat damage. Protecting your hair up to 450°F, this thermal spray removes the hurdles between you and those big silky hair.
Sale
OGX Protecting + Silk Blowout Quick Drying Thermal Spray, 6 Fl Oz (Pack of 1)
HEAT PROTECTION: Decrease blow dry time while protecting strands from high heat. Blended with hydrolyzed silk & quinoa, formulated to cut drying time & protect hair up to 450°F for big, beautiful blow outs.
SILK BLOWOUT: Our Silk Blowout styling line helps make your blow outs quick, shiny, & soft. Say "yes" to big, silky, sexy-looking hair
BEAUTY PURE & SIMPLE: OGX products are inspired by nature. We don't try to make hair look "perfect" because we'd rather make hair look fuller, smoother, curlier, or bouncier & smell irresistible. Cruelty free
WHAT HAIR WANTS: Whether you need quenching moisture for curly hair, protection for color treated hair, blowout cream or matte pomade, OGX hair care products are designed to bring out your best.
REAL QUALITY, REAL BEAUTY: Unattainable looks don't inspire us but originality does. OGX hair & skin care product collections are here to help you look your best. We're beauty, pure & simple.
Enriched with hydrolyzed silk protein, the 'Silk Blowout' formula protects your hair, adds elasticity, and prevents breakage. The thermal spray also contains quinoa, a rich source of several amino acids that makes your hair feel stronger, along with the additional work of hydrating your scalp.
Benefits
The thermal spray provides heat protection up to a high temperature of 450°F.

It is enriched with hydrolyzed silk and quinoa, which are beneficial for hair care.

It leaves the hair silky.

Gives your hair a smooth finish.

Makes your hair frizz-free.

Cruelty-free.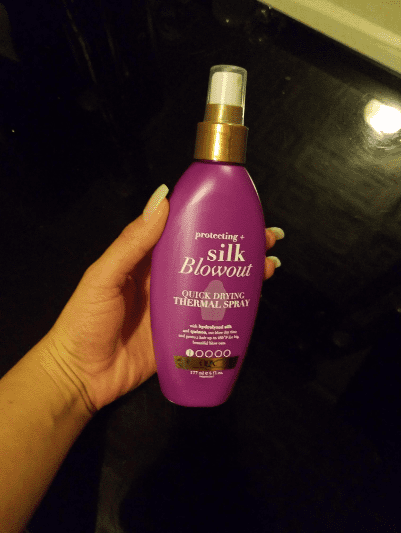 Drawbacks
Users said the thermal spray made their hair feel sticky the next day.
Curl Keeper Thermal Defence- Heat Styling Protection
Want hair sprays but in the form of creams? Then Curl Keeper's Thermal Defence is just the same heat protectant but in a creamy texture. This product, right there, exclusively focuses on curly hair that gives your hair a styled effect for long hours.
Curl Keeper Thermal Defence - Heat Styling Protection for Frizz Free Curls 8 oz
THERMAL DEFENSE: Curl Keeper Thermal Defence protects curly hair from heat styling tools such as diffusers, flat irons, curling wands, and direct blow-drying. Protects curly hair from heat styling tools!
SMOOTHS & PROTECTS: Curl Keeper Thermal Defense Heat Styling Protectant smooths and protects curly hair from heat styling tools such as flat irons, curling wands, diffusers, and direct blow-drying.
CURLY HAIR FORMULA: Our Curly Hair Gel has a light-weight water-based formula that won't dull or build up on hair. Our products are silicone free, cruelty free, vegan, water-based, pH balanced, biodegradable, and safe for everyday use.
WHAT CUSTOMERS ARE SAYING: A customer shared that Curl Keepers Thermal Defense Heat Protectant is a great find and silicone free! They normally wear their hair curly, but it's nice to be able to blow dry and not worry about damage. (Amazon Customer, May 2021)
FOR BEST RESULTS: For best results, try pairing Curl Keeper's Thermal Defense Heat Protectant with Curl Keeper's Original Liquid Styler. The Original Liquid Styler will help you become the master of those gorgeous frizz-free curls.
The creamy texture is enriched with Chamomile, which has widely known benefits for hair that keep them smooth and nourished. Apart from this, the heat protectant works on forming a barrier, a protective one that will not let the heat enter your bouncy curls.
Benefits
The presence of Chamomile, the heat protectant, keeps your curls nourished.

It also contains wheat protein that nourishes and moisturizes your hair and prevents breakage.

It does its job even in humid weather.

It leaves your hair frizz-free.

Works with all curls: loose, medium, tight, and kinky.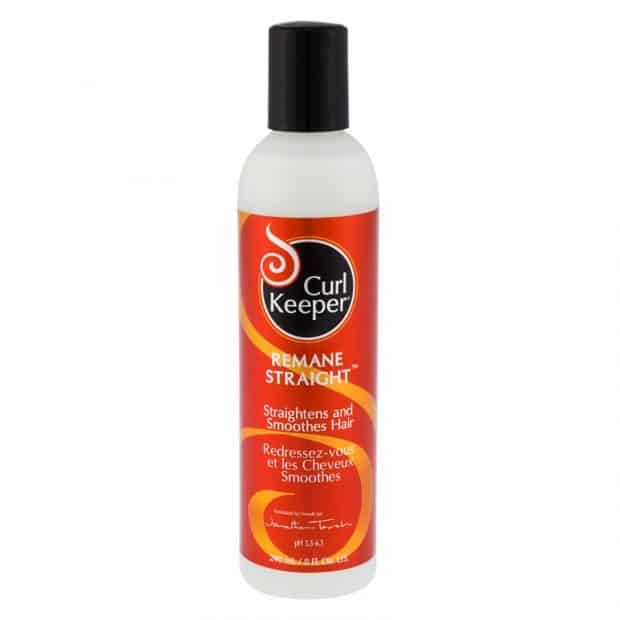 Drawbacks
Fewer reviews, so it can be a risk to try.
Eva NYC Mane Magic 10-in-1 Primer
Though the name says it is a primer, the product strengthens your hair by protecting it from heat. It is also clinically proven to reduce the frizz that can either be natural or caused due to heat damage. It provides shielding protection to your hair up to 450°F of heat. As per clinical studies, it delivers 3 times stronger hair!
Eva NYC Mane Magic 10-in-1 Primer | Heat Protectant for Hair | Sulfate, Paraben & Phthalate-Free | 5.4 fl oz
What it is: A heat protectant and hair detangler spray with 10 benefits in 1 bottle. This multi-tasking formula is clinically proven to deliver 3X stronger hair with 2X less frizz
Heat protectant spray for hair: Protects against heat up to 450°F, reducing breakage from heat damage by 44%
Powered by: Argan oil and sunflower seed oil to give your hair its daily dose of vitamins and nutrients
Safe for: Color, keratin, and Brazilian-treated hair
Certified cruelty-free through Leaping Bunny, certified vegan, GMO-free, free from sulfates, parabens, phthalates, artificial colors, mineral oil, and gluten
For the vitamins needed for your hair care, the heat protectant is enriched with Argan oil, protecting your hair from everyday damage like split ends and breakage. Along with this, it also contains sunflower seed oil that also fights breakage and gives you healthy and dandruff-free hair.
Benefits
It is enriched with ingredients like Argan oil and sunflower seed oil that have globally famous hair benefits.

It is clinically proven to provide good results.

Has a sweet scent.

Frizz-free hair.

A little goes a long way.

Gluten and paraben free.

Does not contain artificial colors or mineral oils.

Cruelty-free.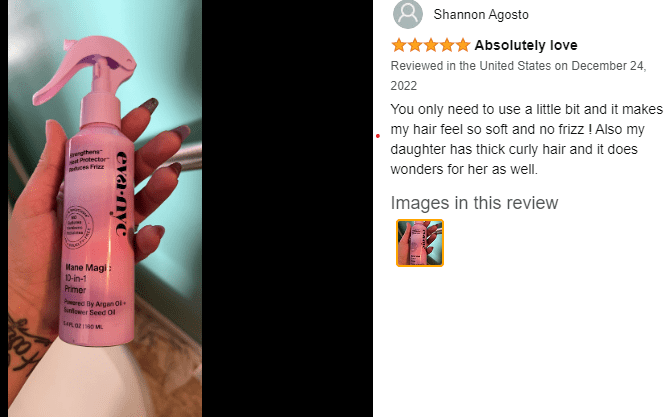 Drawbacks
Some users felt it was more of an oil than a spray, leaving their hair greasy.
Tresemme Thermal Creations Heat Tamer Spray
Styling with heat is all fun and games until you realize the harsh damage it causes to your hair. So to say goodbye to this problem, Tresemme's Thermal Creations will guard your hair against lethal damage and lock in some good moisture within your hair.
TRESemmé Thermal Creations Heat Protectant Spray for Hair 8 oz
TRESemmé Thermal Creations Heat Tamer Spray stands up to flat irons and curling irons by guarding against heat and friction, leaving hair shiny and enviably soft
This thermal hair protector is a heat protectant spray that enhances hair's flexibility to re-form
Thermal Creations heat protection spray for hair is heat-activated to help guard against harsh styling damage and hold your hair shape
Professional, affordable salon-quality heat protectant hair spray without the salon price tag
Style per usual after use!
With Amodimethicone in its enriching formula, the heat spray will leave your hair feeling very soft, smooth, and conditioned. Hydrolyzed Silk helps supply your hair with keratin protein, repairing weakened hair.
Benefits
Contains hydrolyzed silk that poses good hair benefits.

Leaves the hair with a glowy shine.

The packaging is lightweight.

Has a good smell.

Feels lightweight on your hair.

Removes the frizziness from your hair.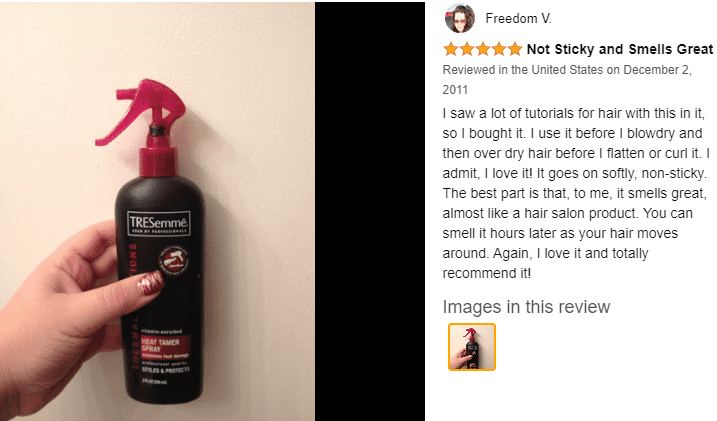 Drawbacks
Some people found the smell overpowering.

Many people complained about the poor packaging.
Mizani Thermastrength Heat Protecting Serum
How about protecting your hair from damage and providing your curls with serum-like nourishments? Mizani Thermastrength does just that by protecting your curly or coiled hair from heat damage and also nourishes them with its serum formula.
Mizani Thermastrength Heat Protecting Serum | Protects Hair From Heat Damage | with Shea Butter | for Curly Hair | 5 Fl Oz
Heat Protectant: Thermastrength Heat Protecting Serum is a styling cream for curly to tightly coiled hair (3C 4A 4B 4C) that protects hair from heat when blow-drying, curling and straightening
Lightweight Formula: This moisturizing heat protectant for natural hair prevents breakage and damage from hot tools; Shea Butter and anti-breakage Ceramide technology add strength and control frizz
Key Benefits: Ideal for tight texture types; prevents breakage and damage when heat styling; controls frizz and smooths strands, taming hair and leaving it manageable and shiny; lightweight protection
Suggested Use: Apply right before blow drying, curling, or straightening on clean, conditioned hair. Use this heat protecting serum before wet setting or molding for heat protection and a glossy shine
Trusted by salons and professionals, Mizani products are tested with every level of curl and coil with kind ingredients that leave hair strong and never thirsty; perfect for the style shifter in you
Shea Butter, yes, that shea butter that is sworn by thousands of people out there, is present in this serum that provides the proper nourishment to your hair. It also contains an anti-breakage ceramide technology that will prevent your hair from unnecessary breakage, damage, and unwanted guest, frizz.
Benefits
Contains shea butter that pampers your hair with the proper nourishment.

Leaves your hair feeling smooth.

Makes your hair frizz-free.

Has a lightweight formula.

Quite affordable.

Dairy-free.

The hair feels shiny and silky.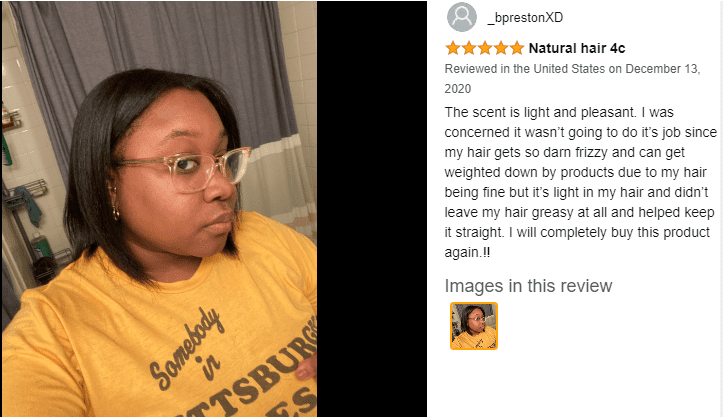 Drawbacks
Has quite a strong smell which several users resented.
Pantene Heat Protectant Spray with Jojoba Oil
With the famous line of shampoos and conditioners, Pantene is here with an additional step in your hair care routine, the heat protectant sprays. The product's name goes by 'Complete Curl Care,' so it is among the right choices for curly heads. It offers heat protection up to 450°F, along with refreshing your curls.
Sale
Pantene Heat Protectant Spray with Jojoba Oil for Curly Hair, Nutrient Blends Moisture Lock Curl Mist, Sulfate Free, 3.2 fl oz Twin Pack
You will receive two 32 fluid ounce bottles of hair mist
Hair mist designed to rejuvenate and define wavy, curly hair
Curl defining Heat Protectant Spray offers 450°F heat protection, detangles, defines, and refreshes curls
Free from sulfates, silicone, parabens, dyes, and mineral oil
Formulated with jojoba oil from a desert plant in Australia
The presence of jojoba oil in the heat protectant makes your hair take a bath in vitamins and minerals that nourish your hair. It also helps in fighting breakage, dryness, and split ends. It is a color-safe formula, so if you are an experimental person with different colors on your hair, you can safely use this product.
Benefits
Contains Jojoba oil that helps your hair get nourished.

It protects your hair from heat damage and also detangles your curls.

It helps in the restoration of your beautiful bouncy curls or waves.

Free from sulfates and parabens.

It leaves your hair frizz-free.

Does not contain dyes or mineral oils.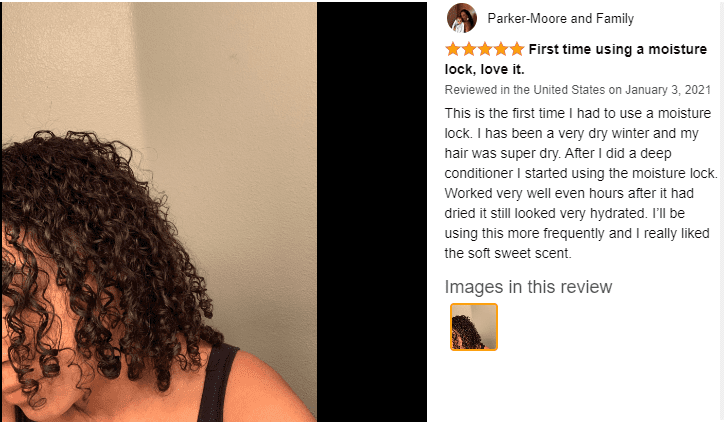 Drawbacks
The scent was overwhelming for a specific section of users.
Living Proof Perfect Hair Day Heat Styling Spray
Living Proof's Heat Styling Spray is a lightweight heat protectant that protects your hair from harsh heat damage and provides a solution for smoothness without weighing down your hair. It performs a dual duty: smoothing your hair, leaving it silky, and shielding it from heat up to 450°F.
This color-safe formula has healthy hair molecules that smooth and protects your hair from damage and a lightweight emollient blend that helps enhance the shine and glow of your hair. The cationic blend will condition, nourish and reduce the static from your hair.
Benefits
Leaves your hair feeling smooth and nourished.

Works for up to 48 hours.

The mist present ensures an easy and even application.

Provides minimal breakage.

Free of parabens and silicones.

Does not contain sulfates or phthalates.

Vegan product.

Cruelty-free.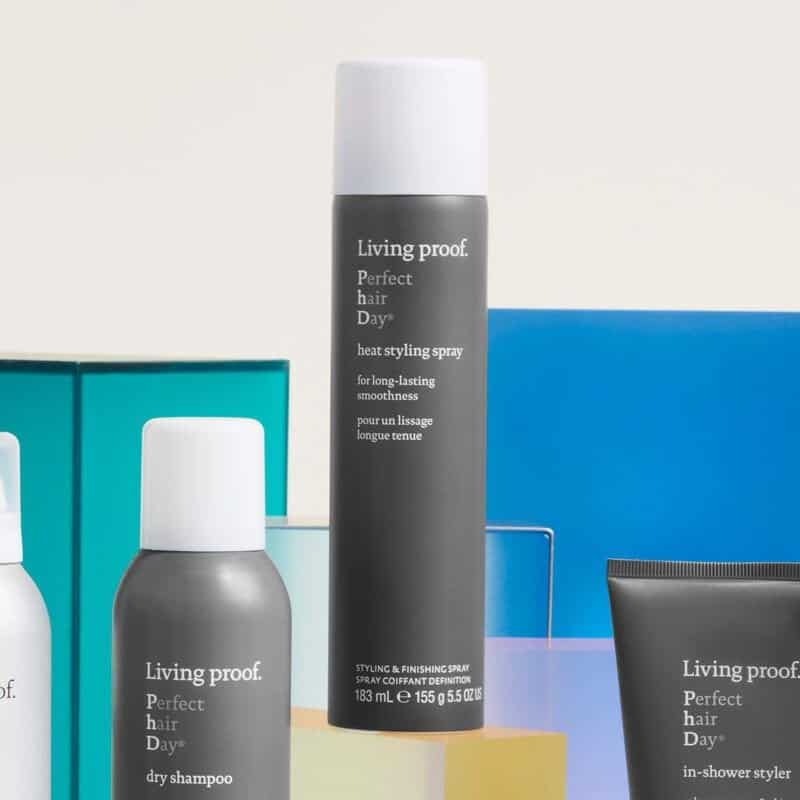 Drawbacks
The smell of the product is quite strong, intense, and overpowering.
Kerastase Nutritive Nectar Thermique
Kerastase's Nutritive cream will make your styling easier with comparatively less breakage due to heat. It has a leave-in moisturizing and nourishing effect, especially for dry hair, as it conditions and brings the optimal shine right from the roots to the tips of your hair.
KERASTASE Nutritive Nectar Thermique Hair Serum | Nourishing Blow Dry and Styling Heat Protectant | Leave-In Conditioner and Primer | Reduces Breakage and smoothens Hair | For Dry Hair | 5.1 Fl Oz
Nutritive Thermique Hair Serum: Awarded brides magazine beauty awards 2016. You can use this blow dry primer on wet or dry hair. For optimal results, apply to damp, towel dried hair
Benefits: Heat styling tools can damage hair, contributing to hair breakage and split ends. This product supports up to 85% less hair breakage from heat styling tools, keeping shinny, smooth hair
Additional Benefits: Deeply nourishing and moisturizing heat protection cream for dry hair. Enriched with iris royal and thermo-deal glaze. It repairs split ends, smooths and strengthens hair
Suggested Use: Apply a quarter size amount of product to wet hair throughout mid lengths and ends and massage through. Continue by styling hair as preferred with heat styling tools
Nutritive System: When used with Bain Satin 1 and Nutritive Masquintense, provides moderately dry hair deep moisturizing treatment. Designed to make hair supple and irresistibly soft to touch
It contains a thermo-protective ingredient, Xylose, that helps in protecting your hair fibers from the extreme drying effects of heat-styling. Not only this, but it also soothes and nourishes your hair. Along with this, the presence of Royal Jelly makes this product special. The royal jelly present will give your hair the proper nourishment and leave your curls happy and healthy.
Benefits
Works on protecting as well as repairing your hair.

A little quantity can go a long way.

Gives smooth and shiny hair.

It leaves your hair with a glaze-like finish.

The hair feels soft after using this.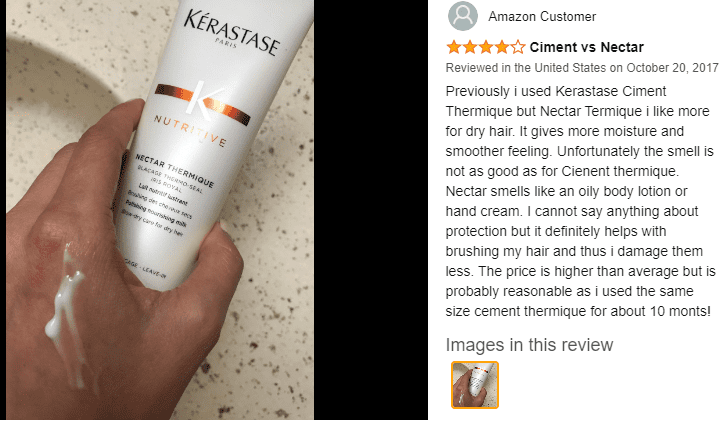 Drawbacks
Quite expensive for a heat protectant spray.
FAQs | Best Heat Protectant For Curly Hair
What are some of the most effective heat protectants for hair?
Cantu Thermal Shield Heat Protectant, Eva NYC Mane Magic 10-in-1 Primer, and Kerastase Nutritive Nectar are among the best heat protectants that have good reviews and work well.
Do you let the heat protectant dry before heat styling?
Yes, many people who use heat protectants for the first time are unaware that you should let the product dry on your hair after the application. The flat iron or the heating rod sizzles if its protectant is still damp.
What can I use instead of a heat protectant?
Shea butter is good if you do not want heat protectants. Shea butter is naturally blessed with thermal conductivity properties and is an alternative to silicones in heat protectants. So, yes, shea butter acts as a natural heat protectant.
Should you brush through the heat protectant?
Initially, spray the heat protectant on your hair strands by avoiding your scalp. Then comb your hair after the application, so the product spreads evenly on every strand.
Closure

| Heat Protectant For Curly Hair

When it comes to styling your hair, especially when it is instant, heat is the best option, and we agree! Getting those perfect beach waves or Shakira-like curls instantly should be credited to these heating and curling rods. But how about the damage they cause to our hair? Imagine your hair being pressed between 100°C ceramic plates; quite painful. The only thing that comes to mind is getting those perfect heat curls and protecting your hair from that harsh heat. So for that, here's the solution- heat protectants.

Just like we require good care, our hair and skin do too! Heat protectants form a barrier or a shield that rejects the entry of heat or UV rays and also locks in moisture, so your hair isn't left out dried or frizzy. So with the heat mentioned earlier, get yourself ready to choose the best heat protectant for curly hair that will work well with your curly hair that will not only protect them but will also cherish and hug them with loads of nutrients.
Rebecca is a skilled writer with a passion for makeup and skincare. With years of experience in the beauty industry, she has a deep understanding of the latest trends and products and a talent for creating engaging content that resonates with her readers. Whether she's writing about the latest skincare products or sharing her favorite makeup tips, Rebecca's writing is always informative, entertaining, and inspiring.