We know what you can't live without – food, water, shelter, and your hair! If you have been eyeing the best haircare routine for a while, this guide will capture your interest nicely! Do you ever wonder how those celebrities unveil their long, shiny locks that become a trending picture on Instagram in a heartbeat? Well, simple. Some maintenance will do the trick for you too! Our hair goes through a lot, and we must tackle damage like breakage, frizziness, and split ends before they become permanently rooted in our locks.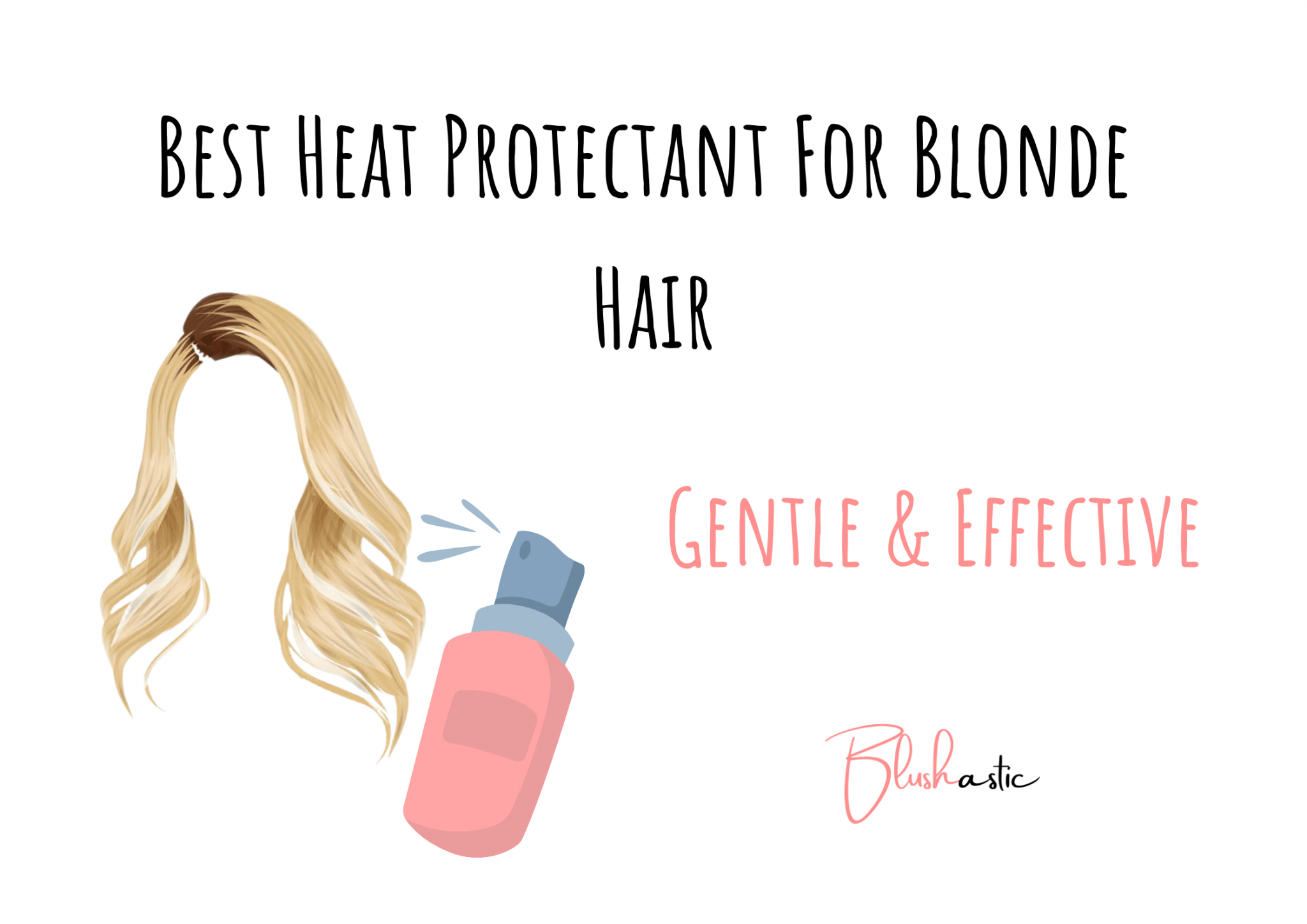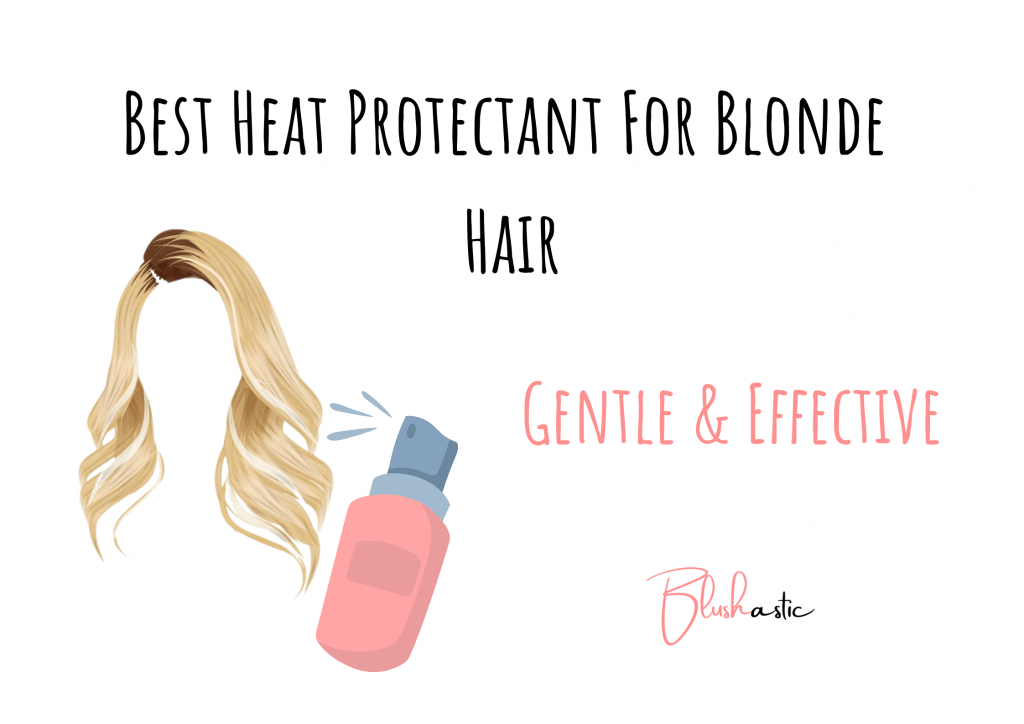 You keep hearing all the must-try hair styling products but have yet to settle down with a heat protectant? Especially if you like painting your hair with all sorts of colors, a good heat protectant to protect your blonde waves should be your only priority. We have gathered all the scoop you need to possess a healthy mane in this definitive guide to the Best Heat Protectant For Blonde Hair. Here are 11 sensational options to pamper your blonde tresses without worrying about them being compromised! So keep calm, and read on! 
Best Heat Protectant For Blonde Hair
ghd Bodyguard – Heat Protect Spray
Do you always want to create flawless styles with your hair? We have an answer to give you! While looking for the best protectant formulas for blonde hair, ensure they are enriched with conditioners, and softening agents that will give your locks an out-of-the-world experience.
ghd Bodyguard Heat Protectant for Hair | Heat Protect Hair Spray, Lightweight Formula, Heat Protectant for Healthier Looking & Feeling Hair | 4 fl. oz.
HEAT PROTECTANT SPRAY FOR HAIR ― Meet ghd's heat protect & styling #1 best seller, ghd hair heat protectant spray - bodyguard. The heat protectant system helps to prevent cuticles lifting by improving the smoothness of the hair surface while coating every strand of hair.
GHD HAIR HEAT PROTECTION SYSTEM ― Combines protective ingredients and conditioning agents to create a protective thermal layer over the surface of the hair for a sleek and smooth finish.
LIGHTWEIGHT FORMULA ― For an invisible, no-product feel that's nourishing on hair and allows you to create professional salon results.
THERMAL PROTECTIVE LAYER ― Creates a thermal protective layer over the surface of the hair that works to protect from everyday heat styling that looks and feels healthier.
SUGGESTED USAGE ― Spritz from root to tip and comb through before heat styling with your ghd Platinum+ Styler or other favorite ghd styling tool.
The ghd Bodyguard – Heat Protect Spray features a two-fold action of protecting polymers and conditioning agents that will prevent your hair cuticles from lifting and smoothening it on the surface. The formula is lightweight and forms a layer of protective coating on your strands, preventing them from losing their shine or silkiness over time. The best part of using this spray is its "no product" feel, which has captivated the hearts of haircare enthusiasts.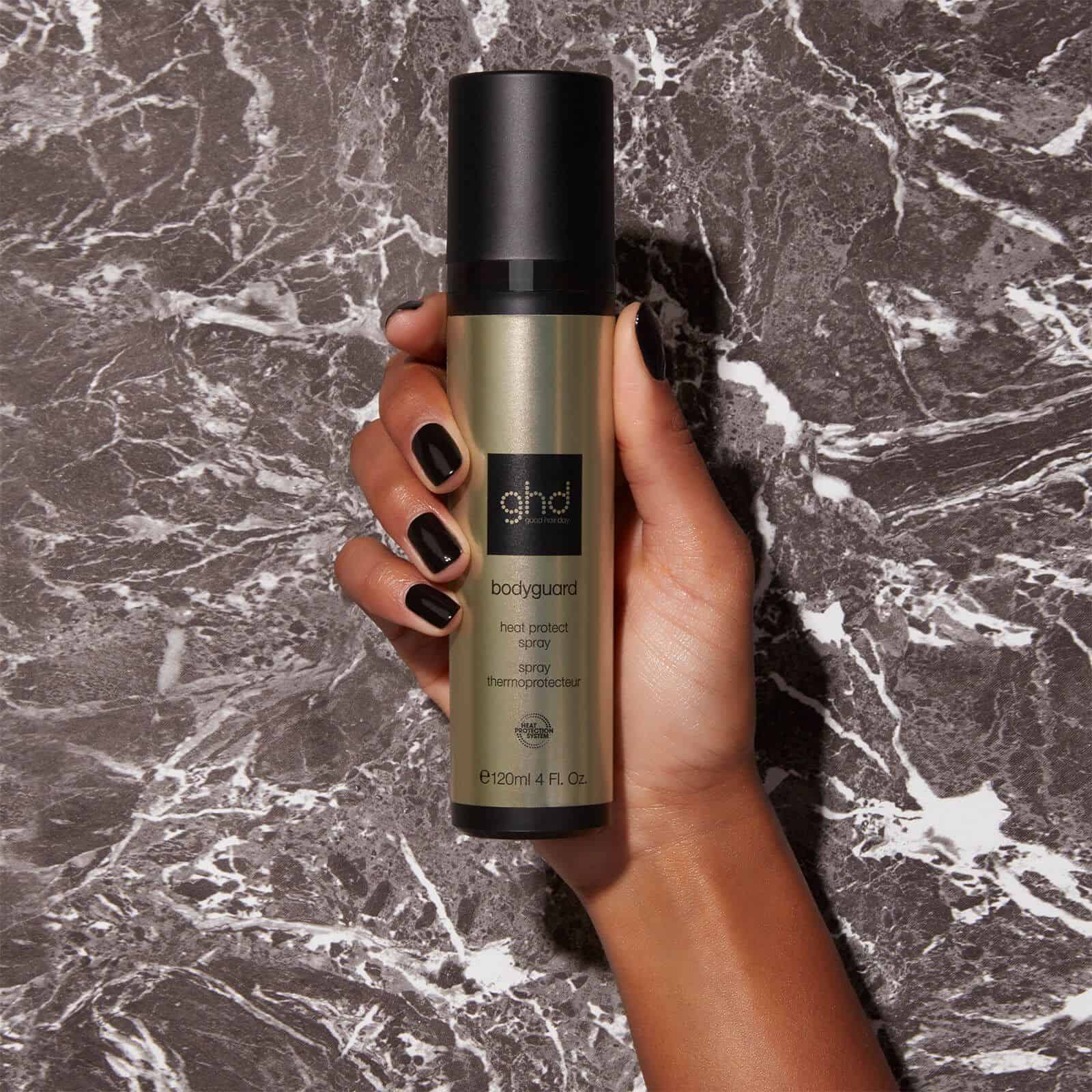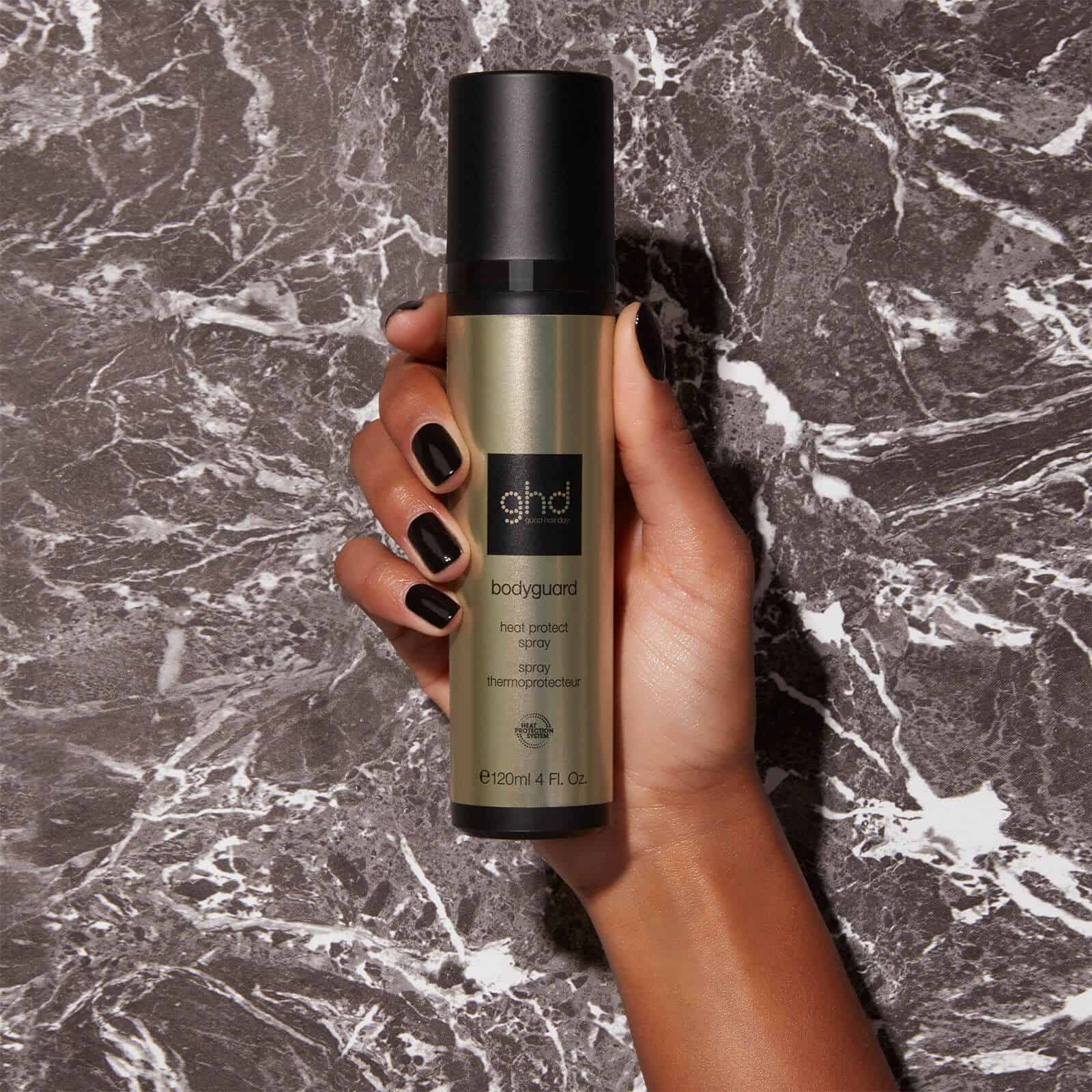 This formula has no parabens, so your hair can take a chill pill! Bring your hair back from the brink, as your worry days are over! While the spray breathes life into your locks, users may not like its smell, which can sometimes come off as quite substantial to the senses. 
OGX Protecting + Silk Blowout Quick Drying Thermal Spray
Giving your blonde hair a pumped-up doze of OGX would fulfill your hair's wishes in simple words! And the quick-drying thermal spray from the brand is a healthy way to do that if you want to keep your blonde hair looking blonde for longer! Infused with ingredients like Hydrolyzed Silk and Hydrolyzed Quinoa, the spray offers protection up to 450 degrees Celsius.
Sale
OGX Protecting + Silk Blowout Quick Drying Thermal Spray, 6 Fl Oz (Pack of 1)
HEAT PROTECTION: Decrease blow dry time while protecting strands from high heat. Blended with hydrolyzed silk & quinoa, formulated to cut drying time & protect hair up to 450°F for big, beautiful blow outs.
SILK BLOWOUT: Our Silk Blowout styling line helps make your blow outs quick, shiny, & soft. Say "yes" to big, silky, sexy-looking hair
BEAUTY PURE & SIMPLE: OGX products are inspired by nature. We don't try to make hair look "perfect" because we'd rather make hair look fuller, smoother, curlier, or bouncier & smell irresistible. Cruelty free
WHAT HAIR WANTS: Whether you need quenching moisture for curly hair, protection for color treated hair, blowout cream or matte pomade, OGX hair care products are designed to bring out your best.
REAL QUALITY, REAL BEAUTY: Unattainable looks don't inspire us but originality does. OGX hair & skin care product collections are here to help you look your best. We're beauty, pure & simple.
If you want to reduce your blowout time, this spray will help you do it effortlessly. High heat need not be a problem anymore, as your tresses, however big, thick, or small they are, the thermal protectant ensures your blowouts look quick, shiny, & soft. It enhances the density of your locks and never fails to impress with its fuller-looking volume. So, if you are obsessed with styling your hair using hating irons, curlers, and whatnot, this heat spray will do the job!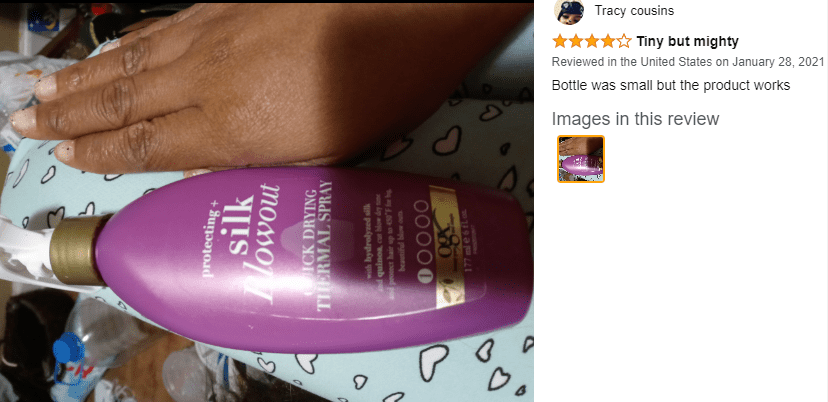 While everything about this product stands out for users, it might disappoint with its efficacy for users who have incredibly thick, curly, or oily hair types. 
L'Oréal Paris Advanced Hairstyle Sleek It Iron Straight Heat Spray
If you have jumped on the blonde hair type, your hair needs a new lease of life! And the L'Oréal Paris Advanced Hairstyle Sleek It Iron Straight Heat Spray claims to offer it to you on a full platter! With a promise to provide 450-degree heat protection, this product has won the hearts of many who believe in the joy of using heating tools to get beachy waves.
Sale
L'Oréal Paris Advanced Hairstyle Sleek It Iron Straight Heat Spray, 5.7 Ounce
Heat Protectant Spray: Get 3 day style with this lightweight heat protectant spray, specially formulated to offer 450 degree heat protection for any heat tool, calming frizz and sealing in shine
Thermal Protection: This lightweight spray blocks humidity to calm fly aways while conditioning for long lasting silky style; Spray it on damp or dry hair section by section as you style with your heat tool
Create Your Perfect Hairstyle: From classic sprays to the latest styling creams, we provide support for every hairstyle with products specially formulated for straightening, shine, volume, texture and curls
All Things Beauty: Keep your beauty stash stocked with the best; We have a variety of products to help you achieve any look, whether you need eye makeup for a killer cat eye or face makeup for a flawless complexion
L'Oreal Paris Beauty: A leading total beauty care company based in Paris, we offer innovative products and unique expertise from beauty experts in makeup, skin care, hair care, styling and hair color
This heat protectant understands that your hair is delicate and needs to be treated extra delicately so you don't miss out on the best part of your appearance. One primary reason why many are opting for this edit is it calms the flyaways gently and enhances the silkiness of your hair. With this by your side, you na pamper your curls, texture, shine, and volume the way you want.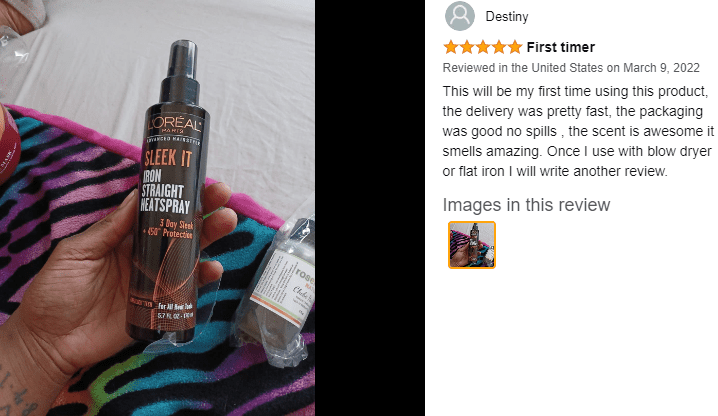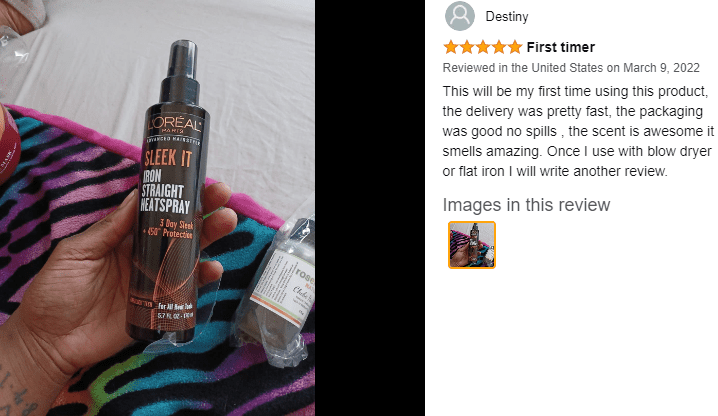 The budget-friendliness of the protectant is making people go out of their way to buy this. And why wouldn't it? It offers you 3 days of your hair, the most sensual and velvety you have ever seen earlier! Users did not like this because it made their hair oily after some time. 
Moroccanoil Perfect Defense Heat Protectant
One can always take advantage of the Moroccanoil series when your hair is considered. The brand has built quite a reputation for formulating products that keep your locks looking extra glossy. The spray from their collection is regarded as one the best Heat Protectant For Black Hair. The Perfect Defense spray has been enriched with argan oil, mushroom extract, rosemary leaf extract, yarrow extract, sage leaf, etc.
Moroccanoil Perfect Defense, 2 oz
Weightless, no,hold spray blends seamlessly into any existing styling regimen to protect hair from hot tools.
English (Publication Language)
This composition prepares a nutritional boost to your hair and prevents it from getting damaged against styling from heat. The weightless formula protects your hair up to 450⁰F/230⁰C. The goodness of nourishing argan oil covers your hair in a sheet of replenished moisture that allows your hair to look healthy. You must have noticed how the hair looks dull and dead after straightening it out. This formula rehydrates your tresses seamlessly.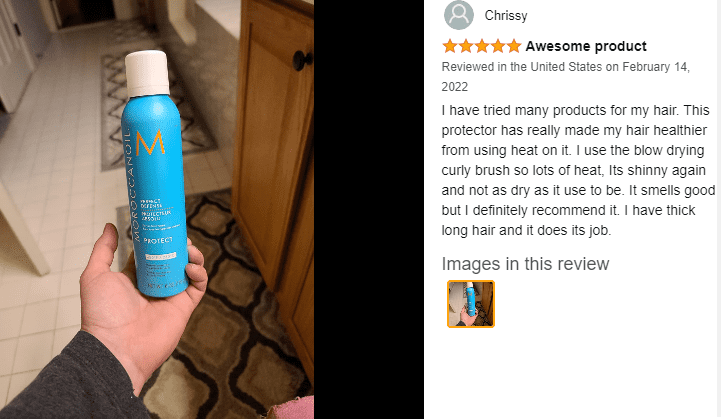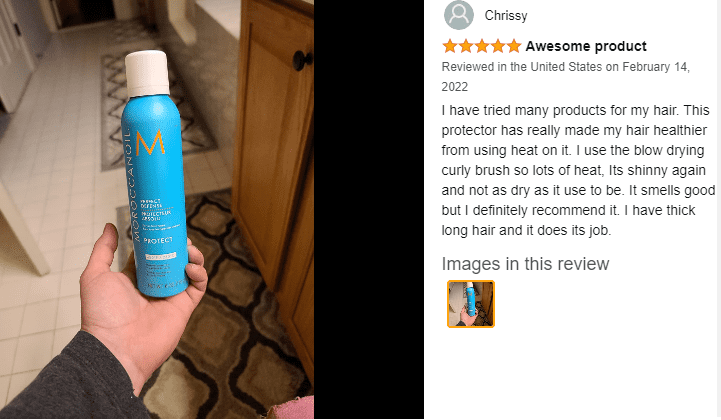 People might love their blow-dry even more after using this one. However, the heat protectant comes with its flaws. This might give you a headache if you are not into musky or corny scents. 
TRESemmé Keratin Smooth Leave-In Heat Protectant Spray
Having blonde hair is fun, but taking care of it can become arduous if you are not devoted to the process 100%. The TRESemmé Thermal Creations Keratin Smooth Leave-In Heat Protectant Spray is the Best Heat Protectant For Fine Hair and claims to guard your golden locks against the severe effects of heat and friction. Users are entitled to 5 smoothing benefits in 1 if they decide to use this heat protectant on their hair.
TRESemmé Thermal Creations Keratin Smooth Leave-In Heat Protectant Spray, Hair Heat Protection Formula with Keratin and Marula Oil 8 oz
HEAT PROTECTANT SPRAY: TRESemmé Thermal Creations leave-in heat protectant spray for hair provides 5 smoothing benefits in 1, leaving hair shiny and enviably soft
HAIR HEAT PROTECTOR SPRAY: this leave-in hair heat protector is formulated with smoothing keratin and marula oil to help smooth hair and guard against heat and friction
FLAT IRON SPRAY: specifically formulated heat protectant for hair leaves your strands gorgeously sleek and manageable while standing up to flat and curling irons
THERMAL PROTECTION FOR HAIR: this hair heat protector helps shield hair from heat up to 450°f so you can achieve a smooth look while protecting your hair from heat styling
HEAT PROTECTION FOR HAIR: TRESemme Keratin Smooth system for heat protection helps you to achieve silky smooth hair that's still full of natural movement
The product's heat protection against damage measures up to 450°f, so you don't have to worry about it. If you want to remove all kinds of frizziness and can't leave without flattening or curling up your hair, then it's a sign that this leave-in treatment is made for you!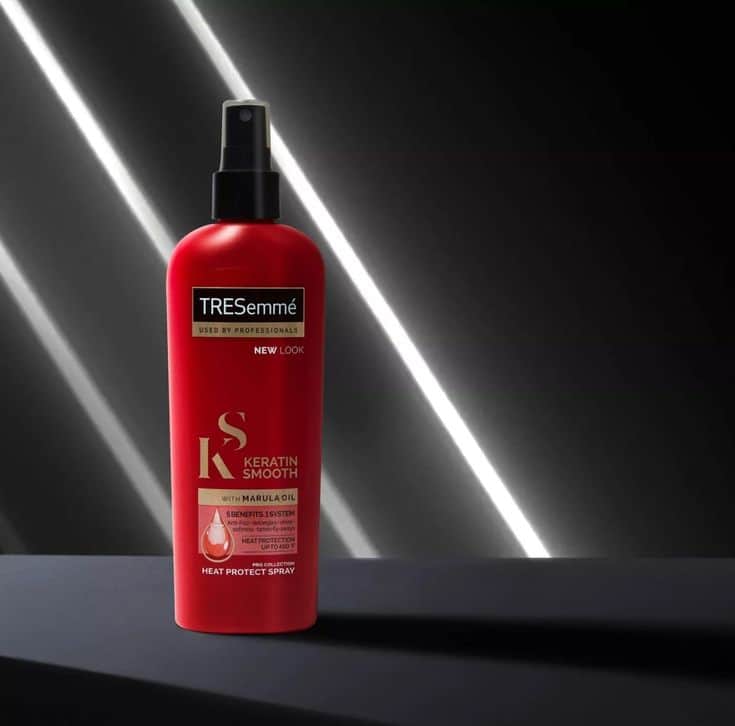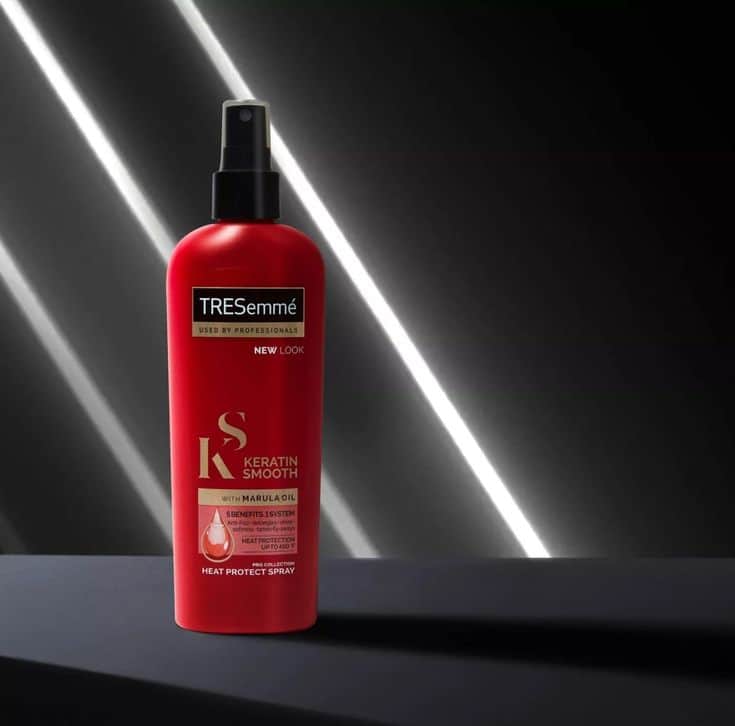 Make your hair sleek and manageable with this product, as it claims to rock all those Instagram pictures you have been waiting to look like. The only issue users face with this is that the product gets over too soon, and they cannot revel in its benefits for a long time. 
Pureology Color Fanatic Leave-in Conditioner Hair Treatment Detangler Spray
With a massive rating of over 10k on Amazon, this hair treatment from the brand Pureology has aced all haircare charts in the makeup town. The aspect which stands out about this product is its pledge to go climate-friendly with its composition. The priming spray offers multifold benefits to your hair with critical ingredients, Camelina Oil, Coconut Oil, and Olive Oil, that smoothen the rough ends of your strands and protect them against damage.
Pureology Color Fanatic Leave-in Conditioner Hair Treatment Detangler Spray | Protects Color From Fading | Heat Protectant | Vegan | 6.7 Fl Oz
Multi-Benefit Leave-In Spray: Color Fanatic vegan Leave-In Conditioner spray with 21 benefits primes and protects hair from heat, protects hair color from fading, and moisturizes all hair types
Multi-Tasking Formula: this moisturizing and detangling mist preps hair for all styling needs; Olive Oil adds shine and softness while Omega-3-rich Camelina and Coconut Oils nourish and moisturize
Key Benefits: Moisturizes dry, damaged hair, strengthens and repairs damage, protects against heat damage and color fade, balances hair's pH, detangles, smooths and adds shine for all hair types
Suggested Use: Use as your first styling step that primes and protects; mist all over clean, damp hair and comb through evenly. Then style as usual. Use prior to other Pureology styling products
Trusted by salons and Professionals, Pureology's Color Fanatic Leave-In Conditioner Spray is vegan and sulfate-free. Use Color Fanatic before other Pureology styling products for color protection
According to users, after using this on their hair for a considerable period, they could notice an improvement in hair manageability. The formula also features a breathtaking smell of an aromatherapy blend that evens out porosity and makes your locks a sight for sore eyes! The anti-fade incorporated in the recipe ensures your blonde hair stays blonde and pampers all hair types.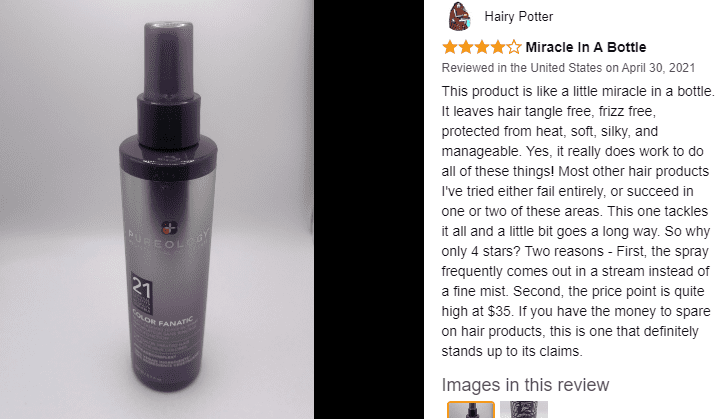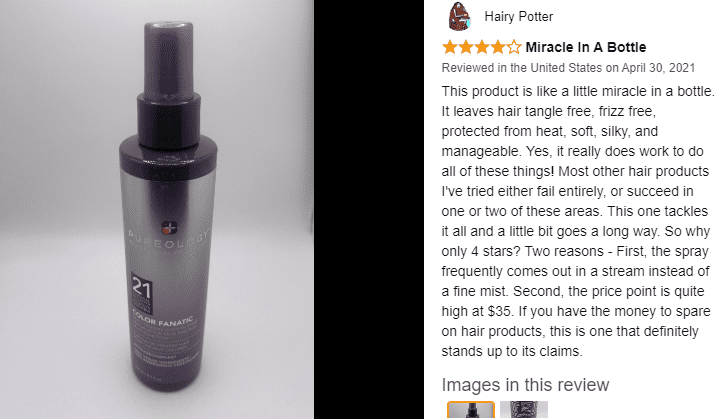 You can enjoy the pleasing scent of roses, floral ginger, and cedarwood, filling your breath. While this makes for an excellent feature, it might not suit the tastes of users who prefer avoiding such fragrances in their haircare products. 
CHI 44 Iron Guard Thermal Protection Spray
Heat protestants are the perfect option for anyone with blonde hair who fears losing their color too soon! You may not realize it, but every time you use hot tools, your hair needs a break in the next second. While we continuously ignore this need, our hair turns brittle over time with prolonged use, becomes dry, and becomes devoid of its shine and luster.
Sale
CHI 44 Iron Guard Thermal Protection Spray, Clear, 8 Fl Oz
Contains an easy brush glide formula that is an ideal styling tool for all your smooth and sleek styles
It gives you superior heat protection for your hair
Suitable for all hair types
Iron Guard Thermal Protection Spray was launched by the design house of CHI
It is recommended for casual wear.
Having amassed over 42k reviews on Amazon, this spray is an ideal tool for styling your hair if you believe in the power of a sleek and bold-looking hairstyle. It shields your locks against thermal damage with its formula fueled with vitamins and proteins. Iron Guard Thermal Protection Spray is unisex and can be used for both men and women. Keratin and silk proteins maintain your hair's length, whereas panthenol, jojoba, and olive ensure their shine from conditioning.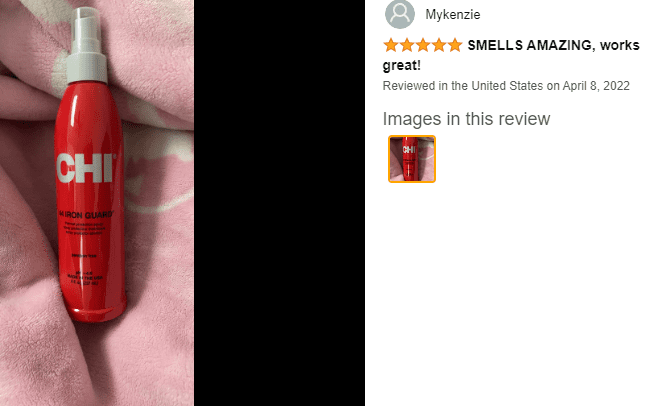 The weightless formula prevents any buildup and cuticle damage. While we love it unconditionally, it is impossible to ignore the fact that it may make your hair feel too heavy and loaded after wearing it for some time. 
Heat Protectant Spray Formulated For Blonde, Platinum
Healthy hair is everyone's goal, but we often forget to take essential steps to satisfy our locks. While you will be relieved that you are not alone in this, it's time to pull up your socks before more damage sets in your hair. This formula from the brand Bold Uniq features a formula famous for its purple pigments with advanced thermal technology.
Sale
Heat Protectant Spray Formulated For Blonde, Platinum, Ash & Silver/Gray Hair. Thermal Shield Protection Professional Formula Minimises Brassy Yellow Tones. Protects Dry, Damaged, Frizzy & Curly Hair
How does it work: We've combined our famous purple pigments with advanced thermal technology, that wraps each follicle of hair in a weightless but effective protective layer. This formula shields hair from the effects of heat styling up to 230°C/446°F minimizing the effects of damage and breakages to reveal healthy, strong, and shiny hair.
How often should I use it: For maximum purple protection, we advise you use this spray before any heat treatment. The formula is lightweight and can be used on both wet and dry hair, making it easy to introduce into your everyday hair care routine. Protected hair = Happy Hair.
Style with confidence: Maintaining the style and color you love can be tricky, the soft pigments in our Purple Thermal Heat Protector work alongside our thermal technology to gradually tone and defend your tresses, allowing you to style your hair without the worry of increased damage and breakages.
Tailored for Blonde Hair types: Blonde, Platinum, Ash, Silver & Gray hair can be a challenge to care for, which is why we have created a Thermal Heat Protectant specifically for your hair type. A formula that will shield and gently tone your hair, to reveal shiny, healthy-looking locks that are ready to take on the heat from traditional styling tools.
Environmentally Responsible Beauty: This Purple Thermal Heat Protector, has been carefully developed to maintain blonde hair health and help you to make sustainable beauty choices! We're proud to be Paraben and Sulfate free. PETA-approved cruelty-free and 100% vegan. And that's not all our bottles and jars are made with recycled plastics. Committed to healthy hair and a healthy environment.
It covers each hair follicle in a lightweight, protective layer for nourishment. With this spray, you can do your hair a favor and prevent your locks from getting sandwiched between heating tools, as it offers protection against the effects of heat styling up to 230°C/446°F. This is necessary as it keeps your hair healthy and away from frizziness. It uses rich ingredients like avocado, bamboo, olive oil, coconut oil, and aloe vera to tone your hair and reveal shiny-looking trusses. From a health perspective, it also stands out as it is Paraben and Sulfate free and is PETA-approved, cruelty-free, and 100% vegan.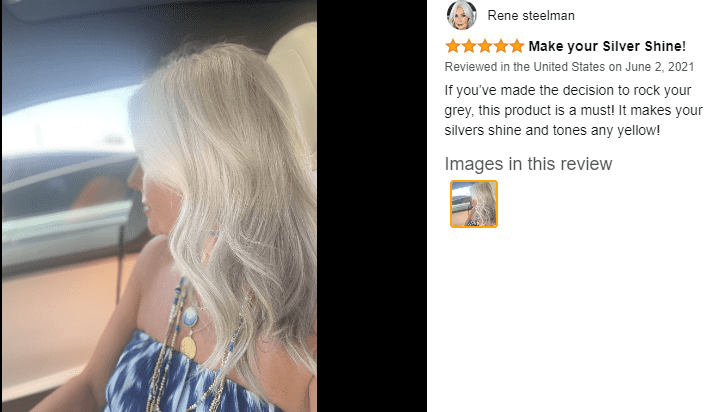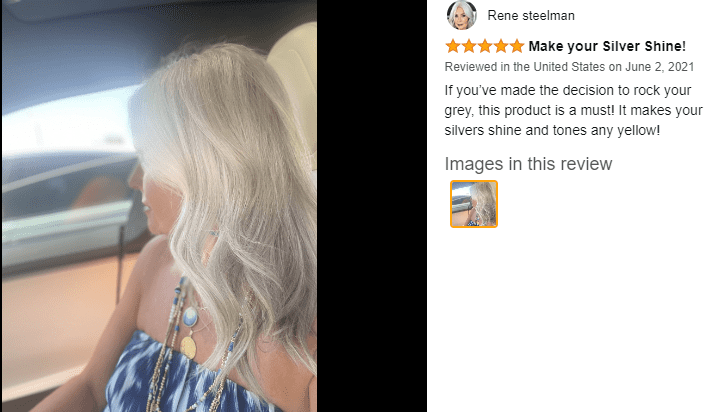 While haircare lovers are going all the way out to purchase this heat protectant for their blonde locks, some are also unsatisfied that the spray might leave a purple tint in your hair and cause them to dry out in rare cases. 
Paul Mitchell Hot Off The Press Thermal Protection Hairspray
Give your hair the best health with the help of the Paul Mitchell Hot Off The Press Thermal Protection Hairspray, which claims to ward off damage from heating tools and helps protect every strand. This heat protectant is a better choice for your blonde hair because it contains rice hull extracts and crucial wheat proteins that are ideal for all hair types, including your pretty blonde locks.
While the hull extracts create a lightweight and breathable barrier between your hair and the heat of the heating irons, wheat proteins boost your hair's strength from within. The best part about using this formula on your blonde hair is its enchanting scent that features delicate hints of Cara Cara orange, white grapefruit, and lily of the valley. So, if you enjoy sensory pleasure, you should blindly add this to your list!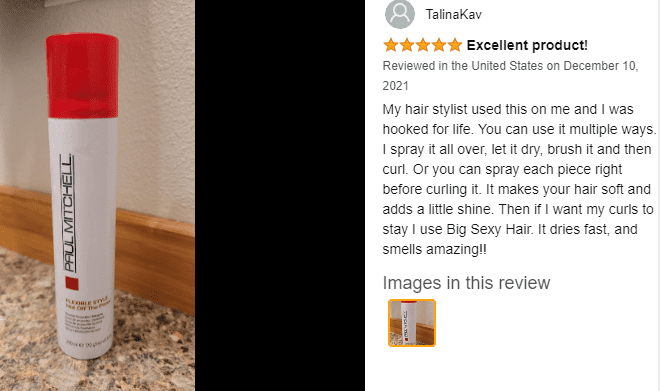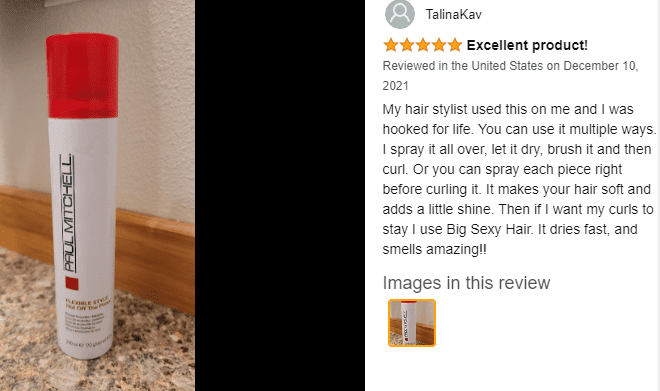 While according to reviews, every feature of this product has seemed to make an impression, what some users complained about is its efficacy. They said the effects didn't last long and made their hair feel sticky. 
Sun Bum Heat Protector Spray
Maintenance of your hair can be costly. Sometimes the right tips and tricks can do wonders and make your tresses look hydrated and lustrous whenever you step out! To ace this look, you must be careful how you style your hair. If your locks love a good blow dry session, straightening, or even curls, ensure they have a fuzzy and warm layer of heat protectant.
Sale
Sun Bum Heat Protector Spray | Vegan and Cruelty Free Hair Protecting Spray for All Hair Types | 6 oz
HEAT PROTECTOR SPRAY. This beautiful looking product reminds us of the raddest beaches. It's great for makin' our hair dry a little faster and protecting against heat damage, with nourishing ingredients like Noni and Sea Kelp Extract.
GOOD VIBES FOR YOUR HAIR. Our Heat Protector dramatically decreases blow-dry time and protects against thermal heat that causes damage and breakage. The two-phase formula delivers a lightweight nourishing blend to eliminate frizz.
HOW TO USE. Shake well to mix this two-part formula then spray throughout hair. Use before blow drying or when using heat styling tools. Sonny's Tip: If using on dry hair, remember to let it completely dry before using any hot tools.
PROTECT YOUR HAIR. The key to maintaining healthy locks is healthy, natural ingredients. Our Protecting hair products are enriched with vitamins and sea minerals, and are Vegan, Gluten, Cruelty, Sulfate and Paraben Free.
TRUST THE BUM. What does that mean. It means trust us, the ones who live on the beach and need products that work on the most intense days in the sun. The simple truth is, when you make products to protect the ones you love, you make 'em better.
Because you wouldn't want your blonde hair to fade away too soon, right? This Sum Bum Spray formula contains nourishing ingredients like kukui nut oil, tamanu oil, sea kelp, banana, and coconut oil. It makes your hair dry a little faster, so this way, the damage is minimized, and your hair also gets to have its heat protection. The composition has been designed to be lightweight, offering nourishment to your luscious locks and acting as a shield against frizz and humidity.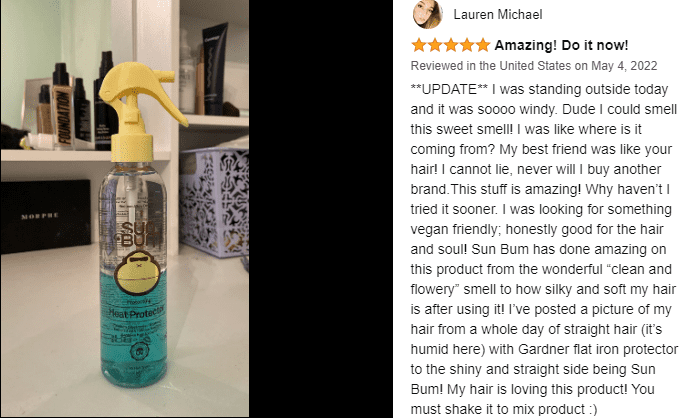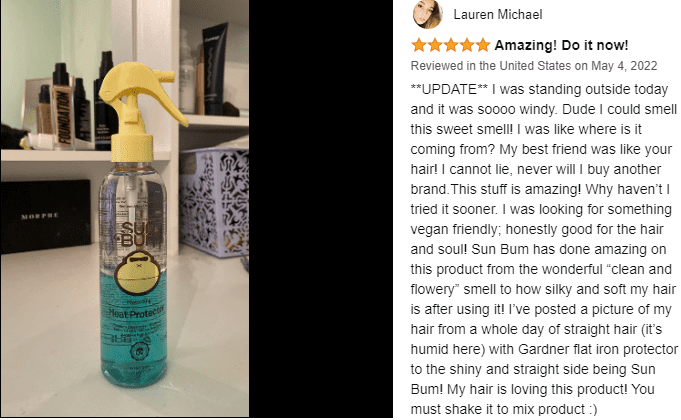 If you are concerned about the well-being of your hair, you must know beforehand that this product is DMDM-H Free, Vegan, Gluten Free, Sulfate Free, Color Safe, Paraben Free, and. Phthalate Free. It has also not been tested on animals and offers a UV-Protecting formula. Although it reduces your blow dry time, the watery consistency might dry out your hair a bit. 
Coconut Heat Protectant Spray For Hair
Sometimes, drugstore options work just as nicely as those luxury items from salons often promise to do. So, our hair should get the best of both worlds in this Coconut Heat Protectant Spray. This Leave-in heat protection spray protects your hair up to 230°C / 450°F heat and keeps the health of your locks uncompromised. The Coconut-infused, moisturizing styling spray quenches the thirst of your dehydrated locks and covers them in a replenished shine. This not only wards off dullness from styling but also reduces their breakage.
Sale
Coconut Heat Protectant Spray For Hair – Flat Iron Thermal Heat Protection Up To 450ºF – Protector Spray For All Hair Types – Heat Defense Leave in Treatment - Prevents Frizz & Split Ends – 8.45fl.oz
Coconut Thermal Heat Protectant Spray - Hydrates dry and damaged hair, prevent split ends, frizz and static caused by styling and humidity. Revitalizes dull hair, adding body, volume and shine
Leave-in heat protection spray - Defends hair against damage caused by heated styling tools, blow drying, curling and straightening up to 230°C / 450°F heat for strong, smooth and healthy hair
Anti-static styling spray - Coconut-infused, moisturising styling spray conditions hair to reduce flyaway strands, stops frustrating knots and tangles caused by dry hair. Style, straighten and brush with ease
Fade protection formula - Scientifically-formulated Advanced Color Protect System shields hair from fading, locks in color for fresh and vibrant blonde, red and brunette shades
Versatile, multi-use treatment - COCONUT10 multi-use leave-in conditioner spray has 10 incredible benefits for the spray that really can do it all
Especially if you have color-treated or blonde hair, this spray will compensate for all the harm you have done to your tresses, be it from blow drying, curling, or straightening. The formula is free from harsh chemicals like SLS and parabens and can be recycled. Another plus point about this spray is that it has not been tested on animals. You can finally bid goodbye to those frustrating knots that give your or hard time by making your hair quickly detangle.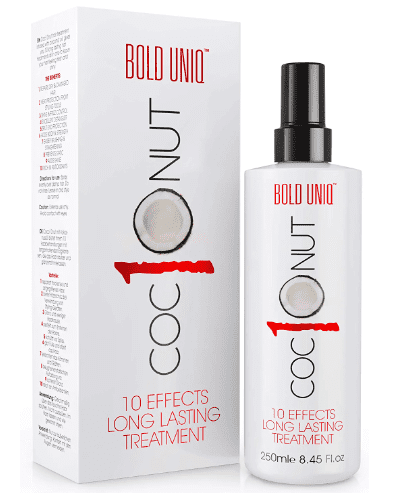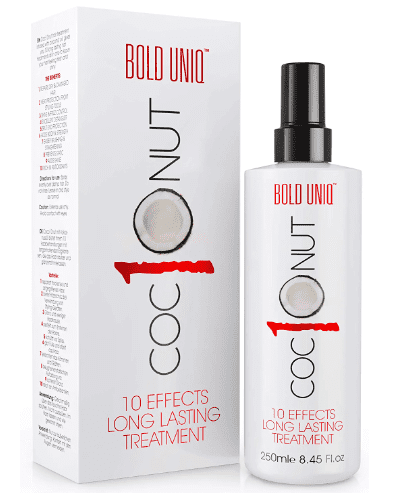 While everything looks up to the mark about this spray, not everyone will like it. If you are not a big fan of scented formulas or thicker formulas that weigh down your hair, you might be happier with this one. 
FAQs | Best Heat Protectant For Blonde Hair
Can you use a heat protectant on colored hair?
Yes, you can use heat protectants on colored, bleached, or blonde hair. This will enhance their shine, protect them from losing color and vibrancy, prevent brittleness, and keep them healthy. 
How do you pick a heat protectant?
When buying a heat protectant, you need to make sure it checks some of the boxes for sure. For example, your formula must contain keratin, as it strengthens your hair from within by increasing moisture retention, which reduces breakage. So, the ingredient hydrolyzed keratin is essential in your spray.
Apart from that, go for the maximum hair protection a heat spray can offer so that your delicate tresses are guarded even in the face of adverse heat styling. The formula is a key too. Ensure the consistency is lightweight, comes out of the dispenser nicely, and evenly coats every nook and corner of your hair. Also, remember that your heat protectant must combat frizz at all times.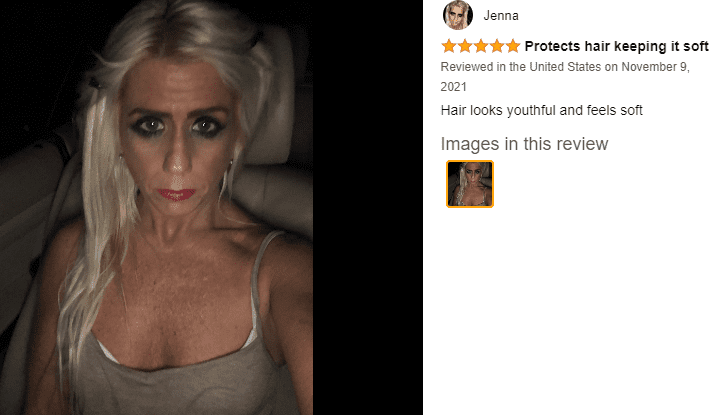 Should I spray heat protectant on wet or dry hair?
You can use a heat protectant spray on dry or damp hair, as it is best suited to mold into the styles you want to create. Hair in this condition can withstand the stress you are putting it in and still look beautiful. 
What comes first, heat protectant or leave-in conditioner?
Understanding the importance of applying haircare products in the correct order is very important and must be adhered to. Your leave-in conditioner goes in when your strands are wet, that is, to ensure the moisture gets locked in while the cuticles are still open. This will protect your hair against frizziness. After that comes a heat protectant, that is, if you are planning to use styling tools, that is, a blow dryer, curling iron, or a straightener. This solely prevents heat damage. 
Should I use a heat protectant before using a hair dryer?
Yes, using a heat protectant before drying your hair is mandatory. Like the skin needs moisture to look revived, hair, too, needs it. Applying a good heat protectant ensures your hair does not get brittle, dry, or feel coarse in the event of blow drying your hair. 
Can you use a leave-in conditioner and heat protectant at the same time?
When taking care of every unique strand, you might fall back on leave-in conditioners, as they nourish and moisturize the strands from roots to tips. This protects them against coldness or dryness. On the other hand, you use a heat protectant on your hair to reduce the damage caused by heating tools for styling. If your leave-in conditioner already has the properties of creating a moisture and hydrating barrier between your strands and the heat, then you do not need to add another heat protectant.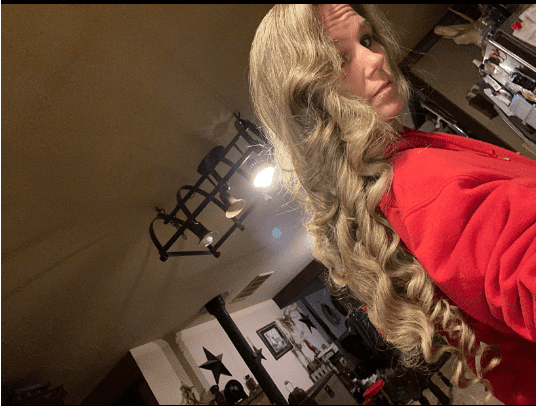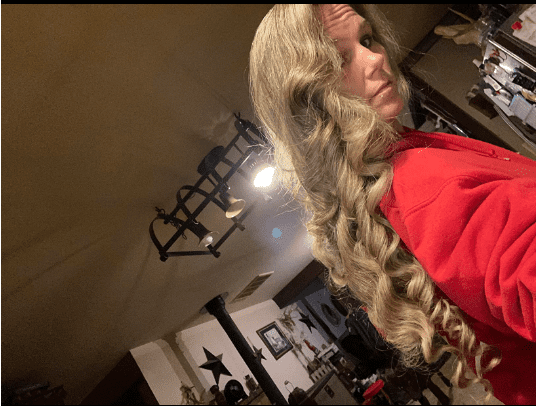 Do heat protectants work?
Yes, heat protectants work and help minimize the damage that comes from direct heating tools. It will not entirely neutralize the effects of heat damage but reduce the heat's intensity, resulting in lesser harm to your hair. You need to know the right amount of heat protectant to use on your hair.
Can I iron my hair every day with heat protection?
You can do it speaking. If you want to damage your hair, then you na use ironing tools to flatten your locks, as it will only strip off the natural or artificial pigments from your hair and breaks down the keratin protein. This will break down the strength and elasticity of your hair, which compromises its health. The hair cuticles are left open without protection s a result, which invites more frizz. So, ironing your hair without heat protection will only make your hair drier and brittle. 
Closure 
We are sure you are already drooling over the 'Blonde' Ana De Armas's hair. But remember, everything comes at a price and proper maintenance. If you have colored your hair to stand out from the crowd, you should pick options that effortlessly make your tresses look like the hero, rain or shine. Keep your style in place for longer, as these 11 edits bring you the bonus of fighting frizz, which often ends up ruining your locks, and your flyaways go wild and unmanageable.
These formulas have been specially handpicked, as each of them features hair-loving ingredients that claim to infuse your strands with a hefty dose of moisturizer. So, if your regular, bland heat protector is not doing your hair any favors, it's time you ditch them and give your haircare cabinet a makeover instead! 
I'm Sarah Abraham, the founder and co-author of Blushastic.com and a professional makeup artist. Beauty is more than just skin deep, and that's why I'm passionate about sharing my knowledge and experience to help people feel confident and beautiful on the inside and out.
Whether it's skincare, haircare, or fashion, my goal is to empower women to feel their best. With my expertise in the beauty industry, I strive to provide practical advice and tips that are accessible to everyone, regardless of their skill level or budget.