The aesthetics of the booty have changed over time from skinny to pancake to now being all voluptuous! And you will be surprised to know how much celebs spend to make their behind look as pretty as their face! These peach goals are undeniably essential to keep up with because no one wants their tush to look like they have borrowed it from someone else while on pool dates and beach vacays!
Your bum may not be carved the perfect way yet, but according to many B Thicc Cream Reviews that are splurging most headlines, this cream can tone your backside the way you want – tight, smoother, and plumping. But is this true or a trap?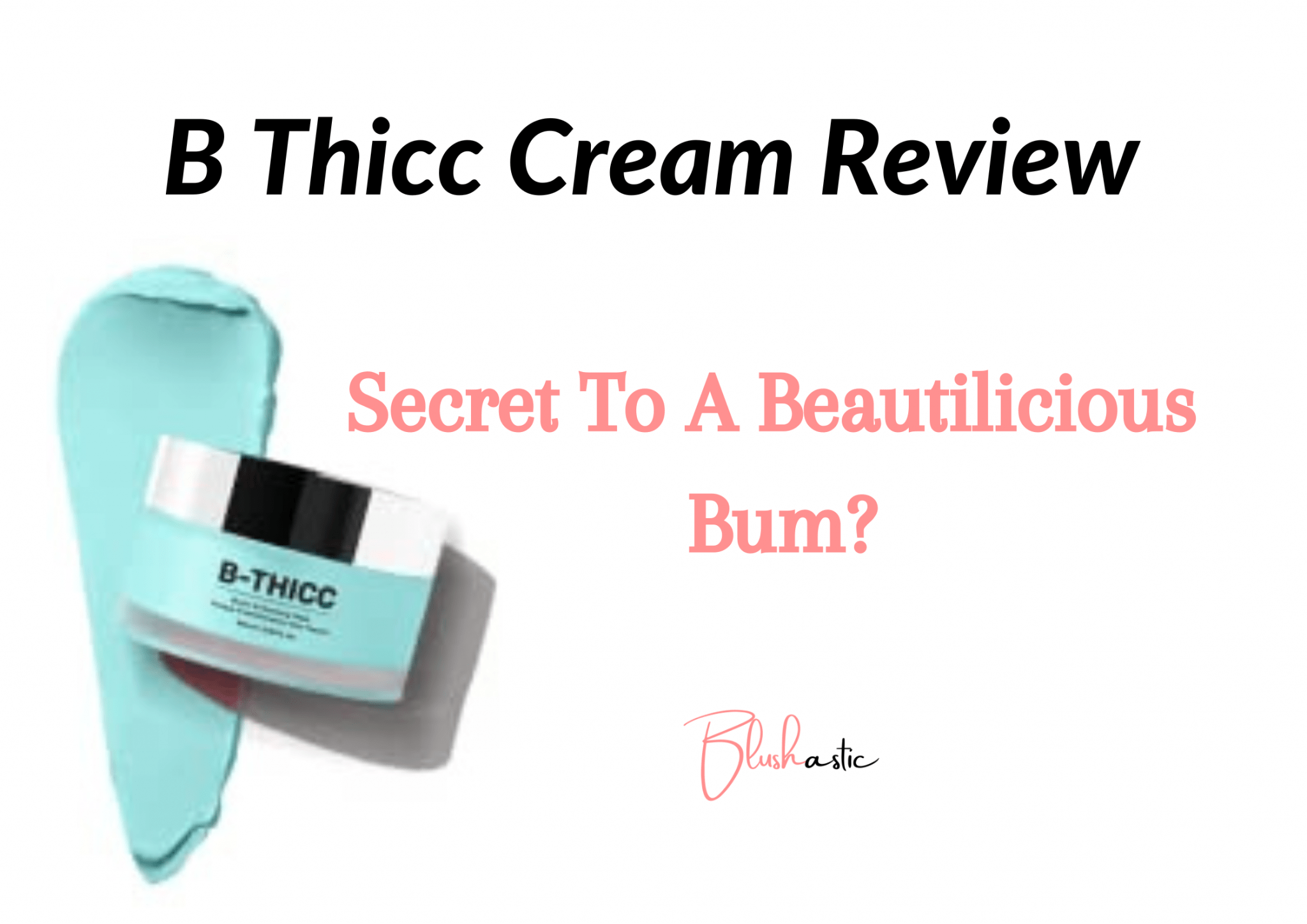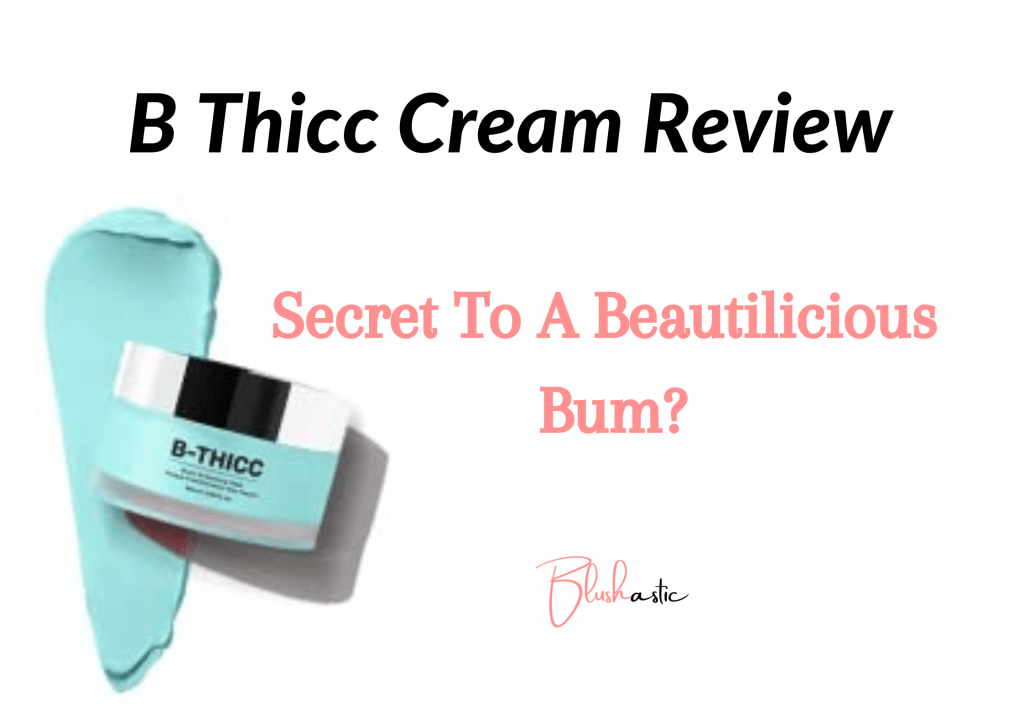 After much investigation and words from beauty enthusiasts, I have shared this comprehensive guide on one of the most influential booty creams that are the new craze. Make sure to jot down all points!
B Thicc Cream Reviews | Secret To a Beautilicious Bum?
A voluptuous booty can also be recognized under a bikini bottom, as it can be under a good pair of jeans! However, not all of us are that blessed to have such accentuating features. According to B Thicc Cream Reviews, you can have the opportunity to revive your bum health so that it stays pretty inside and out. Many humble and skin-loving ingredients have been packed into this formula, which constantly strives to take your booty's appearance to perfection!
A 56-day clinical study with these 32 women was conducted. These 32 women were all of different shapes, sizes, and skin types to ensure the diversity and efficacy of the product. It was revealed that after using the B-THICC Booty Enhancing Mask, 100% of people were delighted to see a smoother-looking booty after 28 days, 100% of users expressed that they saw a firmer-looking booty after 56 days, and they could see a lot of voluminous addition to their tushy.
MAËLYS B-THICC
Tight & Firm - B-THICC Bum Mask visibly tightens skin and increases skin elasticity for firmer skin.
Smooth Skin - It's clinically proven to significantly smoothen the appearance of skin in the bum area. This serves as a cellulite cream that tackles rough skin texture.
Lifted for a Plumper Look - This plumping cream helps add volume to your skin for a more voluptuous-looking bum.
Restores Fullness & Skin Elasticity - As you age, your skin slowly loses elasticity. With our bum cellulite cream, you can now visibly reduce the appearance of cellulite.
Proven Effective & Safe - A 56-day clinical study with 32 participants found that B-THICC was clinically proven to help smooth, and tighten skin for a sleeker, lifted bum.
97% of women also noticed that their bum had a glowing effect at the end of 6 days. The formulas have been clinically proven to significantly increase skin elasticity in the booty area. It also takes care of its safety measures which is why this cream is cruelty-free, vegan, gluten-free, and formulated without parabens and SLS.
Some users have complained that the formula also involves the presence of fragrance (Parfum), which may not be a good thing for users with sensitive skin. This might lead to unwanted situations like allergies or skin reactions. Apart from that, everything about this cream is up to the mark! Let us see how it can aid you in getting a booty-full journey!
How to use B Thicc?
Take a modest amount of the B Thicc Booty Enhancing Mask on your fingertips.
Apply a generous layer all over your booty area.
Dont be a miser, and don't overdo it thinking all the magic will happen overnight.
Slowly massage the cream in circular motions. Do this until your skin completely absorbs the mask.
There is no need to wet your tush with water, as you can do your everyday work without washing it off!
Pro tip:- Exfoliate your bum at regular intervals. This ensures better absorption of the product and brings those good improvements faster!
Indulge in this beauty ritual twice daily for more noticeable changes to enhance your booty to bring it into its full diva mode. Soon, in two to three months, you can be sure to greet your plumping and glowing bum!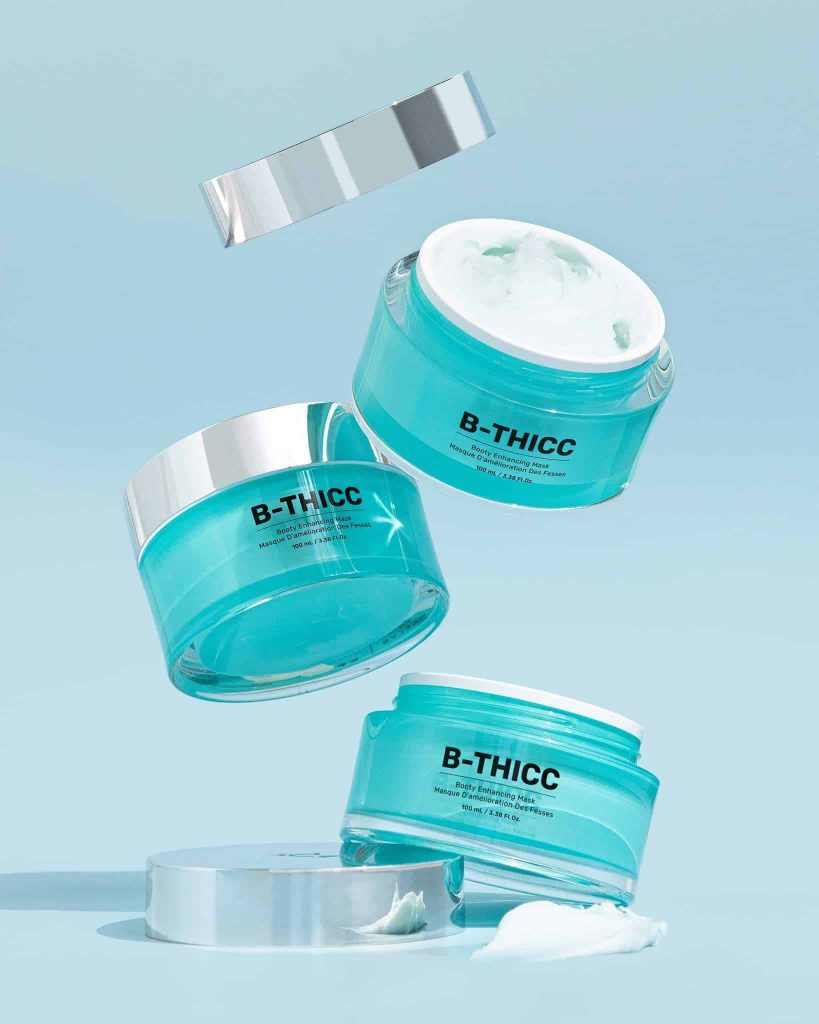 Perks
Has not been tested on animals
Features clinically proven formula
Infused with Patented Glucose Complex, and other skin-nourishing ingredients
Reduces signs of wrinkles to give your butt a smoother look
Adds firmness and amps up elasticity
It makes the skin tighter in that area
Increases vibrancy and gives your bum a plumping effect
Delivers radiance and glowiness
Effortlessly combats cellulite and reduces them
It makes your bum look more sharp and defined
Penetrates deep to moisture fully
It can be used by all kinds of skin types
It makes your tushy pillow soft and smoother upon touch
Free of nasties like parabens, phthalates, and SLS
Drawbacks
It might take longer to show the results
The formula has a strong aromatic scent which might put off some users
It may give your sensitive skin allergies or skin reactions
Key Ingredients – B Thicc Cream Reviews
Mix of Mangosteen, Algae & Quince
We all love rare ingredients in our skincare, as they make us feel we are doing a bit extra than others for our skin. Similarly, this cream has been enriched with something different, like an ethereal blend of elements like Mangosteen, Algae & Quince, where each delivers unique properties. Mangosteen Peel comes from Southeast Asia and is known for its antioxidant properties and anti-inflammatory benefits. This shields the skin against aging stressors. Algae or seaweed often steal all the importance, as it is dedicated to eliminating cellulite marks and toning the skin. Quince aims at securing your skin from the face of any kind of reaction.
Patented Glucose Complex
The brand has its own Patented Glucose Complex, constantly preventing moisture from escaping your tushy's surface area. After combating water loss, it gives your bum a lifted, tighter, and smoothened touch, so you never tire of admiring it! Sufficient moisture prevents aging signs like wrinkles and fine lines from emerging and gives you a texture-free zone below!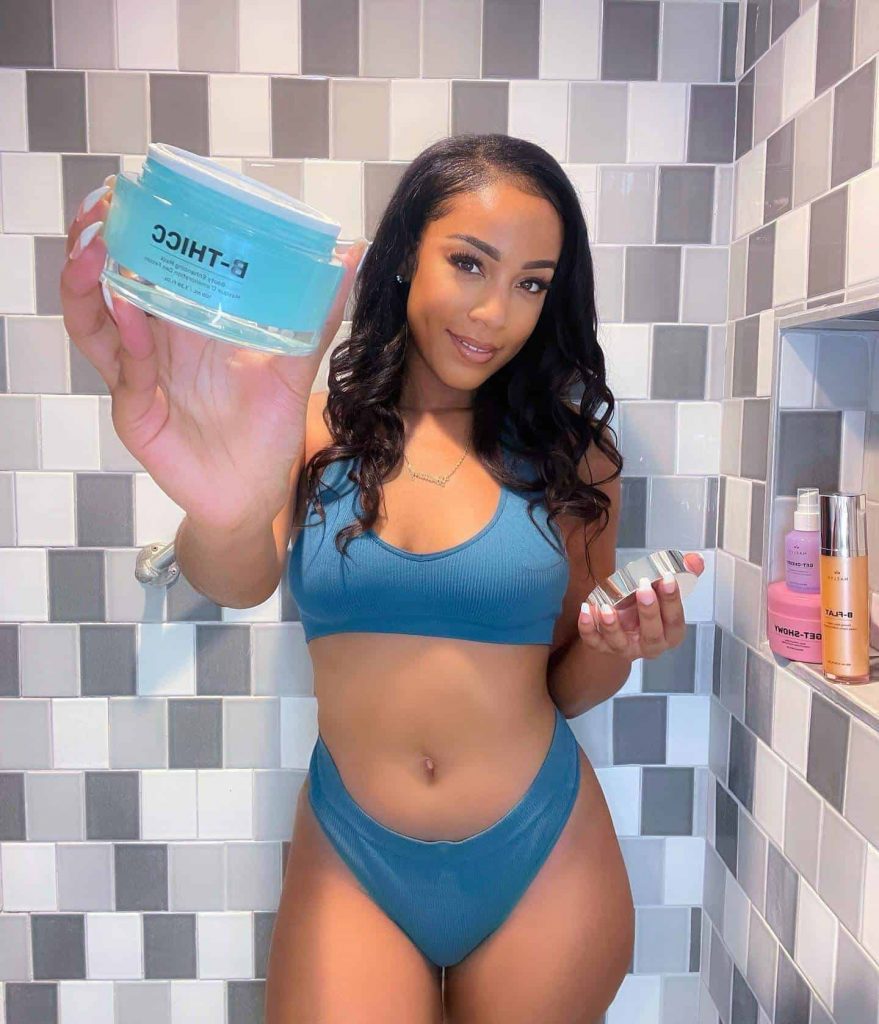 Grape Seed Oil
Our bum stays hidden from everything, so it does not get good environmental exposure. This often makes it drier than usual and strips away all essential moisture, making our booty area dull and lifeless. Thanks to the makers, who have incorporated grape seed oil into this composition, your booty gets excellent moisturizing. On top of that, this ingredient is also responsible for lighting that part of your skin. It is weightless, quickly absorbs onto your canvas, and supplies loads of antioxidants to keep it youthful and rejuvenated.
Apart from these hero elements, there are other ingredients of importance as well that pamper your booty better than you do. These are Beeswax, Pyrus Cydonia Seed Extract, Protein Ferment, Xanthan Gum, and Garcinia Mangostana Peel Extract. Panthenol or vitamin B5 is also present in this mixture and rapidly hydrates your bum to make it look fresh!
Who Should Use B Thicc Cream?
People who want to give their bum a lifted and tighter effect
Those who want to make their booty look more radiant and glowing
Users who wish to remove lackluster or dullness from that zone
Users having loose skin in that area
All those who wish to combat sagginess and make their bum firm again
People who want to make their tushy area soft and smooth
Those who wish to stay away from ingredients that deteriorate the sensitive parts of your skin
Users who wish to introduce the goodness of anti-inflammatory properties in their bum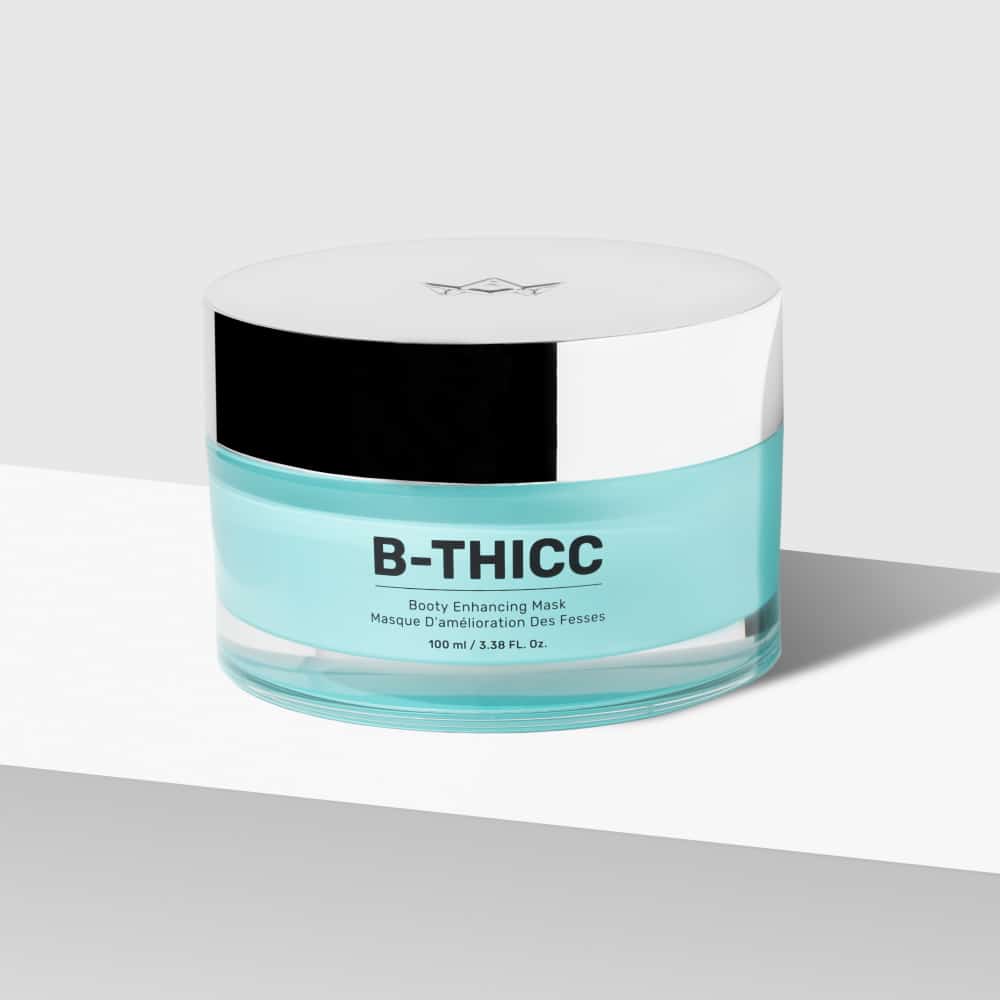 Who Should Not Use B Thicc Cream?
People who have susceptible skin
Users with previous skin reactions and allergies must consult their doctor beforehand.
Users who are susceptible to solid fragrances
Women who are pregnant or nursing, or breastfeeding
Customer Feedback | B Thicc Cream Reviews
It is essential to consider the statements of as many people as possible when preparing to spend money on yourself. You dont want to purchase something expensive only to realize that it was an impulsive purchase, right? Here are some reliable reports and their shared experiences about the B Thicc Cream. Keep calm and read on!
Nellie commented, "I used to have a very flat butt which was embarrassing when I wore skin-tight jeans. I was made fun of in college, and people called me all sorts of names. But when II read so many articles about this product on the internet, I knew I had to try it out, so I got it. Most clinical evaluations indicated that the results would be more prominent at the end of two months, so I was very patient. Now my booty looks like it has been plumped up from within magically. It even appears to be firmer than usual. Honestly, I had not expected to see such noticeable improvements."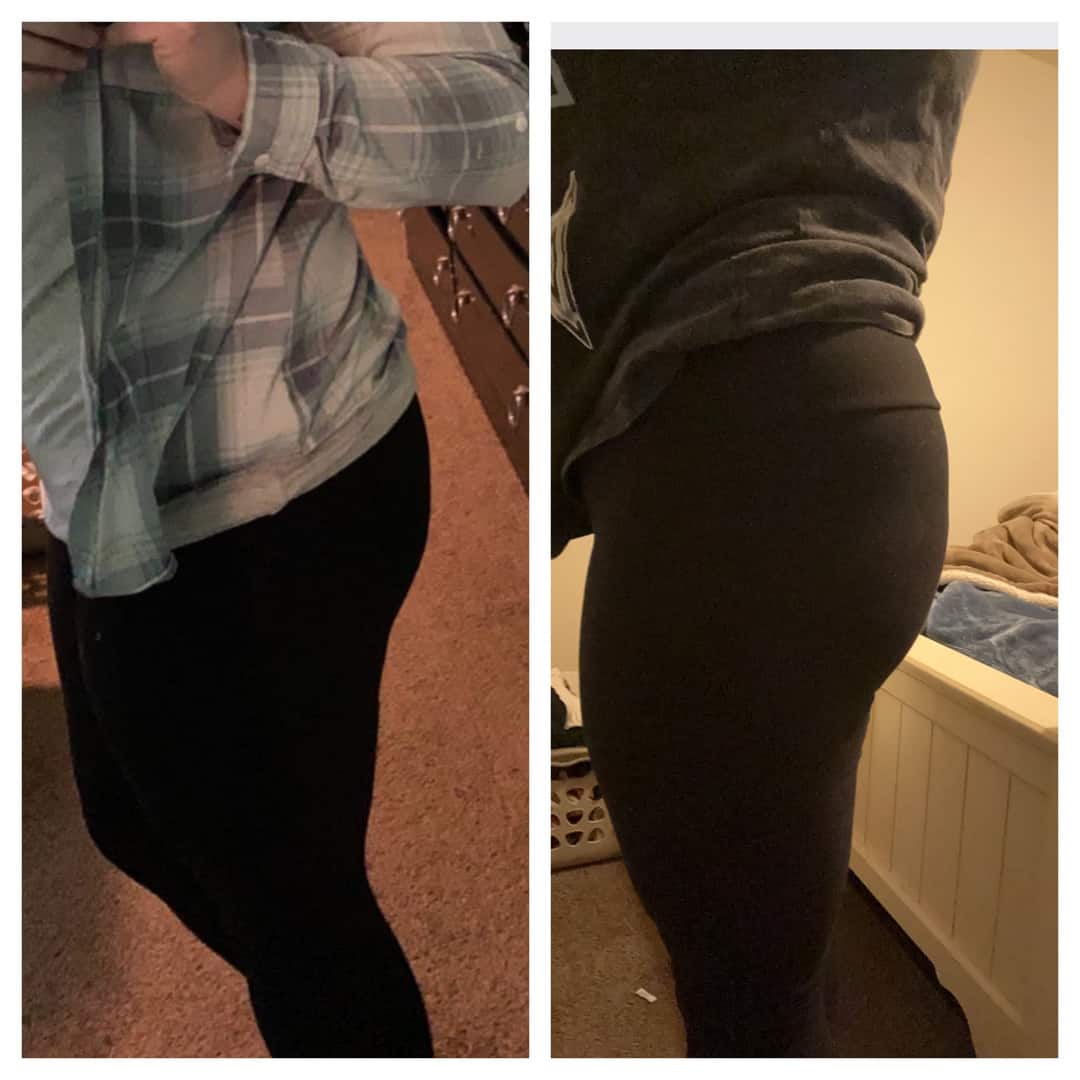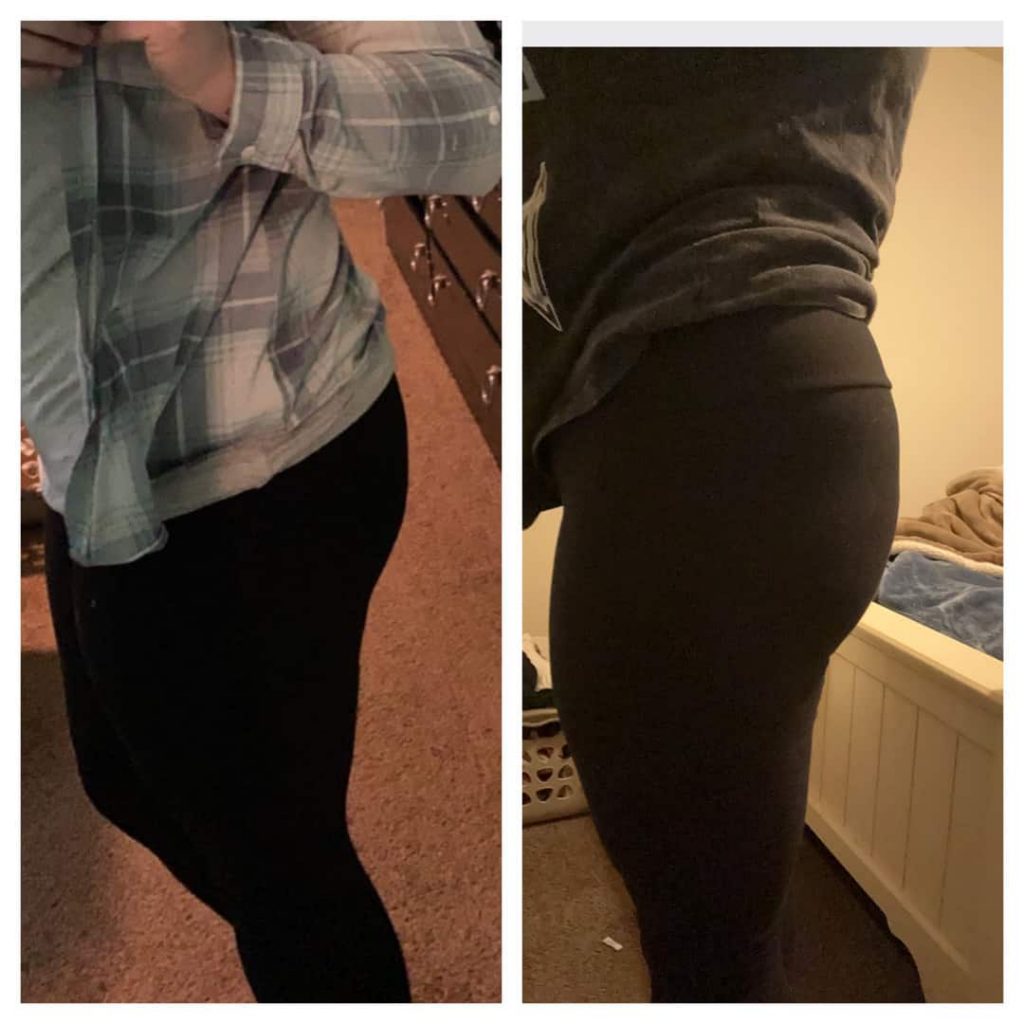 Kathy pinned, "It has been three months, and I am still not seeing any results in my skin. I followed every direction diligently and have not missed a day of application in my routine. I wish I could do something to get my money back."
Dontai mentioned, "Not disappointed with this at all. The cream did everything it claimed for me, so I am very content. I feel very proud of how healthy my bum looks these days. However, it did not work much for my sister, so I guess it does not work for everyone."
Marriene said, "Scents and aromas are not my things, especially when infused into skincare. This was a primary reason this cream was not the right choice for me. Apart from that, I strongly believe this is way too expensive to cater to everyone's budget. So, I would suggest going for cheaper alternatives in the market with similar ingredients."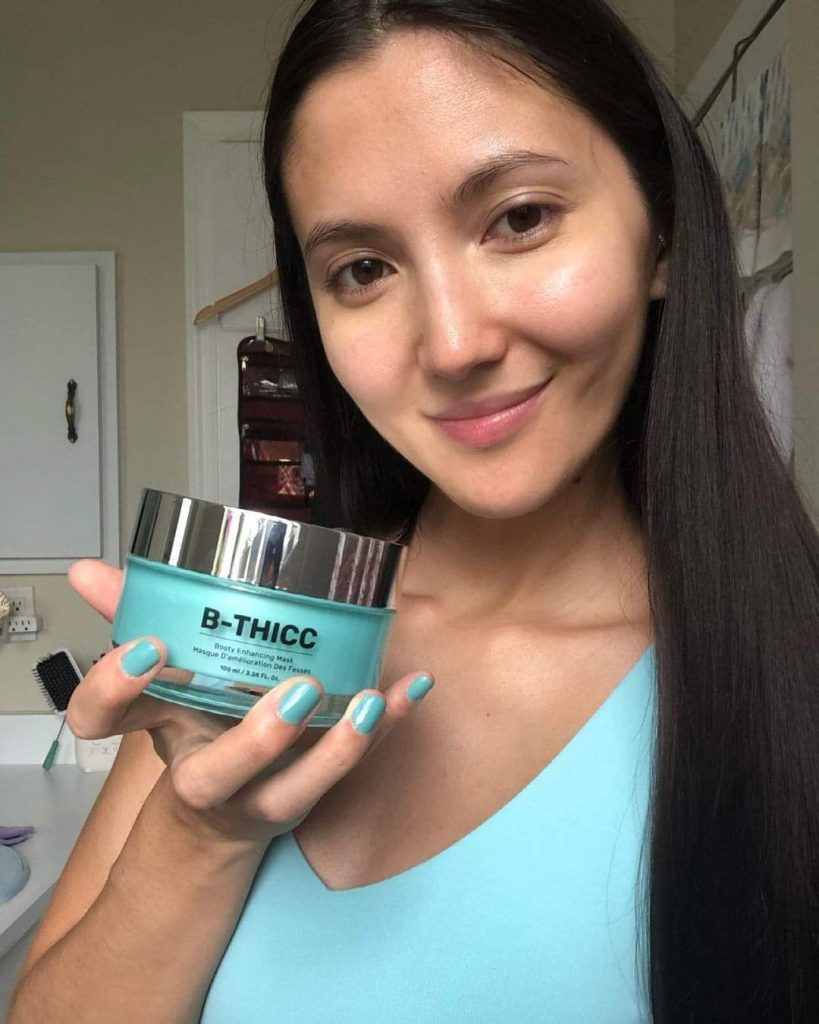 Giselle expressed, "What stood out for me the most is the product does not contain harmful or toxic elements like parabens, phthalates, or SLS, which ensures that the quality of your skin is not compromised. I love it and can't wait to purchase it again!"
FAQs | B Thicc Cream Reviews
How long does it take for B Thicc to work?
The brand's clinical evaluation state that when a 56-day study was conducted with 32 participants, it was found that 100% saw a smoother-looking booty after 28 days, 100% of users saw a firmer-looking booty after 56 days, and 97% saw their booty had a rich plumping effect just after 56 days of regular usage.
How many times a day can you use B-tight?
You can use B Tight cream twice a day for more noticeable results. The formula usually gives a very hot or burning sensation to the skin. To countereffect it, ensure your skin is dry after showering, and no water droplets are left behind. Avoid direct exposure to the sun on your booty for 4 hours straight after you have applied the cream.
Does B Thicc burn?
While there have been many rumors that the cream gives your skin a burning sensation, the brand claims that the B Thicc mask cream does not burn. However, other star products of the brand might be an exception in this case. For example, the MAELYS B-TIGHT Lift & Firm Booty Mask stings your skin, which might feel like a slightly heated tingling. It might even be a feeling of itchiness for some users, but the intensity is bearable in all aspects.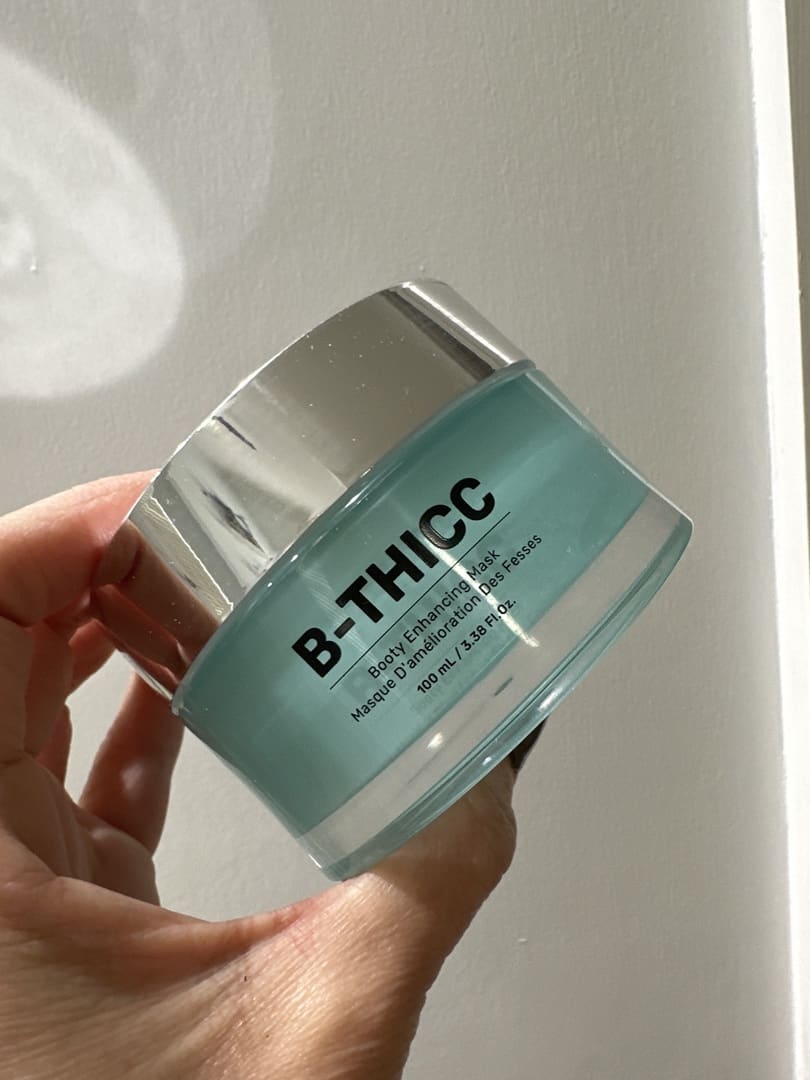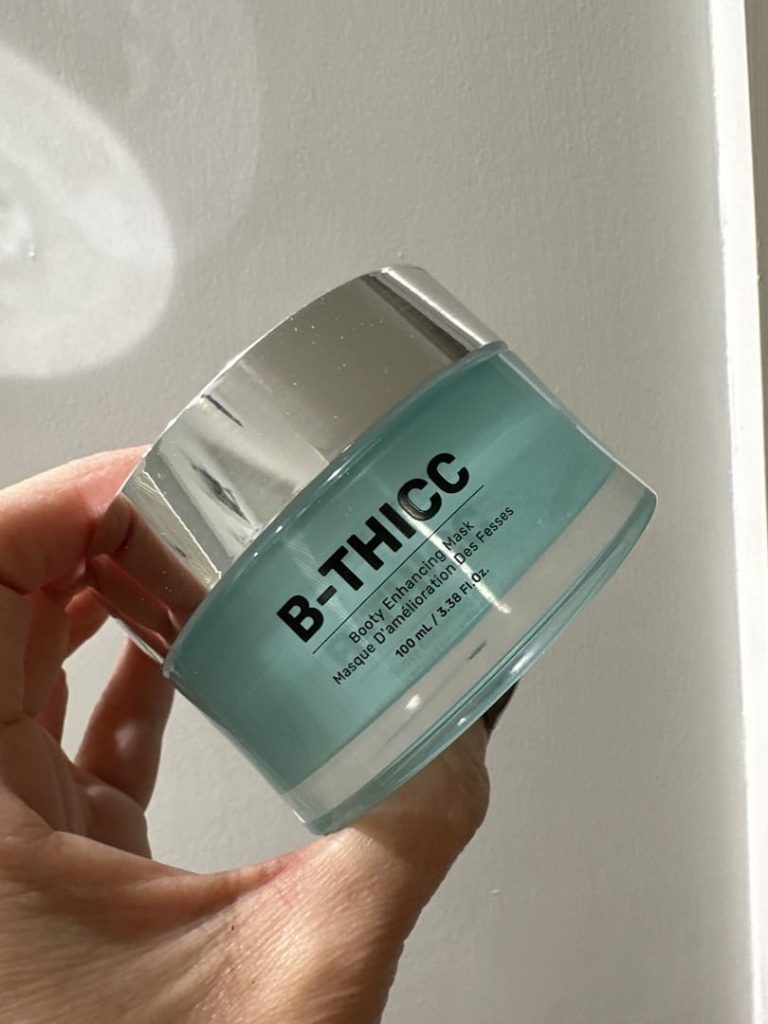 How does the B thick cream work?
The formula features many vital ingredients that travel deep into your dermal layers and fight off the problems like sagginess, texture, cellulite, or dullness. Not only does it help in tightening your skin by increasing elasticity, but it also adds a more visible definition to your bum. This crema also removes your booty's rough and bumpy patches, revealing fresh and smoother skin.
Can you use b thicc and b tight together?
Maelys Cosmetics proudly claims you can easily use their bestselling B-THICC Booty Mask with the B-TIGHT Lift & Firm Booty Mask, as they pair up nicely. They help reduce cellulite's intensity and help you achieve your skincare goals faster. 
Is the B thick cream safe to use?
According to brand reviews, it is safe for users to use all the products, even during pregnancy or breastfeeding. If you apply the product to the boob or belly area, wait ample time before the formula is absorbed. Only after that may you get back to feeding.
Closure
As our tushy always stays hidden, we forget that it always needs constant care, not just the day before you hit the pool! Luckily times are changing, and the beauty world is rising higher and higher day by day. People are starting to pay attention to their booty as much as they are obsessed with their skin for a change, which has caused many new and exotic booty-enhancing creams to dazzle their way into the cosmetic sector.
However, to maintain a peach-perfect bum, you need to feed your skin down there with all the right ingredients to stay young and look youthful like the rest of your body. After scouring through the internet a lot, I found that the B Thicc Cream Reviews are eagerly pointing out how to make it into your top shelves of the skincare cabinet.
The majority of statements from reliable reports have pointed out that the formula is winning hearts for its flexibility to work on each skin type. On the other hand, only a few reports said it took them much longer to see good improvements. But like they say, the longer the wait, the sweeter the taste!
I'm Sarah Abraham, the founder and co-author of Blushastic.com and a professional makeup artist. Beauty is more than just skin deep, and that's why I'm passionate about sharing my knowledge and experience to help people feel confident and beautiful on the inside and out.
Whether it's skincare, haircare, or fashion, my goal is to empower women to feel their best. With my expertise in the beauty industry, I strive to provide practical advice and tips that are accessible to everyone, regardless of their skill level or budget.