That bikini line is a whole other universe. And you must understand its dos and don'ts if indulging in some sugaring service! Environmental pollutants and impurities might end up stealing your skin's charisma, but it is on you to bring it back! The art of bikini line maintenance means no itching, ingrown hairs, excess sebum, and a suitable scrub that fits! This exfoliating regimen should slough away any impurities present on those private parts.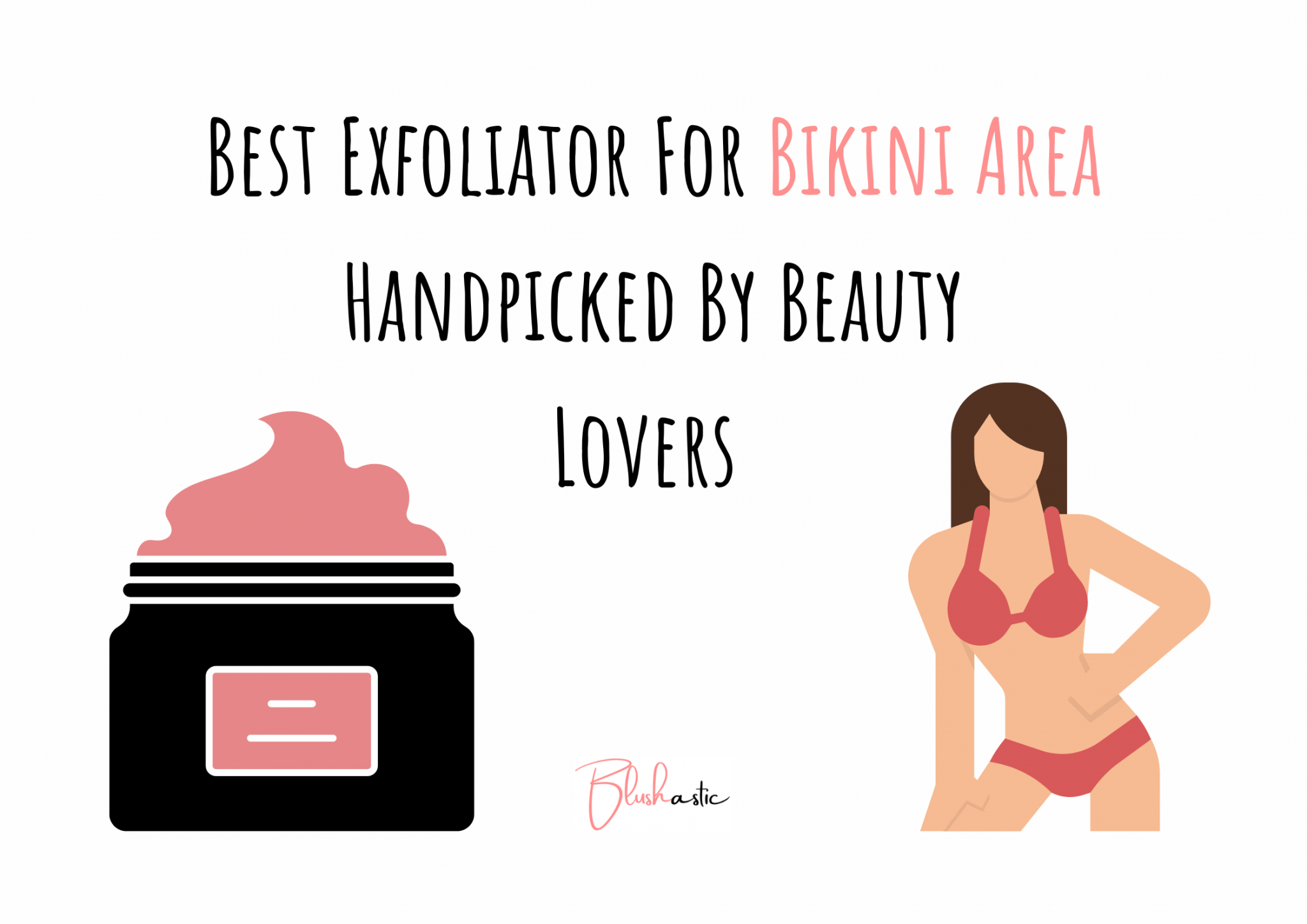 You might have a swimsuit dolled up for every occasion, but what good is it if you can't wear it? Brighten your next vacation with this guide to the Best Exfoliator For Bikini Area. We will focus all the attention on you this season, be it a poolside wedding, a romantic gateway, or some honeymoon drama!
Actresses and models have done their part in flaunting their bum at a new beach every weekend. It's time you get your adrenaline pumping! Feed your bikini fantasies with these 11 edits handpicked by the best aestheticians and beauty lovers. We all believe in the power of a perfect-looking peach!
Best Exfoliator For Bikini Area | 11 Picks
Gillette Venus | E
xfoliator for Pubic Area
When it comes to the shaving department, Gilette is something that never disappoints. So, why should your bikini line be devoid of this happiness? The Gillette Venus Intimate Grooming Skin-Smoothing Exfoliant is good news for you, as the formula features an ideal pH balance that mixes well with your pubic skin area.
The scrub or exfoliant has fine smoothing particles which crop away the dirt and grime from your canvas and strip off your dead cells. These usually trap some portion of your hair, which often remains stuck and makes your skin feel bumpy upon touch, evading the beauty of your bikini line. Gynecologists have approved the formula, and dermatologists, giving it a stamp of approval.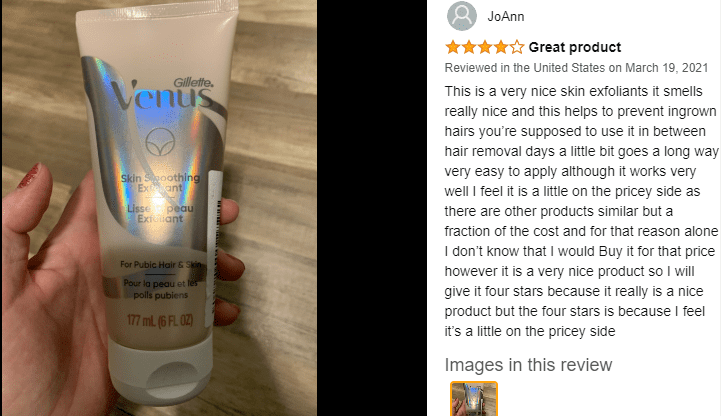 No parabens, dyes, fragrances, or silicones are present, so this will keep all inner-area problems at bay! While this prepares, protects, and maintains a healthy bikini area to flatter, the consistency is too watery for a scrub. This might give you a hard time in the process. You should look elsewhere if you want something more substantial.
Tree Hut Shea Sugar Scrub
Are you tired of massaging regular scrubs on your skin, and still, that strawberry bikini line won't fix itself? It's time you look at other breathtaking options, like the Tree Hut Shea Sugar Scrub. As per most of the users, it is the best exfoliating scrub for bikini area after Brazilian Wax. The best part of getting this to treat your bikini line is that it comes in many exciting flavors you would want all for yourself.
Tree Hut Shea Sugar Scrub Tropical Mango, 18oz, Ultra Hydrating and Exfoliating Scrub for Nourishing Essential Body Care
100 percent PURE NATURAL SHEA BUTTER - Premium deep moisturizer that wonderfully softens and smooths dry cracked skin.
SAFFLOWER SEED OIL, AVACADO OIL, SWEET ALMOND OIL, MACADAMIA SEED OIL, ORANGE OIL - Amazing skin conditioners that prevents dryness and provides your skin a refined healthy glow.
MANGO PUREE - Quality moisturizer that softens and smooths skin with the ideal fragrance for the senses.
PARABEN FREE - Absolutely no parabens or formaldehyde donors. Free of harmful chemicals for healthy skincare.
MADE IN THE USA - Proudly made in America by a world class professional cosmetics team in an American beauty lab.
What makes the scrub special and different than the rest of the crowd is it has been designed with 100% pure and natural shea butter that will soothe any signs of dryness and irritation on your skin and will add relief of moisturization. It is an excellent skin conditioner and redefines your body's glow after exfoliation. There are no parabens, harsh chemicals, or formaldehyde present, so you can be safe and feel pretty simultaneously!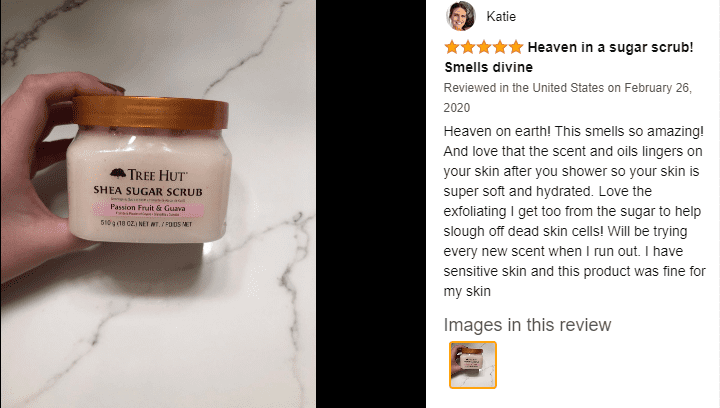 While most people will go crazy after these lovelies' aromatic scents and fragrances, sensitive users might not be pleased with exotic aromas filling their senses. Apart from that, getting a neat buttery bikini line is your goal. This scrub will offer all the moisturization to those areas they need!
pureSCRUBS Dead Sea Salt Body Scrub
The pureSCRUBS Dead Sea Salt Body Scrub is an excellent way to treat your bikini line as it promises to exfoliate, cleanse, nourish, and moisturize your sensitive areas, which require a lot more love. The formula is rich in minerals and has acceptable grain dead sea salt that claims to revive the health of your skin with organic essential oils and sufficient nutrition.
pureSCRUBS Premium Organic Body Scrub Set - Large 16oz LEMONGRASS BODY SCRUB - Dead Sea Salt Infused Organic Essential Oils & Nutrients INCLUDES Wooden Spoon, Loofah & Organic Exfoliating Bar Soap
GET ULTRA SMOOTH SKIN FAST - THIS WORKS! Our unique "4 in 1 Formula" does everything a body scrub should do and more - EXFOLIATE, CLEANSE, NOURISH & MOISTURIZE. Fine grain dead sea salt infused with organic essential oils, nutrients and skin softeners will transform your skin making it soft, healthy and radiant. Helps reduce appearance of cellulite, stretch marks, dark spots & acne scars. Great for ashy elbows and knees. Ingrown hairs don't stand a chance! You'll love the lemongrass aroma!
WARNING - BE PREPARED FOR COMPLIMENTS There is always that one person in your group of friends who seems to have the best skin that looks silky, soft and radiant. This person gets non-stop compliments, and everyone wonders how they do it. Now it's YOUR TURN to be that person.
INCLUDES THREE (3) BONUS ACCESSORIES - [..A $10 VALUE!..] - (1) A cute, eco-friendly wooden spoon to help you stir and scoop out the scrub. (2) A round, natural exfoliating loofah pad to help buff away dry dead skin. (3) An exfoliating oatmeal organic bar soap (1oz size) made with ground oats, shea butter and honey. It's like a full skin softening and exfoliation kit that also makes a great gift!
EACH JAR IS HANDCRAFTED & GUARANTEED From sourcing, blending, & packaging we have a hands-on approach. Nothing is mass produced and you won't find anything artificial in our scrubs. We promise your skin will love our scrubs, if not, return it for a full refund (even if the jar is empty!) but keep the 3 bonus accessories as our gift.
READ THIS BEFORE BUYING SCRUBS ONLINE Ask yourself, do you want to buy body scrubs from some big cosmetics company that makes thousands of jars every minute in some factory overseas with artificial ingredients or from our boutique USA company that specializes in making organic, handcrafted body scrubs? Not only that, we believe in value and provide a larger amount (16oz) along with the three bonus items in every package.
The scrub claims to revamp the look of your bikini line by eliminating stubborn cellulite marks, scratch marks, dark spots, or even acne scars. If you are someone who has greyish elbows or knees, you can spice things up and introduce this scrub to your weekend routine. There are 13 scented or flavored ones. If you are sensitive to smell, or flavors, you can choose to go with the unscented one.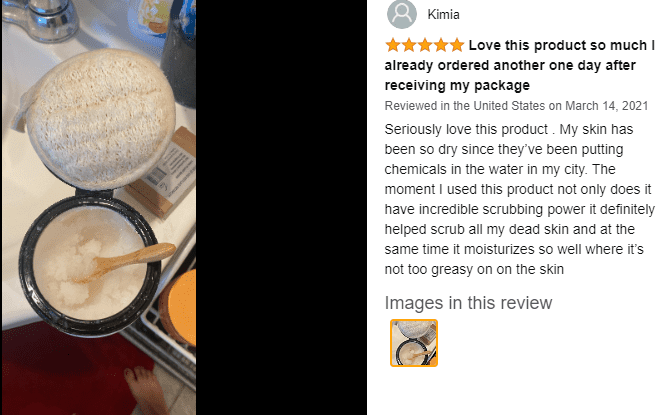 While users are happy with the formula, one thing about the product that might cause worry is that the scrub may make your bathroom floor greasy and slippery. The action to remove your dead cells might not be that strong. If you are bent on getting results quickly, consider some impressive backups.
GiGi No Bump Body Scrub
Regarding the bikini, the smoothest skin is something we all wish for. But not everyone is blessed with good skin. This does not mean that you can't have the best of everything! Best Exfoliator For Bikini Area Walmart reviews claim that the GiGi No Bump Body Scrub is just what you need to be a bikini baby! The scrub has created quite a splash in the beauty industry with its claims to add a layer of protection to your skin, strengthening it from the inside by removing all the stuck dirt.
GiGi No Bump Body Scrub with Salicylic Acid, Prevents Ingrown Hair & Razor Burns, Exfoliates and Unclogs Pores, Ideal for Men and Women, 6 oz - 1 Pack
Gentle Body Scrub: Mild and non-irritating beauty treatment for deep and thorough skin cleaning; excellent in removing settled dirt and other skin impurities; removes dry and dead skin from the outer layers of your skin; works for both men and women skin
Formulated with Salicylic Acid: Powered by comedolytic benefits of Salicylic Acid which prevents future whiteheads and blackheads from forming; reduces excess oil and keeps pores clean after a hair removal treatment; helps weakens dirt and acne formation
Superb Moisturizer: Packed with Rice Bran Wax known as a skin conditioning agent with its ultra-hydrating benefits; naturally soothing and allows the skin to retain moisture making it smoother and softer; adds protection by strengthening your skin barrier
Suits All Skin Types: Can be used on normal to dry even on highly sensitive and easily irritated skin; has fine beads which is raved by most scrub users but also great for first time scrubbers; safe and does not cause skin scarring; safe for everyday use
Trusted Skincare Brand: Maker of top-notch waxing products with easy-to-follow instructions perfect for beginners and at-home treatments; created by a leader in the hair removal industry for over 40 years; 100% cruelty-free and never tested on animals
The potent goodness of salicylic acid has been enriched into this formula, allowing it to prevent future whiteheads and blackheads and control excess sebum. Both men and women can benefit from this scrub, as it exfoliates the outermost layer and unleashes radiant skin tone. Not only exfoliation, but the scrub also claims to help to some extent when it comes to skin regeneration.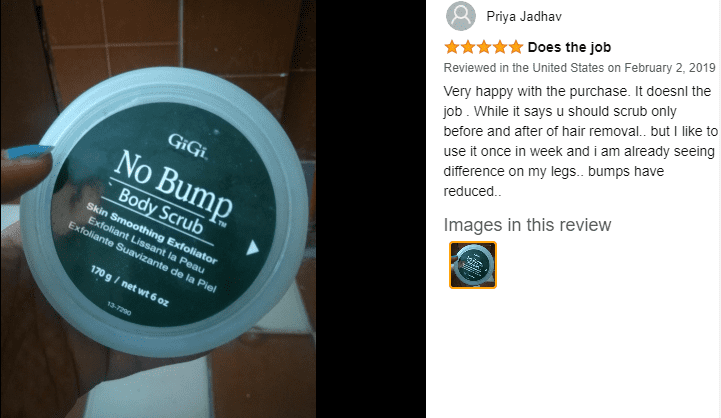 Although the brand claims it suits all skin types, the formula feels like a messy jelly and does not feel exfoliating. But, looking at it from an economic point of view, it is one of the most affordable scrubs in makeup town!
Bare Botanics Natural Body Scrub
Do you want to vanish the darkness present in your bikini area? We have something conditioning that will help you get your confidence back! Reviews say the Bare Botanics Natural Body Scrub will be your new favorite, as it seals in moisture and welcomes baby-soft skin.
Bare Botanics Coconut Vanilla Body Scrub 24oz | Made in Madison, WI | All Natural Sea Salt Exfoliator w/ Skin Loving Moisturizers | Vegan & Cruelty Free | Gift Ready Packaging w/ a Cute Wooden Spoon
LOVE, LOVE, LOVE THE RESULTS: Say hello to baby soft skin and goodbye to dry, itchy skin with our exfoliating scrub line! Our ultra-fine sea salt scrub gently exfoliates away dead skin cells, oils, dirt and other impurities for glowing, radiant skin!
DITCH THE POST SHOWER LOTION: With a variety of nutrient-rich moisturizers like Jojoba oil, Argan oil, Jojoba oil, and Aloe Vera, our body scrub expertly hydrates skin. Our natural body scrub packs a 1:2 punch with exfoliation and moisturization.
INCLUDES AN ADORABLE SPOON: Every body exfoliator infused with Vanilla Oleoresin Oil and Coconut Extract is expertly hand poured and hand packaged in its ready to gift packaging by our team in Madison, Wisconsin. YES, it even comes with a cute spoon!
24oz OF ALL NATURAL GOODNESS: Our huge coconut scrub lasts over a dozen uses and weigh a massive 24oz! We pledge to never use dyes, synthetic fragrances or perfumes, nut oils, or harsh chemicals. Go ahead, read our ingredients for yourself!
PLEASE READ OUR REVIEWS: We don't want to brag, but... our customers LOVE our body scrubs! Our reviews speak for themselves, go ahead and read a few! Our customers love using it as a foot scrub, leg scrub, booty scrub, or exfoliating hand scrub.
The ultra-fine sea salt scrub formula showcases critical ingredients like vitamin E, argan oil, aloe vera, jojoba oil, and avocado oil that form a blend of the most lovely softness for your inner areas. This keeps all the dead cells away without any stickiness or greasy feelings. This scrub is unique because it can be used as a foot, leg, booty, or even an exfoliating hand scrub if you have chapped hands. It also comes with a cute wooden spoon, so you don't have to whip the formula with your fingers.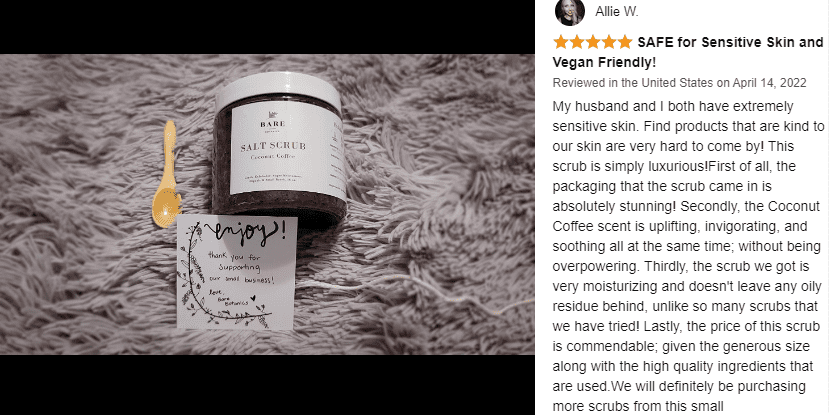 Users might not like this scrub's consistency, which feels oily even after claiming otherwise. It has all the attributes to walk into your beauty cabinet, even for users with sensitive skin!
Frank Body Original Coffee Scrub
Good body scrubs are a must-have, and the Frank Body Original Coffee Scrub proves this correctly! The coffee scrub gives extra attention to your skin and removes your scars, stretch marks, breakouts, and even cellulite signs on the skin. You can quickly bid goodbye to that stubborn fake tan and dryness and welcome moisturized skin that feels happy for most of the day.
Frank Body Original Coffee Scrub, 7.05oz | Natural & Cruelty Free Exfoliating Body Scrub | Hydrating Vegan Scrub Skin Care For Stretch Marks, Acne, Cellulite | 1ct
ABOUT THE PRODUCT: The coffee scrub that made frank body famous. The Original Coffee Scrub is natural, vegan, and ready to work its magic on breakouts, scars, cellulite, and stretch marks. Its blend of coffee, cold-pressed sweet almond oil, and vitamin E keeps your skin looking perky, even, and soft.
WHY YOU NEED IT: All of the ingredients in the Frank Body Original Coffee Scrub have been carefully chosen. Robusta coffee grinds provide the ultimate exfoliation for babes who want results. Cold-pressed sweet almond oil is an antioxidant-packed oil that leaves your skin hydrated, even after rinsing the scrub off. Vitamin E protects your skin from free radicals, promoting healing and fading scars. Sea salt adds exfoliation to tackle dry, flaky skin without irritation.
HOW TO USE: Get in the shower. Once your skin is wet, cover your body in the scrub. Scrub in circular motions for a few minutes, from top to toe. Focus on areas that want extra attention by scrubbing them for longer: scars, stretch marks, breakouts or cellulite. Rinse and remember you're a babe, no matter what.
CAREFULLY FORMULATED: This product is free of parabens, silicones, sulfates, phthalates, PEG, added fragrance, and gluten. It is also vegan as well as cruelty free.
ABOUT FRANK BODY: Over five years ago in a coffee shop, five friends had a drink and an idea: a humble coffee scrub. Since then, frank body's mission has been to create effective, clean, affordable skincare that makes everyone feel like a babe.
Brighten your skin from deep within, and smoothen the surface of your scars with this body polish as the scrub claims to solve your bikini line worries. You also get 6 different flavors, like coffee, cacao, coconut, etc., to choose from, which is all the more reason to get them!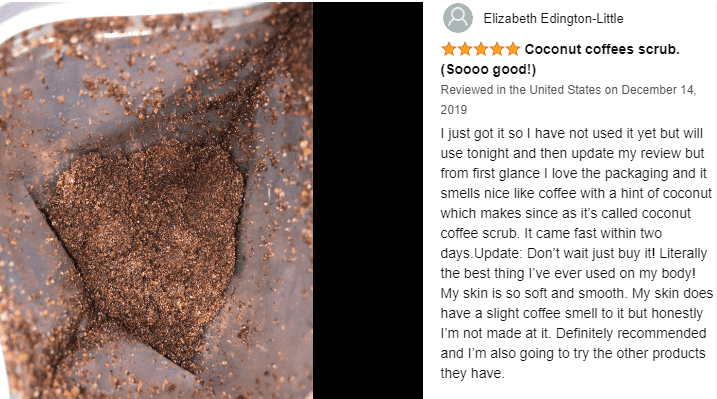 Users who tried this formula said it is an excellent way to get blemish-free skin, making your bikini line look exotic. Though we love most of this composition, your sensitive skin may not be a big fan of it as it leaves some oiliness behind.
Completely Bare Bikini Bump Blaster
Picking the right ingredients for your sensitive areas, like that for the bikini line, is an important job you don't want to mess up. The Completely Bare Bikini Bump Blaster can be an excellent addition to your daily exfoliation routine, as it contains Drago-oat-active and acts as a blend of anti-irritant and antioxidant.
Sale
This soothes the crust of your skin and calms down any minimal redness present. The bump plaster is PETA certified and also claims to minimize the appearance of ingrown hair and bumps. Your shy areas will love this edit because the pre-moistened pads come saturated with active ingredients like Salicylic Acid and Glycolic Acid. This promotes better exfoliation and smoothens your skin.
There are 50 sheets present in this plaster, and it fights aging signs against harmful UV rays. Although the formula is dermatologist-tested, only some who use it will see results. This may not be your answer if you are desperate to accentuate that bikini line under a date.
Dove Exfoliating Body Polish Scrub
We have everything for you if you want a Brightening Scrub For your Bikini Area! It is impossible to talk about body scrubs and skip out on the wholesome feeling of the Dove Exfoliating Body Polish Scrub. The medium-sized exfoliating particles are available in 3 exotic flavors.
Dove Scrub Macadamia & Rice Milk Reveals Visibly Smoother Skin Body Scrub That Nourishes Skin 10.5 oz
MODERATE EXFOLIATION - Made with medium-sized exfoliating particles, Dove Exfoliating Body Polish Macadamia and Rice Milk is smooth and easily spreadable with a mild lather
MOISTURE RICH FORMULA - Dove Exfoliating Body Polish is formulated with our ¼ moisturizing cream for instant softness
REMOVES DULL DRY SKIN & RESTORES SKIN'S NATURAL NUTRIENTS - When used as a body scrub, Dove Exfoliating Body Polish gently removes dead skin cells to reveal a new layer of beautiful, radiant skin
INDULGENT FRAGRANCE: The collective synergy of Macadamia and floral notes increase comfort and care, every time you exfoliate. A fragrant addition to your skin care routine
CARE WHILE YOU EXFOLIATE - Massage Dove Exfoliating Body Polish onto wet skin in the shower, before you cleanse with your favorite Dove Body Wash or Dove Beauty Bar
Each one of these scrubs claims to offer a sense of refreshment to your body, soul, and, obviously, that bikini line! Handpicked ingredients like macadamia nuts, rice oil, coconut butter, brown sugar, calendula, and oatmeal are present to enhance the revamping process. If you are troubled with patchy skin and want an escape, this ¼ moisturizing cream promises to delight your skin with instant softness. Every time you exfoliate, you can feel the sheet of impurities and dirt coming off slowly, paving the way for a silky smooth bikini line to flaunt!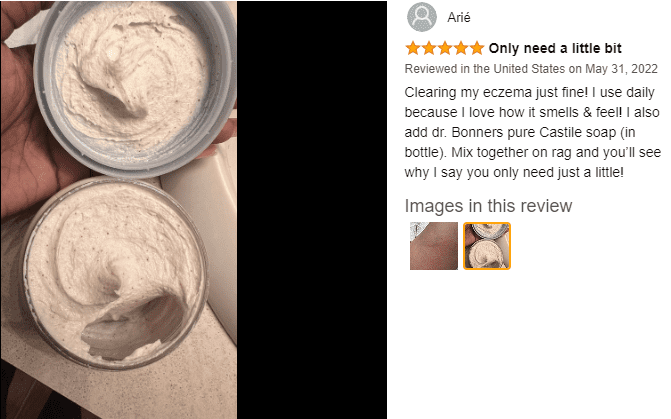 Users love that there are no sulfate cleansers in the formula and that it maintains an appropriate pH balance. The body polish makes sure to make your bathroom experience good without fearing nasty razor bumps. While this option checks out most boxes, the effects may no for the short time you wish.
MAJESTIC PURE Himalayan Salt Body Scrub
Your scrub will polish and exfoliate that booty line in the best way if it has all the right ingredients infused in it. The MAJESTIC PURE Himalayan Salt Body Scrub contains the combined goodness of potent ingredients like sweet almond oil, lychee, grape seed oil, and aloe vera.
Sale
MAJESTIC PURE Himalayan Salt Body Scrub with Lychee Oil, Exfoliating Salt Scrub to Exfoliate & Moisturize Skin, Deep Cleansing - 10 oz
100% Pure and Natural: Majestic Pure products are 100% pure and natural. This means they are free from toxins, additives, or any nasty chemicals. Completely unfiltered and undiluted for the best result
Go-to Scrub for Skincare: Majestic Pure Himalayan Salt Body Scrub infused with Lychee Oil complex and Sweet Almond Oil is a self-care solution for the body and soul. It will help give your skin the ultimate detox and will promote its hydration levels
Easy Exfoliation: This easy-on-the-skin exfoliation expert assists in removing build-ups like dead cells, toxins, dirt, and all other harmful particles from the pores which help in giving a toned and smooth appearance
Easy to Scoop for Desired Amount: This scrub comes inside a big tub from which you can easily scoop out the amount you require and use it whenever you need
High Quality for Ultimate Care: Using the best of ingredients with the best of practices not only ensures that our products are of the highest quality, but Majestic Pure also ensures that they are perfect for your various self-care, aromatherapy and gifting requirements
This actively treats skin discoloration, makes your base softer, and hydrates those cells from deep within. Get ready to rejuvenate your shaving routine with this scrub, as it is devoid of harmful toxins, additives, or any nasty chemicals that might disrupt the delicateness of your skin. The best part about using the undiluted scrub is it feels too easy on the skin and evades all the dullness. People with acne-prone skin will benefit the most from it, as it is naturally based and has a cruelty-free composition.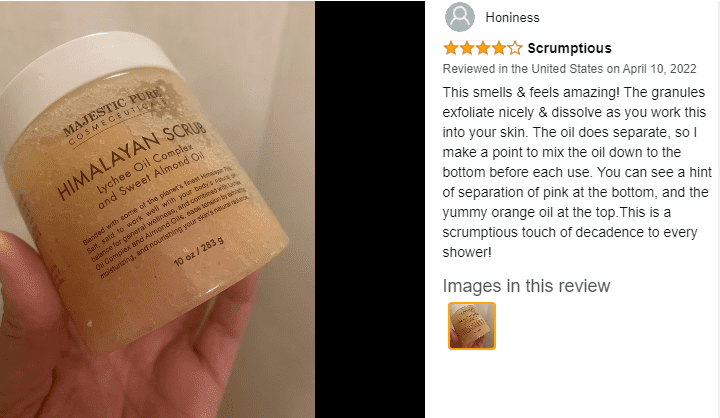 Give your skin a nourishing complex of essential oils present here, and revel in your toned skin without troubles. The only cause of worry while adding this scrub to your regime is that although it reduces cellulite and encourages relaxation, the formula might be too oily for the tastes of some beauty lovers.
Brooklyn Botany Brown Sugar Body Scrub
Sugar scrubs are always a good idea if you have a weekend self-care sesh in your mind! Removing dead cells keeps your skin healthy and helps unveil a radiant tone. The Brown Sugar Body Scrub from Brooklyn Botany stands with pride with a rating of over 14k on Amazon, assuring all its users with a 100% natural formula.
Sale
Brooklyn Botany Brown Sugar Body Scrub - Moisturizing and Exfoliating Body, Face, Hand, Foot Scrub - Fights Acne, Fine Lines & Wrinkles, Great Gifts For Women & Men - 10 oz
EXFOLIATING & MOISTURIZING FACIAL & BODY SCRUB: Our Brown Sugar Body Scrub and Face Scrub is a gentle sugar scrub that can be used as a Facial Scrub, Body Scrub, and Foot Scrub. It is a triple action body and face exfoliator and moisturizer. Containing only pure and natural ingredients, it acts as a natural exfoliator removing dead skin, and moisturizing to reveal fresher healthier clear skin.
GREAT FOR SENSITIVE SKIN: While salt scrubs may be too harsh for sensitive skin, this Brown Sugar Scrub is a great facial scrub exfoliator and for sensitive skin. It is softer than regular sugar scrubs, while remaining strong enough to scrub away dead skin cells and make way for the healthier, glowing clear skin. Use our Brown Sugar Facial Scrub, Body Scrub, and Foot Scrub for moisturized smooth skin.
A VERSATILE SKIN CARE MUST HAVE! Our Brown Sugar Body Scrub and Facial Scrub is perfect for all your skin care needs. This facial scrub and body exfoliator can help clear pimples, blackheads, and bumps on your back, face, and body, making it a must have in your skincare routine. You can use it as both an exfoliator and moisturizer, and it smells great! It can also be used as a lip scrub.
NOURISHING MOISTURIZER: While certain exfoliating scrubs or dry brushes can leave your skin dry and dull, Brown Sugar Facial Scrub, Body Scrub, and Foot Scrub is actually moisturizing. Brown Sugar helps to keep the moisture in your skin locked in. It's perfect for use before or after waxing and as a foot scrub.
PROUDLY MADE IN USA: Our Brown Sugar Facial Scrub, Body Scrub, and Foot Scrub is made in NY, USA using only the highest quality ingredients. It does not contain alcohol, parabens, or sulfates. It is All-Natural, Vegan, and Cruelty Free.
The brown sugar granules in this formula give your canvas an excellent moisturizing feel after removing the layer of dirt and dust sitting above. While salt scrubs are usually harsh on sensitive skin and may strip it of its natural oils, this edit from Brooklyn Botany might answer all your shaving problems!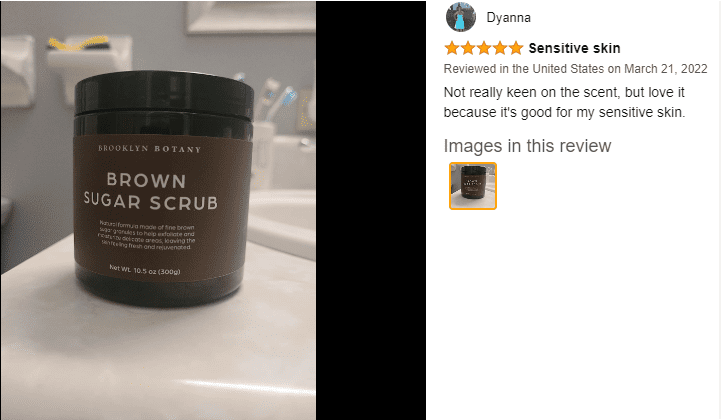 Although the scrub has what it takes to be on your exfoliating wishlist, there is something you should be aware of. Getting this scrub in your vanity might disappoint all bikini lovers because it gets over too soon!
Tend Skin Women AfterShave/Post Waxing Solution
The thought of your Bikini line maintenance can maintain your energy of you. Instead, it should get you all jazzed up to get into those curvy bathing suits. The good news is this Tend Skin Women AfterShave/Post Waxing Solution possesses a composition that claims to penetrate your skin actively and addresses existing unsightly ingrown hairs personally.
Tend Skin Womens AfterShave/Post Waxing Solution for Ingrown Hair, Razor Bumps and Burns, 4 ounce, Blue
MADE IN USA - INGROWN HAIR SOLUTION: Applying a thin coat of Tend Skin Solution post shaving
FOR EXISTING INGROWN HAIRS: Apply also at night independent of shaving to help clear existing unsightly ingrown hairs and razor bumps.
POST WAXING: Apply Tend Skin Solution after the session to minimize the appearance of any redness of the skin.
WOMEN'S BEST FRIEND: Applying Tend Skin Solution after shaving will reduce appearance of the noticeable redness that appears on the skin after shaving. This is great for women after shaving legs, bikini lines and underarms as well as for men who see redness after shaving their faces.
CRUELTY FREE, No Animal Testing
It is also a mass favorite because it pays enough attention to your razor bumps and eliminates them to leave soft, supple skin behind. If you want your bikini shaving and exfoliating experience to be perfect, then this option is one of the most economical you can rely on.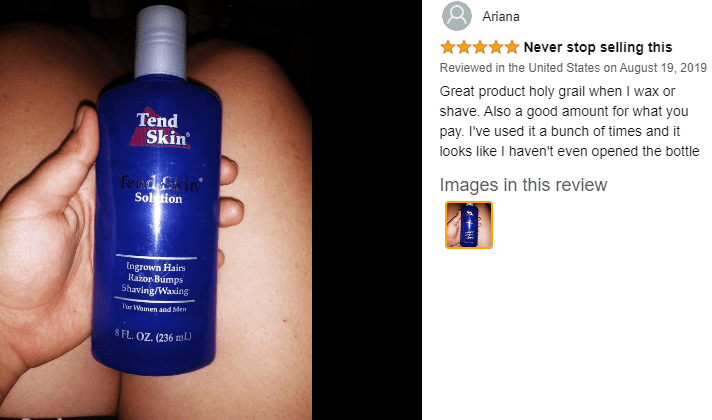 It also gives relief from redness that happens due to shaving, waxing, and electrolysis. Men can use it on their faces and necks, whereas women can pamper their legs, underarms, and bikini line. While most of the crowd is crushing on this babe, it does not come without its fault. The formula may be too intense for users with sensitive skin. So it's always best to do a patch test beforehand and avoid any ugly situation.
FAQs | Best Exfoliator For Bikini Area
Is exfoliating suitable for the bikini area?
Exfoliating your pubes might sound dreadful and a lot of work, but cleaning those private parts up is a good idea. This will get your bikini line on top of their attention and allow you to wear those bathing suits you have wanted for quite a while. This also scrubs away dead cells and lightens those parts. You can use these exfoliators all over your body, followed by a body butter or moisturizer for nourished skin.
Should you exfoliate if you have sensitive skin?
If you have sensitive skin, make sure to exfoliate at least once, and not more. This will protect you against dryness and irritation and maintain the gentleness of your bikini.
How often should you exfoliate your bikini?
You can exfoliate your bikini line twice a week if you have a typical skin type. Or else, to be on the safer side, exfoliate once.
Closure

| Best Exfoliator For Bikini Area

It is almost year-end, and if you are still dealing with flare-ups, bumpy texture, dull skin, and a strawberry bum, it is proof that you still need to cater to the needs of those inner areas. Do you want to go out for a swim, but these ugly situations won't give you inner peace? So how do you get that aesthetic bikini line on your body? This definitive guide on the Best Exfoliator For Bikini Area hopes to help you revive your love for those cute, frumpy bathing suits.

You can once again champion those hot girl summer bodies without encountering comments on your bikini line not being smooth like silk! These options mentioned above are the Best Drugstore Exfoliator For Bikini Area so that your skin feels alive from within. So get ready to ace your poolside looks in colors, for these edits are fuss-free and claim to have precisely what you need!
Rebecca is a skilled writer with a passion for makeup and skincare. With years of experience in the beauty industry, she has a deep understanding of the latest trends and products and a talent for creating engaging content that resonates with her readers. Whether she's writing about the latest skincare products or sharing her favorite makeup tips, Rebecca's writing is always informative, entertaining, and inspiring.