Growing up, I saw my mother go to the salon regularly to have her brows threaded. "I look weird," she often said when her brows were left ungroomed for long periods. Although I never fully understood her concerns at the time, as an adult, I can confirm that unkempt and unruly brows make us appear messy, dull, and even a tad bit old. However, the mere thought of having my brows threaded or waxed causes my toes to curl. I'm sure many of you, like me, despise the unpleasant pain that comes with hair removal procedures.
But what if I told you that your dreams of having well-defined brows without pain and irritation could come true? This review will discuss a brow trimmer that claims to make hair removal simple, painless, and convenient. We'll also look at a few genuine Finishing Touch Flawless Brows reviews to see if customers think this device is worth a shot.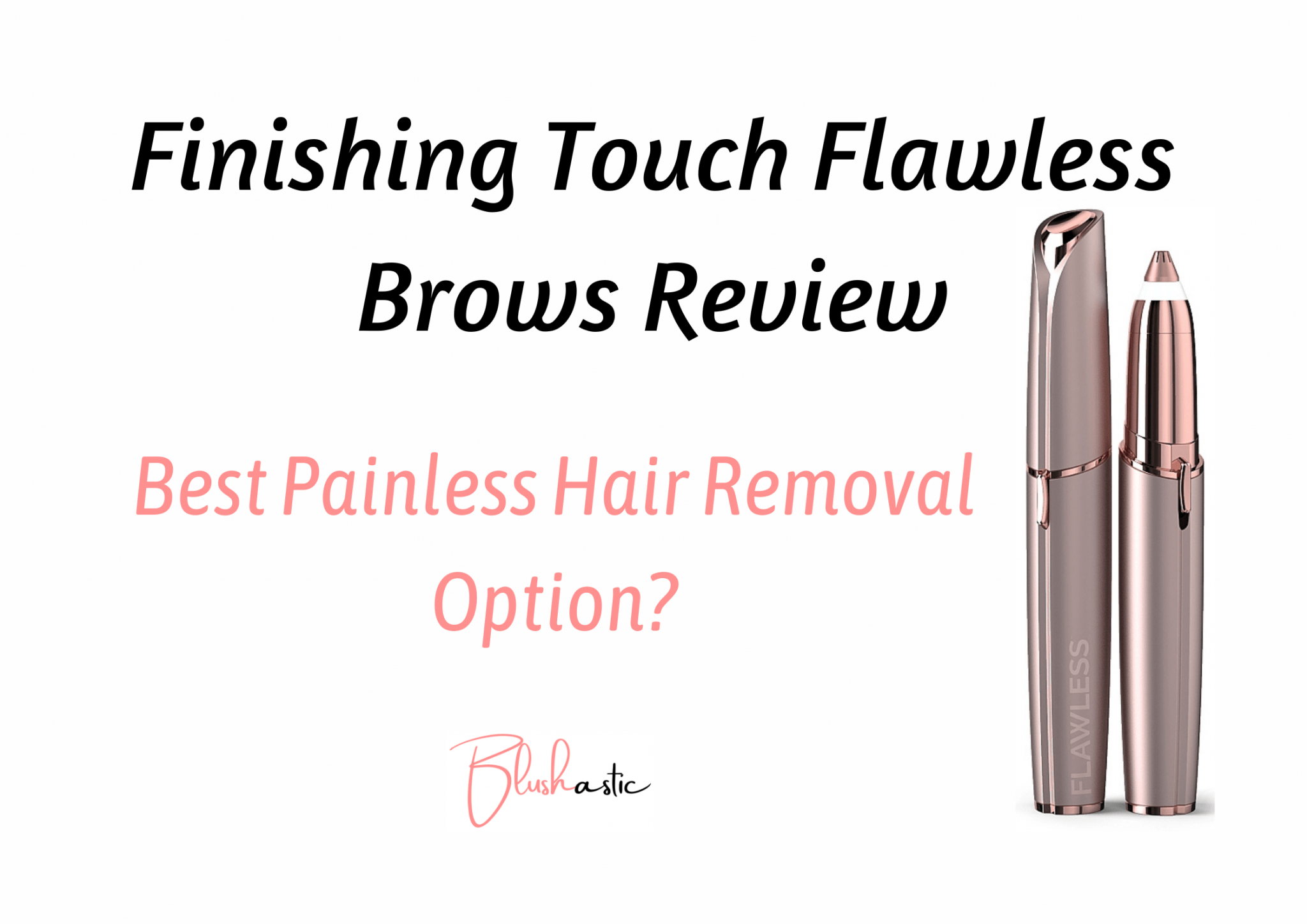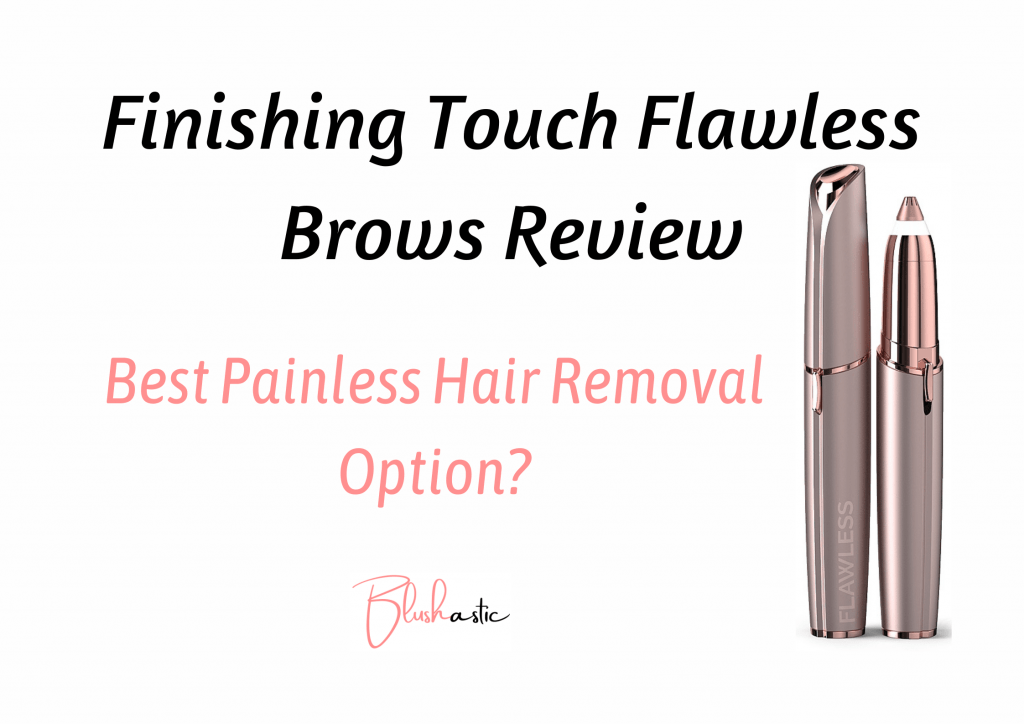 Grooming your brows is a transformative process that instantly accentuates your eyes, lifts your face, and makes you look younger. Because our brows are the first thing people notice about us, keeping them groomed can result in a neat and polished appearance that makes you look put together and effortlessly attractive. Various hair removal options include shaving, waxing, plucking, and depilatories.
While all these options are effective, they cause significant pain and irritation. Pocket-sized trimmers have recently become popular for painlessly grooming unwanted hair whenever and wherever you go. Finishing Touch Flawless Brows is a similar brow trimming device that promises to sweep unwanted hair away gently but effectively, resulting in stunning brows. However, does it truly deliver on its promises? Let's find out.
Finishing Touch Flawless Brows Reviews | Best Painless Hair Removal Option?
Finishing Touch Flawless, now owned by Church & Dwight, was founded in 2017 to provide simple solutions to everyday beauty issues. Their functional, painless, and cutting-edge devices aim to remove the stigma associated with hair removal procedures. Their products are practical, aesthetically pleasing, and simplify everyday beauty struggles. Renowned celebrities such as Dove Cameron and Halle Berry have supported this brand, claiming that their products perform exceptionally well and help them feel beautiful and confident.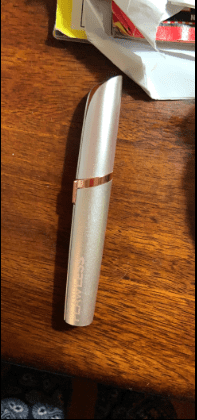 For years, Flawless hair removal products have been the top-selling products in the United States. They have also received recognition from prominent beauty editors such as Vogue, Mirror, Daily Mail, Metro, etc. As a brand, they are committed to assisting women in looking and feeling their best through revolutionary devices that you can use comfortably and conveniently anytime.
The Finishing Touch Flawless Brows is a battery-powered trimmer that removes unwanted hair around and between the brows. It has an 18-karat gold-plated hypoallergenic head that safely shapes brows and sweeps away undesired hair instantly without causing pain or irritation. It comes with an in-built LED light, which makes it easy to see hair and allows for precise hair removal. This brow trimmer is suitable for all skin types and tones, and people of all ages can use it. Its design looks effortlessly sleek and chic. 
Sale
Finishing Touch Flawless Brows Eyebrow Hair Remover Electric Razor for Women with LED Light for Instant and Painless Hair Removal
One Finishing Touch Flawless Brows Eyebrow Hair Remover for Women, eyebrow razor for women gently erases eyebrow hair from the surface of the skin with pinpoint precision
Hypoallergenic and dermatologist recommended, this electric face razor lets anyone shape and maintain beautiful brows without destroying the root or promoting premature aging, like may occur with waxing, plucking or threading
Electric trimmer features an 18 karat gold-plated head that's easy to use by simply holding the eyebrow face hair trimmer and using it like an eraser for removing hair above, below and between the eyebrows with pinpoint precision
Eyebrow hair trimmer features a built-in LED light that illuminates skin so you never miss a hair, leaving your brows beautifully shaped and maintained
Flawless Brows Electric Razors offer a fast, easy way to have beautiful brows every day with no pain, no downtime and no redness
It's discreet, small, and portable, so you can use it whenever and wherever you want. Furthermore, this trimmer is gentle enough for daily use in contrast to other hair removal methods such as shaving, threading, waxing, and plucking. The Flawless Brows trimmer is also dermatologist-approved, making it an efficient at-home solution for well-groomed and defined brows.
Flawless Brows – How Does It Work? 
The Flawless brow trimmer uses revolutionary Butterfly technology to remove hair by microscopically paring it through a spinning head. This device, like shaving, only removes hair from the skin's surface. However, it should not be confused with a razor because this smart device never touches delicate facial skin, making it safe and gentle. It also has an 18k gold-plated trimming head that is hypoallergenic, which means it won't cause any pain, cuts, redness, or irritation. Furthermore, dermatologists have tested this trimmer to ensure the highest safety and efficacy for all skin types and tones.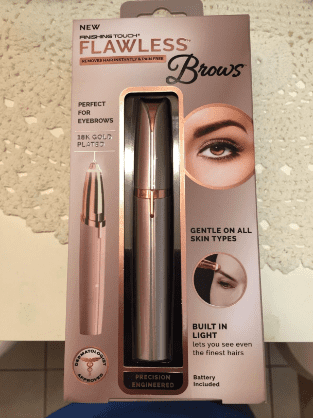 The design of this trimmer looks like a woman's lipstick, making it attractive and portable. It is shaped like a pen, making it easy to hold and use. All you have to do to get the perfect arches is hold the device like a pen/pencil and gently sweep it across your skin to remove unwanted and excess hair. You can use it above and below your brows, in between, and toward the hairline. This trimmer's unique technology and intelligent design ensure easy usage for all, even beginners, making it the most effective way to remove hair painlessly and precisely.
Benefits Of Finishing Touch Flawless Brows
The Finishing Touch Flawless Brows is a simple, at-home solution for instantly and painlessly removing hair around and between your brows.

It is available in two variants: one that is battery-powered and one that is rechargeable. It also comes in two colors: blush (soft pink) and white.

This device appears slim, sleek, and compact. It easily fits in a wallet or purse, making it ideal for travel.

It has an 18k gold-plated head that removes unwanted hair effectively without causing pain, nicks, cuts, or irritation.

This trimmer employs ground-breaking Butterfly Technology, which safely reduces hair without touching or disturbing the delicate facial skin.

The spinning head of this device has an integrated LED light for easy and precise hair removal.

The Flawless trimmer is very gentle on the skin, making it suitable for daily use. Unlike waxing, you do not need to let your hair grow out to use this device to remove hair.

This tool has been dermatologist-approved for use on all skin types and tones. It is also suitable for sensitive skin because it gently removes hair. Furthermore, this trimmer is ideal for people of all ages.

This product package includes the device, a cap, an 18k gold plated head, and a cleaning brush.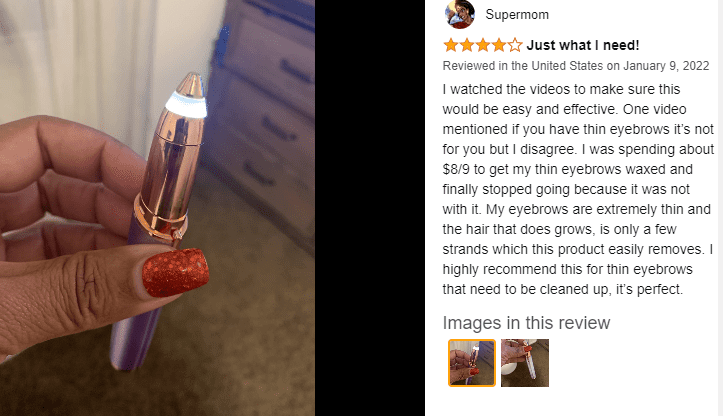 Drawbacks 
Finishing Touch Flawless Brows is a trimmer, meaning it only removes hair from the skin's surface, not from the root.

Although the brand claims this trimmer removes every hair, revealing soft and smooth skin, it can be ineffective at eliminating tiny hair, leaving poky, stubble-like hair behind.

Because the hair does not get removed from the root, it will grow back faster, requiring frequent trimming.

Some customers complained they had to use this device several times on the same spot to get rid of every last hair.

This device should not come into contact with water, so you cannot use it on wet skin.
How To Use Finishing Touch Flawless Brows? 
A battery is required to start the Finishing Touch Flawless Brows trimmer. Pull on the top and bottom of the device to reveal a battery compartment. Place a AAA (or triple-A) battery inside and relock the units.

Before using the device, wash your face thoroughly to ensure it is clean and free of dirt, grime, and makeup.

After washing your face, pat your skin dry completely. You cannot use this trimmer on wet skin, so make sure your skin is dry and free of moisture.

To begin the hair removal process, turn the switch to the "ON" position, and the light on the spinning head of the device will illuminate instantly.

Choose the area you want to work on and gently pull your skin taut. Use quick back-and-forth motions with the device to remove unwanted hair. Repeat until the trimmer removes all unwanted hair, or you obtain the desired result.

It is essential to clean the head immediately after use. Unscrew the device head in a counterclockwise direction and clean the inside with the cleaning brush included with this product. After that, screw it back on by spinning it clockwise.
Customer Reviews | Finishing Touch Flawless Brows Before And After 
Ava mentioned, "I was 16 when I first had my brows threaded. But, the pain was so excruciating that the salon lady decided to wax them instead. Waxing was also painful, but I had no choice but to put up with it. I became accustomed to the waxing procedure over time but lacked the courage to put up with it regularly. Fortunately, I was introduced to this trimmer a few years later; believe me; I've never looked back. This device is life-changing. It allows me to shape my brows painlessly from the comfort of my home. I've been using it for almost two years, and it has never irritated my skin. I wholeheartedly recommend it to everyone."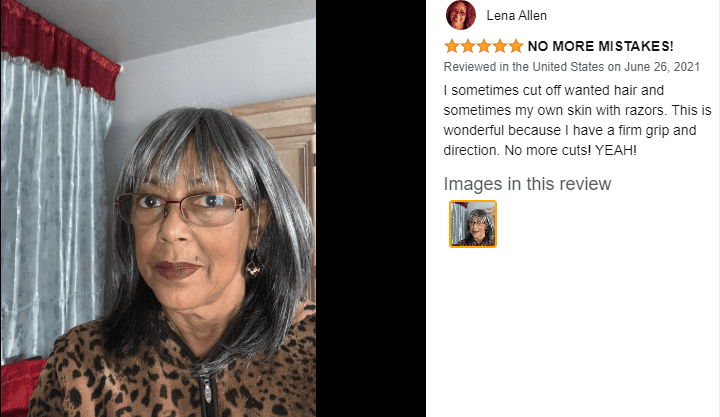 Clara stated, "I discovered the Flawless trimmer during the lockdown. My unruly brows were bothering me, and I knew I had to do something about it. So I went to Amazon and discovered this trimmer among the bestsellers. I had to struggle a little at first to figure out what works best for my skin, so there is a learning curve. However, once you've nailed it, it's all smooth sailing. I have completely replaced my regular salon appointments with this product. It's quick, simple, and painless; exactly what I want! What a fantastic find!"
Amanda noted, "I have long, thick, coarse hair all over my body. Although I can easily remove body hair with a razor, removing facial hair is a real pain. I get my brows waxed now and then, but it aggravates my sensitive and acne-prone skin. A friend recently recommended that I use a trimmer; my research revealed they were promising. I purchased this Flawless trimmer quite some time ago. It works instantly and is entirely painless.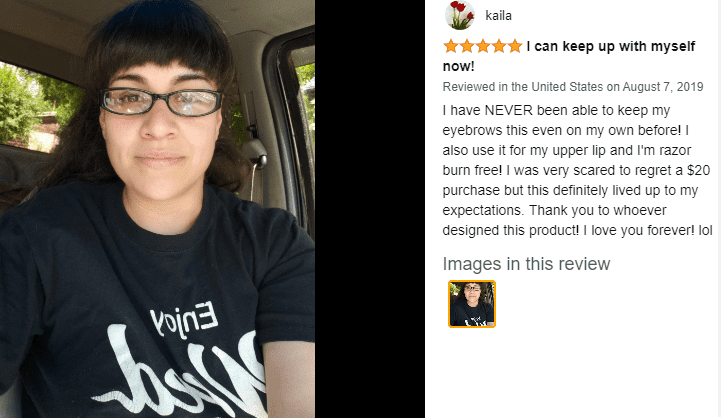 Fortunately, it does not even irritate my skin. My only issue is that to remove all of the hair; I must repeatedly drag it across my skin. Also, sometimes tiny hairs are left behind, making my skin rough and prickly. Aside from that, it's a great tool that I believe everyone should try at least once."
Frequently Asked Questions | Finishing Touch Flawless Brows Reviews 
Are there any Flawless eyebrow trimmer side effects? 
The Finishing Touch Flawless Brows Trimmer is a safe gadget designed and engineered to remove unwanted hair with no pain or irritation. It has been dermatologist-approved and is suitable for people of all skin tones and types. The gold-plated spinning head of this trimmer is hypoallergenic, which means it will not irritate or disturb the delicate facial skin. The Flawless trimmer has no adverse effects on your hair also. It does not cause it to grow faster or thicker. However, if you want them to grow thicker, using a brow serum can be a great option.
Can you use Flawless Brows on the upper lips? 
Flawless Brows trimmer distinctively removes unwanted hair from around and between the brows. It has a small head that aids in precisely shaping the brows. The company does not state whether it is safe to use on the upper lips, but we do not believe it will cause any problems. You can certainly use it to remove upper lip hair.
However, some customers have reported that this device is occasionally ineffective at removing extra tiny hairs around the brows. If you had a similar experience, you should reconsider using this trimmer on the upper lip because it can make the skin pokey to the touch and leave an unflattering five o'clock shadow behind.
Does hair grow back thicker after using Finishing Touch Flawless?
According to Healthline, clinical tests conducted in 1928 proved that trimming hair causes it to grow darker and thicker. Nonetheless, these common myths persist because hair that grows back after using trimmers looks slightly different. For example, when new hair begins to grow back, only the coarse base is visible, unlike the thin and soft tip seen when the hair fully grows.
Furthermore, the hair may appear darker due to a lack of exposure to natural elements such as sunlight, soaps, and other chemicals, all of which can lighten the color of your hair. Hence, Finishing Touch Flawless Brows will not cause your hair to grow thicker.
Closure
Because our brows can instantly improve our appearance, it is critical to groom them regularly to keep them looking neat, clean, and polished. We're sure you're sick of old, painful hair removal methods like waxing, shaving, and plucking. They cause excruciating pain, severely irritate the skin, and can cause cuts, nicks, itchiness, and redness. Put an end to this battle using innovative tools like the Finishing Touch Flawless Brows.
It is a hypoallergenic and skin-safe device that instantly, precisely, and painlessly removes unwanted hair. Several Finishing Touch Flawless Brows reviews confirm that this product has been a blessing in addressing daily beauty challenges. Just set them up with a brow gel, and you're good to go.
Whether the Flawless eyebrow trimmer price is high or low is hugely subjective; however, it is best to consider it an investment that will undoubtedly prove financially beneficial in the long run. Some wonder if this product will make their hair coarser or thicker. The answer to these questions is no. The Flawless trimmer has no adverse effects on your hair. While several users gave the trimmer a thumbs up, some complained that removing hair takes multiple back-and-forth repetitions.
It is critical to remember that this trimmer only cuts hair from the skin's surface, so minute hair may be left behind. However, the company assures that the likelihood of this occurring is minimal. Finishing Touch Flawless Brows is an excellent option for those looking for a painless, easy, and instant hair-removal option that they can use from the comfort of their home.
Here's more for you:
Marilyn's deep interest in fashion, beauty, and lifestyle has led her to pursue a fulfilling career as a freelance writer and blogger. With her bachelor's degree in fashion design from the Fashion Institute of Technology, she has developed a keen eye for style and trends, making her well-equipped to offer valuable insights into the latest fashion and beauty trends.