Close your eyes gently. Now think about looking at yourself in the mirror without any eyebrows present. Ewww, isn't it? Not only ourselves, wouldn't it be so weird to see anyone without their eyebrows? This is a clear sign from the universe, girl, and you need to start working on vamping those arches, RN! Anyone will look gorgeously breathtaking in fuller, shaped, and bolder brows. But how many of us are blessed with such attributes? Instead of cursing your fate, you can turn your mood around, and we have just the right thing to help you get started.
From all the Nourishbrow reviews we gathered, we'll get to know more about the brand. Although, the brand claims its brow enhancer is a must-have staple if you desire to take your brows on a ride of full-on glory. Users spilled that it encourages your brows to grow back, but can we believe it?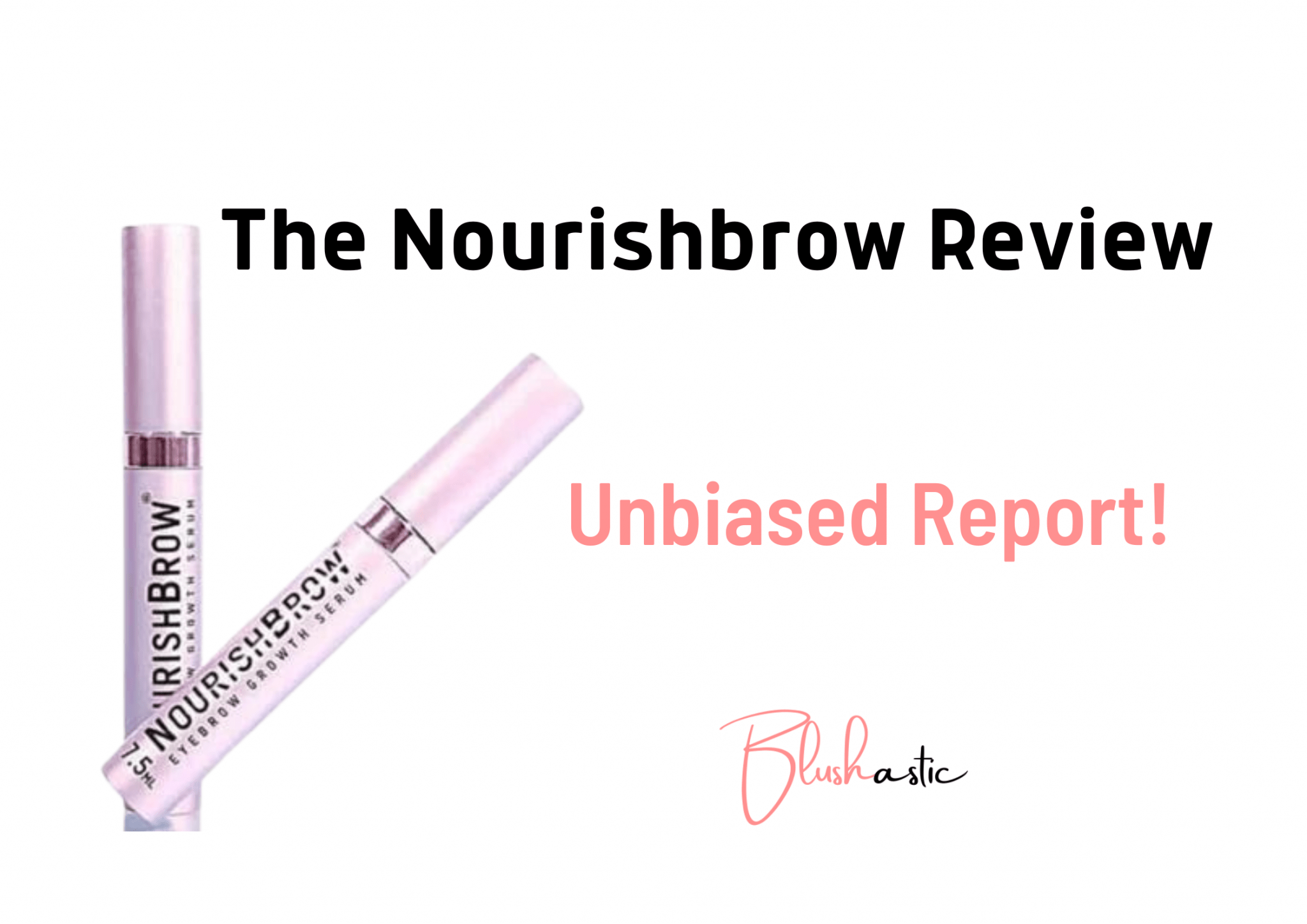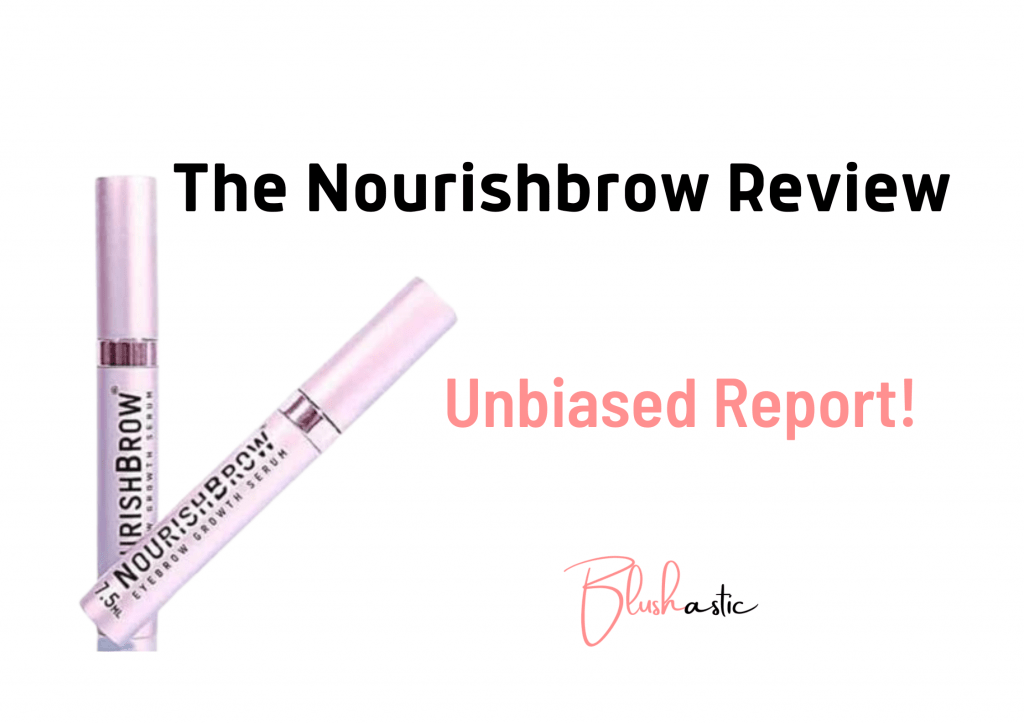 Looking beautiful ain't easy. But it is not too difficult if you have the right products lined up for you. If past experiences have failed you in your brow-grooming attempts, or there were any episodes of bad-brow serums you spoiled your arches in, this growth serum from Norushubrow claims to heal all that and give you a pair of freshly tamed brows by spurring their growth. So is this growth even natural or invisible to the naked eye? Is there something for you in it?
The serum tackles all concerns and beautifully lays down a series of exotic ingredients to take care of your lovelies. Some loyal users claimed that if you are getting anything here, it is a satisfying period of conditioning and a burst of long-lasting nourishment. Are you ready to uncover the truth about this brand?
Nourishbrow Reviews |
Keeps Everyone's Gaze Fixed On Your Brows?
Let us make one thing clear, and if we hate anything more other than hair fall, it is the thinning out of your precious brow hair that seems to be fading in the air slowly. Unfortunately, the environment has become a foe for our skin and is the root cause of many problems. When these are topped up with irregular sleeping patterns, regular cosmetic treatments, or any other reason, our brows absorb all the suffering. So instead of plucking and teasing them more, it is vital to caress them with a good conditioning serum that will repair all the damage from the inside out. But is that all? Not at all!
The idea of perky brows that look so intense you can't take your eyes off them has been drifting around the fashion industry, where celebs are opting for a no-makeup look, with their eyes benign the center of attention. The serum claims to give your brows an equally flattering look, as it is designed with many rich botanicals, which bring the goodness of antioxidants into the plate.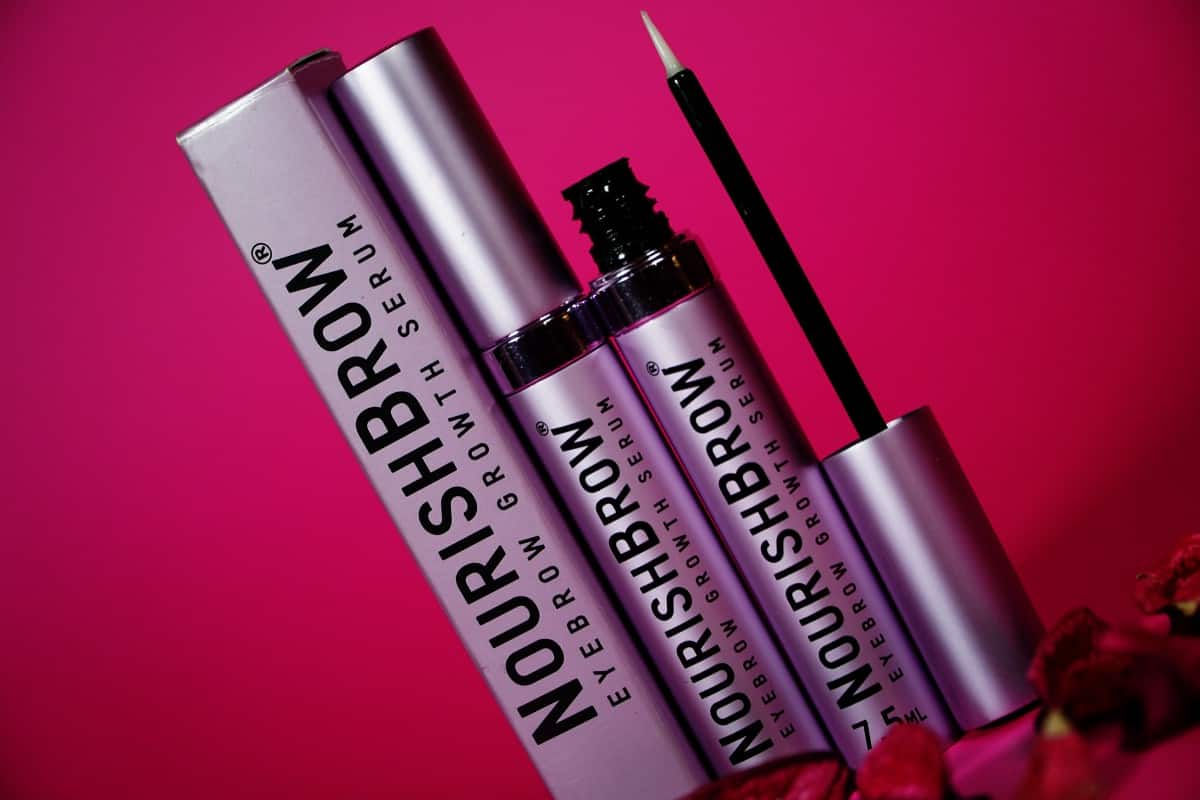 Biotin and peptides help stimulate hair regrowth so that the way fluffy grows becomes non-sweaty! If you are wondering if it is safe for you or not, you should know that the brand strongly believes that there is no place for harmful elements, like parabens, or phthalates, so relax.
The days of brow pencils, gels, and powders are officially over, and Nourishbrow brings you its groundbreaking brow advanced formula, which has become the hope of many. Hold tight because the precise definition you are about to see in your arches might blow the whole town away!
How to apply?
Take a humble amount of the serum in the applicator

Do short strokes with the applicator along your natural brow line

Make sure to do this before your bedtime

Be consistent with your usage to see your brows flourishing and thriving! Also, make sure to discontinue if you feel any irritation.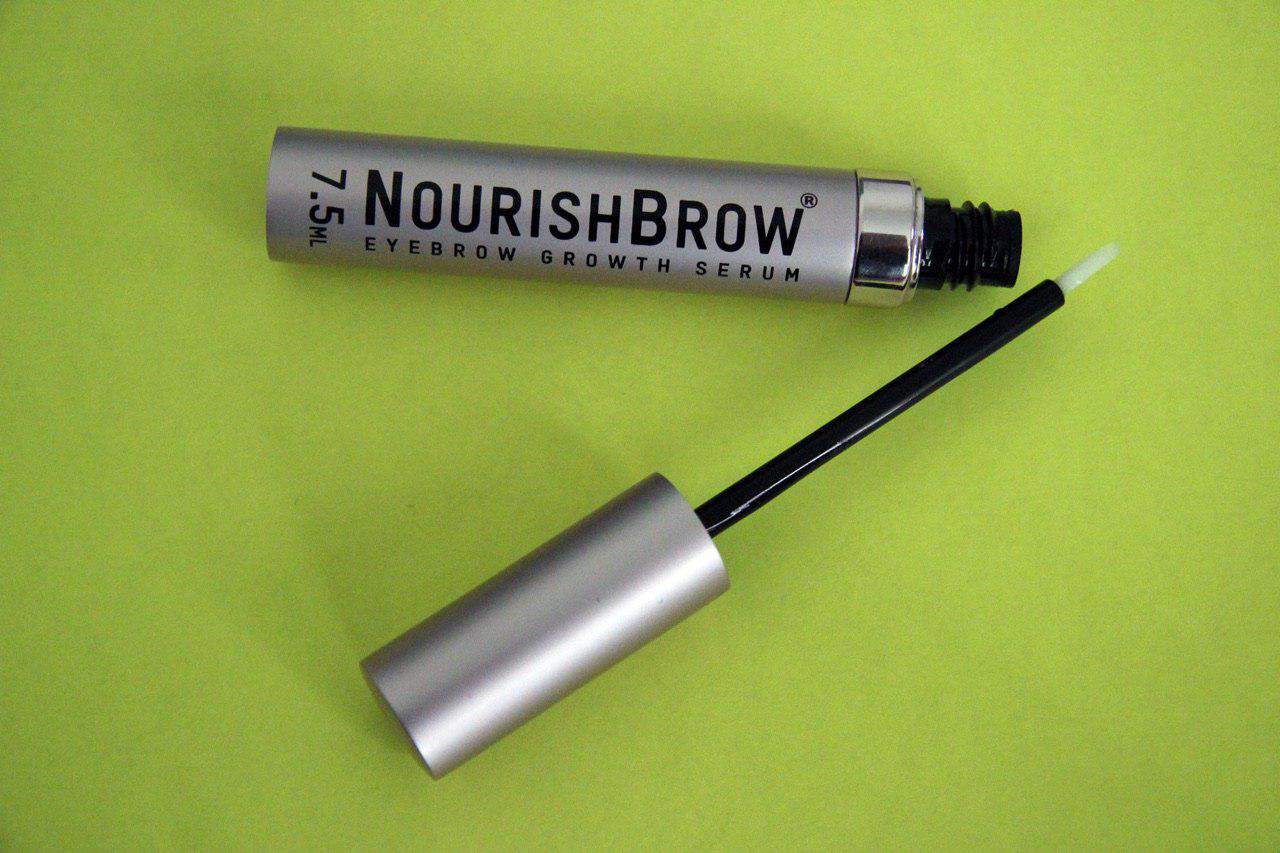 Perks
Features a multi-action technology

Directly targets the cause of hair thinning

It helps make hair follicles resistant to breakage

It does not contain phthalates, parabens, silicones, oil, gluten, fragrances, or prostaglandins

Peptide complex fortifies brow hair

It helps deliver fuller-looking brows in just two weeks

Breathes life back into the brow area

Plumps up aging signs with the help of sodium hyaluronate

Conditions brow hairs deeply

Biotin helps defend brows against outside damage

Cleanses the follicles of dirt and grime and helps unclog them

Stimulates better and faster growth of hair

It makes brow hair fuller, softer, and shiny

Repent ea protects hair by fighting inflammation

It prevents brow thinning and continuous falling out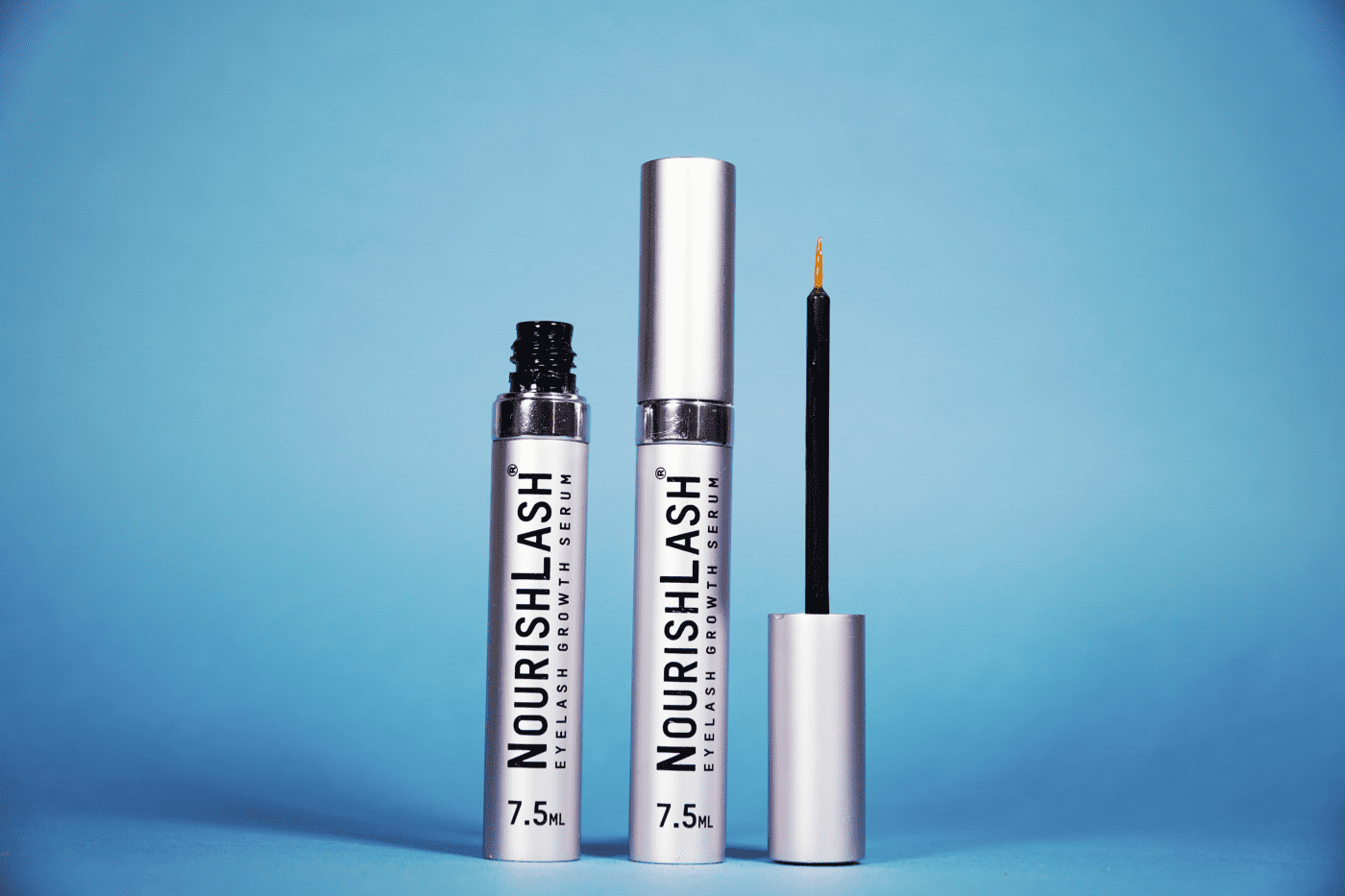 Drawbacks
It is a bit on the expensive side

Less in quantity

It may cause potential side effects like skin redness or minimal irritation.
Key Ingredients – Nourishbrow Reviews
Biotin – The truth about biotin is that it helps open doors to healthy hair and nails. But is it as effective for your brows as your locks? Ohh, yes, sweety! Biotin, or vitamin B complex, strengthens your hair's keratin proteins, which helps develop a more substantial base. The deficiency of this ingredient causes lashes to fall out because of thinning, so this serum has been infused with this ingredient to help fight its loss.
Sodium Hyaluronate – Brow serums are taking over, and hyaluronic acid remains the best reservoir of hydration to provide your skin with the most profound penetrating action of moisture. Sodium hyaluronate is a water-soluble form of hyaluronic acid, which acts as a lubricant so that your brow hairs don't rub and break due to friction. This gives your brows a neat look, as they remain perfectly poised, looking healthilicious!
Vitis Vinifera Fruit Cell Extract – These grape seeds bring a truckload of antioxidant properties to your skin, which keeps the hair follicles rejuvenated. It also adds moisture content and shine. Due to its nutritional properties, it helps prevent your brow hairs from falling out and fights free radical damage from the environment. It guards your skin against the sun's harmful rays, preventing UV rays from damaging your skin's protective barrier.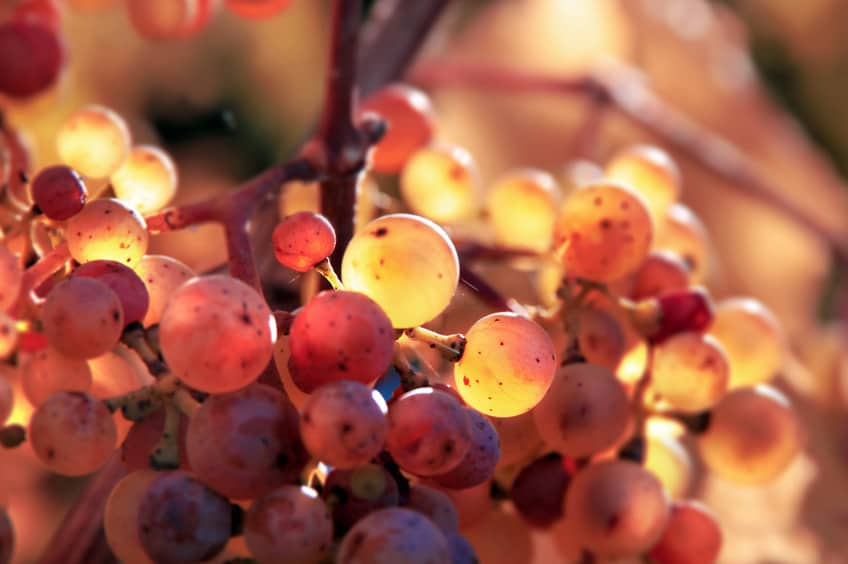 Panthenol – Can Panthenol help your eyebrows grow? Trust me, and you will be surprised! Pro vitamin B5 possesses high hydration power, which is why one stroke of a serum infused with this miracle ingredient can bring back your bushy brows into business! It helps minimize brittleness and heals your arches from the horrors of over-tweezing, waxing, threading, and overworking brows. The ingredient also helps clean away unwanted impurities, which often lead to the slow growth of hair. So next time you find this ingredient incorporated into your brow serum, you will thank us for it!
Camellia Sinensis Leaf Extract – This plant extract is a potential rich-antioxidant packet with inflammatory properties for your skin. Many reviews found that it helps enhance the process of blood circulation and nourishes the hair follicles. This leads to better hair regrowth and is therefore preferred by many brands to be included in their brow and lash growth formula. It reactivates the blocked and dull hair follicles and helps volumize your brows.
Trifolium Pratense Flower Extract – Popularly hailed as a red clover flower, this ingredient is the key if you want healthier-looking lashes. As it is high in peptide content, it strengthens the roots of the hair, which undergo stress all day. It is also responsible for maximizing brow growth and helps achieve fuller, denser, and alluring lashes in as little as eight weeks!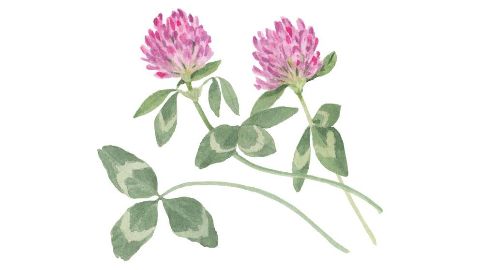 Why Choose Nourishbrow Growth Serum?
It is big on Multi-Action Technology
Apart front he praiseworthy nutrient-rich antioxidants, anti-aging botanical stem cells, and bioactive peptides, the formula has something all makeup professionals have been drooling over its multi-action technology. The premium serum offers an intelligent solution for your compromised brows by directly targeting the root cause of hair thinning and taking adequate steps to remedy that.
It not only participates in masking your sparse areas but also laces every strand with nourishment so that they appear healthier, shinier, thicker, and everything that you want them to be. This makes the brow hair resist signs like breakage, and you get a bouncy volume on both sides!
Peptide complex + Nourishing ingredients
Many users seem to be counting on this serum's claimed pure potency, and so are we! This comes primarily from their most-talked-about peptide complex, which puts two main ingredients in the limelight: myristoyl pentapeptide – 17 and myristoyl hexapeptide – 16. They are assigned with the sole purpose of fortifying your brow hairs and boosting thicker brows in a matter of two weeks.
Other ingredients like sodium hyaluronate, vitamin B7, vitamin B5, provitamin B5, green tea, and red clover are also present and pose no side effects to your skin. It helps pause hair breakage and focuses on building up a good volume you have been secretly wanting.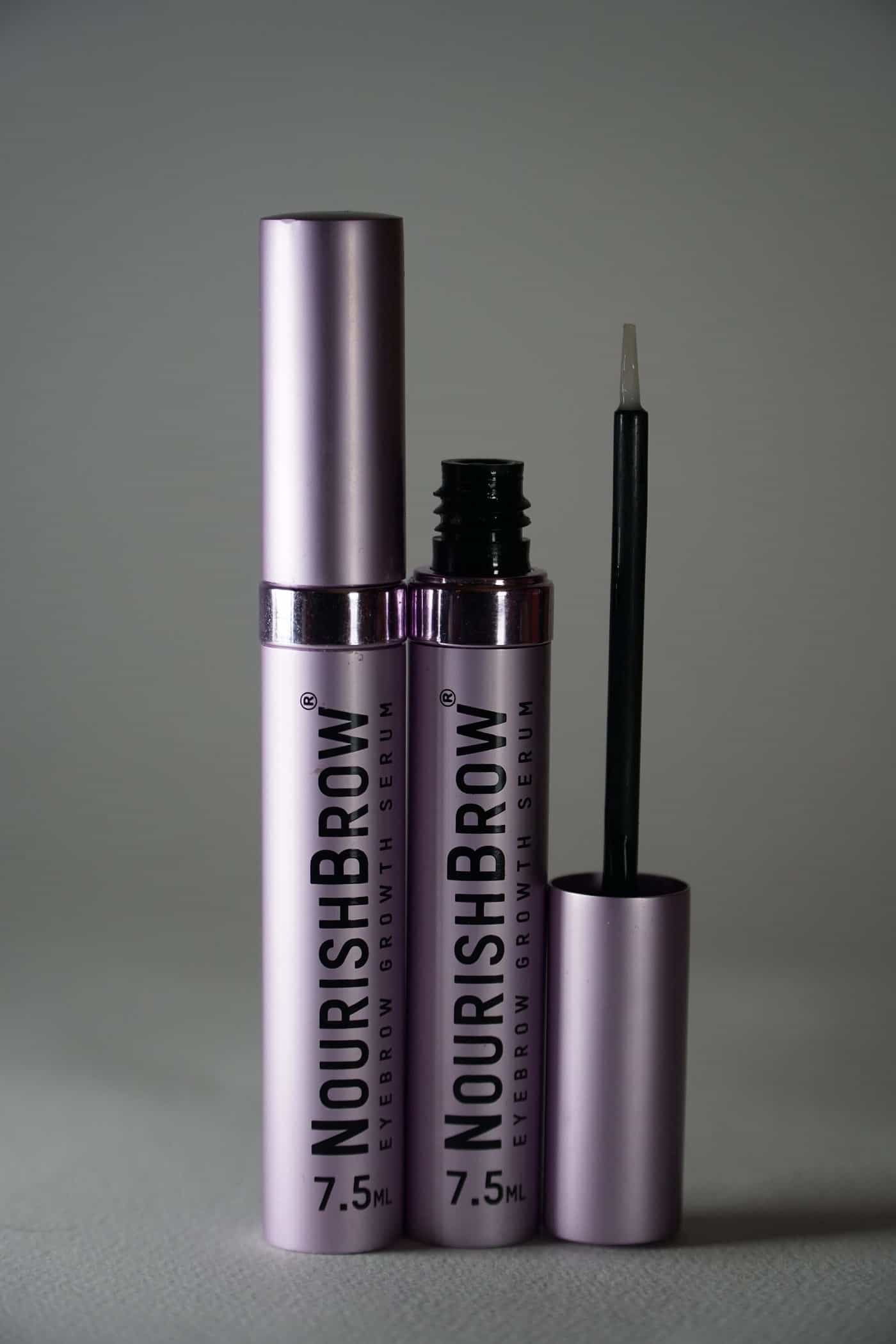 Heal & Repair
We have all troubled our brows with cheap fillers, repeated threading, constant plucking, frequent dumping of makeup, tweezers, and whatnot. And we haven't even reached the bit where the environment often snatches all the moisture from our skin, leaving it ragged and lifeless.
Nourishbrow takes pride in its composition, as it contains high-quality ingredients that pamper your brows with some loving action. So if you haven't given your arches the good vacation they deserve, this serum will provide all the required nourishment for that and restore the health of your brows. So, are you ready to feel gorgeous again?!
No risk or wallet-emptying
We understand your eyebrows are precious, and you don't want to put them at any risk, so we found something down-to-earth. Some things are truly inspired by nature, and the Nourishbrow Eyebrow Growth Serum is one of the lucky ones! The eyebrow enhancers feature such an easy-to-go technique so that your arches do not harm dreadful needles or the horrific thread of microblading.
Also, if your brows look naturally fluffy, heavy, and denser, you would not require to spend on all those brow gels, pencils, etc., to amp your volume. So think about all the dollars you will be saving from now on!
Free from all nasties
Do you know most brands include harmful chemicals for elements like gluten, hormones, synthetic fragrance, etc., that can seriously hamper the delicateness of your skin by messing up your pH level? You will be happy to know that Nourhsbrow steers clear from all such drama!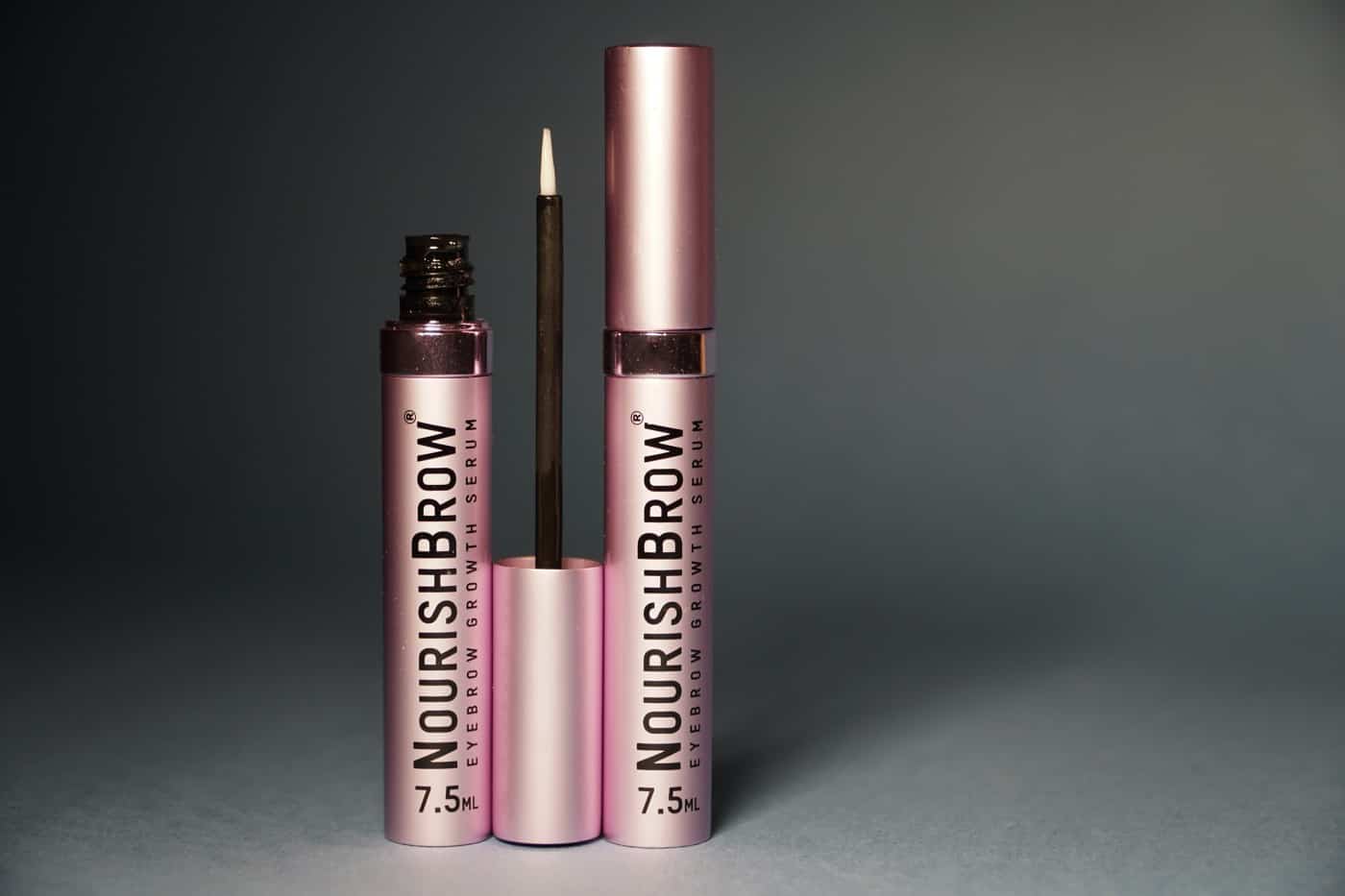 It does not compromise your skin's health and removes toxic substances like hormones, gluten, and paraben from its composition. The product is vegan and has never been tested on animals. This proves that the brand is all about wellness and hygiene and thinks the best for your skin, just like you do!
Alternatives For Nourishbrow Growth Serum
RevitaLash Cosmetics, RevitaBrow Advanced Eyebrow Conditioner Serum
After the brand's lash serum did a number on all makeup lovers, it's time to check in on the magical effects its brow serum brings. Users said that if you are addicted to your brows, this growth serum is the best your skin could ask for! The award-winning serum highlights a unique BioPeptin Complex®, Ginseng & Swertia Japonica, Calendula, Amino Acids, and B Vitamins. Together, they help condition your brows, ward off signs of brittleness, prevent breakage, and infuse your brows with a glossy shine.
The hypoallergenic formula is a pool of antioxidants that help repair your skin against damage like over-plucking, over-tweezing, damage from environmental stress, aging signs, etc. The procedure does not contain any parabens, phthalates, gluten, or BHT and is safe to be used on all skin types. If you are looking for a way to get those alluring arches back in style, this serum is a treat to indulge in!
Perks
Recommended by many beauty professionals and experts

Hypoallergenic formula

Users can apply the formula to sensitive skin as well

It contains a particular BioPeptin Complex

It has garnered many awards

Cheaper than Nourishbrow

Assists in strengthening brows

Enhances flexibility and adds a lustrous shine

Protects brow hairs against outside damage

Deeply conditions from head to toe

Presents brows from breakage

It contains biotin, lipids, and panthenol

It helps keep brittleness at bay

You can use it on all skin types

Free of both parabens and phthalates

Vegan composition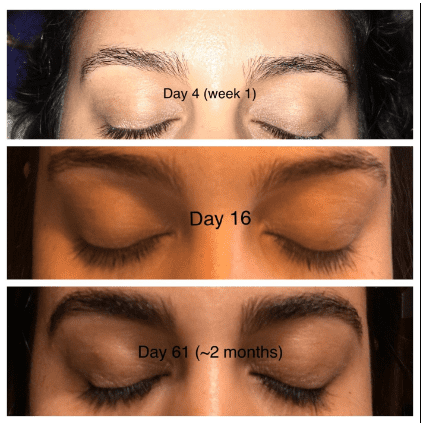 Drawbacks
You have to buy it again and again because it gets over fast.
Grande Cosmetics GrandeBROW Brow Enhancing Serum
The GrandeBrow Brow Enhancing Serum should be bookmarked if you want to step up your brow game! It uses a powerhouse combination of skin-reviving ingredients like l-proline (an amino acid), hyaluronic acid, vitamins, and antioxidants (from botanicals such as ginseng root, chamomile flowers, and bearberry leaves), which strive hard to give your bolder brows. Users who tried this formula revealed that they could see improvements in their brow appearance in as little as six weeks.
Sale
So if you have a red calendar day and wish to prep yourself, this serum will take care of your brows effortlessly. 100% of users reported the product to do miracles for their arches as the formula pumped up their volume. Thanks to its natural blend of extracts, your skin won't be compromised. So, grab yours before it's too late because the serum is vanishing from all the beauty cabinets!
Perks
It leaves a sultry mattified finish

It has over 4k ratings on Amazon

Never been tested on animals

Infused with vitamins, antioxidants, and amino acids

It gives fuller, and bolder brows

It provides a natural-looking appearance

Tested and approved by the ophthalmologists

Recommended by many experts

Claims to provide quicker results in 6 to 8 weeks

It possesses a non-drying formula

Hyaluronic acid helps in supplying optimal moisture

Replenishes hair follicles and fills up sparse areas

Rich in plant-based extracts which strengthen the brow base

Vegan composition

Safe for usage for all skin types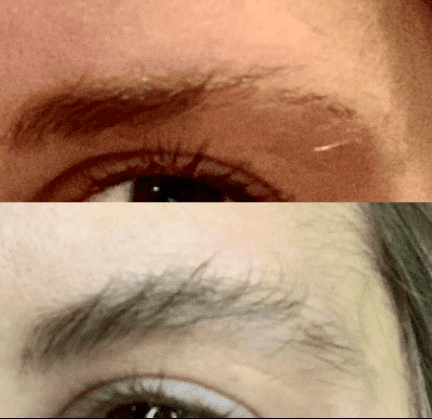 Drawbacks
The bottle does not last long enough through 4 months, as mentioned

It may cause eyelids to droop in rare cases, reversible if you stop using it.
RAPIDBROW Eyebrow Enhancing Serum
Whoever said brows are not necessary did not have any! Lucky for you, you still have a chance to rejuvenate your lifeless brows and spice things up with this lash-enhancing serum from Rapidnrow. According to reviews, this serum is a clear gel formula that promises thicker and denser growth in weeks. The procedure has been designed with a particular Hexatin complex and boasts other rich ingredients like biotin, panthenol, keratin, sweet almond extracts, peptides, and apple fruit cell.
Sale
RAPIDBROW Eyebrow Enhancing Serum, 3ml /0.1 Fluid Ounce clear
Use by date: This product's use by date is determined by the Period After Opening symbol. The Period After Opening symbol is marked by a box with a numerical number (X) followed by letter M for months. The symbol denotes that the product is recommended to be used within X months of opening
Formulated with an exclusive complex to boost the appearance of lashes and brows
Ideal for women and men with brittle, weak, thin or short lashes and brows
Fragrance and Paraben Free; Cruelty Free
Apple extracts help fight environmental stressors and protect hair from breakage against odds like age and pollution. Users noticed see results at the end of the first tube itself and expressed their thankfulness for being offered such a potent serum at an affordable price. So if you want to save all those extra dollars for something else, this serum won't mind!
Perks
It can be used by both men and women

Formulated with an exclusive complex

It contains peptides, biotin, panthenol, keratin, apple fruit cell, and sweet almond extracts.

It helps in rebooting the look of your brow hairs

Users can use it to revive both lashes and brows

Available at an affordable price

Claims to give fuller-looking brows in eight weeks

91% experienced fuller, and thicker brows

Free of nasties like parabens and fragrance

Never been tested on animals

It helps keep your brows neatly in place

It has a very nourishing effect on your hair

Promotes a youthful appearance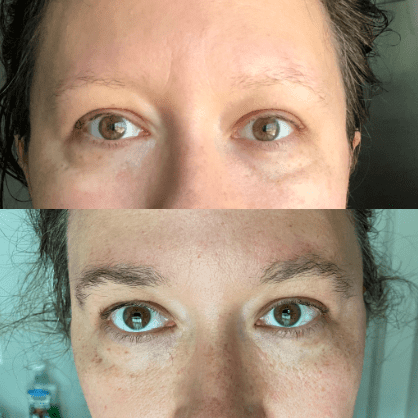 Drawbacks
The applicator is not so good.
Pronexa Hairgenics Lavish Lash – Eyelash Growth Enhancer & Brow Serum
If there's anything women want in life is good hair and bold brows. Anything apart front here is a lie! So we did some digging, and it has come to light that the Pronexa Hairgenics Lavish Lash is a multi-action formula that brow lovers can use the formula on both lashes and brows to revamp their overall health. People with sensitive skin will be thrilled to know that the forgiving recipe sits very gently on susceptible skin, so if you have any second thoughts, it's time you bid them goodbye.
Lavish Lash Pro by Pronexa Hairgenics. Professional Strength Eyelash & Eyebrow Growth Serum. Over 20 Active Growth Promoting Ingredients for the Longest, Fullest Lashes & Brows. 5mL, 6 Month Supply.
Boosts the length and thickness of eyelashes and eyebrows. The result is longer, fuller and thicker eyelashes and brows! Imparts sheen and luster to lashes and brows making them appear lush and beautiful. No more false lashes or eyelash extensions needed!
Lavish Lash Pro is proven by science. Experience drastic increases in length and thickness of your eyelashes and eyebrows in as little as 60 days for the perfect lash boost!
Lavish Lash Pro is made with only the highest quality ingredients. Everything in our serum is hypoallergenic, non-irritating, clinically tested, allergy tested & dermatologist tested. Never tested on animals and cruelty free.
Easy to apply. Simply place a thin line along the base of your upper and lower lash line once a day at nighttime. Apply only at the root area of eyelashes and as though applying eyeliner and onto clean eyebrows. Use for a minimum of at least 60 days as the eyelashes and brows are the slowest growing hairs on the human body. Your satisfaction is guaranteed.
It features critical ingredients like biotin, and hyaluronic acid, which are known to develop a more substantial base for your hair, and pump up all the essential moisture the hair follicles are missing out on. The product has over 28k reviews on Amazon alone, which is saying something. Users have been satisfied with their results and continue using it for bushy and bulky brows.
Perks
It has over 28k reviews on Amazon

Hypoallergenic, and non-irritating formula

Never been tested on animals

Safe to be used on lash extensions

It has an easily affordable price point

Leaves a natural finish

It contains growth peptides, hyaluronic acid, biotin, ginseng, etc

Adds sheen and luster to your brow hair by removing dullness

It contains

proprietary botanically-derived compounds

Penetrates deep to stimulate hair regrowth

It helps in thickening lashes too

It helps in boosting the length of your lash hair

Safe and easy to apply

All skin types can use the all-natural formula

Dermatologists and allergy tested

Effectively helps in covering empty spaces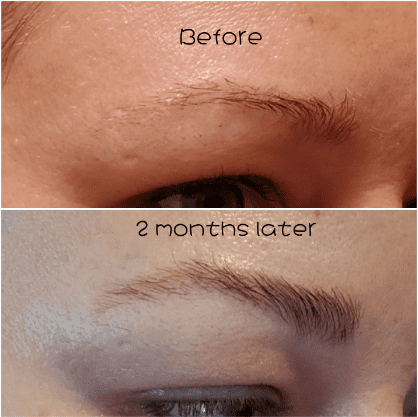 Drawbacks
It may not work for everyone.
Customer Feedback | Nourishbrow
Nicky pinned, "I have been looking for a good eyebrow serum for quite some time but had no luck. Suddenly a couple of weeks back, I came across this review article, after which I started researching more bout the serum. After reading a lot of positive reviews, I decided to buy it. It's been three weeks that I have been using it, and I can already feel the difference in my brows. They look healthier now than earlier, and I can also bet that the formula is slowly filling up my sparse areas. I can't wait to repurchase it!"
Renne commented, "Having sensitive skin, I usually have to strike out many options in skin care, as they either have any allergens or some other ingredients which might invite problems. Luckily this had an all-natural plant-based formulation, so I was pleased to buy it. However, I was shocked when I applied a good layer to my brows, and my skin suddenly started to itch. I could stop myself from scratching, so I washed my face nicely. I cannot figure out the problem, and I don't think I will use it again."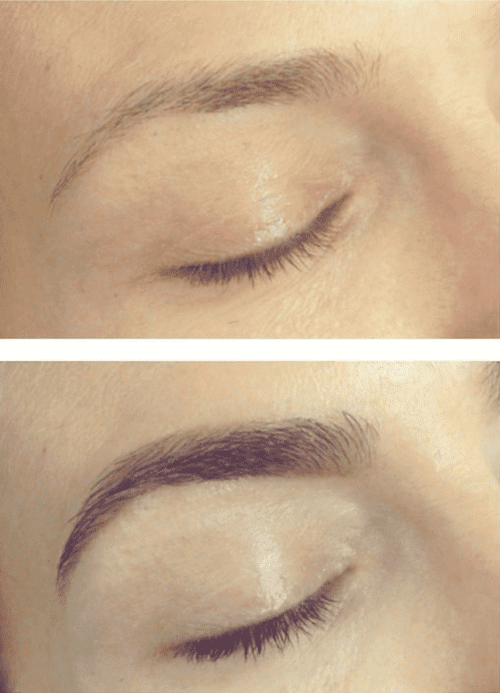 Claudia mentioned, "Brow serums are not my thing because they never do me any good. Surprisingly I don't know how, but I ended up buying this one, and trust me, my life has turned around ever since. My brows are denser, elongated, and look fluffier. I don't feel ashamed anymore to go out and make public appearances. I don't know what I would have done if it weren't for this serum. Even my mom loved this formula so much that we went and bought three more tubes for her! Ever grateful to this brand for giving me back my lost brows."
Richie M.said, "People are hyping this serum up for no reason. I also tried it out and saw no significant improvements in my brows. I thought I would see some changes if I were consistent in my usage, but no. I used it for three months straight before I finally gave up. I guess it's not for everyone, after all. I suggest people not to waste so much of their money and go for other alternatives that would make a difference to their pale brows."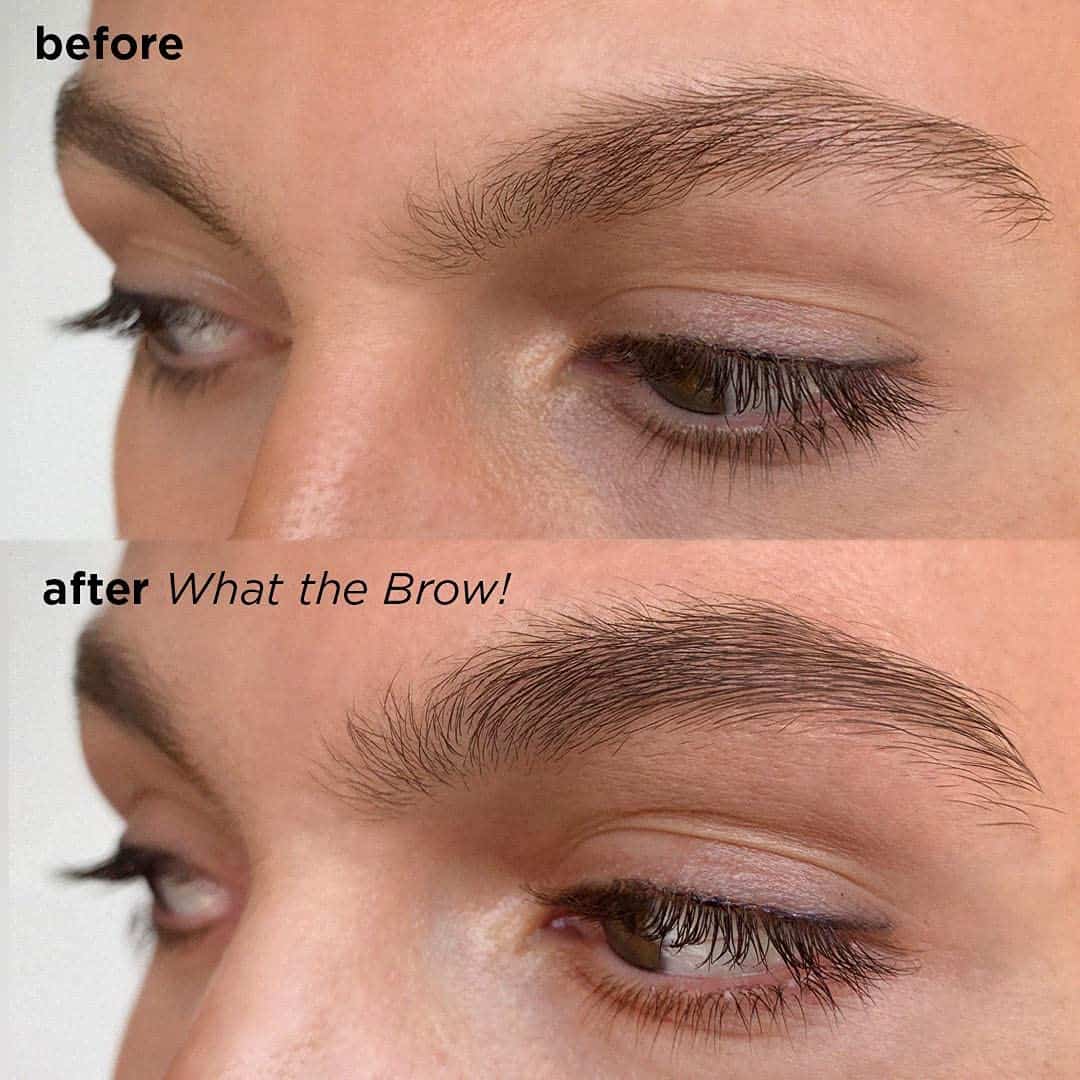 Manny said, "Tried it once, and oh my god, I love this serum to the core! What I love the most about this serum is it has a purely-naturally bucket of ingredients and peptides, which will come together and help infuse your brow hair with essential vitamins and nutrients. This has helped revive my lashes from their dullness and added to their longevity. If I have to choose between this serum and all the other serums I have used to date, this one beats all seamlessly. I would recommend this to all my girlfriends for sure!"
FAQs | Nourishbrow
Nourishbrow, where to buy?
You can easily visit the official website of the revolutionary brand and search for the brow growth serum. You can add the product to your cart and place your order there. Users get many good discounts and much extra detailed information required to order skincare products. You can contact their customer support if you have any queries regarding your order.
Does Nourishbrow work?
Usually, brow-enhancing serums do work but they have special ingredients. Many positively overwhelming reviews have suggested that the brow serum front his brand is a big hit among beauty experts who want to take their brows up a notch by inducing a voluminous growth. However, some had complaints regarding the hefty price tag of the product, while some wanted more quantity because they felt the formula to be too good! The procedure is loved because it has not been tested on animals and possesses a vegan composition.
Who should not use Nourishbrow?
The serum can be used by men and women belonging to different age groups if they want to develop better-looking brows. However, if you are breastfeeding, pregnant, or have any medical conditions, it is better to seek consultation from your dermatologist before taking the plunge. If you have also been assigned to be on any particular medication, it is better to see the doctor before using this brow enhancer.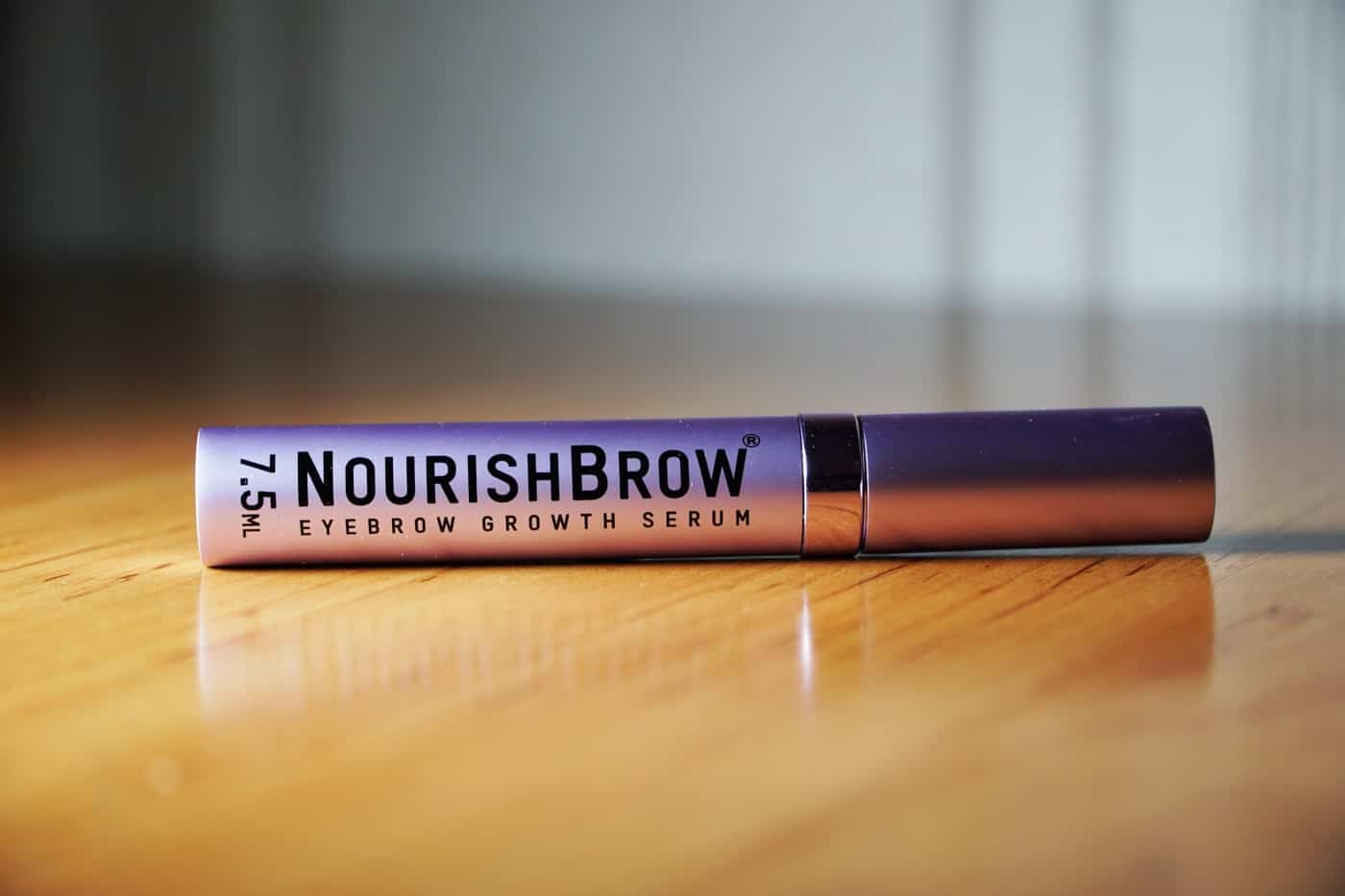 How long does Nourishbrow last?
After applying the serum continuously for eight weeks straight, you can see significant improvements in your eyebrows, resulting in a thicker and denser look. Your brow hairs appear more lustrous, revived, fresh, and healthy. Now, even if you forget to use your serum once or twice, you don't have to worry about your thinning effects or your brow hair falling out. However, it is better to keep applying it if you want to maintain these salon-laminated lashes for longer and flaunt them with confidence.
Can nourishbrow be used on eyelashes?
This growth serum is a unique formula for your brows to get fuller-looking arches in no time. If you want anything to amplify the look of your eyelashes, the brands also feature its bestselling lash serum, which aims to cover all your sparse areas and give you big lashes that grow like a weed. It contains all the high-quality ingredients and comes packed in an aluminum tube so that the purity of the formula is preserved for a reasonable amount of time.
Is Nourishbrow legit?
Yes, the brand has secured its position in the cosmetic industry with its potent formulations of lashes, brows, and other products that help improve your appearance. Its brow serum has the number one position when choosing the best option for fuller-looking arches.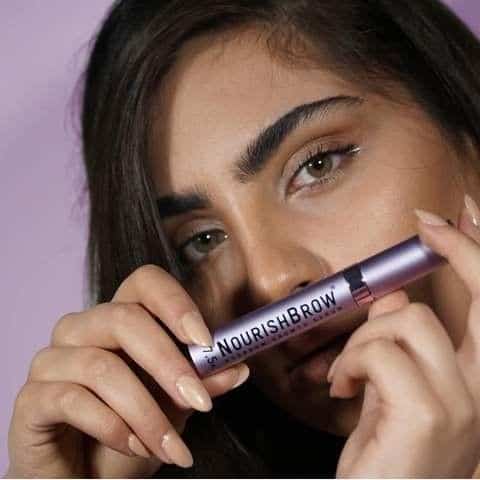 Where is Nourishbrow located?
The main office of the brand is located in Los Angeles, California.
Can Nourishbrow be used on sensitive skin?
Yes, you can use it on sensitive skin as well. As the formula does not contain toxic elements like parabens, phthalates, gluten, added synthetic fragrances, etc., it is safe to use.
Is Nourishbrow safe?
Nourishbrow serum is built upon the rarest herbs, botanical ingredients, and peptide complex, which form a sensational blend of rich nutrition and give your brows the ultimate care they need. Users can apply them to all skin types. However, if you face symptoms like redness or itchy skin, immediately stop your usage, and consult a doctor. Doing a patch test beforehand is advised, so you don't have to encounter any fuss like this.
What are the Nourishbrow ingredients?
The serum is a powerhouse of potent ingredients like a strong peptide complex, hyaluronic acid, biotin, panthenol, pantothenate, camellia leaf extract, and red clover, which offer many benefits to accentuate the overall health of your brows.
Closure | Nourishbrow Reviews
Do you worry about your brows now and then? We too! When it comes to brows all the makeup essentials are in one big basket, everyone will have at least three or four brow serums they rely upon on all their lousy brow hair days! Gels are surfacing a lot of timelines, as they claim to give your brows a bushy, brushy, and bouncy look. But think, what if you did not need them anymore? What if your brows could look fuller without you doing eat strokes in front of the mirror every time you had to step out of the house door?
Interesting, isn't it? So is it achievable or a dream? Experts have broken down that, from the sea of countless brow-enhancing options, they finally caught everyone's one true love in the net! According to Nourishbrow Reviews, the brand's brow-enhancing serum has created a big splash, where everyone wants to get their hands on this beauty to get lovable, luxurious brows.
What most users and we love about this serum is its all-natural feel, which avoids all harmful substances at all costs, and sticks with a botanical approach. There are fewer chances to develop any side effects, as none of the ingredients create any spark so that you can groom your brows in the utmost comfort!
Marilyn's deep interest in fashion, beauty, and lifestyle has led her to pursue a fulfilling career as a freelance writer and blogger. With her bachelor's degree in fashion design from the Fashion Institute of Technology, she has developed a keen eye for style and trends, making her well-equipped to offer valuable insights into the latest fashion and beauty trends.