Going out and enjoying the Sun is all fun and games until you realize the damage exposure to UV rays does. But worry not, because we live in times where there are new brands and skincare trends that come up almost every other day. There have been a lot of anti-aging creams and treatments we know for premature aging.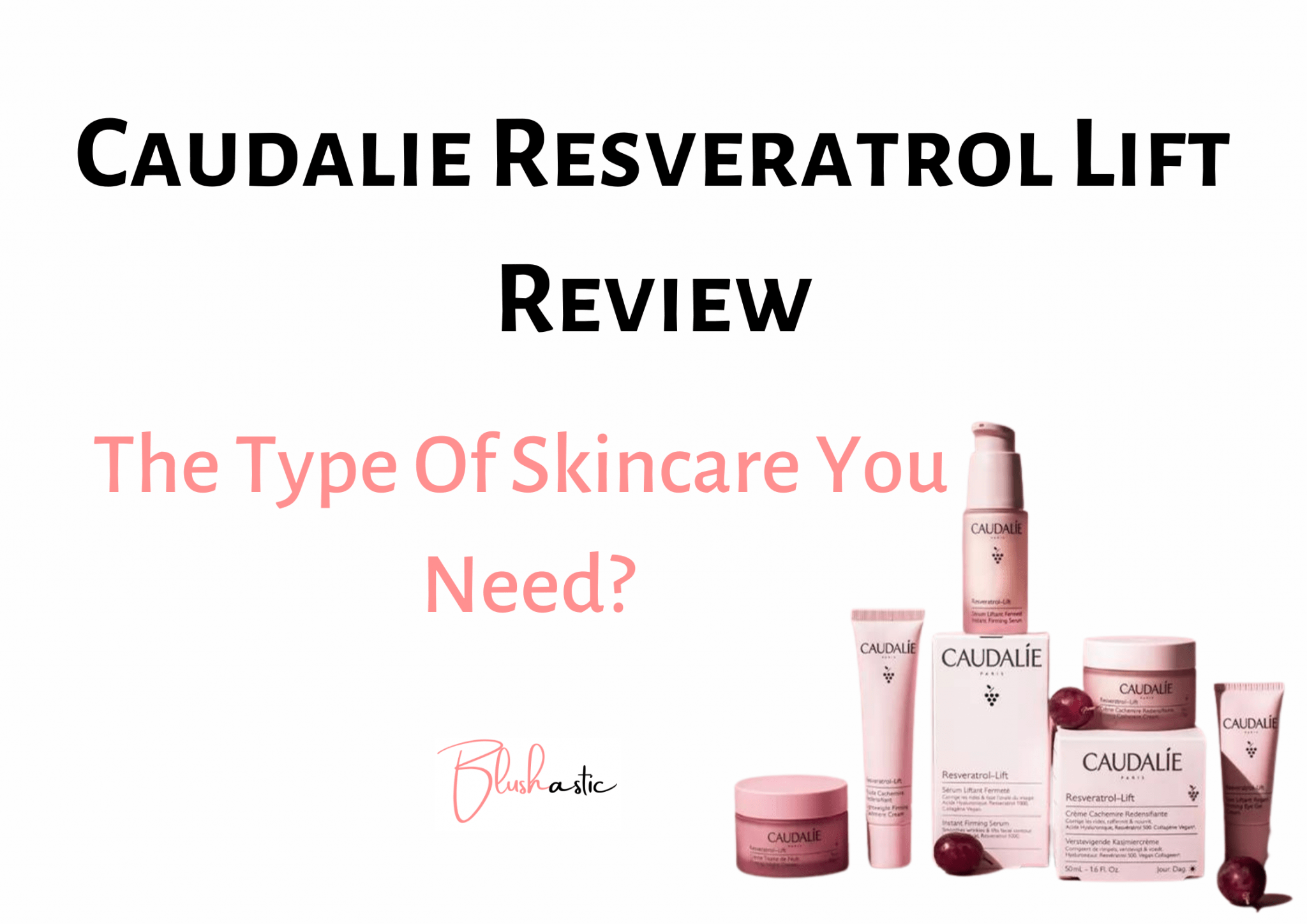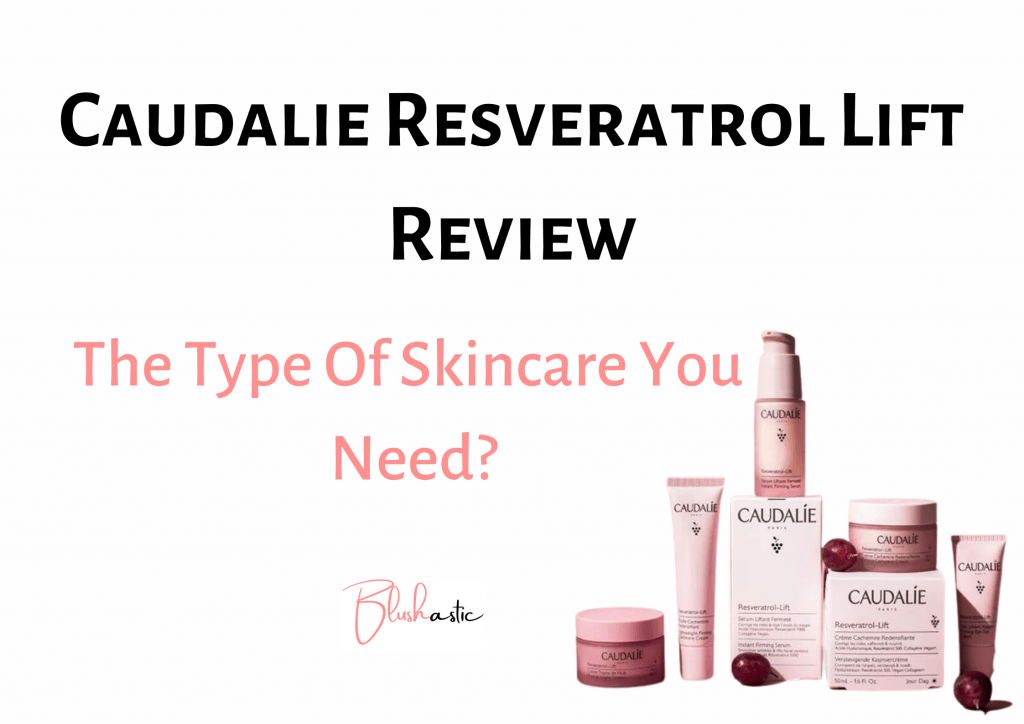 Caudalie is a brand that has a line of products especially for lifting your skin and fighting premature signs of aging. The brand also offers various products that fight facial skin and body-related problems in, fragrances, shower gels, deodorants, and other moisturizers. But if you worry about whether this brand offers everything you need, you needn't worry. Our report based on Caudalie Resveratrol Lift reviews will give a better view of their product range.
Caudalie Resveratrol Lift Reviews | About The Brand
Knowing about the brand and the products you will use is a better idea. Considering that, you are taking the right step if you have concerns about environmental sustainability. This is because Caudalie is a proud member of '1% For The Planet', contributing 1% of its yield to organizations that protect the environment.
The story of Caudalie started way back in the 1990s when Mathilde and Bertrand Thomas, the husband-wife duo, discovered the incredible benefits of grapes and vines for the skin. Based on that, and with the help of Professor Joseph, they began creating a process to form the present Caudalie brand by using grape seed extracts in their products. 
The brand developed many products using Resveratrol, whose primary sources include grapes. But here's the Resveratrol-lift product line that aims to provide skin benefits while making you look younger and radiant. Hop on to find out more about these.
Caudalie Resveratrol-Lift Instant Firming Serum
The Resveratrol-lift Instant Firming Serum is about getting that firmed skin by correcting wrinkles and lines. As the name suggests, it works on giving your skin an instant lifting effect or an instant firming effect with the presence of its magical ingredients. It is formulated with the brand's special Resveratrol, hyaluronic acid, and a vegan collagen alternative.
Resveratrol, a natural anti-aging ingredient, works its magic by showing its antioxidant properties while reducing factors affecting the skin and making it age quicker. It also has anti-inflammatory properties that cause your skin to be soothed. Meanwhile, the presence of hyaluronic acid is just like the cherry on the cake,  as it not only provides some crazy moisturizing benefits but also makes your skin flexible and fights off stubborn wrinkles and lines on your skin. Vegan collagen also promotes your skin's radiance, making it look youthful and beautiful. 
Pros
It has a power-packed ingredient list that serves excellent skin benefits, especially for aging.

The brand claims it is 2 times more effective than retinol alone.

According to a clinical study, 84% experienced firmer skin.

It is made up of almost 100% naturally originated ingredients.

It also consists of peptides that make your skin look plumper and smoother.

Non-oily.

Light-weight formula.

Dermatologically-tested.

It is non-comedogenic.

Vegan.

Cruelty-free.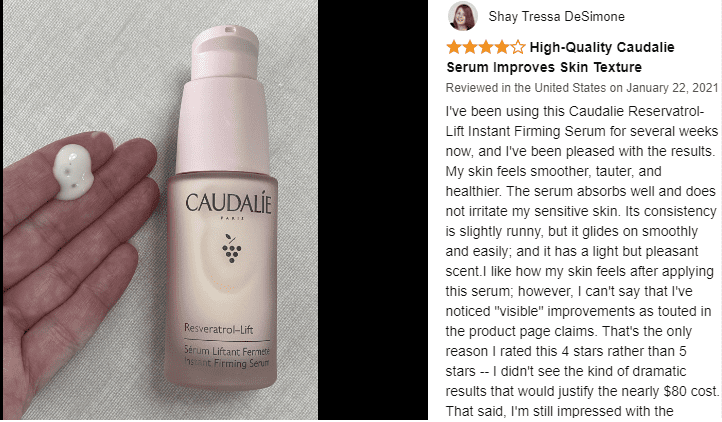 Cons
It can be costly.

Some users did not experience differences in their skin even after weeks of application.
Caudalie Resveratrol-Lift Firming Eye Gel-Cream
If aging comes into consideration, eyes are among the first signs of aging. Keeping that in mind, there are several eye gels or creams, and just like that, here is Caudalie's Anti-aging Wrinkle Eye Cream. The eye cream gives you an airbrushed effect by smoothing out the counters near your eyes. As per the claims made by the brand, this eye gel also reduces the puffiness of your eyes and the under-eye wrinkles.
Formulated with the brand's patent Resveratrol formula, the eye cream also contains Quinoa extract. Quinoa extract activates lipolysis and hence minimizes the puffiness around the eyes. Quinoa extract reduces swollen eye areas and ensures your skin maintains its structural integrity. It also consists of sunflower seed oil that minimizes the signs of aging while hydrating your skin. Along with these, the eye cream also consists of some key ingredients, vegan collagen and hyaluronic acid.
Pros
The quinoa extract provides excellent anti-aging benefits for your skin and reduces eye puffiness.

It has been tested ophthalmologically.

As per a clinical trial, 83% of people noticed a reduction in puffiness.

Does not contain any fragrance.

It makes the skin feel smooth.

It gets absorbed into the skin well.

Free from mineral oils, sulfates, and parabens.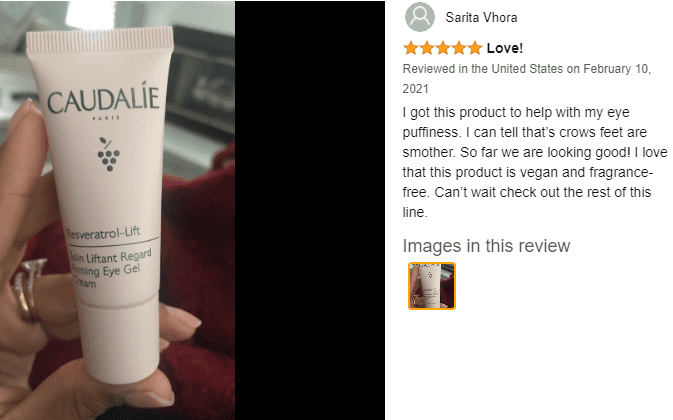 Cons
People found it very expensive and said its alternatives did a better job and were cheaper.
Caudalie Resveratrol-Lift Firming Cashmere Cream
The brand's Firming Cashmere Cream has a luxurious texture that glides onto the skin smoothly. Since it isn't only about gliding, the cream deeply hydrates the skin while giving you an instant lift. The cream is as soft as the name suggests, Cashmere-soft, nourishing your skin. As you already know, this product lies in the anti-aging range, so yes, the cashmere cream also has properties that provide you with firmer skin.
Caudalie Resveratrol-Lift Firming Cashmere Cream, 1.6 Fl Oz
A anti-aging daily moisturizer to visibly firm, lift, and reduce the look of fine lines and wrinkles with patented resveratrol, hyaluronic acid, and a vegan collagen alternative.
Skin Type: Normal, Dry
Skincare Concerns: Fine Lines and Wrinkles, Dryness, Loss of Firmness and Elasticity
Formulation: Cream
Ingredient Callouts: This product is vegan .
Like the other resveratrol-lift products, the cream also consists of hyaluronic acid, resveratrol, and vegan collagen. Apart from these key ingredients, it is also enriched with phospholipids and lipid molecules that shield your skin while keeping it hydrated. Another famous ingredient in the cream is shea butter, which is globally loved for its excellent moisturizing benefits. It simply stays true to its value and serves antioxidant and anti-inflammatory properties. 
Pros
It consists of shea butter that deeply moisturizes your skin.

It has a very smooth and soft texture.

It is dermatologically tested.

Does not feel greasy.

Non-comedogenic. 

It has a pleasant smell.

As per a clinical study, around 95% of people experienced firmer skin.
Cons
It is expensive.

Some people complained that it did not absorb well, especially on oily skin.
Caudalie Resveratrol-Lift Lightweight Firming Cashmere Moisturizer
The lightweight Cashmere Moisturizer, as the name says, is a light form of the Cashmere Skin Firming Cream. The cream or moisturizer also works on minimizing the appearance of wrinkles while providing your skin with the hydration it desperately needs. It is infused with similar ingredients to the firming cream, but to make it different and unique, it is added with olive squalane and mineral pearlizers. 
The presence of olive squalane helps in smoothing and softening skin as it is a fantastic emollient. It can deeply dig into the skin and also enhance skin elasticity. While performing these actions, it also makes sure your skin does not lose moisture as it locks it in your skin. Mineral pearlizers are added to make the texture of the cream super soft and shiny while giving you an instant glow, so your happiness can glow not only internally but also visibly on your skin.
Pros
The moisturizer contains an extra olive squalane that makes your skin very smooth and buttery soft.

The presence of hyaluronic acid makes it an excellent hydrating cream.

It does not contain oil.

It has a lightweight formula.

The texture is very creamy and velvety.

As per a clinical study, 80% of people noticed a glowing complexion.

Non-comedogenic.

It is dermatologically tested.

It gives you an instantly glowing complexion.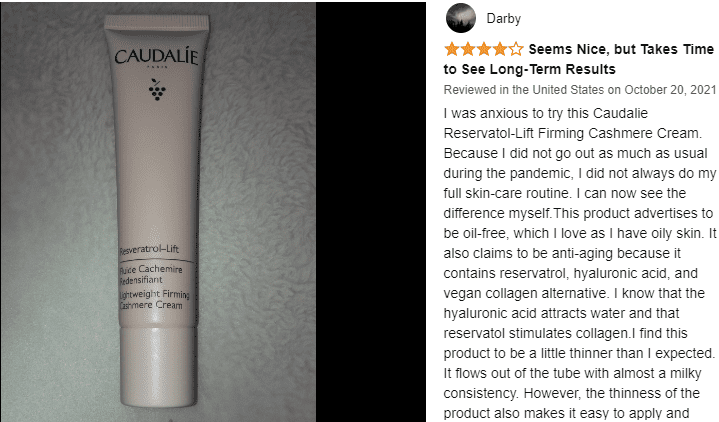 Cons
Some users felt it sat down on their skin, making it feel greasy or sticky.
Caudalie Resveratrol-Lift Firming Night Cream
The Resveratrol-Lift Firming Night cream is similar to the Firming cream and nourishes your skin deeply while you relax at night. It has around 98% natural origin ingredients that work on visibly lifting as well as firming your facial skin. According to some Caudalie Resveratrol Lift reviews, it combines resveratrol, hyaluronic acid, and vegan collagen alternative that redefine the face's contours overnight.
The night cream is also infused with olive squalane, peptides, and the trio. The peptides in the moisturizer help get you young, firmer, and radiant skin. In fact, as per some people, peptides may also result in reduced acne breakouts. 
Pros
It helps in visibly firming and contouring your facial skin.

Apart from firming the skin, it also provides moisturizing benefits.

There is a reduction in the appearance of wrinkles.

As per a clinical study, 90% of people noticed smoother skin.

It provides good nourishment to your skin while you relax at night.

Non-comedogenic.

It is dermatologically tested.

It keeps your skin hydrated.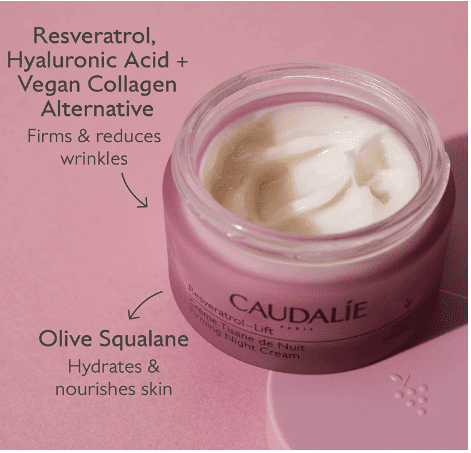 Cons
The smell can be too intense for some people.

There are quite a few reviews available.
Customer Feedback | Caudalie Resveratrol Lift Before and After Reviews
A user named Kat13 said, "I received a moisturizer sample and the serum I had. When compared with the serum, it is quite clear that the moisturizer had a heavier formula. However, I liked using it, though it felt slightly oily and sticky. But the good part is that it feels velvety, smooth, and soft. But one downfall, especially for me, was that it felt quite uncomfortable when I applied it on my cheeks in areas with pores. Because of this reason, I am not sure if I will repurchase it. But, honestly, it does provide you with that firming effect!"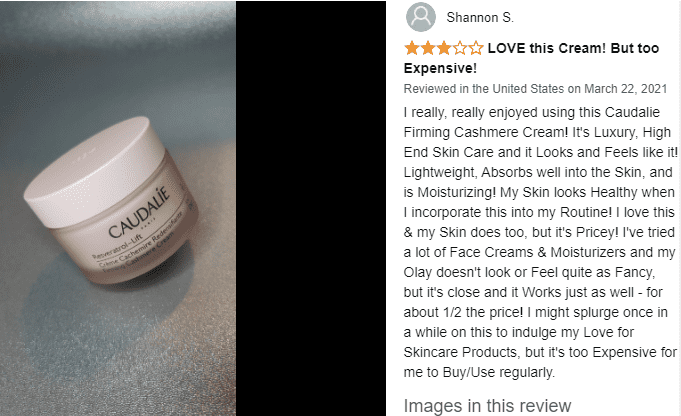 MrsSunday commented, "For quite some time, Caudalie has been my favorite skincare brand. The brand's serum is like a creamy liquid. I used to apply only oil serums, so this serum was a new try. The one drawback of this serum I want to mention is its fragrance. Though I am not very sensitive to smells, this serum has a strong perfume scent that makes me not put it on my fingers.
It has a feminine and clean smell but is a little overpowering. It might not be a big deal for me, as my night moisturizer covers up the serum's smell. I give it 4 stars because of how smooth and good my skin feels after applying it, but about the fragrance, nope, not too crazy about it."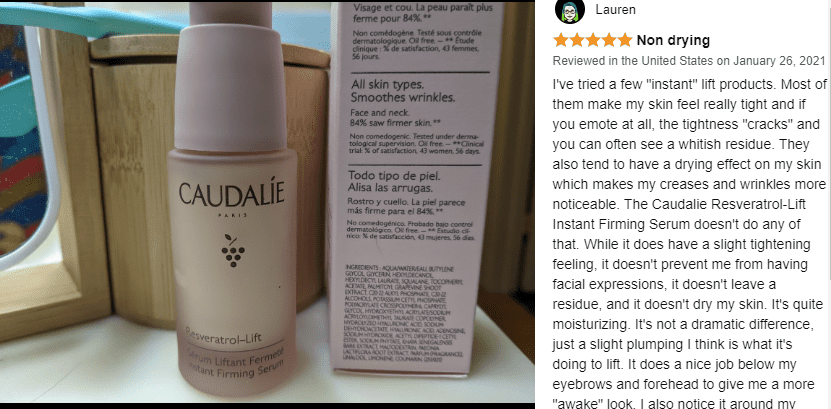 A user of Rabbit said, "The Caudalie moisturizer is good for evenings; in fact, it does a good job of keeping my skin hydrated as well as plumped during the night. But talking about the day, I would pass it because it forms layers on my skin. And when I try to cover up those layers with my tinted sunscreen, it just gets piled up awfully. The fragrance and ingredients are amazing, but being the brand it is, I expect more from Caudalie. It is a good moisturizer as long as it is the last thing on your skin."
FAQs | Caudalie Resveratrol Lift Reviews
Does Caudalie contain retinol?
The brand claims it makes its products from its exceptional retinol alternative, which is supposed to be two times more effective than retinol in skin firming.
How many times do I use the Caudalie Resveratrol Lift Serum?
As per the brand, to get the best results, apply the serum two times a day, once in the morning and once in the evening.
Is Resveratrol suitable for your face?
As per a study, the application of Resveratrol showed an improvement in wrinkles and lines, as well as the elasticity of your skin. Furthermore, it is said to have double effects, increasing antioxidant levels and neutralizing free radicals.
Final Words
There are numerous anti-aging and lifting creams out there. It's just about choosing the right ones with the right ingredients. According to Caudalie, the Rsveratrol-lift contains a component that is supposed to be twice as effective as retinol. Based upon various Caudalie Resveratrol Lift reviews, most of these products did their job and have kept their customers happy. But are you satisfied with your skin right now? It's high time you get yourself to choose among these products and check for yourself if they are worth those positive reviews or not.
Marilyn's deep interest in fashion, beauty, and lifestyle has led her to pursue a fulfilling career as a freelance writer and blogger. With her bachelor's degree in fashion design from the Fashion Institute of Technology, she has developed a keen eye for style and trends, making her well-equipped to offer valuable insights into the latest fashion and beauty trends.