After laying low for quite some time, toners have made a comeback in skincare with a bang. Many people are including toners in their beauty routines owing to their lightweight, fast-absorbing, refreshing, and moisturizing qualities. However, thanks to the hype surrounding Korean skincare, milky toners are particularly standing out and rapidly earning praise for their soothing and hydrating attributes.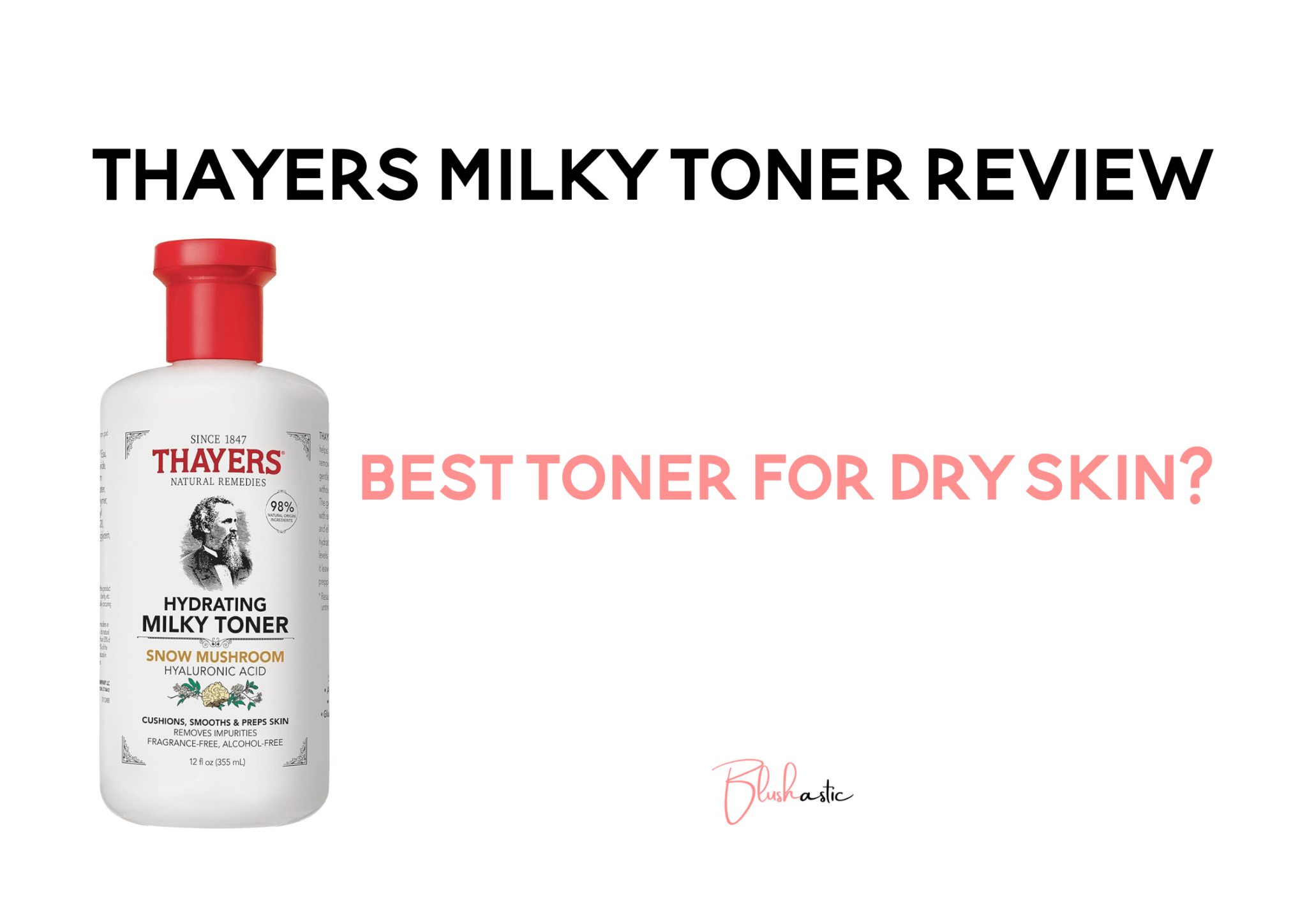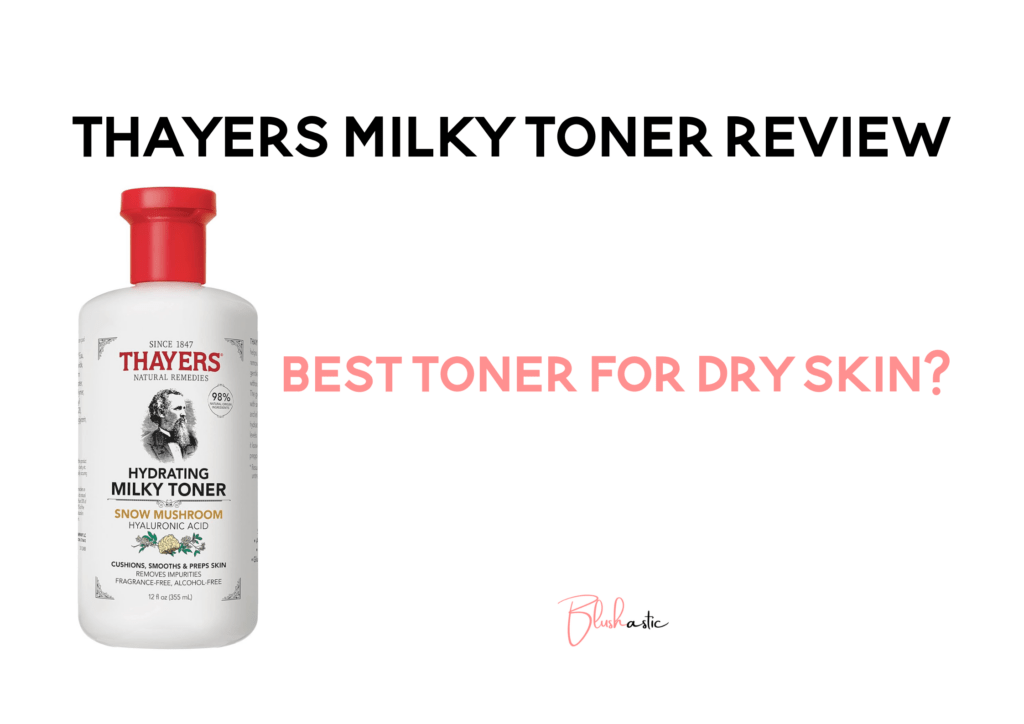 If you're into skincare, you're probably familiar with Thayers toners, which have remained popular for years. So when I found out they had a milky toner under their wing, I was all too excited to try it. We'll closely inspect it and read consumer Thayers Milky toner reviews to determine the true potency of this milky goodness. But wait, if you've never heard of toner, let alone milky toner, don't worry because I'll go over the necessary details. So, without further ado, let's get down to the nitty-gritty.
Thayers Milky Toner Reviews | Worth Trying?
Toners, in my opinion, are like water for the skin. Let me explain why. Firstly, they share a striking resemblance to water due to their liquid form and colorlessness. As water flushes toxins from our bodies, toners play a similar role in cleansing the skin by gently removing dead skin cells, gunk, and other impurities. Finally, they provide hydration while soothing inflammation, redness, and irritation.
Toners are infused with skin-loving ingredients such as Hyaluronic Acid, Aloe, and Glycerin. They are very gentle, making them ideal for sensitive, dry, or irritated skin. Nevertheless, numerous formulations with different ingredients and purposes are available for various skin types. Toners are apt for cleansing the skin and increasing moisture without stripping the skin's natural barrier and oils.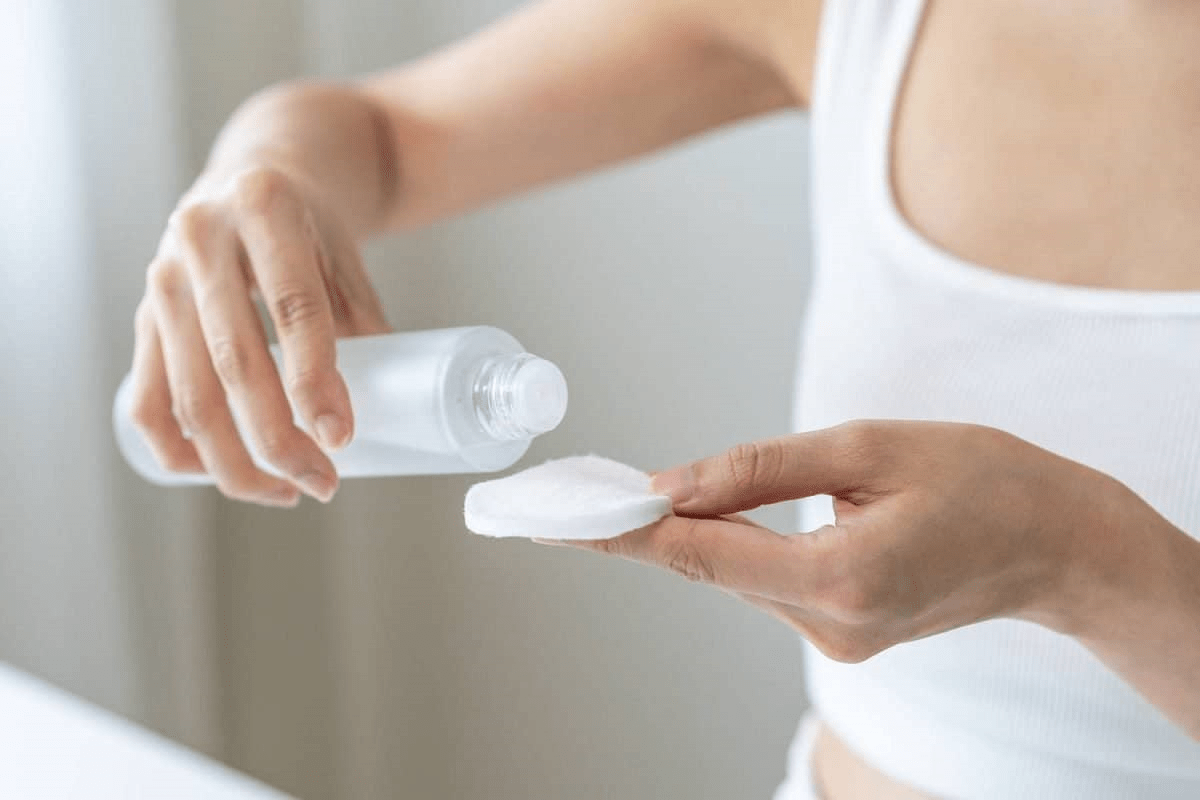 Toners provide the following advantages:
Restoring the skin's pH balance.
Tightening and minimizing pores.
Reducing dryness, itching, and roughness.
Soothing skin irritation.
Assisting in controlling excess oil.
Enhancing hydration.
Improving the effectiveness of other skincare products.
Milky Toner VS Regular Toner
Before we dive into Thayers Milky Toner, it's important to understand how milky toners differ from regular toners. Here are some distinctions between the two.
Appearance and Texture: Milky toners are thicker and have a white tint, whereas regular toners are watery and clear. Normal toners feel weightless and leave no greasy or sticky residue. On the other hand, milky toners nourish the skin deeply and may leave it feeling a little heavy because they form a thin layer of moisture on top of the skin.
Performance: Regular toners offer moderate hydration for a limited time and mainly concentrate on cleansing, calming, and maintaining skin balance. In contrast, milky toners, with their creamy texture, deliver prolonged and elevated hydration, primarily targeting the elimination of dryness.
Best Suitable For: Regular toners are suitable for all skin types, but their lightweight texture is particularly well-matched for people with combination or oily skin. Conversely, milky toners are creamy and thick, making them an excellent choice for dehydrated and irritated skin.
About Thayers
Thayers has been in business since 1847, marking an impressive legacy of over 175 years. Dr. Henry Thayer, the leading man behind this personal care brand, was born on May 14, 1823, into one of Massachusetts' pioneering families. He studied medical arts at Boston Medical School. In 1847, he established a laboratory to manufacture and sell his newly developed herbal extracts to medical professionals.
This company was notably described as the largest manufacturer of pharmaceuticals in America during the Civil War. Thayers was awarded a silver medal by the American Institute of New York in 1855 for excellence in the preparation of fluid extracts, and the company was awarded apparatus to produce these fluids in 1856.
In 1989, alcohol-free versions of the Witch Hazel line were released as facial toners. This toner is still widely used and trusted by many people to refresh and revitalize their skin. Thayers has carved out an indelible place in the beauty industry thanks to its long history, prominent expertise, and the trust of thousands.
Thayers Milky Toner
Among the diverse selection of toners, Thayers offers a milky toner that promises to hydrate the skin for 48 hours, remove impurities, and strengthen the skin's natural barrier. This pH-balanced toner boasts a gentle, creamy texture that effortlessly glides and absorbs into the skin. It claims to be powerful enough to boost skin hydration by up to 35% and provide long-lasting hydration even without using a moisturizer.
Sale
THAYERS Milky Face Toner Skin Care with Snow Mushroom and Hyaluronic Acid, Natural Gentle Facial Toner, for Dry and Sensitive Skin, 355mL
Milky Hydrating Toner: This facial toner delivers 48 hours of moisture leaving skin feeling soft, cushioned and hydrated. Toner for face helps skin feel hydrated while removing impurities. Alcohol free toner is suitable for sensitive skin
Finest Natural Ingredients: Thayers vegan facial toner is formulated with snow mushroom, hyaluronic acid and elderflower water. This pH balanced, milky hydrating toner for face helps to tone skin without disrupting its moisture barrier
Face Skin Care Essential: Gentle on skin, this hydrating toner for sensitive skin is creamy and non-drying. Thayers Milky Toner leaves skin feeling smooth, comforted and prepped for the rest of the facial skin care products in your routine
Cruelty-Free and Sustainable: Thayers Milky Hydrating Face Toner is 100 percent cruelty-free and free of any animal ingredients, and we aim to reduce waste by offering recyclable packaging. Paraben, phthalate, oil and gluten-free. Non-Comedogenic
Hydration Infusing: Helps to remove impurities and prep skin. The gentle milky formula redefines toning with boosted hydration levels.
This toner is packaged in a 355 ml bottle with a flip cap that allows you to dispense the required amount of product carefully. It is best suited to dry and sensitive skin. Thayers ensures that this product has undergone dermatological and clinical testing for maximum safety. The formula is vegan and free of harmful ingredients like alcohol, fragrance, phthalates, and parabens. It is also cruelty-free, which means it was never tested on animals.
Thayers Milky Toner Ingredients
Tremella Fuciformis Polysaccharide: This compound, known as snow ear or white jelly mushroom, is an ancient herbal plant used in medicine and Asian cuisine. It is molecularly similar to Hyaluronic Acid but has a smaller particle size, allowing it to penetrate the skin more quickly and efficiently. Snow mushroom performs as a humectant, which helps the skin retain moisture. According to research, this element may play a role in anti-aging, photoprotection, wound healing, and barrier support.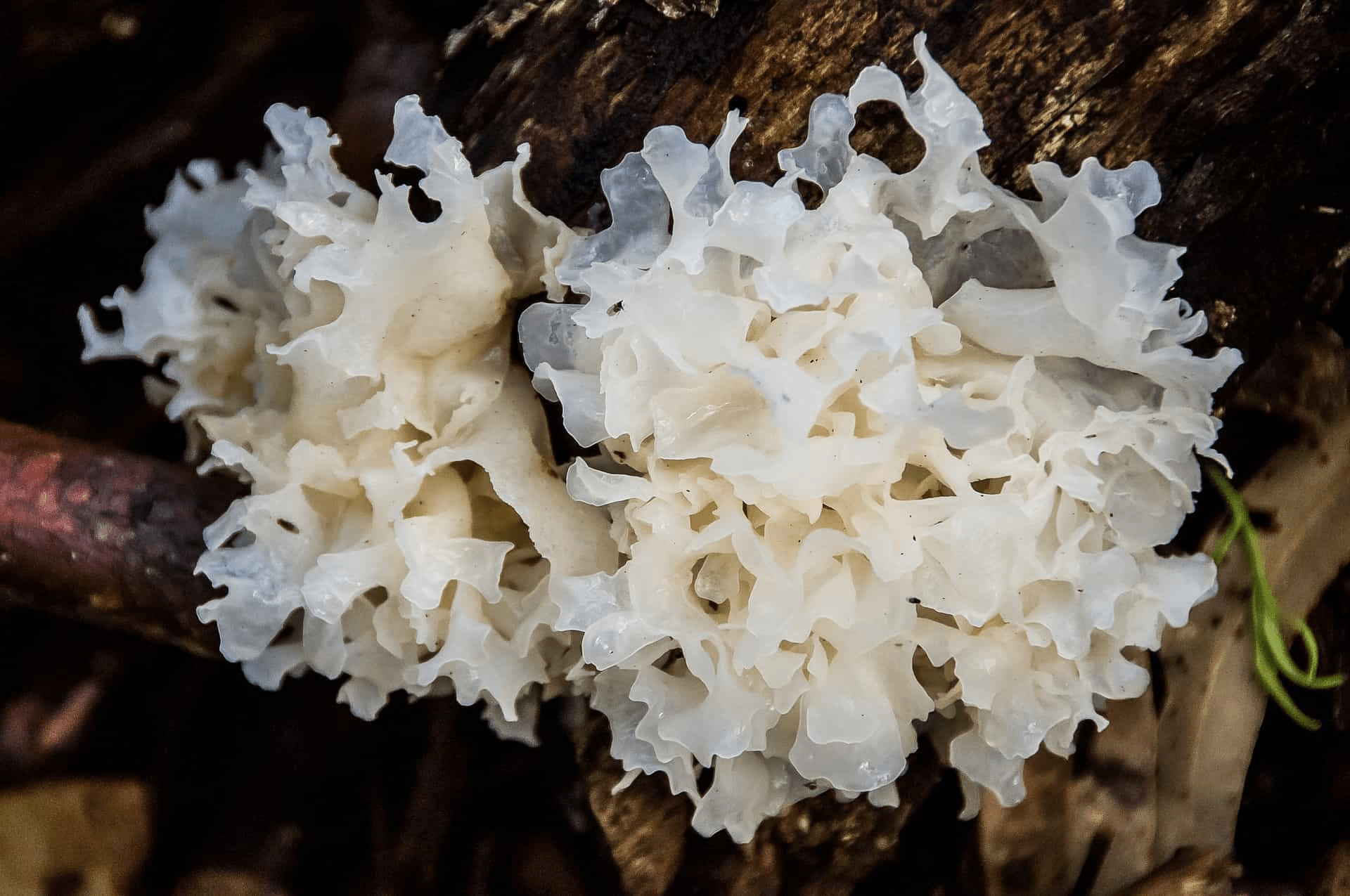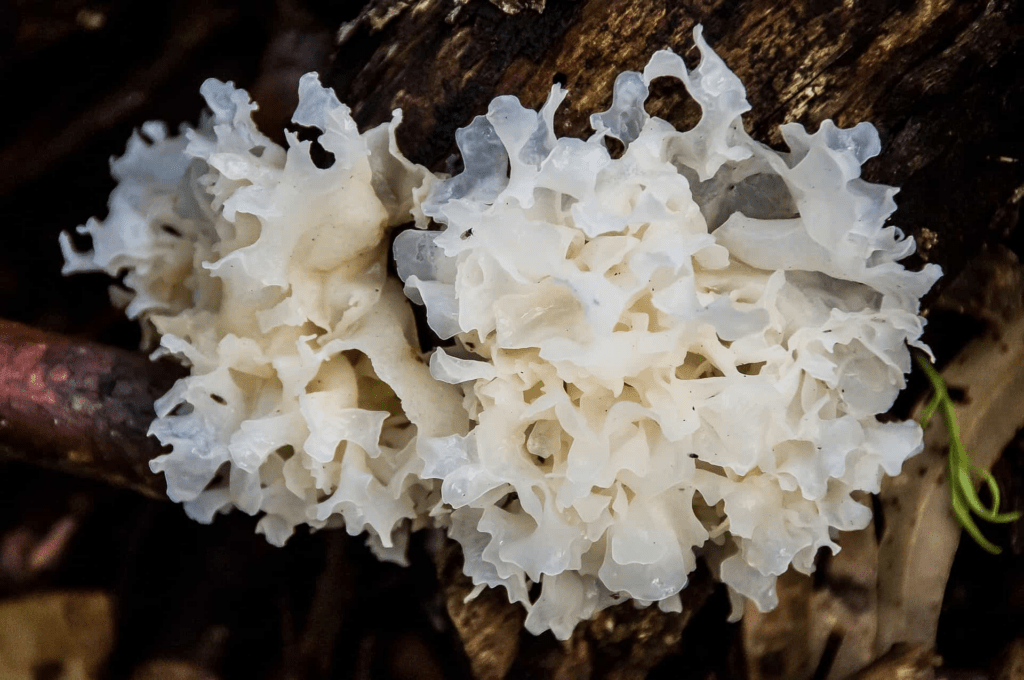 Sodium Hyaluronate: This ingredient is a form of Hyaluronic Acid with a low molecular weight, which allows it to penetrate the skin deeply. As a result, it significantly increases moisture in every layer. Topical application of Sodium Hyaluronate also contributes to plump, dewy, and supple skin. Moreover, it offers anti-aging properties because it helps reduce the appearance of fine lines and wrinkles, making your skin look younger. This element also helps to reduce the redness and inflammation caused by skin conditions such as eczema and seborrheic dermatitis.
Sambucus Nigra Flower Water: This extract originates from lilac flowers and treats thread veins and aging signs. It significantly increases hyaluronic acid production, thus elevating skin moisture levels. It also protects capillaries and improves their elasticity. Sambucus Nigra Flower Water also has strong antioxidant properties that aid in the fight against free radicals (unstable molecules that cause cellular damage and aging). Overall, this component is a powerhouse of potent nutrients that can significantly transform your skin.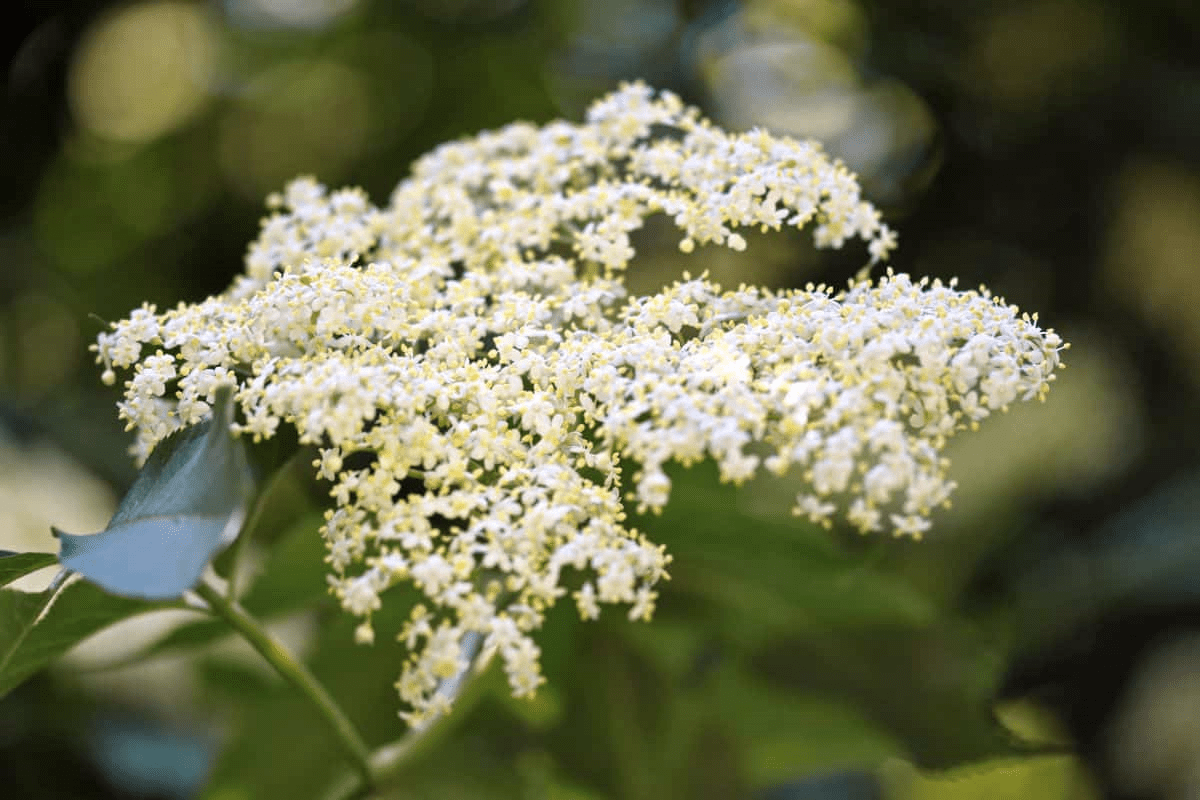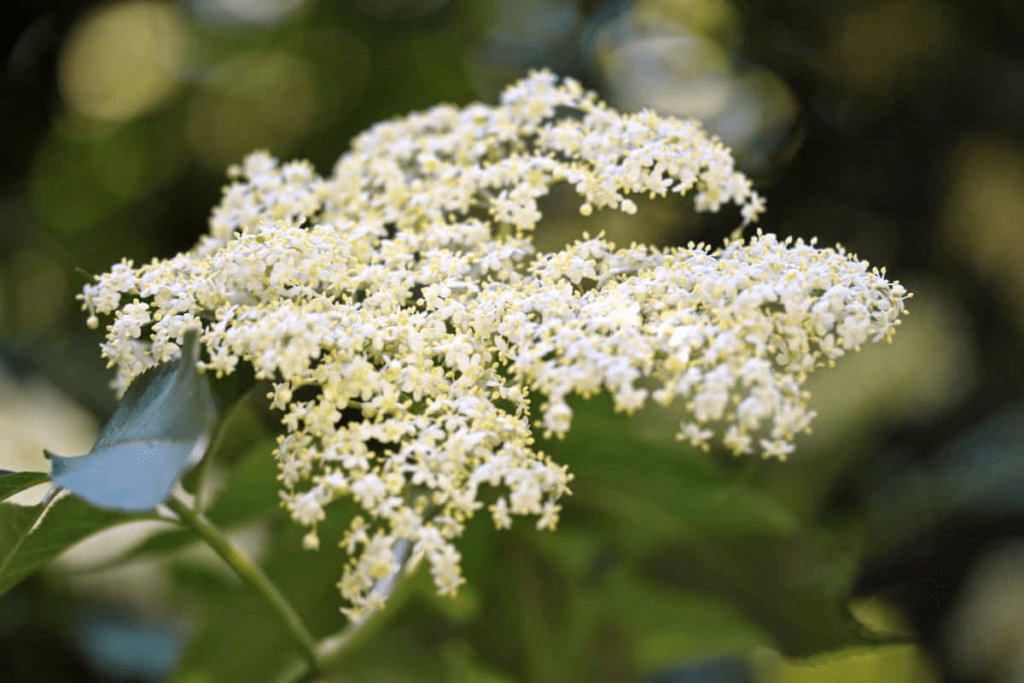 Glycerin: This is a versatile ingredient frequently found in skincare products. It is a potent humectant, meaning it attracts and retains water from the air to keep the skin hydrated. Glycerin's ability to increase moisture content in the skin helps to reduce the appearance of fine lines and wrinkles, making it an effective anti-aging ingredient. Furthermore, it strengthens the skin's natural barrier, heals wounds, and soothes irritation.
Pros
Dermatologically tested for safety
98% natural origin ingredients
Zero parabens, phthalates, alcohol, and fragrance
Rich, milky, and creamy texture
Suitable for dry and sensitive skin
Provides 48 hours of hydration
Boosts moisture levels by 35%
Strengthens the skin's moisture barrier
Removes impurities
Makes the skin smooth and supple
Non-comedogenic
Vegan and cruelty-free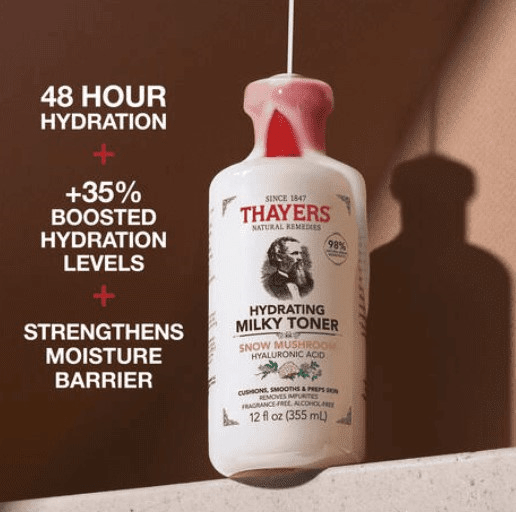 Cons
It may feel heavy or greasy on oily skin type.
A few customers reported breakouts.
How to Use Thayers Milky Toner?
Wash your face thoroughly using a non-stripping cleanser to remove excess oil, dirt, and grime.
Gently pat your skin dry with a clean tissue or towel.
Take a few drops of the Thayers Milky toner on a cotton pad and swipe it across your face.
Alternatively, you can take a few drops on your palms and gently pat the product onto your skin.
Follow up with your preferred serums, moisturizer, and, if it's daytime, sunscreen.
Use this toner twice daily, both in the morning and at night.
Thayers Milky Toner VS Witch Hazel
For those who are unfamiliar, I'd like to introduce a cult-favorite Thayers toner that has graced the shelves of beauty enthusiasts for several years. I'm referring to the Original Witch Hazel Toner, which has long enchanted users with its ability to renew and refresh skin. If you're wondering how milky toner differs from the original toner, here are some key differences to help you choose the right product.
Consistency: The appearance and texture of the two toners are noticeably different. The milky toner has a bright white tint and a rich, creamy consistency that promises to nourish the skin deeply. The Original Witch Hazel Toner, on the other hand, has a colorless, watery texture that promises to be lightweight and fast-absorbing.
Ingredients: The original toner's key ingredients are Witch Hazel, Glycerin, and Aloe, primarily aimed at cleansing and hydrating the skin. In contrast, Hyaluronic Acid, Snow Mushroom, and Elderflower Water are the star ingredients in the milky toner. These ingredients are focused on nourishing and moisturizing your skin. Both toners are free of irritants and drying agents such as alcohol, making them suitable for most skin types.
Benefits: While both toners focus on delivering moisture to the skin, due to their different compositions and purposes, they also provide additional benefits. The Witch Hazel toner claims to rebalance the skin, shrink pores, remove skin texture, and even out the complexion. The milky toner, on the other hand, is expected to significantly increase moisture levels, soothe the skin, and relieve irritation. It will also fortify your skin barrier, leading to healthier skin.
Ideal For: Owing to Witch Hazel's astringent properties, the original toner is best suited for people with combination or oily skin, as it can help eliminate excess oil and make pores appear smaller. The milky toner is ideal for people with dry skin and sensitive skin conditions such as eczema. Nonetheless, both toners can be used by most skin types if used correctly and according to your skin's needs.
Customer Reviews | Thayers Milky Toner Review
Buzzing Korean Skincare videos on Instagram greatly influenced my decision to try a milky toner. It was very tempting to see so many people raving about them while flaunting their plump and dewy skin. So, I chose this product during a random grocery run. I had doubts about how this toner would react to my oily skin. I was concerned that it would make my skin more oily or greasy. To my surprise, this toner doesn't bother me much during the day; aside from some shine at the end of the day, I haven't encountered any other issues.
I'm guessing this is because winter is just around the corner, and the weather has already turned cold. I don't think I'll be able to use this toner during the summer because it will make my skin feel greasy. Nonetheless, for the time being, I'm thoroughly enjoying using this twice daily. I must say that my skin no longer feels rough, and I haven't noticed any peeling due to the increased moisture levels. Also, my skin feels buttery and soft. I'm definitely going to stick with this product for a while.
While that was my personal experience, let's look at some other customer reviews to see what people think of it.
Louisiana said, "I honestly think this toner was made for my dry and eczema-prone skin. It is extremely gentle and immediately soothing. It also greatly minimizes the redness on my face. I recommend that all dry skin girlies try this product once."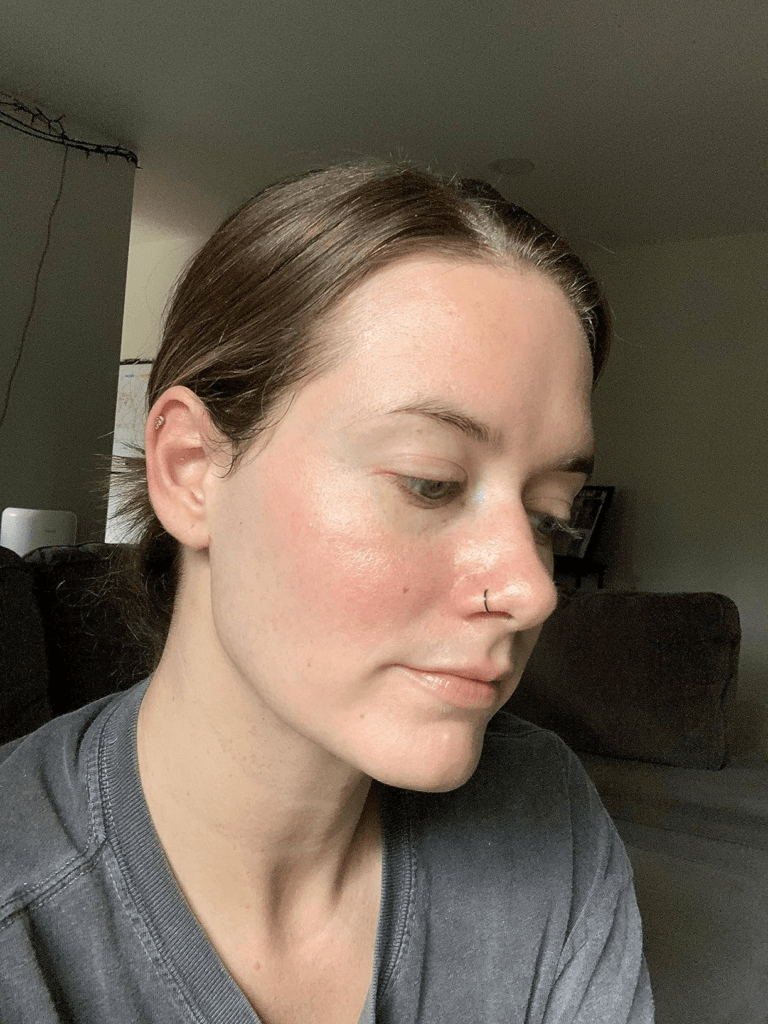 Melissa explained, "I've only recently started using this toner, so I'm still figuring out its benefits on my skin. Nonetheless, I enjoy its creamy texture, which instantly hydrates my skin. I also like how it leaves my skin looking dewy, plump, and glassy."
Gina stated, "I was very excited to try this product, but to my dismay, I started noticing breakouts soon after using it. I'm guessing it's purging, and my skin is probably adjusting. I will take a week off from this and try again."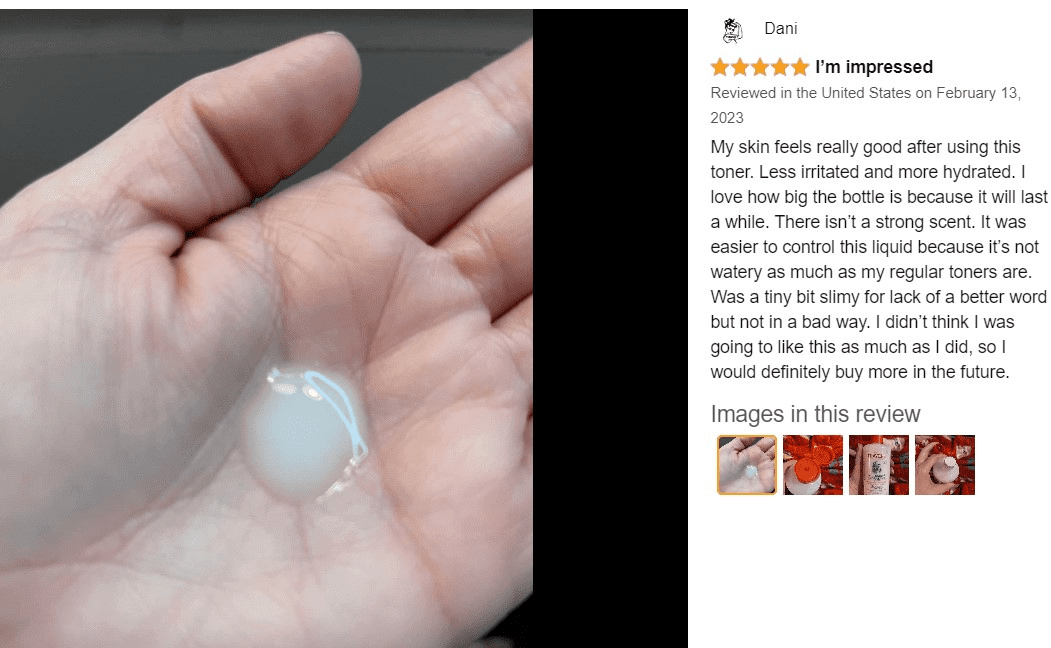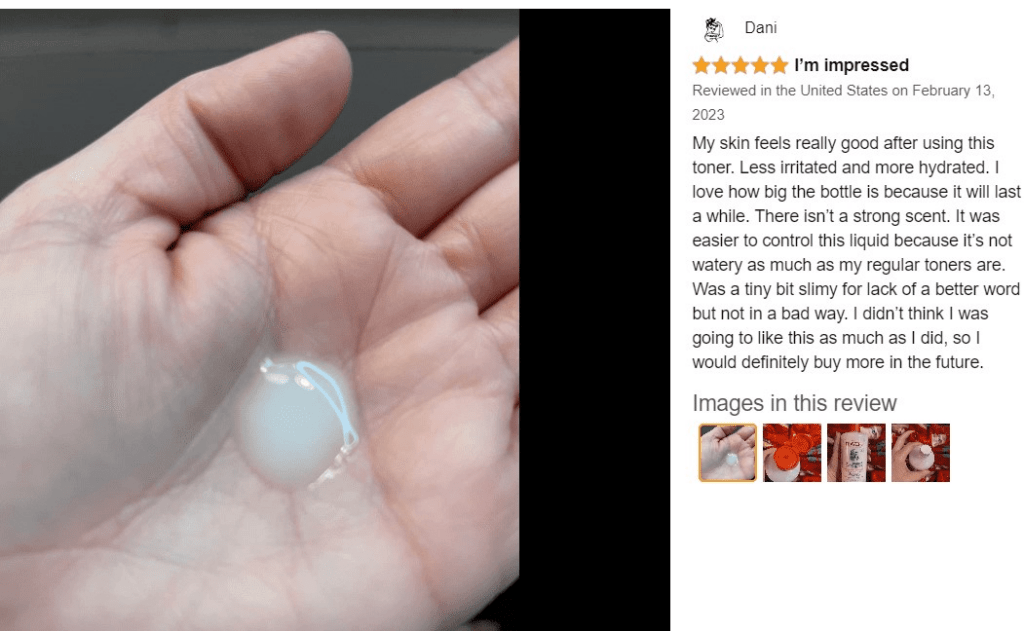 Frequently Asked Questions | Thayers Milky Toner Reviews
What is Thayers Milky toner good for?
Thayers Milky toner is an excellent choice for hydrating and nourishing your skin. It can assist you in dealing with dryness and the associated issues such as redness, itching, roughness, and flaking. This toner is also effective at improving the skin's moisture barrier and alleviating irritation.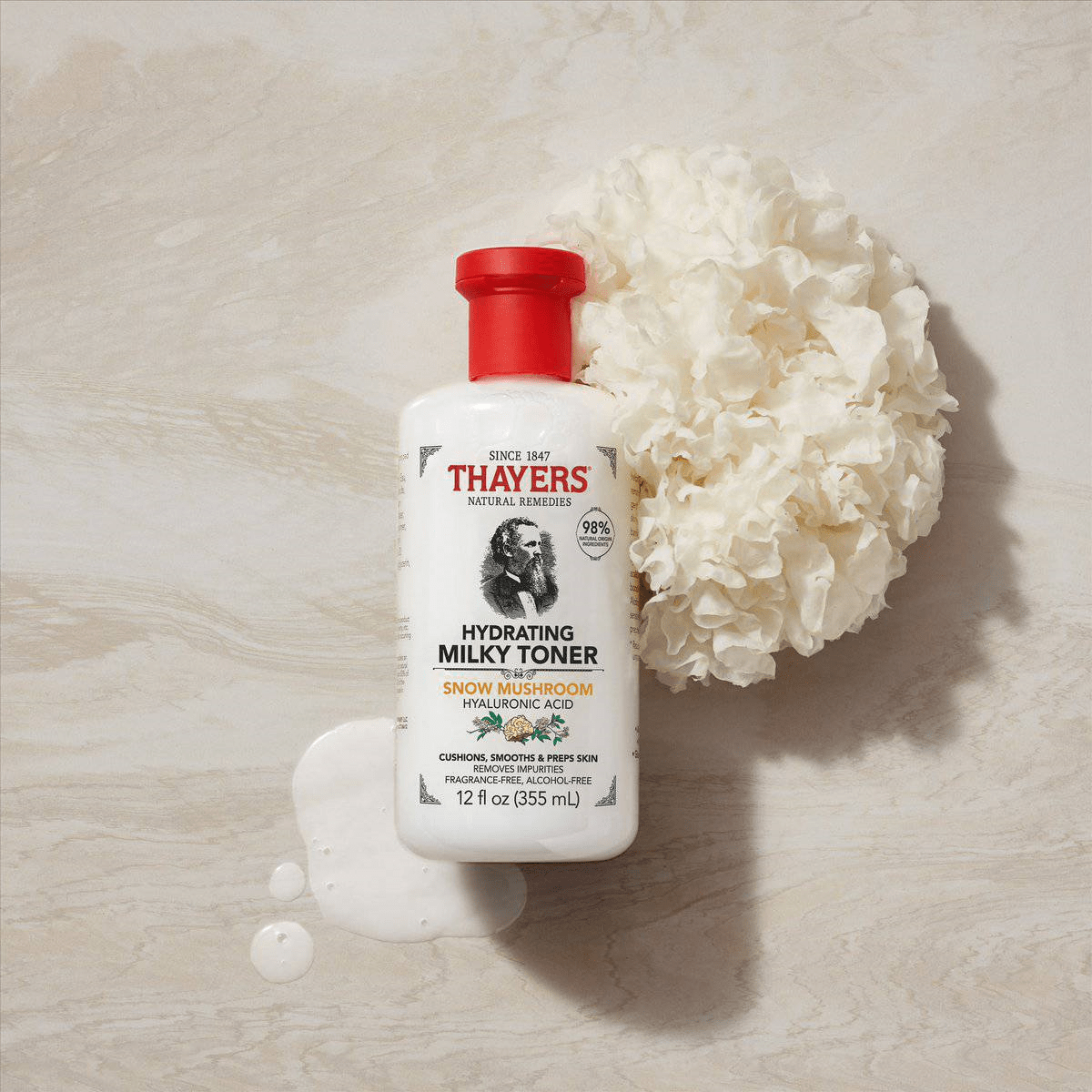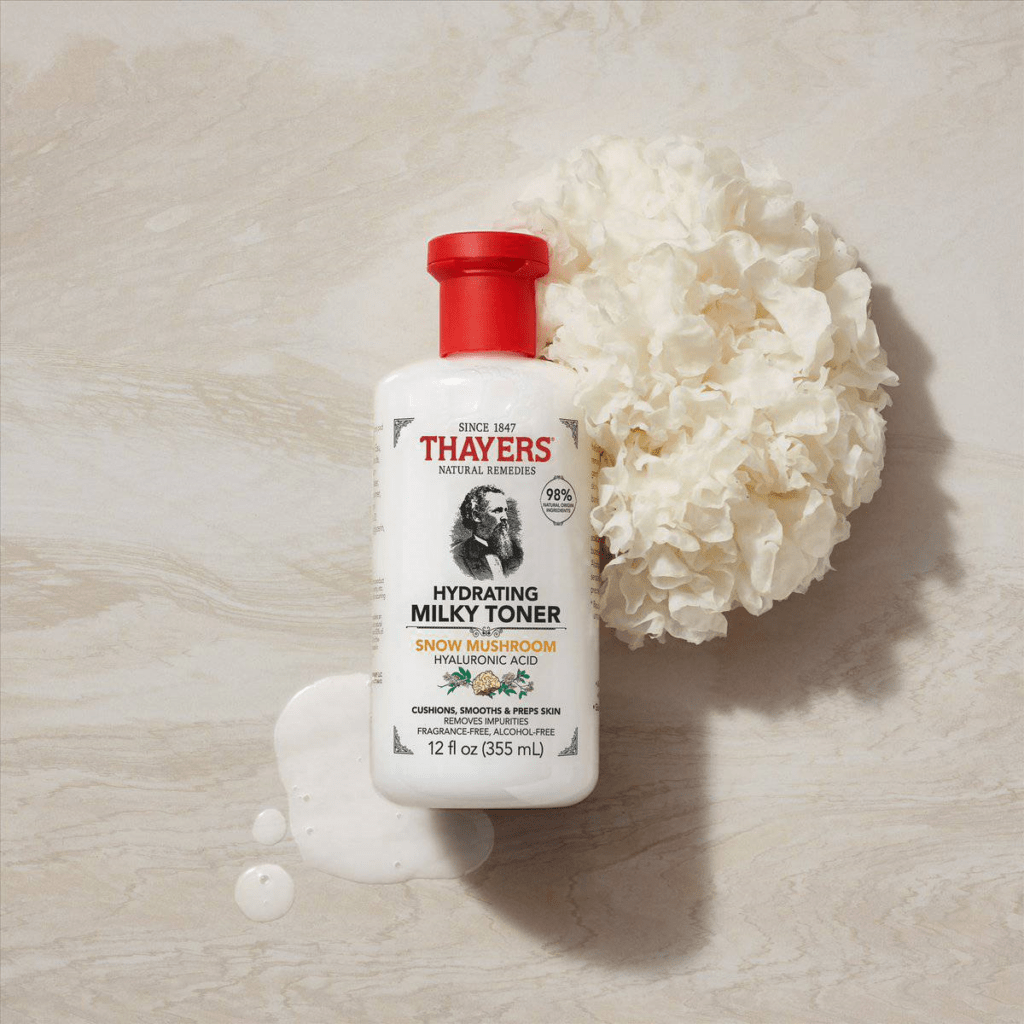 Does Thayers toner have fragrance?
Fragrance (or parfum) is an ingredient composed of over 30 different chemicals, so it has a high risk of irritating the skin. Thayers Milky toner contains no artificial or added fragrance because it is primarily intended for people with dry and sensitive skin, reducing the likelihood of irritation and ensuring an enjoyable experience.
Can I use Thayers toner everyday?
Toners can be used safely up to two or three times per day. Thayers recommends using the milky toner twice daily for best results. Despite its creamy texture, it absorbs quickly into the skin, leaving no heavy or greasy residue. So, it is simple to incorporate into your daily routine.
Final Thoughts
That's all the diving we could do into the Thayers Milky toner, so it's time to decide whether it's worth a shot. Because milky toners are so popular right now, it wouldn't be surprising if brands try to make money by selling mediocre products. However, Thayers is not one of them. Their expertise and research have resulted in the production of a potent toner that will undoubtedly hydrate and nourish your dry and sensitive skin. It will also strengthen the skin's moisture barrier to prevent water loss and immediately soothe irritation. With all of these benefits, it's safe to say that this product deserves a spot in your skincare arsenal. Several positive Thayers Milky Toner reviews attest to its efficacy, with users claiming it has done wonders for their skin.
I'm Sarah Abraham, the founder and co-author of Blushastic.com and a professional makeup artist. Beauty is more than just skin deep, and that's why I'm passionate about sharing my knowledge and experience to help people feel confident and beautiful on the inside and out.
Whether it's skincare, haircare, or fashion, my goal is to empower women to feel their best. With my expertise in the beauty industry, I strive to provide practical advice and tips that are accessible to everyone, regardless of their skill level or budget.