While our skin has a natural mechanism for maintaining hydration, environmental factors, aging, medical conditions, and lifestyle can all undermine it. This can leave our skin feeling dry, rough, or scaly. A moisturizer is an excellent fix for these issues. It's more potent than you might think and can make a big difference in how your skin looks and feels.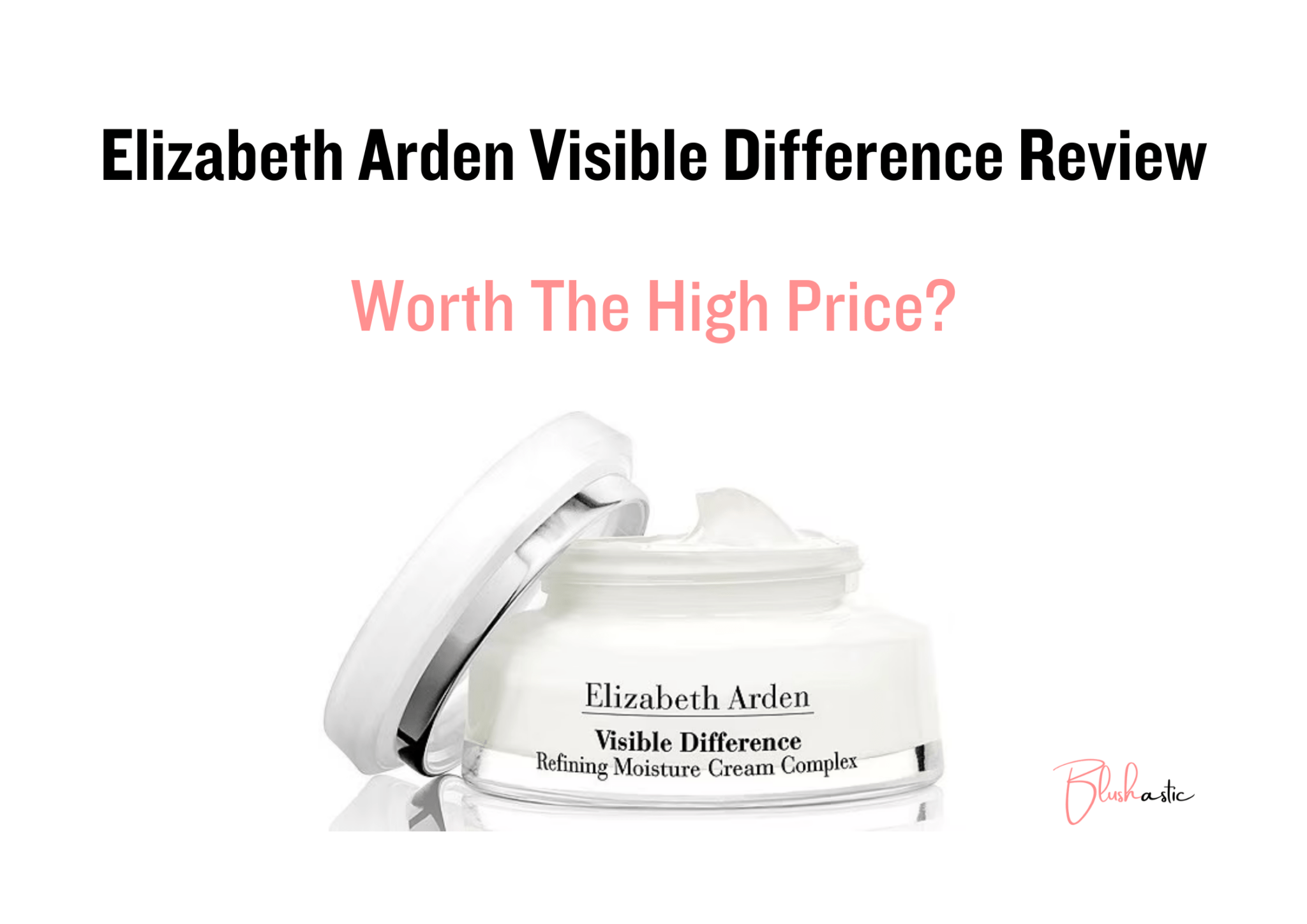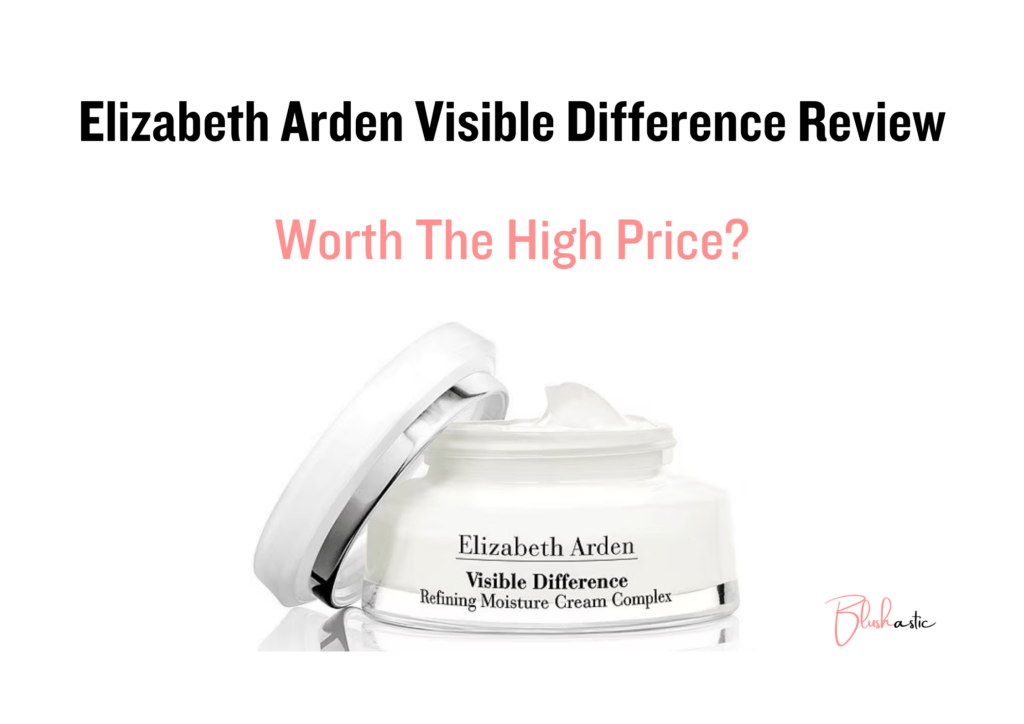 Among the plethora of moisturizers on the market, I will focus on one from the brand Elizabeth Arden. With its rich blend of skin-loving ingredients, this moisturizer promises to improve the appearance of your skin dramatically. Is it, however, truly equipped to deliver on its promises? This Elizabeth Arden Visible Difference review will attempt to provide an answer to this question. This product is pricey, so stay tuned to see if it is truly worth the splurge.
Elizabeth Arden Visible Difference Review | Worth Your Money?
Moisturizers are skincare products that deliver a punch of hydration to your dry, irritated, and dull skin. They typically comprise water, humectants, emollients, occlusives, active stuff, and preservatives. Humectants bring water to your skin, emollients soften it, and occlusives keep it from drying out. Some moisturizers also have active ingredients like Niacinamide, Salicylic Acid, Retinol, and Sunscreen, designed for different skin needs. These ingredients work together to replenish the skin from the inside out.
Moisturizers come in various forms to cater to different skin types, such as creams, lotions, balms, and gels. A rich, thick, and creamy moisturizer is ideal for dry skin. Balms are also thick, making them suitable for severely dehydrated skin. Lightweight lotions and gels are appropriate for people with a combination or oily skin. Determining your skin type and concerns is vital to choosing the best moisturizer.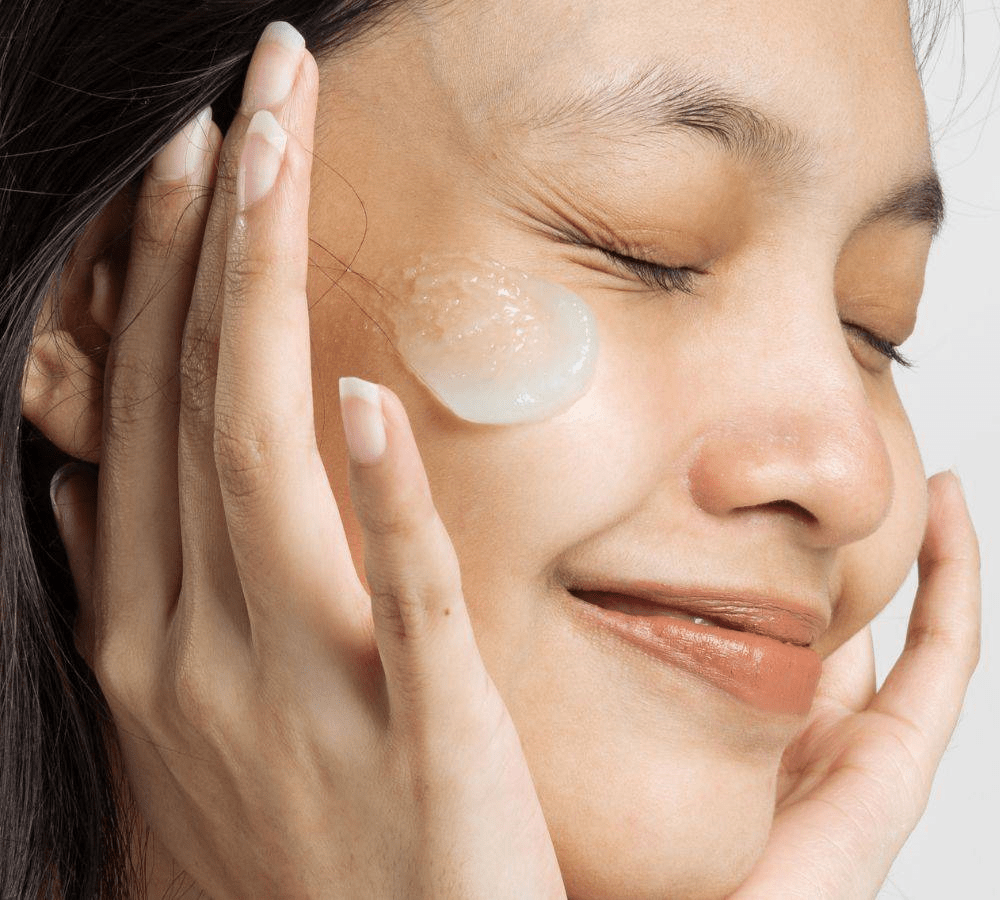 Moisturizers provide the following benefits.
Attract and retain moisture in the skin.
Create a protective barrier to stop moisture from escaping.
Help strengthen the skin's natural defense.
Repair harm from harsh weather, skin problems, and the aging process.
Give the skin a plump, smooth, and fresh look.
Reduce the visibility of fine lines.
Eliminate roughness, itching, and flaking.
Calm irritation, inflammation, and redness.
About Elizabeth Arden
Elizabeth Arden celebrated 100 years of beauty in 2010, and the company's journey since its inception in 1910 has been nothing short of fascinating. Elizabeth Arden, the visionary behind this venture, was one of America's first female entrepreneurs in the twentieth century. She was a self-assured feminist out to change the world's perception of beauty. When makeup and other cosmetics were considered improper, Arden was pivotal in making them mainstream. She was the first businesswoman to grace the cover of TIME magazine.
She opened the first Red Door Salon on Fifth Avenue in 1910. By 1916-1917, she had introduced a full line of colored cosmetics and pioneered developing travel-sized products. Over the following years, the brand released innovative products such as the Eight Hour Cream, which has since become a cult classic and is beloved by many artists and influencers. This brand has expanded its products, offering science-based skincare solutions, makeup, and fragrances. It is a massive success story about a woman who defied every convention and was dedicated to supporting and celebrating women.
Elizabeth Arden Visible Difference Refining Moisture Cream Complex
Elizabeth Arden's Visible Difference is a moisturizer that promises to wrap your skin with moisture and create a protective occlusive layer to prevent moisture loss. It also diminishes fine lines and improves the skin's clarity, tone, and texture. Moreover, it helps make the skin glowy, soft, and supple.
This bright white, luxuriously creamy moisturizer is ideal for sensitive or dry skin. In a study involving 52 women over three weeks, this moisturizer boosted skin hydration by an impressive 94%. It's available in a compact 75ml glass jar. You can buy it on the official website or popular retailers like Amazon. Additionally, the brand provides a "Store Locator" feature to help you find nearby stores offering this cream.
Elizabeth Arden Visible Difference Ingredients
Squalane: If you didn't notice the spelling difference, this product contains Squalane, a hydrogenated and more stable version of Squalene. The latter is a natural compound produced by sebaceous glands that accounts for 10-12% of the skin's oil content. Both variants function similarly. Squalane helps to moisturize the skin, improve skin texture, and reduce the appearance of fine lines and wrinkles.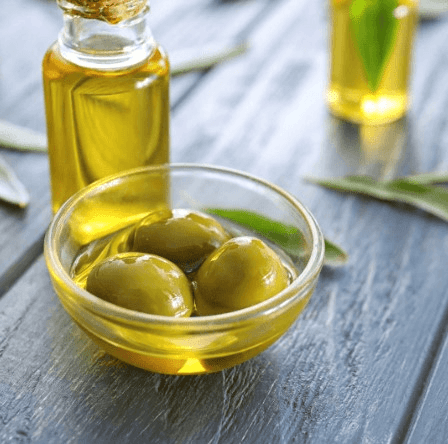 Glycerin: This is a common ingredient in skincare products due to its numerous benefits. It acts as a humectant, which means it helps the skin retain moisture, alleviating skin issues such as dryness, roughness, and flaking. Glycerin also has emollient properties, which make the skin incredibly soft and smooth. It additionally possesses anti-microbial properties, which protect the skin from harmful organisms.
Allantoin: This naturally occurring compound is well-known for its ability to relieve dryness and irritation. It creates an ideal healing environment for the skin and soothes it from within. Allantoin is also thought to be a powerful exfoliator, which is a little-known fact. It aids in the removal of dead skin cells that cause uneven, textured, and dull skin. Overall, it is an excellent moisturizing agent that will improve your skin's appearance.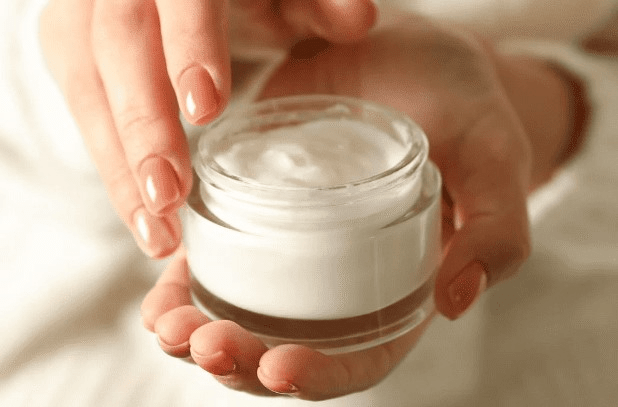 Retinyl Palmitate: A potent retinoid that can aid in treating various aging-related skin issues. Retinyl Palmitate is a stable form of vitamin A that can help with skin cell turnover, unclogging pores, reducing fine lines and wrinkles, and fading dark spots. This component is an excellent substitute for retinol because it is equally effective but much gentler, with a lower risk of side effects.
Side Effects – Is Elizabeth Arden Visible Difference Safe?
This cream's ingredient list gets off to a good start with powerful ingredients like Glycerin, Squalane, and Retinyl Palmitate. However, it takes a dark turn at the end and contains ingredients that may sensitize and irritate some skin types.
It all starts with the addition of Parfum (fragrance). The sequence of the ingredient list is a simple way to determine the concentration of a substance in a product. The concentration of the first listed ingredient is the highest, decreasing as we go down the list.
Parfum, as you might expect, is the component that gives this product a pleasant smell; however, its composition cannot be confirmed because it is made up of 30-50 chemicals on average. As a result, there is a possibility that the fragrance in this cream will cause skin sensitivity, and the ingredient is slightly higher on the list, indicating that it is present in a higher concentration than it should be.
If that wasn't enough, the cream's formulation includes perfuming agents like Benzyl Benzoate, Geraniol, Hexyl Cinnamal, Hydroxycitronellal, Limonene, and Linalool. While these ingredients can make a product smell great, they are controversial because they can sensitize the skin and cause allergies.
Elizabeth Arden Visible Difference Cream also contains Methylisothiazolinone (MI), a potentially irritating preservative. Because some countries, such as Denmark, have outright prohibited the use of this product, experts advise that if there are products with safer preservatives, it is probably better to avoid one containing this preservative.
It is critical to remember that different products have different effects on different skin types. This section's sole purpose is to inform readers of the cream's potentially irritating ingredients. It's a good idea to check with your doctor to ensure this cream is safe to add to your skincare routine, especially if you have sensitive skin or other conditions. It is also vital to perform a patch test before using this cream to determine if it will react negatively to your skin.
Pros of Elizabeth Arden Visible Difference
Dermatologist, allergy, and clinically tested
Free shipping
Rich, creamy consistency
Boosts moisture
Forms an occlusive barrier to prevent moisture loss
Reduces the appearance of fine lines
Adds radiance and improves skin tone
Makes the skin smooth, soft, and plump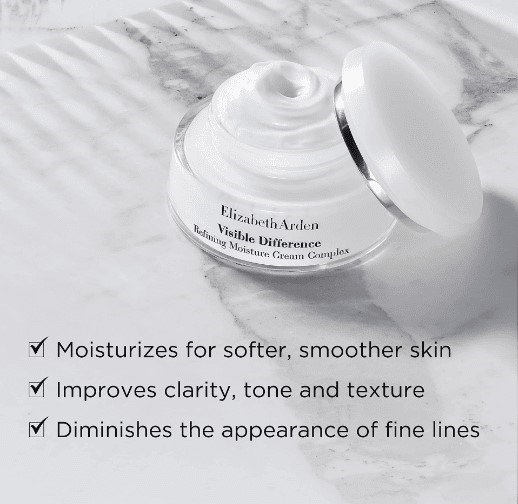 Cons
This cream is pricey.
It may not be suitable for combination or oily skin.
The formulation contains ingredients that can cause allergies and irritation.
Many customers dislike the cream's overpowering scent.
How to Use Elizabeth Arden Visible Difference?
Start by cleansing your face with an effective cleanser to eliminate impurities from your skin.
Gently pat your skin dry with a clean towel, leaving it slightly damp.
Apply your preferred toners, essences, and serums.
Generously apply Elizabeth Arden Visible Difference by gently massaging it in circular motions.
Extend the application to your neck and massage the cream in.
In the mornings, finish your routine with sunscreen.
Use the moisturizer twice daily, both in the morning and at night.
Customer Reviews | Elizabeth Arden Visible Difference Review
This cream is quite expensive, so purchasing it was out of the question for me. Lina, my mother's friend, on the other hand, is a beauty enthusiast with a plethora of products in her arsenal. I asked her if she'd ever used this cream, and it turns out she uses it now and then. I inquired about her thoughts and experience. She raved about the buttery, creamy texture of this moisturizer, which sinks into the skin beautifully.
She also claims that the scent of this product instantly refreshes her mood, but she warns that it is quite strongly scented, which may bother some people. She confirmed that this cream lives up to its claims of increasing moisture and reducing the appearance of fine lines.
Just because Aunt Lina enjoys this cream does not mean that everyone will. Let's see what other people have to say about this product.
Sheeren explained, "My husband gave this cream to me a couple of months ago on my birthday. He isn't into skincare or beauty, so I wondered why he splurged on a random moisturizer. Nonetheless, it was a gift, so I decided to try it. Surprisingly, this cream works well for my mature skin. It's an excellent day cream because it keeps my skin hydrated all day. I also believe it improves the appearance and longevity of my makeup. So far, I'm really enjoying it."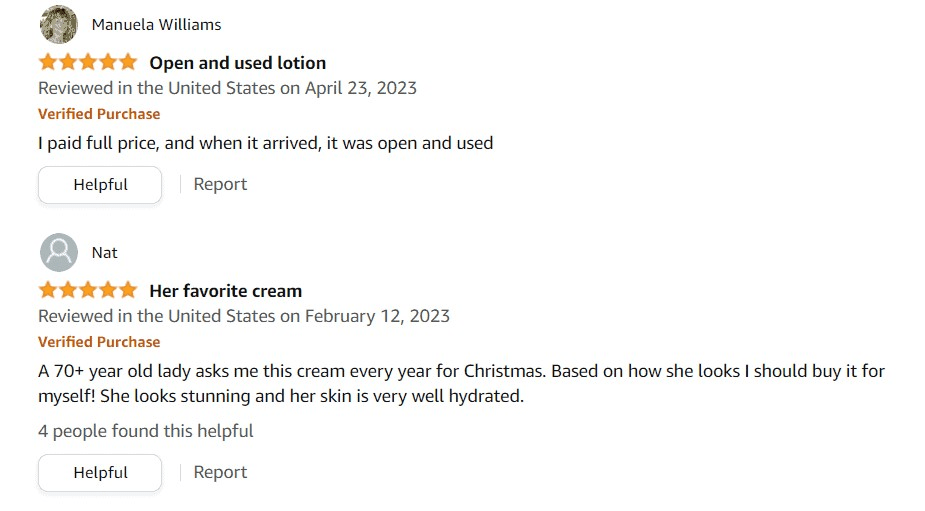 Jennifer said, "This cream has a really strong smell, and it also stings when applied to some extremely dry patches on my skin. I had high expectations for this cream."
Kendra noted, "I've been using this cream for almost two years. It is the holy grail for me. I believe it has significantly improved the appearance of my skin."
Frequently Asked Questions | Elizabeth Arden Visible Difference Review
What is Elizabeth Arden Visible Difference used for?
Elizabeth Arden Visible Difference is a moisturizer that claims to increase moisture levels in your skin and prevent moisture loss. It also pledges to reduce fine lines, improve skin tone, and provide a healthy radiance to the skin. It is best suited for people with dry skin.
Does Visible Difference have retinol?
The Visible Difference cream does not contain retinol but rather Retinyl Palmitate, a different form of vitamin A. This component is a gentler form of retinol because it goes through three conversion steps as opposed to retinol's single step. It is also known as the weakest form of retinol. However, it is still effective in renewing your skin by reducing wrinkles and fine lines and brightening the complexion.
Can I use Elizabeth Arden Visible Difference on my face?
The Elizabeth Arden Visible Difference moisturizer is intended to be used on the face and neck. It has undergone dermatological and clinical testing to ensure maximum safety. Hence, you can safely use it twice daily on your face.
What does Elizabeth Arden Visible Difference smell like?
Research has shown that not everyone perceives scents in the same way, which means different people may have different opinions about the fragrance of this moisturizer. Nevertheless, quite a few users have mentioned that the scent of this cream reminds them of a more classic or mature fragrance. Some have even playfully called it a "grandma's" scent.
Closure
After thoroughly examining every aspect of this moisturizer, it is time to wrap up our Elizabeth Arden Visible Difference review. Although this moisturizer contains potent components and has received numerous positive reviews, it does not appear to be the best option. The Elizabeth Arden Visible Difference price is also relatively high, making it out of reach for many people. It is worth noting that several other options are available that have better ingredients and perform better, all at surprisingly low prices.
Not to mention that this product contains several fragrant agents that have been identified as allergens and irritants. Paying a premium for this cream for mediocre ingredients and a slew of irritants is unjustified. So, I recommend that you save your money and go raid the aisles of a beauty store near you to find a much better moisturizer at a reasonable price.
Rebecca is a skilled writer with a passion for makeup and skincare. With years of experience in the beauty industry, she has a deep understanding of the latest trends and products and a talent for creating engaging content that resonates with her readers. Whether she's writing about the latest skincare products or sharing her favorite makeup tips, Rebecca's writing is always informative, entertaining, and inspiring.