Retinol is something that every skincare enthusiast must have heard of. Given its importance and popularity, many look out for over-the-counter options. But, only sometimes do these options win over people's hearts. One such product claims to be loved by many and is now gaining much attention. You guessed it right! I'm talking about the Gold Bond's Age Renew Retinol Overnight Face And Body Lotion. But is this product worth the hype? We tried to analyze the Gold Bond Overnight Retinol Cream reviews to answer this question.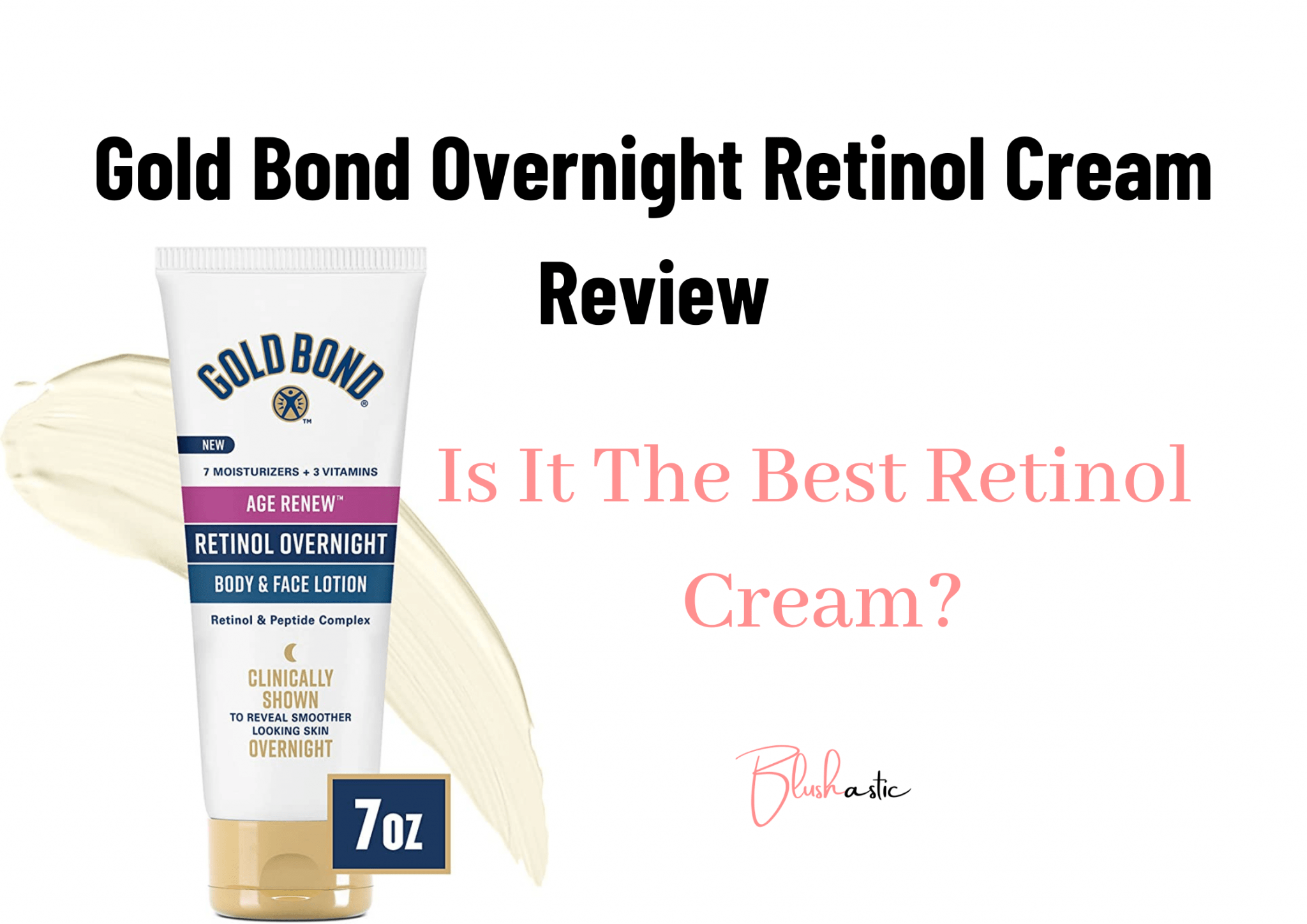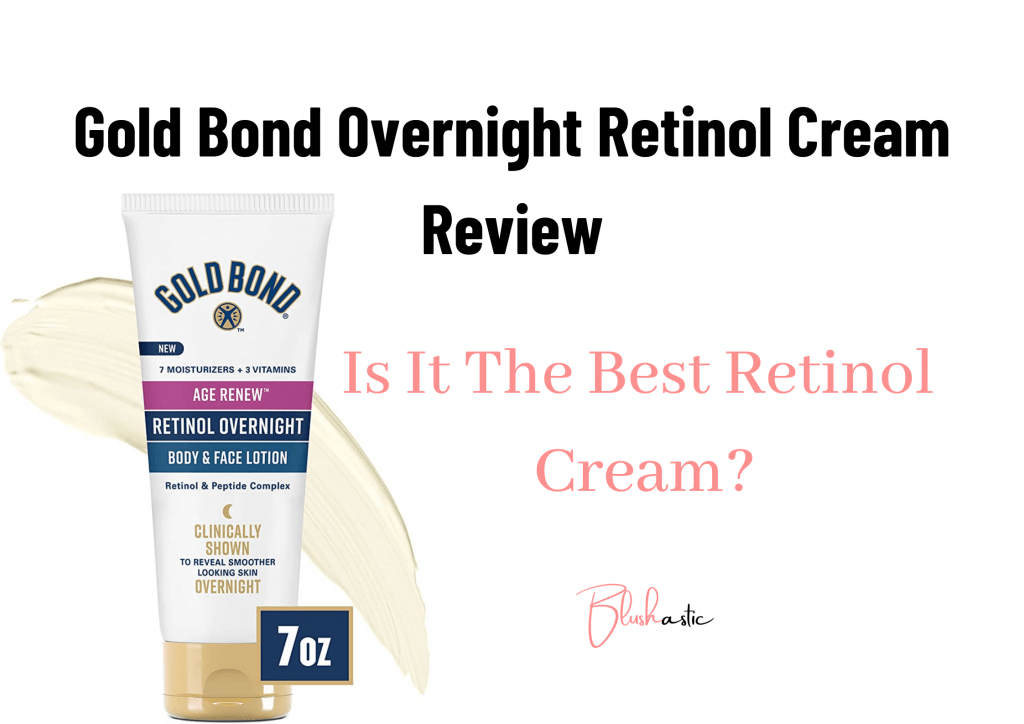 This product promises to deliver youthful-looking skin. With its gripping features and claims of instant results, this product shows the potential to reverse the effects of aging and pollution on our skin. However, does it mean it comes without any side effects? What do its long-term users have to say? Let's find out!
Gold Bond Overnight Retinol Cream Reviews | Is It Even Worth It?
The Overnight Retinol Cream of Gold Bond claims an upper hand in retinol technology. Retinol is a tried and tested way to deal with problems like the appearance of wrinkles, fine lines, acne, blocked pores, etc. Clinical studies show it reveals smoother, younger-looking skin overnight. But how far is this true?
Read this detailed report to know the veracity of this claim. I address its uses, concerns, ingredients, reviews, and more. So, stick to the end to make the most of this article.
But First, Why Is Retinol So Important For Our Skin?
Skincare fans must have heard of retinol, but only a few know why it holds such importance. Retinol is a derivative of Vitamin A. It helps the skin with anti-aging processes. From treating acne, clearing pores, and exfoliation to collagen production and skin renewal, it oversees them all. It further gives our skin a smoother and even-toned appearance.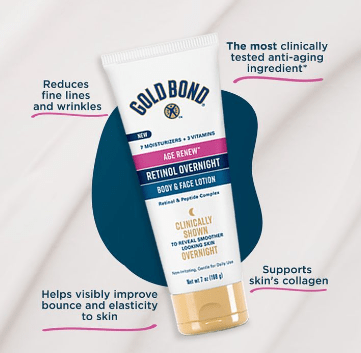 But first, to endure retinol, our skin often needs to build up 'retinoid receptors' that are proteins naturally found in our skin. They help retinol do its work. The skin can self-build these receptors, given we protect them from harmful sun exposure, which is the reason behind constrained recommendations of retinol concentration for beginners.
The recommended concentration for beginners is 0.25-0.5. Once the skin builds capacity, we can slowly use higher retinol concentrations.
Now, let's see what this product offers.
Gold Bond Overnight Retinol Reviews | A Brief Analysis
The story of Gold Bond began in 1908 when the Gold Bond Medicated Powder got introduced to local customers. It became an instant hit and grew into a thriving business later. Since then, Gold Bond has released several products, including lotions and creams, foot lotions and creams, and first aid remedies.
This Gold Bond Age Renew Retinol Overnight Face & Body lotion is one of their best-sellers. The product has been developed and tested by dermatologists. Each tube is 7 oz. You may get the 13 oz tube from Walmart Exclusive.
Sale
The key ingredients in this product are Retinol and Peptide Complex. Their combined formula helps to exfoliate and renew skin cells. This rich, nourishing lotion infuses moisture-rich nutrients into your skin while you sleep. The 7 intensive moisturizers and 3 vitamins provide all-day hydration. With non-irritating retinol formula, this lotion goes gently for use on our body and face.
Gold Bond Overnight Retinol Ingredients
The main ingredients of this product are:
Retinol (also known as Vitamin A) is a crucial ingredient in the product. It helps in skin cell proliferation. It aids in unclogging pores and exfoliating the skin, increasing collagen (a protein fiber that holds up your skin and promotes youthful skin) production. As a result, one can see a gradual reduction of wrinkle appearance.
Peptide Complex is a short chain of amino acids. It can penetrate the epidermis (the outermost layer of our skin) and act as a building block to produce proteins like collagen, elastin, and keratin. This skincare ingredient is anti-aging and even suitable for sensitive skin.
Niacinamide, also called Vitamin B3, is a great anti-aging ingredient that can help skin conditions such as Acne, Rosacea, etc.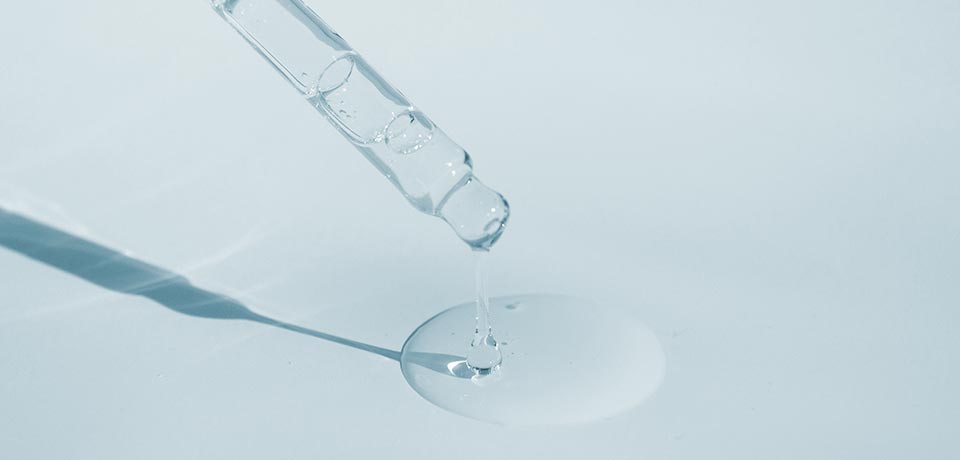 Hydroxyethyl Urea is a derivative of urea that works as a potent moisturizer. It helps the skin to cling to the water and thus makes it hydrated and elastic. It is non-sticky and feels moist on the skin. However, the smell of urea puts some people off.
Dimethicone is an emollient that smooths the skin and adds a subtle gloss. It also forms a protective barrier to our skin.
Glycerin acts as a natural moisturizer that is also present in our skin. Dry skin can benefit from its intensive moisturizing ability.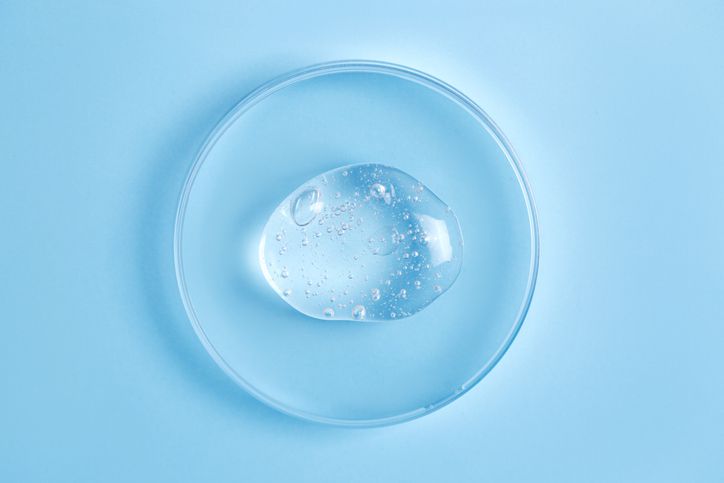 Pros
Cruelty-free and Paraben-free.
Free of phthalates, dyes, and fragrance.
Hypoallergenic and so unlikely to cause an allergic reaction.
Travel-friendly.
More affordable than the other high-end creams.
It acts as an excellent moisturizer to dry skin.
It is non-greasy.
Keep the skin hydrated for 24 hours.
Retinol and Peptide Complex help in lifting saggy skin.
It gives a smooth, buttery finish.
Effects are visible on the fine lines in the first week of using it.
Cons
Thick texture, so not preferred to be used on the face.
The brand does not mention the exact percentage of retinol inside this product.
Some customers with too dry skin (having eczema, psoriasis, or others) felt it didn't reduce their dryness.
Some users may dislike the smell of urea.
How To Use It?
As hinted in its name, this product works overnight. Retinol makes your skin more sensitive to UV rays, and sunlight decreases its efficiency. Thus, you should use this product daily at night before sleeping. Avoid contact with eyes. In case of any eye contact, rinse it with water thoroughly. And remember to use an SPF (sunscreen) before stepping out in the sun.
A Few Concerns To Take Note Of
Firstly, although the product claims that it is non-comedogenic, it contains Theobroma Cacao (Cocoa) Seed Extract, which is highly comedogenic. It may negatively affect acne-prone and oily skin. A few customers with sensitive skin found it unsuitable to use on the face. In contrast, some other sensitive-skinned customers found it to be okay.
Secondly, some customers may dislike the smell of urea in this product.
And lastly, if you are someone that has never used retinol before, you may experience skin irritation or peel in the first week of its use.
This product comes with a warning of California Proposition 65.
Customer's Viewpoint | Gold Bond Overnight Retinol Before And After
Isabella pinned, "My skin feels so soft and moisturized after applying it. Unlike others, this product worked for me and is at a very reasonable price."
Anika commented, "I've been using this for a month now, and I feel the smoothness of shea butter on my skin."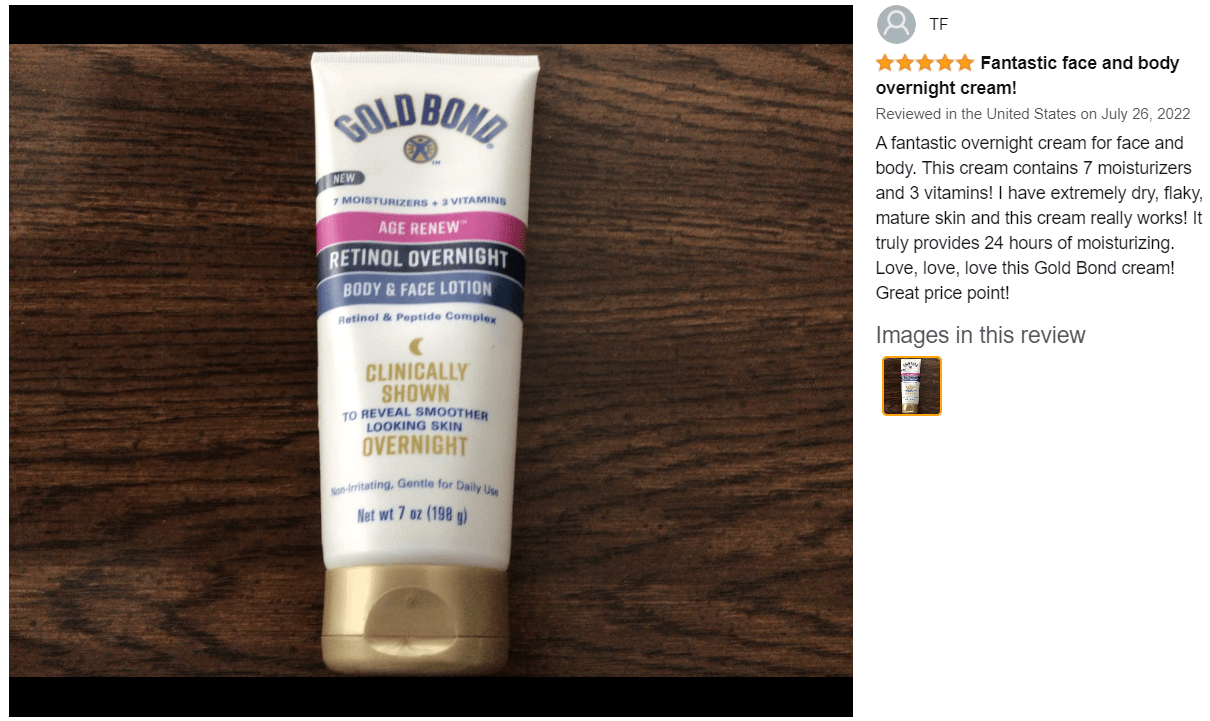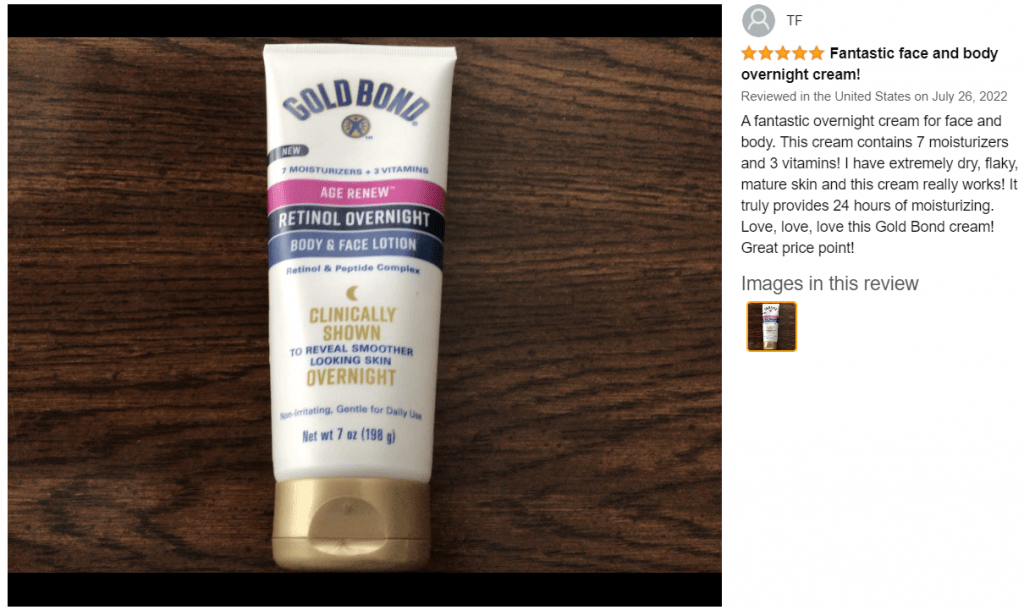 Evelyn claimed, "My eczema flared up after using it for 3 days. I had to discontinue it. I will not recommend this if you have sensitive skin."
Xenia mentioned, "The cream is very thick for my face. I had to discontinue using it on my face. I only use it on my body, and it is going well."
Sam stated, "After using it for 2 to 3 days, my skin felt smooth and supple. I have a good feeling that my skin will turn out to be softer than it used to be."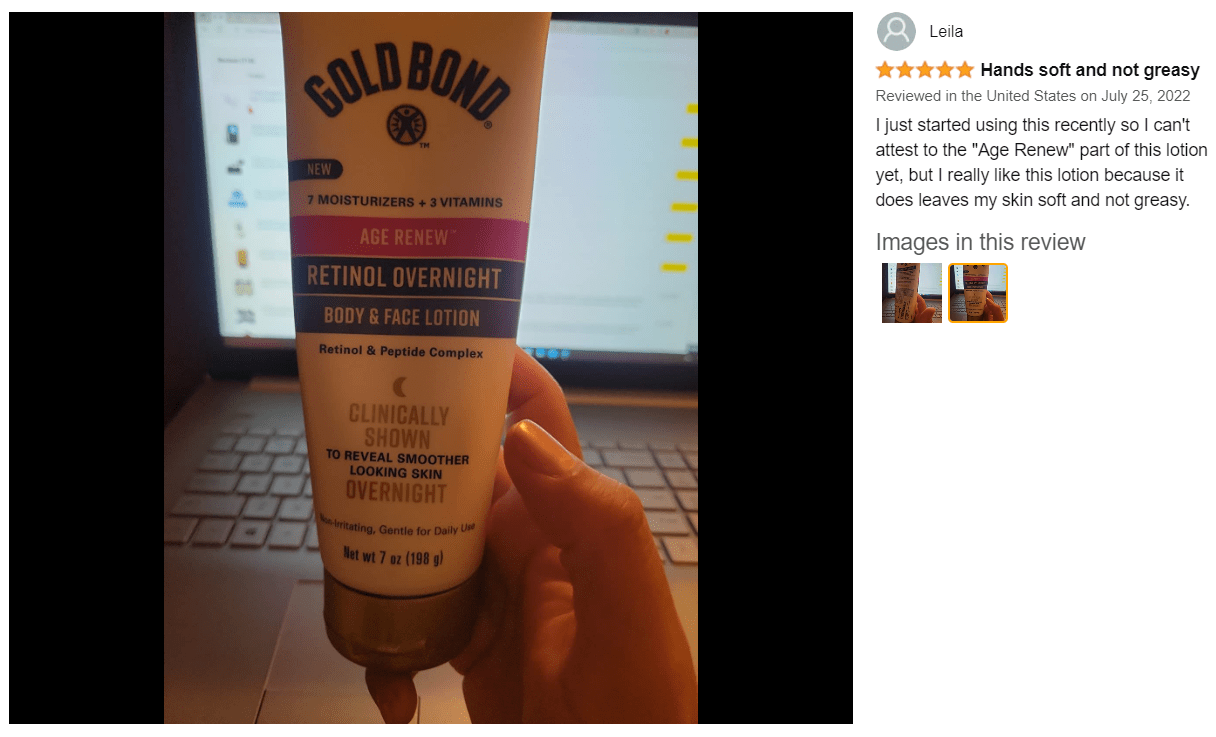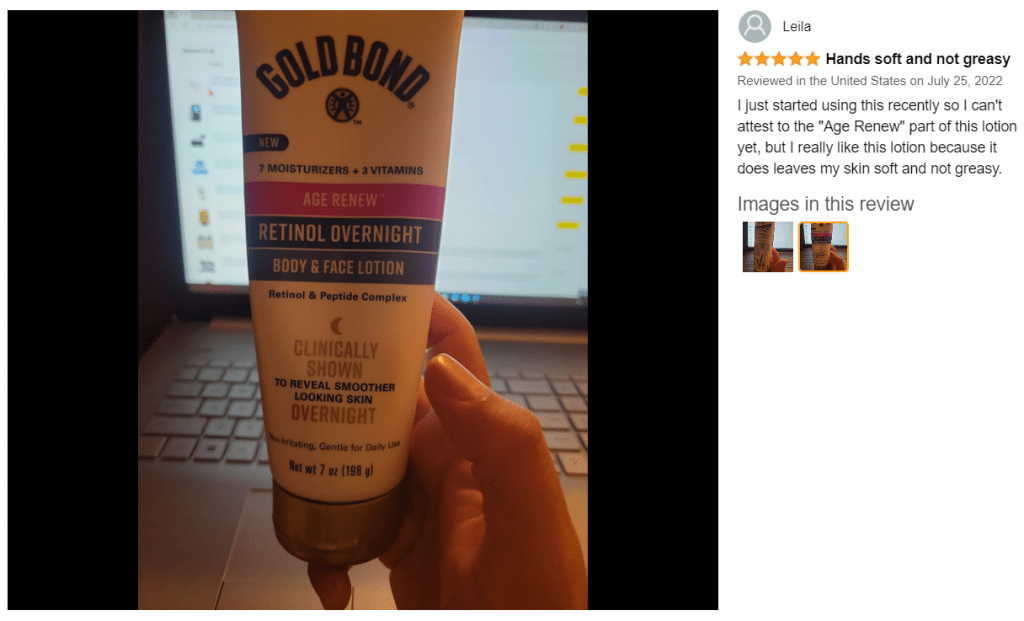 Gabrielle reflected, "I couldn't stand its smell. And so I had stopped using it."
Kelly asserted, "Daily in the morning; I wake up to well-moisturized skin. It also worked on my wrinkles. I'd highly recommend this.
FAQs | Gold Bond Overnight Retinol Reviews
Here are some of the most common FAQs revolving around this product that I tried answering.
Is Gold Bond Retinol Overnight lotion safe to use?
Yes! As many of its customers attested, this product is entirely safe. It works well on dry to normal skin types. If you have oily or acne-prone skin, you should skim the ingredients once, as this product is not non-comedogenic.
What are the before and after effects of using Gold Bond Retinol Overnight lotion?
The before and after effects of using this lotion vary. Some users found their skin smooth and supple the next day, while others noticed no difference in their skin.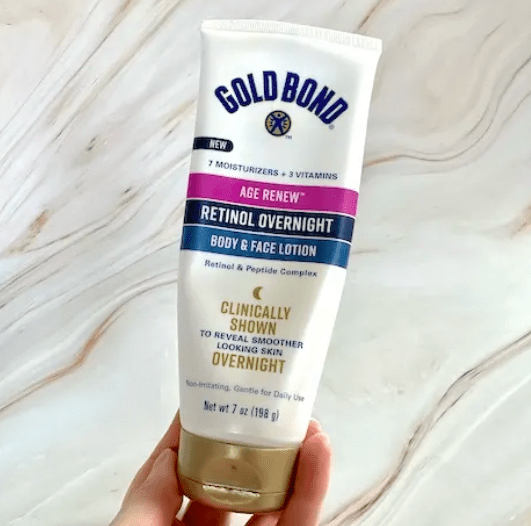 Can I use Gold Bond Retinol Overnight lotion on my face?
Yes! You can even see on their tube where it's written that you can use it on both the face and body. The texture of this lotion is a bit thick, so some customers avoid using it on their faces. Try it yourself and see how you feel after applying it.
Does Gold Bond Retinol Overnight help in reducing wrinkles?
Retinol and Peptide Complex are the main ingredients of this lotion. Both elements are known for boosting collagen production, which helps tighten the skin and reduce wrinkles. Many customers felt their wrinkles significantly reduced after a few weeks of using this product.
Is Gold Bond Retinol Overnight lotion available on Walmart and Amazon?
Yes! You can find these products on both Amazon and Walmart. Besides, you can even order from its official site.
On A Final Note | Gold Bond Overnight Retinol Cream Reviews
We learned about this product's popularity by witnessing the Gold Bond Overnight Retinol reviews. Though this lotion ensures the skin gets renewed on the outside, it doesn't guarantee our skin remains completely healthy. So for optimal results, remember to include retinol-rich foods in your diet. Follow up with a proper lifestyle. After all, it is our skin and body. And a sweet pledge to ourselves to keep them protected and healthy will cost us nothing.
I hope this article clears all your doubts regarding this product. You got any queries or additional information that we missed? Don't hesitate to reach us by commenting below.
I'm Sarah Abraham, the founder and co-author of Blushastic.com and a professional makeup artist. Beauty is more than just skin deep, and that's why I'm passionate about sharing my knowledge and experience to help people feel confident and beautiful on the inside and out.
Whether it's skincare, haircare, or fashion, my goal is to empower women to feel their best. With my expertise in the beauty industry, I strive to provide practical advice and tips that are accessible to everyone, regardless of their skill level or budget.