As we age, you may notice flaws you didn't see earlier. It may be the volume drooping, jawline fading, fine lines becoming more prominent, more pigmentation on your skin, or just dryness that won't leave you alone. And even if it hasn't gotten worse, it will happen if you increase your screen time! To prevent that glow from fading, you need to have certain must-haves to come in and save the day for you!
According to beauty scoop, shared by editors, these two brands are the best in town, which users can't stop talking about—however, the battle of Gold Bond Crepe Corrector VS Crepe Erase has put people in a tough spot as they can't decide which one will give them the most bouncier skin.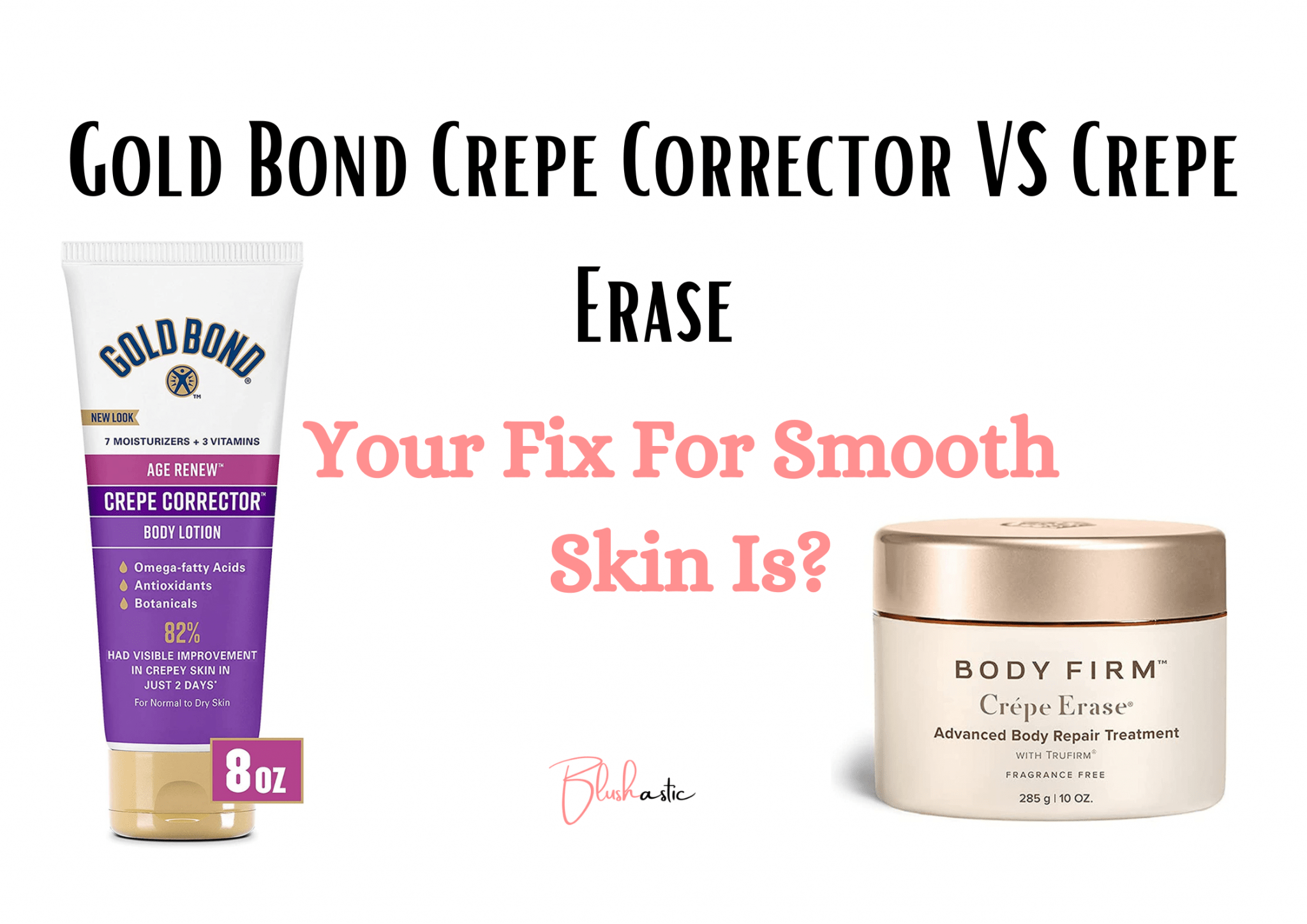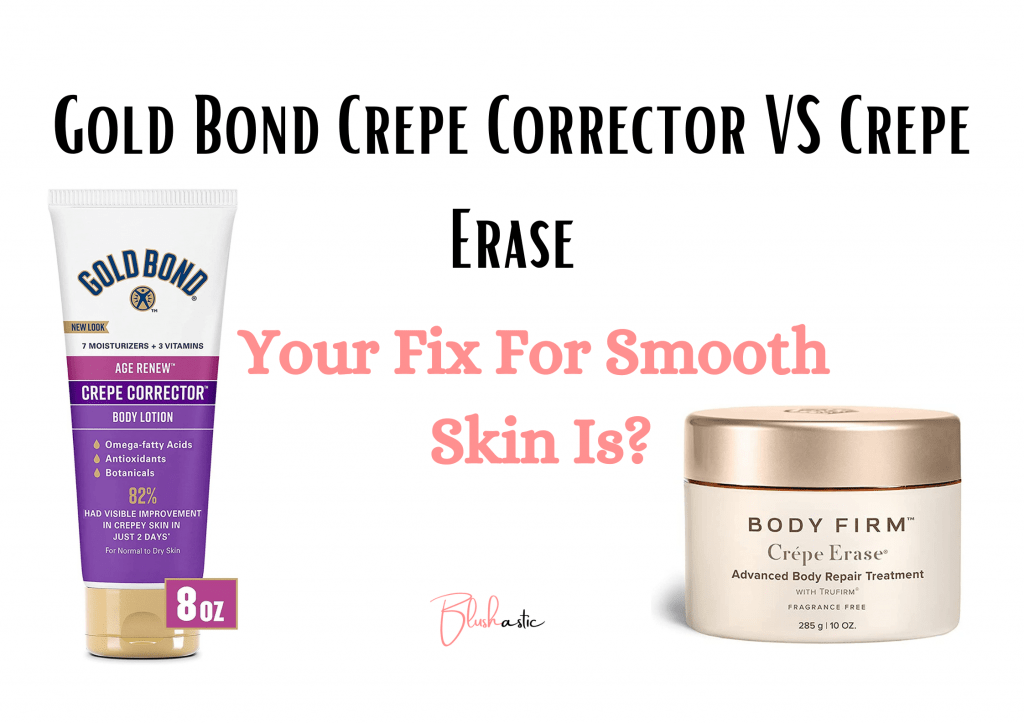 To prevent your beauty from being robbed over by age, these two brands claim to have it all and offer your skin everything it needs to start looking ready to take on the world! But which one will be the best option for your skin? Can you trust them? Let us reveal it all!
Gold Bond Crepe Corrector VS Crepe Erase | Your Fix For Smooth Skin Is?
Product range
Taking care of your skin, especially in your later years, can be simple if you know what you are doing. Reaching the good parts you want to see might take a while, but it will happen. Gold Bond is one such brand that believes in helping you fight your wrinkles and whatnot challenges with its carefully designed skincare platter that deals primarily with crepe skin.
The brand offers a variety of creams, lotions, moisturizers, sticks, and powders for different parts of your body. It claims to solve concerns regarding your face, neck, decollete, body, foot, hand, neck, and chest area. Apart from its special Gold Bond Crepe Corrector, it offers SPF, healing ointments, and a formula for treating psoriasis.
Crepe Erase has been making headlines for its signature product, Crépe Erase Advanced Body Treatment which claims to have the perfect skincare on the block for dealing with crepe and wrinkled skin. The brand offers products for your body and face concerns, like a decollete mask, neck firming treatment, body toning serum, hand repair, dark spot serum, foot mask, foot peel, brightening pads, eye cream, smoothening capsules, etc. Both brands have a lot to offer in terms of the individual needs of a person.
If you have a time crunch and need those results faster, you can scoop up your skincare regime with Solawave Red Light Therapy Wand. Compared to these brands, it offers visible improvements in your skin as early as the first 2 to 3 uses itself. — pretty quick results; try it for once!
Ingredients
Gold Bond Crepe Corrector claims to be a champion for your skin with its pool of nourishing ingredients like hydroxyethyl urea, which acts as a humectant for your skin. This helps the skin retain moisture and fulfill its hydration needs. Humectants bring anti-aging benefits and help in plumping up the canvas. This makes your fine lines and wrinkles less visible.
The formula also includes "Stress Response Proteins," originating from the Resurrection Plant (Selaginella Lepidophylla) natively found in the Chihuahua Desert in Mexico. It is known for breathing back life into your tissue cells. Silicones and petrolatum are also present in the formula, which forms a protective cover on the skin and give it a silky-smooth feel.
Crepe Erase solely depends upon the goodness of TruFirm, which the brand is very proud of. This complex features healthy ingredients from plant extracts like apple, dill, and sage. The formula directly addresses the dermal enzymes in your skin layers that break down essential proteins and vitamins. This proprietary blend helps fill the requirements of elastin so that you maintain a youthful-looking appearance and feel a softer and plumper skin tone.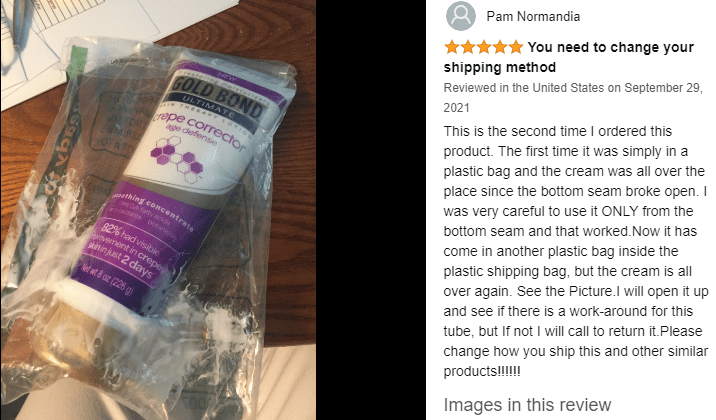 Effectiveness
The Gold Bond Crepe Corrector shows high concentrations of evidence-based ingredients and claims to heal agitated skin. Reviews point out that from a clinical study about the advanced lotion, about 82% of users saw an improved and visible change in their crepey skin in just 2 days. The product has garnered over 22k reviews on Amazon and has many positive reviews. The best part about using this lotion is that you will see noticeable changes in the first two weeks of usage.
Crépe Erase lists that a study was conducted with 54 people by an expert clinical grader where the evaluation was done based on décolleté, knees, and arms. It was revealed that 80% of women saw an instant reduction in the crepiness of their whole body just after one use. 86% of women were pleased to see an improved and smoother skin tone in just four weeks 91% of women saw firmer-looking skin and a lifted appearance after 8 weeks of diligent usage.
Side effects
Although the Gold Bond Crepe Corrector is a dermatologist-tested and fragrance-free formula, some reviews have pointed out that it contains one paraben and might trouble your skin, causing side effects like allergic reactions, hives, blisters, swelling of the face, mouth, and lips, and itchiness. It might also lead to problems in breathing, pain, or episodes of fever. Crepe Erase might promise overnight hydration and elimination of dryness, but it might lead to peeling of the skin and patchiness in rare cases.
This is mainly because of the AHAs and BHAs, present in the exfoliator of the brand. Make sure to do a patch test first before you hop onto this new skincare journey. Immediately contact your dermatologist if you see symptoms of side effects after using the products.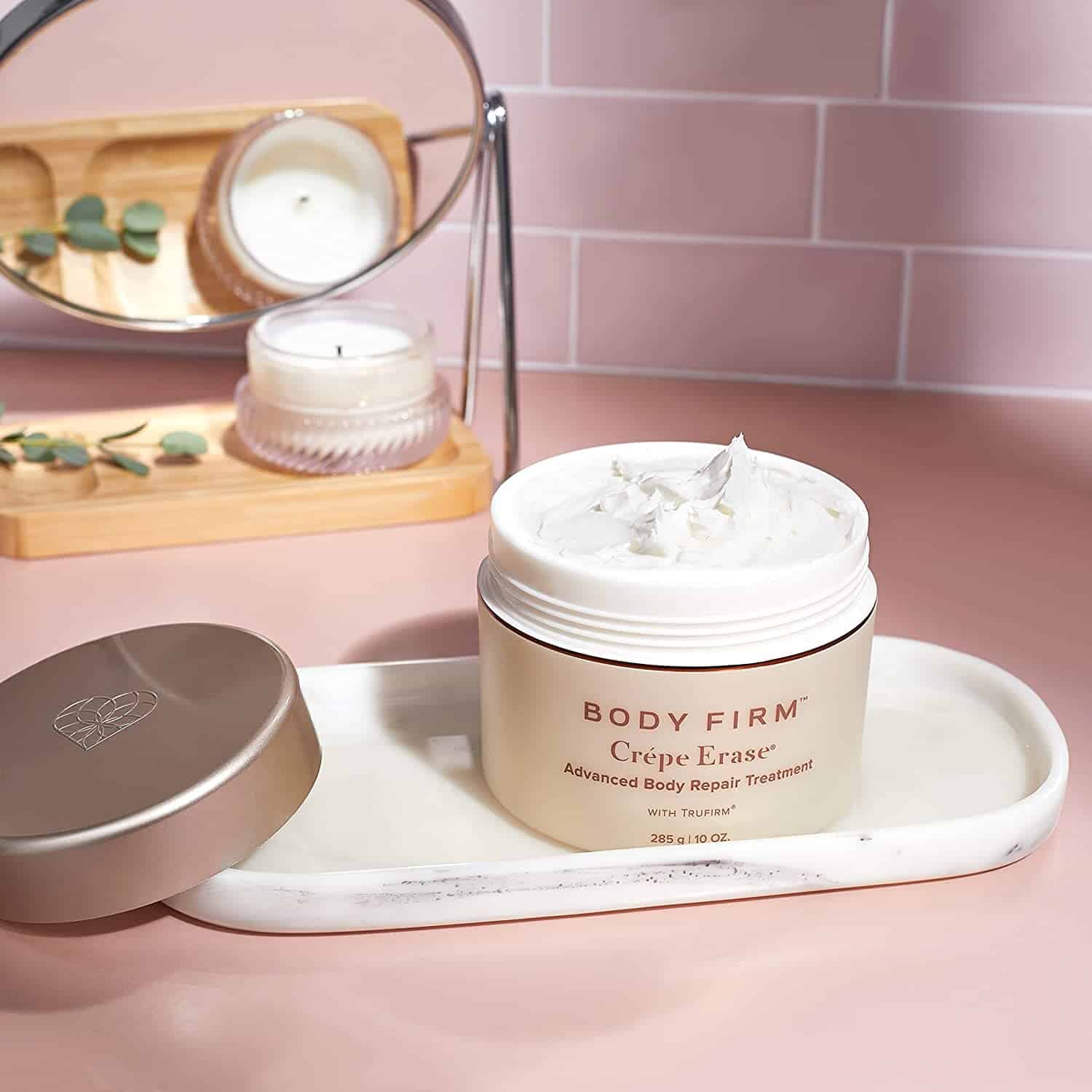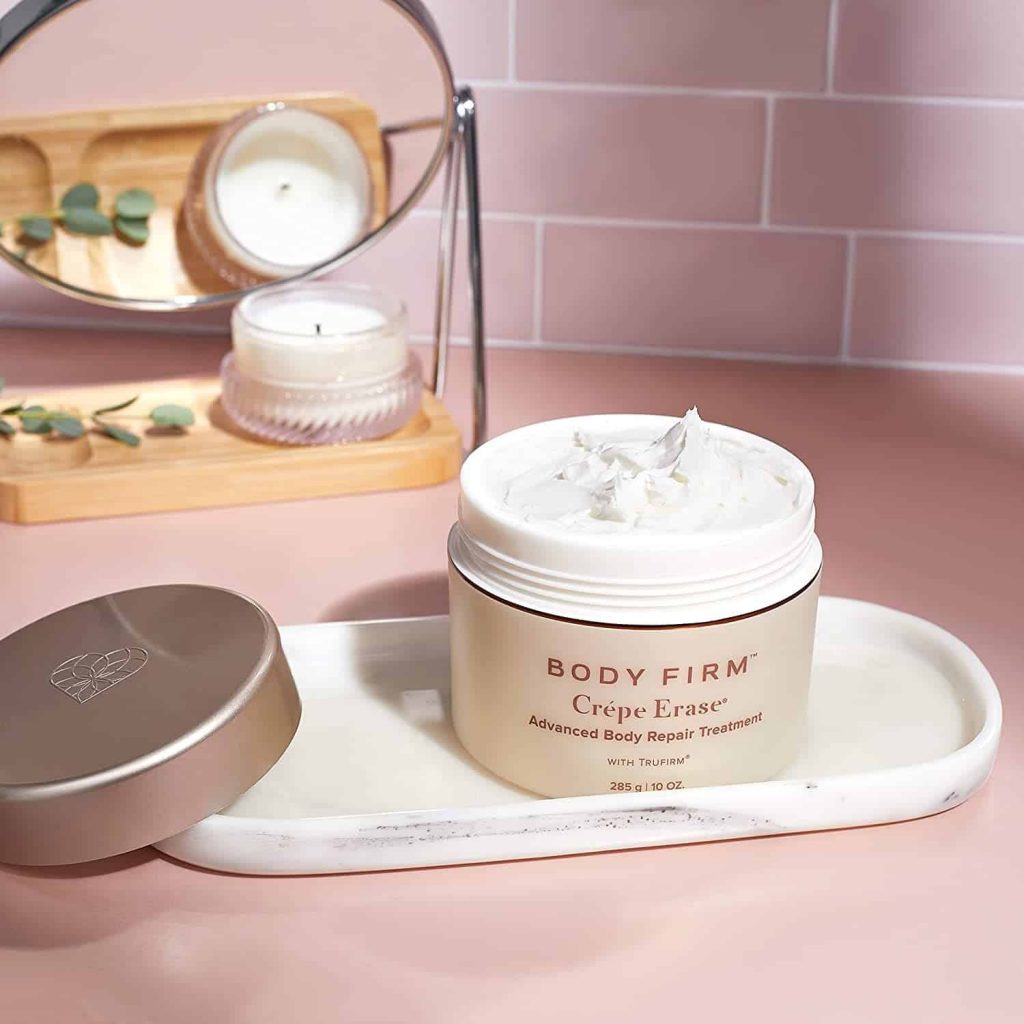 Price structure
The Gold Bond Ultimate Crepe Corrector is valued at just a fraction of **dollars, whereas the Crépe Erase Advanced Body Repair Treatment is the brand's best-seller and costs about **dollars. You can even get the Gold Bond corrector for less at places like Walmart and Amazon. From an economic point of view, Gold Bond is your best deal if you want to invest loads of extra dollars in other things that your skin fancies.
However, if you are not on na money-tightening leash, Crepe Erase will work something out. Gold Bond offers 226 grams, whereas Crepe Erase delivers 285 grams. The latter might offer a bit more quantity but will cost you heavily on the purse.
Evaluation of Pros & Cons | Gold Bond Crepe Corrector VS Crepe Erase
Gold Bond Crepe Corrector Pros
It has about 22k ratings on Amazon
Specially designed for aging skin
It contains nutritious ingredients like vitamin E, omega fatty acids, and botanicals
Replenishes loss of antioxidants
Offers 24-hour long deep and restorative moisturization
Enhances moistness and heals lipid barriers
Eliminates fine lines and wrinkles
Protects skin against environmental aggressors and UV rays
Smoothens skin texture from within
82% saw visible improvement in crepe skin in just 2 days
Works for all skin types
Has not been tested on animals
Sale
Gold Bond Age Renew Crepe Corrector Body Lotion, Replenishing & Smoothing Formula, 8 oz.
Contains: One (1) 8-oz. bottle of Gold Bond Age Renew Crepe Corrector Body Lotion, Replenishing & Smoothing Formula
Gold Bond Crepe Corrector Lotion helps diminish visible signs of crepey skin, such as fine, thin wrinkles
This unique smoothing concentrate features protective anti-oxidants, powerful botanicals and nourishing omega-fatty acids
Gold Bond Lotion for Crepey Skin moisturizes skin for 24 hours for lasting hydration
This lightweight lotion is fragrance free, fast absorbing, non-greasy and tested by dermatologists
Cons
The lotion feels very thing as compared to other creams. People with dehydrated skin might have to reapply at times.
Comes with a threat of side effects like redness, swelling, itchiness, etc.
It might take longer to work.
Crepe Erase Pros
It makes your skin touchably soft and smooth
Heals parts like under the chin, arms, thighs, and knees.
Rebuilds collagen and elastin composition
Exfoliates dead cells and impurities
Infuses skin with profound hydration benefits
Features plant extracts like apple, dill, and sage
Delivers a firm-looking appearance
91% of women saw a lifted appearance of the skin after 8 weeks of using it
Feels very velvety and gentle
Improves skin texture with the help of TruFirm Complex
Reduces under-eye puffiness
Crépe Erase Advanced Body Repair Treatment, Anti Aging Wrinkle Cream for Face and Body, Support Skins Natural Elastin & Collagen Production - 10oz (Fragrance Free)
Provides long-lasting, 48-hour hydration
Fast-absorbing, lightly whipped texture
9 Super Hydrators including Olive Oil, Squalane, Cocoa Butter, Coconut Oil, Grapeseed Oil, Vitamin E and a Trio of Glycerides.
With TruFirm Complex — an exclusive blend of skin-restoring plant extracts to help support natural elastin product and skin's structural resilience
Target age give-away zones like arms, knees, legs and chest
Cons
This is too much pricey
It might cause peeling and dryness of the skin.
Customer Feedback | Gold Bond Crepe Corrector VS Crepe Erase
When your skin has already traveled the path of being dry and crinkled like paper, you know it's time to feed it with the proper nutrients to fight crepe skin. However, deciding between the two leading brands that claim to solve all these woes for you might take a lot of work. Before you jump to conclusions, we talked to some of our trusted sources who have used the product and shared their experience with it. So, we asked around, and here is what real-time users say about these two creams.
Martha commented on Gold Bond Crepe Corrector, "When I saw this on the top shelf of the drugstore, I knew this was a love at first sight. I have been using this for five months and can't stop talking about it to everyone. The formula is gentle and blendable on the skin, which I love. My crepey skin has improved a lot, and I dont even have any dryness like I used to have earlier."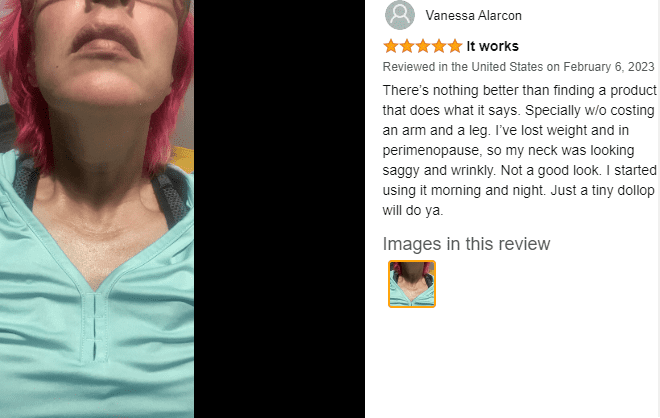 Savannah talked about Crepe Erase, "I thought this was a very average body cream. I have used others that have given me more benefits than this, so I don't think I will spend so much money on this again."
Lillian pinned on Gold Bond Crepe Corrector, "I bought it because it claimed it would provide 24-hour lasting hydration. However, I have not seen any noticeable improvements in my skin yet. I guess it doesn't work for everyone. Do not keep your hopes up!"
Gigi said about Crepe Erase, "The main reason I bought it is that it will help my crepey skin bounce back by improving elasticity and collagen density. Luckily, I am happy with the results."
FAQs | Gold Bond Crepe Corrector VS Crepe Erase
How long does it take for Crépe Erase to work?
Using the Crepe Erase consistently may take you two months to see any noticeable changes in your face. The formula claims to make your skin look firmer, smoother, and younger in the first month. If you are looking forward to meeting your skin goals, use it continuously, as the effects will become more visible with time.
Is it OK to use a Gold Bond crepe corrector on your face?
Yes, you can also use Gold Bond Crepe Corrector on your face. The Gold Bond Age Renew Crepe Corrector has been carefully curated for you and comes in a non-comedogenic formula. This means it won't clog any pores on your face or lead to breakouts.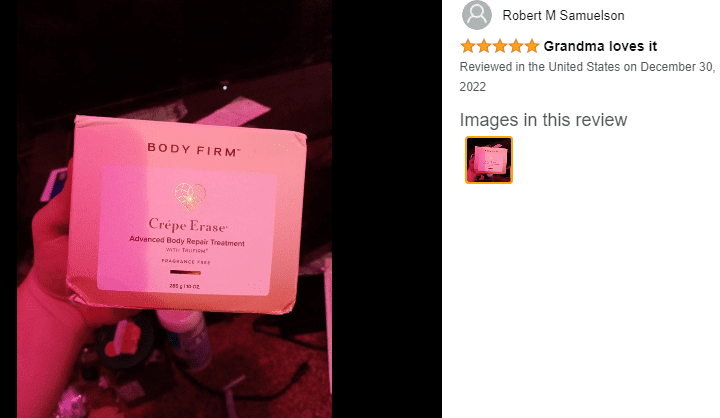 What are the side effects of gold bond crepe corrector?
A few severe side effects might be projected on your skin while using Gold Bond—allergic reactions like rashes, hives, itchiness, swelling, and blisters. Peeling of skin, tightness in the chest, and difficulty in breathing, swallowing, and talking might occur. Other signs of skin infections include oozing heat, redness, fever, or pain.
Does Crépe Erase work on a saggy neck?
Yes, the Crépe Erase Lift & Smooth Neck Firming Treatment has been specially designed to remove the loose and saggy skin from your neck and decollete area by firming it. The serum is lightweight on all skin types and boasts a unique TruFirm® Complex dedicated to correcting the crepiness on your neck and chest area.
How long does it take for the Gold Bond crepe corrector to work?
According to clinical trials, users might start seeing good results in their skin in the initial two weeks. But, this might vary from individual to individual because everyone's skin is different. However, you must be consistent with your everyday usage to see results.
Closure
You know what is good for your skin, and so do these two brands when shutting doors on crepe skin problems. While both brands are equally renewing and offer intensive care for your skin, you must understand their pros and cons first—the faceoff of Gold Bond Crepe Corrector VS Crepe Erase might look tricky. Still, we have addressed different segments you must consider while deciding on an option.
If you don't want to dent your purse, Gold Bond is an excellent deal because it just costs a fraction of the Crepe Erase. Also, if you are on a time crunch and need to achieve your best skin faster, Gold Bond is the best for users who have reported seeing results in just 2 days of using it.
Since we're talking about aging, we must look for skincare products that protect our skin and prevent premature aging. Thus, we have a detailed analysis of the following products:
I'm Sarah Abraham, the founder and co-author of Blushastic.com and a professional makeup artist. Beauty is more than just skin deep, and that's why I'm passionate about sharing my knowledge and experience to help people feel confident and beautiful on the inside and out.
Whether it's skincare, haircare, or fashion, my goal is to empower women to feel their best. With my expertise in the beauty industry, I strive to provide practical advice and tips that are accessible to everyone, regardless of their skill level or budget.