Understanding your body's needs is as complex as understanding the needs of your significant other! But this needn't necessarily feel like a job you have to get done! Investing in the right feelings at the right time will do the trick for the latter, just as investing in the right ingredients with the right products for aging will do for you!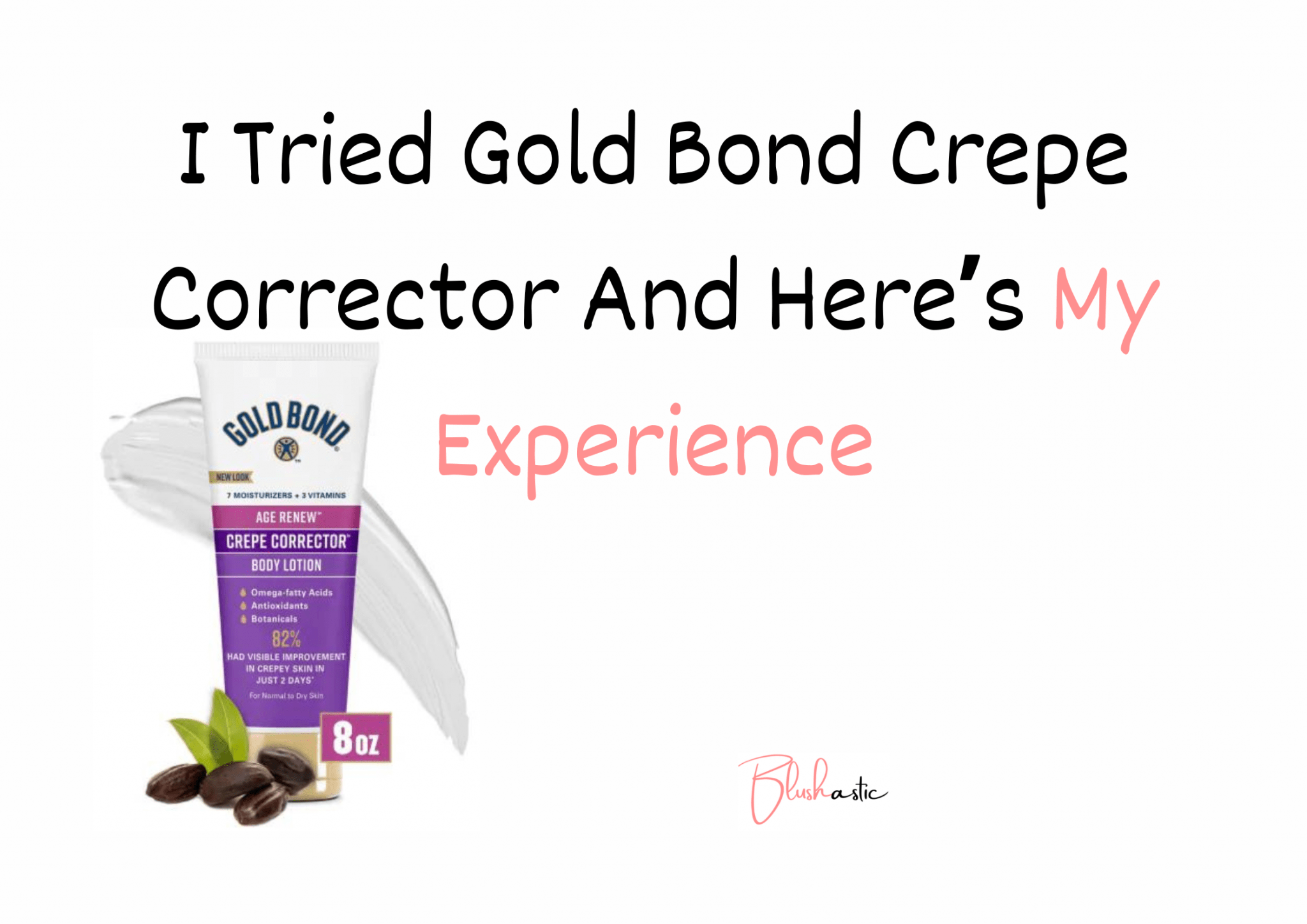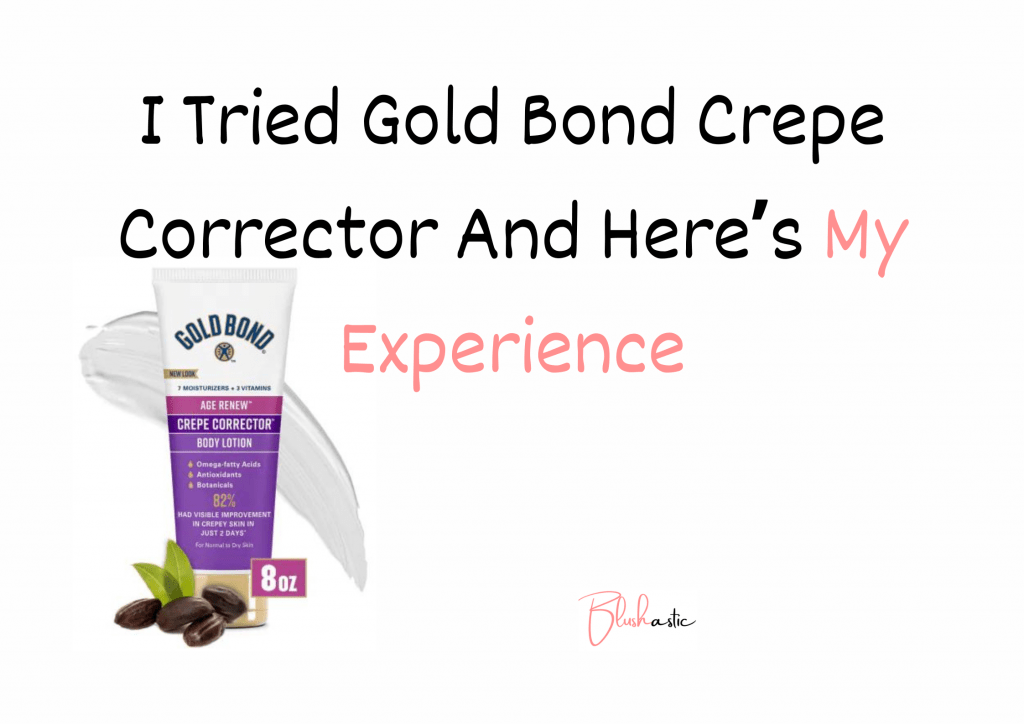 But this takes understanding your skin type in and out! Thankfully, Gold Bond Crepe Corrector reviews helped me a lot. And after experimenting with this formula over time, I have figured out on my own that this Gold Body Lotion was love at first sight for my dry skin but is it for yours? Here's my experience!
I Tried Gold Bond Crepe Corrector And Here's My Experience
I am entirely taken with the formula of this lotion, as it is effortless as silk and melts right onto my canvas without much effort. The fast-absorbing recipe makes it stand out in the face of other lotions, which often feel like a burden and later become a headache with their greasiness. Luckily, I always have a habit of picking up the ingredients list, and this has all the skin-healing and age-reversing elements your aging skin needs!
A handful of seven moisturizers and three vitamins are loaded into this composition, which should get all the credit. After applying it for over a month, I was finally hooked on it, for I could notice visible improvements in skin elasticity. This lotion has replaced all other formulas in my beauty cabinets and helped enhance my skin's wellness, for all I can say. 
Sale
Gold Bond Age Renew Crepe Corrector Body Lotion, Replenishing & Smoothing Formula, 8 oz.
Contains: One (1) 8-oz. bottle of Gold Bond Age Renew Crepe Corrector Body Lotion, Replenishing & Smoothing Formula
Gold Bond Crepe Corrector Lotion helps diminish visible signs of crepey skin, such as fine, thin wrinkles
This unique smoothing concentrate features protective anti-oxidants, powerful botanicals and nourishing omega-fatty acids
Gold Bond Lotion for Crepey Skin moisturizes skin for 24 hours for lasting hydration
This lightweight lotion is fragrance free, fast absorbing, non-greasy and tested by dermatologists
People with all skin types can use this and more because 82% of users saw good changes in their crepey skin in just 2 days! There are no fragrances or allergens in this formula that can irritate you. This was a big win, as my skin sometimes gets irritated. The lotion feels too wholesome, so sometimes I use it more than two times too! After all, self-care is primary, right?
How to use it?
There are no dos and don'ts when it comes to this body lotion! Take a refreshing bath, as this help open up the pores, allowing better product absorption. Apart from that, you can reapply it as often as your heart tells you to! 
Pro tip:- Keep drinking enough water. Sleep on time, and you are golden!
Benefits 
Non-greasy texture 

Fast-absorbing formula 

Offers intense 24-hr hydration

Free of fragrance and hypoallergenic  

Suitable for all skin types

Visibly plumps and firms dry skin

Restores moisture with the help of protective anti-oxidants 

Possess over 20k ratings on Amazon 

Improves skin elasticity in just two weeks

82% saw visible improvement in crepe skin in just 2 days 

Revives dull skin 

It helps rectify wrinkled skin

Tested and approved by dermatologists 

Not tested on animals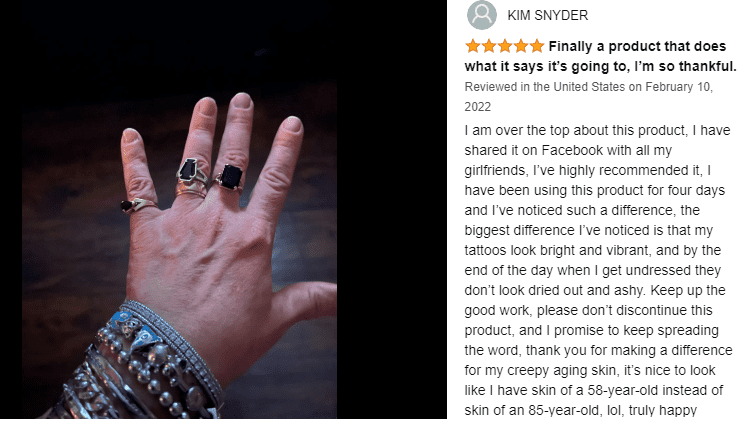 Drawbacks
It might take time to show noticeable improvements sometimes. 

The lotion has a thin consistency as compared to other creams. 
Gold Bond Crepe Corrector Ingredients 
There is something about exotic skincare ingredients that, when brought together, do wonders. According to Gold Bond Age Renew Crepe Corrector Reviews, the brand relies only on top-notch elements that claim to turn the clock back on your aging skin and make it revive it to look youthful. Let me walk you through all the key ingredients in this lotion, which will surely help convince you why you need to bring this beauty home! 
Vitamin E
I love this Gold Bond Crepe Corrector on Amazon because of its ingredients. And not just any component. The formula possesses the magical benefits of vitamin E, which is so moisturizing that you will want to use it on yourself till the last drop! It creates an intense rush of nourishment on your skin and makes up for the previous loss of antioxidants. Many science-backed results prove that this ingredient is a holy grail if you wish to have the smoothest skin. It keeps your skin moist, shields all essential lipid barriers, heals it from within, and prevents UV trouble.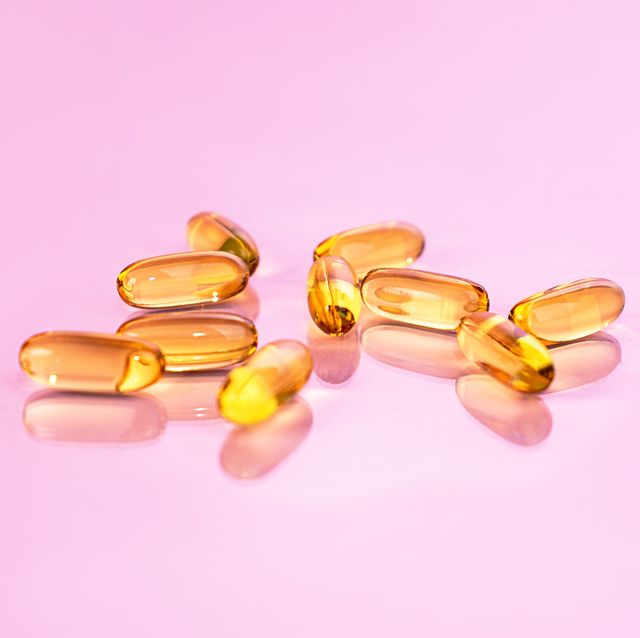 Botanicals
Plant-based skincare is all the rage now, and this Gold Bond Lotion is pure proof of that! The composition proudly features the presence of skin-loving botanicals, which are known to protect your skin against the face of free radical damage. These are also important when repairing your skin from within to appear replenished and healthy and exude a youthful glow. These herbs, roots, and berries are crucial to incorporate into one's body-pampering regime. They have anti-inflammatory, anti-bacterial, and anti-aging benefits that keep your skin pumped with beauty!
Omega Fatty Acids
If you have been around the body care business for a while, you would know that an essential supplement in the complete skincare guide has to be omega fatty acids. They compensate for the water loss in your skin and help maintain the natural skin barrier. My dry skin couldn't be happier because I can feel hydrated, plump, and healthy since I started using this lotion. 
Customer Feedback | Gold Bond Crepe Corrector Reviews
Finding the lotion can be quite a task, and it always comes with reading thousands of reviews before you seal the deal. Below are some real-time users who tried on the product and had a lot to say. So, what are they saying? 
Angela pinned, "Loving this lotion to the core! If I could exchange my entire body care routine, I would happily switch it with this product. When I read the Gold Bond Crepe Corrector Age Defense Reviews, I was blown away and decided to try it. It's been two months, and my skin feels much better. The wrinkles have faded, my texture has improved, and I feel more nourished now. I wish I had known about this lotion earlier."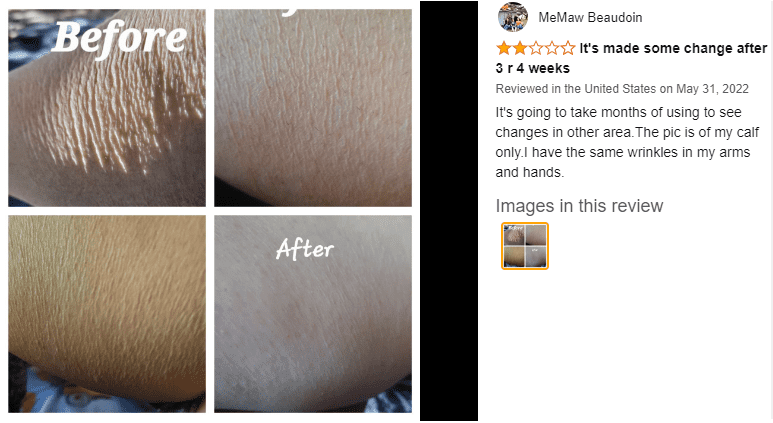 Mindy commented, "I was very excited when I read the label as it said it gives results in just two days. I used the product diligently for about 2 weeks but haven't seen any improvement. I wish I had given this decision some more thought before buying. I guess the lotion does not work for everyone after all."
Celia said, "This is the best investment I have ever made in body lotions. Looking forward to repurchasing this one. Go for it, people!"
Juliana said, "Apart from the expensive price tag the product has, I am satisfied with everything regarding this Gold Bond Lotion. If you are on a budget, you could also look for cheaper alternatives with similar ingredients online."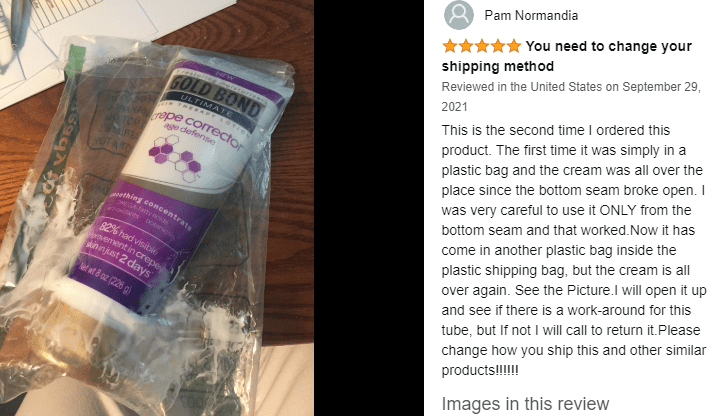 Kathrine mentioned, "Everything about this lotion stands out for me. What I love the most about this is unlike other lotions that are too thick and heavy on the skin, this one has a thin and lightweight consistency. Also, it absorbs faster than all the body lotions I used previously."
FAQs | Gold Bond Crepe Corrector Reviews
What is the Gold Bond Age Renew Crepe Corrector Hand Cream?
The Gold Bond Age Renew Crepe Corrector Hand Cream is a formula specifically designed to prevent the appearance of your hands from catching up to their age. That's right. Aging hands can look wrinkled, dry, and thin, like crumbled paper, which is unpleasant. This formula has potent botanicals and offers your hands a soothing experience over time. 
Can You Use Gold Bond Crepe Corrector On Your Face?
Yes, you can use the Gold Bond Retinol on your face, as it has a healthy retinol & peptide complex, which plumps your skin tone. It works all night to unleash the best skin in the morning that feels smoother upon touch. Stabilized Retinol supports the skin's regenerating process and improves efficacy with consistent usage. You get two other lotions for your face besides a night cream. 
Is Gold Bond Crepe Corrector Good?
When the brand conducted a study among users to evaluate the product's efficacy, it was found that almost 82% of the users noticed a visible improvement in their crepey skin in just two days. So, if you are on a time crunch and need to make things right, this is the right pick for you.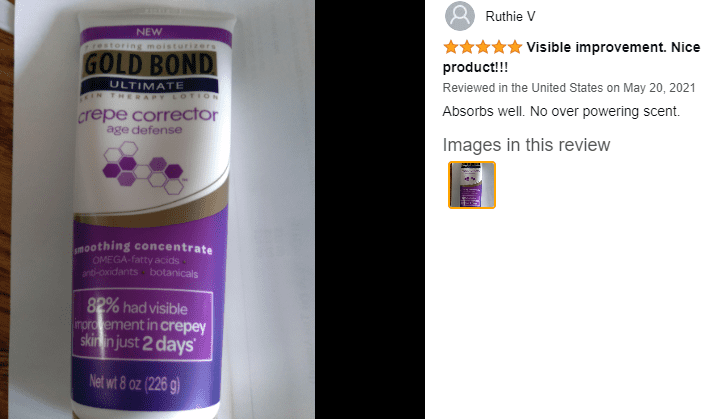 Does Gold Bond Crepe Corrector Really Work?
Many Gold Bond Ultimate Crepe Corrector Reviews have pointed out that the product does work. It contains a packet of nourishing ingredients that condition and hydrate your dehydrated skin and brings it out from its lackluster. You need to be consistent with your usage to see actual results. 
Does Gold Bond Crepe Corrector Work On Hands?
Yes, the Gold Bond Crepe Corrector does work on your hands. The hand cream is loved for its anti-aging properties and helps minimize crepey skin. There are 7 moisturizers and 3 vitamins, ensuring your skin gets complete hydration for 24 hours. The clinically proven formula gives you visible improvements in just two weeks. 
Closure 
Do you want to keep your limbs looking hydrated and also young? You caught me in the act! Gold Bond Crepe Corrector Reviews have pointed out that they are something you have been yearning for most time of this year, and I believe them! In summer or winter, you can wrap up your body and slather it with this lotion cum moisturizer.
Thanks to its army of rejuvenating skin hydrators, which keep your skin softer, smoother, protected, and away from wrinkles. So when it comes to treating my body with all the pampering it deserves, this lotion is the right match for me. I don't know about others, but my self-care ritual begins here! If this one's on my wishlist at any date and time, I am definitely going to make it come true! 
Rebecca is a skilled writer with a passion for makeup and skincare. With years of experience in the beauty industry, she has a deep understanding of the latest trends and products and a talent for creating engaging content that resonates with her readers. Whether she's writing about the latest skincare products or sharing her favorite makeup tips, Rebecca's writing is always informative, entertaining, and inspiring.