Be it lack of sleep, aging, or sun exposure, dark circles we carry under our eyes do make us look like pandas at some point. Though they are pretty standard, they can make you look either too tired or even older than you are. In today's world, numerous solutions such as eye creams and serums claim to diminish the appearance of dark circles visibly, be it instantly or in the long run. With so many available options, it can be a little overwhelming.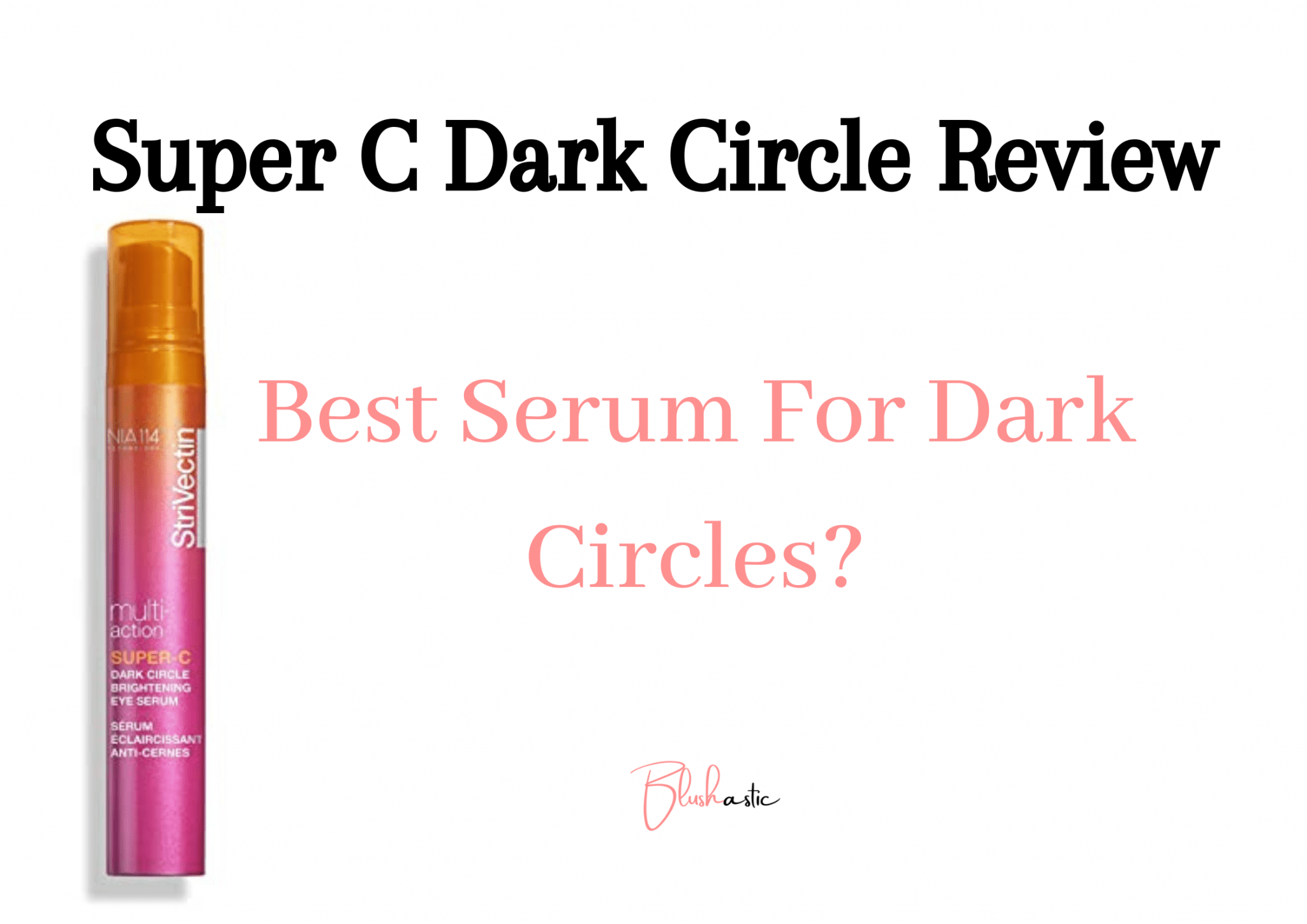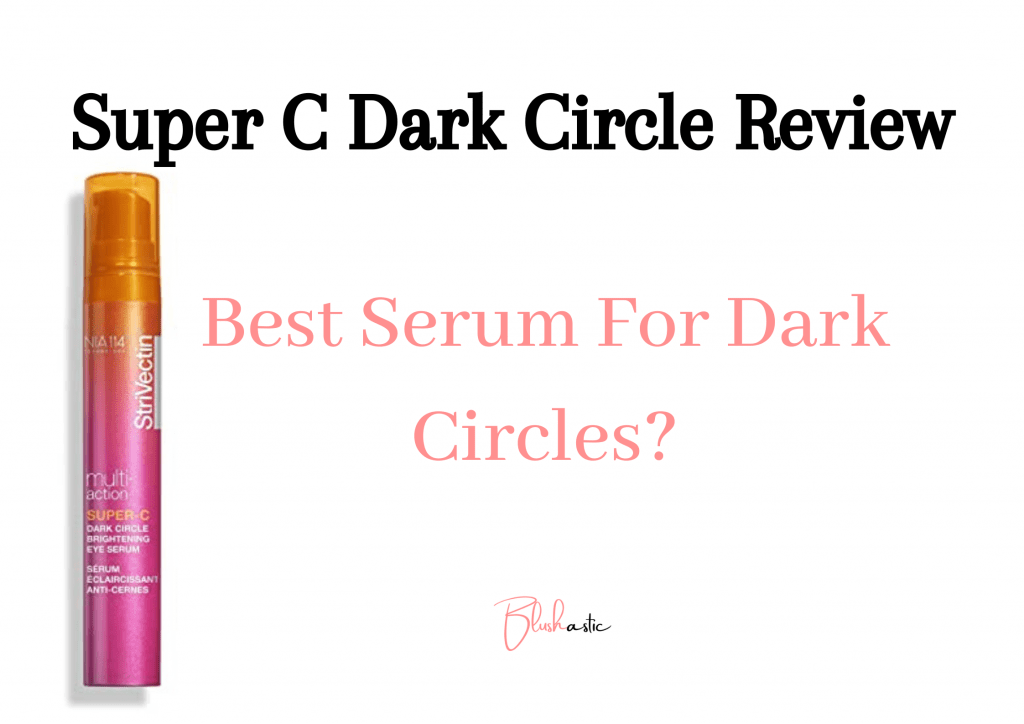 One such product which has been making rounds on the internet for reducing dark circles and brightening your under-eye area is StriVectin's Multi-Action Super-C Dark Circle Brightening Eye Serum. In this report, I'll present some of Super C Dark Circle reviews and a peek into its ingredients, benefits, and drawbacks, so you can decide if it's worth trying.
Super C Dark Circle Reviews | An Essential Part Of Your Eye Care?
If your dark circles are getting darker, you will need brighter solutions. There are thousands of eye-brightening serums and dark circle reductants, but do they work as they say? You might have tossed some of them in the bin because they showed no results. But with Super C Dark Circle Serum, there are pretty good claims. Let's dive into them.
About The Brand
When you add Science into your skincare, you get what StriVectin makes. The brand is known for making skin care products with its exclusive NIA-114 technology, an optimized version of Niacin. Niacin is a very famous ingredient in anti-aging products because of its ability to firm the skin's barrier and slow the aging process. The brand is also a proud owner of about 21 beauty awards because of its innovative and effective aging solutions.
The brand's Super-C Dark Circle Brightening Eye Cream is all about fighting dark circles caused by discoloration or stress. The infusion of powerful ingredients in the serum makes it potent enough to correct cool and warm-toned dark circles. The serum also aims to visibly firm your skin, one of the primary necessities to fight visible aging signs on the face.
Ingredients
Vitamin C
Vitamin C has many benefits for the skin, be it brightening, hydration, or even youthful radiance. It is mainly said to reduce redness but can minimize discoloration related to dark circles. It is also an excellent ingredient to increase collagen production, an essential step for anti-aging processes. It also has impressive antioxidant properties that help protect your skin from oxidative or radical damage.
Guava Leaf Extract
Guava leaf extract is all about antioxidant, antibacterial, and anti-inflammatory properties, making it an excellent treatment for hair and skin. The leaves are used to treat pigmentation or uneven skin tone. They are also widely used for treating acne by killing acne-based bacteria. It is also used as a skin-brightening agent in some skincare products and helps improve skin tone.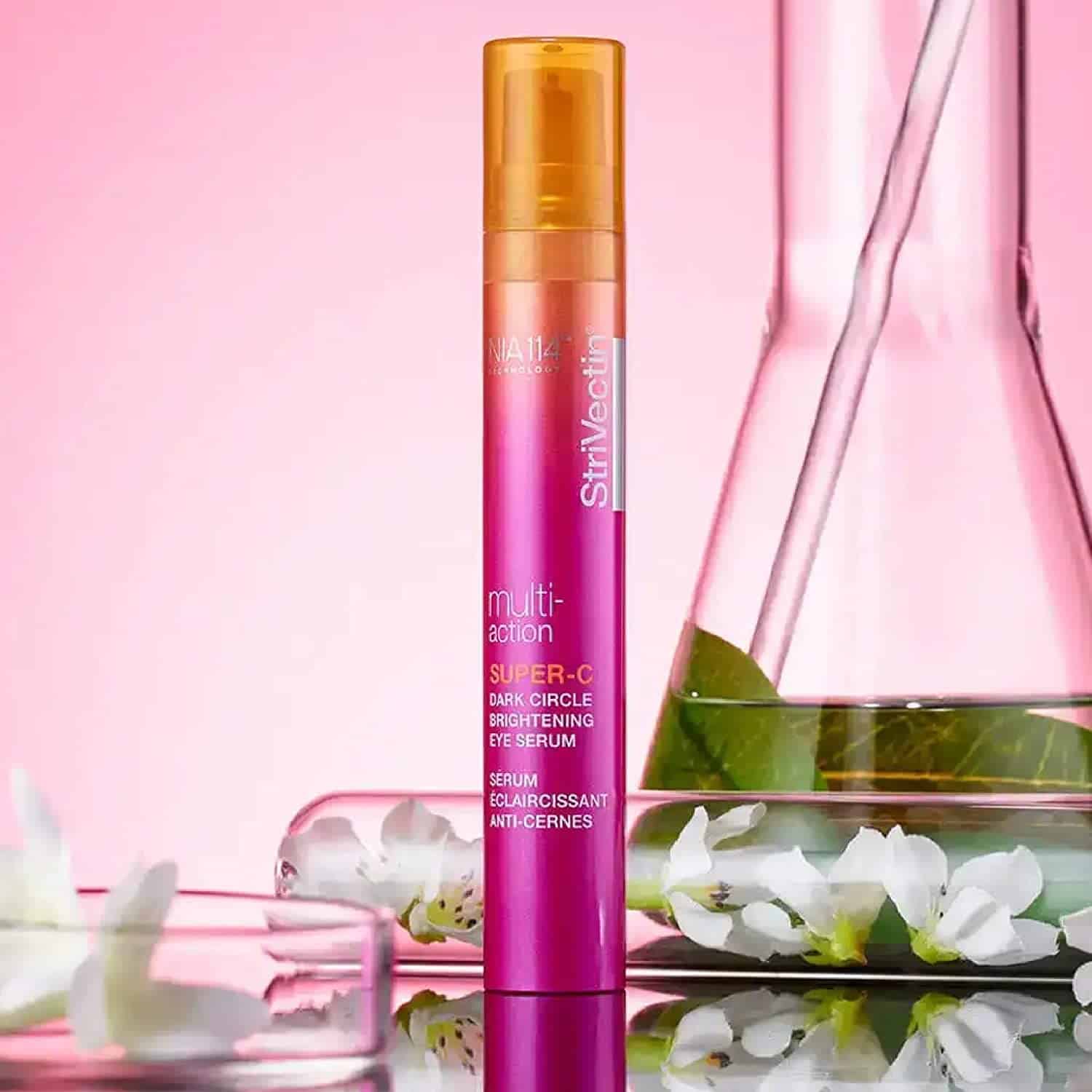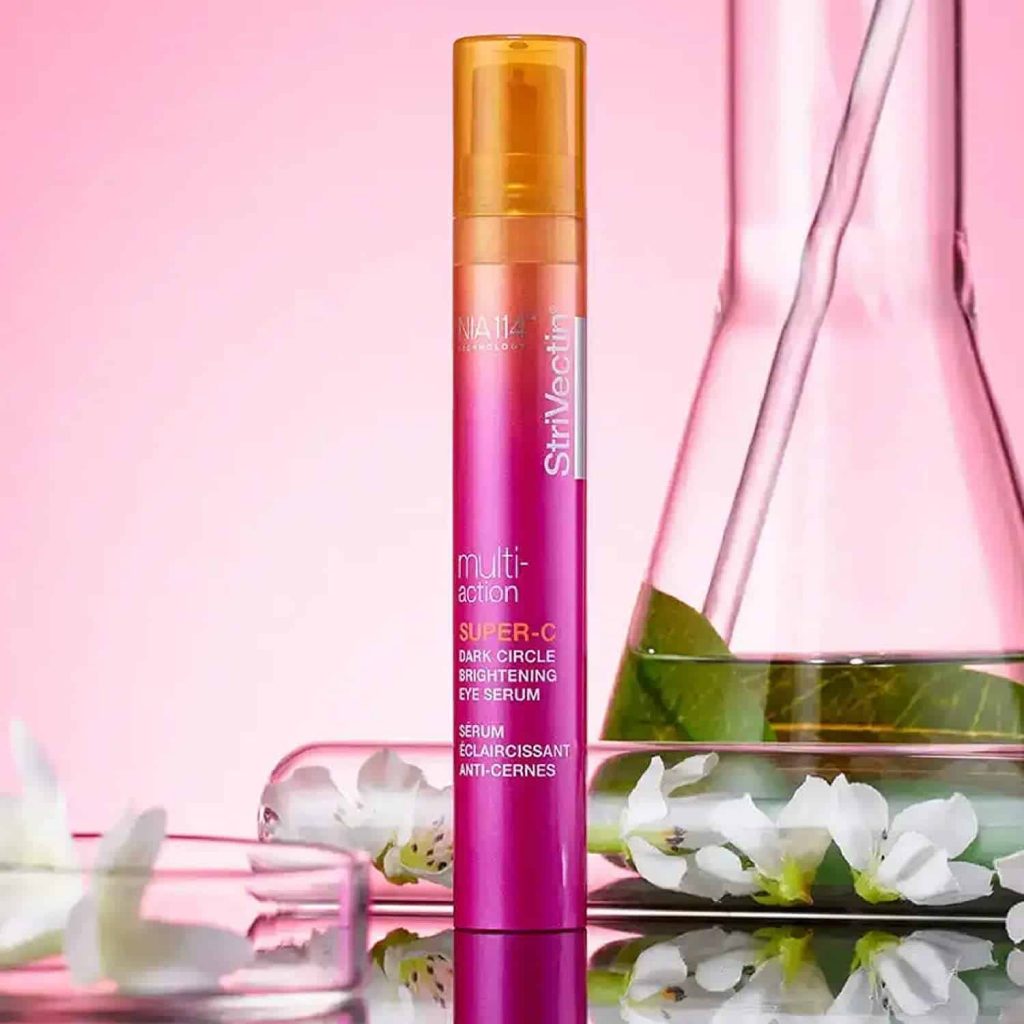 Jasmine Sambac Extract
Jasmine extract is said to have the ability to boost the elasticity of the skin, maintaining the moisture of the skin to prevent dryness. It also helps increase the collagen in the skin so it looks healthy.
Hawthorn Flower Extract
Crataegus Monogyna Flower Extract, also known as Hawthorn Flower extract, is composed of polyphenols and other acids that help minimize the appearance of dark circles and restore skin tone.
The serum is also infused with Brightening Botanical Blend that helps brighten the dark circles under the eyes.
How To Use?
The application process is straightforward. You must follow the simple steps below and consistently use the serum for better results.
Pump a pea-sized amount or only one drop of the serum on your finger.
Using that finger, gently tap it around your orbital bone.
Don't rub it aggressively on your skin. Just keep patting it on the area.
Use on clean skin twice a day consistently, in the morning and evening, to visibly see reduced dark circles over time.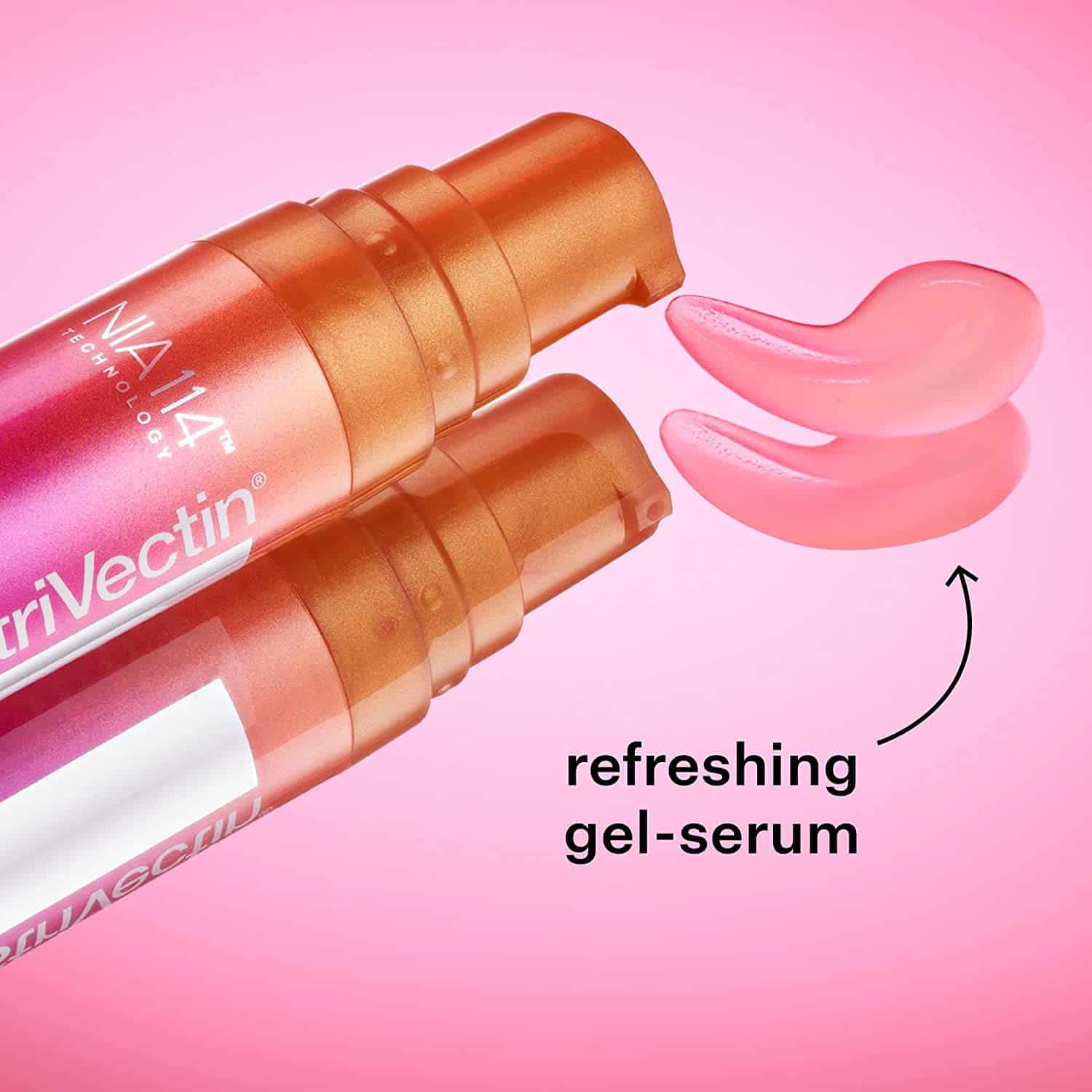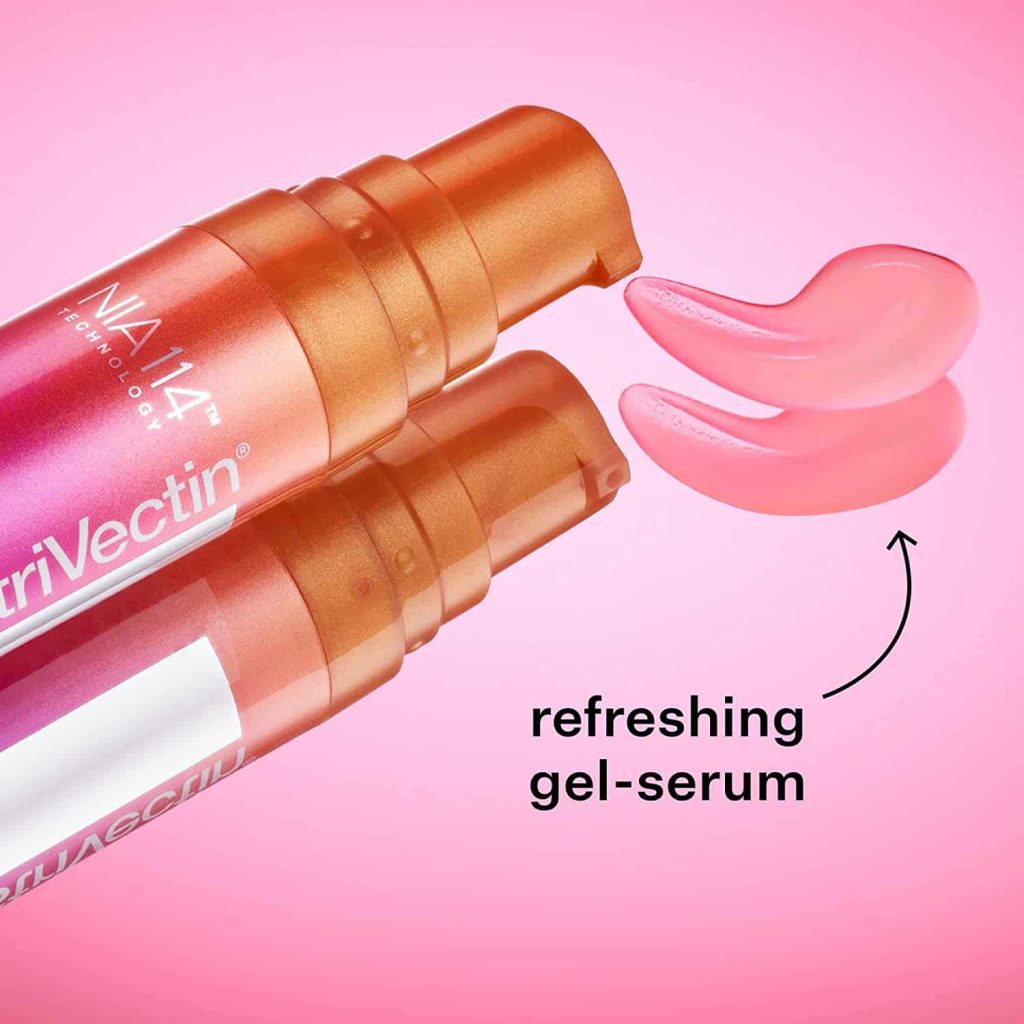 Benefits
The serum is an infusion of some tremendous skin-loving ingredients.
The ingredients not only brighten your skin but also ensure hydration of the skin.
Some of the ingredients also help boost collagen production, which is necessary for anti-aging products.
It also helps in improving the appearance of fine lines.
It helps firm your skin so it doesn't look saggy over time.
The Botanical Blend infused in the serum helps clean off the nasty impurities on your under-eye area.
It targets both types of dark circles, one caused by stress and also one caused due to lifestyle changes or factors.
Only a tiny amount of the product does wonders.
It also solves discolored under-eyes.
It potentially reduces the puffiness of the eyes as well.
The brand has made its way with several awards for its skincare products.
Ophthalmologist-tested.
Free from parabens.
Cruelty-free brand.
Drawbacks
It can be expensive, especially for the amount of product in the small tube.
The most common drawback noted was the failure of the serum to brighten the under-eyes, even after using it for weeks.
Customer Feedback Before & After | Super C Dark Circle Reviews
A user named Gayle said, 'I have been using the serum for more than 4 weeks now, and unfortunately, it did not do what it said. I have dark under-eye circles; the serum did not brighten them. I haven't found anything that works for my under-eye circles, and as soon as I saw this serum, I was excited to try it because I love StriVectin and its products.
I still hope to find some product that works for my dark circles. As of now, I go with concealer to cover them. However, I am pleased that this serum works for others because I understand how irritating these dark circles can be! Also, the serum does feel good under the eyes, so for that reason, I give it 3 stars.'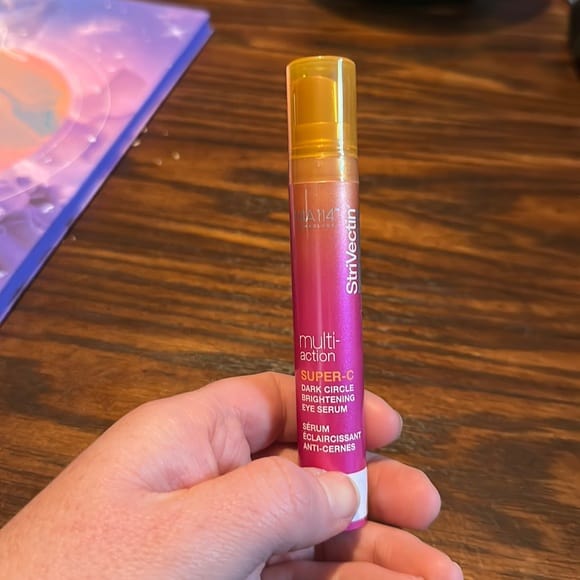 Karen B. said, 'After receiving the serum as a sample, I ordered it instantly. The application process is smooth as it glides on the skin easily. I have seen a reduction in my fine lines and dark circles. You will not be unsatisfied with the Super-C Dark Circle Brightening Eye Cream.'
Donna O. pinned her comment, saying, 'I am a first-time buyer. I am using the serum daily and have noticed some intermediate results. I hope to see better results regarding my dark under-eye circles with consistent use. Overall, the service has also been excellent.'
Another user Laura H. commented, 'After using it for quite a while now, the only positive that I have seen is that the area under my eyes has become very smooth and soft. Although about the dark circles, it did nothing even after using almost 3 tubes. These were my results!'
FAQs | Super C Dark Circle Reviews
Can I use Super- C Dark Circle Serum on my sensitive skin?
As per the brand, all its products are made to suit all skin types and tones. Additionally, they are also non-comedogenic, so you can use them worry-free. But, importantly, never forget to do a patch test before you dive into the full-face application.
Is StriVectin cruelty-free?
Yes, Strivectin is cruelty-free and PETA-certified.
Is Super-C Dark Circle Serum vegan?
Yes, the Under-Eye Brightening Serum is vegan.
Closure
Dark circles may be a common problem, but fighting them is essential. They may make you look unnecessarily dull or tired or sometimes even older than you are. Super C Dark Circle reviews have shown that the product has reduced dark circles, but every coin has two sides.
Several reviews complained of no improvement at all. However, if you are ready to put in some good money, give a dedicated amount of time, and with consistent use, you can try this serum!
Rebecca is a skilled writer with a passion for makeup and skincare. With years of experience in the beauty industry, she has a deep understanding of the latest trends and products and a talent for creating engaging content that resonates with her readers. Whether she's writing about the latest skincare products or sharing her favorite makeup tips, Rebecca's writing is always informative, entertaining, and inspiring.