The invention of instant eye lift creams may not offer people the dramatic results of surgical operations (blepharoplasty), but it has solved the problem, maybe for the short run at least. These eye-lift wands and creams address common eye-related concerns like puffiness, wrinkles, and fine lines.
Strivectin, a well-known brand that has offered Science-backed products for the past 20 years, offers its Strivectin Eye Lift Cream. In the world of premature aging, these eye lift creams are a gem; it isn't just the people in their 40s or 50s who apply them.
Many people have had their 'eyes' on these 'eye-lifting' creams, and no doubt StriVectin was one of them. With so many promising brands out there, StriVectin did make its way through. But is it really worth trying? Let me help you with some honest StriVectin Visible Eye Lift reviews to get a clearer picture.
StriVectin Visible Eye Lift Reviews | Instant Eye-Catching Results?
The brand takes pride in calling itself a leader in the skincare industry. It is agreeable because all its products are formulated with scientific knowledge and clinically proven good for aging skin. The specialty of this brand is its 'NIA-114-powered' products manufactured for scientific and biomedical research. It has been included in a list of beauty awards, which makes its products worth trying! Since you're here, you, too, must be wondering about the Hyperlift Eye Instant Fix reviews, and let me tell you, you are in the right place.
Sale
The Hyperlift Eye Instant Eye Fix is all about the 'High-Tech' breakthrough, a temporary solution to treat your eye-related concerns, including under-eye bags, wrinkles, fine lines, and even crepiness. It helps tighten and strengthen your under-eye area so it doesn't look saggy or aged. The good part about this formula is that it blends into the skin without leaving any white cast or residue. Let's dive into its ingredients to know whether this formula is good.
Ingredients
French Pink Clay
French Pink Clay has some excellent beauty-enhancing properties. Considering that it is ideal for all skin types, this pink clay can help in getting those impurities off your face while sucking that excessive oil in the skin. It is also suitable for dermatological issues like acne as it offers a soothing solution. Overall, it helps make the skin look refreshed with better skin texture.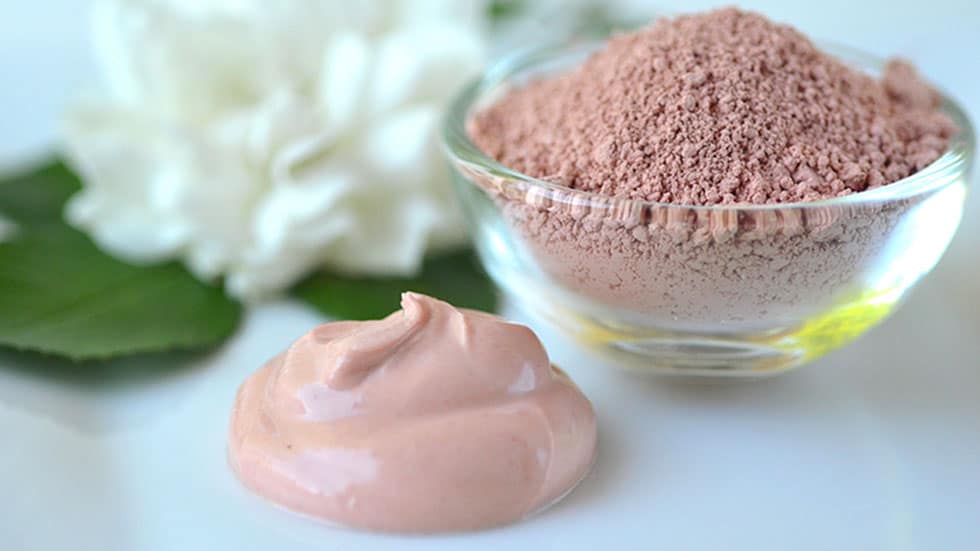 Sodium Hyaluronate
Since Sodium Hyaluronate has some crazy abilities to hydrate your skin, it also targets the puffiness of the eye, as proper hydration can lead to reduced puffiness around the eyes. Good hydration levels also contribute to better and enhanced skin elasticity, preventing premature aging or sagging and loss of firmness near the eyes. Apart from this, it helps in plumping your skin, thereby minimizing the appearance of fine lines and wrinkles around the eyes.
Acai Fruit Extract
Acai Fruit Extract is another ingredient that targets hydration and skin tightening. It is rich in antioxidants and Vitamin C and E, which we already know have excellent properties that protect our skin from environmental stressors, which lead to premature aging. They have special powers to improve the elasticity and firmness of the skin, thereby minimizing the appearance of wrinkles and fine lines. 
Chondrus Crispus Extract
Derived from red seaweed, Chondrus Crispus extract has been used in skincare for its potential benefits. It can protect your skin's natural protective film and combat dryness. It is also considered a hydrating agent, enriched with peptides and amino acids, as it helps retain the moisture content in the skin, making the skin look smoother and refreshed.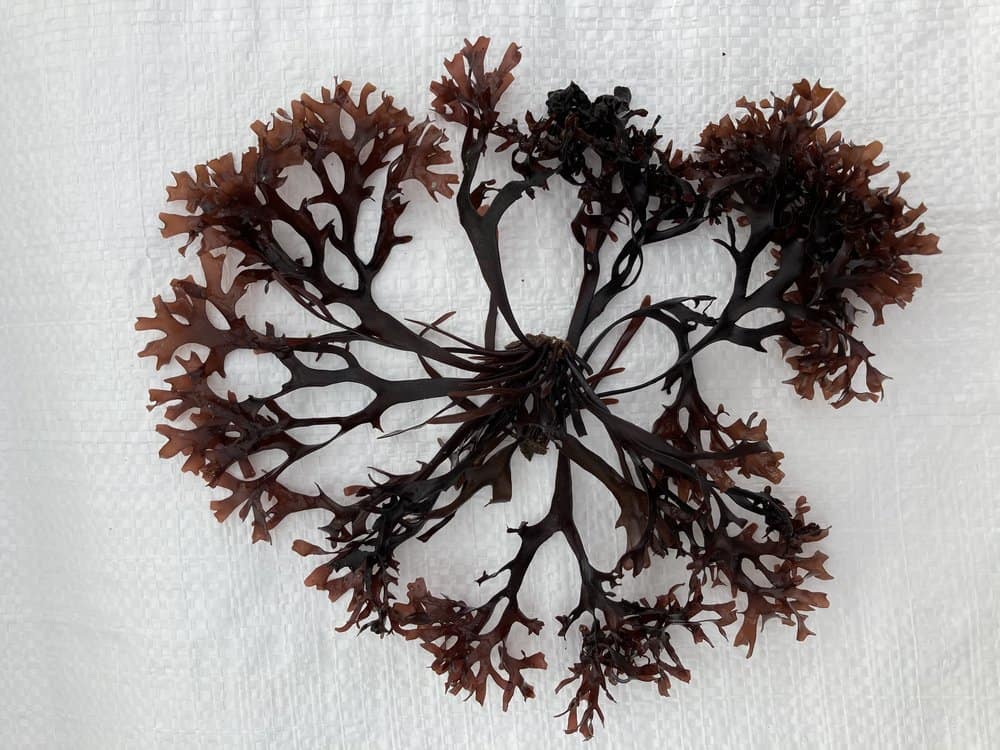 Oak Bark
Oak Bark has unique anti-inflammatory properties that help with calming effects while reducing redness or inflammation. It also possesses antioxidant properties that protect the skin from environmental stressors, contributing to the anti-aging impacts.
Clear Quartz Crystal
The Visible Eye Lift is infused with Clear Quartz Crystal, enhancing immediate skin firmness or tightness.
How To Apply StriVectin Hyperlift Eye Instant Eye Fix?
The brand suggests that the Visible Eye Lift is mainly for the eyes only as the skin near them is comparatively thinner and delicate, making it targetable for signs of aging, crow's feet, puffiness, and dark circles. So, with its infusion of several minerals and peptides, this Instant Eye Fix helps target the eye area for instant results.
Initially, cleanse your skin well and moisturize it so it doesn't turn dry or cracked.
Apply the Instant Eye Fix near your eyes and try not to change expressions till the formula dries. Stay still so that the formula does not crease into your lines when you smile, etc, when the formula is still there on the skin.
Let the formula sit in and absorb for about 4-5 minutes.
Try applying it in small amounts to avoid any white residue.
Did you forget to apply it before makeup? Well, worry not; the brand also claims you can use it after makeup.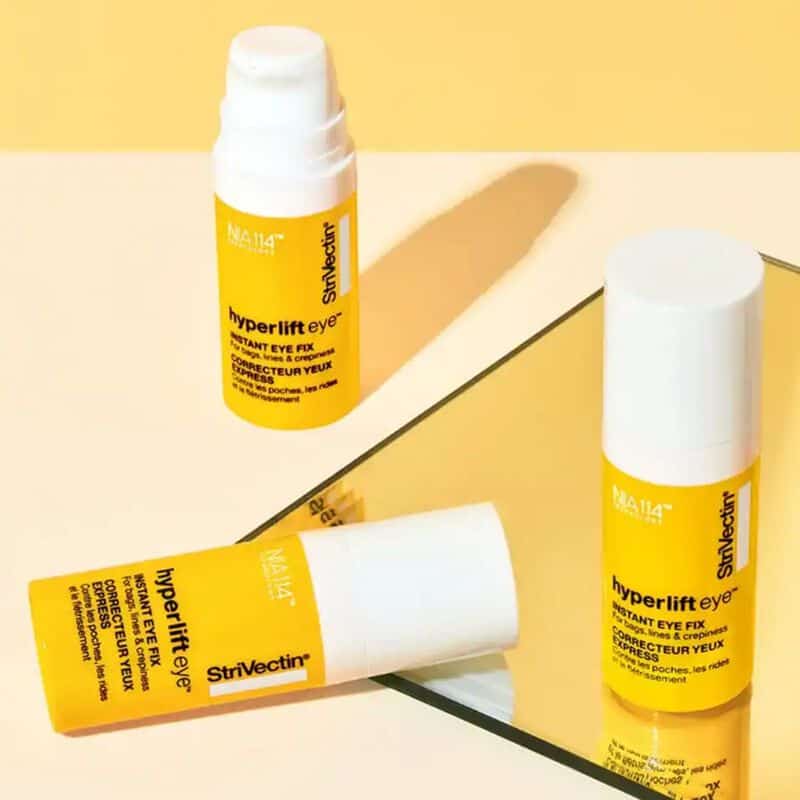 Evaluation of Pros and Cons
Pros of Using StriVectin Visible Eye Lift
The formula contains many hydrating agents that are beneficial for addressing dryness and helping your skin retain moisture.
It is also incorporated with many other unique ingredients that target problems like wrinkles, lines, skin firmness, etc.
This smoothens the crepey skin you have under your eyes.
It helps in shrinking the under-eye bags.
You can apply it over makeup as well.
No white residue left after applying it.
It shows visible results within 5 minutes of its application.
A little goes a long way. (the brand promises this, too!)
The product's texture is impressive and absorbs into the skin without making the area sticky or heavy.
The brand uses the 'NIA-114' technology, which involves Vitamin B3.
Free of parabens.
PETA-certified.
Cruelty-free.
Cons
Some users reported that it did not work well with makeup as it formed clumps and steaks.
The major drawback reported by several people was its duration. The 'Instant Eye-Fix' is temporary and works only for a few hours.
For some, it left a slight white residue or film under the eyes.
Customer Feedback | StriVectin Visible Eye Lift Before And After Reviews
A user named Tara commented, 'I see a huge difference! There isn't any white residue; honestly, it is way better than PTR. This is a product that gives instant results. I am 48 years old with good genetics. However, I have got these tired-looking under-eyes because of my genes, though I haven't been a smoker.
Additionally, I have got huge pores. Either you get dry skin along with wrinkles or oily skin with sagginess. I've got the second one. But these road maps on my face have vanished without any white residue. I am in LOVE with this product. Thank You!!'
A user named Silli said, 'It looks like it works for some time only. I dabbed it around the area near my eyes, and to tell you, I have undereye bags. It did make those disappear, but I didn't like how tight and funny it felt. It seems like it's working, but your lines and creases start appearing when you step outside and start having conversations. I use my eyes quite a lot for my expressions, and it doesn't do much of a good job there and around my droops by the nose. I believe the only area where it works is on the forehead. I will try using it again, but the more I use it, the more white it appears. And to get rid of that, you gotta dab it with some water.'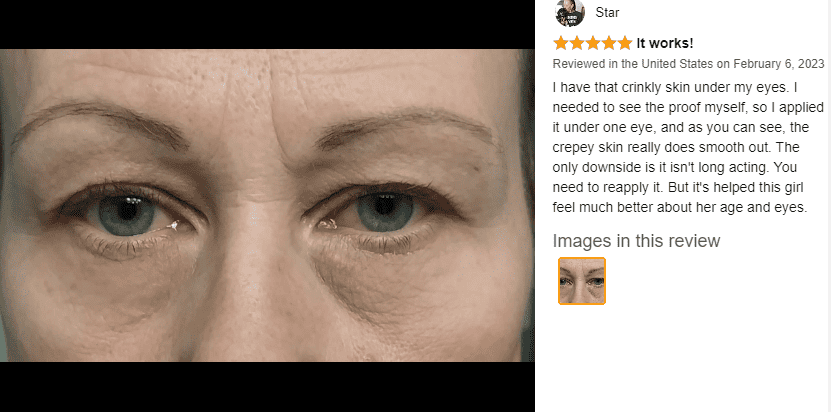 Another user, Erin, disappointedly commented, 'I recommend you not to waste your money on this. I followed all the directions and instructions and then referred to all the comments on using it. They said to use only a small amount, dab it and not rub it, and use it on a clean face. I did it all, but I can't get this to work without having any white cast left, which is very noticeable. If you think it's because I wear makeup, nope, I don't, so that isn't even a reason. At this point, I can't even think of using this under my makeup or even over it! Overall, I am quite disappointed by this product as I am usually satisfied with the other products from StriVectin.'
A user named Normy happily said, 'I am so pleased!! It did what it said. I loved how it works, just the way they described it. Every morning, I have under-eye bags, and then I apply them, and it does its job by tightening that area. And as recommended, I do not change my expressions and wait till it dries. I had faith in this product because I have used many of StriVectin's products but wasn't aware of this one. I have used many products for my under-eye bags for a long time, and none of them did what they should. I'm glad I finally found the solution to my problem!'
Wendy S. commented, 'It does not work at all! Giving this product one star is enough. I applied it and clicked some before and after pictures only to realize there was no difference in my under-eye bags. Sadly, this product does not work, so I recommend you not to waste your money!'
FAQs | StriVectin Visible Eye Lift Reviews
How long does the StriVectin Hyperlift Eye effect last?
Since the Instant Eye effect is a temporary solution to your eye-related concerns, the effect could last for about 3-4 hours.
Are there any potential side effects or allergic reactions after using the Instant Eye Fix?
Though many cases haven't been reported, there are slight chances for people with sensitive skin to experience some redness or other allergic reactions. This could be because of the presence of many ingredients in the product. In any case, make sure you contact your doctor immediately.
Can StriVectin Hyperlift Eye be used under makeup?
Yes, you can use it under makeup and apply it over makeup. Add a little concealer and then dab this product, and you're good to go.
What results can I expect from the Instant Eye Fix?
The brand claims its 'proven results' by saying it minimizes the under-eye bags, makes the fine lines and wrinkles look smoother, and makes the under-eye area look less saggy.
Final Words
Whether looking for a quick and instant solution or a long-term one, radiant and refreshed eyes make or break the look; an honest and deeper insight into the StriVectin Hyperlift Eye Instant Eye Fix reviews have highlighted many different experiences of users.
With the additional benefit of several ingredients that target important concepts of hydration and anti-aging, this Instant Eye fix has been a HIT for many. However, different people have different experiences, as some were disappointed with the residue left after applying. Well, why don't you try it and know in which category of users you fall?
I'm Sarah Abraham, the founder and co-author of Blushastic.com and a professional makeup artist. Beauty is more than just skin deep, and that's why I'm passionate about sharing my knowledge and experience to help people feel confident and beautiful on the inside and out.
Whether it's skincare, haircare, or fashion, my goal is to empower women to feel their best. With my expertise in the beauty industry, I strive to provide practical advice and tips that are accessible to everyone, regardless of their skill level or budget.