Getting that perfect, clear, and radiant skin often includes a diligent and careful skincare routine, which has to be followed consistently. Things get complicated when you must tackle issues revolving around stubborn sebaceous filaments that don't seem to get away quickly.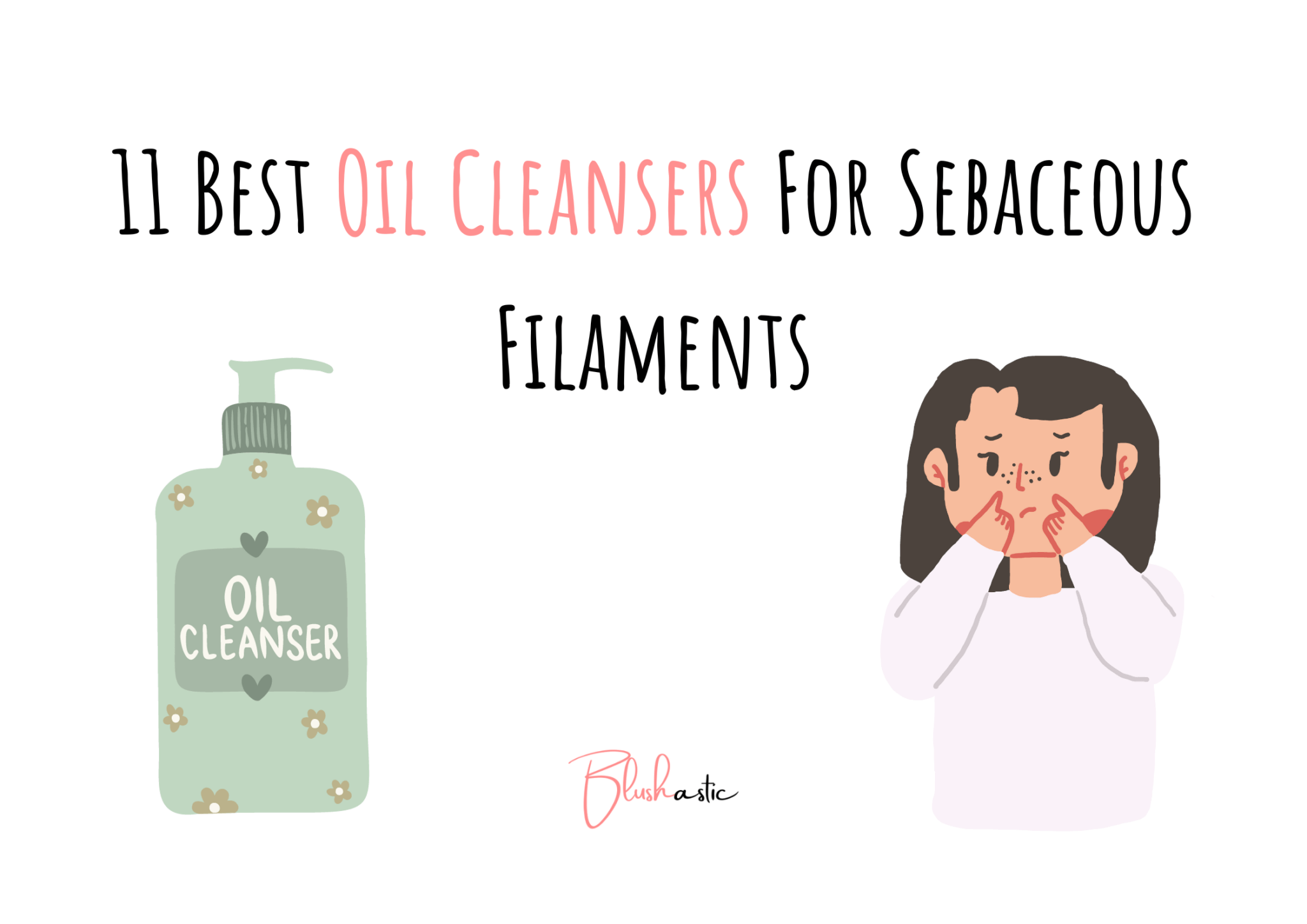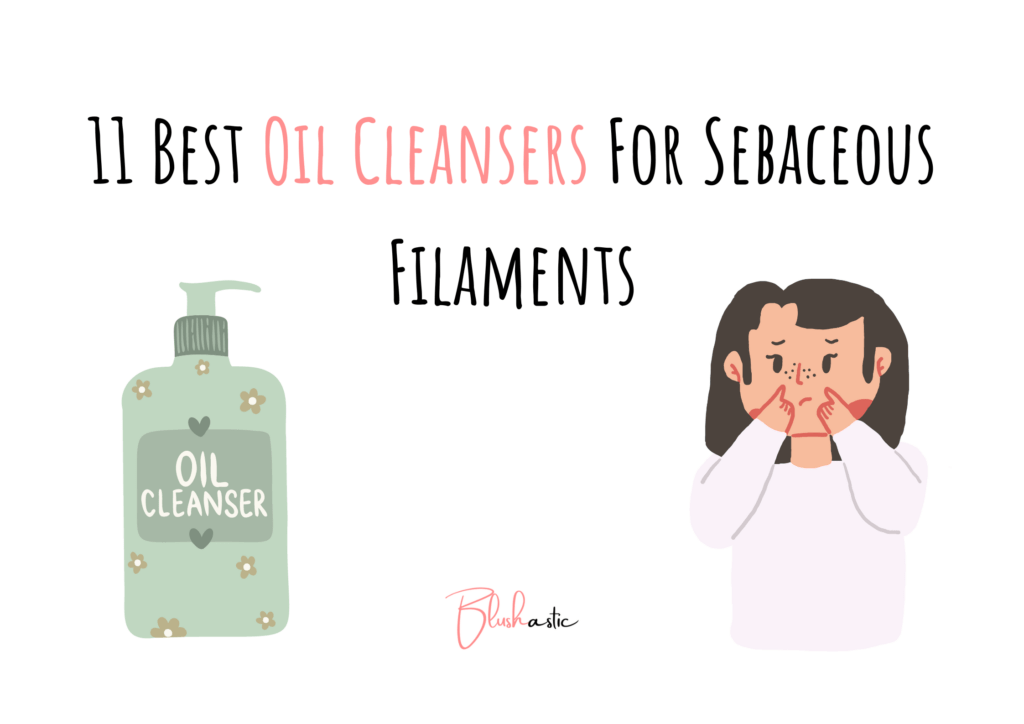 Sebaceous filaments are sometimes mistaken for blackheads, whereas these are nothing but a part of your skin. But when things don't go by your idle beauty look, it may frustrate you. These filaments become annoying as they become hurdles for those who want a smooth complexion. Today, I'll help you find the best oil cleanser for sebaceous filaments, so let's get into it.
Best Oil Cleanser For Sebaceous Filaments | The Pore-fection Cleansers For You
With sebaceous filaments taking up your peace, it would be a breakthrough if you get your hands on the right oil cleanser. Well, I know you've got thousands of options in the market, all claiming to do the job. But in this report, I'll unveil the 11 best oil cleansers for sebaceous filaments, which are known for their effectiveness in reducing the appearance of pores. So whether you are new to the skincare world or an experienced devotee, this article should be the roadmap for you to tackle these sebaceous filaments better!
DHC or Daigaku Honyaku Center is a Japanese skincare brand known internationally for its high-quality skin care products. It also snatches the spotlight from other international brands with its simple and natural ingredients, focussing on gentleness and effectiveness. The brand's most popular and revered product is the DHC Deep Cleansing Oil.
DHC Deep Cleansing Oil has made people go gaga, and let me tell you, it isn't for no reason—the infusion of organic olive oil, rosemary leaf oil, and Vitamin E. The organic olive oil, the highlighting ingredient, is enriched with antioxidants that help protect the skin's moisture and the skin from radical damage. To get your skin feeling loved and fresh, rosemary leaf oil contributes by leaving a refreshing scent. Vitamin E, again, is a superhero ingredient that not only helps with moisturization but also strengthens the barrier of your skin.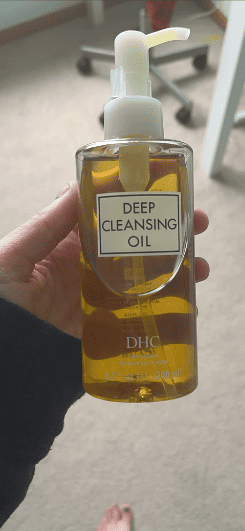 Pros
The Deep Cleansing Oil is infused with essential and natural ingredients for hydration, nourishment, and skin protection.
It helps with the sebaceous filaments when you rub it on your skin for a few minutes.
Olive Oil present helps with the nourishment of the skin and makes sure your skin is hydrated.
After using it, you can feel your skin get soft and supple.
Vitamin E makes it a perfect skincare product, protecting your skin from radical damage and making your skin's natural barrier firmer.
You can use it as a very effective makeup remover.
It helps with excess oil.
There are no harsh chemicals added.
Cons
The fragrance may not be pleasing to some people as some reported it smelt like olive oil, while some said it was like rosemary leaves.
It can be expensive compared to other cleansing oils available in the market.
People with sensitive skin can have breakouts.
If you have been a skincare enthusiast, you would have used or at least come across this people's favorite drugstore brand, Neutrogena. With great emphasis on innovative technologies, the brand has produced several products that have won hearts. Moreover, it isn't just the effectiveness and innovation of products but also the accessibility and affordability that have made Neutrogena a go-to choice for many people.
Neutrogena Ultra-Light Cleansing Oil allows your skin to feel that gentle cleanse. At the same time, it removes makeup and other impurities on your skin by transforming it into a lightweight emulsion that makes washing off your face easier. It contains rosemary leaf extract and has anti-inflammatory properties that help to calm inflamed skin. It is said to have properties that help maintain the balance of oil production in your skin, leading to an even skin complexion. Camellia Oleifera leaf extract is lightweight and helps gently clean skin.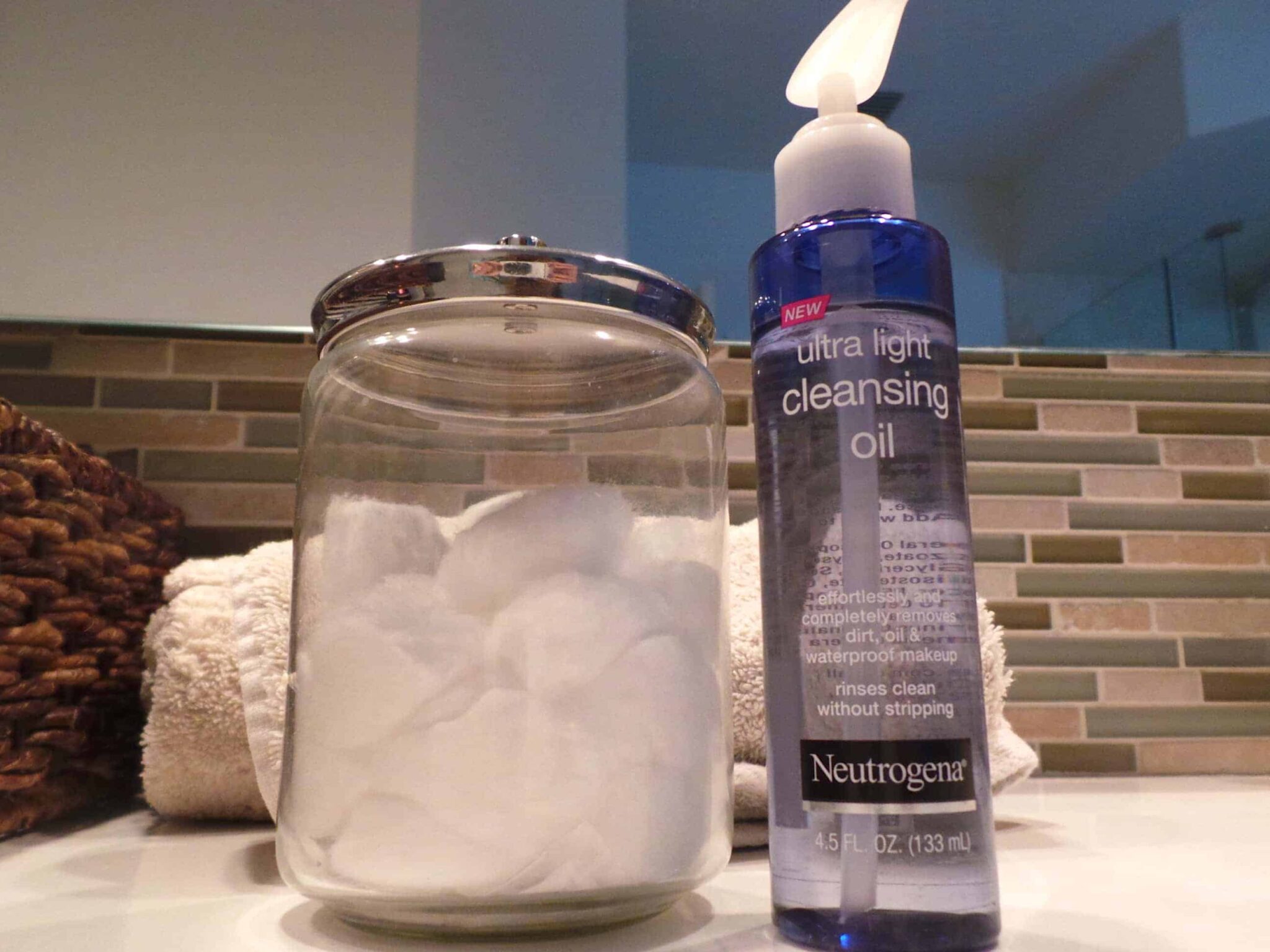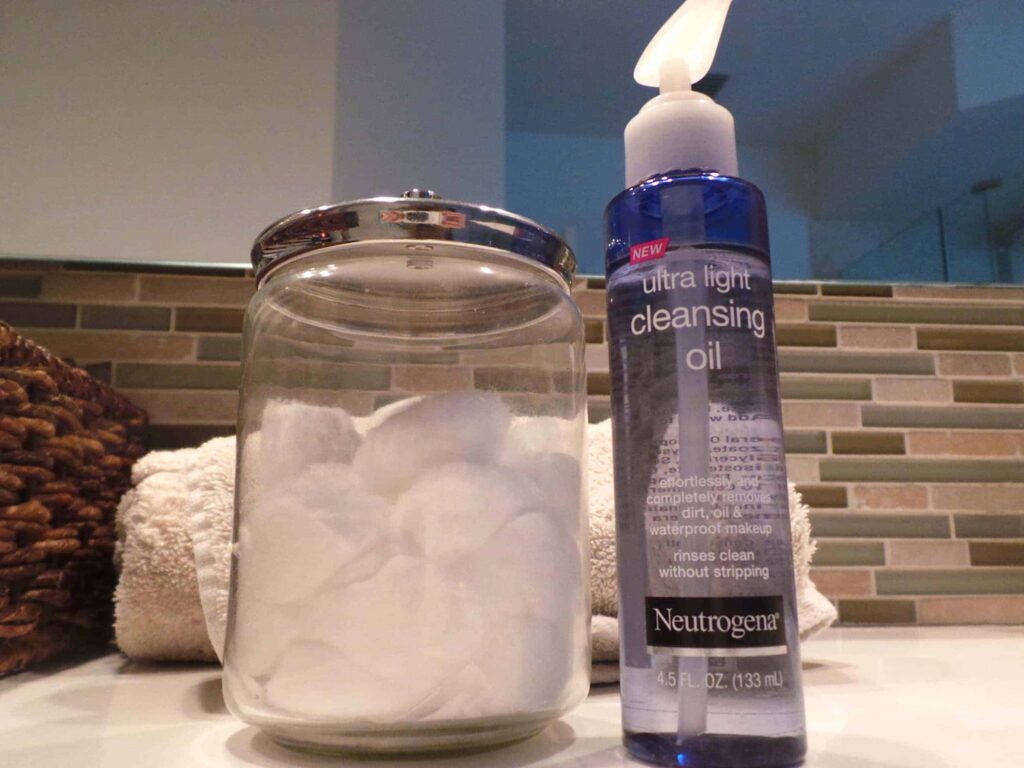 Pros
The formula is made to provide a gentle cleanse to your skin without having your skin turn dry.
It contains rosemary leaf extract, which has excellent skin benefits as it nourishes and refreshes the skin.
The presence of tea seed oil (Camellia oleifera) is yet another superpower, as it also helps gently clean your skin while protecting it from oxidative stress. Hence, it possesses some anti-aging properties as well.
As the name suggests, it is lightweight and works for various skin types.
Dermatologically tested.
It doesn't leave your skin feeling sticky or greasy.
It does not clog pores and can be used by people with acne-prone skin.
The price tag won't make you rethink your choice.
The emulsification makes the dirt or impurities get washed away easily.
Cons
It can be too lightweight and may not remove stubborn makeup products like mascaras.
Some users felt the scent was a little off-putting.
With over 40 years of consistency, Burt's Bee is known for its inspiration from bees, and hence, their products contain beeswax and honey as the key ingredients. It is proudly the Number 1 Dermatologist-recommended natural skincare brand. With natural ingredients, the brand strives to make products that freshen up and strengthen the skin's natural barrier.
One of the popular skincare products of the brand includes Burt's Bees Cleansing Oil, formulated to clean the excess oil and impurities on the skin effectively. Drawing inspiration from nature, the brand has enriched this cleansing oil with some natural oils designed to melt away makeup without causing problems to the natural skin moisture. Some natural oils include coconut and Argan oil, enriched with vitamins that clean, nourish, and pamper your skin.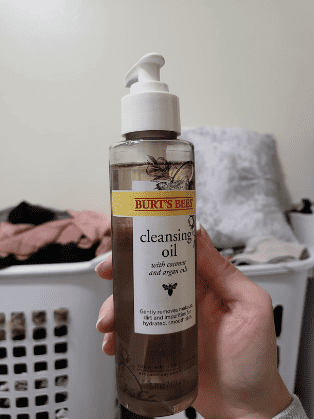 Pros
The formula is enriched with coconut oil, which contains Vitamin E and helps with many skincare benefits like moisturization, healing, protection, etc.
Argan oil protects sebum production, which helps tackle those sebaceous filaments with excess oil. This oil also helps exfoliate the skin so your pores get clean and you can breathe fresh air.
Cleansers should not leave your skin dry; hence, this cleansing oil strives for hydration and softens skin.
It is non-comedogenic.
For people who prefer sustainable and eco-friendly products, this brand and its products can be their go-to choice.
Free from parabens, phthalates, and petroleum.
It comes with a built-in pump, which makes usage easy and convenient.
Cons
Some users reported that using this cleansing oil made their eyes burn.
The scent may be a little too strong for some people.
There can be other affordable cleansing oils on the market.
CeraVe has made many of its products using MVE Technology to give therapeutic skin care through its products. If you've been into skincare for a long time, you would have probably come across this favorite drug-store brand known for its affordability and effectiveness. It also focuses on the importance of ceramides and infuses them into its products for a more substantial skin barrier.
This lightweight Cleansing Oil is infused with ceramides, essential to the skin's natural barrier. It also contains hyaluronic acid and squalane oil, which help with hydration and moisturization of the skin. It is a gentle formula that cleanses your skin and rinses off easily.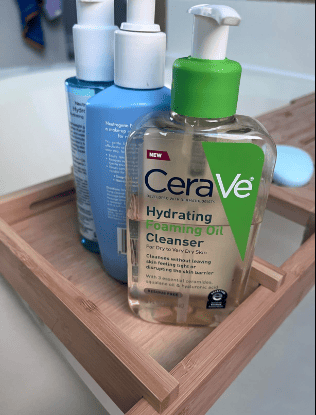 Pros
It is formulated with ceramides, which help improve your skin cells' health.
Hyaluronic acid present has excellent water-holding capacity and makes your skin hydrated.
Squalane oil, an emollient, helps treat dryness and rough skin so your skin stays moisturized.
This cleansing oil is crafted in collaboration with dermatologists.
It is suitable for everyone, including babies above 3 months.
It can be used as a facial cleanser and for your body.
Non-stripping.
There is no greasy residue.
Easily available.
Cons
Some users reported that it did not clean like an oil cleanser would.
The consistency can be gel-like and not like oil.
Hada Labo is another Japanese skincare brand with many users because it prioritizes and practically uses hyaluronic acid as the key ingredient in its products. Since it's a Japanese brand, you know you can expect some excellent simplicity with practical approaches towards the betterment and nourishment of your skin. The Gokujyun Oil Cleansing is one of the products from the brand's most popular series, the Gokujyun Series.
This Oil Cleansing is very effective, thanks to olive oil and two types of hyaluronic acid that strive to keep your skin moisturized. The infusion of hyaluronic acid in this cleansing oil speaks for itself, as it is one of the most potent hydrating ingredients that will not let your skin feel dried out. Since sebaceous filaments require gentle cleaning and removal of excess oil, this cleansing oil is formulated to remove other impurities from your skin.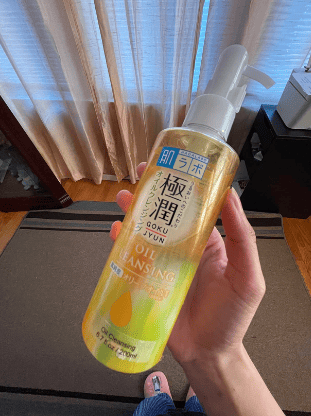 Pros
The cleansing oil being part of the Gokujyun series means it focuses on hydration with the magic of hyaluronic acid.
It gives your skin a thorough cleanse.
You can quickly remove makeup, sunscreen, and even sebaceous filaments.
It is said to be non-comedogenic as several users are satisfied with its ability not to clog pores and, hence, become a good choice for people with acne or breakouts.
The formula is made with a simple approach without adding any harsh or unwanted ingredients or additives.
It works very gently on the skin.
It works well in getting rid of the grit present on the skin.
Free from alcohol and fragrances.
Mineral-oil free.
It comes at an affordable price.
Cons
Several users reported that it did not get rid of mascara or other eye makeup quickly and had to be used two to three times to wash it off thoroughly.
People with sensitive skin or acne-prone skin can experience breakouts.
Some users said the oil was relatively thin and didn't lather much.
Anua, a Korean brand, focuses on simplicity and good ingredients without using unwanted or needless ones. With gentle ingredients, the products are made to make you feel relaxed and calm amidst the chaos you may face. The brand also takes pride in calling itself a clean beauty brand and promoting sustainability.
Anua Heartleaf Pore Control Cleansing Oil is crafted to give you a gentle cleansing experience so your skin stays calm and clean. Since sebum is our enemy when it comes to sebaceous filaments, this cleaning oil helps not only with sebum but also with blackheads, makeup, and other dirt. As the name suggests, a heartleaf extract again targets excess sebum, calms inflamed skin or redness and makes your skin look brighter and radiant. Some other oils, like jojoba seed oil, grape seed oil, olive oil, etc., strive to make your skin hydrated and nourished so it looks soft, supple, and refreshed.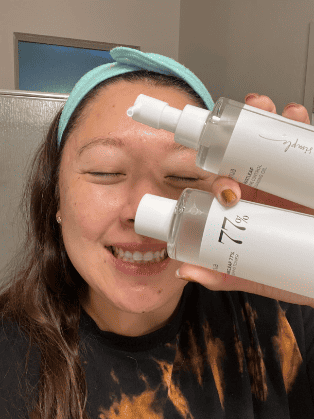 Pros
The cleansing oil is bathed with rich ingredients that target the health and hydration of the skin.
Jojoba seed oil, similar to sebum, helps make the skin softer and smoother, thereby improving overall skin elasticity.
Grape seed oil helps with hydration and hence reduces the appearance of fine lines and wrinkles.
The critical ingredient, heart leaf extract, contributes in various ways by soothing skin, protecting it from free radicals, and giving an overall radiant and youthful complexion.
It is non-comedogenic.
With natural ingredients and a simple approach, the cleansing oil can work gently on your skin without irritating your skin's barrier or hydration.
It is a good option for removing everyday makeup and other dirt.
The brand supports sustainability.
Cons
It is comparatively expensive compared to other oil-based cleansers.
Maybe because of several ingredients, some users reported breakouts and redness.
Hanskin has gained international recognition for its famous cleansing oils for removing makeup and cleaning your skin. The brand is known for producing clean and gentle products with science-backed ingredients that improve your skin's health.
Hanskin BHA Pore Cleansing Oil is one of the famous cleansing oils from the brand and uses deep cleansing technology designed to melt and dissolve makeup, sunscreen, etc, effectively. The highlighting ingredient of this cleansing oil is BHA, as you can see from the name itself. It refers to Beta Hydroxy Acid and salicylic acid, which helps dissolve sebum and grit away the dirt from the pores. Additionally, it contains Orange Peel oil, which, as you know, is packed with antioxidants that protect your skin from damage. Eucalyptus present in it gives you that relaxed and calm feeling.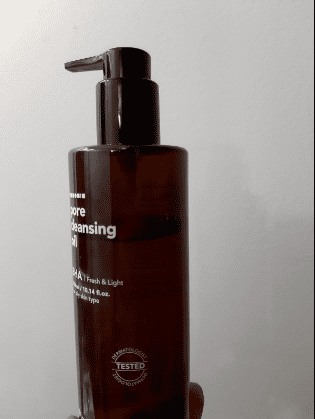 Pros
The presence of BHA makes this cleansing oil a special one, as BHA is known for its ability to get through those pores and exfoliate them.
Moreover, BHA also helps with blackheads, excess sebum, etc, hence promoting clear skin.
The orange peel oil contributes to the cleansing and purifying power of the cleansing oil while neutralizing free radicals and protecting the skin from damage.
Upon adding water, the cleansing oil turns milky and emulsifies the oil, giving your skin a soft finish.
Eucalyptus leaf oil helps hold water into the skin and strengthens the skin's natural moisture barrier.
It does not clog pores and makes the removal of makeup very easy.
Cons
It may not work well for sensitive skin.
Expensive.
Dear Klairs is a South Korean brand that produces essential but ultimate skincare, which may be mild but effective and powerful. The products follow a simple approach and avoid unnecessary ingredients or irritants, making them suitable for people with sensitive skin. The brand also is proudly a cruelty-free brand that believes in not harming animals.
Dear Klairs' Gentle Black Fresh Cleansing Oil is a mild formula with 85% light vegetable oil. These 85% of oils are enriched with essential vitamins, antioxidants, and fatty acids. The Sunflower seed oil strives to control the sebum while promoting skin hydration. Grape seed oil also ensures moisturization, the cleansing process's aim. For the protection of your skin, with antioxidant care, the formula has been infused with Black Currant Seed oil.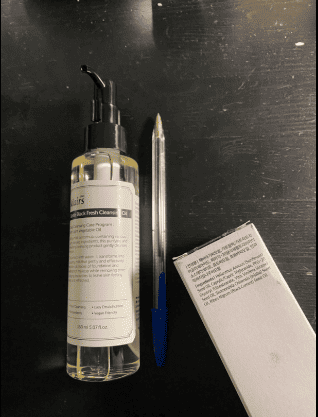 Pros
The Cleansing Oil is made with some excellently effective plant-based oils that help in hydration, moisturization, and skin protection.
Grape seed oil helps with skin hydration, making your skin look supple and plump.
Black Currant Seed Oil promotes skin elasticity while soothing redness or irritation.
Jojoba seed oil can manage sebum production and balance the oil levels.
Sunflower seed oil also helps with hydration and protection of your skin.
It emulsifies and melts away all the makeup and other impurities.
The ingredient list is small and worth trying for people with sensitive skin.
The brand is cruelty-free.
Vegan-friendly.
Cons
It is expensive.
Some users reported that it did not remove the makeup as effectively as other cleansers.
Starting in the 1840s, Palmer's is considered one of the US's oldest or longest-running skin and hair care brands. Following the sustainable goal, it uses ethically sourced and raw ingredients. It is famous and well known for its cocoa butter formulation, under which comes Palmer's Skin Therapy Cleansing Oil Face.
The Skin Therapy Cleansing Oil Face is a deep cleansing oil approved by ophthalmologists and dermatologists. Being under the cocoa butter formulation range, this cleansing oil is infused with cocoa butter, a natural moisturizer that strives to make your skin super soft and smooth. It also contains Vitamin E, whose antioxidants improve skin tone by reducing lines or scars. Sesame oil and rosehip oil present in this also promote skin hydration and nourishment.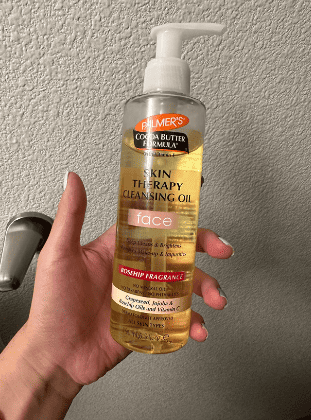 Pros
The cleansing oil is enriched with cocoa butter, so you know it will leave your skin feeling soft, moisturized, and hydrated.
Also, cocoa butter can provide additional benefits of protecting and conditioning the skin.
Vitamin E helps give your skin a toned appearance by reducing scars and other flaws while protecting your skin from radical damage.
Sesame oil is another hydrating agent that makes your skin look healthy and plump with its deep moisturizing capabilities.
Rosehip oil helps in tightening your pores and stopping blackheads. It also promotes a brighter complexion.
Works gently in removing makeup and sunscreen.
It leaves the skin feeling soft and nourished.
It doesn't feel greasy or sticky later.
Cruelty-free.
Very affordable.
Cons
It contains a strong scent.
The intense fragrance may make your skin break out, or your eyes burn.
You'll probably see this cleansing oil pop up when searching for good oil-based cleansers. It is aimed to leave your skin cleansed without leaving any greasy residue. The brand says you wouldn't have to wash or cleanse your face with another cleanser after this; that is double cleansing. Being an oil-based cleanser, it is made to be effective in removing and breaking down makeup without stripping off your skin of its natural oils.
The Speedy Cleansing Oil is formulated with 5 oil types: olive oil, sesame seed oil, safflower oil, sunflower seed oil, and jojoba seed oil. Safflower oil can improve the tone and texture of your skin as it targets blackheads, whiteheads, and acne so that you can have a smooth skin quality. Apart from these oils, you can also find shea butter, a magical superpower ingredient that is highly hydrating and promotes skin plumpness. It also has some anti-inflammatory properties that heal and calm your skin.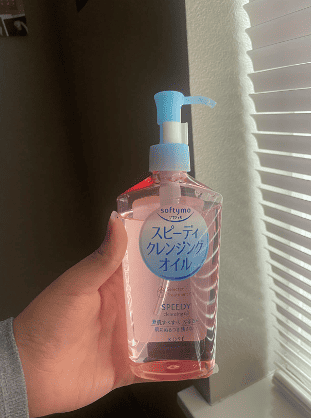 Pros
The formula is enriched with 5 beauty oils that specifically target different aspects of skin nourishment and health.
Safflower oil is sometimes considered an underrated skin savior as it possesses several abilities, such as protecting the skin, reducing signs of aging, improving the tone and texture of skin, etc.
It has shea butter, so you know you can relax regarding moisturization, as this butter will leave your skin buttery soft.
It will leave your skin feeling baby-smooth.
As per the brand, you may not have to double-cleanse your skin.
Since it is a Japanese brand, you know you can trust Japanese skincare products with their simplicity.
It doesn't have any strong scent.
Cons
It may not be as effective as other cleansing oils.
There can still be eye makeup residue left.
Ma:nyo, a South Korean skincare brand, has gained recognition for using natural ingredients. It emphasizes using natural and botanical ingredients to achieve healthy, glowy, and radiant skin. The brand's products focus on skin-related concerns like hydration, anti-aging, cleansing and brightening, etc.
Ma:nyo's best-seller, Pure Cleansing Oil, has been in talks for an effective cleansing oil. Being gentle and powerful, this cleaning oil dissolves makeup, stubborn blackheads, and whiteheads that are a hurdle to even-toned skin. It is made carefully with promising natural oils like Primrose oil, jojoba seed oil, rice bran oil, lavender oil, olive oil, and grape seed oil. All these oils are made to resolve issues regarding skin hydration, skin complexion, tone, and appearance, fight free radicals, and protect your skin from damage.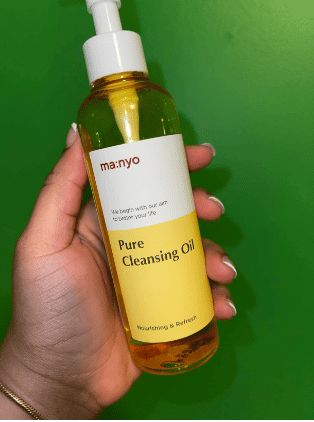 Pros
The cleansing oil also contains Argan Kernel Oil, widely used for its excellent skin-nourishing power. It also helps in the regulation of sebum and fights that excess oil.
Jojoba seed oil is another effective oil that helps nourish your skin with suitable moisturization properties.
As per clinical reports from the brand, this cleansing oil eliminated 99.74% of dirt, pollution, and impurities from the skin's surface.
Rice Bran oil in the cleansing oil targets uneven skin tone and hyperpigmentation.
It contains 14 plant-based oils, all of which address skin concerns and help in providing proper nourishment to your skin.
It also helps in keeping your skin's pH levels maintained.
It helps in unclogging pores and getting your skin cleaned deeply.
This cleansing oil won the 2021 Byrdle Award for the Best Cleansing Oil.
Cons
It can be expensive.
Some users reported that it had a little thicker consistency compared to other cleansing oils.
FAQs | Best Oil Cleanser For Sebaceous Filaments
Can oil-based cleansers help with sebaceous filaments?
Yes, cleansing oils help tackle sebaceous filaments as they absorb excess sebum or oil, making their appearance less visible.
How often should I use oil cleansers for my sebaceous filaments?
You can include any effective oil cleanser in your daily skincare routine. Using it consistently can help you manage sebaceous filaments.
Can I use an oil cleanser if I have acne-prone skin along with my sebaceous filaments?
Oil-based cleansers are made to suit acne-prone skin as well. They can help with oil production without causing additional breakouts. Ensure you look for non-comedogenic ingredients so your skin stays cleansed and oil-free without clogging your pores.
Closure
The 11 products, as mentioned earlier, were some of my best oil cleansers for sebaceous filaments. Based on different ratings and reviews, these oil cleansers have some effective plant-based oils that help with sebum and sebaceous filaments. Choosing the right oil cleanser would be a game changer if you carefully incorporate it into your daily skincare routine and follow it consistently. Always remember to check for the ingredients and your preference for a problem-free solution to erase your sebaceous filaments.
Marilyn's deep interest in fashion, beauty, and lifestyle has led her to pursue a fulfilling career as a freelance writer and blogger. With her bachelor's degree in fashion design from the Fashion Institute of Technology, she has developed a keen eye for style and trends, making her well-equipped to offer valuable insights into the latest fashion and beauty trends.