Are you also tired of your droopy eyelids? It may sound trivial to many, but you should not sideline this concern of yours, especially if it bothers you a lot. We take the aid of beauty products to address our daily skin care distress, and why wouldn't we? One such product that has a rising name to treat skin concerns around our eyes is SBLA Beauty's Eye Lift Wand. But can you trust this product's efficacy? Know about it alongside its usage details, ingredients, side effects, reviews, and more in our SBLA Eye Lift Wand Reviews.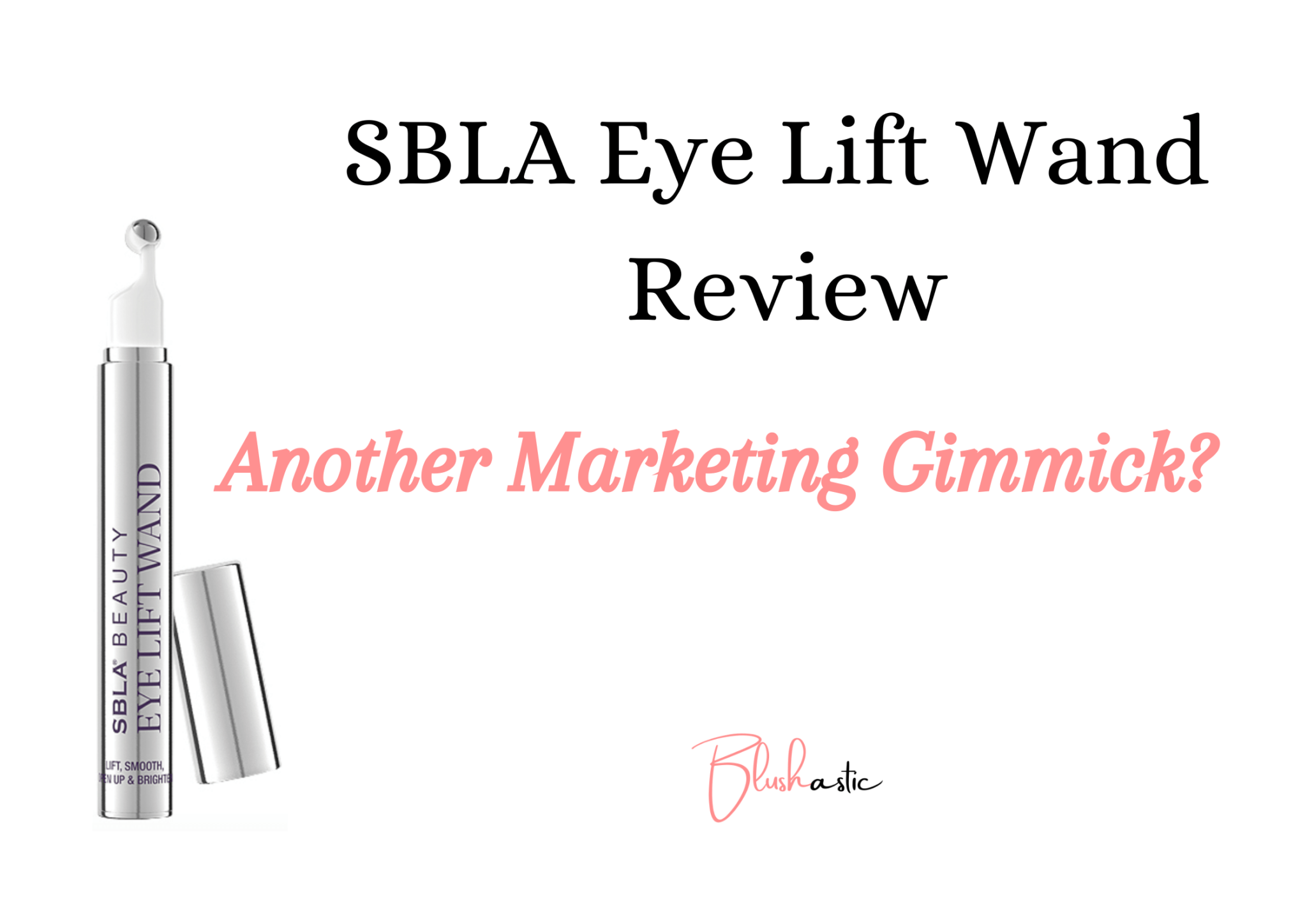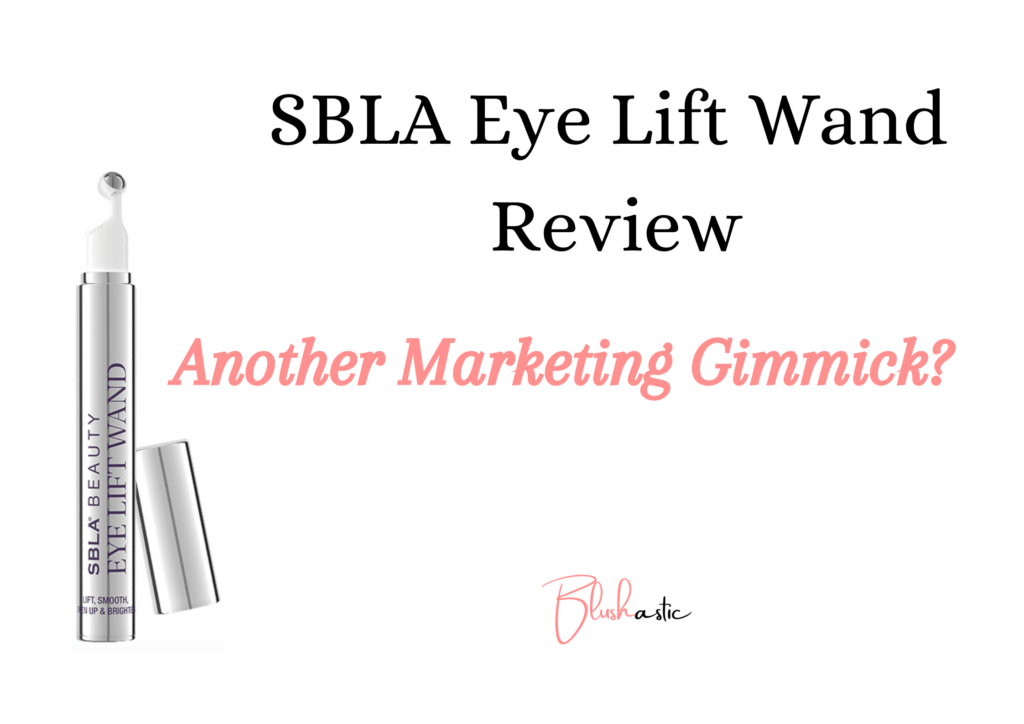 Making informed decisions about our daily skin care products is always a wise option to save our money and ensure the safety of our skin, so let us no further delay this product's complete review.
SBLA Eye Lift Wand Reviews | Magical Wand Or Marketing Gimmick?
This beauty brand was set up in 2018 by its founder, Randi Shinder, to establish a line of skincare that is science-backed with its manufacturing base in the USA. The brand claims that it is the first ever 'eye lift wand' in a topical treatment. Their standard delivery covers the location of Continental USA and Canada. You can contact [email protected] to check whether they ship to your place. 
SBLA Beauty Facial Instant Sculpting Wand, Advanced Anti-Aging Serum For Smoothing, Skin Tightening, Brightening All Skin Types & Reducing Lines and Wrinkles, Vitamin C Instant Facial Wand, 0.23 Fl Oz / 6.8mL (100 doses)
Facelift in a Wand: Our instant facial sculpting wand uses our encapsulated time-released concentrated ingredients delivered through unique spheres to effectively and safely target the areas of the face that are most prone to aging
Innovative Technology: The airless design of our Facial Sculpting Wand preserves our serum's delicate ingredients and features a stainless silver ball for flexible and clean application; Our sphere system design is easy to dispense, apply, and minimizes waste of the product
Anti-Aging Serum: Formulated with powerful ingredients to moisturize, brighten & even out skin tone; Each application of our age-fighting serum delivers a measured dose of the product; Ideal for using under the eyes, brows, forehead, lips, cheekbones, and the nasolabial folds, or 'puppet' lines
How To Use: Pump the wand once to dispense the product on the roller ball applicator and glide the rollerball applicator around the entire eye area, above and between the brows, forehead, nasolabial folds around the mouth, upper lip area, and across the cheekbones; Ideal for every skin type; Fragrance-free, gluten-free, paraben-free, sulfate-free, and cruelty-free
Where Science Meets Beauty: SBLA Beauty products aim to deliver anti-aging solutions that are alternatives to in-office procedures; We combine high-quality ingredients with cutting-edge technology to create at-home solutions that deliver effective results
The SBLA Eye Lift wand contains a patent-pending revolutionary molecule, SBLA66Peptide™. Registering this formula is ongoing, and the advanced molecule may achieve legal backing. The serum flattens and lifts the eyelid creases. It also helps uplift the hooded eyelids and eyebrows while simultaneously opening and brightening the eye area. It is not on Amazon like the other SBLA products, so purchase only from their official site.
If you're seeking a quick and effective anti-aging solution that really works, I personally recommend giving Botox Face Serum a try; for those interested, we've also undertaken a detailed review of its effectiveness.
How To Use the SBLA Eye Lift Wand?
After each use, you must follow the usage directions accurately if you want an opened-up, smooth, and brightened eye. Below are the steps that show how to take full advantage of the wand.
For Normal Skin:
Apply to freshly cleansed and dry skin in the morning and at bedtime.
Pump the wand once to let out the product on the antimicrobial rollerball.
Using one pump for each eye, draw the wand liberally using medium pressure. But, start using only one pump for both eyes and later increase the number.
Slide the roller ball applicator around the upper eyelids, lifting it along the brow line, the under-eye area, and the crow's feet. Cover the entire eye area.
You can apply a second dose once the first application dries.
After the serum dries out after 5-10 minutes, you may proceed with your regular skincare or make-up.
For Sensitive Skin:
Apply only on your clean, dry skin surface.
You may take a hot shower to help the skin pores open up and wait for 30 minutes before you apply the product.
Apply it daily once in the morning.
Take one pump for both eyes; do not sleep with any product on your eyelids.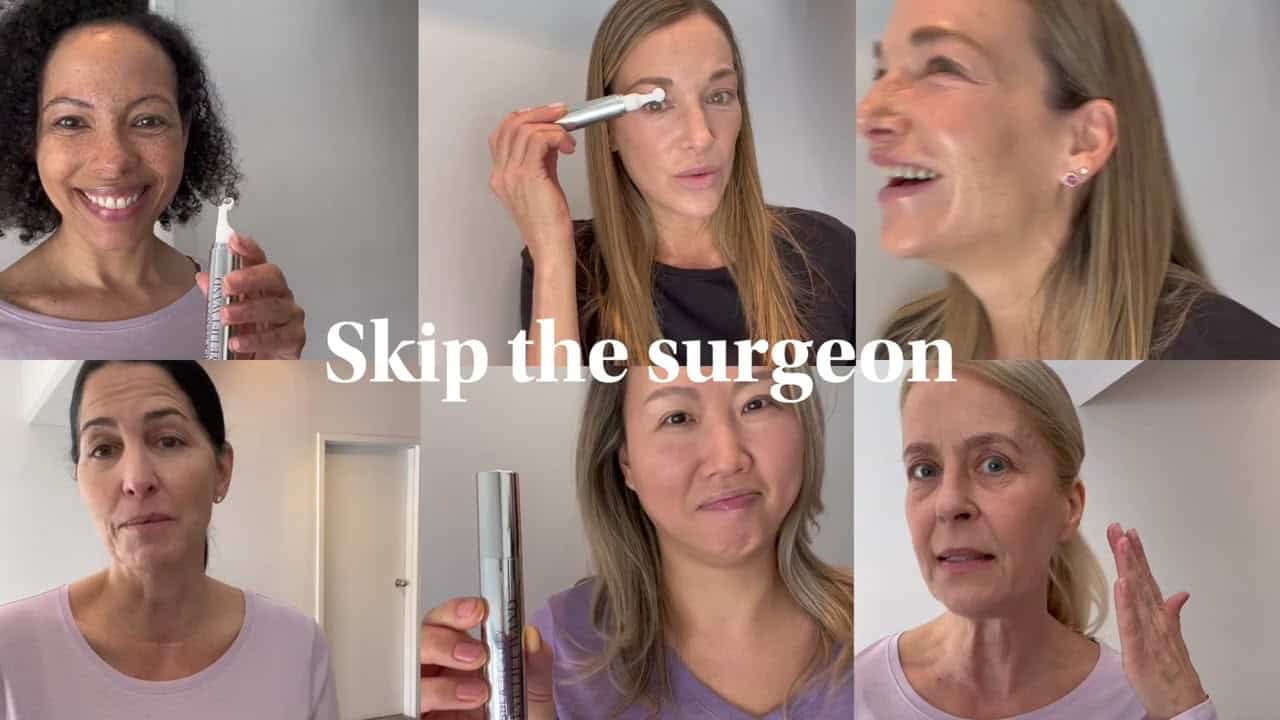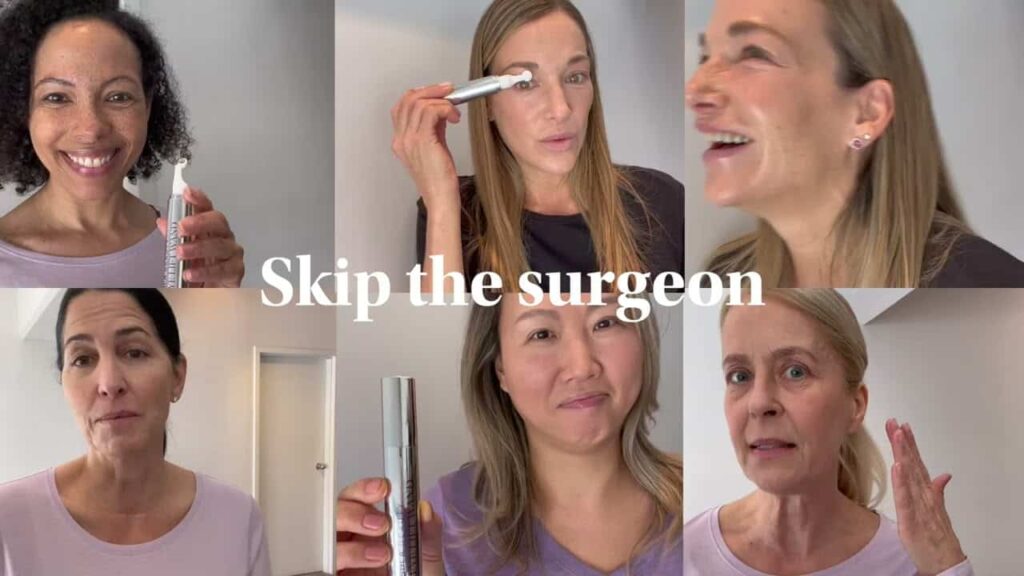 If the product ever gets into your eyes, rinse it quickly and thoroughly with warm water. Remember that the individual results may vary. But, if you face any irritation or utter discomfort after using it, discontinue its usage and seek medical attention. Know their return policy if you receive a defective product via their contact.
SBLA Eye Lift Wand Ingredients
Each application yields a measured dose of the serum and has 100 doses in each wand to allow at least 50 days of continued use when you apply it twice a day. Now, let's look at what the SBLA Eye Lift Wand ingredients list says.
Saccharomyces Ferment soothes the inflammation in the irritated skin. It moisturizes your skin and enhances its natural barrier. This skin-calming agent also helps to treat symptoms like redness and inflammation of skin disorders (like acne, rosacea, and eczema).
Propanediol has moisturizing properties and acts as a humectant. It helps your skin retain water, remain well hydrated, and soften. As we age, our skin loses the ability to secrete oil like before and tends to have less water balance, causing our skin to dry out. This ingredient contains emollient properties to keep your skin supple and smooth.
Niacinamide or Vitamin B3 acts as a moisturizer and humectant, too. It is responsible for diminishing dullness, making the skin bright, and has anti-acne properties. With its multi-purpose activities, it not only minimizes large pores and softens wrinkles but also improves the overall skin tone and hydration levels.
Vitamin C is an excellent source of all-pervasive skincare benefits like collagen promotion, wrinkles reduction, lessened hyperpigmentation, redness, and under-eye circles. It has depuffing and anti-aging effects, too.
Caffeine in this product boosts circulation, improves discoloration, and protects the skin around your eyes.
Hyaluronic Acid keeps the skin hydrated and is a tremendous water-retaining ingredient. It is a boon for dry eyes, a silent eye problem that is common today.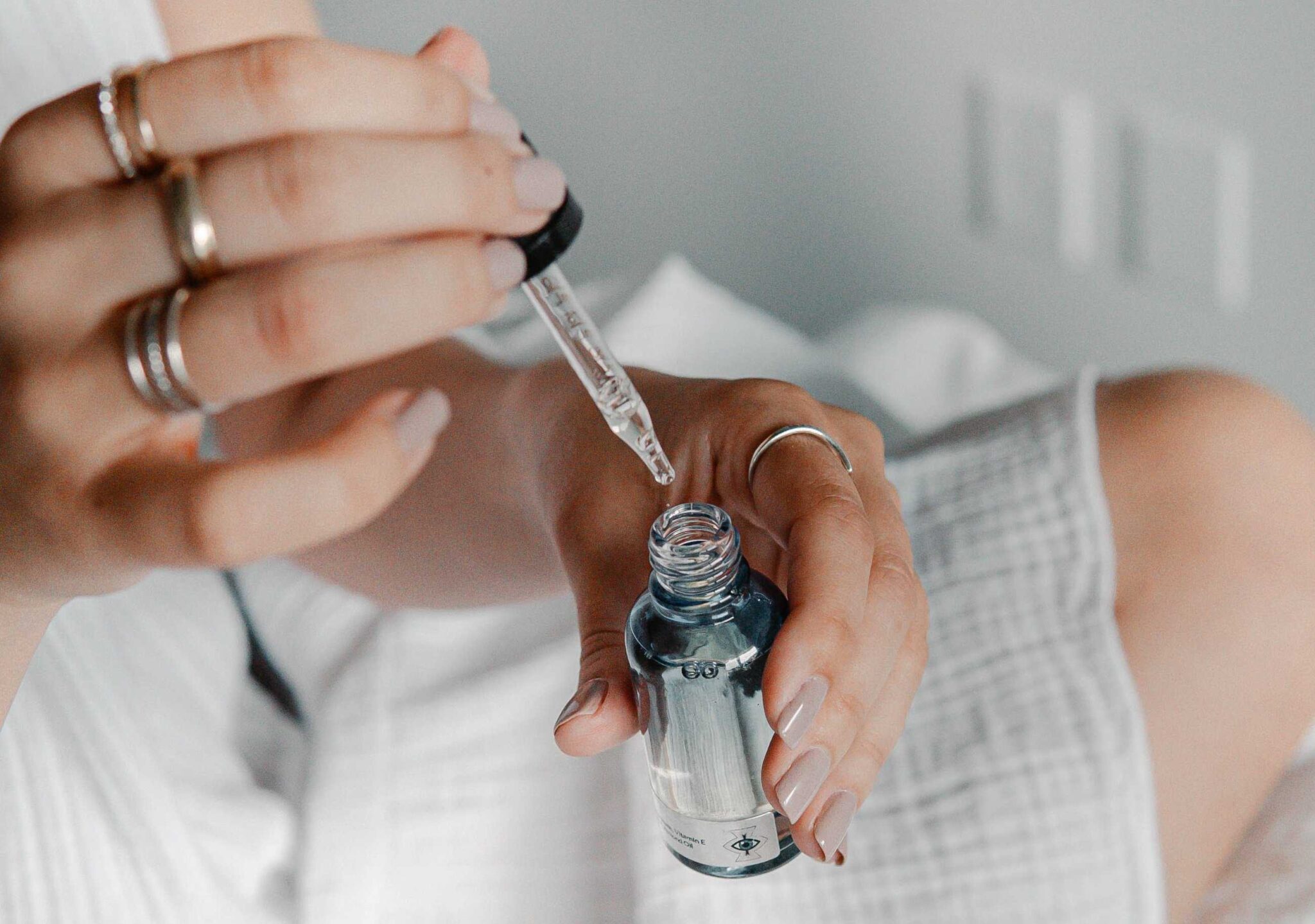 Acetyl Glucosamine is proven to improve wrinkles around the eye area. It also lightens the sturdy brown spots.
But that's not all! The SBLA eye lift wand side effects may be perceptible as it uses preservatives like Sodium Benzoate and Phenoxyethyl. Both may irritate your skin, especially if you have sensitive skin. Plus, using Disodium EDTA can severely irk your eyes, so ensure the product is safe from your eyes.
Anyways! The list of its pros outweighs the cons.
Pros of the SBLA Eye Lift Wand
The product is cruelty-free and vegan.
The formula is non-irritating, hypoallergenic, and dermatologist-tested.
All the products of SBLA have FDA-approved ingredients and are safe to use.
The serum inside the wand casts a cooling effect that aids in depuffing the bulgy skin around the eyes.
Firms and even tones your eye area while instantly reducing the signs of crow's feet creased, hooded, and droopy eyelids.
The antimicrobial stainless silver ball gives a spot-on, clean, precise, yet flexible application.
This at-home device improves skin texture and discoloration and builds collagen alongside regenerating skin cells.
It lifts the eyelids to open the eye area, tightens the skin, and smoothens the eyelid creases.
It is less likely to trigger your skin since it does not contain gluten, fragrance, or parabens.
Cons
The product is pricey!
It would be best if you used it regularly to see results.
While using it, you may feel a stingy sensation.
The results may be temporary and, sometimes, show no changes at all.
The product contains Phenoxyethanol as a preservative that may irritate your skin.
Customers' Feedback | SBLA Eye Lift Wand Before and After
I plan to share my experience with this wand first. My sister, Miranda, got me this after seeing the name feature in the Vogue and the Bazaar magazines. At that time, I was hunting for a noninvasive skin care product to firm my loose eyelid fold and make my laugh lines less visible. My skin is not acne-prone and is normal. Coming to its use, I used only one pump for both my eyes twice a day.
The serum feels cool and stings a bit initially (but later, this sensation fades). After I was done with gliding it as instructed, I let it dry before applying my moisturizer. Speaking of results, I felt that my laugh lines diminished and my hooded eyelids were somewhat firm. I don't know if the results will disappear when I stop using it, but it's pricey and may not be sustainable after some time! I need more time to decide whether to use it. But also know what other users feel about the wand.
Muela asserts, "Where was this magic wand all this while? It just firmed and lifted my brow area and lightened my dark circles. Plus, it is ridiculously simple to use! I use it twice daily and look younger by a few years every day."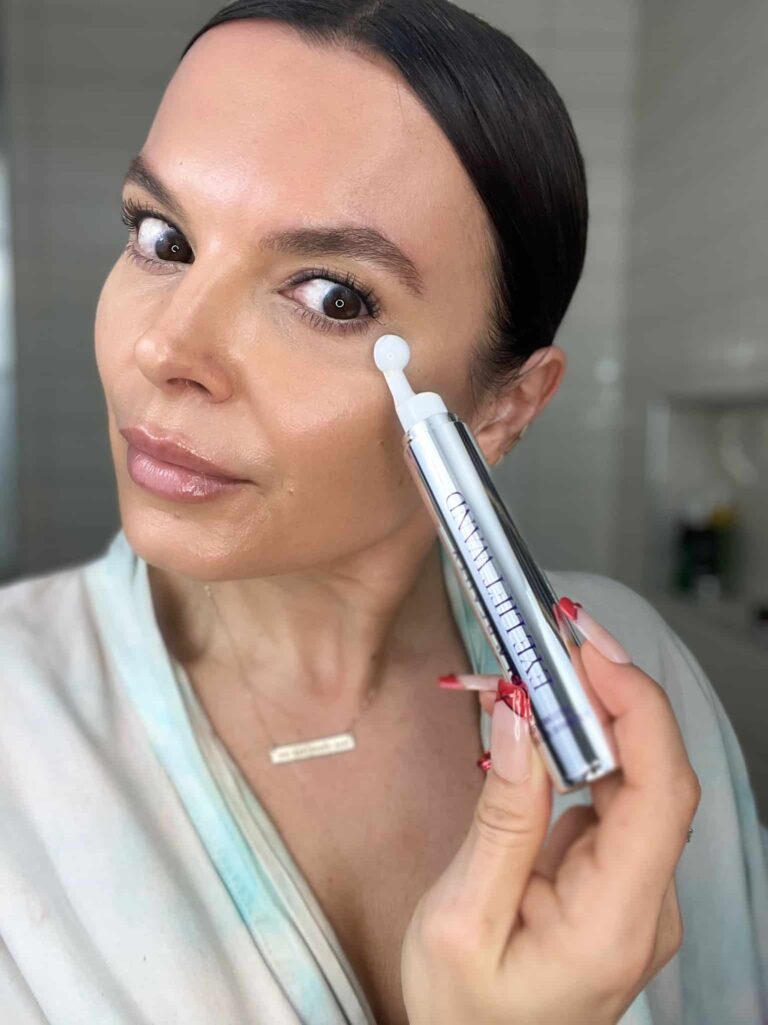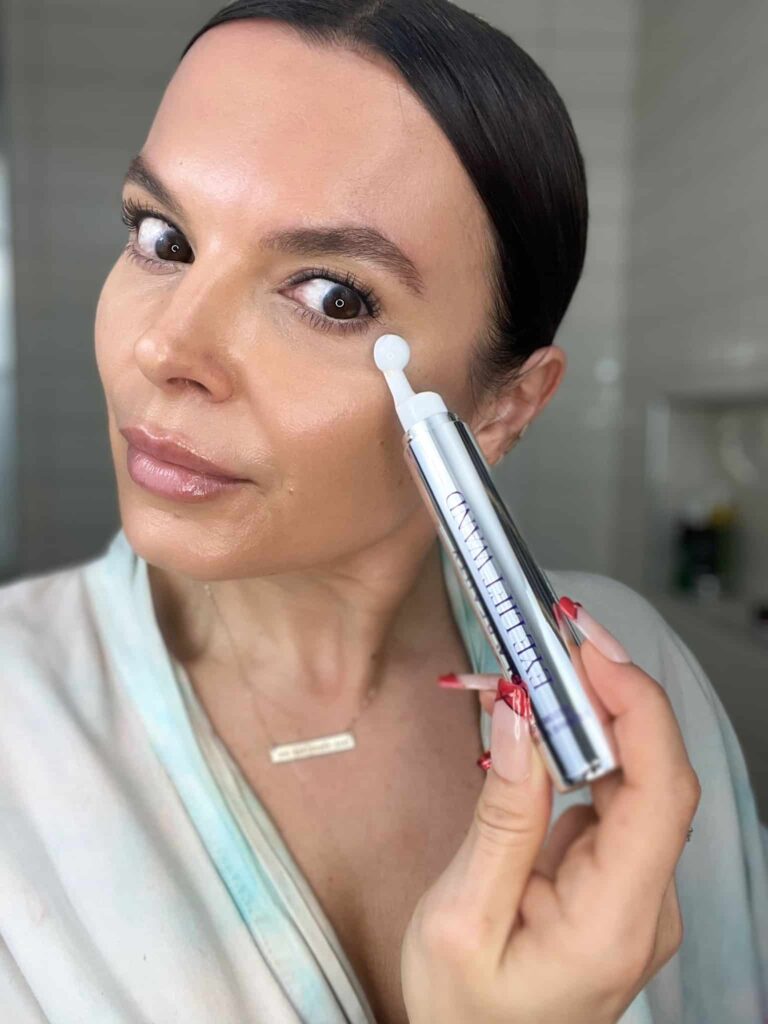 Pauly shares, "I turned 60 this year when I got it on my birthday. And with all seriousness, I adore this wand. It instantly lessened the visibility of my crow's feet and faded the fine lines to a great extent! I think it is for all those women suffering from eye wrinkles and that you must try it at least."
Sabrina comments, "I have used BLA's facelift wand and loved it. At the same time, this Eye Lift Wand is not a great help for my hooded eyelids. They showed instant results, like my creased eyelid firmed a bit, but I noticed nothing special in the long run. I still plan to use it for my last-minute meetings!"
Chrissy refutes, "Do not freak out, but this product is a total sham in the name of glam. I got this product last month and ditched it today! I do not see any results whatsoever. It treated nothing but stung me, and my skin remained the same even after applying it. Can't trust everything on the internet!"
The Sbla Eye Lift Wand before and after results look promising, with a few customers declaring it effective. At the same time, some of them found no changes even after its continuous use for a prolonged period.
FAQs | SBLA Eye Lift Wand Reviews
There are a few oft-asked questions around the topic that I answer below. Check it out to have more evident knowledge about the product.
Does the lift wand really work?
As many reviews attested, the eye lift wand works well. It treats all the skin concerns around the eye area. Not only does it tighten the saggy skin around your eyes, but it also makes the area bright and lifted. Consequently, your eyes look more open than before.
What does the SBLA Eye Lift Wand before and after results say?
The before and after results of the SBLA Eye Lift Wand look like it worked on a few people and did not on a few others. Even the brand clarifies that the outcome may vary differently for different individuals. But to ensure it's safe on your skin, doing a patch test before you use it would be best.
How long does it take for the SBLA wand to work?
Since this wand has immediate and cumulative benefits, it makes the eye area smooth and brightened instantly while making similar changes permanent in the long run. Now, it varies with each individual the time taken to show results. Generally, the skin cell turnover takes 28 days, so you may need at least 1 month to discern the effects.
How does the SBLA eye lift wand work?
This eye lift wand involves a new formula, SBLA66Peptide™ that is a revolutionary formula, but its patent is still pending. The airless design of the beauty rod protects the serum's integral components for an extended potency, and the antimicrobial silver ball can inhibit the growth of bacteria. The wand's roller ball releases the contained serum in three little globs with potent ingredients to bring anti-aging effects around the eye area.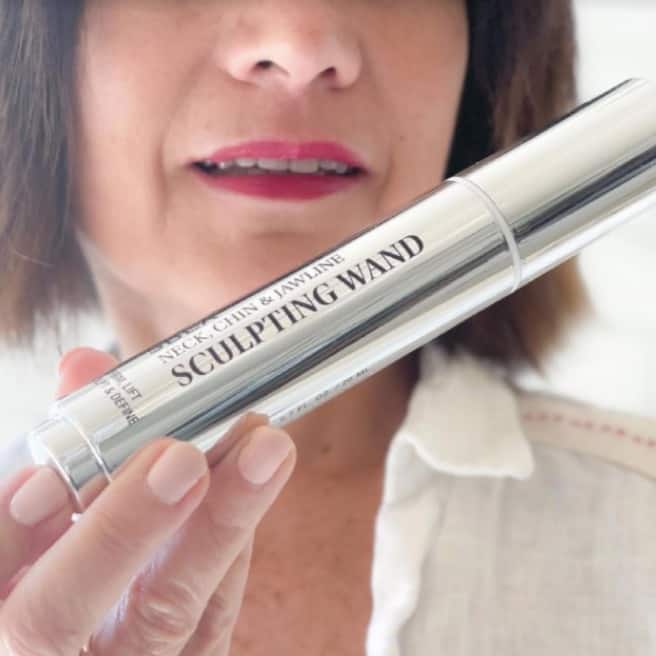 What is the difference between Sbla and Sbla XL?
In 2018, the brand launched the clinically tested Neck, Chin, and Jawline Sculpting Wand to sculpt and define the entire neck area, especially the décolleté. Later, in 2020, SBLA released its Neck Sculpting Wand XL, the new version with advanced technology (Fat Melting Complex) that proved to melt fat. Harvard Medical Research backs this claim. It aims to melt the fat under your chin to treat the neck area and boost collagen production.
Does Christie Brinkley endorse SBLA?
This brand partnered with supermodel and actress Christie Brinkley in 2021. She had earlier collaborated with CEO Randi Shinder regarding the products. She even shares her daily routine that involves the SBLA Facial Instant Sculpting Wand for the eye area, the SBLA Neck, Chin & Jawline Sculpting Wand for her neck area, and the SBLA Lip Plumper for her thin lips.
Closure | SBLA Eye Lift Wand Reviews
So now you know the reality of this eye-lift wand. Many customers certified its benefits of depuffing, fading dark circles, and lifting and firming around the eyelids and eyebrows. However, there are a few claims of ineffectiveness, no results, and the product will only suit some. I recommend you take a patch test to see whether it safely works on your skin.
As for your skin concerns around the eyes, you can even opt for home remedies like a cool compress for depuffing or getting enough sleep to reduce dark circles. Have a clean diet and active lifestyle, and quit smoking as it breaks down your collagen levels. Suppose your hooded eyelids or eye wrinkles bother you. In that case, an expert's advice on eye lifts, laser removal, under-eye fillers, and more can help you.
Do you still have further queries? Drop them below, and we will get back to you.
Marilyn's deep interest in fashion, beauty, and lifestyle has led her to pursue a fulfilling career as a freelance writer and blogger. With her bachelor's degree in fashion design from the Fashion Institute of Technology, she has developed a keen eye for style and trends, making her well-equipped to offer valuable insights into the latest fashion and beauty trends.