A known yet terrifying fact about aging is that it causes a decline in the stimulation of various essential elements responsible for our overall well-being. So, anything that promises to help us boost and restore these vital elements is worth investigating. Collagen is one such component that has promising benefits for various bodily functions. I was familiar with the common forms of collagen supplements like powder, capsules, and gummies. However, I recently discovered that it's also available in a liquid form through a health and wellness company called Modere.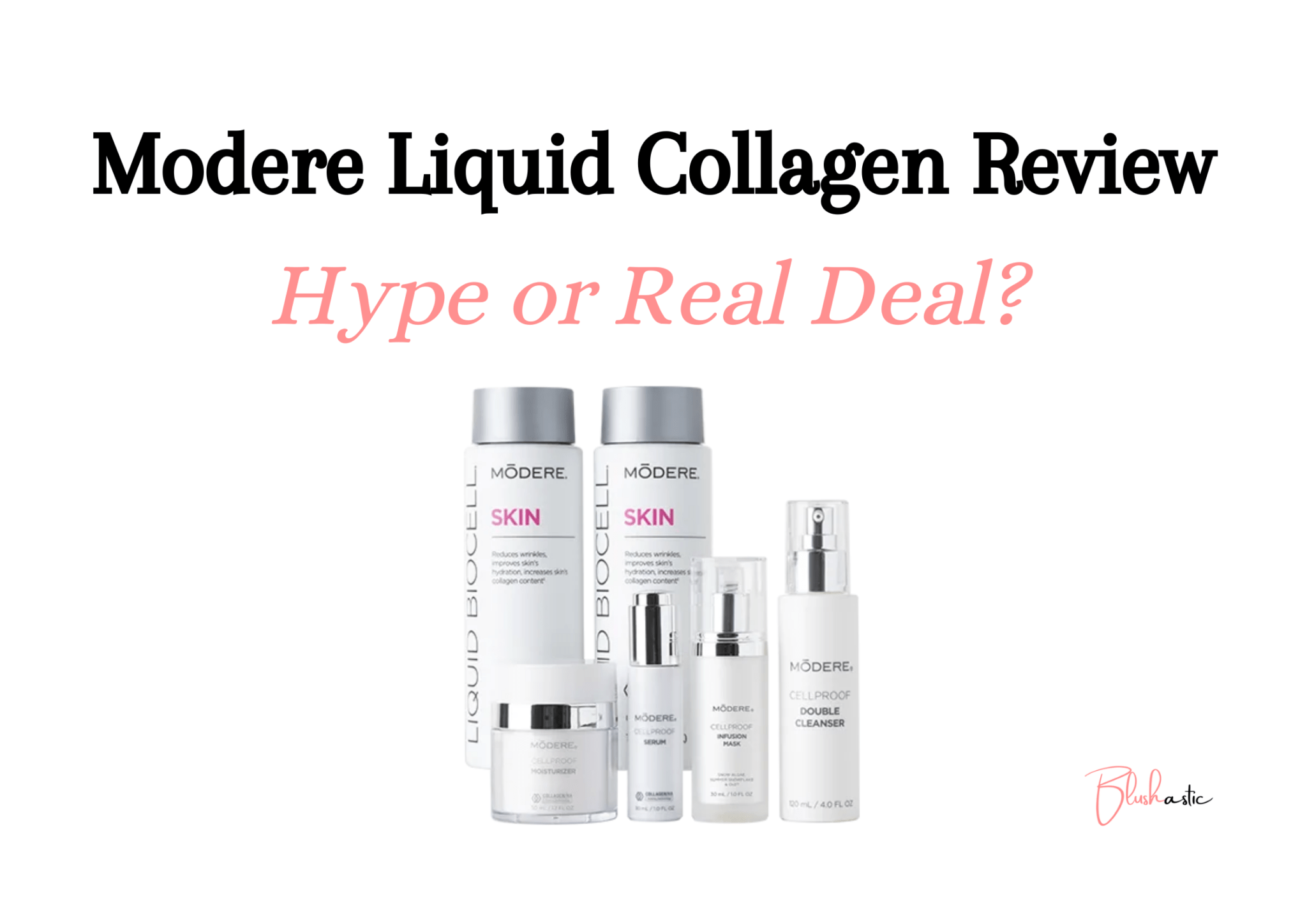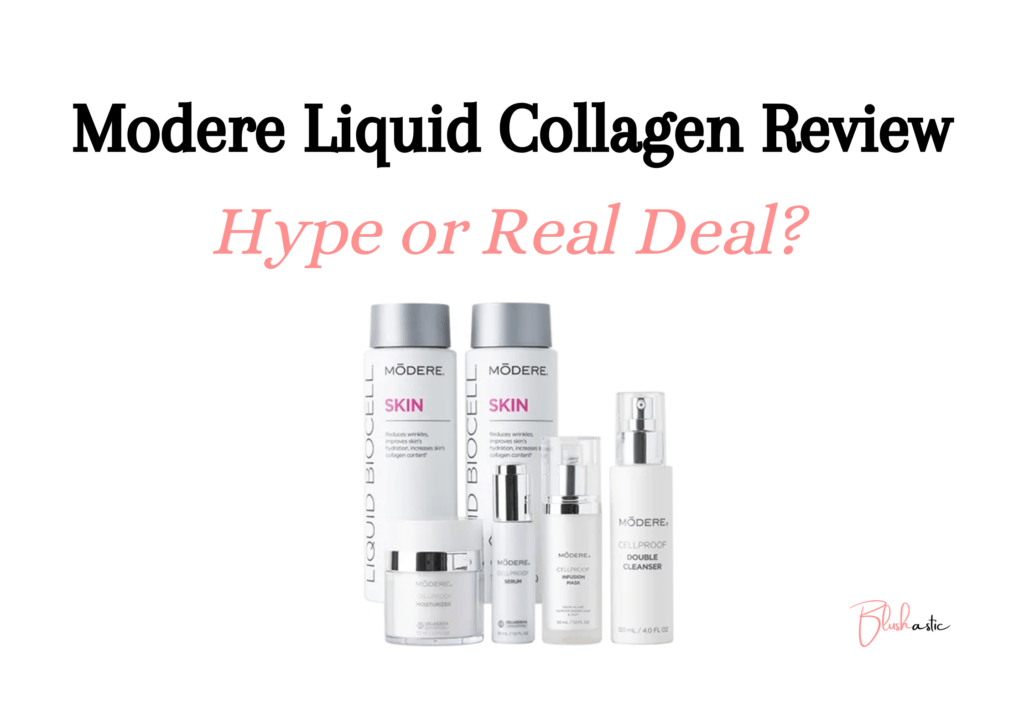 What exactly is collagen? Is there any evidence that it works to improve our well-being? How does liquid collagen function? If you're asking yourself similar questions, you're at the right place. In this article, we'll answer these questions and dive headfirst into Modere's Liquid Collagens. I've heard they're a little pricey, so researching their effectiveness before spending your money is essential. We'll also look at some Modere Liquid Collagen reviews to see if it's worth your money.
Modere Liquid Collagen Reviews | Worth A Shot?
Collagen is a protein that lends strength, support, and structure to the skin, bones, muscles, and connective tissues. Experts have identified 28 types of collagen, further classified into five groups. It is vital for various body processes, including skin elasticity, organ protection, cardiovascular health, and more. However, as we age, collagen production slows down, allowing wrinkles, fine lines, and sagging to appear. As a result, people turn to supplements to compensate for this loss and restore the optimal state of bodily functions.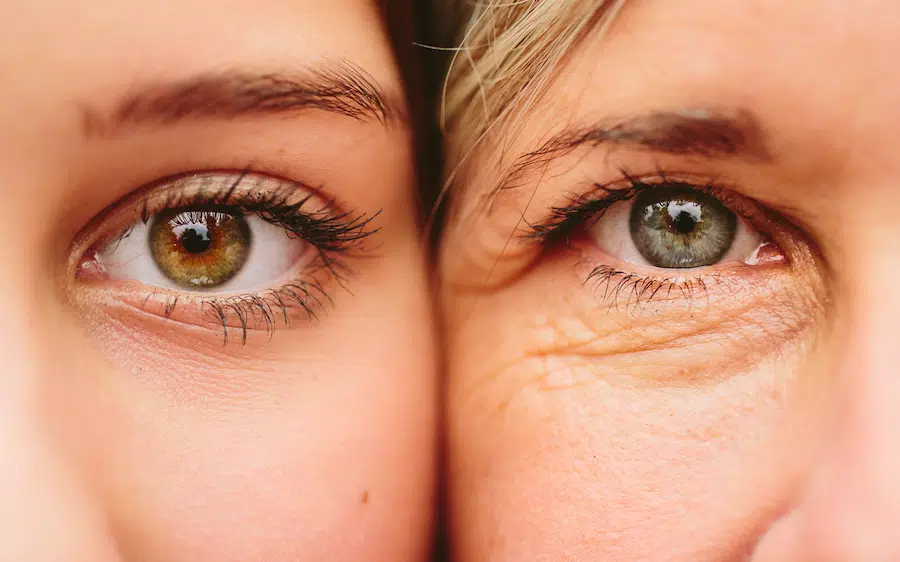 Collagen supplements are commonly available in powder, pills, tablets, drink mixes, and gummies. However, liquid collagen has recently gained traction due to its portability and ease of use. Collagen in such supplements can be derived from various sources, including fish, cows, pigs, chickens, and eggshell membranes. The research on liquid collagens is limited; however, existing studies suggest they may benefit skin, joints, nails, and hair health.
A 90-day study with 120 participants investigated the effects of daily consumption of a liquid supplement containing fish collagen, vitamins, antioxidants, and other actives. The supplement significantly changed skin elasticity, with participants reporting that their skin felt more hydrated and elastic. The supplement also reduced joint pain by 43% and increased joint mobility by 39%. These findings suggested that supplements can improve our health and help slow the signs of aging.
About Modere
Modere is a health and wellness company that sells its products through various e-commerce and direct-to-consumer (DTC) channels. They are dedicated to creating clean lifestyle products that do not contain countless controversial chemicals and compounds. With this mission, they have amassed a devoted following of over 3 million customers worldwide.
Their products are manufactured in the United States and distributed throughout Canada, Australia, New Zealand, Europe, Japan, and India. Modere has received numerous accolades for its patented innovations and effective products. It has also been featured on Forbes' top ten Health and Beauty e-commerce brands list.
What is Modere Liquid BioCell?
Modere offers a range of liquid collagen supplements featuring Liquid BioCell, an award-winning, multi-patented technology. This collection includes five variants (Skin, Immune, Life, Pure, and Sport), each serving a different purpose and providing various benefits. These supplements, in addition to Liquid BioCell, contain selected ingredients to support the functions of each.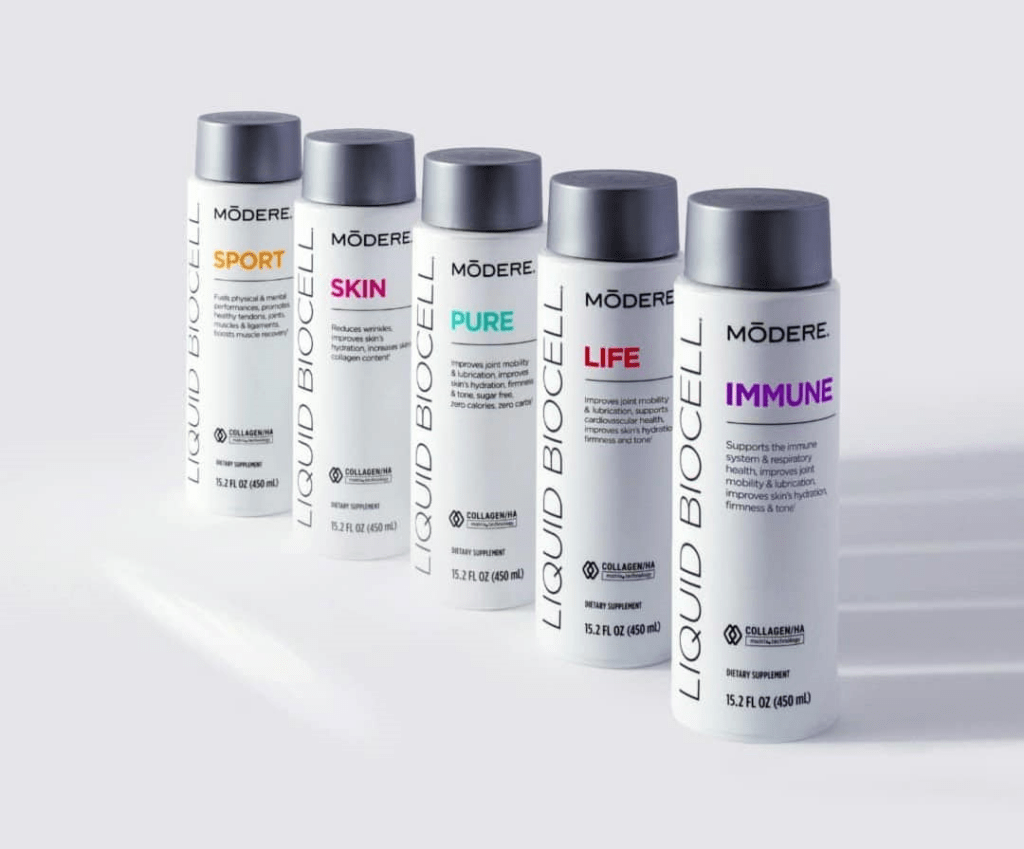 Liquid BioCell is a naturally sourced matrix comprising 60% hydrolyzed type II collagen, 10% hyaluronic acid, and 20% chondroitin sulfate. This matrix has undergone scientific testing by seven U.S. and international patents. It has a notable presence in the health industry because it mirrors the composition of human articular cartilage.
This component is hydrolyzed (broken down) using a patented Bio-Optimized manufacturing process to achieve an ideal molecular weight for efficient bioavailability. Bioavailability is the rate at which a substance enters the body's circulatory system, which is helpful to determine the efficacy of a supplement.
The unique Collagen/HA Matrix has been proven to provide these advantages:
Helps maintain the health of your joints and connective tissues.
Eases joint discomfort and enhances your physical well-being in just 8 weeks.
It might boost collagen production in your body.
Increases Hyaluronic Acid levels significantly, up to 60 times more in only 28 weeks.
Acts against aging by visibly reducing wrinkles and deep lines after 12 weeks.
Reduces dryness and scaling.
Leaves you with a more youthful appearance.
Modere Liquid BioCell – Product Range
Skin
Liquid BioCell Skin is a cocktail of the patented Collagen/HA Matrix, 18 phytonutrient-rich superfoods, and Ceramides that work from the inside out to improve the health and appearance of your skin. It delivers an array of skin benefits, including wrinkle elimination, collagen stimulation, dryness reduction, and firmness restoration. Furthermore, this supplement inhibits Hyaluronidase, an enzyme that causes the skin to age.
This supplement benefits not only the skin but also the hair, nails, eyes, and gums. It also improves joint mobility and lubrication.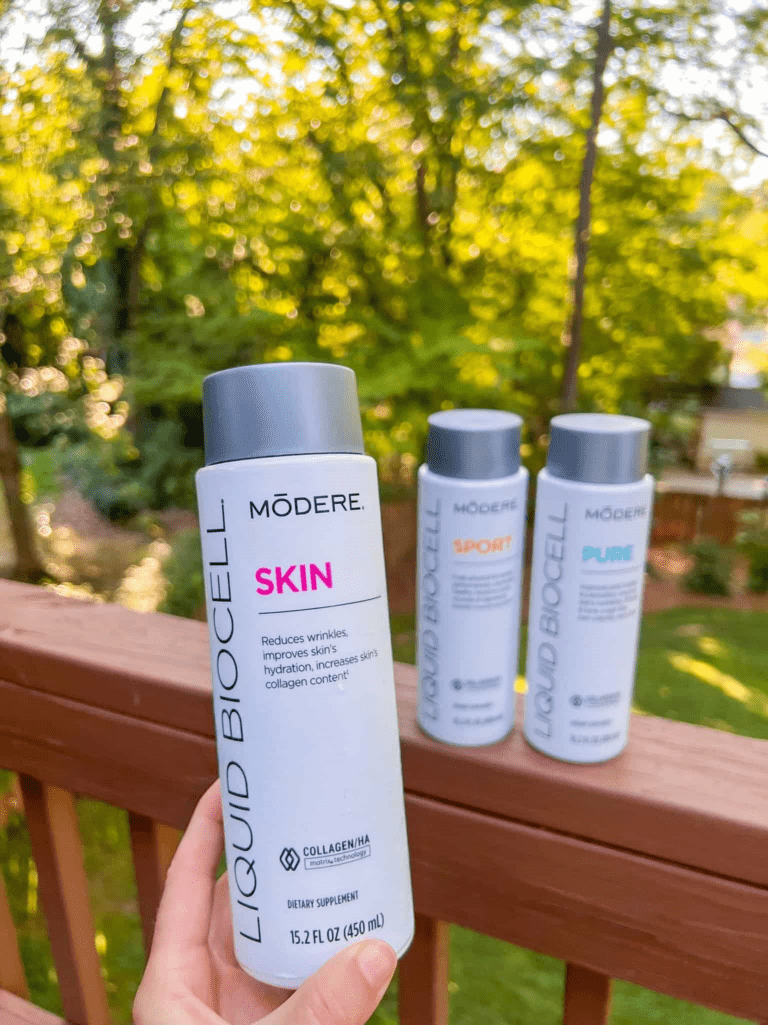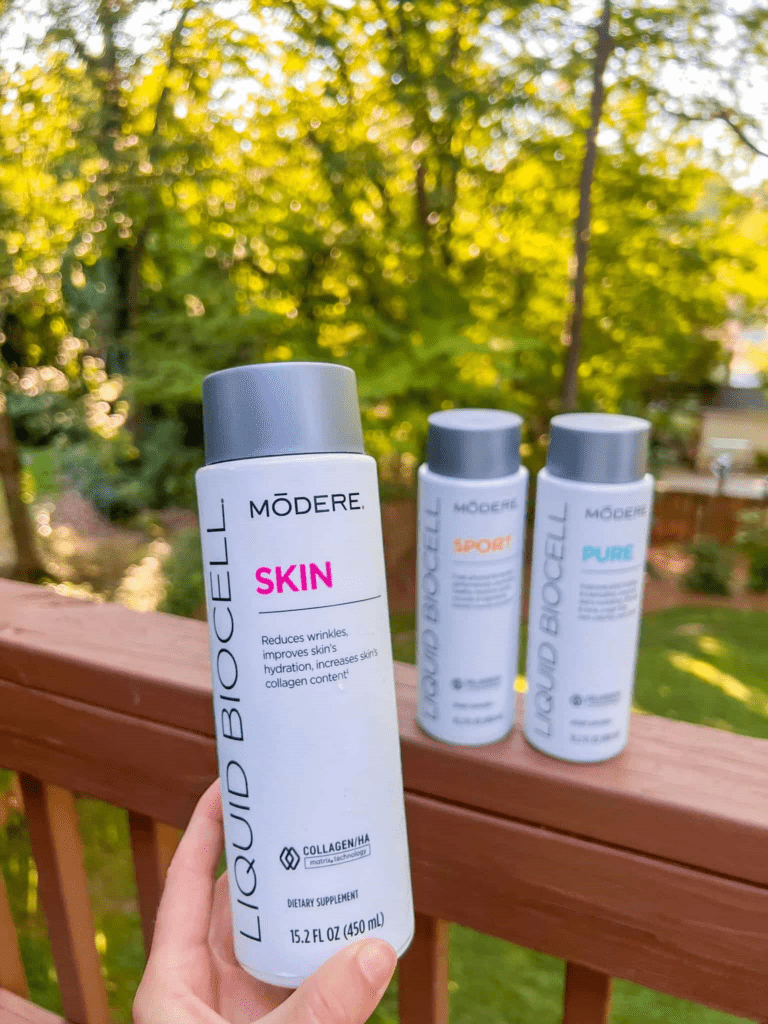 Studies show that combining collagen supplements with potent topical products helps achieve enhanced benefits. Eelhoe Collagen Boost Serum is an excellent product to consider because of its powerful ingredients proven to fight signs of aging, such as Matrixyl 3000, Vitamin C, and Ceramides. 
You can take another step toward your skin goals by using anti-aging devices like the Solawave Wand, which promises to reduce wrinkles, fine lines, and blemishes in as little as two weeks using medical-grade technologies.
Features
Natural fruit flavor
Collagen/HA Matrix Technology
18 phytonutrient-rich superfoods + Ceramides
Dairy-free, Non- GMO, and BPA-free
10 calories per serving, 2g carbs
Immune
This variant promotes healthy aging, strengthens the immune system, and improves respiratory and cardiovascular health. It includes the patented Liquid BioCell Collagen, which improves joint mobility and lubrication, relieves joint discomfort, and promotes healthy cartilage and connective tissues.
Furthermore, this supplement contains the exclusive Modere TriPlex Immune Complex, which contains Elderberry, Zinc, and 13 phytonutrient-rich superfoods to support immune, cardiovascular, and respiratory health.
This blend also helps to reduce wrinkles, increase hydration, and restore firmness. It also benefits the health of your hair, nails, gums, and eyes.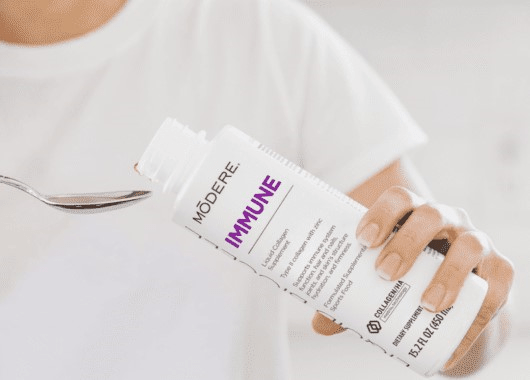 Features
Natural fruit flavor
Collagen/HA Matrix Technology
Modere TriPlex Immune Complex
Non-GMO, Gluten-free, and Dairy-free
15 calories per serving, 3g carbs
30 servings in a bottle, 15-day supply
Life
This super nutraceutical promotes healthy aging, active joints, and youthful skin. The patented Collagen/HA Matrix has been clinically proven to improve joint, cartilage, and connective tissue health. It also effectively reduces wrinkles and inhibits Hyaluronidase, a skin-aging enzyme.
This blend is further complemented with 13 potent superfoods and Resveratrol. Resveratrol is a plant compound linked to critical health benefits such as brain protection, blood pressure reduction, and prevention of various chronic diseases.
Overall, the unique ingredients in this mix synergically improve joint health, increase collagen content, improve skin appearance, support cardiovascular health and boost vitality.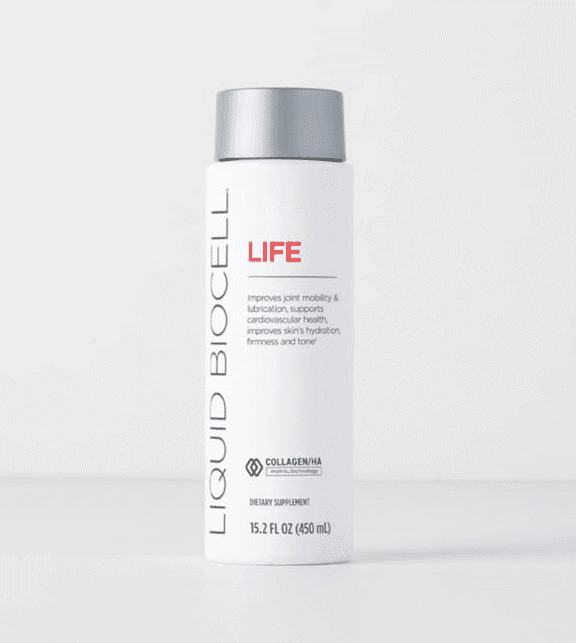 Features
Natural fruit flavor
Clinically proven
13 superfoods + Resveratrol
Non-GMO, Gluten-free, and Dairy-free
No added sugars
15 calories per serving, 3g carbs
Pure
Pure Liquid Collagen, as Modere puts it, "completely changes the way you look, feel, and age." Like other supplements, it has been shown to improve bodily functions, significantly improving joint mobility, cartilage and connective tissue health, and skin wellness. It replenishes essential elements such as collagen and hyaluronic acid and repairs connective tissue wear and tear, allowing you to look and feel younger.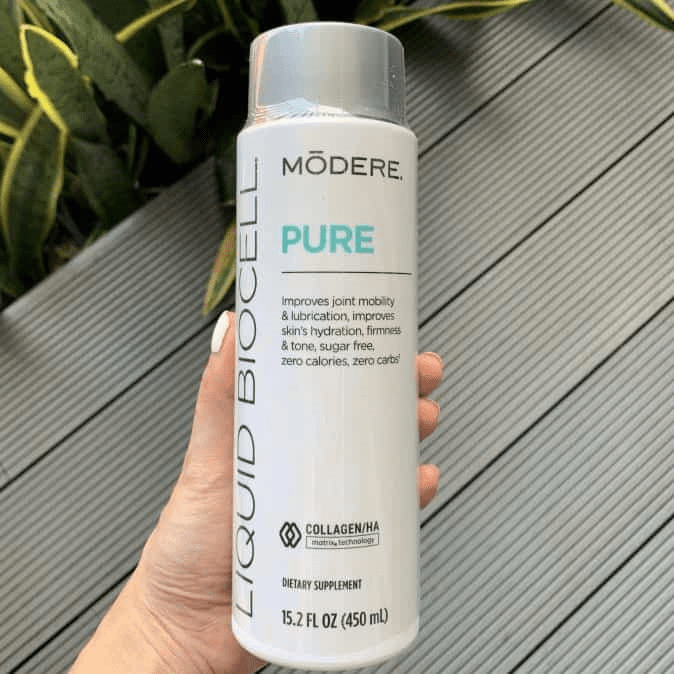 Features
Zero carbs and calories
Sugar-free
Clinically proven
Non-GMO, Gluten-free, and Dairy-free
Sport
As the name suggests, Liquid BioCell Sport is specially formulated to fuel physical and mental performance, promote joint and muscle fitness, and aid recovery. It combines BCAAs, L-carnitine, and 9 antioxidant superfoods to deliver on its promises. This supplement aids in the maintenance of healthy tendons, ligaments, joints, and muscles. It promotes muscle recovery and improves muscle tone. It also helps with energy, stamina, and mental focus.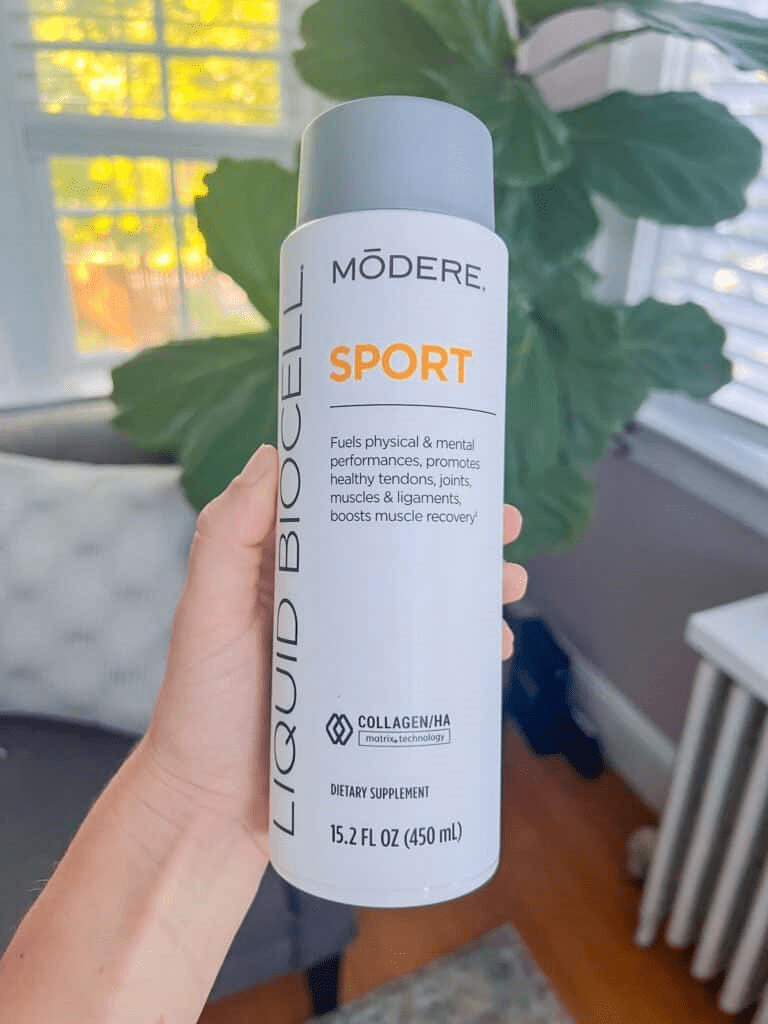 Features
NSF certified for sport
BCAAs + L-carnitine + 9 antioxidant superfoods
10 calories per serving, 2g carbs
Dairy-free and Gluten-free
Bio-Optimized formula
How does Modere Liquid Collagen Work?
Discussions concerning collagen supplements often involve people seeking answers to the age-old question, "Do collagen supplements really work?" Among the various types of collagen available, substances intended for oral consumption have a proven record of providing the benefits required to improve our health.
However, collagen molecules are too large in their natural state, making ready absorption difficult. As a result, collagen variants that are significantly chopped and broken down through hydrolysis are commonly preferred to increase the absorption rate.
Collagen expert Asma Ishaq pioneered Liquid BioCell products, which feature hydrolyzed type II collagen, hyaluronic acid, and chondroitin sulfate. What sets it apart is the patented manufacturing process that refines it into micromolecules, going beyond the usual hydrolyzed collagen.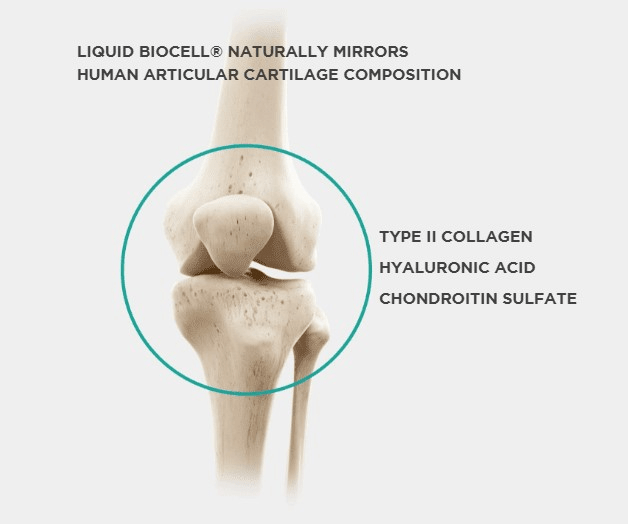 As a result, it effectively absorbs into the body and carries out its intended functions. Furthermore, the component concentrations in this technology closely resemble the composition of human articular cartilage. As a whole, this matrix has been clinically proven to offer significant benefits for joint and skin health.
Collagen, Hyaluronic Acid, and Chondroitin Sulfate are all vital to the proper functioning of the body. However, the natural decline of these substances as we age negatively impacts the health of our joints, muscles, skin, and hair. Modere supplements restore these essential substances through an advanced liquid delivery system, improving overall health.
Type II collagen is the most abundant in human articular cartilage and is essential for joint health. Hyaluronic Acid is required for tissue hydration and maintenance. Chondroitin Sulfate additionally helps with joint flexibility and lubrication.
How Long Does Modere Collagen Take to Work?
While Modere's official website doesn't specify a precise timeline for noticeable results from Liquid Collagen, they mention clinical studies suggesting improvements can be seen in as little as 8 weeks.
Here are some improvements seen in participants during clinical studies:
Hyaluronic acid levels increased by 6000% over 28 days, reducing wrinkles from the inside out.
Dryness and scaling skin were reduced by 76% without topical moisturizer at 12 weeks.
Measurable improvement in joint discomfort and physical activity after 8 weeks.
Generally, it's best to take Modere supplements for at least 12 weeks (3 months) to observe visible results. However, remember that individual results may vary, and it may take longer to see the desired effects in some people.
How do you take Modere Liquid Collagen?
Thanks to the Bio-Optimized micromolecules, Liquid Collagen has shown its effectiveness with just 1-2 grams per serving in many human clinical studies. It's suggested to have 2 tablespoons daily to match the studied dosages.
Modere instructs to shake the bottle well before use and consume one tablespoon of Liquid Collagen twice daily to achieve optimum results. This dosage works for all variants and stays the same.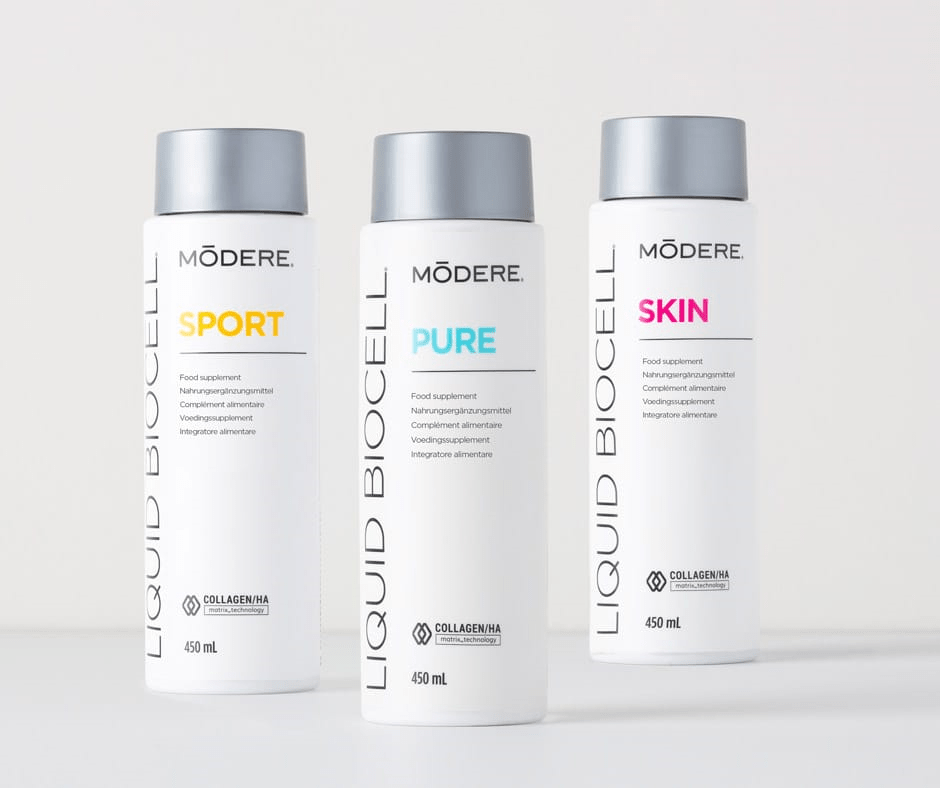 Modere Liquid Collagen Side Effects – Is It Safe?
A common question on the internet is – Is Modere Collagen approved by the FDA? It's important to note that Modere Liquid Collagens are sold as dietary supplements. Unlike drugs, which must undergo FDA approval before being sold, nutritional supplements like Modere do not require FDA approval. So, to answer the question, Modere Liquid Collagen is not FDA-approved. Nevertheless, Modere ensures its products are clinically engineered and rigorously tested for maximum safety.
Collagen supplements are generally safe and well-tolerated by most people. However, some individuals may experience stomach heaviness, diarrhea, rashes, or headaches. Hence, reviewing your medical history and allergies is crucial before adding any collagen supplement to your diet. Speaking with a medical professional is the best approach.
Furthermore, no evidence suggests that Liquid Collagen interferes with other medications. Nevertheless, you must consult a healthcare provider if you take any medication. The same applies to pregnant and nursing women.
Customer Reviews | Modere Collagen Before and After
I've compiled some consumer Modere Liquid Collagen reviews from various online platforms to help you see if it's worked for people.
Emma, 45 years old, shared her experience: "I started using Retinol early in my skincare routine, but now I'm dealing with those stubborn wrinkles that just won't budge. A good friend introduced me to Modere Collagen, and I didn't waste a second getting it. I've been using it for three months, and I'm thrilled with how well it's working to refresh my skin from the inside. Honestly, my face feels smoother, and even my family and friends have noticed the difference. I give this supplement a big thumbs up!"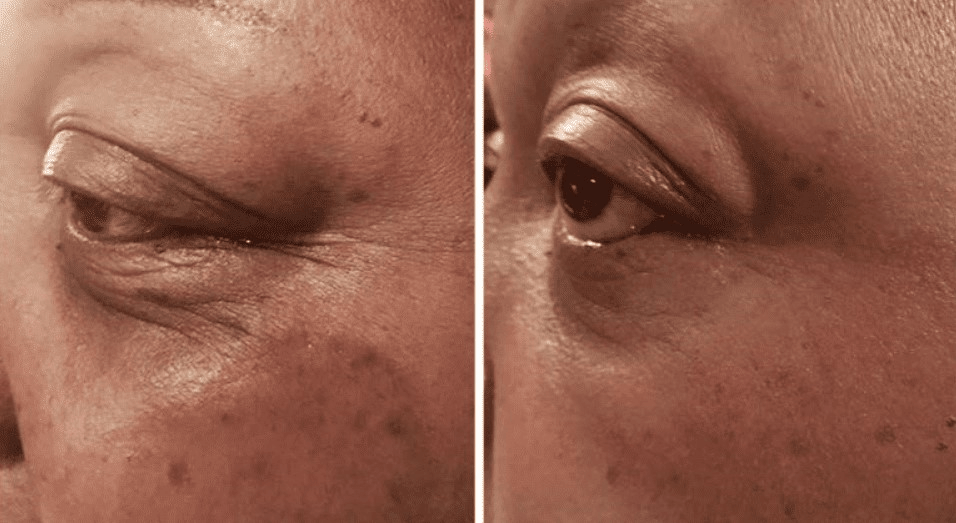 A busy professional, Brenda shared her thoughts on Modere Liquid Collagens: "I'm always on the go, spending long hours at the office, so the idea of having liquid collagen for convenience really got my attention. I was excited to try Modere Liquid Collagens, but I was surprised by the price – over $80 per bottle. Still, I decided to give it a shot and went for the Pure version.
I have to say, within just two weeks, I felt a noticeable boost in my energy levels. I was more pumped and productive, which was great. However, I quickly ran out of the liquid. As much as I loved the results, I couldn't justify spending so much money monthly on this supplement. It's just not budget-friendly for me. I really wish it was more affordable."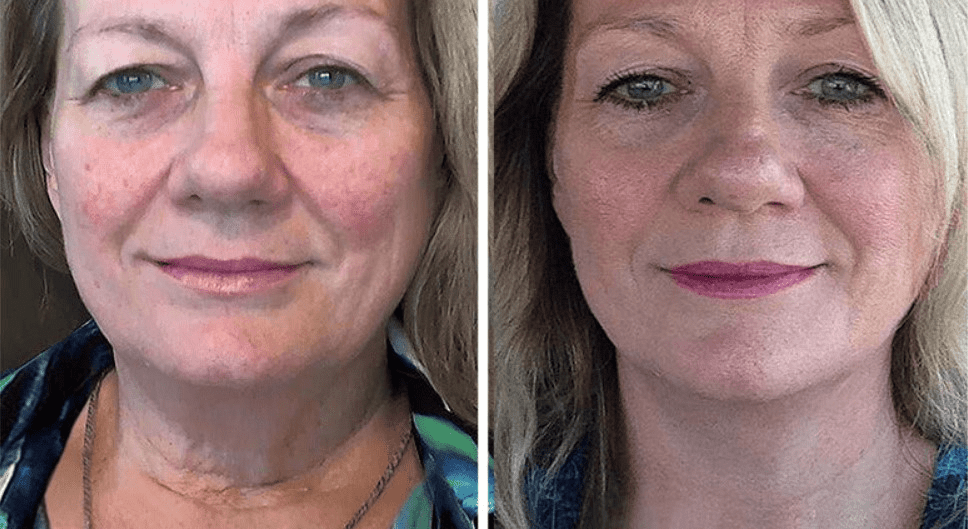 Frequently Asked Questions | Modere Liquid Collagen Reviews
Is Modere Liquid Collagen good?
Successful clinical studies and numerous satisfied customers indicate that Modere Liquid Collagen can live up to its claims. It improves our health by combining powerful Liquid BioCell Technology with nutrient-rich ingredients. While several users describe this supplement as good, the criteria for considering something good will differ for everyone.
How much does one bottle of Modere last?
Each bottle of Modere Liquid Collagen contains 450ml of product, and the daily dosage is two tablespoons, which is 30ml. While there's no precise information on how long one bottle lasts, we can estimate that it may stretch from 15 to 18 days.
Does collagen help you lose weight?
While collagen supplements aren't typically taken for weight loss, some studies and evidence hint at potential indirect benefits. These supplements are believed to increase satiety, boost fat metabolism, decrease body fat, and shrink fat cells. Still, it's wise to consult a medical professional to better understand these effects.
Cessation
As we wrap up this article, let's address some common questions: Is Modere the best liquid collagen? Does Modere Liquid Collagen work? Examining the formulation, composition, and studies related to Modere Liquid Collagen reveals the product's incredible potency. Many positive Modere Liquid Collagen reviews can be found online to support the successful delivery of its claims.
According to users, the most significant disadvantage of this product is its high price. This supplement's recurring cost is not something everyone can afford, making it inaccessible to many. However, If you're considering harnessing the benefits of Modere's patented Liquid BioCell technology, seek medical advice to ensure maximum efficacy and safety.
Marilyn's deep interest in fashion, beauty, and lifestyle has led her to pursue a fulfilling career as a freelance writer and blogger. With her bachelor's degree in fashion design from the Fashion Institute of Technology, she has developed a keen eye for style and trends, making her well-equipped to offer valuable insights into the latest fashion and beauty trends.