Your eyes make up the most integral part of your face. Hence, eye products like eyeliners, lashes, and mascaras greatly enhance your beauty. However, with the constant use of makeup products, you can damage your skin, especially the area around the eyes, since it is super delicate. Well, if you think naturally growing your lashes or brows is just a hypothetical idea, then you are wrong!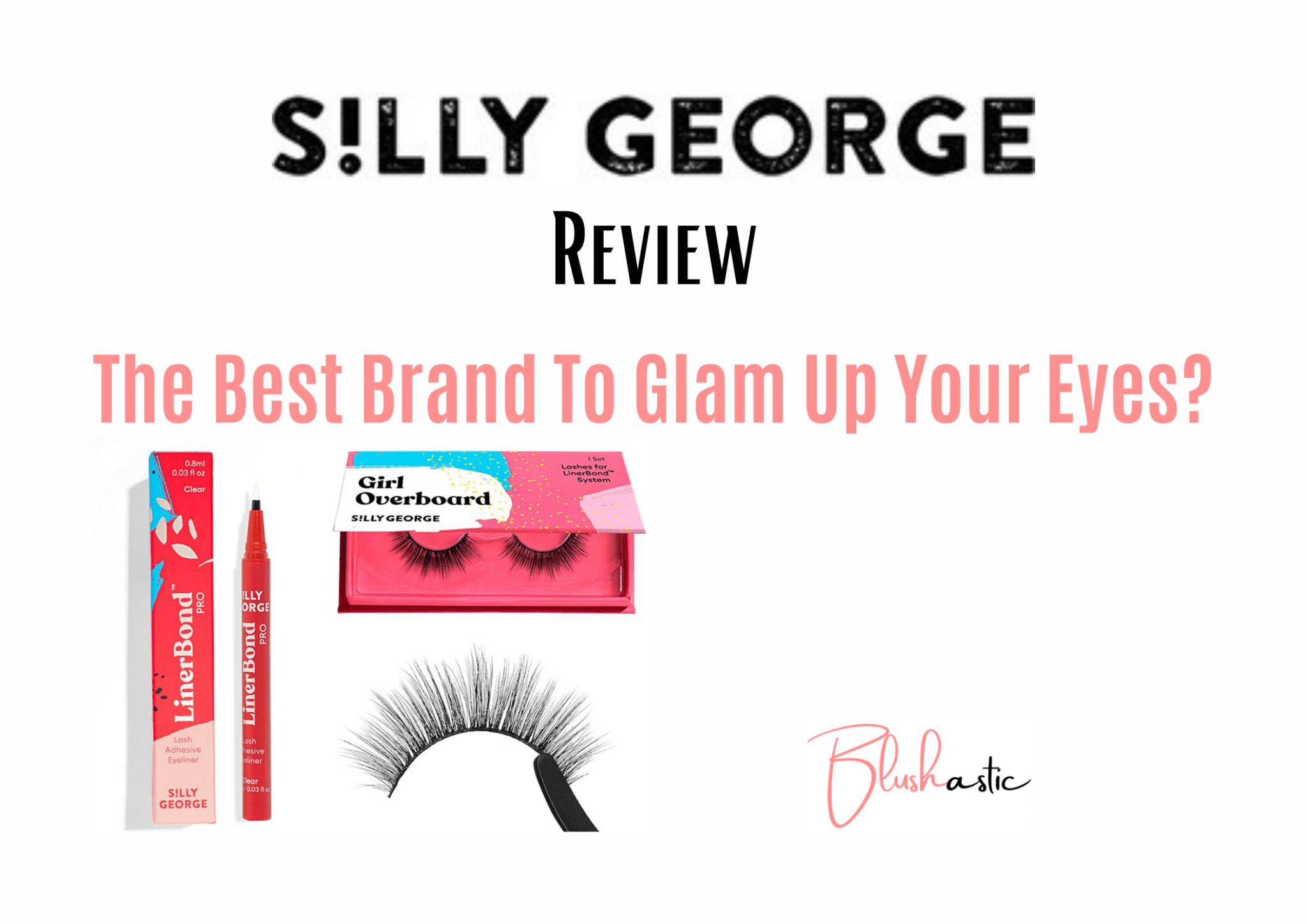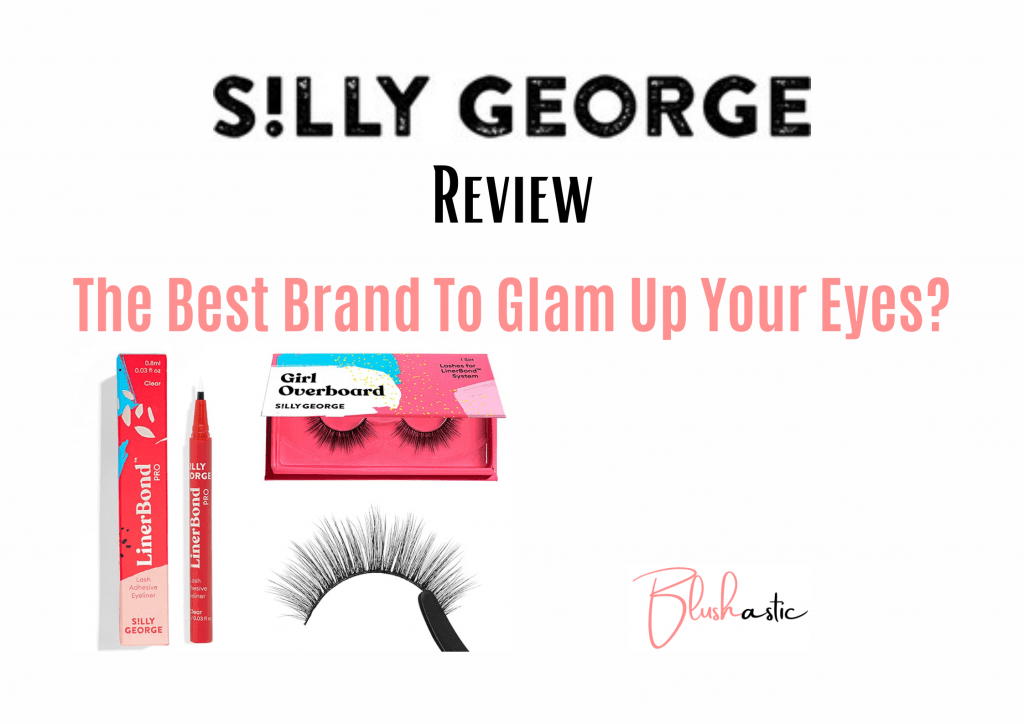 Silly George presents a complete set of eye beauty products that claim to help you naturally grow your lashes and brows! The eye beauty brand also comes with other products like false lashes, mascaras, etc. Hop on to briefly look at some of the Silly George reviews to determine whether the brand is worthwhile.
Silly George Reviews | About the Brand
Miranda, one of the co-founders, initially started Silly George as a lash brand. But with solid support and values, Silly George became a complete eye beauty brand with various products. It is PETA approved, meaning it is cruelty-free and does not perform animal testing. Moreover, it is entirely vegan, toxin-free, and climate-conscious. But can we trust the brand? Let us briefly examine some of the Silly George reviews to reveal the truth.
Silly George Lash Growth Serum
Let's just be honest; who wouldn't want to have naturally thick and long lashes? And lash serums play a vital role in lash regrowth. According to Silly George, the Lash Growth Serum is the brand's best-seller and shows its results within 6 weeks. The ingredients activate the hair follicle and increase hair growth, making your lashes thicker and longer.
Sale
Silly George Eyelash Growth Serum, Lash Serum for Eyelash Growth, Thicker, Fuller, Longer Eyelashes & Bold Eyebrows, Premium Eyelash Serum, Lashes & Brows Enhancer, Lash Growth Serum (3ml, 0.1 Fl. oz)
Lengthen and Volumize: Thin lashes? Look no further. Our serum is formulated to give you naturally long, thick, dramatic lashes. Our nourishing eyelash growth serum encourages new lash growth while strengthening existing hairs for bold, dramatic eyes in just a few weeks.
Breakthrough Technology: It works by activating the hair follicle to promote rapid growth of eyelashes, making them grow longer, thicker, and fuller. This very same serum also toughens up the epidermal junction (where the lash grows out of the eyelid), helping prevent the newly grown eyelashes from falling out.
Uses: If you're looking to plump up your lash line, or even if your lashes are in bad shape from lash extensions or lash glue. Our carefully chosen ingredients are non-irritating, cruelty-free, and paraben-free. Silly George Eyelash Growth Serum has been tested and approved by labs and clinics, making it safe and worry-free for daily use.
Versatile: Our lash serum also works on your eyebrows! Simply apply it where you want to see big, beautiful brows too. Our breakthrough formula will help you to gain the confidence to be boldly you! If you've ever felt naked without your lashes and eyebrows, this serum will give you clinically tested results.
Easy to Apply: Use applicator brush to apply 1-2 times per day to the base of your eyelashes and/or over eyebrows. Once desired results are seen, use once or twice a week to maintain your long, luscious lashes. Our lash serum can be used in conjunction with mascara for extra drama or applied alone for a natural lift.
The serum is formulated with breakthrough technology and contains ingredients like Sodium Chloride, purified water, citric acid, Myristoyl pentapeptide-4, etc. Sodium chloride or table salt is an excellent thickener used in cleansing products! On the other hand, citric acid acts as an exfoliator by removing dead cells and smoothening your skin. 
Perks
Its active ingredients play a vital role in stimulating hair follicles.

The Silly George lash serum works well for your brows as well.

This formula has been scientifically proven and clinically tested.

It is vegan and toxin-free.

The brand claims positive results within 4-6 weeks.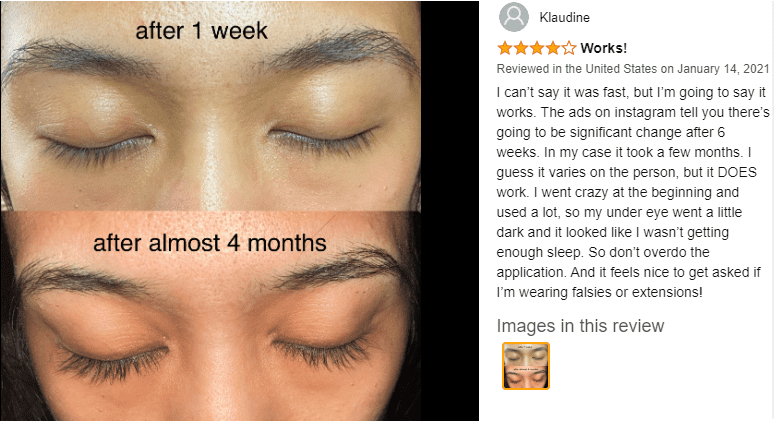 Drawbacks
Some users with sensitive skin have observed darkening of skin near the eye area.

With excess and extensive use of the serum, some users reported itchiness and redness.
Silly George Black LinerBond Lash Adhesive Eyeliner
Silly George's Black LinerBond is the new lash eyeliner that strengthens your lashes. You now do not have to worry about the messy glue or sloppy liquids that cause chaos to your pretty eyes! Also, you do not have to wait for it to dry or have some magnets attached for your lashes to stay in place. Silly George's adhesive lash liner is just what you need for an easy lash application. 
Silly George LinerBond Pro | Strong Lash Adhesive Eyeliner | No Magnets or Glue, Mess Free, Lightweight, Long Wear, Weatherproof (Clear)
BREAKTHROUGH TECHNOLOGY: Clear LinerBond PRO new formula and technology mean ultra-easy application, and no "eyeliner look" is necessary.
STRONG AND LONG HOLD: It can handle all kinds of weather, and stays on all day long. It's whatever-proof, water, wind, sweat, teardrops, weather resistant
EASY TO APPLY: Clear LinerBondPRO is perfect for all eyeliner users - from beginner to expert, and with the clear version, it's virtually foolproof. The liner is smooth, and only takes a few seconds to apply. Clear LinerBond PRO doesn't require drying-time
UP TO 60+ WEARS: To be used with our LinerBond Lashes (Girl Series or SuperNatural Series), or any other brand's regular strip lashes.
PETA APPROVED: Vegan & cruelty-free. Toxin-free, low-allergenic, latex-free, damage-your-natural-lashes-free
The eyeliner contains aqua, which acts as a solvent for other propanediol ingredients, reducing water loss from your skin! Polysorbate 80 acts as a solubilizing agent and creates a pleasing texture for your skin.
Perks
It can hold your lashes all day.

Creates no mess.

Needs no time for drying.

Creates an eyeliner look and also works as glue to your lashes.

Super easy application.

Vegan and toxin-free.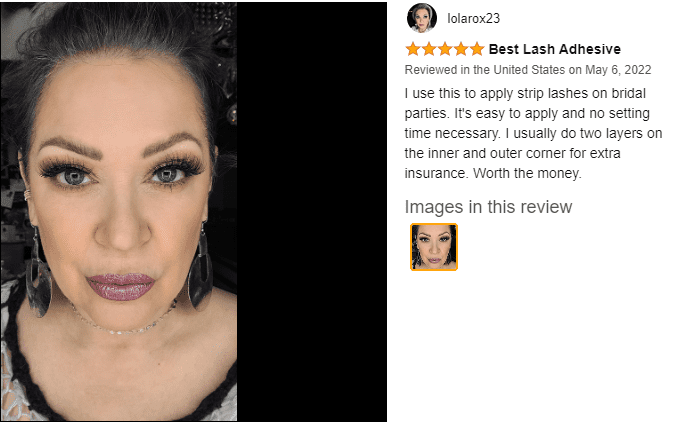 Drawbacks
The applicator tip may get damaged a little too soon.

Some users complained of lost longevity as soon as water/sweat touches their lash line.
Silly George Clear LinerBondPro Lash Adhesive Eyeliner 
Do you want to have your lashes stay in place all day long but also need no eyeliner for your lashes to stay on? Like the previous liner, this Clear LinerBondPro is just the 'No Eyeliner' look you may be looking for. A swift liner application on your lash line without a perfect stroke will keep your lashes in place all day long.
Silly George Girl Series Starter Kit - Pretty Lashes with Adhesive Eyeliner | Clear and Flexible Band gives Lashes Natural Look | Extra Strong Hold for False Eyelashes Alternative to Lash Glue or Magnet (LinerBond Clear, Girl Goals)
𝐄𝐚𝐬𝐲 𝐀𝐩𝐩𝐥𝐢𝐜𝐚𝐭𝐢𝐨𝐧: This Girl Series Starter Kit by Silly George comes with an innovative lash adhesive liner that makes wearing fake lashes a breeze. Simply draw a line along your lash line and attach the eyelashes, no messy glue is required.
𝐍𝐚𝐭𝐮𝐫𝐚𝐥 𝐋𝐨𝐨𝐤: Silly George's Girl Series eyelashes are designed to look just like your natural lashes, with a subtle lift and curl. These fake lashes are perfect for everyday wear or for those who prefer a more understated look.
𝐋𝐨𝐧𝐠-𝐋𝐚𝐬𝐭𝐢𝐧𝐠: The adhesive liner in the Girl Series Starter Kit is long-lasting and won't budge, even through sweat and humidity. The lashes themselves are also durable and can be worn multiple times with proper care.
𝐂𝐨𝐦𝐟𝐨𝐫𝐭𝐚𝐛𝐥𝐞: The Girl Series eyelashes are lightweight and comfortable to wear, so you won't even notice them throughout the day or night. The adhesive liner is also gentle on the skin and won't cause any irritation.
𝐕𝐞𝐫𝐬𝐚𝐭𝐢𝐥𝐞: The Girl Series Starter Kit is versatile and can be used for any occasion, from a casual daytime look to a glamorous evening out. The lashes are available in various styles to match your desired level of volume and length.
The Clear LinerBondPro contains Polyvinylpyrrolidone (PVP) which gives the liner a fixative property. PVP works magic since it forms a coating and helps you maintain the lashes in the exact position you want.
Perks
According to the brand, the clear lash liner is best for a no-makeup look as it needs no eyeliner to hold the lashes strong.

Users can stick their lashes on without the use of magnets.

The thin pointed applicator helps in the sleek application of the liner.

Smudge-proof.

Best for those who struggle with lash liner application.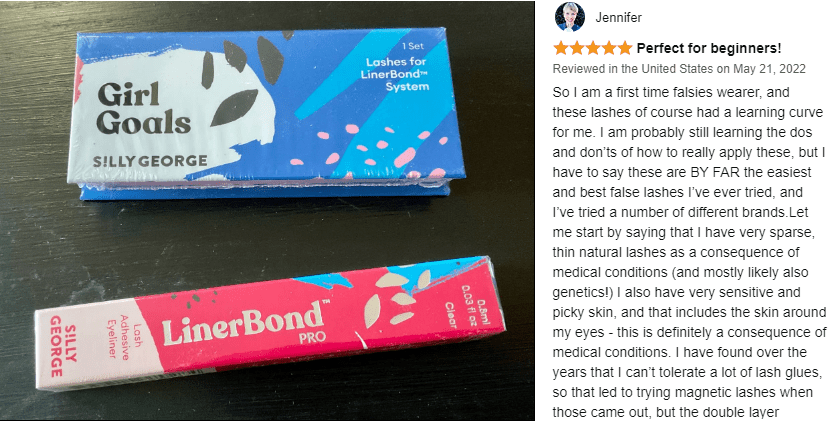 Drawbacks
It may lose its glue longevity with too much sweat.

No mention of side effects on sensitive skin.
Silly George Heart Eyes Mascara
Go heart eyes with Silly George's Heart Eyes Mascara. The mascara has two application settings or a dual-tube applicator just to make it simple. Some days we want our lashes longer, while others just want the volume to our lashes! Well, this dual tubular mascara provides you with two options, pump up the volume or add length to your lashes, both in one!
Silly George Heart Eyes Mascara | Smudge-Free, Budge-Free, Grudge-Free Lashes, Cruelty Free & Vegan
LENGTHEN AND VOLUMIZE: With two application settings of this tubing mascara, you can plump up the volume and/ or add lashings of length, all in the one terribly cute tube
BREAKTHROUGH TECHNOLOGY: The SG signature formula uses technology that creates a tube around the lash thickening and lengthening in one slick movement, which doesn't smudge, and certainly won't budge
SMUDGE-FREE AND LONG-LASTING: Perfect for oily eyelids or watery eyes, this unique formula will give you only tears of delight, lasting all day (and night) without smudging
HOW TO USE: Easy to apply. We recommend curling your lashes and applying the tubing Mascara for a stand out lash lift, on its own or before adding your (optional) Girl Series or SuperNatural Lashes
GENTLE FORMULATION: Cruelty Free & Vegan, Sulphate Free, Paraben Free
Mascara is the cherry on the cake! And come on, we would never want to spoil our look by smudging or over-applying mascara. Silly George's Heart Eyes Mascara is completely smudge-free and lasts all day. Be it tears of delight or tears of pain; this mascara will get you through everything without smudging!
Perks
Comes with a dual application setting.

Apply it based on your mood, a thin layer for a natural look, or plump it up for a complete glam look.

No clumps.

Smudge-proof.

Lasts all-day-long.

Easy application.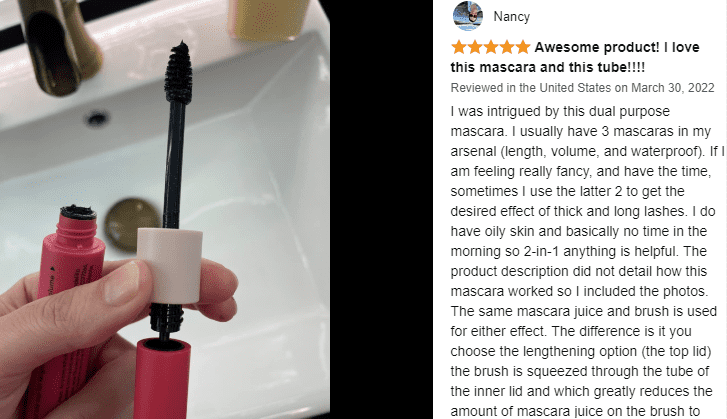 Drawbacks
Some users claim it takes more strokes for voluminous lashes.

It might be a little challenging to remove after a lot of strokes.
Silly George Dual Magnetic Lashes
Silly George Dual Magnetic Lashes is the new dual lash system that consists of top and bottom layers that hold your natural lashes between them. With these magnetic lashes, you will now have no worries about the sticky glue or the irritation caused by it. Silly George's dual lash series has three spectacular styles that match your mood! Be it a natural look or a full-glam one; you can have it all with The Dailies, The Originals, or The Drama!
The Dailies
The Dailies is a set of lashes more toward the natural side! You can have a basic look but with better lashes with The Dailies! You can boost your confidence with clip-on lashes without worrying about messy glue or being perfect with lash liners.
The Originals
The Originals- Silly George's medium lash that fits all styles and eye shapes perfectly! According to the brand, The Originals is people's favorite magnetic lash among the series, as it is ideal for day or night transitions!
The Drama
With The Drama, you can unleash your bold and most exceptional look! This set of lashes is perfect for a full glam as it comes with thick and voluminous lashes that will make you look super-confident!
Frequently Asked Questions
Are Silly George lashes waterproof?
With Silly George's LinerBond Pro, you can easily wash your face as it is water, heat, and humidity resistant. So applying the lash liner will not loosen the strength and will keep your lashes on all day long.
Are Silly George lashes reusable?
Yes, Silly George Magnetic Lashes are reusable for multiple wears. The brand claims you wouldn't have to throw them away after a single use, as they can last for up to 30+ wears.
Does Silly George Lash Growth Serum work?
Silly George lash serum has been tested clinically, with independent studies showing a 99% success rate. It contains many active ingredients that help promote the growth of healthy and longer lashes. According to the brand, the lash growth serum works well with your eyebrows.
Is Silly George safe to use while breastfeeding or nursing?
The brand declares to better refrain from using serums while breastfeeding before asking your doctor because your doctor might know your medical history well, so considering 'prevention is better than cure, ask your doctor before using any kind of serum.
Closure |
Silly George Reviews
There are numerous brands with eye beauty products, but Silly George is a complete eye beauty brand. It provides you with makeup products like mascaras and lashes and a good treatment with lash serums! So, it's high time you start using lash growth serums to help you grow your lashes naturally without the excess makeup products that eventually destroy your skin or hair with constant use. 
Are you worried about the products being a little expensive and not working for you? You need not! Because if the serums don't work for you, the brand offers you a 30-day guarantee and replaces them or refunds the money. But with the lash serum, the brand claims a 60-day guarantee, as it may take time for serums to work. So, with this line of eye beauty products and growth serums that help you enhance your lashes and sufficient guarantees, you might want to add Silly George's products to your cart!
Marilyn's deep interest in fashion, beauty, and lifestyle has led her to pursue a fulfilling career as a freelance writer and blogger. With her bachelor's degree in fashion design from the Fashion Institute of Technology, she has developed a keen eye for style and trends, making her well-equipped to offer valuable insights into the latest fashion and beauty trends.