On the latest episode of "What's Trending?", we'd like to introduce you to pore vacuums, which will suck out all the nasty, gooey gunk from your pores, leaving them clean and fresh. These strange-looking tools use mild suction to remove all the unwanted debris, leaving behind soft, smooth, and clear skin.
Pore vacuums are especially famed on Tik Tok and YouTube, where users post videos of themselves extracting unsightly stuff from their pores with this device. If you're interested enough to try one, this article will come in handy because we'll review a popular pore-cleansing tool from BeautyBio. We'll also share some BeautyBio GloFacial reviews to see how this device helped others.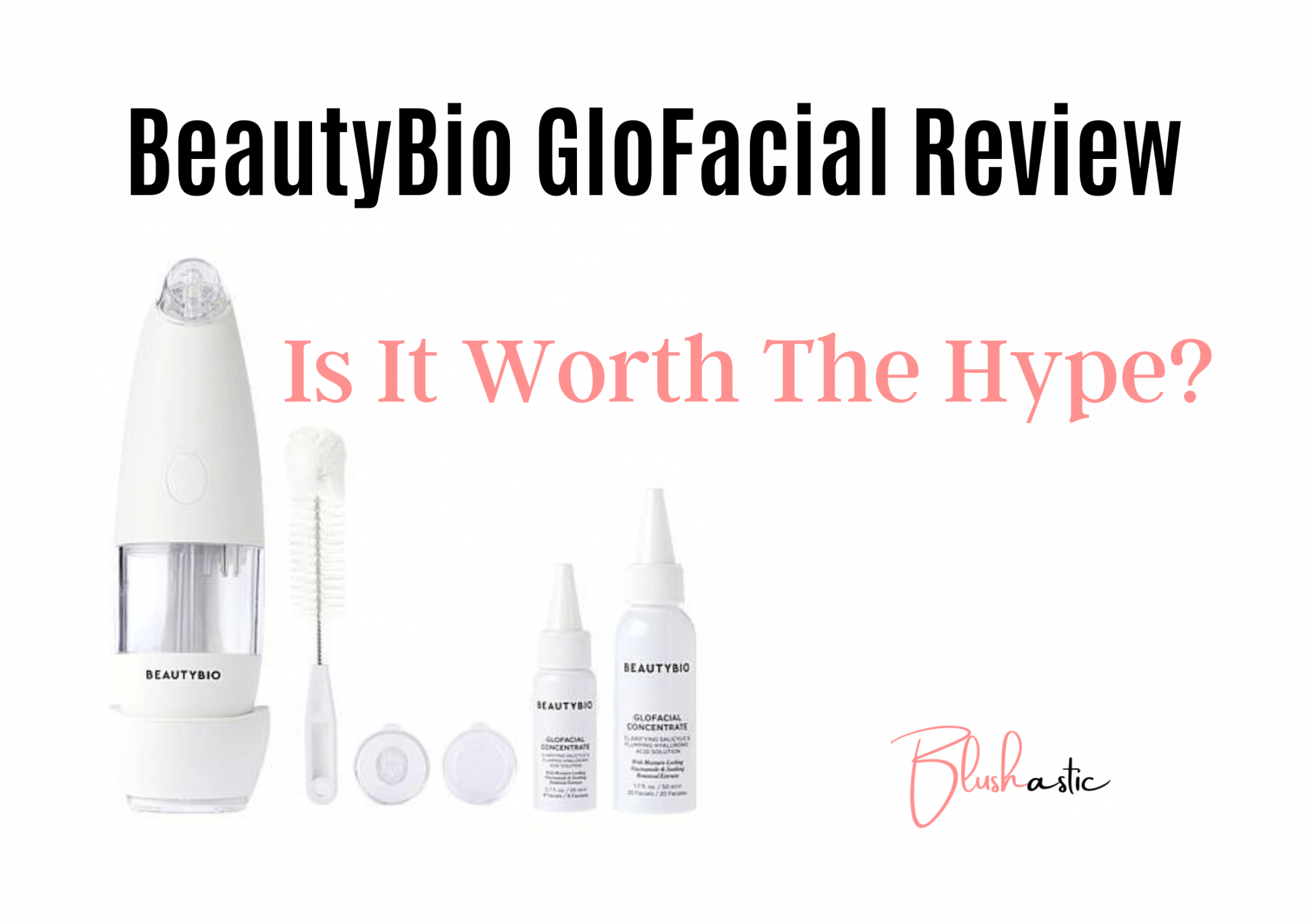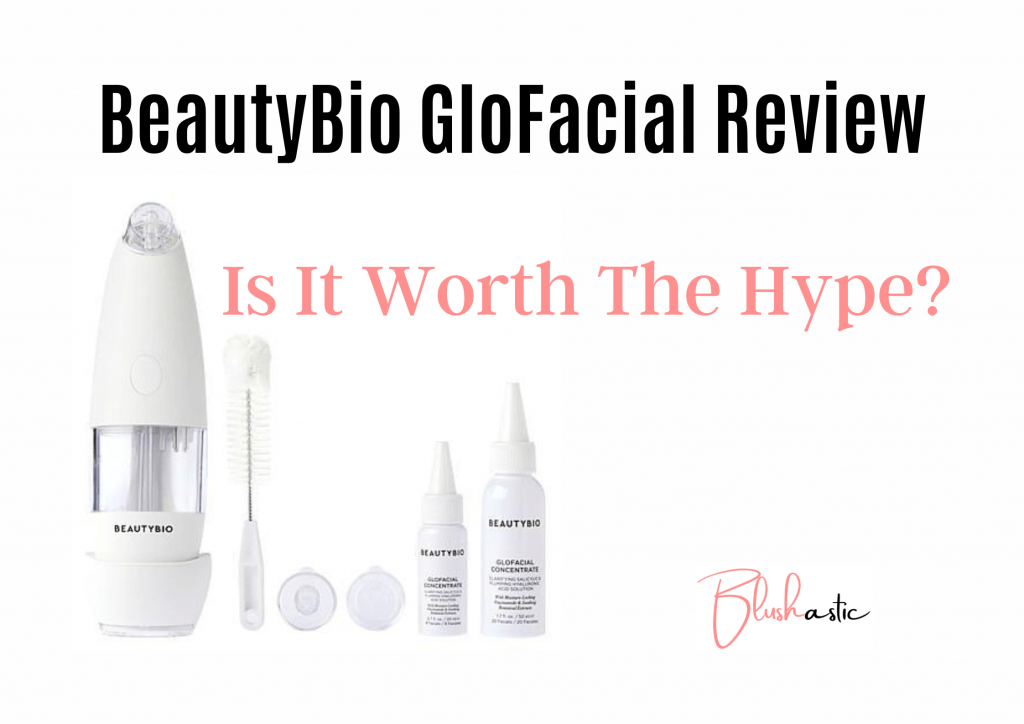 Pores are tiny openings in the skin that allow oil and sweat to escape from your glands. They are of two types: oil pores and sweat pores. Oil pores help keep the skin lubricated with sebum, while sweat pores help regulate temperature. Sometimes the pores become clogged with sebum, dirt, and hair, resulting in blackheads, whiteheads, and acne. Pore vacuums help improve the health of our skin because they essentially unclog the pores.
These tools, however, have some controversies surrounding them. So, without further ado, let's go over all the details, benefits, and drawbacks of pore vacuums so you can make an informed decision about whether or not to try one.
BeautyBio GloFacial Review | Is It Worth The Hype?
Jamie O'Banion founded BeautyBio, a renowned beauty company, in 2011. It all started with a single product: the GloPro Microneedling Tool, which quickly broke records and revolutionized the beauty industry. Jamie and her father created this tool and introduced it to medical spas and other professional businesses. She then released this device for retail distribution in 2016 and earned approximately $1 million in its first month on the market.
Jamie has since expanded her business, introducing several beauty tools and topical skincare solutions. This brand's mission is to combine the most potent ingredients with botanical extracts that promise to deliver results. Their skincare formulations work synergistically with beauty devices to enhance skin benefits when included in your daily routines.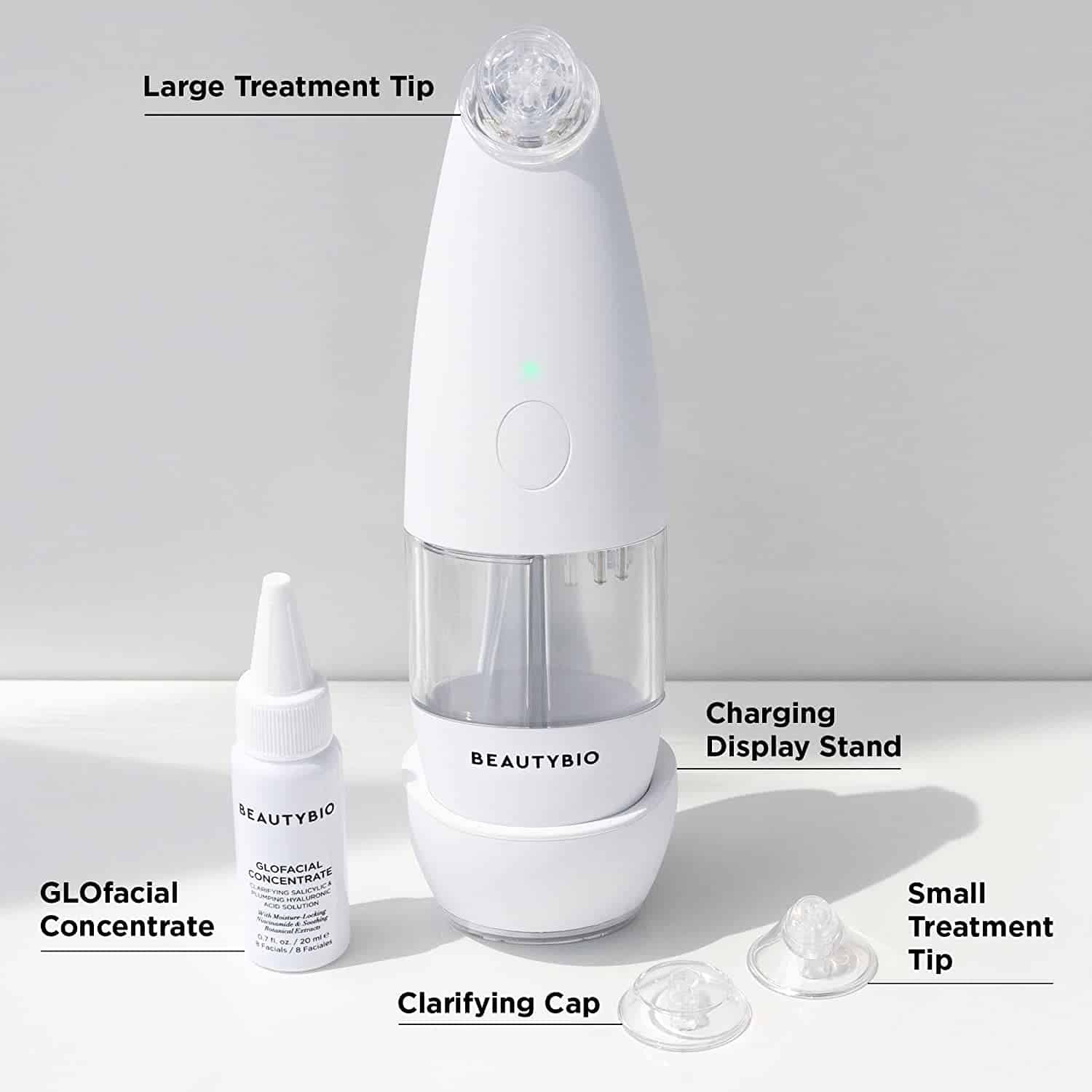 The BeautyBio GloFacial Hydro-Infusion Pore Cleansing Tool is a beauty device that deep cleanses pores and exfoliates dead cells, resulting in fresh, clean, and supple skin. It works like a vacuum to remove dirt, excess oil, and makeup from your pores, making them appear smaller. This device's exfoliating action also aids in diminishing rough and bumpy skin texture. Make sure to use a toner after cleansing to avoid open pores, followed by a moisturizer from an authentic brand. 
GLOfacial Hydro-Infusion Deep Pore Cleansing + Blue LED Clarifying Tool
Helps exfoliate skin and remove dirt, excess oil, and makeup from pores
Infuses skin with proprietary blend of Salicylic Acid, Hyaluronic Acid, Botanical Extracts, and Niacinamide
Pores appear cleaner, tighter, and skin appears plump and radiant
Set includes: GLOfacial Hydro-Infusion Pore Cleansing Tool, 20ml. GLOfacial Concentrate , Large and Small Treatment tips, 1 Clarifying Cap, Charging Display Stand
This device also has a Blue LED Light, which helps to regulate oil secretion in the skin and kill acne-causing bacteria. It works in tandem with a GloFacial Concentrate, which contains potent skincare actives like Hyaluronic Acid, Salicylic Acid, and Niacinamide to hydrate, cleanse, and brighten your skin.
BeautyBio GloFacial Concentrate Ingredients
Sodium Hyaluronate 
Sodium Hyaluronate is related to Hyaluronic Acid, a powerful humectant known for its incredible water-retention ability. Sodium Hyaluronate is a salt form of Hyaluronic Acid with a small molecular structure that allows it to penetrate deeper into the skin for intense hydration.
It nourishes both the upper and lower layers of the skin, preventing water loss. Increased skin hydration also aids in the reduction of wrinkles, fine lines, and dryness. Sodium Hyaluronate also reduces skin texture and adds a dewy glow to the skin, making it appear radiant, smooth, and supple.
Salicylic Acid
Salicylic Acid, also known as Beta-Hydroxy Acid (BHA), is an extract derived from Willow leaves. It exfoliates the skin from within to prevent common skin problems like acne, whiteheads, and blackheads. It removes excess oil, unclogs pores, kills bacteria, and removes dead skin cells, making it ideal for acne-prone skin. SA can also help to reduce excess sebum secretion, which can help to prevent breakouts and improve skin texture. It also has anti-inflammatory properties, which help to relieve swelling, redness, and sunburn.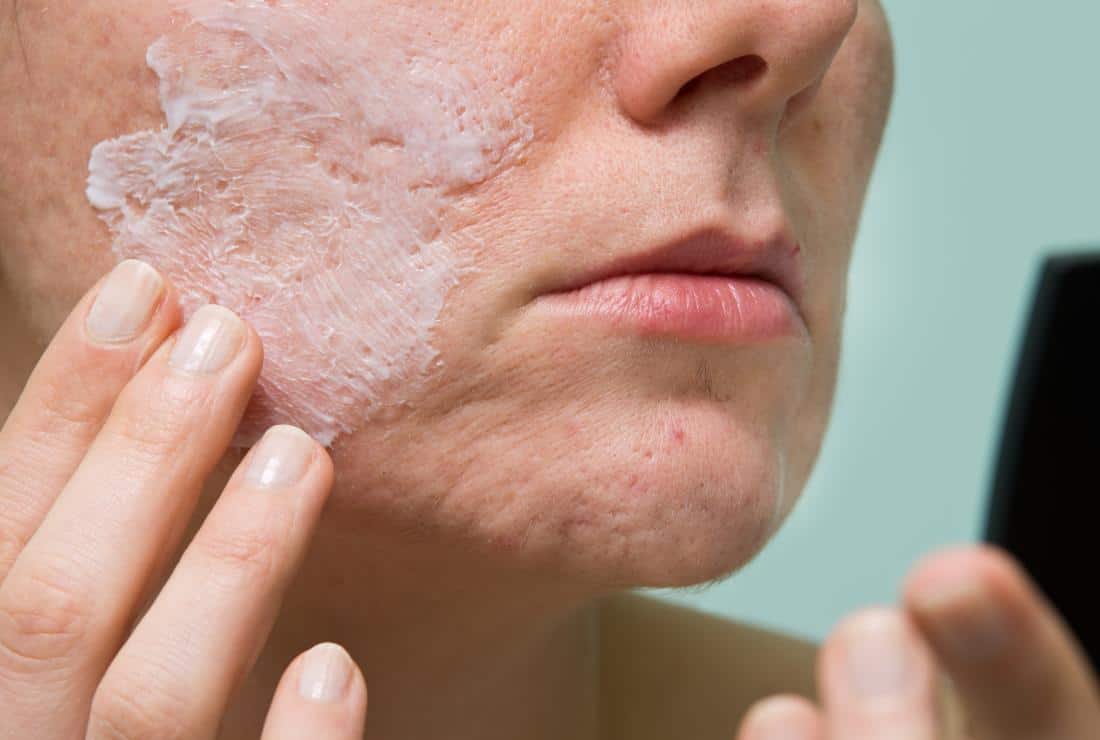 Niacinamide 
Niacinamide, also known as Nicotinamide or Niacin, is an essential nutrient for cell development and function. It brightens the skin by reducing sun damage, dark spots, and patches. It inhibits the enzyme that causes hyperpigmentation, making the skin clear and radiant. Niacinamide regulates oil and sebum production, making it ideal for acne-prone and oily skin.
It also soothes acne by reducing inflammation and irritation. Niacinamide enhances the hydrating ability of a product when combined with ingredients such as Hyaluronic Acid. It also promotes the production of ceramides and natural fats, which help strengthen the skin barrier.
Licorice Root Extract
Licorice, derived from the Glycyrrhiza Glabra plant, is treasured for its medicinal and health benefits. Its brightening properties make it popular in skincare. It inhibits tyrosinase secretion, which is involved in the process of hyperpigmentation. It can also help to reduce and prevent skin discoloration caused by UV rays.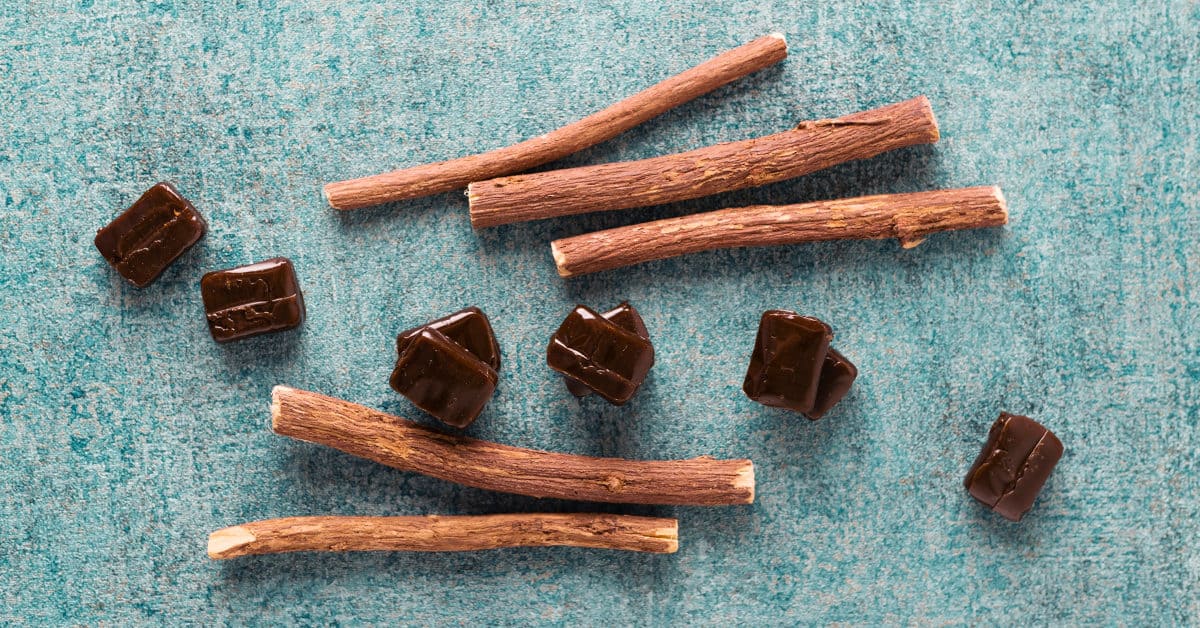 Licorice Root Extract can help with acne scar treatment by reducing inflammation, irritation, and redness. It is also beneficial in treating skin conditions such as atopic dermatitis and eczema. Lastly, it aids in regenerating collagen and preserving Hyaluronic Acid, both of which are necessary for keeping the skin hydrated, elastic, and supple.
Benefits Of BeautyBio GloFacial Hydro-Infusion Pore Cleansing Tool
BeautyBio GloFacial Pore Cleansing Tool unclogs pores and removes debris, resulting in better-looking skin. It employs suction, similar to a vacuum, to gently but effectively draw dirt, oil, and other impurities from your pores, resulting in fewer blackheads, congestion, and breakouts.
GloFacial also effectively exfoliates the skin by removing dead skin cells from the skin's surface, resulting in a smoother, brighter complexion. Exfoliation further improves the effectiveness of other skincare products by allowing them to penetrate deeper into the skin.
This device comes with a facial concentrate, a blend of several potent ingredients, that helps improve the skin's appearance, vitality, and health. It contains Salicylic Acid, a chemical exfoliant well-known for unclogging pores, reducing acne, and removing blackheads. The formula of this concentrate further includes Sodium Hyaluronate, which will hydrate your skin from the inside, making it plump, supple, and soft.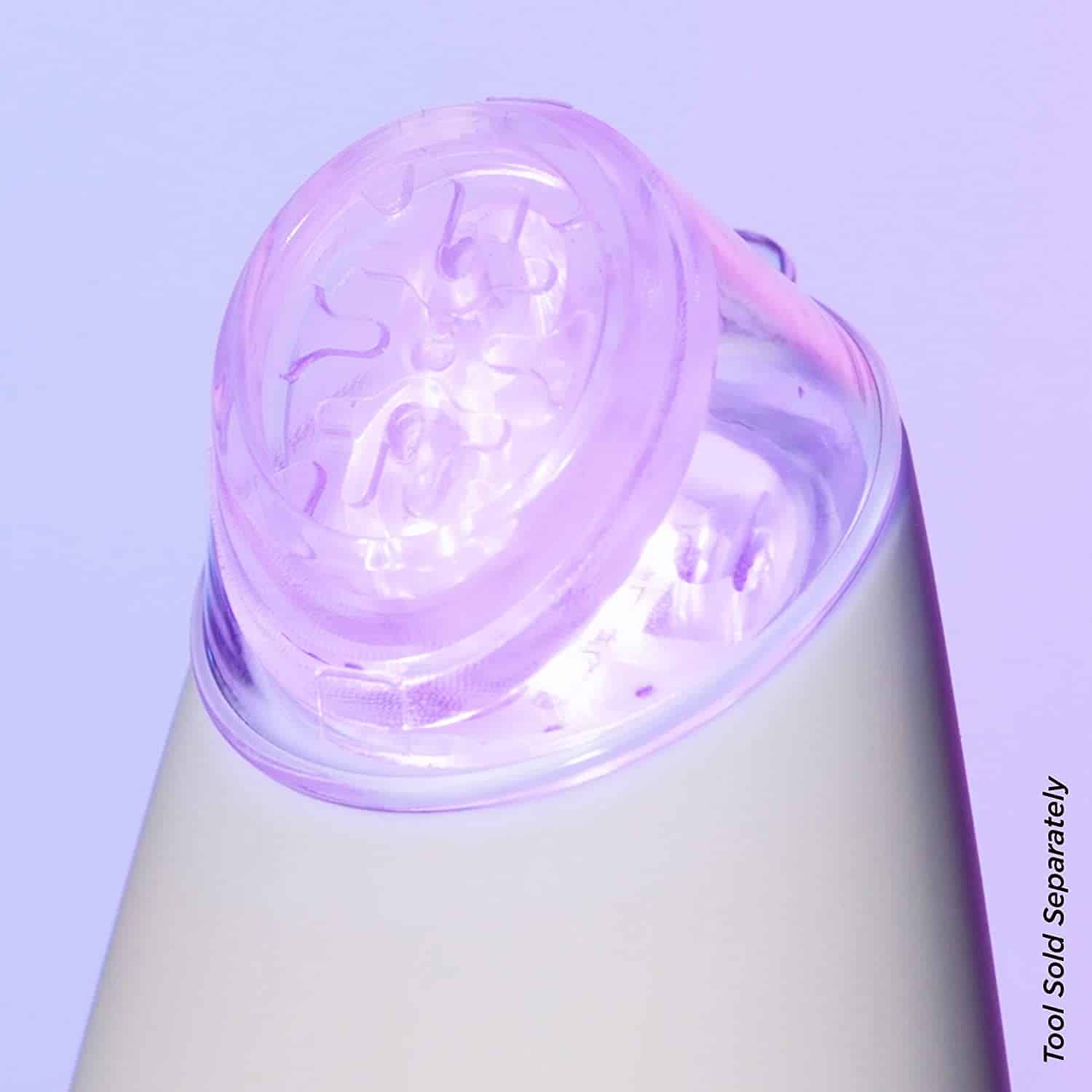 Niacinamide and Licorice Root Extract inhibit hyperpigmentation, resulting in brighter and clearer skin tone. This concentrate also contains Camellia Sinensis Leaf Extract, which helps to reduce redness, irritation, and inflammation.
The GloFacial Pore Cleansing Tool includes Blue LED Light, which is increasingly popular for improving skin appearance and health. Blue Light Therapy targets skin concerns on and beneath the skin's surface by using natural blue or violet light within a specific wavelength range.
According to research, blue light treats and prevents acne by destroying bacteria around the sebaceous glands. It also controls sebaceous gland secretion, lowering the occurrence of acne even further. Blue light is also said to help treat psoriasis and eczema by reducing discoloration.
Features Of BeautyBio GloFacial Hydro-Infusion Pore Cleansing Tool
Clinically tested and proven effective in improving the appearance of the skin

Removes oil, dirt, and impurities using suction 

Prevents clogging of pores 

Reduces congestion and breakouts 

It gets rid of blackheads and whiteheads 

Wipes out dead skin cells from the upper layer of the skin

Reduces the appearance of large pores 

Eliminates rough, dry, and bumpy skin texture 

Adds hydration and glow using Hyaluronic Acid 

It gives a bright, clear, and glowy complexion 

Fades discoloration, dark spots, and blemishes 

Delivers blue light to kill acne-causing bacteria and reduce excess oil production 

A facial concentrate is included to hydrate, brighten, and cleanse the skin 

The facial concentrate contains no sulfates, parabens, and formaldehyde

Compact and sturdy making it easy to carry on travels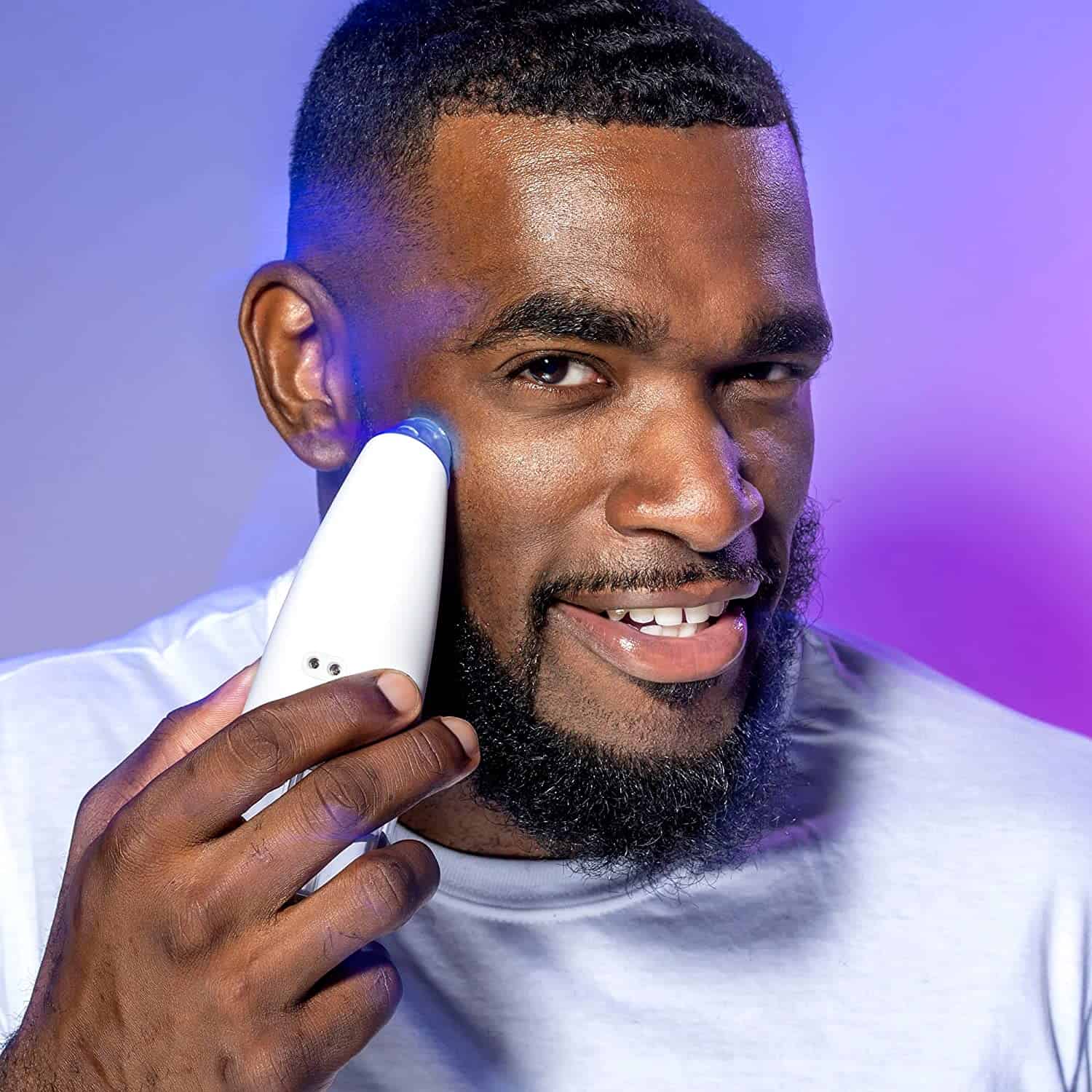 Drawbacks 
GloFacial is unsuitable for sensitive, acne-prone, or reactive skin types.

This device is a bit pricey. 
How To Use BeautyBio GloFacial Hydro-Infusion Pore Cleansing Tool? 
Select a tip and place it on the device's head. Choose the large treatment tip for the cheeks, forehead, and jawline and the small tip for the nose and chin.

Next, remove the Treatment Chamber (left) and fill it with GloFacial Concentrate until you reach the marked line. To dilute the solution, fill the remaining space with water. Install it back on by gently pressing it into place.

Before beginning the treatment, thoroughly clean your skin with a cleansing balm or facewash. Make sure to keep your skin damp and not completely dry.

To turn on the tool, press and hold the power button for 2 seconds.

Choose the desired suction (+1 for low suction, +2 for medium suction, and +3 for high suction).

Hold the skin taut, keep the tool upright, and glide it upward on damp skin until the Treatment Chamber is empty.

Keep the tool moving across the skin without staying in one spot for too long. If the device has lost optimal contact with your skin, you will hear three continuous beeps, allowing you to reposition it on your skin.

When the treatment finishes, press the power button for 2 seconds to turn off the device.

Pull the white flap to empty the waste chamber and thoroughly clean the tool. Allow all of the parts to dry completely overnight.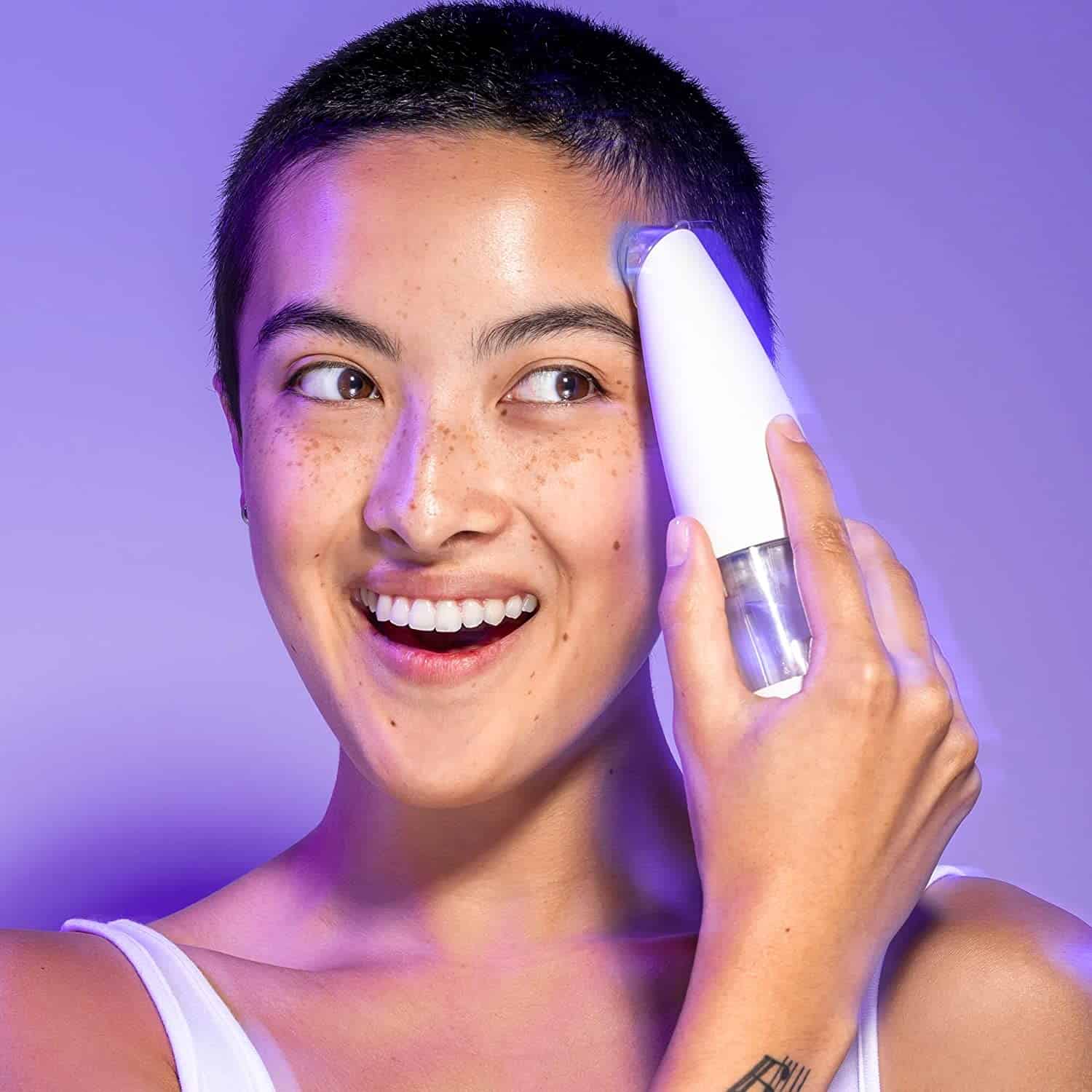 Pore Vacuum Cleaner Side Effects | Are They Safe To Use?
While pore vacuums can help improve the skin's appearance in various ways, doctors and experts often advise using them cautiously. Pore vacuum devices may not cause side effects in and of themselves, but the suction used to dislodge impurities may. Intense suction can have unfavorable results when used frequently, causing more harm than good to your skin.
Excessive suction can cause bruising, discoloration, micro tears, and scabbing. The high suction can also result in telangiectasia, a condition in which blood vessels cause threadlike red lines, clusters, and patterns on the skin. Because of their web-like appearance, people also refer to them as "spider veins." Furthermore, caution is advised for sensitive skin, as pore vacuums can aggravate conditions such as rosacea and eczema. There is also a chance that the device will cause redness, itching, and irritation, sometimes leading to broken capillaries.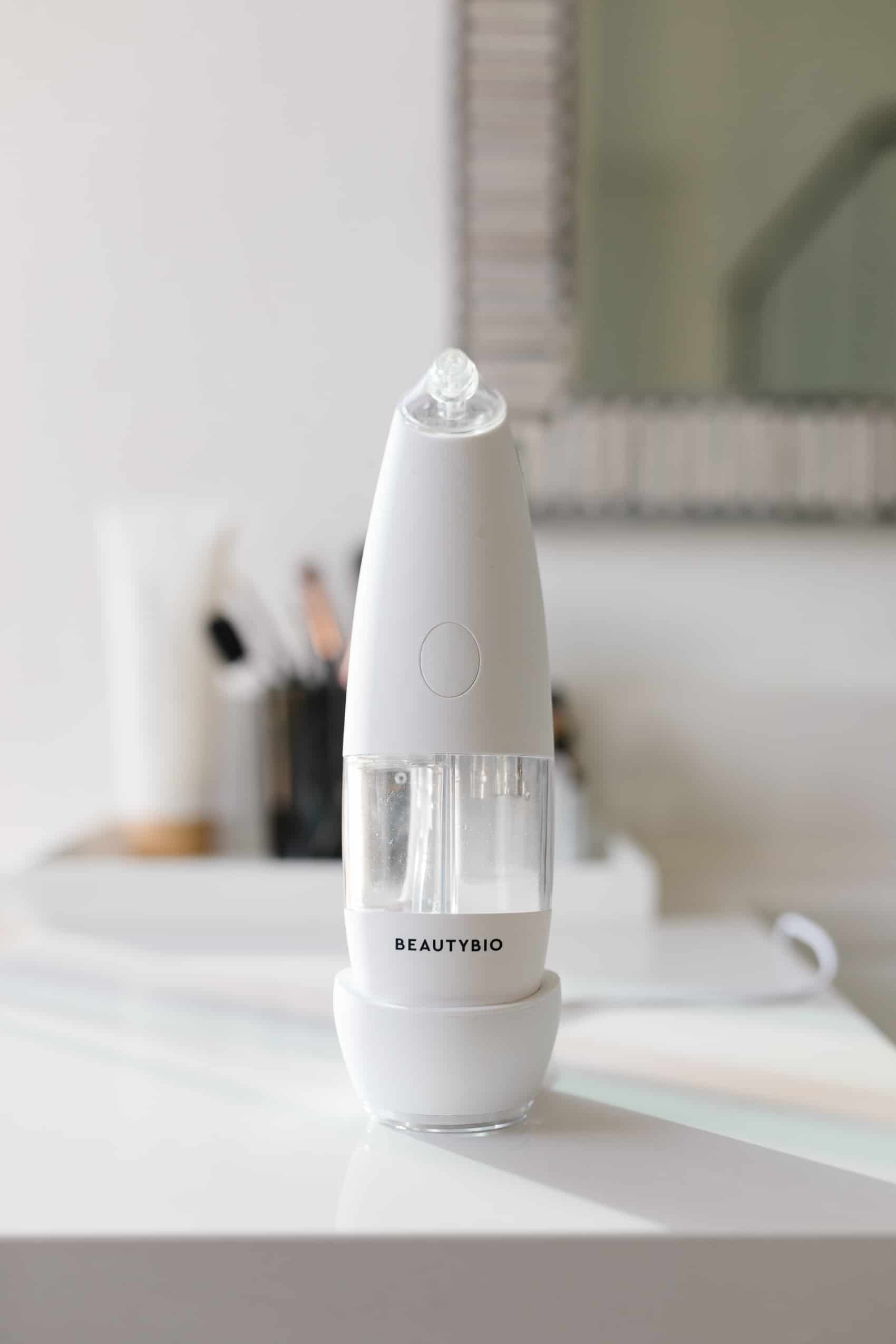 It is also important to note that people with hyperpigmented skin (those with brown or darker skin tones) are more likely to experience worse side effects from the redness and inflammation caused by the improper use of pore cleansing tools. People of color are more likely to have permanent scarring, blemishes, discoloration, and irritation. You may even need to see a doctor to have those side effects treated medically.
Given all of the disadvantages of pore vacuums, their disadvantages outweigh their benefits, making them potentially dangerous to use on our skin. Some doctors even strongly advise against using them. Suppose you wish to get a similar treatment. In that case, it is best to seek it from certified doctors and estheticians who perform it more carefully and safely to avoid experiencing unwanted side effects.
Customer Reviews | BeautyBio GloFacial Hydro-Infusion Pore Cleansing Tool Before And After 
"I get hydrafacials regularly to keep my skin healthy and looking good. While I love that treatment, I must say it is pretty expensive. Not to mention, I often have to take time out of my busy schedule to go to appointments."  Maria added, "When I discovered GloFacial, I was instantly intrigued by the product. Without wasting any time, I placed an order for it. I received the tool almost a month ago and have been using it for the last three weeks.
It certainly lives up to the hype and thoroughly cleanses my pores. As someone with oily skin, I've noticed a decrease in oil production and the appearance of pimples on my face. My skin looks smooth, radiant, and supple after each treatment. I am truly grateful to have discovered this device because it allows me to perform treatments from the comfort of my home while also saving money."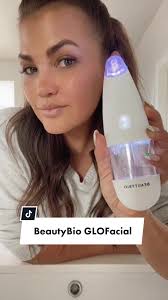 Cleopatra observed, "I bought this tool primarily to remove blackheads from my nose. I frequently use pore strips and scrubs to clean my nose, but they are ineffective, so I decided to give GloFacial a shot. So far, I've used it three or four times. I've discovered that it only removes loosened blackheads. It does not remove all of the blackheads as well as I would like."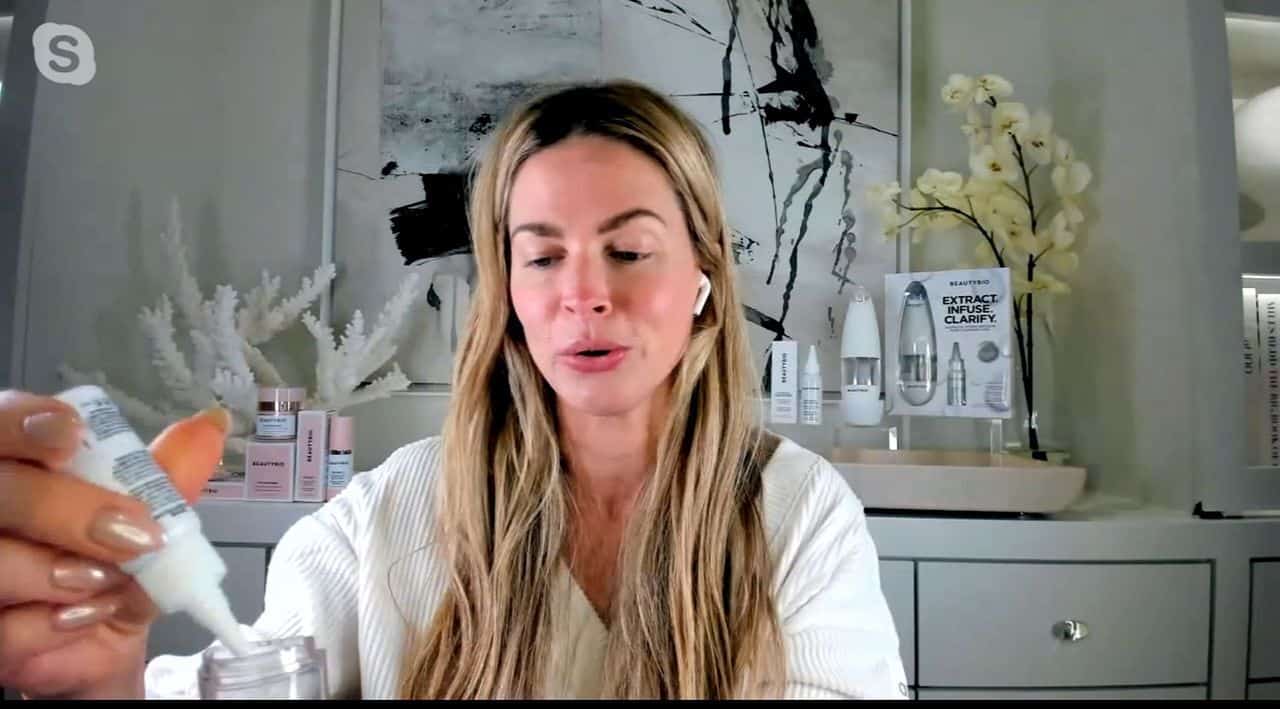 Rina stated, "I am dissatisfied with the results obtained with this device. I expected it to be stronger and more effective than other options on the market for such a high price. Although it cleanses the skin, I can achieve comparable results with a scrub or a facial mask. Furthermore, the quantity of concentrate received with it is minimal. It's good that we can use only water in its place because otherwise, it would have to be purchased regularly, adding to our expenses. In my opinion, this is a mediocre tool."
FAQs | BeautyBio GloFacial 
How often should I use the BeautyBio GloFacial Pore Cleansing Tool? 
The GloFacial Pore Cleansing Tool should be used once or twice a week, according to BeautyBio. It is safe and gentle enough to use daily in low suction mode. You can also use the Blue Light Treatment on specific areas for 4 minutes per day. While exfoliation is beneficial for rejuvenating our skin, overdoing it will result in a slew of skin issues, so practice patience and only use this device as directed before increasing the frequency of treatment. You must give your skin time to adjust to such facial tools. Also, if you experience irritation, stop using the device or seek professional assistance.
Do pore vacuums work on blackheads? 
Blackheads are clogged hair follicles that appear dark (black) in color. You can find them most commonly on the nose, chin, and occasionally on the cheeks. Pore vacuums are well-known for removing blackheads, other impurities, and gunk trapped within pores. These devices are especially beneficial for removing loosened blackheads from the skin's surface, leaving behind clean, smooth, and bright skin.
Are pore vacuums safe? 
The safety of pore vacuums is subjective, with some reporting significant benefits while others report side effects or no results. From a medical standpoint, using them at home without prior knowledge of skin concerns and facial tool usage can endanger your skin. Furthermore, you may experience side effects such as discoloration, spider veins, redness, and inflammation. It is also critical to exercise caution with sensitive skin and dark skin tones. However, leaving the cons aside, pore vacuums can undoubtedly help improve the appearance of your skin if used correctly.
Final Words
The beauty and skincare industries will continue to evolve rapidly, resulting in the development of numerous devices, such as the BeautyBio GloFacial Hydro-Infusion Pore Cleansing Tool. Although brands can entice you with lofty claims and promises, it is your responsibility as a consumer to conduct thorough research before using any device or product. 
Pore vacuums designed for at-home use are typically gentler than those used professionally, allowing people to use them safely. However, despite using mild suction, they can occasionally cause unwanted side effects if used frequently or incorrectly. According to several positive BeautyBio GloFacial reviews, this device effectively unclogs pores and exfoliates the skin. However, it would be best if you exercise extreme caution when using this device, or you will invite more trouble than necessary. It's also a good idea to check with your doctor before using this device to see if it's safe for your skin type.
Many customers complain about the high cost of GloFacial, with some dismissing it entirely. If you decide not to use this device but still want to reap the same benefits, several other effective options are available. Doctors recommend using chemical exfoliants such as Salicylic Acid to cleanse your pores and exfoliate dead skin cells effectively. It cleans the pores deeply, reducing acne, blackheads, and whiteheads. You can also use retinoids to help revitalize your skin from the inside out, making it appear plump, clear, and radiant.
Marilyn's deep interest in fashion, beauty, and lifestyle has led her to pursue a fulfilling career as a freelance writer and blogger. With her bachelor's degree in fashion design from the Fashion Institute of Technology, she has developed a keen eye for style and trends, making her well-equipped to offer valuable insights into the latest fashion and beauty trends.