You might have the perfect waist, with all other enhanced features in your body, but some types of clothing will do justice to your silhouette. Similarly, the windows to your soul might be the prettiest in the family, but they don't guarantee that all the lashes you put on them will necessarily accentuate their beauty. Asian eyes are defined by their eyelids, depending on your eye shape. Each eye shape is unique, whether round, narrow, almond, triangular, slant, prominent, or deep-set.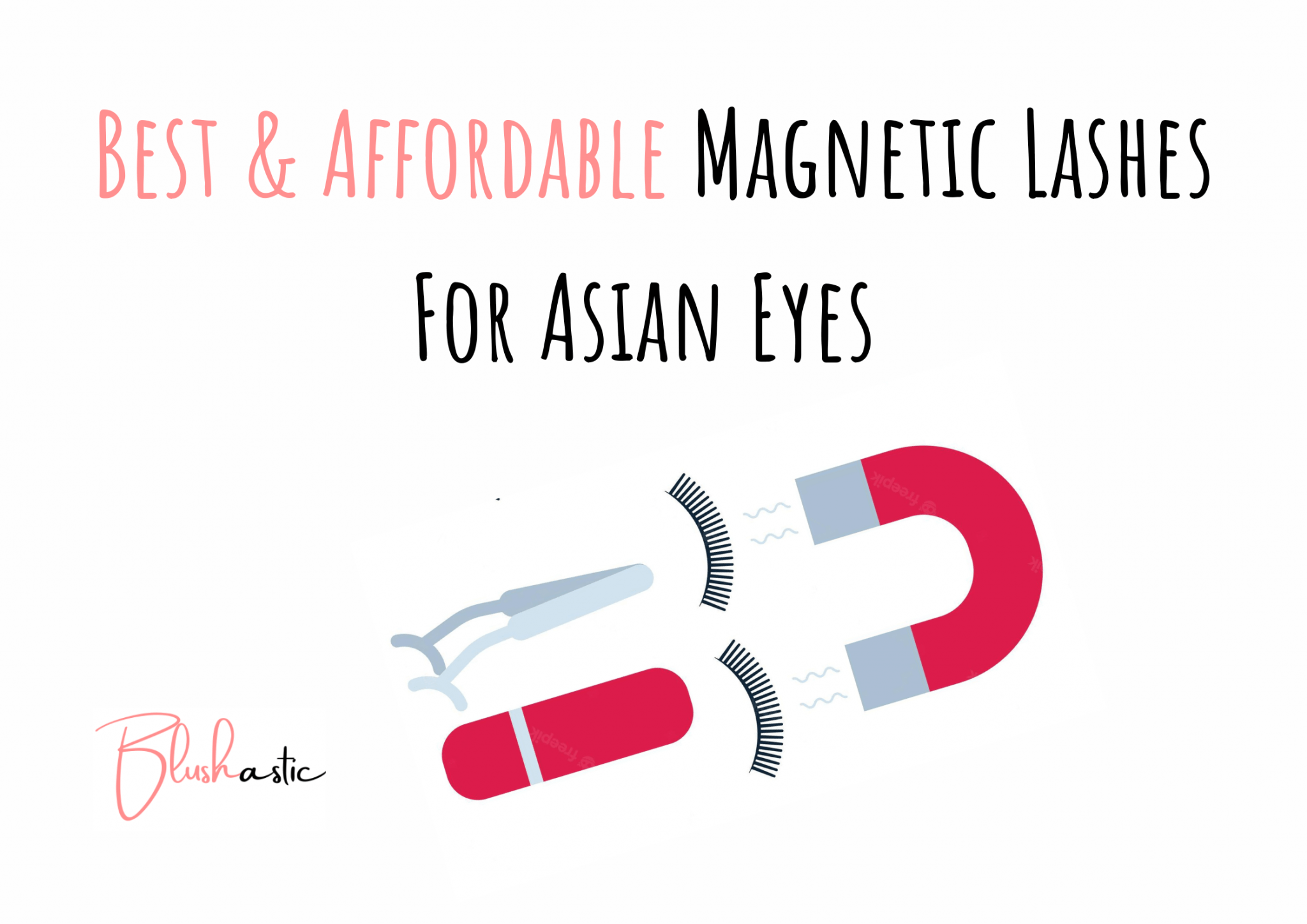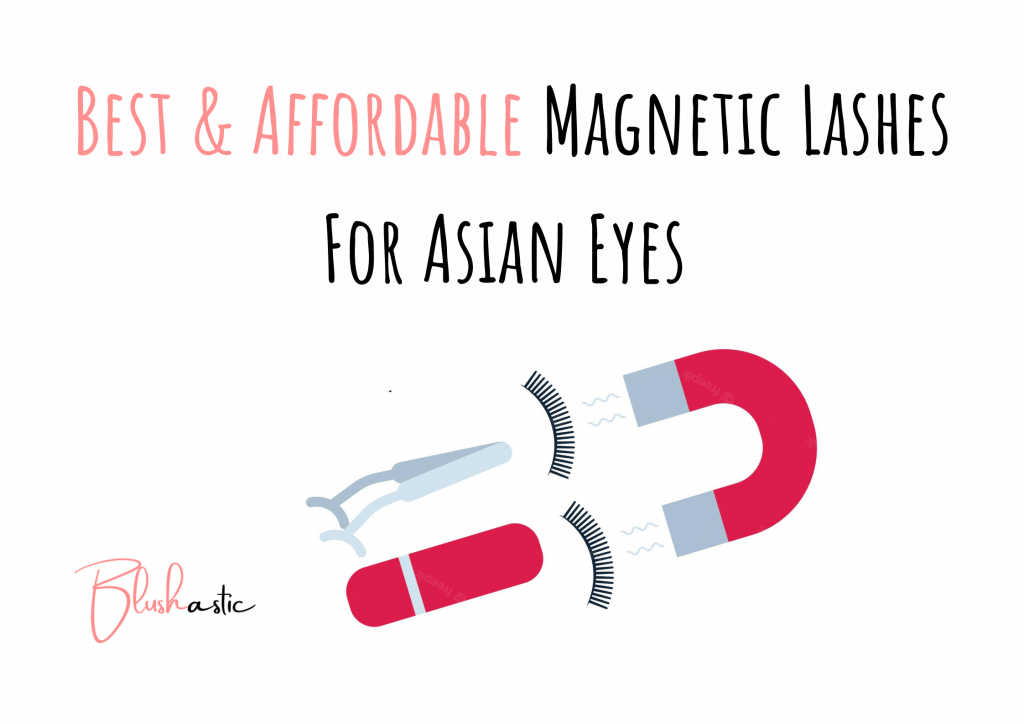 Styling them can get tricky if you dont know what you are doing. Rather than just blindly following the trend, you need to add some essentials to your makeup vanity. To nail this eye technique, you must be friends with naturally flared lashes that dramatically affect your eyes without charging you heavily. So we put together this guide to the Best Magnetic Lashes For Asian Eyes so that your eyes, and your falsies, can have a happily ever after! 
Best Magnetic Lashes For Asian Eyes | 11 Hot Picks
Below are 11 sensational edits tailored to your eyes and the dramatic style they would like. Half-moon, demi wispies, long and flared, are all the different kinds of designs available in this guide. Let us know which one you have your eyes on! 
Lilly Lashes Click Magnetic Eyelashes
If your eyes are new to false lashes, they will be pleased to know that the Lilly Lashes Click Magnetic Eyelashes designs will compliment their natural lashes as if they were their own. These wispy extensions are flared, giving your edges a fluttery look, and making your Asian eyes stand out in the crowd.
Lilly Lashes Click Magnetic Eyelashes - Bonded Magnetic Faux Mink Lashes for a Natural Look - False, Wispy Magnet Eyelashes - Vegan Makeup Lash Extension - Magnetic Eyelashes Without Eyeliner
Magnetic Lashes - Try these lashes once and you'll be BONDED for life! Uniquely designed to accentuate and blend in with monolids & small eyes, this lash is a must have for daily use!
Self Adhesive Eyelashes - Must be used with Lilly Lashes Click Magnetic Liquid Eyeliner - magnetic eyeliner not included. eyelashes magnetic
Wispy Lashes - This lash is flare shaped, giving a bold, fluttery, and wispy look. Perfect for Small Eyes, Mono Lids & Large Eyes
Waterproof Eyelashes - Bonded Magnetic lash is reusable for up to 50 wears with proper care and can be trimmed to fit any eye! Our magnetic lashes are on a cotton band.
To Apply: Apply one layer of eyeliner, allow up to 2 minutes to dry, and CLICK! Your lashes are locked on, all day! TO REMOVE: Gently remove Click Magnetic Lashes by securing the outer corner of the lash band between two fingertips then gently pull across the eyelid towards the inner corner of lash band to fully remove the lash
These lashes are perfect for all eye shapes, whether small, monolid, or large. Not only are they comfortable to wear all day long, but they also feature a sturdy design that prevents them from coming apart and embarrassing you in public. Besides, who would love the idea of their false lashes coming out while crying?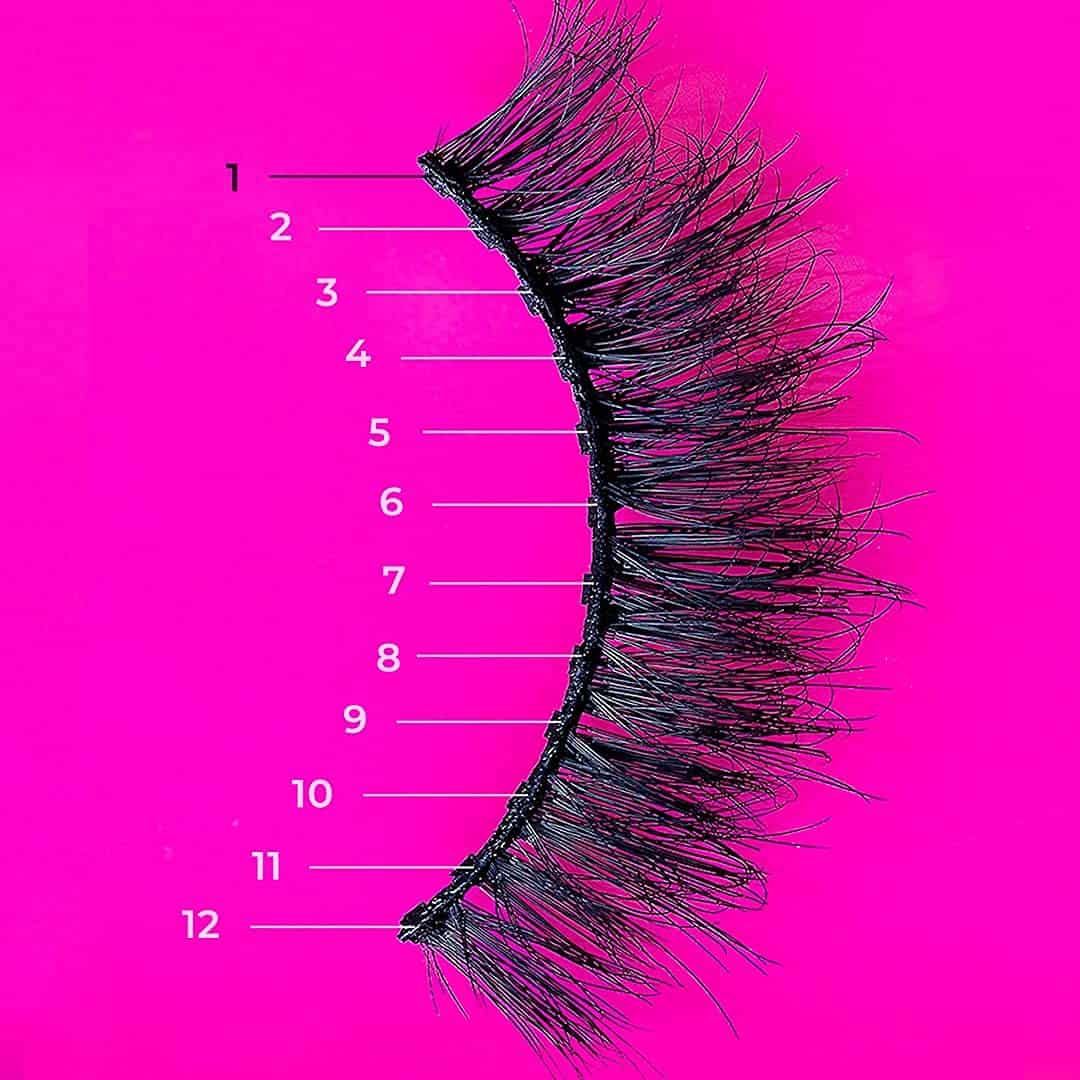 The magnetic lashes possess a design based on a cotton band so that it is gentle on your eyes and does not weigh them down with their sturdiness. Users can trim them to fit any other eye shape too. However, users are unhappy with the lashes despite their usefulness, as they need more durability. 
Arishine Magnetic Eyeliner and Lashes Kit
We know you are very careful with your lashes, so we brought this Arishine Magnetic Eyeliner and Lashes Kit, which understands how you want to accentuate your eyes. These lashes have a rating of more than 40k and with good reason. It comes with a particular eyeliner with ultra-fine magnetic particles that stick easily.
Sale
Arishine Magnetic Eyeliner and Lashes Kit, Magnetic Eyeliner for Magnetic Lashes Set, With Reusable Lashes [5 Pairs]
MAGNETIC EYELINER: This magnetic eyeliner and lashes kit comes with a special eyeliner that contains ultra-fine magnetic particles that allow the magnetic eyelash to easily connect. The eyeliner is also smudge-proof and is used with a familiar brush. No need for any sticky glue!
MAGNETIC EYELASHES: Magnetic eyelashes are becoming more and more popular now. We know nearly everyone wants thicker, longer, gorgeous eyelashes. These magnetic eyelashes give you just that, while at the same time are very easy to use and comfortable to wear.
FIVE PAIRS: Now you have not just one pair, but also Five Pairs. This allows you to experience the benefits of our magnetic eyeliner and eyelashes kit even longer. You can get 5 times the value for a small price compared to those that have just one more pair.
EASY-TO-USE: All you have to do is putting on the magnetic eyeliner as you would any other liquid eyeliner and then put on the magnetic eyelash right on top of it. The magnetic eyelash will quickly attach itself to where you put the eyeliner. That's it! No mess! No stress! Just a gorgeous look!
ALL-DAY, LONG-LASTING: Our magnetic eyeliner and eyelash kit is very durable and strong. Our eyeliner kit is actually made with a stronger formula than other magnetic eyeliners. It's also waterproof and doesn't fade. You can enjoy your beautiful lash look all-day long!
You get five different styles, each pair having a unique lash volume. These are designed with grade-A ultra-soft handcrafted fiber that feels weightless on your eyelids so that you can flaunt those flattering wispies to everyone. Three sets are available, so you can choose which one you need according to the number of lashes you want or the price.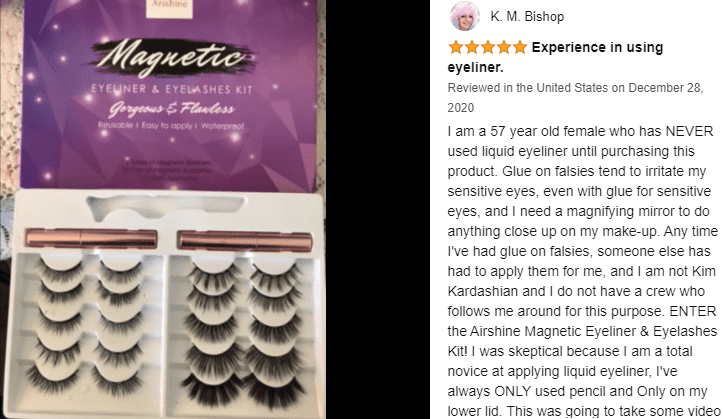 These lashes are a perfect way to avoid a mess if you permanently ruin your eyes during application. However, we don't like that removing the eyeliner can seem quite a task for some users and make them hesitant to buy this.
JIASLY Eyelashes Magnetic Eyeliner Kit
To top off a gorgeous moment, you must have a pair of JIASLY magnetic eyelashes designed especially for your Asian eyes. These lashes are prepared from the finest and strongest mink hair lashes to give your eyes an everyday-natural look.
Unlike other magnetic lashes, this, too, uses a magnetic liner to stick the lashes. But, what stands out about these extensions is, unlike any other liner, this one uses a 5D Water-resistant Magnetic Eyeliner. The significance of this liner is it dries quickly, prevents the formula from smudging, and blends perfectly with your lashes.
The Ultra-fine magnetic particles in the eyeliner ensure that your lashes get a mega hold and grasp onto the lids like clamps to prevent falling out. What users loved the most about these lashes is they are durable, reliable, and feel lightweight on the eyes. This has not been tested on animals, so your safety is also ensured.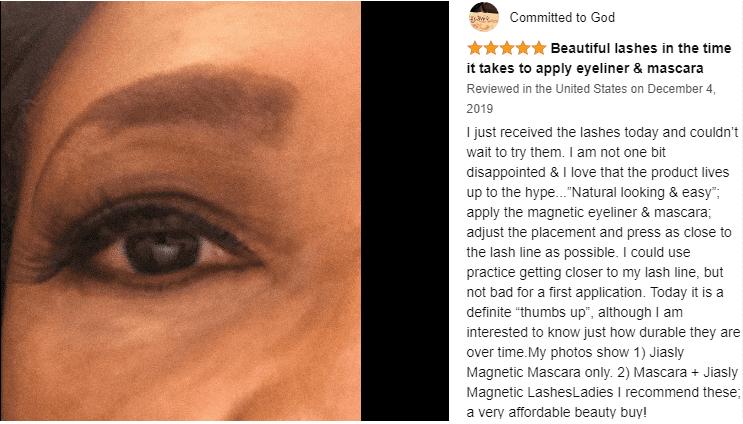 The aspect of these lashes which did not win any votes is the magnets are too weak and may make your false magnetic lash experience short-lived. So, users might look at other options. 
KISS Magnetic Curation False Eyelashes
Specially formulated with Tapered End Technology, these luscious lashes from KISS are everything your pretty Asian eyes could need to pamper themselves. If you are a lash lover, these magnetic extensions will tick most of your checkboxes, like being super soft, lightweight, coming in 5 pairs, and having never been tested on animals.
Sale
KISS Magnetic Curation False Eyelashes, 3 Pair with 5 Double Strength Magnets, Wind Resistant, Dermatologist Tested, Last Up To 16 Hours, Reusable Up To 15 Times in 3 Styles, Black, 3 Count
Switch Up Your Look: Find the perfect look for every occasion with this curated collection of 3 on-trend fake eyelashes; 3 styles to choose from: Caress, Risqué, & Flaunt; With our Magnetic Eyeliner, it's easy to switch from one pair to another in seconds
Magnetize Your Eyes: Like magic, these magnetic lashes cling to KISS Magnetic Eyeliner like glue, but no glue is needed; Whether you love mascara, lash extensions or false eyelashes, you can achieve lash perfection with these high quality enhanced lashes
Line, Lash, Done: Apply Magnetic Eyeliner along your lash line, then place on the magnetic lashes; wind resistant, dermatologist tested, last up to 16 hours; Reusable up to 15 times; Magnetic Eyeliner in black and clear sold separately
DIY Lash Looks That Wow: KISS has everything you need for an easy to apply, natural magnetic eyelash look that you can achieve at home in an array of lengths and styles, including rotating lash applicator (sold separately)
Bring the Salon Home: In the US and globally, KISS false eyelashes are award winning best sellers; KISS lash brands include Lash Couture, Falscara, Looks So Natural, MLBB, Lash Drip, and So Wispy; We empower beauty enthusiasts to be KISS confident!
Once you put these high-quality enhanced lashes on your lids, these will seamlessly last for 16 humble hours and can be reused up to 15 times according to your wish.
This natural flexibility has won this lash brand many approvals from beauty enthusiasts. Individual lash strands in this lash are slightly curled and flared to give your eyes a more natural look.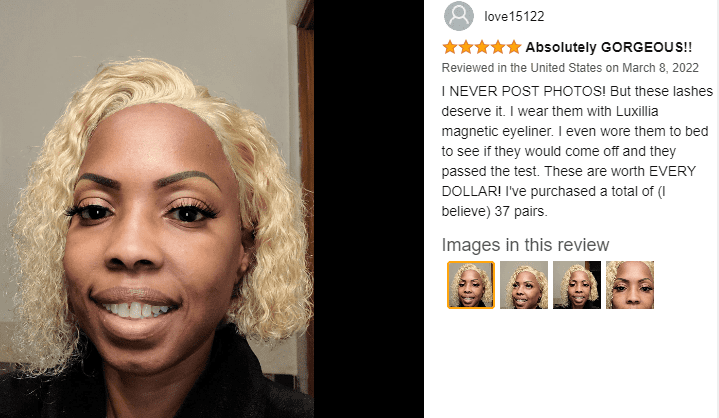 If you are a contact lens wearer, you need not worry, for you can wear these beauties without drama. While everything about these lashes stood out, users preferred only one attribute of this product. They were not satisfied with it as these lashes were a bit flimsy. 
Glamnetic Magnetic Eyelashes
If no lash extensions have solved your problems till now, the Glamnetic Magnetic Eyelashes surely will. We aren't saying this, but users are! With over 4k ratings on Amazon, these faux mink eyelashes claim good longevity, lasting up to 60 effortless wearing times.
Glamnetic Magnetic Eyelashes - Virgo | Short Magnetic Lashes, 60 Wears Reusable Faux Mink Lashes Natural Look - 1 Pair
What's In The Box - 1 Pair of Faux Mink Eyelashes inside of 1 Magnetic carrying case. Magnetic eyeliner sold separately. Keep your eyelashes safe in their magnetic carrying case and they'll last up to 60 wears.
Vegan & Cruelty-Free Faux Mink Eyelashes - Made from the highest quality synthetic fibers, the faux mink looks and acts just like the real thing. All Glamnetic Lashes provide a lightweight, fluffy feel with a slight curl to boost and enhance your look.
Fast, Fun & Effortless Application - No glue, ever! Our strong-hold PowerGrip magnet lash band quickly snaps onto the magnetic eyeliner. Easy to adjust and remove. Great for all ages!
Universal Eye Width - Minimal or no trimming required! Precut band at 2.9 cm should sit on your eye perfectly.
Strong-Hold Magnet Band - We know what you need: Durable, wind-proof, water-and-sweat resistant eyelashes to wear all day and night – so we're giving it to you!
The design features a universal eye width with a pre-cut band that settles on your lids perfectly. Users with Asian eyes will be happy to wear these lashes do not require any glue or sticky adhesive to stick.
The best part is magnetic lash band offers a solid and powerful grip and is suitable for people of any age group. To formulate these lashes, the highest quality synthetic fibers are put to use, which makes the faux mink appear like your natural lashes, and blends them with finesse.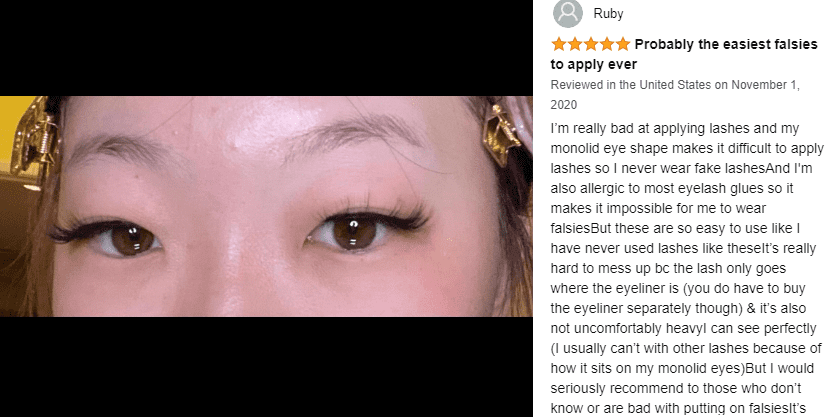 Users loved these the most about these lashes because they are durable, wind-proof, and water-and-sweat resistant, so they won't budge easily. Most of them were unhappy that the lashes were too expensive and did not cater to everyone's needs. 
Magnetic Eyelashes INSMART
If the natural look is your ultimate makeup goal, you need these lashes tucked in your makeup vanity! The eyelashes are made of ultra-soft handcrafted fiber and are available in different lengths to amp up your Asian eyes the way you want.
Sale
Magnetic Eyelashes, 6 Pairs Magnetic Lashes, False Lashes with 2 Tubes of Magnetic Eyeliner, Magnetic Eyelashes Kit with Tweezers, Reusable, No Glue
MAGNETIC EYELASHES: Our magnetic eyelashes are made of ultra-soft handcrafted fiber, it come in different length from shortest 11mm to longest 15mm. 5 strong magnets on each false lashes strip, high-strength tiny magnets makes eyelashes highly curved give you that natural look and all-day long lasting
MAGNETIC EYELINER: The package comes with 2 tubes special eyeliner, it have ultra-fine magnetic particles inside that allow the magnetic eyelash to easily attach and long-lasting
EASY TO USE & REMOVE: All you have to do is apply the magnetic eyeliner you like, then put on the magnetic eyelash right on eyelid. The magnetic eyelash will quickly attach itself to where you put the eyeliner. Remove: Before sleeping, you can gently remover the magnetic lashes then washed clean by using eye makeup remover and makeup wipes. No glue, No mess
SAVE YOUR MONEY: No more need to waste a plenty of time and money go to the beauty parlour to make eyelashes. We offer 6 pairs difference styles reusable magnetic eyelashes and 2 tubes magnetic eyeliner which means you can experience the benefits of lashes and eyeliner liquid even longer than others eyelash sets. The eyeliner is made of natural ingredients, no harm to your eyes or skin, you can also use it as normal liquid eyeliner
UPGRADE DESIGNED: The upgraded eyeliner is thick, smooth, containing more magnetic powder, no preservatives, it's also waterproof and smudge-resistant. The false eyelashes are with light weight, you even can't feel it when you wear it, super comfortable and lightweight
There are 6 unique styles available, depending on the size and breadth you want. Overall, it creates a smooth and voluminous look that is hard to miss. This liner is prepared with all-natural ingredients not to compromise the sensitivity of your skin and eyes.
If you are worried about the formula clumping your fragile lashes, then don't worry! The procedure of magnetic eyeliner is easy to remove with any makeup remover or wipes and keeps messiness at bay.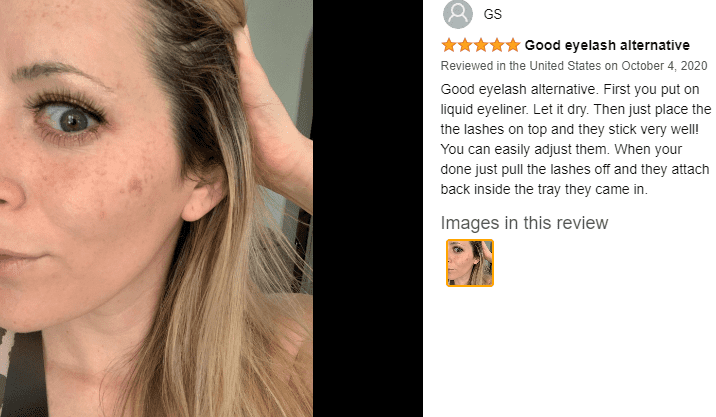 While everything about these lashes instills confidence in users, there can be a setback too. The reusable lashes are flexible, but you must apply many liners to keep them undisturbed. 
Luxillia Magnetic Lashes with Eyeliner
When picking out magnetic lashes, most of us tend to side with the ones that get attracted to our eyes and stick themselves like magnets. Makeup artists have given their vote of approval to these masses from the brand Luxillia, which is the current-favorite thing in fashion of many beauty lovers.
Sale
Luxillia Magnetic Eyelashes with Eyeliner, Most Natural Looking Magnetic Lashes Kit with Applicator, Best 8D, 3D Look, Reusable Fake Eye Lash, No Glue, Strongest Waterproof Liquid Liner
"UNLEASH THE POWER OF OUR LAB-TESTED MAGNETIC EYELINER": Discover the pinnacle of magnetic eyeliner technology with our meticulously crafted Made in USA formula. Rigorously tested by a leading Cosmetics Testing Laboratory in the USA, our magnetic liner guarantees 100% safety. Packed with an abundance of Micro-Magnetic-Particles, these lashes defy gravity, ensuring they stay firmly in place even when you captivate the crowd with a confident blink.
"THE PERFECT BALANCE OF VOLUME" :- Indulge in the art of subtlety with our meticulously crafted lashes, featuring ultra-thin 0.2 mm fibers that deliver precisely "The Perfect Balance of Length and Volume." Embrace a seamless fusion with your exquisite natural lashes, sans the overly dramatic effect. Our professionally designed lashes ensure you dazzle without resembling a theatrical persona.
"ABUNDANT LINER FOR LIMITLESS USE" :- Elevate your lash experience with our exclusive offering - 50% Extra Liner, ensuring more than enough supply for up to 5 sets of lash applications. Unlike other brands, whose meager 4ml of Magnetic Eyeliner falls short for 5 sets and necessitates multiple coats due to weak magnetic strength, our set empowers you with ample, potent magnetic power from the very first application, defying compromise.
"YOUR HAPPINESS, OUR GUARANTEE" - Our belief in our products is steadfast. If you're not absolutely thrilled, take comfort in knowing that our dedication stands strong. Our satisfaction guarantee grants you a full year from your purchase to discover and enjoy. If you're not satisfied for any reason, we're more than happy to provide a refund. Your joy is what matters most to us, and it always will be.
"ETHICAL BEAUTY, GUARANTEED" - Our products embrace ethical values. We're passionately against animal cruelty, which is why all our offerings proudly bear the Cruelty-Free label. Our lashes, made from top-notch Synthetic Silk, ensure your beauty shines without harm to animals.
If you fancy your lashes to look dreamy all day long, these extensions are the best way to do it right. These lashes are available in a different assortment of lashes that can be used by you up to 30 times and can be applied in less than 2 minutes.
So, if you are running late for an event or just need to make things quicker, we suggest you pick this one while it's still time! You won't have to worry about touching up your eyeliner because this liner comes with 2x more Micro-Magnetic particles than regular ones to give you a mega hold.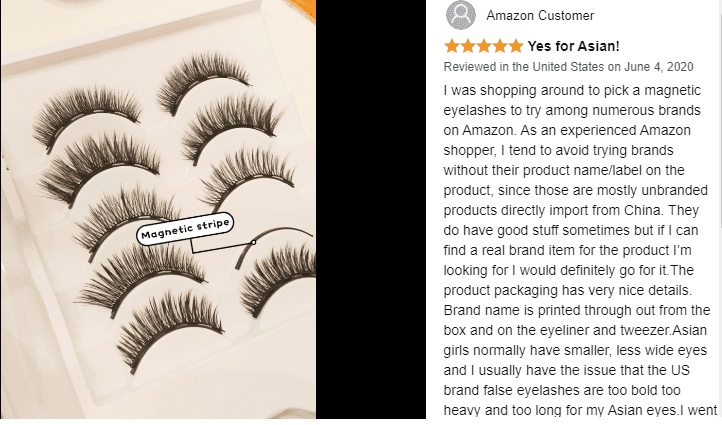 The applicator has a detachable silicone tip that protects against the metal applicator's sharp edges. Everything regarding these magnetic lashes is praiseworthy, except that they feel too heavy on your eyes after some time of wearing them. 
Ardell Professional Magnetic Double Strip Lashes, 110 Black
Do you wish to have lash extensions that beautifully suit your eyes' curves? The Ardell Professional Magnetic Double Strip Lashes in the type 110 Black will help you make the most out of your falsies! Users love it most because it perfectly blends itself according to all your occasions, so you don't have to look elsewhere.
What makes these magnetic lashes extra special is they are handcrafted with a lot of TLC and feel weightless on your eyes. These are best for Asian eyes and are designed with the help of 100% sterile hair and lock your look in place without budging.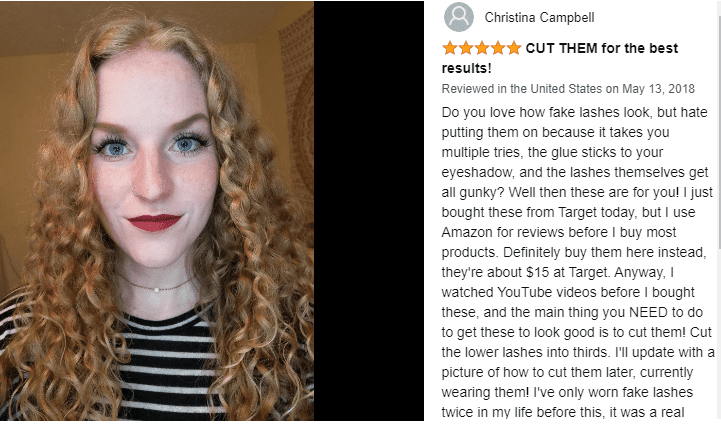 The reusable falsies are sturdy and durable to last all your moods. To ensure the delicateness of your skin, these are made without any harmful ingredients. Ardell takes pride in having all its formulation vegan and 100% cruelty-free for safety purposes. However, these come with one drawback. These lashes may prove to be short-lasting. 
Magnetic Eyelashes Reazeal 
We have tried different methods to add overall thickness and volume to our lashes, but only a few succeed. If you want to prevent the hotchpotch of glue, this Magnetic Eyelash kit from Reazeal Store can get you hooked!
Magnetic Eyelash kit, Magnetic Eyeliner with False Lashes Natural Look-No Glue Needed (5-Pairs)
SAVE MONEY & TIME: Are you still struggling to have natural, gorgeous, and long-lasting lashes? Eyelash extensions can be quite expensive and spend a lot of time. With our magnetic eyelash and eyeliner kit, you don't need to spend such much, yet will help you achieve an equal effect.
PREMIUM FORMULA: Our Liquid eyeliner is an updated formula, it contains more magnetic particles than most other magnetic eyelashes and magnetic eyeliner kits. Choose Reazeal, you can experience the benefits of gorgeous, thicker lashes, and a strong and long hold than other sets, which means you don't have to worry about the embarrassment of dropping, also you don't need to purchase another kit as soon.
FULLY NEW DESIGNED: Our eyelash kit is a new design, the lashes are made of high-quality synthetic fibers, giving a natural softer, and bold look that frames the eye, and it with five stronger magnets. Our liquid eyeliner contains more magnetic particles than others, lashes, and liners work together by strong magnets, the tweezers are designed with a new curvature, easier to use.
NATURAL LOOK LASHES: Having a pair of charming eyelashes is the pursuit of every woman. Our Magnetic Eyelash and Eyeliner kit gives you that natural look you've been wanting. High-strength tiny magnets work great, no worry that the eyelashes will fall.
EASY TO USE: Putting on our Magnetic Eyelashes with Eyeliner kit is so easy. Shake the liquid eyeliner before using it, then apply the magnetic eyeliner as you would with any eyeliner. Wait a few minutes for it to become fully dry and then apply the magnetic eyelash on top of it. That's it! No mess! No stress!
Experience the benefits of looking gorgeous, as this kit offers 5 different lash designs to make your Asian eyes look thicker and more noticeable. The lashes are super lightweight and are made of high-quality synthetic fibers. This creates a soft focus look on your face and adds definition to your eyes.
The eyelashes are infused with five stronger magnets that adjust according to the curvature of your eyes and stay without being disturbed. You dont have to be embarrassed with your falsies dropping, as the liquid eyeliner takes care of that.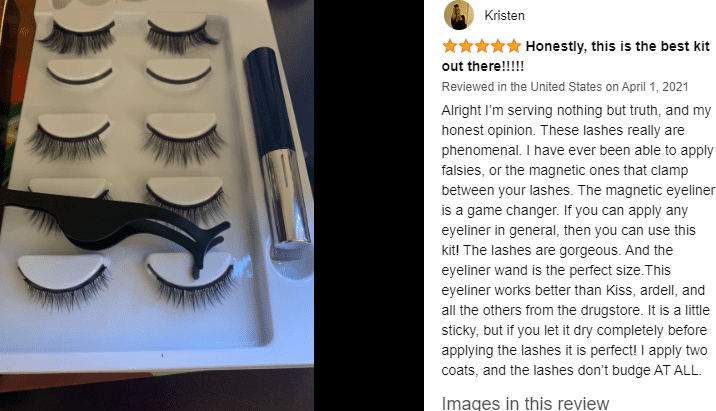 The best part about using these lashes is that the liner formula is waterproof so that the extensions won't come out quickly. However, many users will agree that the liner has a very foul smell and may not be the first choice of people that are sensitive to it. 
DEJAVIA Magnetic Lashes [10 Pairs]
Not many of us are fans of lashes, but when they are magnetic, we want them! The DEJAVIA Magnetic Lashes bring you 10 different styles of lashes that create a natural-looking vibe and help your eyes appear to be the best version of themselves.
You can use them on any occasion, be it a casual lunch, an official meeting, or a romantic getaway with your loved one.
DEJAVIA Magnetic Lashes [10 Pairs], Premium Natural Looking Magnetic Eyelashes with Eyeliner Kit,Reusable Lightweight Wispy Strong Magnetic Eyelashes with Applicator and Tweezers, No Glue Needed
PROFESSIONAL MAGNETIC LASHES WITH EYELINER KIT: The DEJAVIA magnetic lashes package includes 10 pairs of premium magnetic eyelashes, 2 tubes of magnetic eyeliners, 1 eyelash tweezers. Our magnetic eyelashes are high quality and reusable, you don't need to purchase another kit as soon.
10 DIFFERENT STYLES MAGNETIC LASHES NATURAL LOOKING: Features 10 styles of natural eyelashes that you can use for any occasion. DEJAVIA magnetic eyelashes are not just providing a lightweight feel, they also give a simple, natural look. Look more natural and give you a glamorous 3D looking instantly.
STRONG MAGNETISM & LONG-LASTING: Our new formulated liquid of magnetic eyeliner contains more magnetic particles than most others, can easily suck the magnetic lashes after drying, no worry that the eyelashes will fall. Waterproof eyeliner with quick-dry inks and durable magnetic eyelashes will keep your makeup lasting for 24 hours. You can enjoy your beautiful eyelash look all day long!
SUPER EASY TO USE: All you need to do is draw a line along with your eye shape by magnetic eyeliner as you use any other liquid eyeliner, and then put the magnetic eyelash right on top of it. The magnetic eyelash will attach itself to the eyeliner quickly. No mess! No stress! Just a gorgeous look!
SAFETY & COMFORTABLE: The magnetic lashes are made of premium synthetic fibers, super soft, and comfortable. No sticky tape adhesive!
These eyelashes remain a crush of many lash lovers, for they instantly give you a glamorous 3D look. They are super lightweight and can withstand even strong winds with ease. If speed is not your thing, then you can try these lashes out, for they require the least amount of time and also hold a reputation for complimenting most eye shapes. 
You can trust these lashes, for their liner comes with more magnetic particles than most of the other eyeliners you have encountered. While they help you enhance your lashes' natural volume, they look cheap.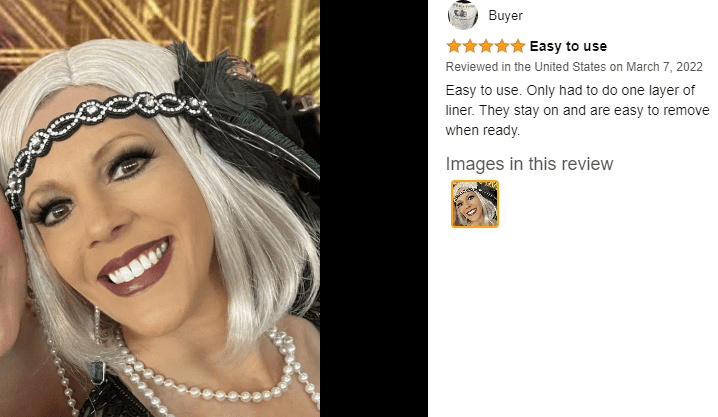 VESHELY Natural Magnetic Eyelashes with Eyeliner
Everything would be much easier if all people born without fluttery and voluminous lashes could sew thick lash strands on their lids. But that isn't the case. Magnetic lashes do exist to make your life easier, and these lashes from VESHELY prove that right.
VESHELY Natural Magnetic Eyelashes with Eyeliner,3 Pairs Natural Look False Lashes Kit,3D Short Magnetic Eyelash Set - No Glue Needed
PREMIUM MAGNETIC EYELINER:Unlike ordinary magnetic eyeliner,our waterproof eyeliner is infused with tiny invisible ion particles within its formula,which can make sure they do not fall off in any situation when you blink the eyes in front of everyone.
3D NATURAL EYELASHES:Perfect for an ultra glam look adding volume and depth to your lash look. Ideal for those looking for something a little extra in their eyelashes. The dramatic natural clusters accentuate fully for a complete 3D effect,while the high-quality blending and finishing of the lash give you a light, flirty finish.
3 PAIRS DIFFERENT EYELASHES:We offer 3 pairs of different eyelash styles ( natural look, long and short,dramatic),gives natural softer and bold look that frame the eye,can meet the needs of most occasions
All-DAY, LONG-LASTING:Every magnetic lashes come with 5 strong and durable magnets,which can ensure that the eyelashes are firmly attached to your eyelids all day.
EASY TO USE & CLEAN: Apply 2-3 thick layers of magnetic eyeliner to the eye upper lid, wait 1 minute for it dry. Gently lay the lashes on the top of your natural eyelashes. Allow the lash to adhere to the magnetic eyeliner. Adjust the position according to your need.Then You will be a gorgeous look! Just wipe it gently with the eye make up cotton pad will be OK.
There are 3 pairs of different eyelash styles ( natural, long, short, and dramatic ) depending on the look you want to create or the occasion you are getting ready for.
Its magnetic eyeliner has a unique formula infused in it which consists of fine and tiny ion particles. This gives extra hold to your lashes and ensures they do not fall apart whenever you blink your eyes. 5 strong and durable magnets stay undisturbed on your lids, and make sure you enjoy that extra glam and depth for the entire day.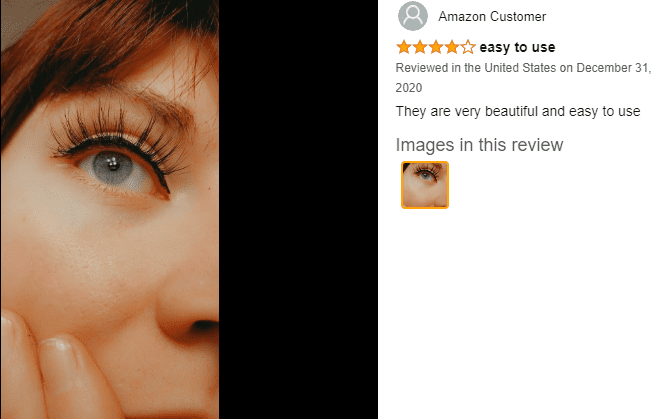 While we agree on everything, users revealed they were only partially satisfied with these lashes because one reason. The lashes start to come off from the ends after hours of wearing them and can be a significant turn-off for beauty enthusiasts. 
FAQs | Best Magnetic Lashes For Asian Eyes
Do magnetic eyelashes work on Asian eyes?
Yes, magnetic eyelash extensions do work on Asian eyes beautifully. They clip nicely on our natural lashes, while the small magnets attached lock themselves in place for a long time. Luxx Lashes Rosie perfectly fits Asian eyes. They include the edges and the length of your lashes seamlessly, creating a soft and fluffy look. 
Which magnetic lashes are the most natural looking?
If you wish your fake lashes to look natural and unidentified, choose false extensions prepared from silk and faux mink material. These materials make for the most premium quality lashes and blend themselves with your natural lashes. Unlike lashes made from synthetic fibers, they do not look unrealistic. 
What eyelashes do the Kardashians use?
All the Kardashians are known for their high-end fashion statement clothes and makeup. Everyone in their family is hooked on the Huda Beauty falsies to add glam to their appearances. This makes their lashes appear long, luscious, and fuller. 
Are magnetic lashes better than glue?
Yes, users can say that magnetic lashes are indeed better in glue. This is because they don't compromise your skin's or eye's safety, for that matter. When the bond is concerned, it can lead to many infections because of unhygienic practices and improper formula cleaning. Magnetic lashes do not irritate your eyes because of glue and, thereby, are comparatively better than glue.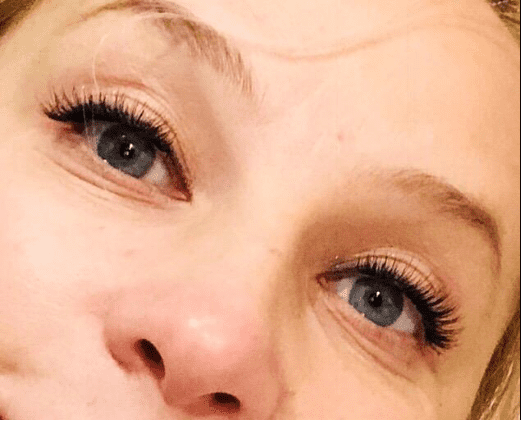 Should an older woman wear false eyelashes?
Fashion is not limited, as it does not distinguish people according to their age group. Anyone above 16 can use false eyelash extensions to amp up their beauty. With age, the natural bounce of our lashes seems to be lost, and they lose their curling effect. This happens because their eyelash growth cycle becomes slow, so even women of higher age depend on false eyelashes. 
How do I stop my magnetic eyelashes from lifting?
Ensure that you have put a thick coating of the magnetic eyeliner in the inner and outer corners of your eye. The amount you put in the corners needs to be broad so that your magnetic lashes can hold on to these delicate areas from where your lashes seem to come off repeatedly. Following that method will keep them in place and yourself worry-free. 
Closure 
The lash drama is never ending because we all have a weakness for fluffy lashes that we don't have. And why wouldn't they? They are so mess-free, trimmable, light, and comfortable. However, not every eyelash extension that is fake can bring attention to your natural eyes. For that, you will have to pick the most ethereal pairs yourself. This guide is devoted to your beauty and speaks about all the Best Magnetic Lashes For Asian Eyes you want to flaunt. You can take your makeup routine to the next level, as these edits promise to lengthen, volumize, and lift your lashes just enough to make them look natural. 
These lash options have been carefully selected, taking care of your sensitivity issues, money issues, and everything else. No one would ever have to know you have a fake pair on because these deliver a much bigger, heavier payoff that is effortless on the eyes and your wallet. So next time you go lash shopping, remember that these babies are waiting to be picked up by you!
Marilyn's deep interest in fashion, beauty, and lifestyle has led her to pursue a fulfilling career as a freelance writer and blogger. With her bachelor's degree in fashion design from the Fashion Institute of Technology, she has developed a keen eye for style and trends, making her well-equipped to offer valuable insights into the latest fashion and beauty trends.