History shows that thick, long, and healthy hair has always symbolized beauty and youth in women and strength and virility in men. As a result, hair loss is a sensitive issue that affects us psychologically, resulting in decreased confidence and self-esteem. People went to extreme lengths to cure their hair loss centuries ago, some of which are amusing. In 4000 B.C., Egyptians rubbed a mixture of dates, dog paws, and donkey hooves ground up and cooked in oil on their heads to restore hair growth.
One Celtic remedy suggested putting mice in a jar, sealing it, burying it near a fire, and taking everything out after a year. Thankfully, such so-called cures have long been abandoned, with science leading us down the path of hair restoration.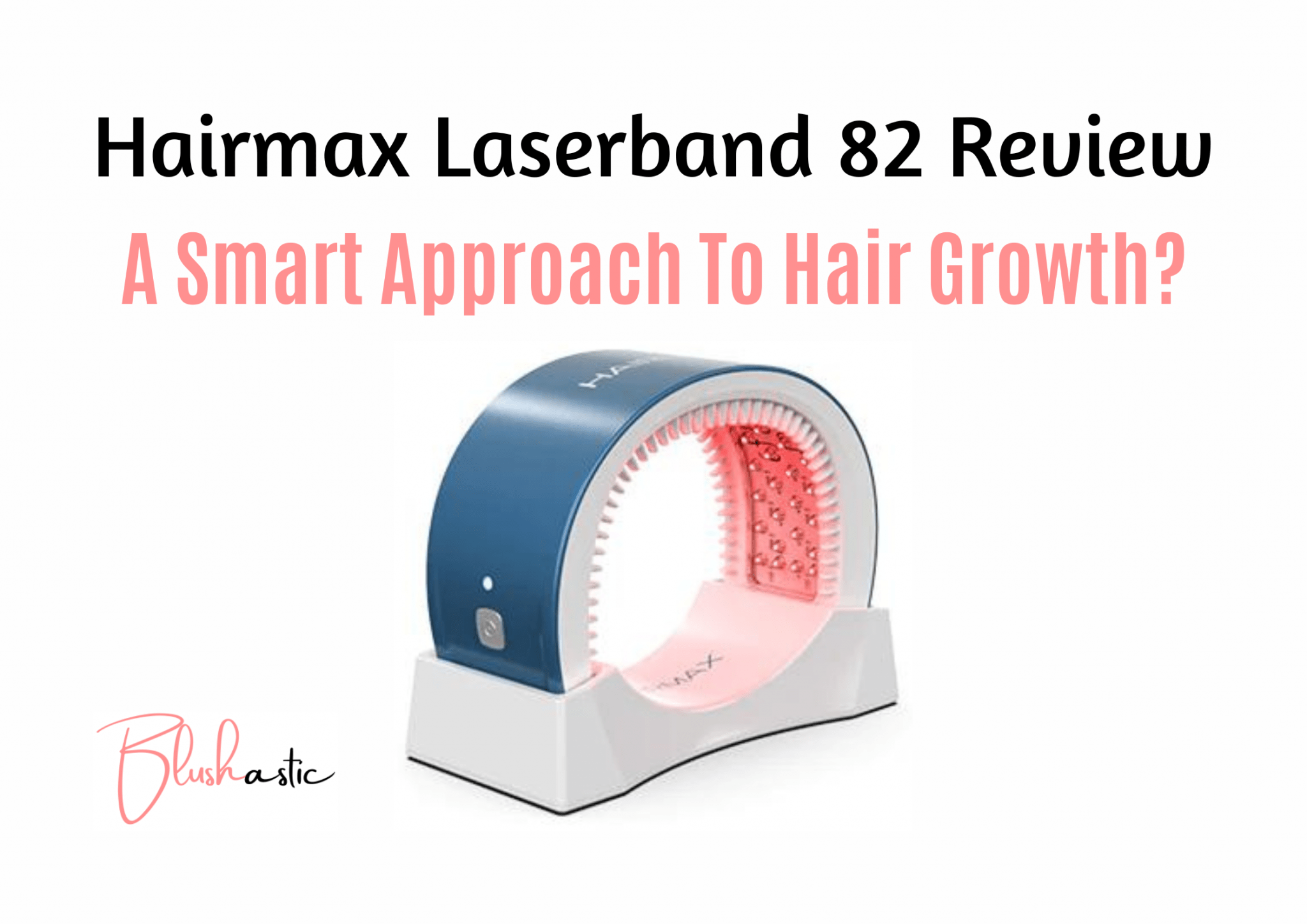 Although topical treatments, oils, massages, and oral medications are popular ways to promote hair growth, people now increasingly rely on gadgets to conceal signs of baldness or hair loss. Hairmax, for example, sells devices that use hair growth science to sprout hair on your bare scalp. Because these devices are expensive, knowing whether they are powerful enough to work is critical before parting with your money. We step in to help you at this point. In this review, we will learn about hair-growth technology and gadgets using Hairmax Laserband 82 reviews.
Hairmax Laserband 82 Reviews | A Smart Approach To Hair Growth? 
Hairmax started in 2000 to improve the lives of those dealing with hair loss and the psychological wounds that come with it. David Michaels, the founder of Hairmax, began laser hair growth treatment at a hair clinic at age 35 after struggling with hair loss. Soon after starting the treatment, he noticed that his hair became thicker and fuller. His hair's health and vitality improved dramatically as well. Moreover, he saw a reduction in dandruff and hair fall.
After being blown away by the results, he set out on a mission to help others with their hair restoration journey. However, he realized that these treatments were expensive and that it would be inconvenient for most people to visit a clinic several times a week. He started working with the Laser Hair Clinic's founder, who was also a pioneer in using Laser Phototherapy for hair. After several years of research, design, and development, Hairmax Laser Device was born to help people achieve the same exciting results as him.
Hairmax Hair Growth Laser Band (FDA Cleared), LaserBand 82 ComfortFlex, Full/Partial Coverage, Hair Growth for Men & Hair Regrowth for Women, Hair Laser Growth, (100% Medical Grade Lasers, Not LEDs)
VALIDATED BY CLINICAL TRIALS: Technology validated by 7 clinical studies, 14 international medical device licenses, and 6 published articles in medical journals. HairMax laser devices are proven to regrow hair with an average hair count increase of 129 additional new hairs per sq. inch. after six months in clinical studies.
REGROW FULLER DENSER HAIR: HairMax pioneered the use of nourishing and therapeutic laser light energy directly targeted to hair follicles to reverse thinning hair, promote hair growth, restore hair growth cycle, increase density & fullness. The LaserBand 82 ComfortFlex applies clinically proven therapeutic laser light to the scalp with the comparative energy output of 1230mW. Flexible band design and soft touch teeth provide a comfortable treatment.
FAST TREATMENT & LIGHTWEIGHT: Regrow fuller, denser healthier hair. The treatment takes as little as 90 seconds, 3 times a week. Features 82 medical-grade lasers that provide full scalp coverage when applied over 3 sections of the scalp for a total of 246 laser coverage. Hairmax uses medical-grade lasers, NO LEDS. Weighing just 9.6 oz., it's extremely comfortable, portable, designed for home use and travel friendly. Light battery packs allow for easy carrying. Comes with a charging cradle/stand.
6-MONTH MONEY-BACK GUARANTEE: We're so confident in the effectiveness of our laser devices, that we back it up with a 6-month money-back guarantee. With our 93% success rate, most Hairmax users see benefits within 4-6 months. Applies to devices delivered within the U.S. only. 10% restocking fee applies. Return requests within 30 days of purchase are processed by Amazon. Returns after 30 days but within 6 months of purchase contact Hairmax directly. Also covered by 1-Year Laser Device Warranty.
DOCTOR RECOMMENDED: Over 90% success rate in clinical studies. Most users experience visible results in as little as 3 to 6 months (results vary).Doctors recommend HairMax laser devices to treat Androgenetic alopecia – which includes Hereditary Hair Loss, Male and Female pattern hair loss, menopause related hair loss, and age related hair loss & thinning. Founded in 2000, HairMax is the Global Leader and Pioneer in laser hair growth.
Hairmax has revolutionized the hair care industry and sold over 2 million devices worldwide to help people with hair loss and regrow hair since its inception. They offer a wide range of hair-care laser devices, treatments, shampoo, conditioners, and nutritional supplements. Hairmax products are subjected to rigorous quality management and regulatory compliance, ensuring the highest possible standards. Furthermore, it has invested in seven clinical studies at prestigious universities. Hairmax prioritizes their customers' trust, so they provide high-quality hair care solutions with the promise of maximum safety and efficacy.
What Is Hairmax Laserband 82?
Hairmax Laserband 82 is a light-emitting device claiming to reverse hair loss while encouraging growth. The crescent-shaped device is so named because it contains 82 medical-grade laser lights that stimulate hair follicles. It also has soft touch teeth on the inside of the band that helps part the hair, allowing the laser light to be delivered directly to the scalp. These hair-parting teeth also contribute to efficacy because, without them, the hair would have blocked laser light from reaching the hair follicles.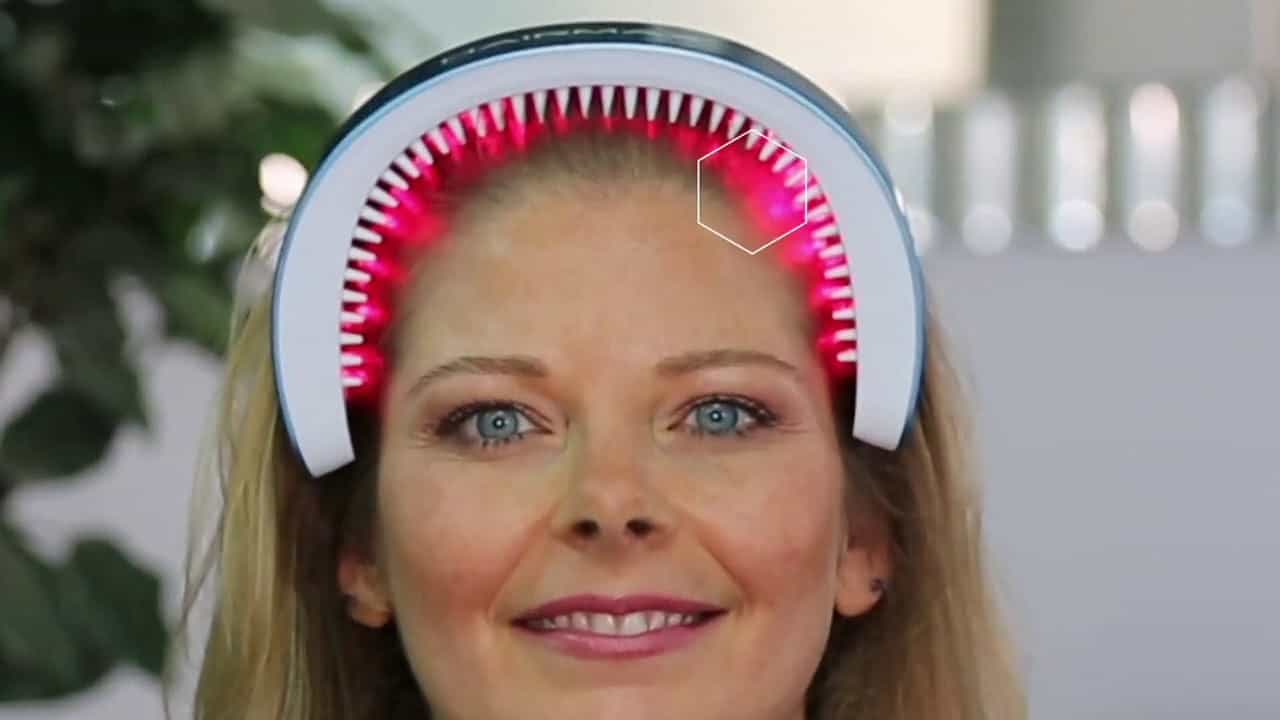 Hairmax Laserband 82 is lightweight, portable, and easy to use. It allows you to treat your hair problems from the comfort of your own home. It is also popular because of its quick treatment time. Using this device for 90-120 seconds on your scalp three times per week, according to documentation, can help you see drastic changes in your hair in as little as six months. With this device, you can expect a reduction in hair loss, a restoration of the hair growth cycle, and the promotion of denser, fuller hair.
How Does Hairmax Work?
Hairmax devices use Low-Level Laser Therapy (LLLT) to help achieve hair growth and regeneration claims. LLLT is a non-invasive light-source treatment that produces only one wavelength of light. Physiotherapists frequently use this technology because it relieves pain and inflammation while repairing connective tissues
Although you may not see visible improvements in the first one or two months of using Hairmax Laserband 82, you can be confident that this device has begun its work beneath the surface. It increases blood flow, which brings oxygen and nutrients to the follicles. During this phase, this device also resurrects dormant or weakened follicles. Furthermore, you may notice some shedding; however, you should not be concerned because only thin and wispy hair is getting shed to make way for new, thick, and healthy hair growth.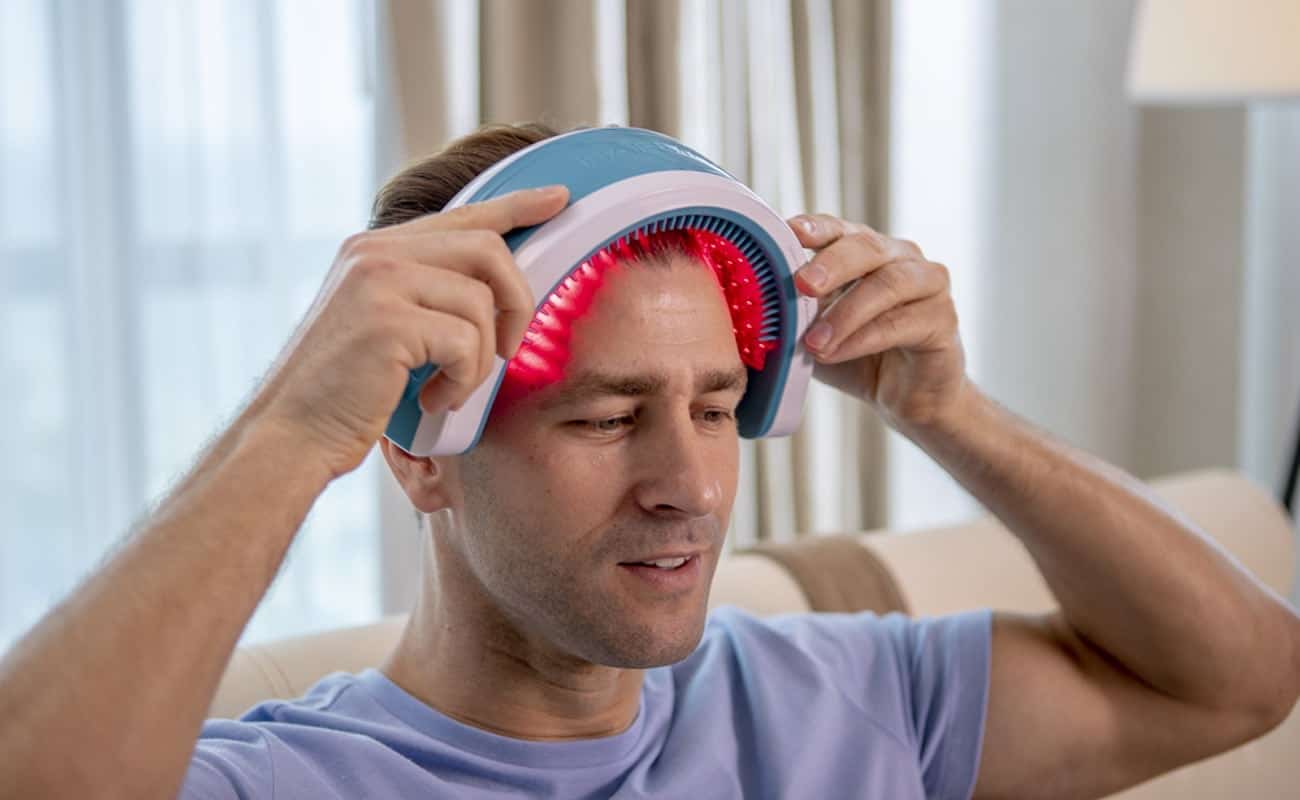 You can expect new hair growth to begin during the third and fourth months of use. Shedding of hair decreases at this point, with new and stronger hair replacing the ones lost in the early stages. Furthermore, your hair's shine and manageability also may improve.
You should notice thick, dense, and voluminous hair by the fifth and sixth months of use. During this stage, previously thin hair becomes healthy and thick. Furthermore, the bald spots will appear to be disappearing, with new and radiant hair taking its place. You will also notice less scalp showing as the scalp continues to fill with new hair.
By the 6-month mark, your hair will have significantly improved in terms of appearance, health, and vitality. Hairmax Laserband 82 is still stimulating and rejuvenating your hair from the inside out. Manufacturers advise you to continue using Hairmax if you want to see more results and maintain the ones you've obtained so far.
Features And Benefits of Hairmax Laserband 82
Lightweight, portable, and convenient 

Non-invasive, safe, and gentle

Convenient for at-home use 

Powered with clinically-proven Low-Level Laser Therapy Technology 

FDA-approved for use by men and women 

Promotes hair growth in males and females with Androgenetic alopecia 

Shows visible results within 6 months of use 

It contains 82 medical-grade laser lights to stimulate hair follicles 

Includes hair-parting teeth to section hair during treatment 

Provides a total of 246 all-round scalp coverage

Reverses hair fall and thinning 

Restores and revitalizes the hair growth cycle 

Promotes fuller, denser, and thicker-looking hair 

Available in three colors – Blue, White, Purple 

1-year warranty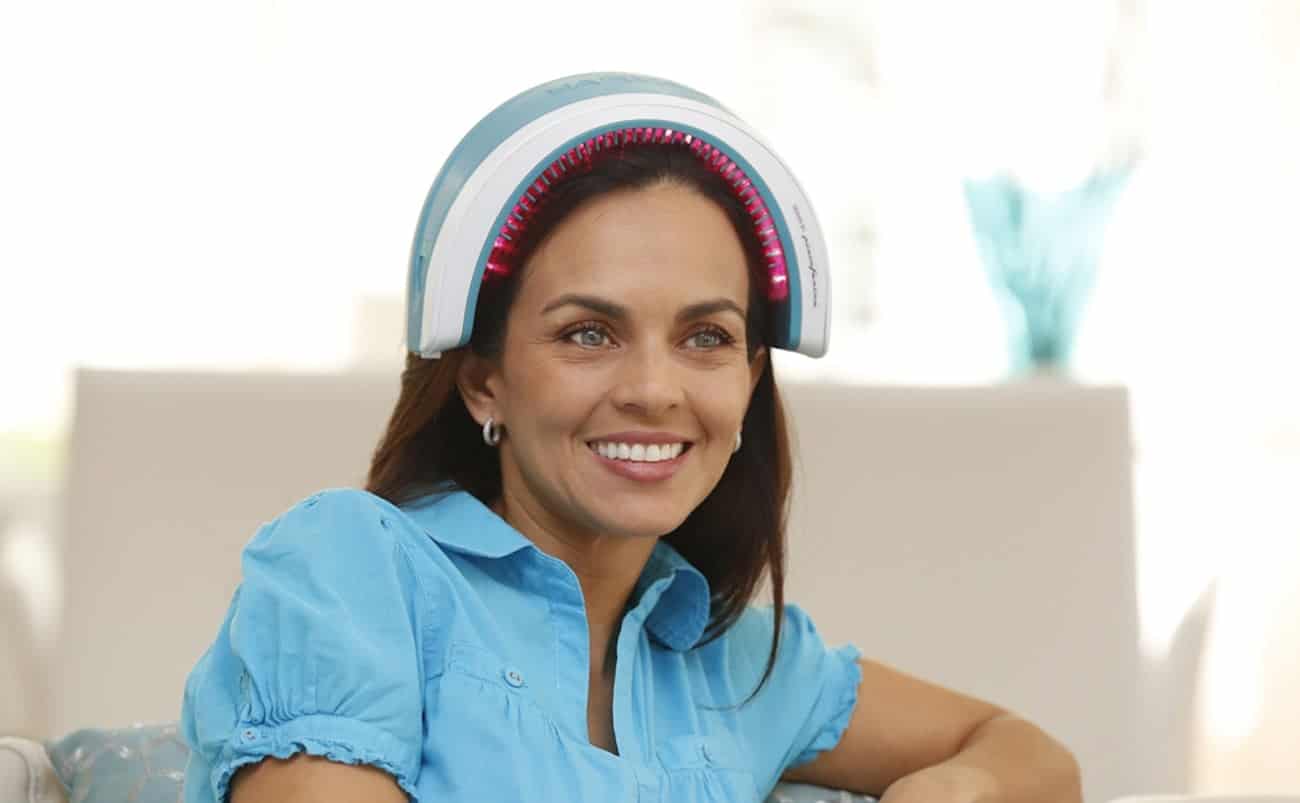 Drawbacks
Very Expensive

Results vary from person to person 

Needs to be charged for up to 4-5 hours 

It may cause discomfort if the hair-parting teeth are too tight on your head.

You need to purchase a different size of hair-parting teeth (best suited to your head size) separately.
The most significant disadvantage of hair care devices such as Hairmax is their high price. However, it is essential to know that if you want to reap the benefits of such devices, you will need to spend some money. Although they appear to be prohibitively expensive at the time of purchase, they may prove more cost-effective in the long run compared to other hair care treatments, tools, and procedures. We're sure you'd like to save every penny you can, so here are a few alternatives to consider.
The iRestore Essential is a helmet-shaped device with 120 medical-grade lasers and LEDs helpful to target various hair issues. This device, like the Hairmax Laserband 82, employs Low-Level Laser Therapy (LLLT) to treat androgenic alopecia, receding hairlines, thinning at the temples, bald spots, and other conditions. It is FDA-approved, sturdy, comfortable, and simple to use. Most importantly, it is less expensive than Hairmax, with additional discounts readily available on various websites.
Theradome EVO LH40 is another powerful device to consider. This device, equipped with 40 powerful lasers, claims to stop hair fall in its tracks. Its 680nm lasers are 250% more absorbent than other laser devices. It is FDA-approved and suitable for both men and women. Theradome's hand-free design allows you to use it easily while going about your daily activities at home. It will keep your scalp cool and ventilated throughout the treatment, making it more comfortable. You are sure to see a difference in the appearance and quality of your hair by using the Theradome helmet just four times per week. It is a less expensive alternative to Hairmax, with exciting offers and discounts.
How To Use Hairmax Laserband 82? 
Charge the Hairmax Laserband 82 for 4-5 hours before your first treatment.

To begin treatment, turn on the device by pressing the power button once.

Place Hairmax near your hairline and leave it there until it vibrates. Every 30 seconds, the device vibrates to indicate that its position needs to be changed.

When you feel the first vibration, slide Hairmax back about 3 inches to the middle of your scalp.

Apply light pressure to separate your hair and keep the device in this position until it vibrates again.

Finally, move the device to the back of your head and leave it on for 30 seconds.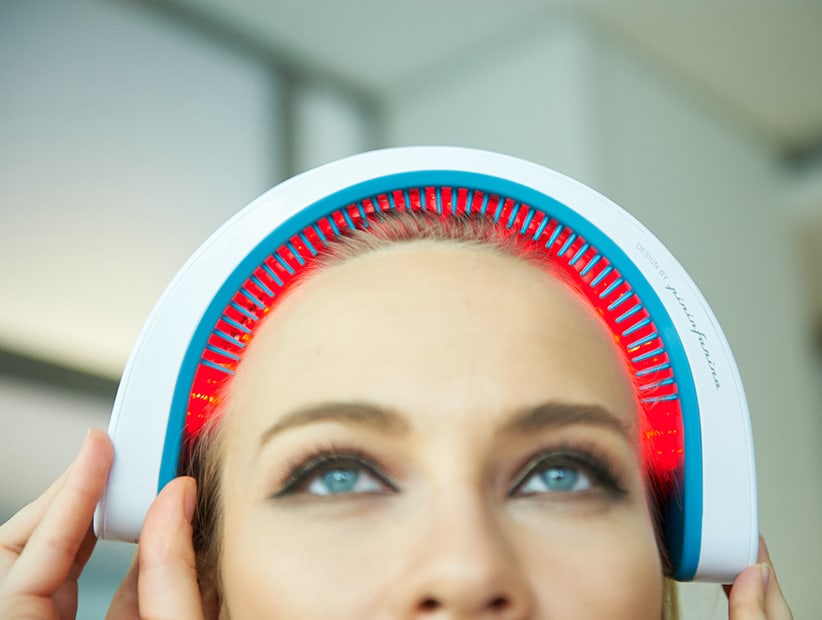 Hairmax Laserband 82 Side Effects | Is It Safe For Use? 
Hairmax guarantees its devices are gentle and safe, with few to no side effects. Its official website also displays the results of clinical studies conducted on individuals to demonstrate the device's efficacy. While obtaining a safety guarantee is beneficial, let us discuss some factors you must consider carefully before using this device. 
After using the device, some customers report experiencing discomfort, itching, and irritation. One factor that could be causing displeasure is that the patented hair-parting teeth are too small and tight for your head. You can order different teeth sizes, in this case, to make the experience more comfortable. The device's manual includes instructions for replacing the hair-parting teeth.
Another common complaint about this device is that it causes hair shedding. While it is understandable why one may get concerned about increased hair loss, Hairmax assures that only thin, weak, and wispy hair gets shed to make way for new and healthy hair. You can expect shedding within the first few months of using Hairmax. The shedding decreases over time, with new hair replacing the ones lost previously.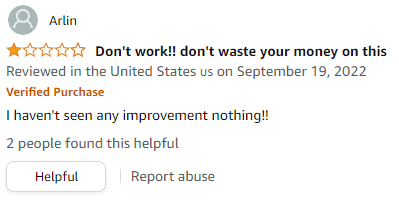 The Fitzpatrick Skin Types (FST or FPS) system is a numerical classification scheme used to determine human skin color and its response to ultraviolet (U.V.) radiation. This system distinguishes human skin color into six different types. Hairmax devices have been clinically tested on the first four skin tone types (from very white to brown) but not on people with type 5 (dark brown) or type 6 (black) skin tones.
According to Hairmax, studies were only conducted on a few selected skin tones because it was easier to visualize and analyze the hair against a light background. If your skin tone is in the 5-6 range, you should not be concerned about or doubt the device's efficacy, as it is said to have worked successfully for many women with dark skin tones. Additionally, doctors recommend this device for people with darker skin tones.
Customer Reviews | Hairmax Laserband 82 Before And After 
Sylvia writes, "I am 45 years old. For years, I've struggled with hair loss and thinning. Fortunately, I never had bald spots on my scalp, but my hair became thin and scarce over time. I tried medications and a few hair procedures, but nothing gave me long-term results. I was intrigued when I discovered Hairmax, and the money-back guarantee only encouraged me to try it out. I've been using this device for over a year, and it has transformed my thin, brittle, and weak hair.
My hair now feels very healthy and looks shiny, full, and voluminous. Also, my scalp appears filled with hair, unlike before, when many gaps were visible. I've also noticed a significant reduction in hair loss. I'm currently using this device twice a week. When I feel my hair needs more nourishment, I return to the original thrice-weekly regimen. I strongly advise everyone to try this device at least once."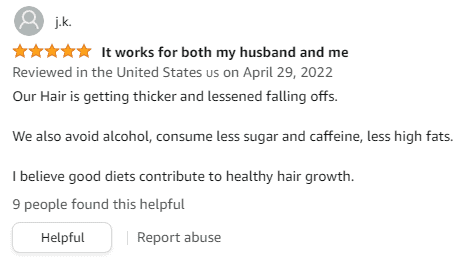 Linda stated, "I was diagnosed with thyroid five years ago, and as a result, I've had severe hair loss problems. When I first heard about Hairmax, I was skeptical that it would work. But the numerous positive Hairmax reviews swayed my opinion, and I decided to give it a shot. This device is expensive, so I was hoping and praying for it to work. Now, it's been about 8 months since I started using it.
I can't say how much it has helped with hair growth, but it has helped with hair loss. Previously, I would frequently shed chunks of hair, but this has significantly decreased. I've also noticed that my hair is stronger and healthier. It does not appear or feels thin and frail. I will undoubtedly continue to use Hairmax because I am pleased with the results so far."

Anita mentioned, "I've been using Hairmax for four months now. I began to notice subtle changes in my hair, which made me very happy, but a few weeks ago, I noticed that the device would stop charging in the middle. I shipped the device and got it repaired after a lot of back and forth with the company. I've restarted the treatment and am hoping to see some positive results. Fortunately, I haven't noticed any side effects yet. Also, the device is very light and comfortable to use."
Frequently Asked Questions | Hairmax Laserband 82
Does Hairmax cause cancer? 
Hairmax explains the light energy responsible for cancer is Ultraviolet A (UVA) emitted by the sun. Because the lasers used in the Hairmax Laserband 82 have a different wavelength than UVA, there is no risk of cancer or other serious side effects from using this device.
It has undergone clinical tests and proven gentle and safe for both men and women. However, if you are undergoing treatment for skin cancer, you should consult your doctor before using this device or applying any other light treatment to your scalp.
I read that Hairmax causes hair loss, is it true? 
Hairmax devices help stop hair loss and encourage follicles to grow new, healthy hair. Ideally, Hairmax Laserband 82 should not cause hair loss; however, some shedding is likely during the first two months of use. Hairmax assures that it is a good sign because it indicates that the device is working correctly and only shedding thin, wispy hair.
If you initially experience hair shedding, you can be confident that it will decrease significantly in the following months, with new, thick, and healthy hair replacing the ones lost previously.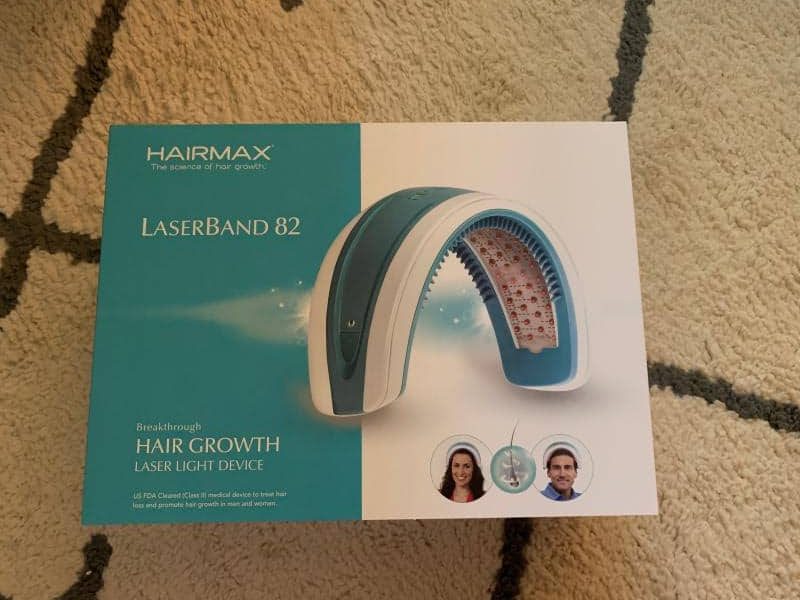 Can I use Hairmax Laserband 82 every day?
You should use Hairmax Laserband 82 thrice weekly to achieve the best results. Although this device's laser light is healthy, safe, and gentle, using it daily is excessive and unnecessary. Using it more frequently will not improve results or hasten the appearance of new hair. Instead, it may overstimulate the hair follicles and diminish the effects you may have seen.
Do I have to use Hairmax forever?
Hairmax advises using its laser device treatments indefinitely to continue seeing positive results. However, once you obtain the desired results, you can reduce the treatment to twice per week. If you become prone to shedding again, you can begin using it three times per week as usual. However, use the device sparingly, or you risk overstimulating the follicles and losing your previous results. Furthermore, Hairmax advises against discontinuing the device because your hair will revert to its pre-treatment state.
Final Words | Hairmax Laserband 82 
Devices like the ones sold by Hairmax have transformed the hair care industry. They can be beneficial in ending years of struggle, shame, and embarrassment caused by hair loss. Hairmax Laserband 82 is a unique device that improves people's lives by reducing hair loss and encouraging new hair growth. In a world, where people are skeptical about hair regrowth devices and choose hair oils and other products to avoid certain complications, this can deserve a try but only after a medical recommendation. 
Its 82 medical-grade light lasers and patented hair-parting teeth stimulate the scalp effectively by infusing it with oxygen and nutrients. You can expect an improvement in your hair's growth cycle and appearance. Within 6 months, Hairmax transforms your hair from the inside out, making it manageable, strong, and healthy.
Hairmax Laserband 82 is one of the few devices with a 90-120 second treatment time. It is FDA-approved, lightweight, and portable, allowing you to reap its benefits whenever and wherever you want. Using it for 90 seconds thrice a week will improve blood circulation, revitalize dormant follicles, and stimulate new hair growth. Numerous positive Hairmax Laserband 82 reviews attest that this is a potent device well-suited to assist you on your hair restoration journey.
People have reported no severe side effects from using Hairmax Laserband 82. It has been subjected to extensive clinical testing to ensure the highest level of safety and efficacy. Many people express their dissatisfaction with the high price of Hairmax Laserband 82.
It is critical to remember that Hairmax provides high-quality, safe, and effective devices at the most competitive and reasonable prices. However, if you want to look into other options, we've included a few in this article. Whatever you decide, remember to consult your doctor before beginning any laser-light treatment, especially if you have any medical conditions.
Rebecca is a skilled writer with a passion for makeup and skincare. With years of experience in the beauty industry, she has a deep understanding of the latest trends and products and a talent for creating engaging content that resonates with her readers. Whether she's writing about the latest skincare products or sharing her favorite makeup tips, Rebecca's writing is always informative, entertaining, and inspiring.