Are you tired of cutting your bangs because they won't stop falling from all the roughness? A couple of soul-reviving hair treatments and oils must be the newest addition to your haircare range. Why? Your grandma and mom will remember this magical therapy's potent benefits! The Gisou Hair Oil is one such hair oil, giving your locks miraculous powers of hydration, moisturization, and nourishment, which helps revive its glory back and comes with a hefty price tag. Thus, we were looking for a Gisou Hair Oil dupe and found not one but many options.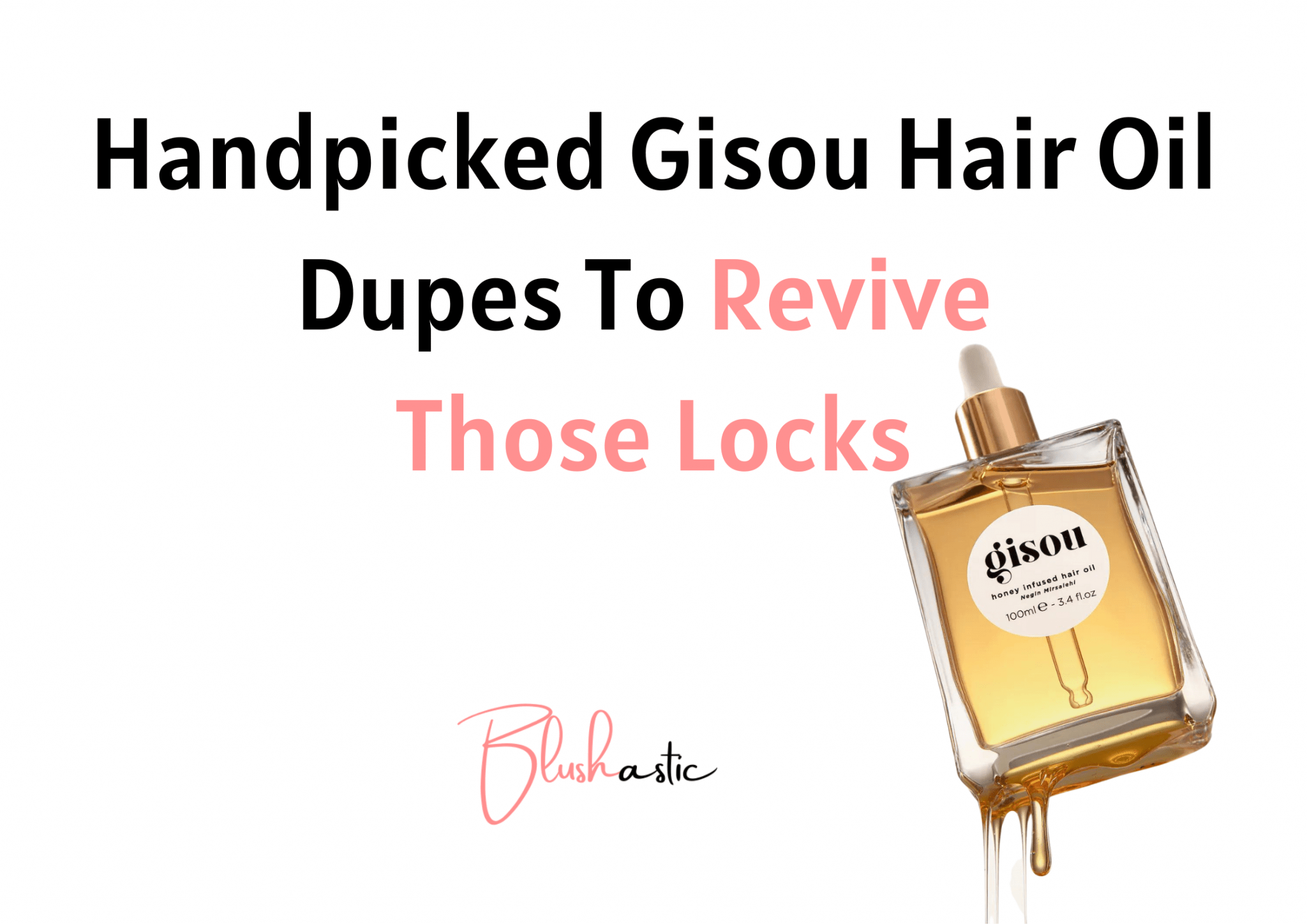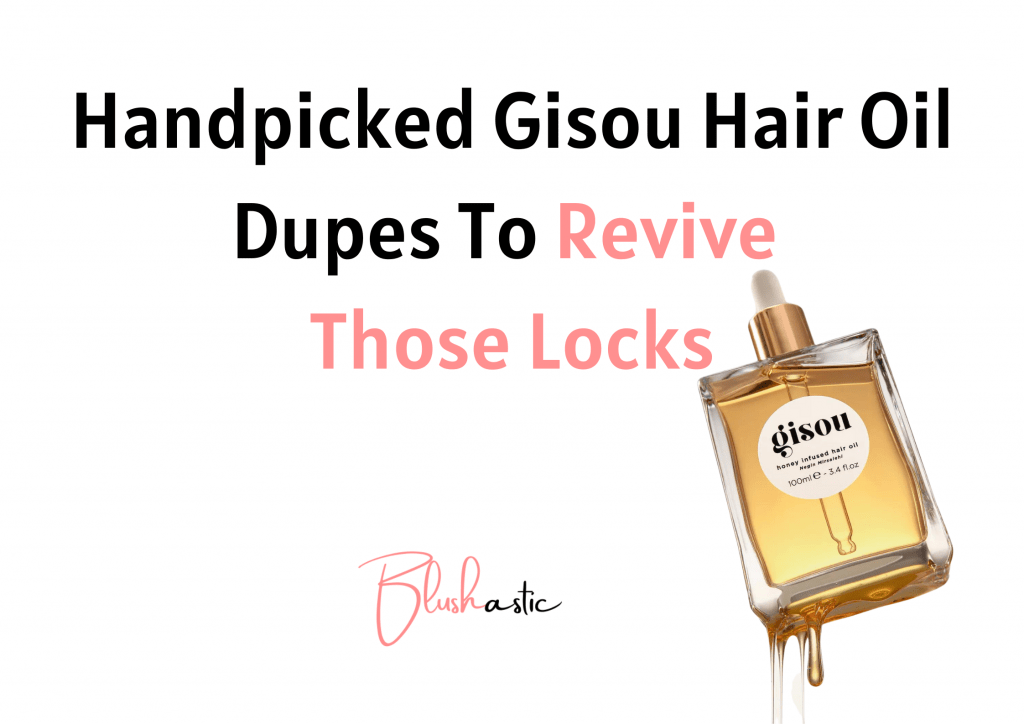 The oil is pumped up with Mirsalehi Honey from the brand's own Mirsalehi Bee Garden. It claims to repair every inch of your hair, making it an indispensable part of your daily life. So next time you don't want to apply hair oil, think of all the good things your hair is missing out on! 
But, people we talked to are not satisfied with the offered price, as you may have to go heavy on emptying your wallet. But, will every one do this happily? No! So we have picked out 11 edits that will save you money and give you the feel of the original oil itself! 
Gisou Hair Oil Dupe |
Does Your Hair Need This?
The Gisou hair oil is a HONEY-INFUSED option for your locks, a multitasker. Infused with Mirsalehi honey from their bee garden, the oil amps up your moisture levels in yoru strands and keeps them healthy, softer, shinier, and velvet-like. You can use it as a pre-styling treatment as it will protect your locks from the damage of being overheated, which will cause them to lose either elasticity or shine.
Users loved this, as they can also use it as a finishing product. What won all our hearts is that you can take advantage of this versatile hair oil by using it as a hair mask and an overnight treatment routine. 
Sadly, people have been reluctant to go all out and purchase this oil, as it costs a lot, according to the quantity offered. Because of this, we have hunted down the most economical opinions for you, which will ultimately take care of yoru tresses by nurturing them. So that next time, you never have to wake up to a bad hair day!
Coming straight from the celebrity-approved haircare brand, the OUAI hair oil is all about new and better beginnings for your compromised hair. This formula claims to fulfill your wishes for the secret to lush and shiny hair. The multitasking oil has been blended with unique ingredients like borage oil, galanga root extract, and ama oil, which help calm your frizz and seal the split ends with heavy moisture, and a hard-to-miss shine. 
Some users shared their happy experiences with the product, revealing that this revitalizing hair oil changed everything for them! Relieve yourself from the fear of breakage or overheating of yoru locks as this oil has your back covered in everything! 
People often get perplexed about the leading brands, and therefore, we compared Olaplex & OUAI for you!
Perks
Cheaper than Gisou 

Protects hair color from fading away

Shields hair strands against the harmful effects of UV rays 

Suitable for all kinds of occasion 

Helps in remedying damaged split ends

Delivers high-end glossiness and shine

It contains healthy-hair ingredients like

African galanga, ama, and Asian borage oil.

Can be used as an intense overnight hydrating mask too

It makes your locks touchably smooth, 

Infuses your tresses with deep nourishment and moisturization

Compliments all kinds of hair types

It does not contain any harmful or nasty ingredients 

Combats heat damage up to 450°F/232°C.

Leaves hair looking sleek, and salon-like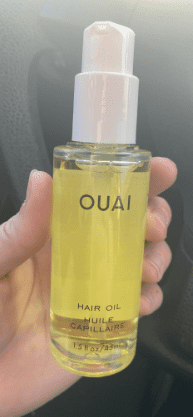 Drawbacks
Some users said that the hair oil smells like an old lady!
As the name reads, don't waste any more energy in despair, for the treatment oil from Briogeo claims to repair all the damage suffered by your locks. The formula has been carefully packed with handpicked ingredients like replenishing ceramides, macadamia oil to boost shine, and rose flower oil to splurge your hair with vitamins. Your hair may be dry, damaged, or any other type, but this oil has all the attributes to qualify to be incorporated into yoru hair care routine.
If you are looking for instant methods to breathe life into yoru tresses, this oil promises to strengthen your hair cuticles from the inside and nourish them. After filling this need, the formula caresses your strands from roots to tips, so they appear on top of health for all 365 days!
Perks
Enriched with replenishing ceramides, fatty acids 

Macadamia nuts help in boosting an impossible shine

For all hair types

Nurses damaged and color-treat hair back to health

It helps in sealing split ends with a heavy moisture dose

It has a breathtaking scent of rose

Rich in antioxidants 

Claims to repair 88% of the damage done in just two uses

Bonds all the split ends together

It makes hair soft, shiny, and luscious 

Remedies compromise hair cuticles and strengthen them

It helps resolve issues of keratin-treated, chemically-treated, and relaxed hair as well

The formula offers anti-oxidation benefits 

Free of harmful ingredients like sulfates, silicones, parabens, phthalates, DEA, and artificial dyes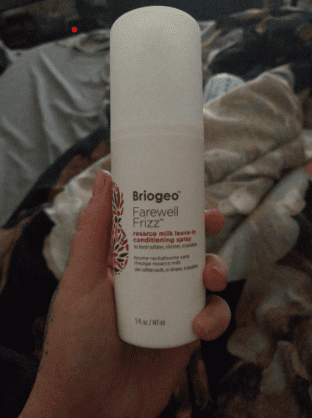 Drawbacks
It makes hair greasy and heavy after some time.
Olaplex No.7 Bonding Oil
Excessive use of heat styling tools can steal away all the essential moisture from your hair.
When your hair strands take more heat than required, they ultimately break, which can cause your locks to look lifeless and dehydrated. But it doesn't have to be this way! Oiling your hair with a good and nourishing blend like that of the Olaplex No.7 Bonding Oil has been approved by many top celebs and makeup professionals, who believe that its formula adds strength and longevity to yoru weaker locks and supplies them with ample nutrition they are deficient in.
It contains anti-aging grape seed, repent ea oil, which comes together to act as a heat protectant for yoru hair, and undo all the damage done to them. So, if you don't wish to live in yoru current haircare nightmare, we suggest you switch to this ASAP!
Perks
Actively participates in repairing all hair types

The oil features a patented technology 

Strengthens hair structure and cuticles

Improves the overall appearance of your locks 

It pumps up an invigorating shine 

Repairs and heals all kinds of hair 

Enhances the shine, softness, and vibrancy of your hair color 

Minimizes ugly frizziness 

Tmaes down ann the unruly locks 

Restores hair's original texture 

The formula has never been tested on animals 

Features a perfect pH balance

Provides maximum heat protection

Shields hair from UV rays 

Easily detangles knots in seconds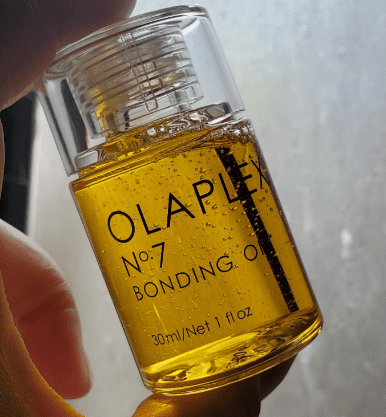 Drawbacks
It works like any other hair oil, so it may not be worth the hype or extra money. 
Moroccanoil Treatment
Our editors have selected the Moroccanoil Treatment as it claims to please you with shiny luxe locks that reflect perfection from every single strand. Massaging warm coconut oil may have done the trick in the olden days, but in the represented scenario, yoru hair needs some goodness of argan oil, just like this one. This treatment complements all kinds of hair and speeds up your drying time.
Having successfully creed a worldwide buzz on the argan oil of Morocco, this oil features shine-boosting vitamins that travel, access the length of the hair shafts, and plump it up with an exotic radiance. Get ready to be free of all the stubborn and nasty tangles, for this oil makes your hair so sleek and smooth that you wouldn't have to comb it repeatedly throughout the day! Users gave this option their approval, and we think it deserves to go in your beauty kit!
Perks
Available at an easily affordable price 

It contains rich emollients like argan oil and linseed extracts 

Loads of antioxidants that help in hydrating and nourishing hair strands from within 

Revives the dullness and replaces it with an energizing vibe 

Fatty acids help in improving hair health 

The hair oil can be used as a conditioning, styling, and finishing tool

Transforms your tangles into easily manageable hair 

Enhances and boosts drying time 

Amplifies shine in your hair by 118%

It contains shine-boosting vitamins which quench your dry locks, nutrition 

Loved and recommended by many professionals 

The formula smoothens frizz and flyaways 

Free of SLS, SLES, parabens, and formaldehyde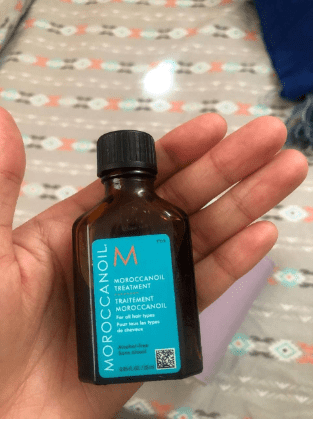 Drawbacks
It dries your hair too much 
PATTERN Beauty Jojoba Oil Hair Serum
Let your hair leave that lustrous glow with the magical touch of this hair serum from Pattern Beauty. Sometimes, potent oils and specially brewed concoctions are just what your hair needs to get back into rejuvenating health. The PATTERN Beauty Jojoba Oil Hair Serum promises all its users that it will coat your low porosity hair strands; with so much nourishment you would not have to rethink your decision ever again!
Safflower seed oil, jojoba seed oil, olive oil, and lavender oil are some of the blended ingredients, and they help energize your hair shafts by supplying them with water molecules. This elevates their moisture content, and they work smoothly compared to earlier. Unlike other bland formulas, this oil will not clog your pores or make your hair sticky. So if you want to come out of all your previous haircare mistakes, this oil gives you a chance to redeem yourself! 
Perk
It feels almost weightless on hair. 

It contains rich ingredients like safflower oil, jojoba oil, rosehip oil, olive oil, and lavender oil.

Maintains elasticity of the hair

Improves the overall health of your locks 

It helps diminish signs of itchiness or flaking 

Targets low porosity hair and heal them

It prevents breakage due to dehydration 

Pampers your locks with added moisture 

Creates a pool of hydration 

It eliminates frizziness and makes hair smoother 

The formula has never been tested on animals 

Free of mineral oil, parabens, silicone, phthalate, SLS, and other harmful ingredients 

You can use it on color-treated hair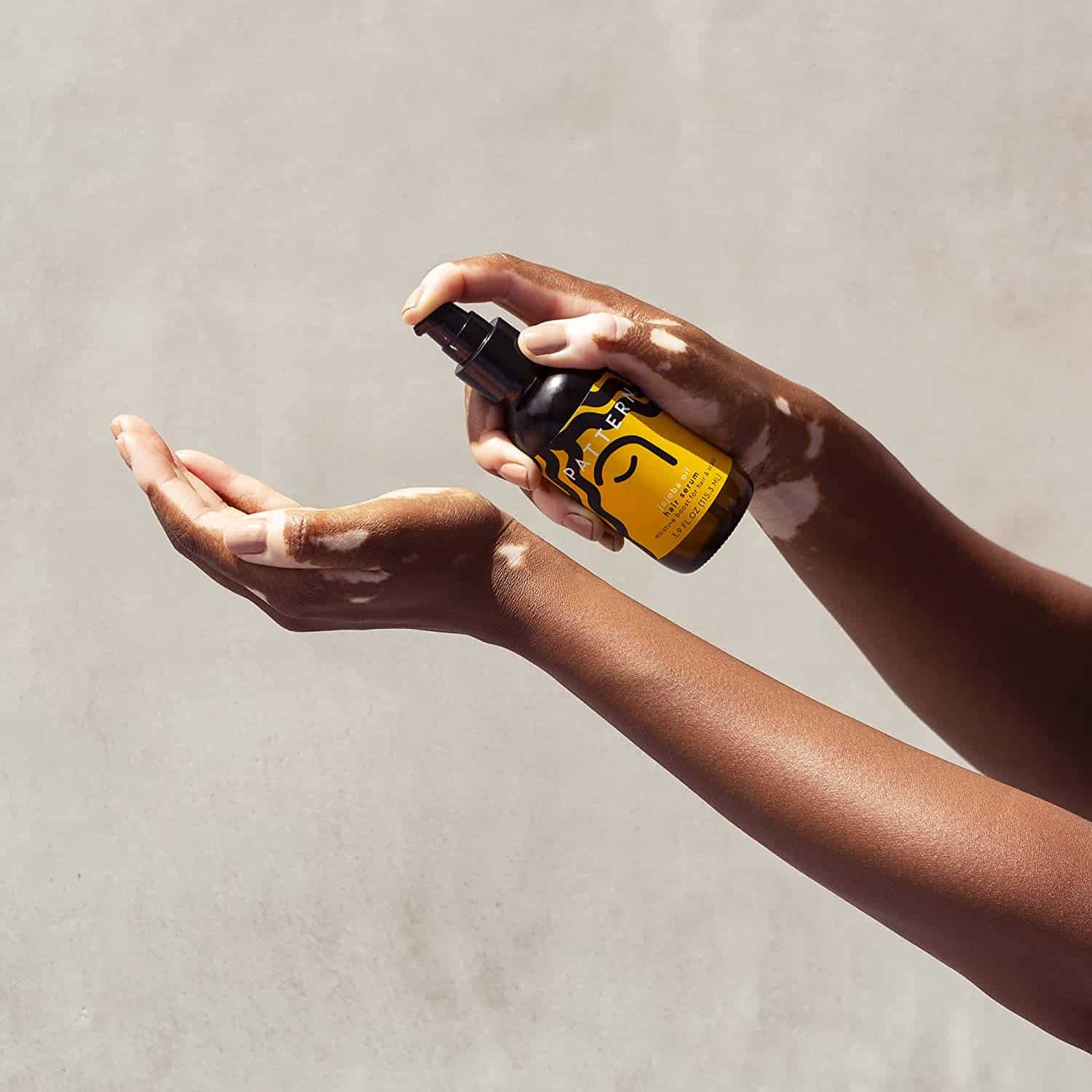 Drawbacks
Not many reviews are there to ascertain its efficacy. 
Shu Uemura Essence Absolue Nourishing Protective Oil Unisex
This golden camellia oil-based elixir is an excellent opportunity if you can't seem to mend your split ends and frizzy hair the right way. When we asked users how they felt about having this as a Gisou Hair Oil Dupe, they were pleased, saying that the formula had helped them give their hair the proper pampering it needed. The procedure contains rich and nutritive emollients, which help soften your short strands and give yoru coarse hair a smooth rhythmic vibe for a change.
It is high in good fats, like fatty acids, which pump up moisture to all your strands individually and give them a hydrating feel from within. Many users and beauty enthusiasts have loved the award-winning formula, and it is devoid of harmful ingredients which might cause an imbalance in your hair's pH. 
Perks
Infused with the goodness of camellia oil

Leaves hair with a radiant shine 

The lightweight formula quickly absorbs onto yoru strands 

Does not weigh down your hair 

Maintains healthy-looking hair by protecting it against UV rays 

Tames down unruly hair and makes it manageable e

Amps up levels of moisture

Hydrates hair strands from roots to tips 

It contains essential lipids, which nourish your locks

The hair oil makes hair softer and silkier 

It features a dairy-free formula 

The formula gives intense nutrition against hair damage 

Has won many awards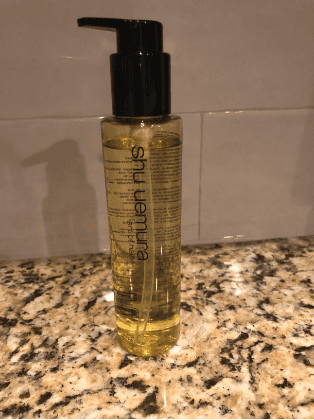 Drawbacks
The procedure may not work for everyone.

It makes hair greasy if you take more than a pump.  
Kerastase Elixir Ultime L'Huile Original Beautifying Hair Oil
Is your hair craving a weekend of perfect haircare regimen? Reviews suggest that you give it to your locks courtesy of the Kerastase Elixir Ultime L'Huile Original Beautifying Hair Oil, which has been hailed as the perfect alternative for Gisou. The irresistible elixir is a blend of precious hair oils like marula hair oil, argan hair oil, and camellia hair oil. Marula is rich in antioxidants and causes your trees to soften up and be moisturized.
Camelia keeps them supple and shiny, whereas argan provides vitamin E to enhance elasticity and restore hydration. It offers a calming and meditative scent to your senses, which you can indulge in without worries. Featuring a particular oleo complex, the formula reverts your hair to its original situation, where it was free of any kind of manipulation. So, if all yoru homemade concoctions have severely failed, you know where to look!
Perks
It contains a sensational blend of trios like marula oil, argan oil, and camellia oil.

Delivers optimal hair nourishment

It strengthens yoru hair and acts as a heat protectant 

Does not leave behind any kind of residue 

It does not weigh your hair down 

Accompanied by a subtle fragrance 

Leaves your locks moist and supple 

Fatty acids and antioxidants keep your hair moisturized

The fast-absorbing formula adds a radiant shine 

Suitable for all types of hair textures 

Free of parabens 

It cuts down frizziness and tames wild locks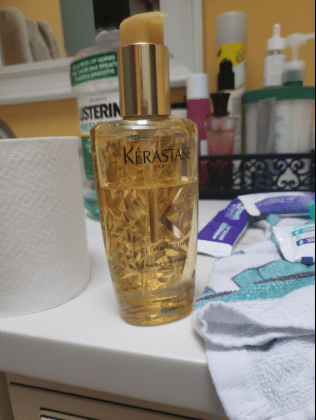 Drawbacks 
The fragrance of the hair oil may be unpleasant to some users. 

The pricing is on the higher side. 
OGX Extra Strength Renewing + Argan Oil of Morocco Penetrating Hair Oil Treatment
We all are ardent fans of a good hair oiling session, but none of us are ready to walk out with a hair oil so thick that it makes our hair greasy and clogs our pores. Lucky for you, the penetrating hair oil treatment is extensive hair oil from the brand OGX, which has got hair oil lovers reeling in its craze. The formula features argan oil, straight from the roots of Morocco, and helps heal your coarse hair without making things difficult for you.
The penetrating oil protects your stresses from many culprits like overheated styling and UV rays and renews them with loaded moisture, softness, and silkiness. If your hair needs that extra nourishment boost, this oil ensures you get it without any toxic drama from sulfates, parabens, etc. According to Gisou Hair Oil Dupe reviews, users said this hair oil was their perfect rescue from all the damage suffered by their tresses. 
Perks
Treats damaged locks with care 

Free of nasties like parabens 

It contains

Moroccan Argan oil as it gives an extra layer of protection 

It helps revive the smoothness of yoru locks with just a few drops 

Penetrates deep into the follicles to moisturize them 

Nourishes individual hair shafts 

Restores the natural luster of your hair 

It can be used as a pre-styling primer 

The formula is resistant to humidity 

Protects locks against heat styling, and UV rays 

It helps make coarse and rough hair easily manageable 

Travel-friendly option and super cost-effective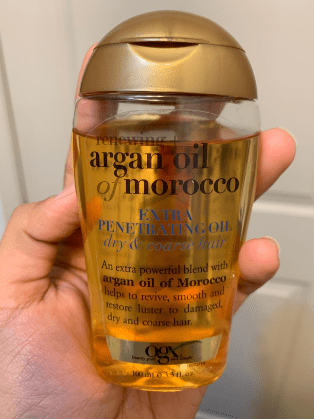 Drawbacks 
The oil makes your hair feel very heavy. 
Mielle Organics Rosemary Mint Scalp & Hair Strengthening Oil 
The ancient practice of hair oiling may be old but never outdated! But you can only derive the full benefits of this beauty ritual when you have the right product, like this strengthening oil from Mielle Organics. This hair oil remedies all the troubles of your scalp from stress, pollution, or unhealthy eating habits. The lightweight oil travels deep into your hair shafts and revives yoru hair's shine.
The formula boasts 30 essential oils that help stimulate blood circulation, fight off dandruff, relieve any signs of itchiness, and pamper yoru sensitive skin. Your hair may be of any type, and this formula claims that it will make it worth your lock's while. The recipe is also heavy on nutrients and biotin and is perfect for everyday use if you want to reignite your affair with healthy tresses. 
Perks
Smoothens all your damaged split ends 

Nourishes and strengthens yoru strands 

It comes with a refreshing scent 

It gives your hair a sleek and shiny look 

30 essential oils soothe your scalp by improving circulation

Prevent problems like itchiness, and sensitivity 

It comes in a fragrance of rosemary and tint

Lengthens, strengthens, nourishes, and protects your hair 

Combats dandruff efficiently

Deeply nourishes all kinds of hair like

types 3A to 4C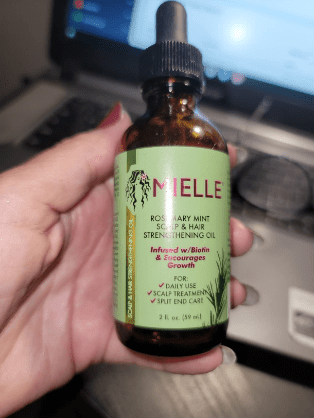 Drawbacks 
The moisturizing effect feels missing. 
DevaCurl High Shine® Anti-Frizz Nourishing Oil
Many of us have beautiful, thick coily hair, but we are reluctant to pamper our coils with hair oil. Are you scared it is going to make your head feel heavy? No more of these worries. The DevaCurl High Shine® Anti-Frizz Nourishing Oil is a curly hair beauty staple. It has a juicy scent that reminds you of slight undertones of pomegranate, raspberry, and salty melon so that your whole hair care session can be intensely aromatic!
The formula is a blend of five natural oils, which offer your dry locks a touch of nutrition and leave them with a stunning shine. It is free of silicones and does not involve the stress of putting more weight on your hair. So if you are looking for some hydrating and soothing properties in yoru hair oil that will make a difference for your stubborn curlies, this oil blend claims to fit the job description with flair!
Perks
It does not let frizziness set in 

It leaves a high-impactful shine

The formula feels very nourishing to the core

Protects against UV rays, and sufficient moisture 

The procedure goes a long way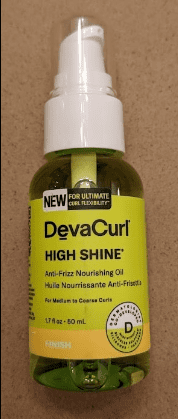 Drawbacks 
A bit expensive according to the quantity offered. 
Brazilian Glossy Nourishing Hair Oil
Can your hair be too oily with hair oils? Will your hair benefit from hair oil? The Brazilian Glossy Nourishing Hair Oil answers all your hair troubles. After the Bum Bum cream, Sol De Janeiro brings yet another ground-breaking formula: its hair oil. Many haircare professionals have always preferred this brand favorite for its frizz-fighting nature, which keeps your locks away from dryness.
So heal your hair shafts against the vagaries of nature, for this nourishing complex has been designed with pataua oil, buriti fruit oil, and pequi oil, which are fatty acids, and help in restoring hydration, eliminating brittleness, and smoothing the cuticles with antioxidants, to prevent split ends. So give your dry scalp and mane some nourishing goodness of this hair oil, and see its vibrancy bounce back in no time. As for users, most of them are giving it a try!
Perks
Targets weak locks, and activates its damage control mechanism 

Feels very hydrating 

Heals and repairs your split ends with nutrition 

It makes your hair feel very smooth 

Offers protection against heat 

It brings out the natural shine of your locks 

The hair oil helps revive lackluster and infuses your hair with moisture 

Cuts down chances of frizziness

It matches all kinds of hair seamlessly 
Drawbacks 
Some users might find this hair oil a bit pricey. 
FAQs | Gisou Hair Oil Dupe
What does Gisou's hair oil smell like?
The luxurious hair oil has been enriched with a fragrance with undertones of honey, entering your senses in a rhythmic motion. The aroma features notes of irresistible ingredients like honey blended into spring florals inspired by the Mirsalehi Bee Garden. There are also hints of citrusy notes of apricot and mandarin tested together in a breathtaking fragrance play. 
Which is the best hair oil for hair growth?
Remarkable hair growth stimulating oils like castor oil, bhringraj oil, sesame oil, olive oil, argan oil, jojoba oil, and coconut exude outstanding properties that nourish your hair follicles, help in speeding up their growth and create a boost in hair health. 
Does Gisou oil protect against heat?
The formula protects yoru locks from excessive heat damage by forming a layer of healthy cover on it. This barrier also shields them from the harsh effects of blow-drying, hot ironing tools, and the sun's harmful UV rays. 
What are the best-selling products from Gisou?
The brand's iconic hair oil, hair perfume, hair mask, face oil, lip oil, beauty balm, wash & go combo, and leave-in conditioner, are some products fans can't keep their hands off. They have been designed with unique ingredients, which help increase your overall appearance. 
Closure 
The general frizz that hugs yoru hair during all those hot hours of the year can be avoided only if you are surrounded with vitamins, and moisture-infused hair oils, that protect your skin's natural barrier. You may be tempted to use curling irons, and we know that hair damage from them is inevitable, but you can treat it with good hair oils that are honest caregivers and help complete your beauty cabinet. According to this definitive guide of Gisou Hair Oil Dupe, these options are blessed with truckloads of nourishments and help your hair become more robust, just like the real thing. 
Reviews have proven that these hair oil options improve the feel of yoru hair, where your locks look polished with an illuminating shine and emollients. People across the globe are using these edits as their pre-shampoo treatment to tame their hair back into a lustrous and delicious-looking mane. So, lather up some of these drugstore hair oil options, for the internet is drooling over their moisture-supplying properties. They have been designed with rare herbs and ingredients, so your locks will never have to see the face of brittleness again! 
Rebecca is a skilled writer with a passion for makeup and skincare. With years of experience in the beauty industry, she has a deep understanding of the latest trends and products and a talent for creating engaging content that resonates with her readers. Whether she's writing about the latest skincare products or sharing her favorite makeup tips, Rebecca's writing is always informative, entertaining, and inspiring.