Imagine a racetrack with personified signs of aging (such as wrinkles, spots, dullness, and sagging) competing to reach the finish line; that is, our faces, and our goal is to keep them from getting there to maintain youthful skin. What could we possibly do? Using anti-aging ingredients is an excellent strategy for slowing and delaying these concerns. However, for those who ignored these signs and are now having difficulty controlling them, there are powerful elements that can still help you combat and perhaps eliminate them.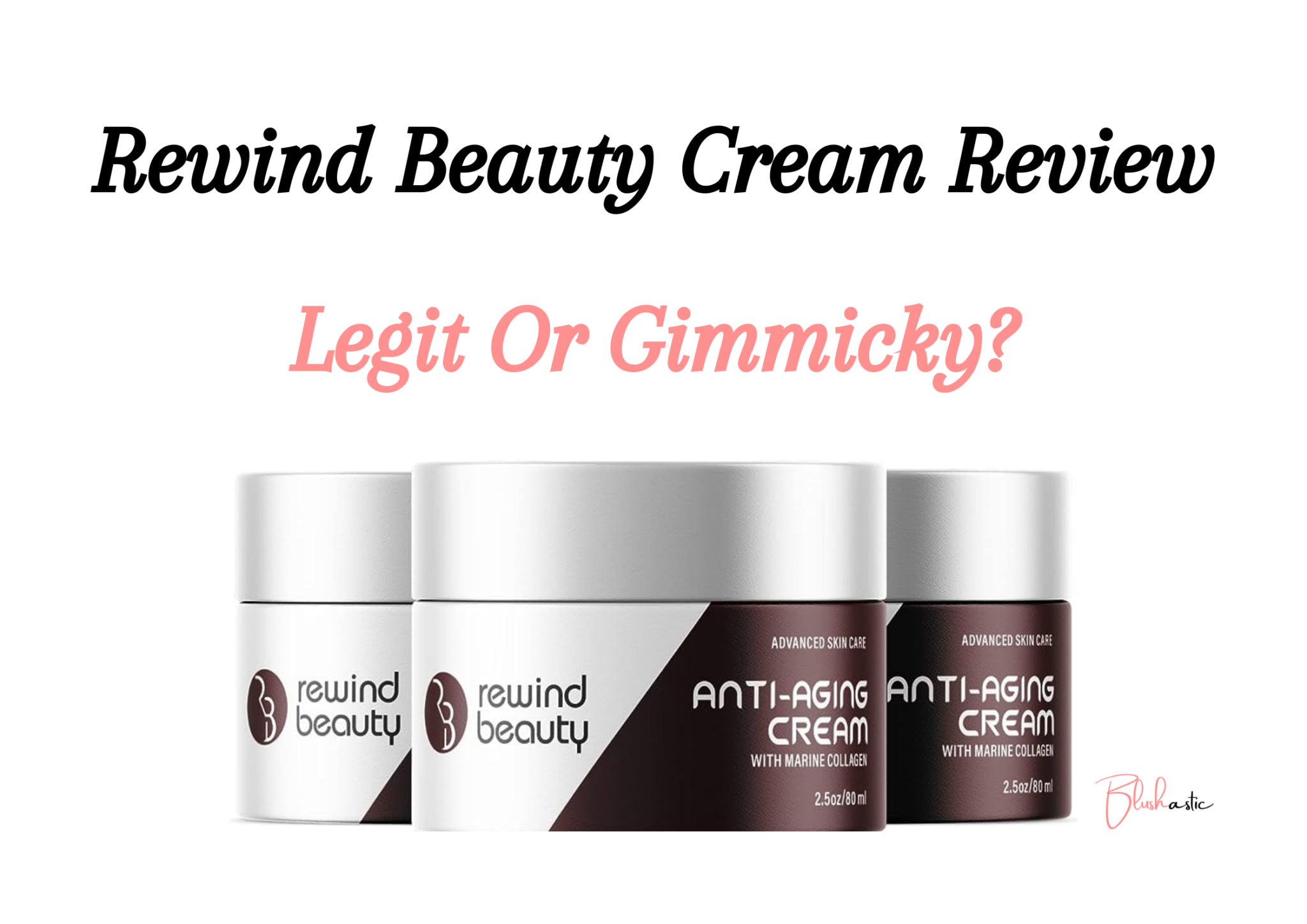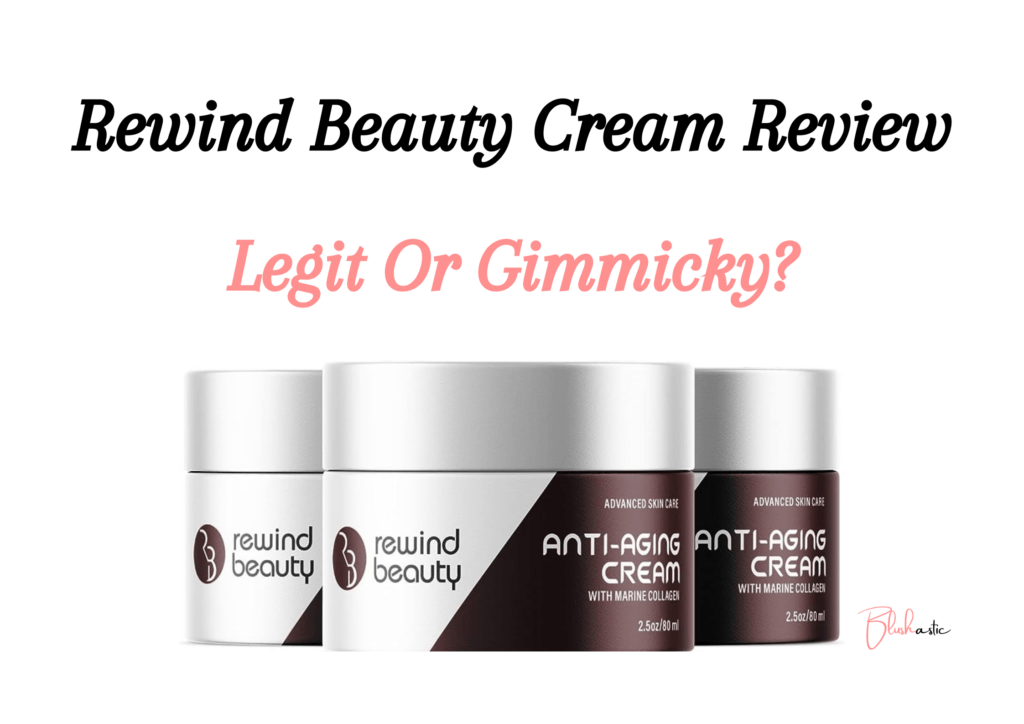 While treating aging signs is possible, it takes time and consistency, so imagine my surprise when I discovered a cream from Rewind Beauty that claims to visibly reduce their appearance in just four weeks. Brands are notorious for making such claims to attract attention to their products. However, claiming that an anti-aging product works in just a month seems slightly exaggerated.
What does science have to say? Is this cream really potent enough to reverse the signs of aging you've had for years? We will thoroughly investigate all these questions to help you decide whether or not this cream is worth a try. We will also look for Rewind Beauty Cream reviews to see if any people have benefited from this cream.
Rewind Beauty Cream Reviews | Trustworthy?
I discovered what appears to be Rewind Beauty's official website, but it provides no information about the company. I attempted to find other sources to confirm the legitimacy of this brand but was unsuccessful. Furthermore, the website I found directs us to another website to purchase Rewind Beauty Anti-Aging Cream, but those links lead to a different product. All of these are major red flags that cast doubt on the brand and the product under consideration, as there are no reliable sources to confirm their safety.
Nonetheless, Amazon, Walmart, and eBay sell Rewind Beauty Skin Cream and provide information about its claims, functions, ingredients, etc. The following review will be based on information scattered across various online sources. I'm sure many of you have already dismissed this product as a gimmick, but I would advise you to stick around until the end to truly determine its efficacy. The Eelhoe Collagen Boost Serum is another anti-aging product many people were skeptical of, but its positive results impressed many. So, despite its red flags, this Rewind Beauty product may also be effective.
What is Rewind Beauty Anti-Aging Cream?
Rewind Beauty Anti-Aging Cream is said to be an 'expert-formulated' product that helps reduce aging effects on the skin. It claims to provide moisture, reduce wrinkles, improve skin texture, and restore smoothness in as little as four weeks. This is a cream, so it has a rich and thick texture that is ideal for people with dry, rough, or flaky skin. It comes in an 80 ml tub with the brand name and other information imprinted on it.
I've only found Amazon, Walmart, and eBay as distributors for this product. It can be purchased individually or in sets of two, three, or five. Depending on how many products you buy at once, this cream can cost anywhere from $24 to $64.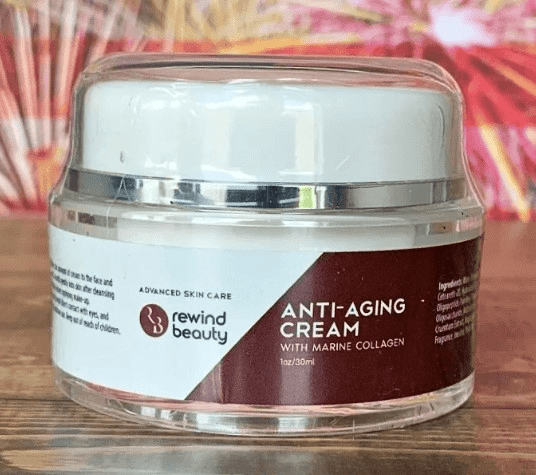 The Rewind Beauty Anti-Aging Cream makes the following claims:
Ideal for dry, damaged, wrinkled, and sagging skin
Delivers anti-aging benefits from within the skin
Fights wrinkles, fine lines, dullness, and dark spots
Hydrates and rejuvenates the skin
Brightens skin tone and improves texture
Reveals visibly younger skin in one week
Reduces deep-set wrinkles in four weeks
Clinically proven to provide results quickly and effectively
Rewind Beauty Cream Ingredients
I usually elaborate on the key ingredients in a formulation to help users understand their functions, benefits, and side effects. This also aids in determining the product's efficacy. However, Rewind Beauty Cream's ingredient list is lengthy, making it difficult to explain all components.
So, I've decided to group ingredients with similar functions to help you understand how they might benefit your skin. This will also assist you in determining whether the Rewind Beauty Cream contains the elements required to deliver on its claims.
For Anti-Aging: This cream is marketed as containing Retinol to deliver on its anti-aging claims, but I couldn't find it in the formulation. Other anti-aging components include Niacinamide, Hyaluronic Acid, Ascorbic Acid, Tocopherol, and Oligopeptide-1. Tocopherol and Hyaluronic Acid have moisturizing properties that help to reduce the appearance of harsh lines and wrinkles on the skin.
Ascorbic Acid, also known as Vitamin C, stimulates collagen production, which helps restore firmness, strength, and resilience. Oligopeptide-1, as the name implies, is a peptide that promotes epidermal cell growth, slows skin thinning, provides hydration, and reduces inflammation.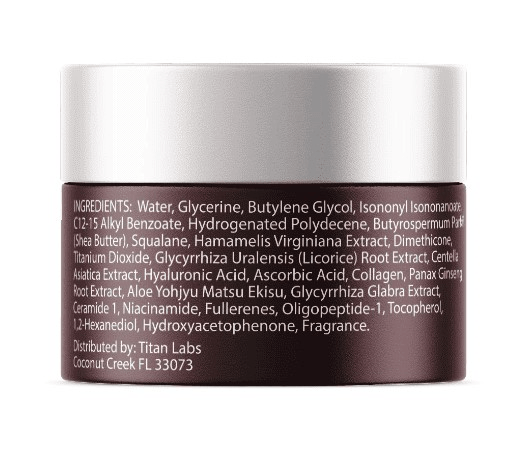 For Skin Brightening: The Rewind Beauty Cream contains well-known skin-brightening agents such as Vitamin C, Licorice Root Extract, and Niacinamide. Vitamin C is an antioxidant that protects the skin from UV rays and prevents skin damage. It has been shown to treat dark marks, promote even skin tone, and give the skin a healthy glow.
Licorice Root Extract is a potent ingredient that contains glabridin, which has been shown to inhibit pigmentation caused by UVB rays. It is also said to be as effective, if not more, than a medical-grade ingredient called Hydroquinone with fewer side effects. Niacinamide helps to prevent the formation of any discoloration, and it also prevents the pigment from transferring to nearby cells.
For Moisturizing: This anti-aging cream contains several moisturizing ingredients, emollients, and soothing agents. They work together to hydrate, retain moisture, and calm the skin. This cream includes common hydrating ingredients such as Glycerin and Hyaluronic Acid. Ceramides, which aid in repairing and maintaining the skin's barrier, help relieve dryness and irritation.
Squalene is an effective emollient that deeply nourishes the skin. It is a saturated oil that mimics the skin's natural oils. It softens the skin while removing bumpy texture to make it appear smooth. This product also contains aloe, a natural plant extract that moisturizes and soothes the skin.
Potential Benefits of Rewind Beauty Anti-Aging Cream
Reduction in visible signs of aging
Diminished wrinkles, fine lines, and sagging
Minimal appearance of crow's feet and forehead lines
Brighter skin with fading in dark spots and hyperpigmentation
Improved hydration and water-retention
Relief from dryness, redness, and other irritations
Protection from sun rays
Free from parabens, mineral oil, alcohol, and dyes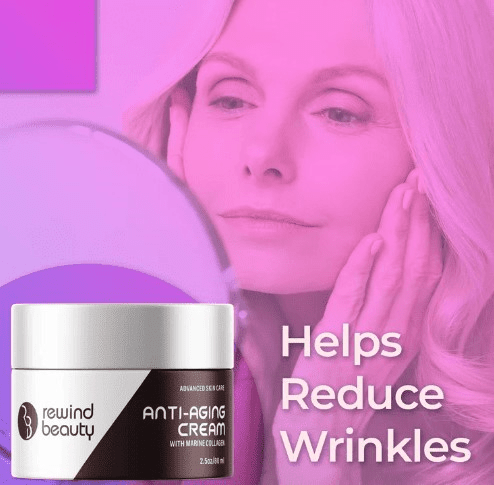 Drawbacks of Rewind Beauty Anti-Aging Cream
There is no reliable information available about the brand or the product.
It is available at Amazon, Walmart, and eBay but comes in different packaging with varying ingredients listed under distinct brands.
This cream is marketed as a Retinol cream, but the formulation of this product does not contain any traces of it. 
Rewind Beauty Cream has added fragrance that may irritate sensitive and acne-prone skin.
Marine collagen (derived from fish) is present, but there is little to no evidence that its topical application can help combat visible aging signs.
There are no reviews, studies, or trials to support the claim that this product can produce results in 1-4 weeks.
Verdict on Rewind Beauty Anti-Aging Cream | Do the Cons Outweigh the Pros?
Despite the numerous red flags, we attempted to give this product a fair chance. I could not find any legitimate brand site which raises concerns about the brand's safety, ethics, and practices. Most importantly, no official information about the Rewind Beauty Anti-Aging Cream is available to assess its potency and benefits accurately. I briefly discussed the information obtained from Walmart, which they claim comes directly from the manufacturer.
There are images of this product online, one of which shows the product ingredients. If that is the actual composition of this cream, I call it a decent formulation. Is it the best there is? Not really. However, it contains some of the best ingredients available for improving the appearance of your skin. Nevertheless, despite its decent composition, using this product would be risky due to doubts about its legitimacy, so it's best to avoid it.
Aging symptoms are challenging to treat and usually necessitate medical prescriptions and procedures. I understand these options are not easily available or affordable to everyone, so we frequently look for over-the-counter alternatives. If you are looking for readily available options, conduct thorough research, read consumer reviews, and be consistent to reap the most benefits from any product. However, if you have deep-set wrinkles, prominent sagging, dark spots, or other visible aging effects, it is best to seek medical aid to treat them effectively. You could also experiment with advanced beauty devices, such as the Solawave Wand, which make various medical-grade procedures easily accessible at affordable rates.
Frequently Asked Questions | Rewind Beauty Cream Reviews
Does Rewind Beauty Cream work?
Rewind Beauty Anti-Aging Cream appears to have a decent formulation with ingredients that help reduce aging effects, provide moisture, soothe irritation, and promote a clear complexion. However, the legitimacy of this cream is unknown, and there are little to no consumer Rewind Beauty Cream reviews to determine whether or not this product works.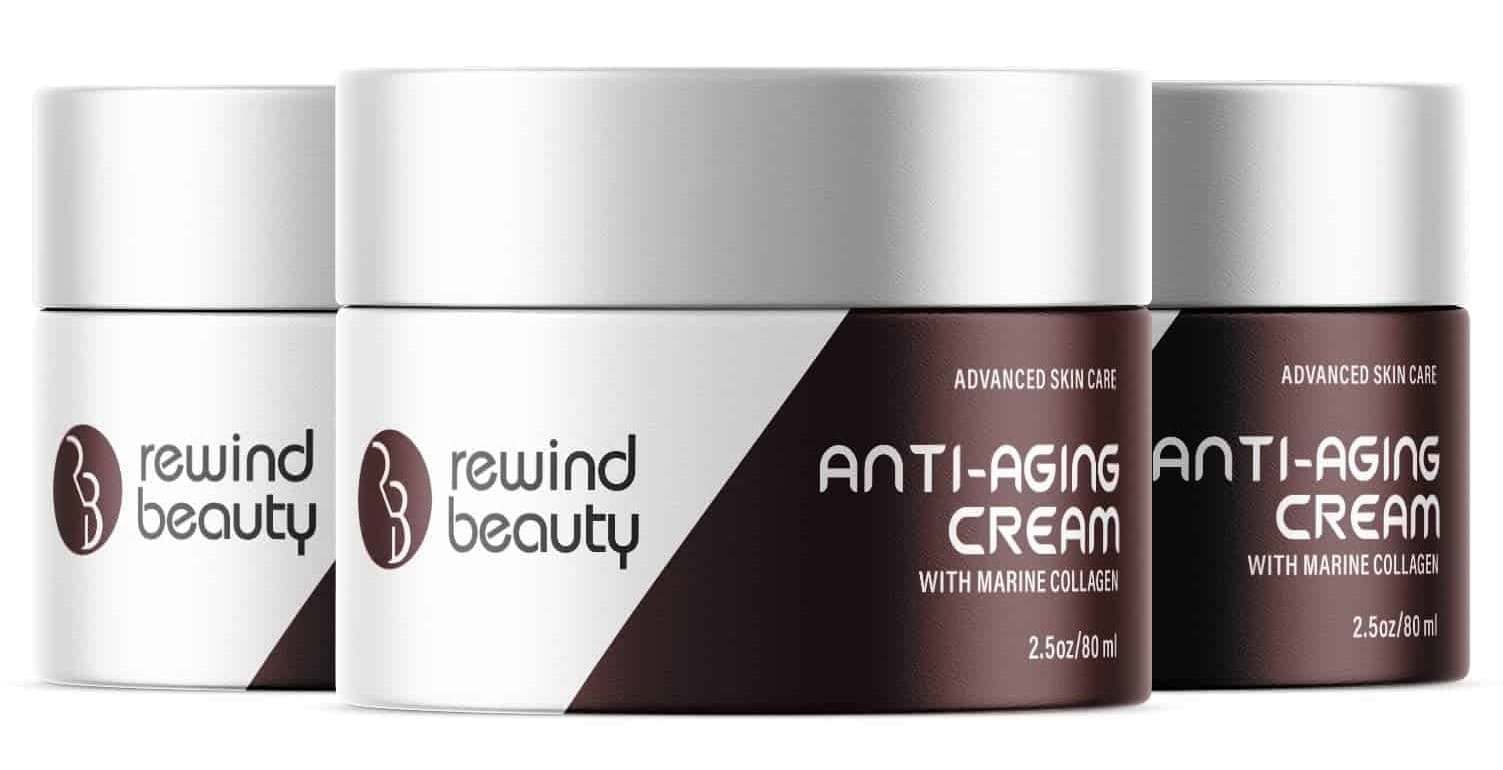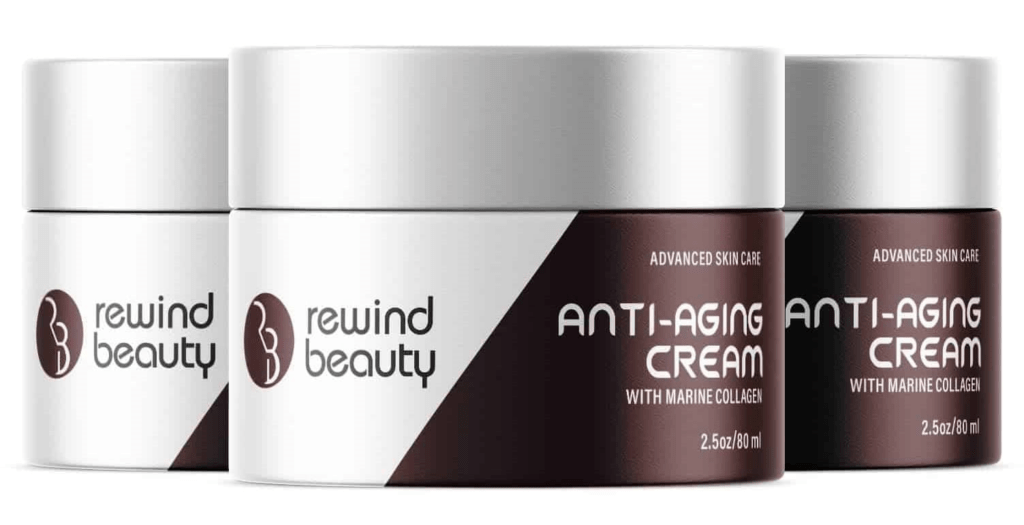 Is Rewind Beauty Cream legit?
Rewind Beauty Cream is an anti-aging cream available at Amazon, Walmart, and eBay. There are numerous inconsistencies in this product's online information, making it untrustworthy. Furthermore, the ostensibly official website of this brand does not provide any helpful information about it. There is also very little information about the brand available. As a result, the legitimacy of this cream is in doubt.
Final Thoughts
Skin issues often make us self-conscious; unfortunately, some brands profit from our insecurities. Because there is little information about Rewind Beauty online, we can't really tell what the brand's mission is, but their products appear gimmicky. The Rewind Beauty Anti-Aging Cream makes some lofty claims to catch our attention, but we can't really estimate its legitimacy and efficacy. I also couldn't find any reliable Rewind Beauty Cream reviews to determine whether this product is genuine and works.
Our skin is sensitive, especially aging skin, so we must be extremely cautious about what we apply to it. Rewind Beauty Cream does not qualify to be a good addition to our skincare routines. There are numerous other potent and effective products on the market that offer proven results. They are also reasonably priced, so use such products to help you combat your skin concerns. Seeking medical assistance is another excellent option to help you achieve the desired results.
Rebecca is a skilled writer with a passion for makeup and skincare. With years of experience in the beauty industry, she has a deep understanding of the latest trends and products and a talent for creating engaging content that resonates with her readers. Whether she's writing about the latest skincare products or sharing her favorite makeup tips, Rebecca's writing is always informative, entertaining, and inspiring.