Signs of aging on our skin, such as wrinkles, fine lines, dullness, and dark spots, can make us self-conscious. While several skincare products can help us treat these issues, don't you think addressing them at their source would be more effective?
Collagen is a structural protein primarily responsible for keeping our skin looking youthful; therefore, using products that increase the production of this element, such as the Eelhoe Collagen Boost Serum, could help us combat the worsening signs of aging.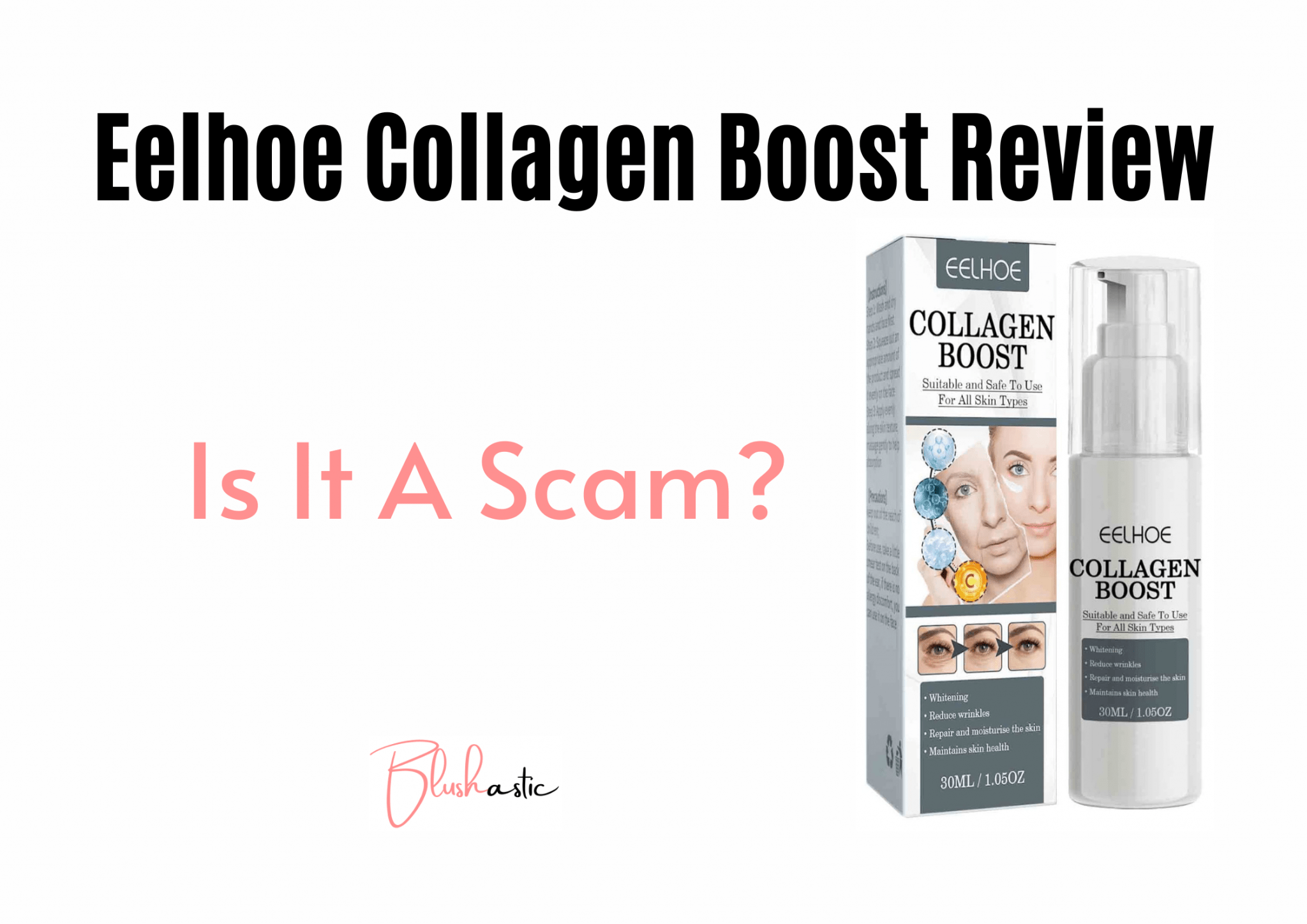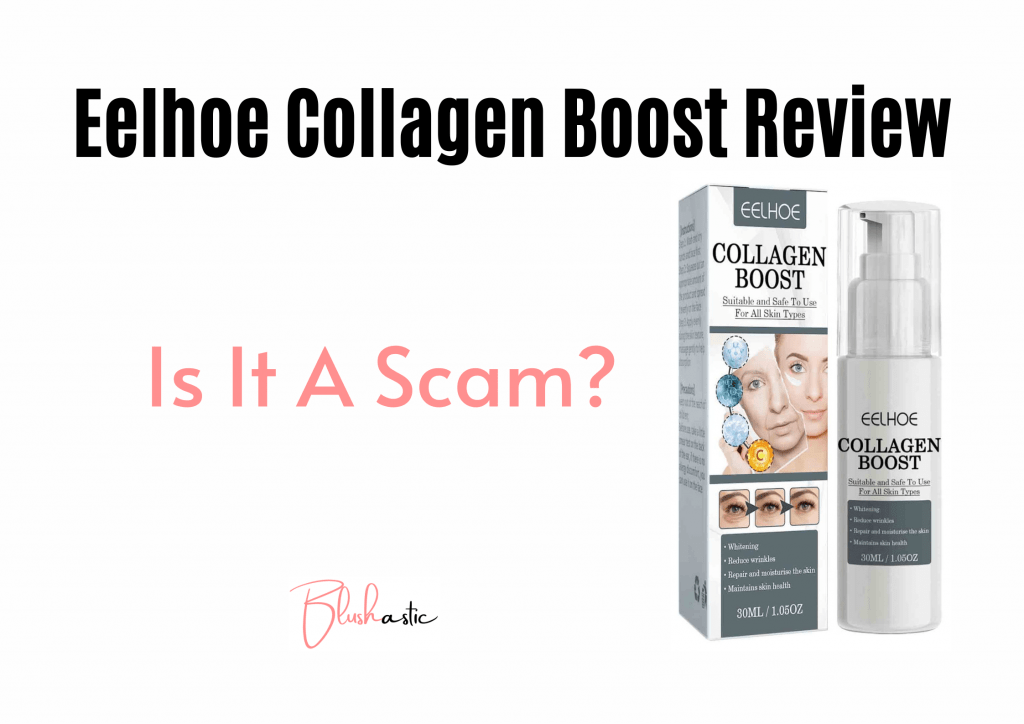 Eelhoe Collagen Boost promises to reduce the appearance of wrinkles and fine lines while keeping your skin moisturized. The results provided by this product have swayed several users. Will, however, this serum work for you simply because it worked for them? Will it help you achieve the same results that others are raving about? Let us discover the answers to these questions by learning more about this product in this report based on unbiased Eelhoe Collagen Boost Reviews.
Eelhoe Collagen Boost Reviews | Worth A Try?
Eelhoe Collagen Boost is an anti-aging serum that claims to help you get healthy and youthful skin. As people reach their 30s and 40s, their skin tends to lose its elasticity. Because of this, the facial movement lines become more defined and visible. Eelhoe Collagen Boost anti-aging serum claims to provide the necessary elasticity to your skin and also makes the skin become firm and not saggy.
The Eelhoe Collagen Boost is not just a pure wrinkle-fighting serum. It helps beat the dryness of your skin by retaining a good amount of moisture. The same serum comes to the rescue if your skin is left damaged. It helps in repairing your skin and, in all, helps improve your skin health.
Eelhoe Collagen results may vary. Reports suggest that some individuals have noticed visible improvements in their skin within 3-4 days of consistent usage, while others have reported that it took more than a month to see significant changes. Therefore, it is important to consistently use the product to maximize its potential benefits.
What Is Eelhoe Collagen Boost Serum Ideal For?
Signs of Aging: Eelhoe serum is ideal for people in their 30s and 40s experiencing signs of aging, such as wrinkles, roughness, lines, dryness, and dullness. This serum's remarkable ability to improve collagen synthesis can help you achieve smoother, brighter, and more youthful-looking skin.
Improved Hydration: People with dry skin prone to itching, redness, and irritation will also benefit significantly from this serum. It contains potent moisturizing agents, such as Hyaluronic Acid, which can hold up to 1000 times its weight in water, assisting the skin in retaining moisture, appearing plump and feeling soft.

Prevention: If you are in your mid to late twenties and want to delay the appearance of aging on your face, you can use Eelhoe Serum as an effective anti-aging solution.
People in this age group commonly complain about dullness, puffiness, large pores, sun spots, and fine lines. Including this serum in your routine may help to effectively treat these issues while also acting as a preventative measure to keep the signs of aging at bay.
If you plan to try Eelhoe Collagen Serum, use code "MYCOLLAGEN" on its official website and get flat 15% OFF.
Eelhoe Collagen Boost Ingredients
Hyaluronic Acid
Mainly all skincare products that hydrate your skin contain Hyaluronic acid because of its spectacular water-holding capacity. HA occurs naturally in our bodies, but as we age, the concentration decreases. So people use hyaluronic acids to increase their concentration. The credits of flexibility and good skin stretch majorly go to this acid. It gives your skin a calming effect and, in the long run, will make it bouncy and glowy.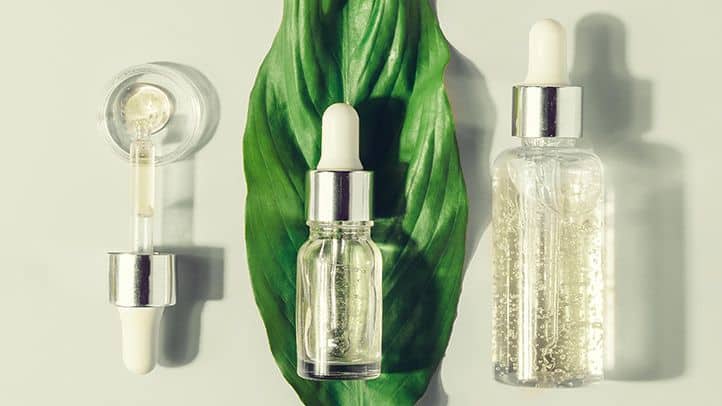 Matrixyl 3000
Matrixyl 3000 is a famous ingredient among anti-aging serums and creams. It consists of two peptides that work cooperatively to maintain and restore the skin's radiance. They do so by sending signals to the cells to increase collagen production. This increased collagen production results in anti-aging effects. It also helps in the natural refilling of fine lines, making your skin look plumper, fresher, and young-looking.
Ceramides
Our skin cells are held together because of ceramides, or fatty acids, basically like the glue that keeps our skin intact and healthy. This healthy and protective skin barrier will retain moisture and remove harmful elements from our skin. There are, in fact, many ceramide moisturizers that work on increasing ceramide levels. So, this ingredient is credited for repairing and moisturizing your skin.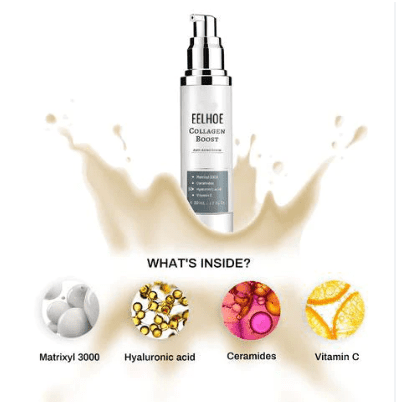 Vitamin C
Several types of research prove that Vitamin C can protect the skin from wrinkles, sagging, sunburns, or even photoaging. It helps in hydration as well as brightens your skin tone. As per some clinical studies, regular use of Vitamin C formulation for a minimum of three months enhances and improves your skin's appearance by eliminating wrinkles and fine lines. It even proved to improve the overall texture of the skin.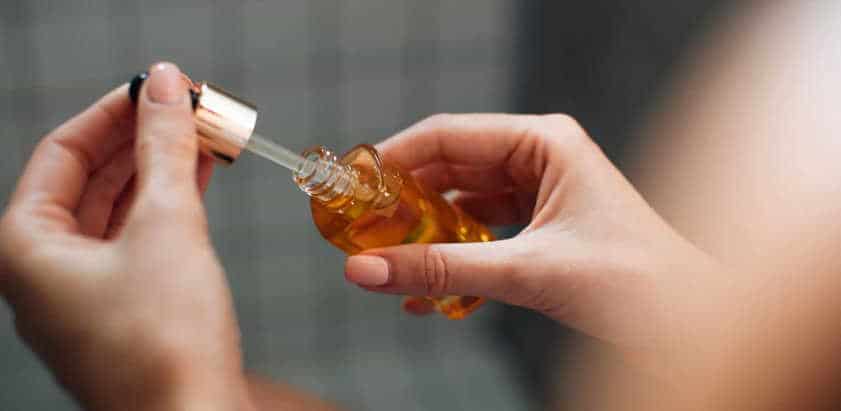 How to use Eelhoe Collagen Boost?
Since this is a collagen boost serum, it is best to follow the steps below for better results. However, know that results may vary from person to person. Some may see quick results, while others do not see any change.
Collagen serums should be applied directly after cleansing and exfoliating your skin to get the maximum absorption of the product.

Apply the serum on damp and freshly cleaned skin.

Take the product on clean hands and gently massage your face with the serum without using it excessively.

Leave the serum on your face and let it get absorbed. The absorption process is essential as it makes excellent use of the ingredients.

It is recommended to apply the product two times a day, in the morning and evening.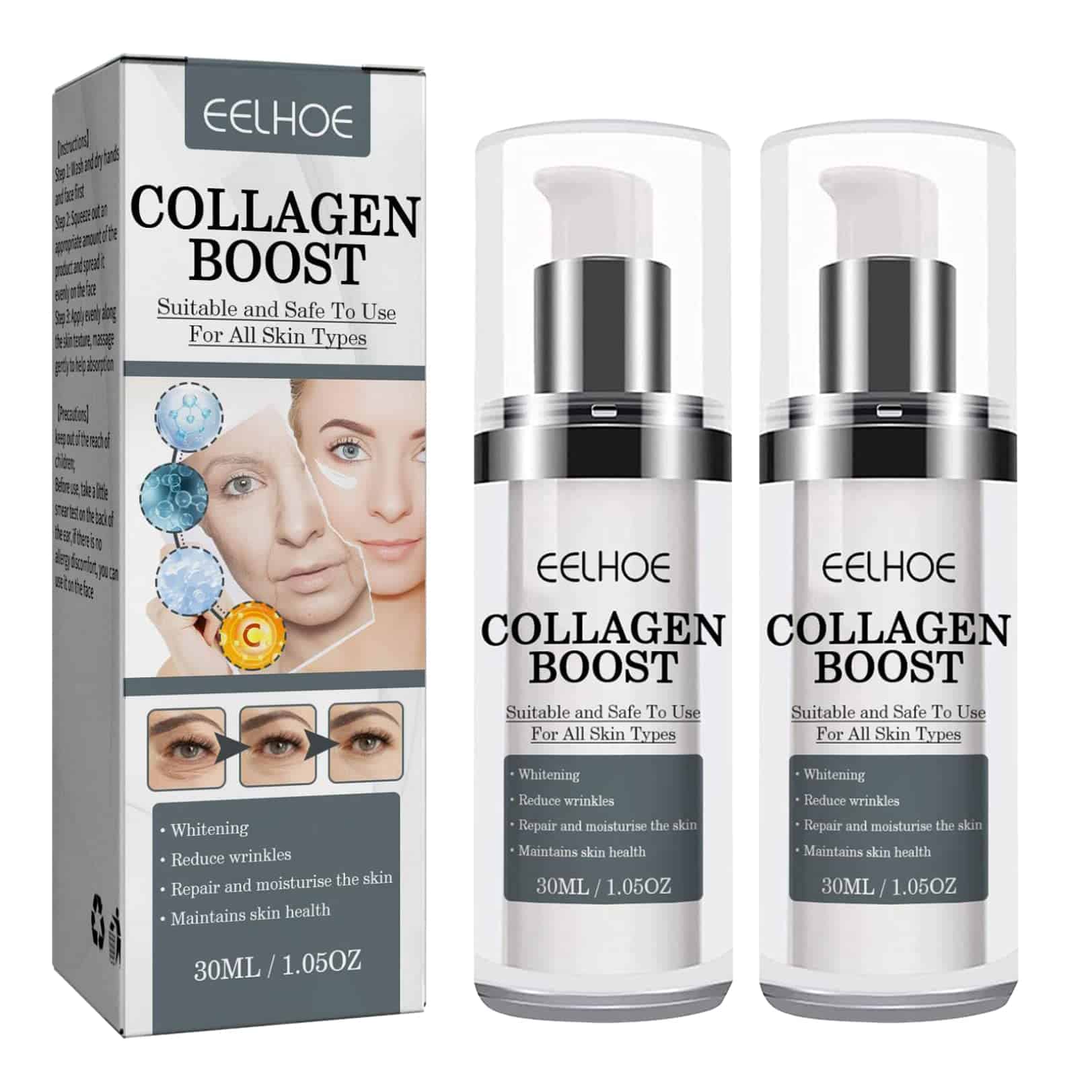 Positives
Collagen serum by EELHOE is dermatologically tested to address multiple aging signs, including wrinkles, fine lines, crow's feet, dryness, and uneven skin tone.
It is suitable for all skin types and is simple to incorporate into any skincare routine.
It has a non-sticky, non-greasy texture that absorbs quickly into the skin without clogging pores.
Eelhoe Collagen Serum improves facial firmness and hydration by 93.2% and reduces wrinkles and fine lines by 90%.
It contains Vitamin C, clinically shown to reduce wrinkle appearance, stimulate collagen growth, and improve skin texture in as little as 12 weeks.
Hyaluronic Acid moisturizes the skin deeply and instantly adds plumpness and a dewy glow.
This serum's formulation is free of parabens, sulfates, phthalates, synthetic fragrances, and other toxins. 
Customer Feedback | Eelhoe Collagen Boost Reviews
Though very few reviews are available, we collected a few to better understand the product's working.
A user named Becki said, "I'm a repeat customer because this serum is the most effective for me. It hydrates my skin while reducing fine lines. I am 70 years old and get many positive comments about my appearance. Looking healthy and being youthful are important to me. I highly recommend this product; it is effortless and has great results."
Georgina Carreon commented, "I had been a heavy smoker for about 40 years because of which my face was ruined, with deep defined lines on the top and bottom of my lips and the left side of my face looked like a dried prune, the right side was similar but not as bad as my left profile.
I have been using the Eelhoe serum for about 5 weeks, and the wrinkles around my eyes and lips have reduced a lot, and my face is rosier and feels full of collagen upon touching. My skin looks tighter and healthier. I ordered two more bottles and will continue to use them every day. I'm 63 and can finally look at my face without hating myself."

Brenda Fort pinned her review, "The serum feels very smooth and non-greasy. It absorbs very fast, so you do not have to worry about any stains on your pillow. I have been using it for a month, and my skin is that of a baby's. No matter how many skincare products I've tested, none are better than this Eelhoe Serum. I stick with it and am waiting to try their new products. They get it right every time."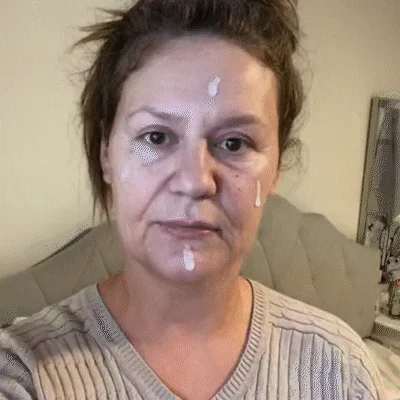 According to Carol, the serum has made her skin appear more vibrant and smooth. She says, "This is the first time in years that my skin looks this good! I noticed changes that were never seen before. I have used a lot of serums and creams, but this only worked in my favor. My skin looks smoother and softer, like a baby's butt. Surely gonna order more."
FAQs | Eelhoe Collagen Boost Reviews
Can I use the Eelhoe Collagen serum every day?
Collagen serums are not among the abrasive ones that should be used in a limited manner. So yes, you can use the serum every day.
Is EELHOE Collagen Booster Safe?
Yes, EELHOE collagen is completely safe to use, but make sure you buy it from the official site as there are so many third-party copy products in the market.
Do you wash off the Eelhoe serum?
After applying the collagen serum, gently massage it for about a minute. Leave it and let it dry for about 3-5 minutes. But even after it gets absorbed, do not wash off the serum. Let the serum sit on your face and penetrate your skin for the best results.
What ingredients should I look for while choosing a collagen product?
It would be best to look for the active ingredients that boost your collagen production in a collagen product. Apart from this, look for the ones that keep your skin hydrated and moisturized. Some elements include peptides, glycolic acid, hyaluronic acid, and antioxidants.
Closure
To be sure of EELHOE Serum's legitimacy, I recently tried it, and I have to say, it's one of the best collagen serums I've used within its price range. Since adding this to my routine, my skin feels noticeably firmer and more rejuvenated. Due to some issues, it took longer than expected to deliver, but it was all worth it.
The serum may not provide quick results for everyone, as individual experiences can vary. Some users have seen noticeable results within 2-4 days, while others have reported seeing improvements after 2-3 weeks. Consistency is key when using any collagen serum, so if you choose to try EELHOE Collagen, make sure to use it regularly.
I'm Sarah Abraham, the founder and co-author of Blushastic.com and a professional makeup artist. Beauty is more than just skin deep, and that's why I'm passionate about sharing my knowledge and experience to help people feel confident and beautiful on the inside and out.
Whether it's skincare, haircare, or fashion, my goal is to empower women to feel their best. With my expertise in the beauty industry, I strive to provide practical advice and tips that are accessible to everyone, regardless of their skill level or budget.