RevitaLash and RapidLash are among the two formidable competitors in the lash boost serums. Both brands claim enhanced lash growth that gives proper treatment and nourishment to them. But can we believe the claims put forward by both brands? Eyelashes, though fragile and small, can completely change the way you look. 
How about we take care of them naturally and have them grow to an extent where we might not even need false lashes? Yes, it may sound dreamy, but some promising lash boost serums can help you achieve this dream!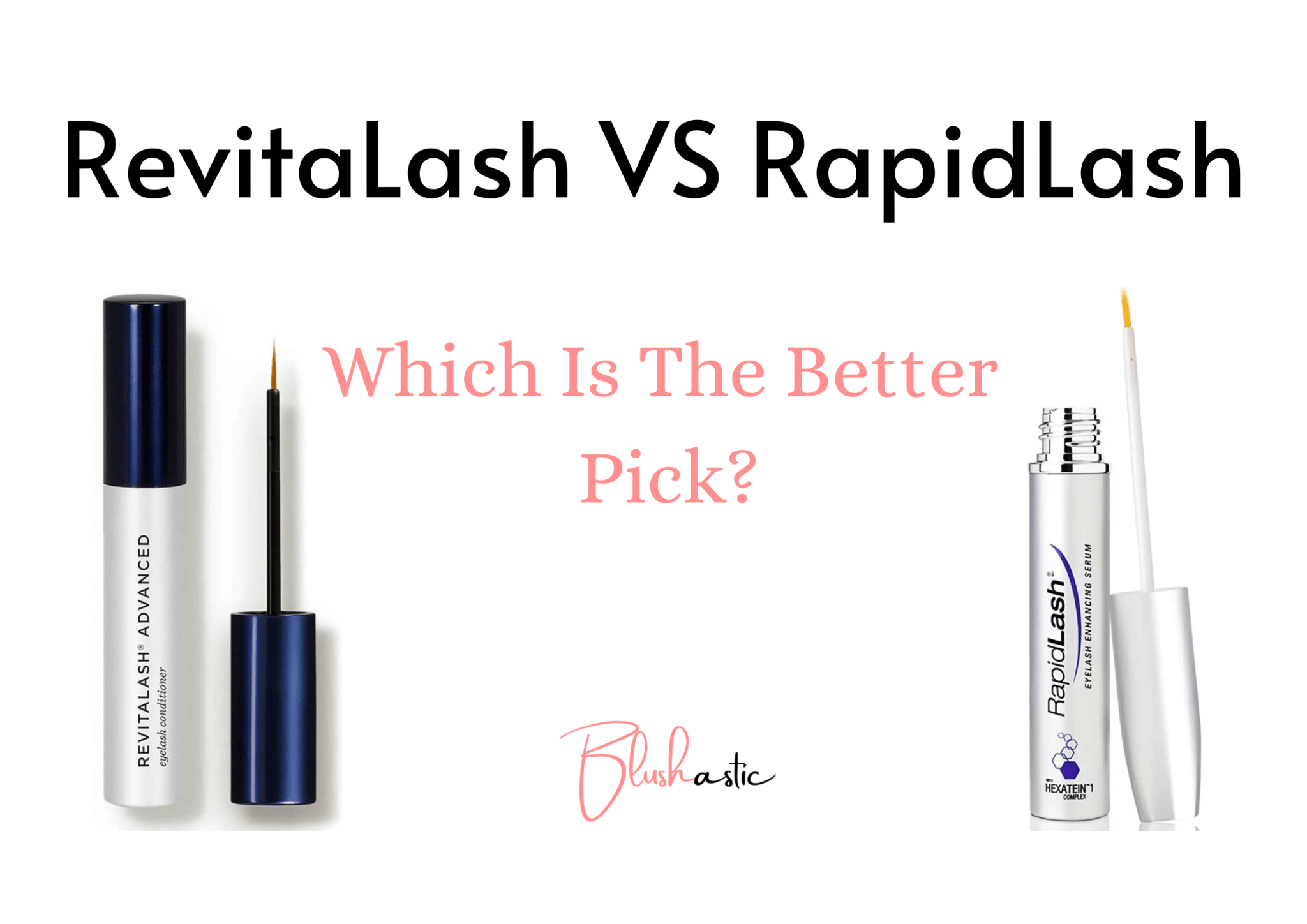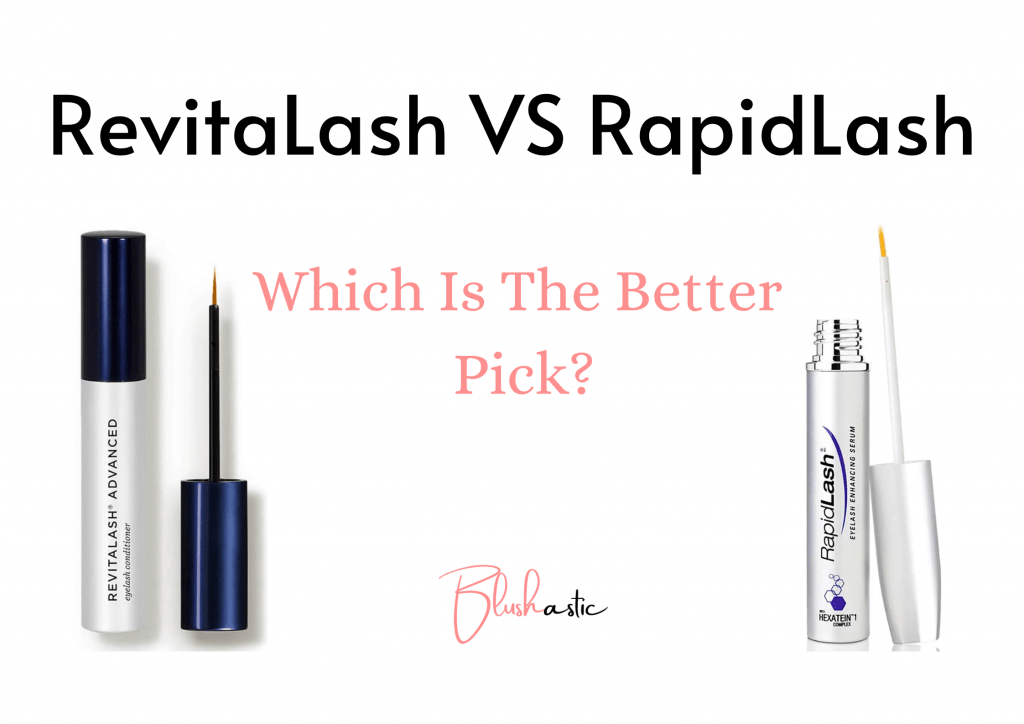 RevitaLash and RapidLash are two such serums that have grabbed a lot of attention. But if you had to choose between the two, which one would you go for? Worry not! Here is our Revitalash VS Rapidlash battle, and we'll unveil the pros and cons so you can choose your winner!
RevitaLash VS RapidLash | Which Is The Better Pick?
Revitalash Cosmetics is a Physician-led brand established in 2006. It all started with their original lash conditioning serum, a solution in the form of love from the founder to his wife, who was battling her fight against breast cancer. From that serum originated a whole range of beauty-enhancing cosmetics that help uplift the inner spirit of all women.
RevitaLash has been a proud recipient of many industries and beauty awards, including the Best of Beauty Award by Allure for the tenth time in a row. 
RapidLash was created in 2008 by the International Research Laboratories in California. The brand claims the environment in California helped them create inspiration. With several years of experience, International Research Laboratories developed an eyelash-enhancing serum. In 2008, when the serums officially hit the shelves, they gathered a satisfying response from its customers and retailers internationally. 
RapidLash has been recognized for its work by industry professionals and happy customers. It has been nominated and has won several esteemed beauty awards internationally.
Product Range
RevitaLash, being a globally loved brand, isn't about lashes entirely. Though it is primarily famous for its high competition in lash-enhancing serums, it also offers a wide range of products. Some of the best things RevitaLash offers are eyebrow conditioning serums, lash conditioning serums, thickening conditioners and shampoos, volume-enhancing foams, makeup tools and removers, and several other products.
Most of these products work on absorbing into your hair to take good care by providing the required nourishment. These serums are built with ingredients that help follicular growth and restore hair growth to get those healthy brows and lashes. The brand also offers tweezers and eyelash curlers under its makeup tools range, so you can quickly grab one for your daily lash curls.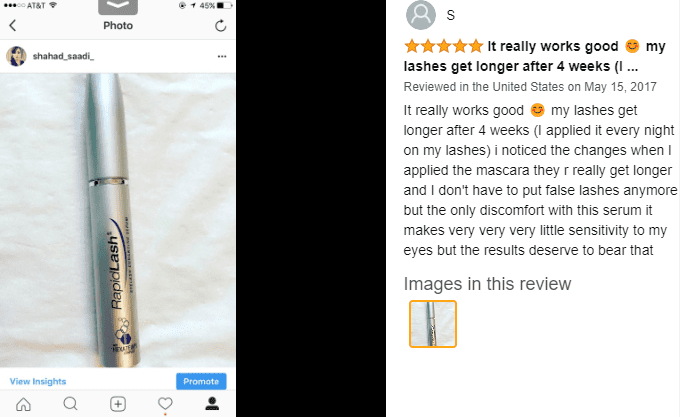 RevitaLash, derived from the word revitalize, meaning regenerate, focuses on restoring your hair growth or natural beauty. It offers various serums that, according to the brand and the name of the products, 'Rapidly' enhance the development of our brow and lash hair. RapidBrow, RapidShield, RapidHair, and RapidLash are some products that address the dull look of hair, be it lash, brow, or the hair on your head! 
Apart from these, RevitaLash also offers other serums that 'REVITAlize' your skin and help give that youthful radiance back. RapidGlam, RapidRenew, and RapidEye are some of the serums that help fight wrinkles and premature aging by giving your skin a smooth glow.
Ingredients 
RevitaLash's Advanced Eyelash Conditioner and Serum takes the spotlight with its main ingredients being the BioPeptin Complex, Ginseng, Swertia Japonica, Saw Palmetto, and amino acids, as well as B vitamins. All these ingredients work together to condition and soften eyelashes, protecting the lashes from brittleness or premature falling.
Several plant extracts in the serums contain high antioxidant properties that help protect the lashes from damage and hence help them revitalize. The natural glow or shine is also added to your lashes, thanks to the presence of Saw Palmetto and amino acids that make your lashes shine better than before.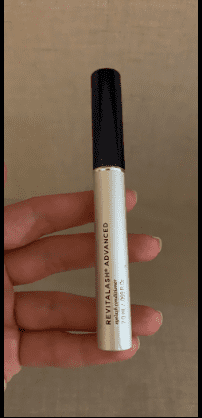 Another brand best-seller includes the Advanced Eyebrow Conditioner and Serum, infused with similar ingredients and a touch of Calendula. Yes, the moisture locked in your skin is done because of this beneficial ingredient, a natural humectant. With increased moisture content, there is a notable improvement in flexibility. 
RapidLash announces its unique and innovative formula that, according to the brand, is the key to unlocking the potential of your lashes, the Hexatein Complex. The complex consists of six very effective ingredients that play the lead role in promoting hair growth as well as nourishing the hair and conditioning them. 
The six ingredients include Polypeptides, Biotin, Panthenol, Amino Acids, Soybean Oil, and Pumpkin Seed Extract. Polypeptides are those amino acids that are very helpful for hair as they protect hair from breakage. Soybean oil and Pumpkin seed extract are rich in vitamins and minerals and help enhance the appearance of lashes.
The skin-perfecting polish, RapidRenew, rapidly works on revealing brighter and youthful-looking skin with reduced lines and flaws. The Renew also has a Hexatein 5 Complex formula that includes a mixture of 5 essential, somewhat effective ingredients. Magnesium Oxide crystals, Polypeptides, Lime Pearl, Bromelain, and Sodium Bicarbonate. 
To get renewed and smooth skin, you must get it exfoliated. Magnesium oxide, Lime Pearl, and Bromelain play this role, which gently exfoliates the skin and give a brighter complexion with the added benefit of cotton-soft skin. Sodium Bicarbonate is an abrasive that brightens and gives your skin a calming advantage that will leave your skin feeling super refreshed!
Convenience & Pricing 
RevitaLash claims that you can be used it without having to go and consult your dermatologist. However, it is essential to know that if at any instance, you experience any allergic reaction or irritation, you must consult your doctor without any delay. 
RevitaLash, when compared with other lash serums, came out as one of the best ones, but it can be used without proper direction. Their products are mainly available on various retail websites like Amazon. It is also available in some physical stores like Sephora.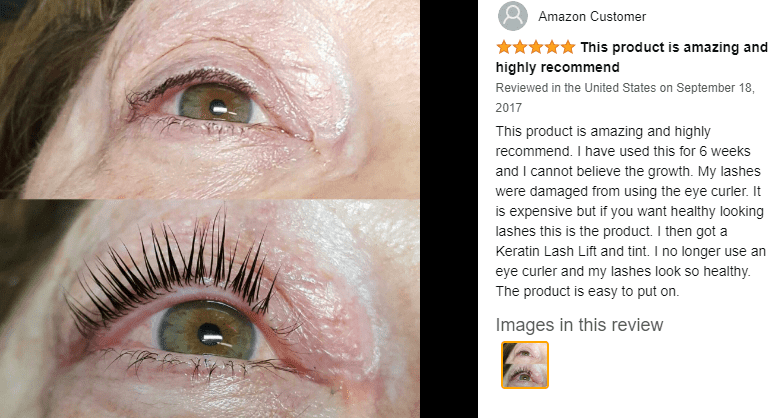 RapidLash can also be used without consulting your dermatologist and might not need any prescription as it is ophthalmologist-tested and is claimed to be non-irritant. But, just like any other product, you must consult your doctor immediately if you ever feel irritation or experience side effects. 
RapidLash can also be purchased from online retailer websites and physical drug stores. 
Usage 
Since both RevitaLash and RapidLash are serums, they are to be applied similarly. Follow the below-mentioned steps for the correct application without any problems.
RevitaLash mentions a few super easy steps you need to follow to get the best results.
Initially, remove any makeup or residue that can act as a barrier between the serum and your skin or hair. 

Take the container and apply a thin layer of the serum directly to your lashes but above the lash line. 

Let it dry completely before you proceed with any other makeup products.
It is recommended to use the lash serum once daily to see the best results.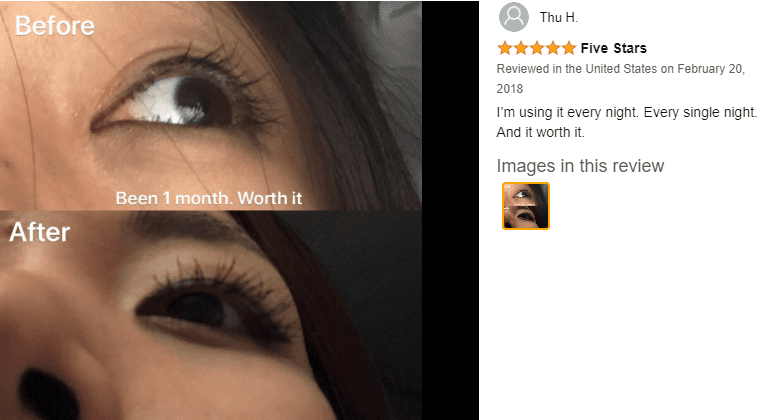 RapidLash recommends the same steps for an easy and correct serum application.
Wash your face, so there isn't any dirt or germs present.

Take the serum and apply it to the base of the upper eyelashes using the brush provided.

Start applying the serum from the inner corner of your eye outwards.
It is recommended to use once daily in the evening, before bedtime, to see the best results.
Benefits of RevitaLash
Some of the significant benefits of RevitaLash include the following:
RevitaLash is composed of a BioPeptin complex that nourishes your lashes and strengthens and softens them.

It works to protect the lashes from environmental stressors and other strong makeup products that cause damage to them.

The lashes also grow to be shinier than they were before.

The serum contains some of the most promising ingredients that help in protecting hair follicles.

As per the brand, it requires about four to eight weeks to deliver its results.

According to a survey, in 6 weeks, 98% of users reported improved and healthier lashes.

The serum is ophthalmologist formulated and dermatologically reviewed.

The brand claims the product to be hypoallergenic, hence significantly fewer chances of any allergies.

Free of gluten, paraben, Phthalates, BHT, and oil.

It does not harm any animals as it is cruelty-free.

Vegan friendly.

It contains more than 11k reviews, thereby giving you a broader idea of how the product is.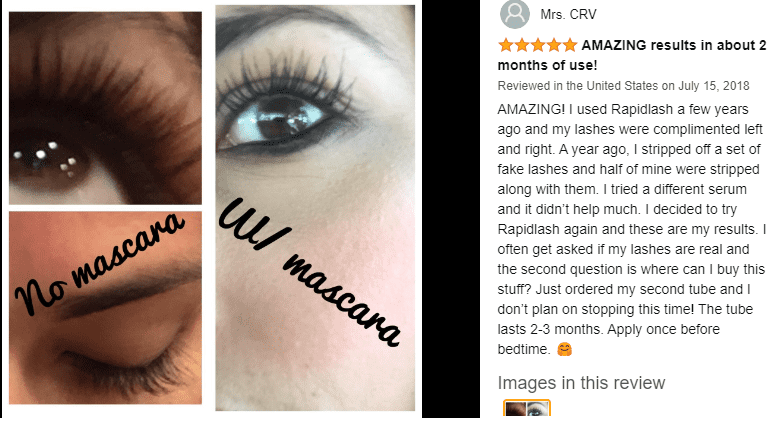 Benefits of RapidLash
RapidLash contains some very powerful or very effective ingredients, like polypeptides.

The presence of Vitamin B7, Vitamin H, Vitamin B5, and several other vitamins makes it an excellent product.

The amino acids in the serum help boost the protein structure, resulting in healthier lashes.

The ingredients present not only grow the lashes longer but also moisturize them, preventing dryness and breakage.

The brand claims effective results in as little as four weeks. However, it is recommended to continue the application for you for eight weeks for the best results.

RapidLash is ophthalmologist-tested and is said to be non-irritating. 

It is not tested on animals and is proudly cruelty-free.

Paraben and gluten-free.
Side Effects
Both brands claim that the products are ophthalmologist-tested and safe to use. However, certain sections of people experience some side effects that should be treated by their doctor immediately.
RevitaLash side effects that should be looked out for include:
Irritation in the eye.

Swelling of the eye.

Redness of the eye.

Darkened skin around the eye area.

A tiny percentage of people reported a change in the color of their eyes.

Very few people also experienced blurred vision.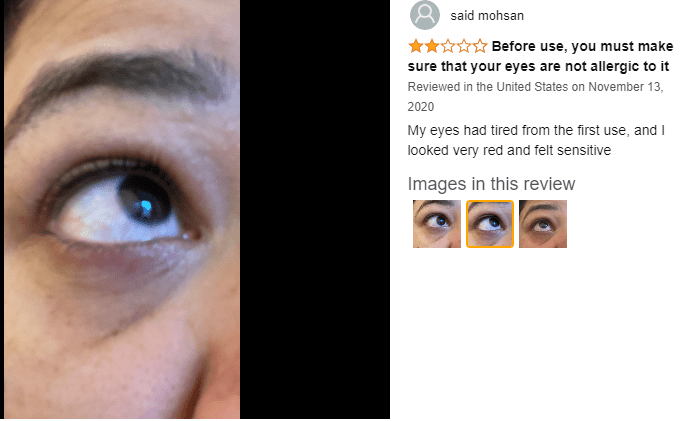 With any such side effects, it is best to discontinue the product. However, if you experience severe and prolonged consequences, you must stop using it and consult your doctor as soon as possible.
RapidLash side effects that one must be careful of are:
Discoloration of the eye.

Skin darkening.

Irritation in the eye.

Extreme redness of the eye.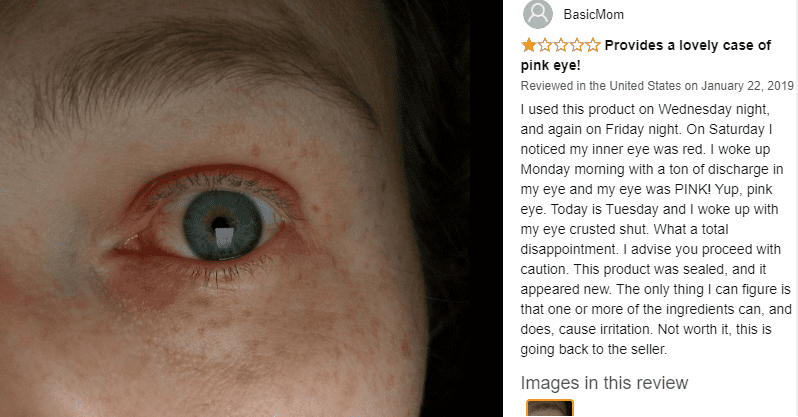 Since the product can be purchased without any prescription, there isn't much guarantee; hence, if you experience these side effects, push yourself out of your house and get to your doctor!
Customer Feedback | RevitaLash VS RapidLash
MomtoMavis commented on RevitaLash, 'I have been fighting trichotillomania for many years. I am in my mid-40s now and my eyelashes, which once were great in thickness and length such that I couldn't wear glasses or sunglasses without my eyelashes rubbing, were hardly in existence anymore and not growing back. Being desperate, I ordered this serum. However, my lashes grew thicker than I had seen them in YEARS. It might be a permissive self-care item, but it was completely worth it, at least to me. I have my eyelashes again! I can wear mascara and need not try to glue faux eyelashes to a bald eyelid. Completely worth it!'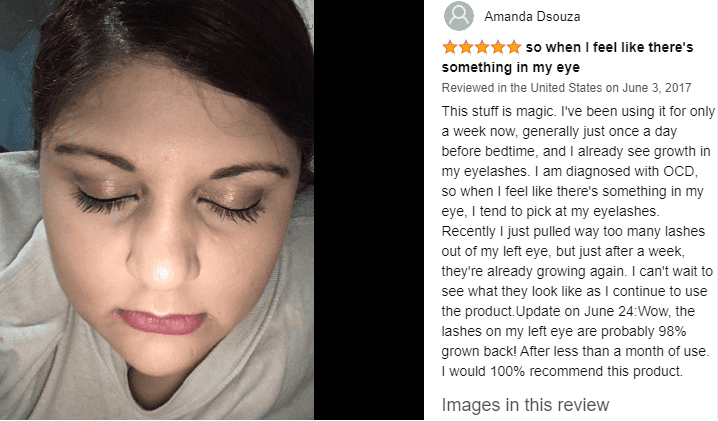 A user named DRJ50 said about RapidLash, 'I am using the third tube of this serum. My lashes are thick and long. The main trick is to apply the serum only to the base of the eyelid on the eyelashes. My lashes grew thicker and longer, both the top and bottom, even though I only applied to the top. This time I waited about 4 months to purchase another tube to see how long before the lashes lost their length. I probably could have started using it again after 3 months. I love this product and will continue to use it.'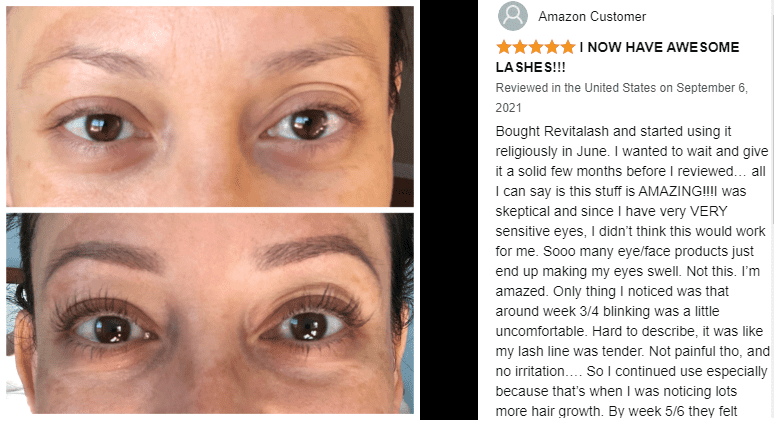 BabyTurtles pinned her comment on RevitaLash: "I did get long lashes, but I also got red and itchy eyes. Along with this, I also suffered from an outbreak of blepharitis. I used it for 8 weeks daily, every night, on a clean bare face. But every morning, I woke up with irritated eyes and had to apply the cream my ophthalmologist recommended. Or else my eyes would be red, crusty, and peeling all day on the lash line. I was determined to keep using this to get the look I wanted, and with the medicated cream, I could also keep blepharitis in check. It is the best of both worlds, but I do not recommend it.'
FAQs | RevitaLash & RapidLash
Is RevitaLash FDA approved?
Cosmetic products are not approved or cleared by the FDA. Medications are the ones that require FDA approval. Hence, RevitaLash is not FDA-approved.
Will RevitaLash Advanced Eyelash Conditioner change the color of my eyes?
If applied as directed, with the utmost care, where the conditioner does not get into your eyes, there should be no effect on the color of your eyes. 
Can RapidLash be used on children under the age of 18 years?
It is not recommended to use RapidLash on children under 18 years of age because, according to the brand, the brand has not conducted any tests for that particular age group.
Will applying lash growth serums more frequently deliver results faster?
No, you must apply the serums recommended by the brand or your doctor. Using frequently is entirely unnecessary and might even cause side effects in some cases.
Closure | RevitaLash VS RapidLash
The right set of eyelashes coordinated with the theme of your party will undoubtedly create some unforgettable fashionable moments. But what if you want to avoid going for falsies or go the extra mile to carry the trouble of applying glues and magnetic lashes? We do understand! Simply rocking your natural lashes will look fantastic and make people compliment you for your lashes. 
You must opt for serums enhancing lash growth to achieve these naturally long and healthier lashes. The clash between RevitaLash VS RapidLash brings you all the necessary details you might want to know before you give your money and time to one particular serum. Based on the ingredients, benefits, side effects, and unbiased reviews, the article briefs the clash between the two. Both brands may differ in pricing but have similar ingredients and a list of similar side effects. Now it all lies in your hands! 
I'm Sarah Abraham, the founder and co-author of Blushastic.com and a professional makeup artist. Beauty is more than just skin deep, and that's why I'm passionate about sharing my knowledge and experience to help people feel confident and beautiful on the inside and out.
Whether it's skincare, haircare, or fashion, my goal is to empower women to feel their best. With my expertise in the beauty industry, I strive to provide practical advice and tips that are accessible to everyone, regardless of their skill level or budget.