Do you see that loose skin somewhat jutting out around your neck? I am sure you miss your firm skin in that place. To be honest, who doesn't? Our age may take away the youthful skin, but not our willingness to stiffen these creases. Many beauty products offer their helping hands to reduce the effects of aging on our skin. Rapid Lift Advanced Neck Serum is also one of them. It claims to stiffen your fine lines and lift your neck within minutes. But the point arises, how do we trust its claims? We dissected the product into many grounds to evaluate it overall. So, let us begin with our Rapid Lift Advanced Neck Serum Reviews.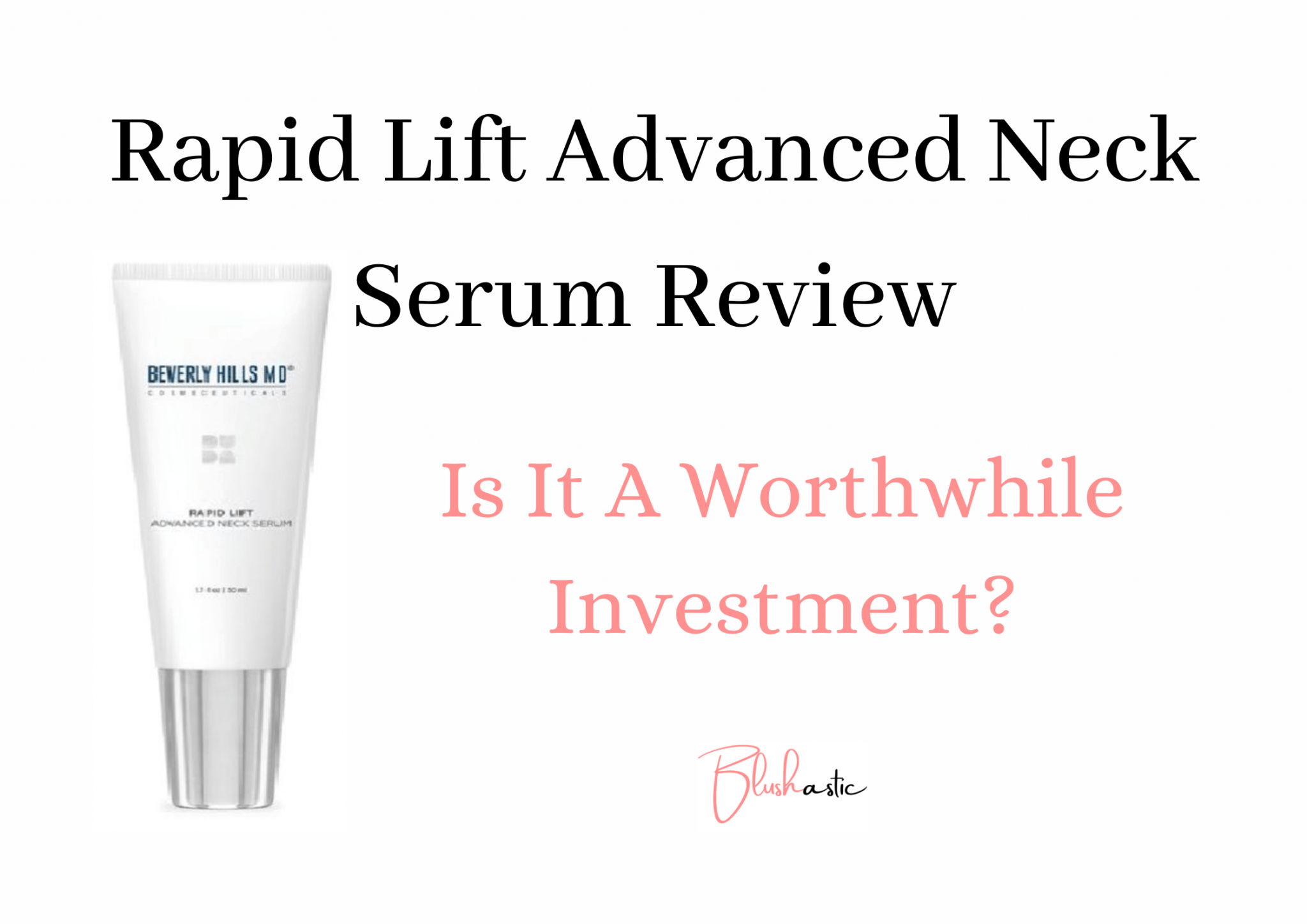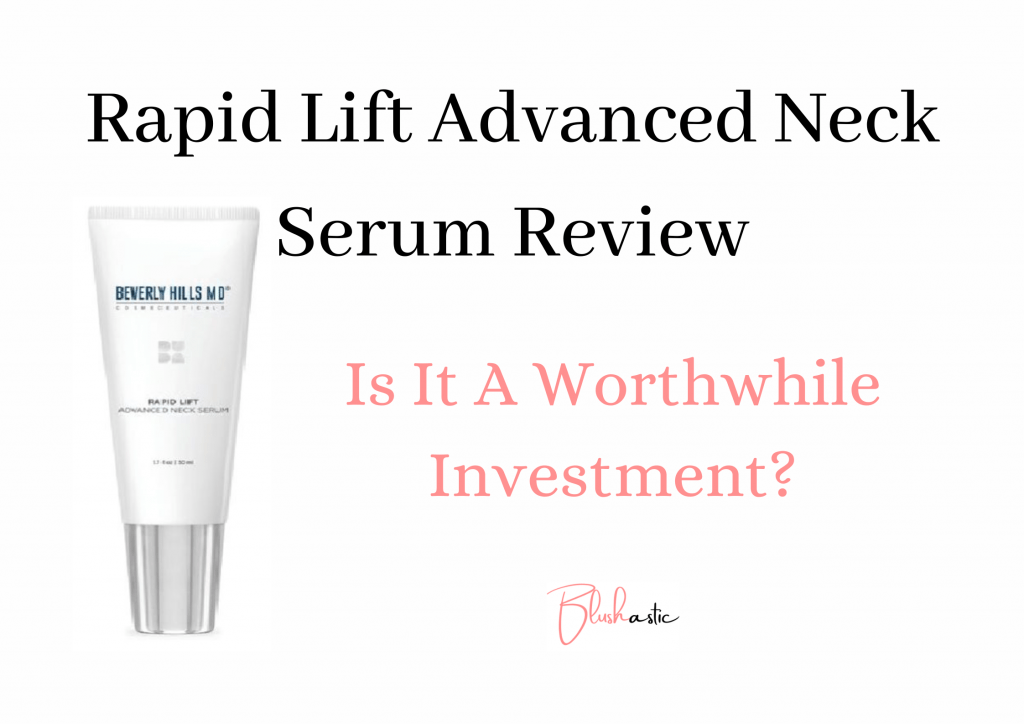 This product may stiffen your creases or not, but after having gone through this detailed report, you will have a stiffened viewpoint to see if it is suitable for your skin.
Rapid Lift Advanced Neck Serum Reviews | Does It Work?
Beverly Hills MD is a brand that has numerous anti-aging products under its shade. Sitejabber mentions that this brand has a whopping 4.48 rating. One of my friends suggested this serum to me. Though I don't have sensitive skin, I began with bare amounts to keep myself on the safer side. I was confused during my initial use of this serum as I saw no changes. However, the results surprised me eventually. I'll share them in some time. But first, know why our neck area loses its firmness.
Why Does Our Neck Appear Saggy?
The skin on our neck is much thinner and has less collagen, unlike the skin on the face. Due to the constant movement of the neck, the skin further loses collagen and elasticity. Moreover, with age, it loses its strength and flexibility. Many of us ignore taking care of our necks as we do to our faces. Most of the time, our neck remains exposed to harmful UV rays making it a victim of photoaging.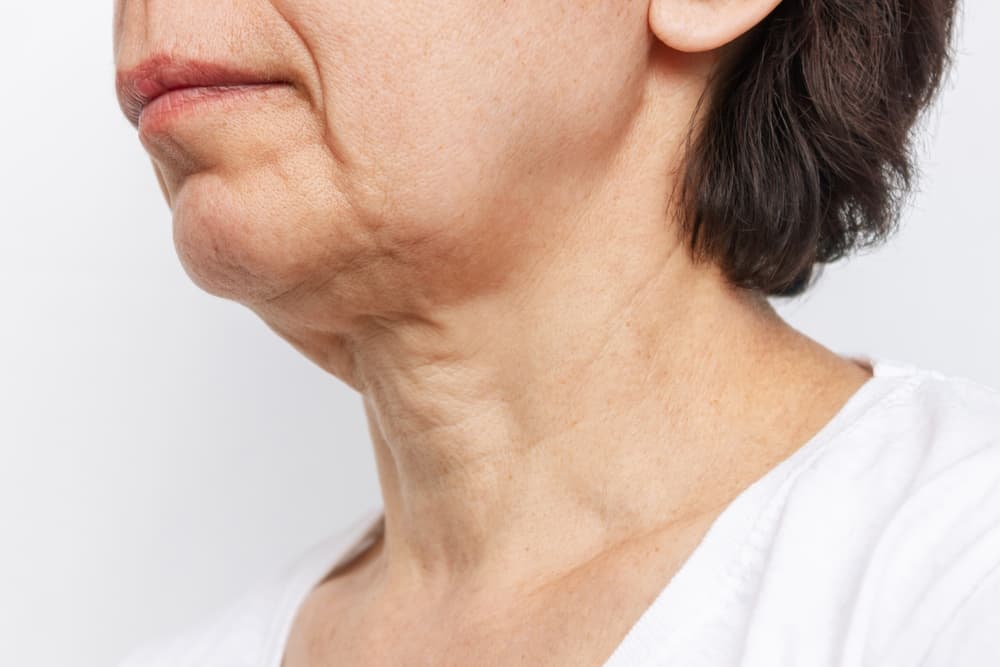 Our body also starts losing its natural ability to produce collagen and elastin with age, two proteins that give the skin a proper definition and stiffness. The fatty tissues diminish in our face and partially migrate towards the neck due to the constant pull of gravity. All these factors lead to a saggy neck. A better and cheaper option than plastic surgery to tighten our fine lines is neck lifting creams or serums. If you struggle with fine lines, forehead wrinkles, face wrinkles, dark spots, and loose skin, I recommend incorporating the EELHOE Collagen Serum into your skincare routine for two weeks. EELHOE Serum targets these concerns and delivers exceptional results in less than 8-12 days of consistent use.
Rapid Lift Advanced Neck Serum Reviews | Product Details
This neck serum targets neck wrinkles from the chin to the chest. It claims to 'lift' the look of sagging skin along these areas to help you achieve firmer, smooth, bouncy-looking skin. This product, composed of "gravity-fighting" extracts, aids you in attaining a youthful-looking neck and jawline.
This neck lift serum is suitable for all age groups as it shows results in all cases. Younger-skinned folks can attain the model-like look with a sleeker neck to maintain their firmness. Mature skin can use its innovative formula to reduce signs of visible aging like wrinkles, fine lines, and sagging.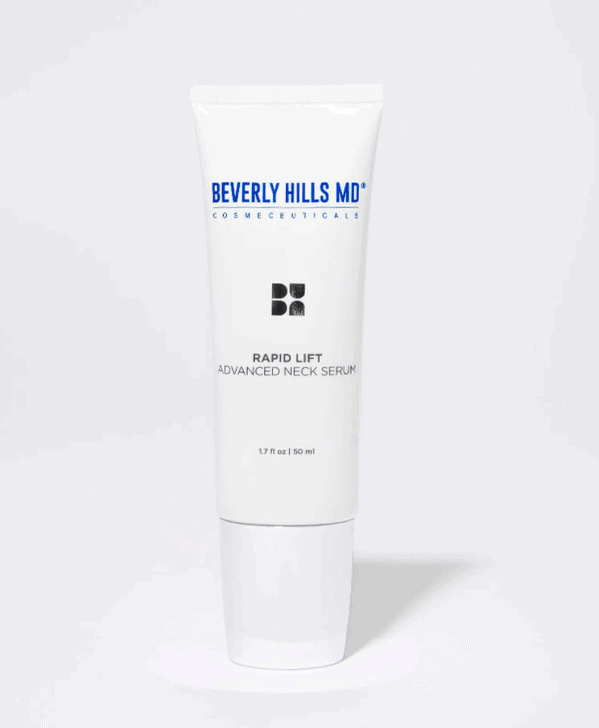 The product comes in a 1.7 fl oz tube containing the serum. This product's Rose Quartz Applicator (on the mouth) is designed especially for apt application on the skin. You don't need to employ your hands to use this product. To activate the applicator, turn it to the side as directed. Squeeze the tube a bit. The serum then appears on the roller. Gently roll alongside the desired place. Next, turn off the applicator, and massage the serum with the roller to spread it evenly. This applicator helps in lymphatic drainage, giving your neck area a sleeker and more defined outlook.
This neck lift serum comes with a 60 days return policy. So if you dislike how it fared for you, you can return this product and request a refund. For this, you can contact customer support on their official website.
Before using the neck serum, we must know what we are putting on our skin. So, let us glance at this product's ingredients list.
Rapid Lift Advanced Neck Serum Ingredients
Let's assess the main ingredients (as mentioned on the official site) to see how they function on our skin.
Pullulan has adhesive properties to give the skin a tightening effect. It is also a good hydrator that helps the skin to look well moisturized, young, and plump.
A patented Vin-Uplift rapid skin-lifting system is present in this neck lift serum. Its creation involves mixing Swiss ice wine and the moisture-binding effects of Caesalpinia Spinosa polysaccharides. Proven by a clinical study to be efficient, this system tightened the skin in just 30 minutes of application.
Wine has an anti-aging, potent antioxidant named resveratrol that is known for protecting cells against oxidative damage. It slows down the photoaging process in the skin, thus preventing the early signs of wrinkles. I strongly feel this ingredient might have helped me a lot. Given that I stay out for longer hours, the sun rays seem to have less affected my skin. All thanks to the wine's strong antioxidant nature!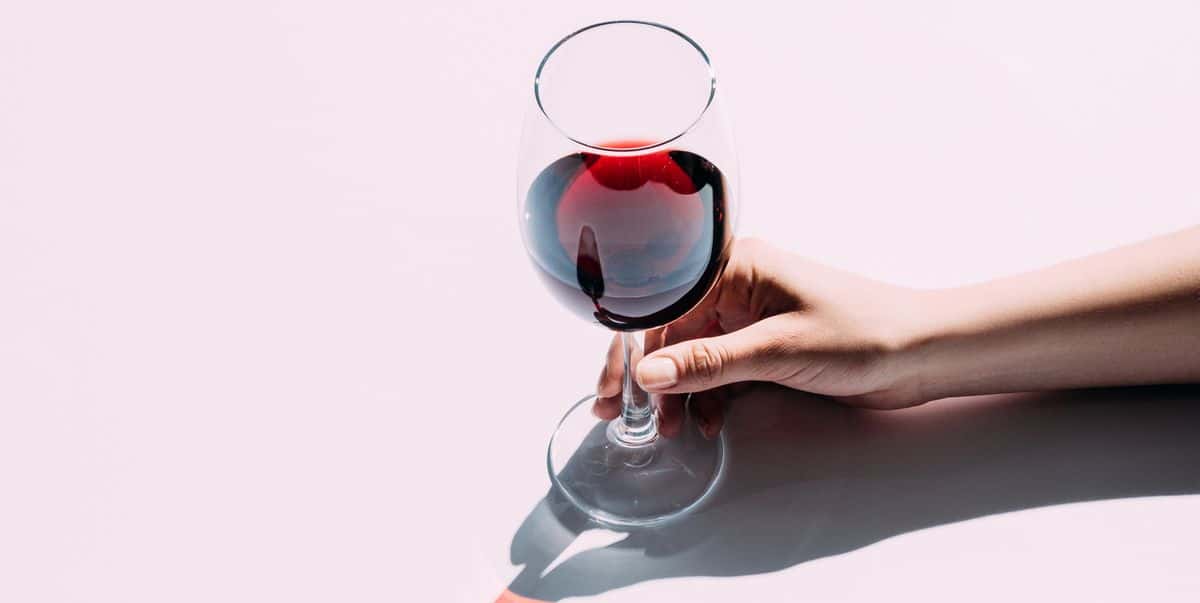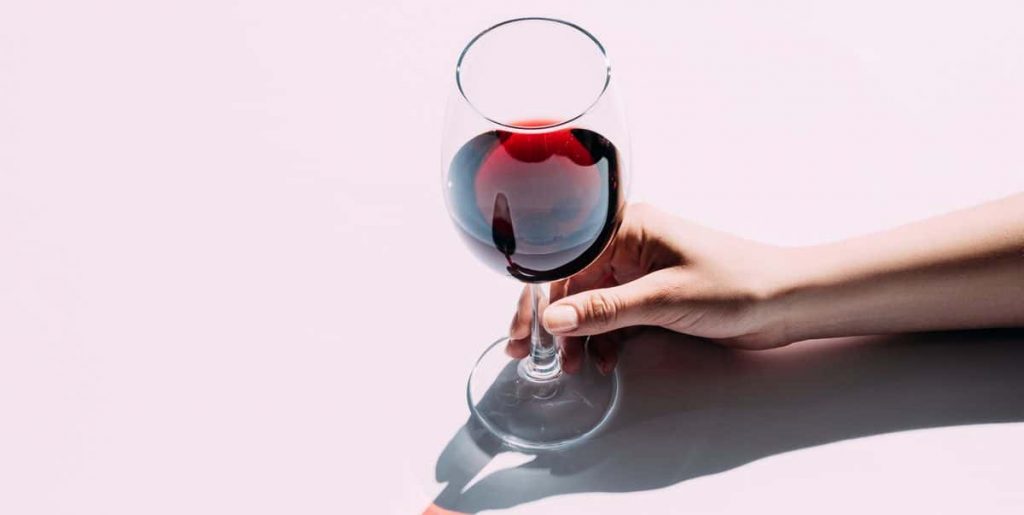 Dimethicone Copolymer, a dimethicone copolymer, helps keep the skin moisturized and softens it. Dimethicone prevents water loss by forming a barrier on the skin.
Matricaria Flower Extract in this product has natural healing and skin protective properties. It has skin-calming traits and helps in the anti-aging process of the skin.
Lavender extract, Maltodextrin, and tocopherol are also present, along with other ingredients.
A Few Alerts
This product's Fragrance (Parfum) may be harmful as it represents an undisclosed mixture of various scent chemicals. It's associated with allergies and respiratory distress that may affect the reproductive system. Matricaria flower extract may cause a reaction to the ones allergic to plains in the daisy family. Silica in this product may clog pores, leading to breakouts and skin irritation.
You should be careful if these ingredients messed up your skin earlier. However, results or reactions can vary depending on each individual. Check out below the perks and drawbacks of buying this product.
Perks Of Rapid Lift Advanced Neck Serum
Show instant results.
Very easy to apply and travel-friendly.
It comes with a long 90 days return policy.
An affordable alternative to expensive neck surgeries.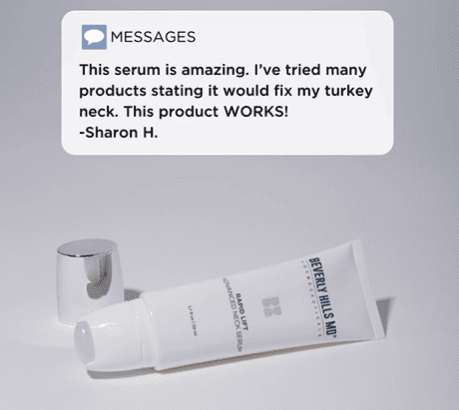 Drawbacks
It is not fragrance-free.
Falls on the pricey side.
It contains silica as one of its ingredients.
This product may not efficiently stiffen severe fine lines.
How To Use Rapid Lift Advanced Neck Serum?
The brand directs using the neck serum with the help of the rose quartz applicator.
Gently roll the serum along the chin, jawline, neck, and chest.
Massage the serum into the skin, and wait about a minute or two for it to dry.
You may now proceed with layering on the other products. The brand advises using it morning and night after cleansing for best results.
Rapid Lift Advanced Neck Serum Reviews | Customer's Remarks
I have noticed a modest difference if I talk about myself. The loosened skin around my neck is firmer after continuously using this serum for months, which is discernible now. Other buyers have something else to say. Check out their reviews too!
Melania asserts, "I am pleased to see the results so far. I love how my confidence shoots up when the fine lines around my neck vanish."
Joel comments, "I will turn 70 next month. I use this neck serum and love how effortlessly it makes my skin look younger."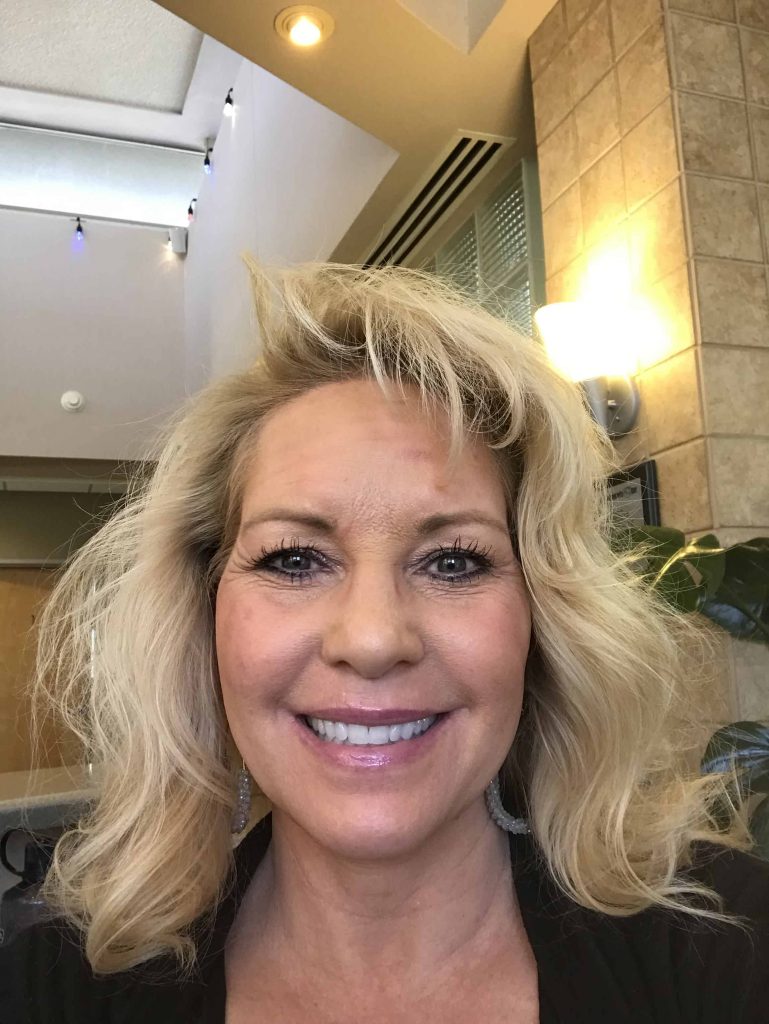 Vidya sighed, "Everything was going well until the tube wasn't allowing the cream to come out one day. For this, I had to remove the applicator and apply it manually. I don't feel it is so easy to apply."
Zenny claims, "This neck lift serum was less helpful to my turkey neck. It tightened some areas, but I found little difference on my saggy skin."
Neva reflects, "My chest lines reduced significantly after using this serum. I highly recommend this to everyone."
QnA Time | Rapid Lift Advanced Neck Serum Reviews
Here are some of the most asked questions about this topic that I tried answering.
Should I use Rapid Lift Advanced Neck Serum?
Yes, you can use Rapid Lift Advanced Neck Serum if you suffer from necklace lines, a saggy neck, or a double chin. This neck serum helps to lift saggy areas and tightens the skin within 30-40 minutes of its application.
Can I apply Rapid Lift Advanced Neck Serum on my sensitive skin?
Rapid Lift Advanced Neck Serum has gentle and non-irritating ingredients, is lightweight, and may suit all skin types, including sensitive skin. However, doing a patch test 24 hours before you begin its daily use is recommended.
Does Beverly Hills Rapid Lift Advanced neck serum have a coupon code?
Signing up for a free Luxe Loyalty membership may avail $10 off on the first purchase. Create an account on the official site for up to 65% off on your purchases. Go through the terms and conditions once. They also provide free shipping on U.S. orders over $39.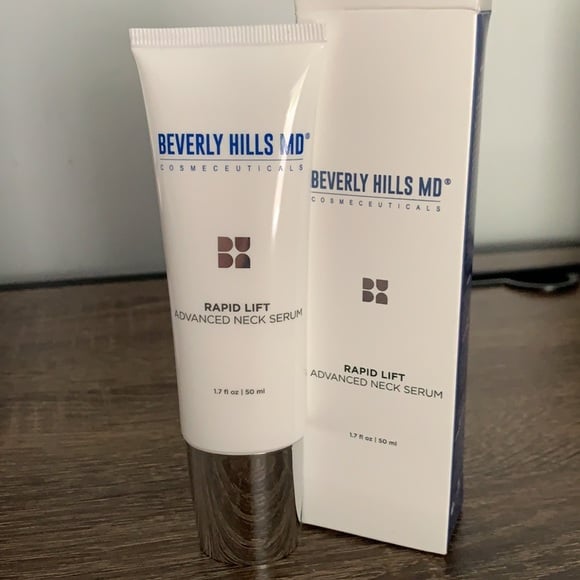 What is the best neck serum for a saggy neck?
There are many excellent options that you can go for while treating your saggy or crepey neck. One of them is EELHOE Collagen Serum, which can be a fragrance-free alternative to the Rapid Lift Advanced Neck Serum. Here's our report that covers everything about the Collagen Booster Serum.
What do Beverly Hills MD Advanced Neck Lift serum reviews say?
The reviews complement the product for its instant results in diminishing the fine lines, lifting the neck, and enhancing the jawline. Only a few consumers feel this serum fell below their expectations.
From where to buy Rapid Lift Advanced Neck Serum?
You can get Rapid Lift Advanced Neck Serum from the brand's official website and eBay. Amazon has other Beverly Hills MD products barring Rapid Lift Advanced Neck Serum, as of now.
Winding It Up
Many Rapid Lift Advanced Neck Serum Reviews validate the claim of the younger-looking skin that this product gifts. It does meet the expectations, except for instances where you may have to be conscious of the ingredients. If the elements mentioned above won't go on your delicate and sensitive skin, it is best to avoid them. But if you still want to try it, do a patch test first.
As the brand mentions, each individual is different, so the results achieved through this serum may vary for everyone. So give it a shot and see how your skin feels after using it. On this note, the article comes to an end.
Do you still have any doubts or want to add something more to this article? Comment below and reach out to us. We will retort as soon as possible.
Rebecca is a skilled writer with a passion for makeup and skincare. With years of experience in the beauty industry, she has a deep understanding of the latest trends and products and a talent for creating engaging content that resonates with her readers. Whether she's writing about the latest skincare products or sharing her favorite makeup tips, Rebecca's writing is always informative, entertaining, and inspiring.