Your life may not be perfect, but your hair also isn't! Read that again! Dream or reality, we all want healthy hair. But these days, it seems like a myth, impossible to achieve. But manifesting great locks on your hair is not going to create it. The power of visualization may not work here, especially when you dont know what's causing your hair deterioration. While fishing out different formulas, something caught our eye.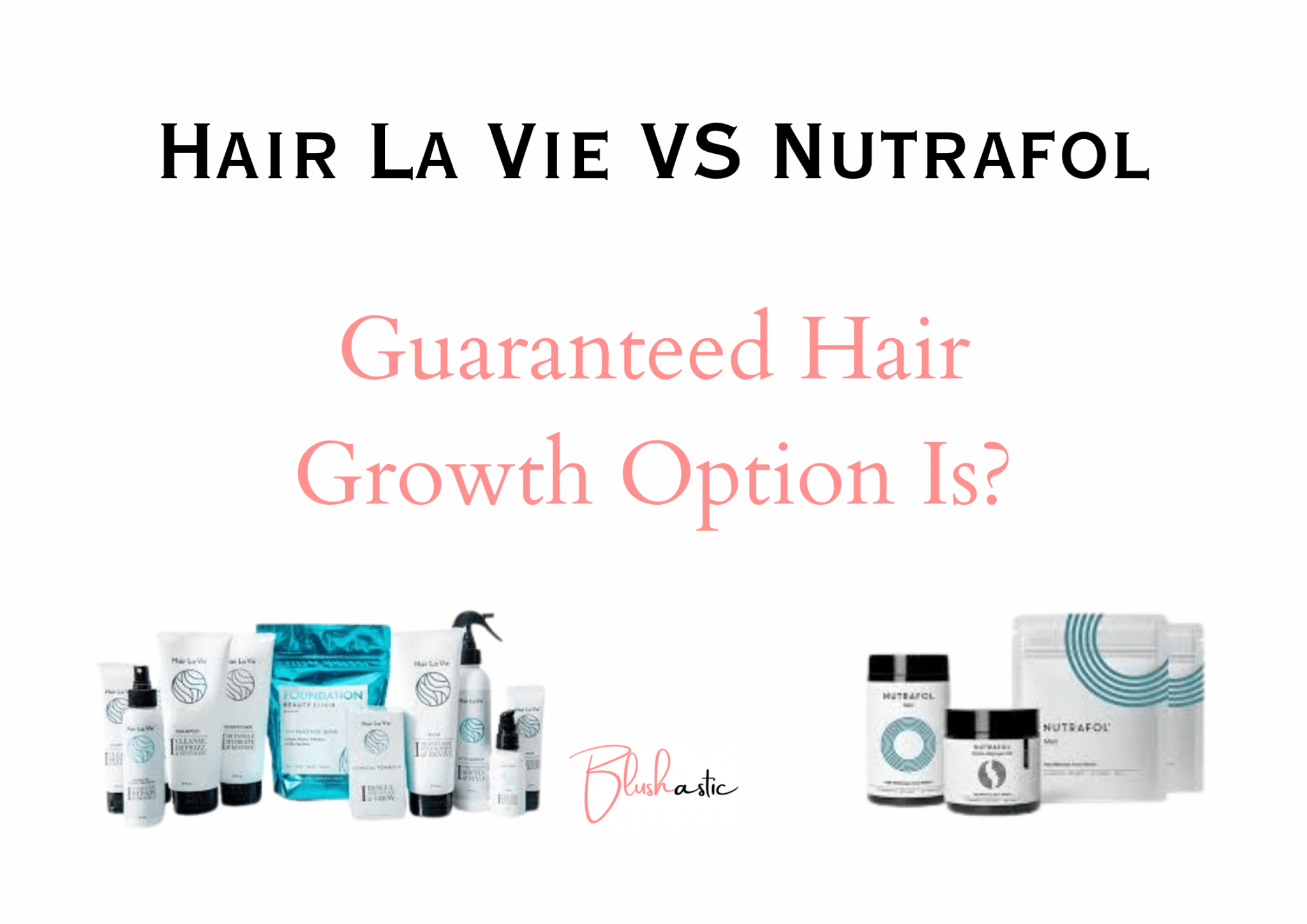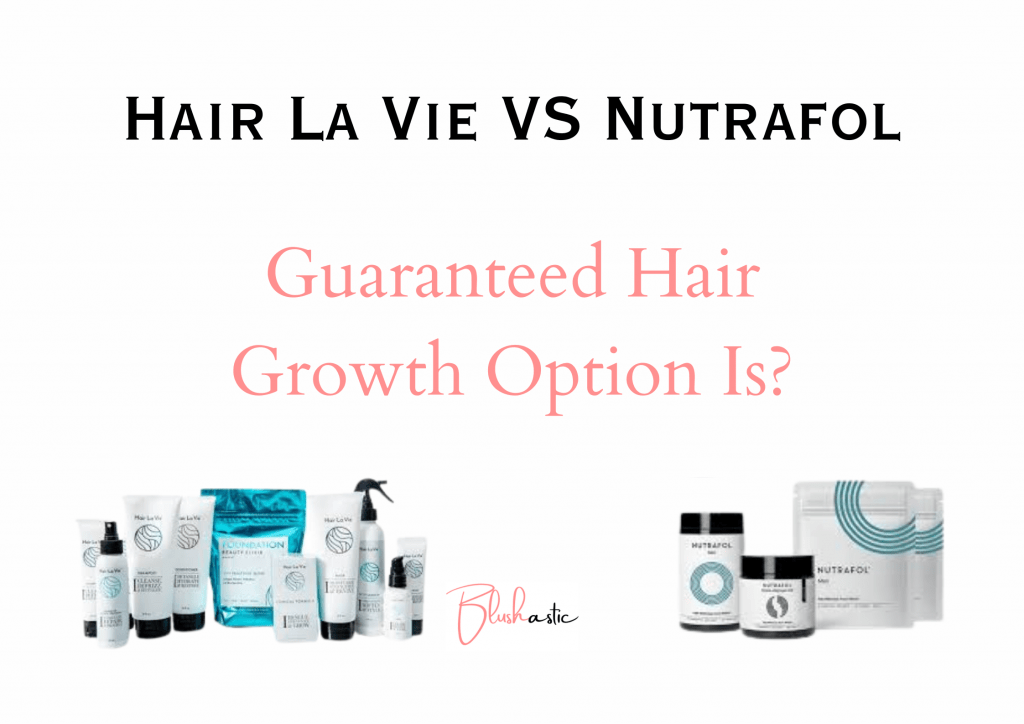 These two brands have been making headlines about reconnecting you once again with the replenished locks you once had by enriching them with their needs. At the same time, people were fighting over the faceoff of Hair La Vie VS Nutrafol, but none of them has been able to conclude. We have laid down a detailed analysis of both brands to help you not lose more time and give your hair what it needs. Let's see which one can be crowned on your hair!
Can you solve your hair worries now? Is this the right place you were always supposed to be? Are they safe to use? Read carefully because all the answers you need have been answered below!
Hair La Vie VS Nutrafol | Guaranteed Hair Growth Option Is?
Product range
Hair La Vie's contribution is much faster than Nutrafol, as the former aims to improve your skin and whole-body wellness. It offers a specialized collagen elixir to give you radiant skin, boost metabolism, and luscious hair growth. There are Clinical Formula Hair Vitamins, Revitalizing Hair Blend Vitamins, and Phytocera, which deal with your daily dosage of nutrition.
You can also pamper your locks by treating, styling, and protecting them. For this, many products like leave-in formula, lash serum, argan oil, mask, and serum to style. Users can also choose to cleanse and condition their hair with the brand's dry, regular, and conditioner set. 
Nutrafol is very flexible in treating users with hair goals who want to make them come true. Several formulas for women have been designed for different age groups. As we age, we go through various stages of life which require a different kind of aftercare for our tresses. This brand understands this importance and creates a unique formula for women. There are additional products for men's hair problems too. 
Ingredients
USPlus® Saw Palmetto Berry Extract, Hydrolyzed Collagen, TocoGaiaTM 20% (P) Palm Fruit Extract, Biotin, Reishi Mushroom Fruit Body Extract, Amla Fruit Extract, Flaxseed Oil Extract, Bamboo Stem & Leaf Extract, Zinc, Vitamin D3, and Selenium are all essential parts of the play when it comes to Hair La Vie.
Biotin is a vital ingredient of the formulations and is responsible for stimulating keratin in hair and fortifying lash follicles. That also results in glowing skin and improves nail health. As we age, the collagen in our body breaks down, which ruins hair health, and causes our skin to sag and wrinkle. Hydrolyzed collagen helps fight and tackle these signs. Amla is a berry that helps fight hair greying and revitalize hair follicles. 
Nutrafol features 21 medical-grade ingredients that are physician-formulated. Some of them are Sensoril ashwagandha, Moldavian dragonhead, curcumin, saw palmetto, tocotrienol complex, pea sprouts, probiotics, Shatavari, omega 3, stinging nettle, collagen, theanine, sea buckthorn. There are also many vitamins like vitamins A, C, D, and folic acid, which are supporting ingredients.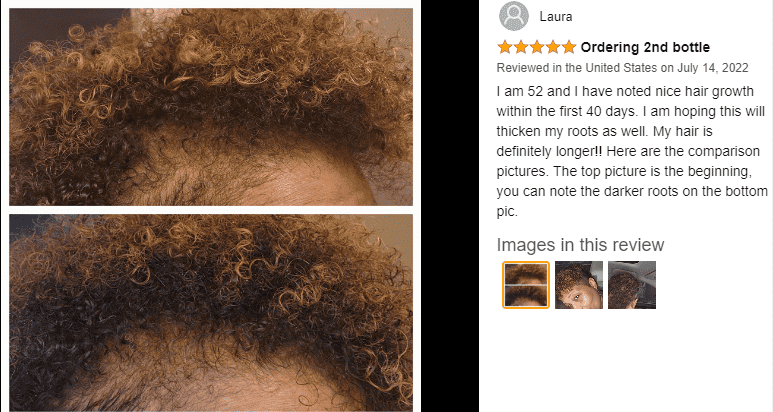 Ashwagandha helps balance the stress hormones that aggravate issues and stop the hair growth cycle. Curcumin is 500x more potent than turmeric alone and supplies antioxidant benefits to the hair to keep irritation at bay and prevent shedding. 
Effectiveness & Results
Hair La Vie uses the power of total body nutrition to activate hair growth and give you splendid results to see in the mirror. Your hair growth journey may last 3 to 4 months, and by the end, your strands will be brimming with nutrients. The formula features a proprietary blend of 20 comprehensive, hair-supporting ingredients which infuse your hair with their individual properties and breathe back life into your locks. However, there are no clinical studies by the brand to back up these claims.
Nutrafol
All you have to do is wait for 3 to 6 months patiently and trust in the process of taking your hair supplements, and you will see noticeable changes in your hair. The brand's clinical studies are a big hit, showcasing the benefits women receive after undergoing it. 93% of women saw no more brittleness or dryness in their hair after 6 months. 100% of users were pleased that their hair felt stronger within 3 months of daily usage.
When people tried out the Women's Balance formula, they also reported that they not only saw a thicker volume or fuller scalp coverage, but the procedure also improved feelings of menopause. For example, there was an improvement in their episodes of hot flashes, better quality sleep, and also enhanced mood. However, this may vary from person to person because everyone has a different body type. 
Safety & Side Effects
No clinical studies are present to prove that the ingredients in Hair La Vie are 100% safe for your skin. There has been continuous speculation that if you are allergic, you might experience side effects to ingredients like copper, zinc, flaxseed oil, iron, selenium, etc., nausea, muscle aches and pain, and abdominal cramps. Overdosage of copper might lead to toxicity and cause vomiting. High doses of zinc can lead to abdominal cramps, headaches, indigestion, diarrhea, metallic taste, nausea, vomiting, and heartburn.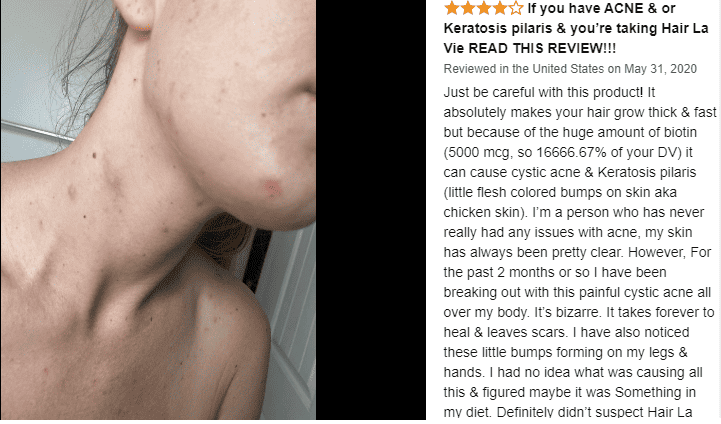 If your body does not accept flaxseed oil that well, you might face diarrhea, stomach pain, nausea, bloating, breathing problems, nasal congestion, and anal leakage. Some people allergic to this ingredient might suffer from shortness of breath and muscle pain and seek medical help. While selenium is essential for hair growth, it might cause hair loss for some.
Apart from all this, other side effects include rashes, weight loss, and tremors. People with thyroid disorders, pregnant women, and breastfeeding should not take these products. 
Side effects of Nutrafol are real, and users may experience them in the form of nausea, fatigue, abdominal cramps, and diarrhea. These effects happen as a result when your body does not mix well with Biotin, which is an essential ingredient in Nutrafol. Excessive amounts of this element might cause the blood sugar levels in your body to rise and also give rashes and redness to your skin. Although the brand avoids unnecessary preservatives like gluten, artificial additives, dairy, shellfish, and binders for safety purposes, users might face uncertain situations.
Price Structure
The Clinical Formula Hair Vitamins from Hair La Vie has made it to many international magazines like Oprah Daily, Bazaar, Forbes, Byrdie, etc., and feature a blend of hair-supporting ingredients to rejuvenate your locks. One bottle comes with 90 capsules, where 3 have to be taken daily. You are supposed to use three bottles to see any noticeable results, which will cost about **dollars in total, excluding shipping charges.
At the same time, Nutrafol's 3-month supply has 120 capsules each in every bottle. That is because 4 pills have to be taken regularly. This makes your purchase worth **dollars. There is no shipping charge, but it costs almost an extra hundred dollars from Hair La Vie. If you are particular about your budget, Hair La Vie will be a feasible option for most people, or you can Nutrafol away!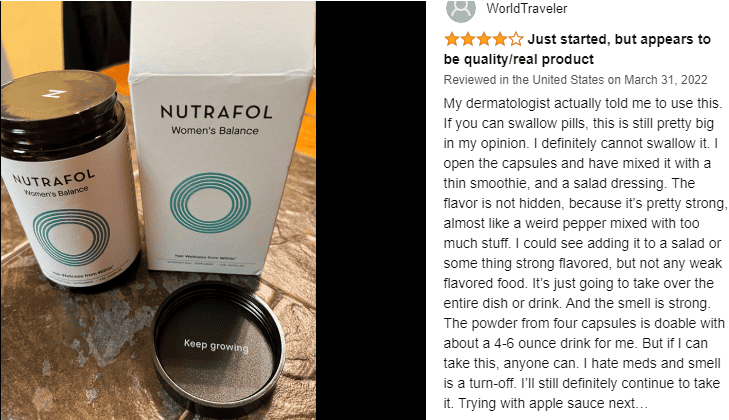 Evaluation Of Pros and Cons | Hair La Vie VS Nutrafol
Hair La Vie Pros
Natural formula with clean and powerful ingredients
Feature thousands of success stories
Users can build personalized haircare routines
Visible hair improvement in 90 days itself
Promotes shinier and youthful-looking hair in just 4 weeks
Adds hydration and good bacteria
Efficiently treats damaged or shrunken hair follicles
Keratin helps speed up hair growth
blue-green algae boost immunity and cleanse the system
Protects against environmental stressors, which might have skin and hair
Collagen deals with wrinkles and loss of moisture
Enhanced external appearance as well
Improves volume and density by repairing follicles
Revitalizes the beauty of hair and skin by improving elasticity
DHT helps correct shrinking hair follicles
Cons
Some products may cause side effects or allergies in individuals.
There are not enough clinical studies backing the efficacy of the products
Many ingredients are packed in a proprietary blend
Not enough evidence to show components are 100 percent safe.
Nutrafol Pros
Shows noticeable improvements in 3 to 6 months itself
Caters to different hair concerns of people belonging to other age groups
target root causes of thinning, such as stress, lifestyle, and nutrition
Many compelling clinical studies back up claims of the brand
It makes hair grow faster and longer
Strhenhsn hair from within b re-energizing follicles
There are no nasty ingredients like Gluten, dairy, soy, hormones, drugs, or artificial additives. Non-GMO.
Dimisnhies shedding of hair with consistency
It also gives thicker lashes and brows
It cuts down the brittleness of strands
Improves overall health of hair due to metabolism and aging as well
Adds softness and shine to your locks
Improves and healthifies scalp coverage
Better quality of life in menopause duration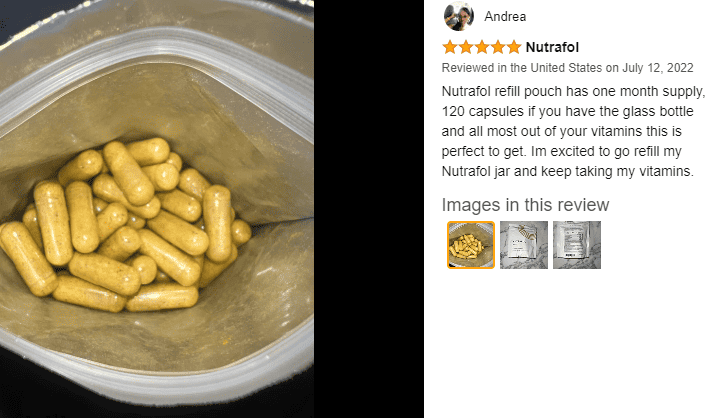 Cons
Products contain heavy amounts of vitamins and minerals that may affect health.
The formulas are costly
Comspotion is not vegan and may lead to side effects in individuals
Users need to intake 4 capsules per day
Customer Feedback | Hair La Vie VS Nutrafol
Hair formulas that are entirely safe for you are hard to find. Especially as everyone wants to do better than others, this competition has gotten out of hand. Every leading brand offers something others don't, making it impossible for you to choose. Settling down with just one option looks terrible as it would mean leaving out the other.
Believing everything you read online is never wise. And so it was having half the knowledge about the things going to your beauty cabinet. So, to save you from this misery, I have compiled statements from real-time users eager to share their experiences. Let us see what worked for whom and if it can produce the same results.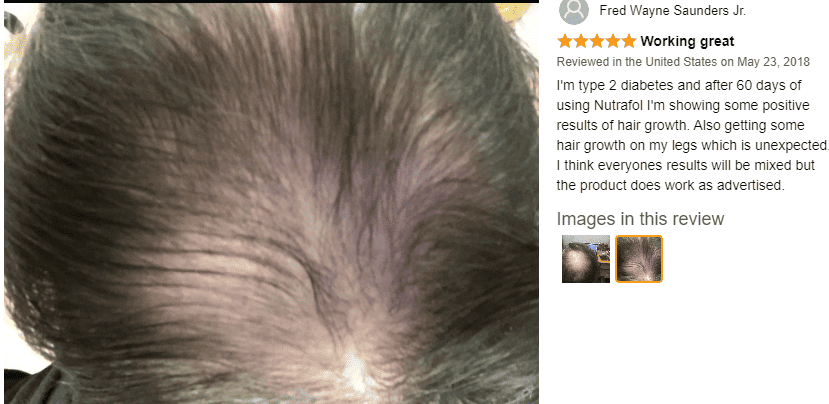 Alicia commented on Hair La Vie, "My hair absolutely loves the revitalizing hair blend vitamins this formula contains. I used to think all ingredients were for a show, but they work. And if you are consistent with your haircare ritual, you can see your dreams coming true in about 90 days. For me, the results staring getting more and more visible after three months were over. The biggest plus of using this was that my hair follicles feel very healthy, making my hair look better."
Vicky said about Nutrafol, "Not going to purchase this again. After using this, I got a bad allergic reaction, and my skin started swelling out of nowhere. I had not got rashes in a long time, but the formula irritated my skin so much that there was a lot of redness."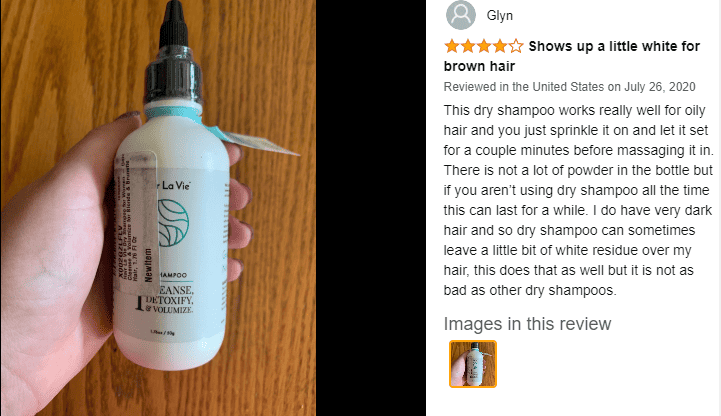 Maureen Pinned on Hair La Vie, "I feel I was cheated with my money for this. At first, I was unaware, and like every new user, I began using it diligently to see those positive results. But after my first week, I realized something was wrong with me. I started getting tired and became nauseatic very often.
My hand muscles used to pain a lot, there was a rash on my skin, and my nails were breaking down. So I think my body was not accepting the product in soem way. When I googled about this online to see if others had the same problem, I found that the products are not 100% backed up and may lead to side effects. My heart ached intensely after seeing that, and I stopped using it. I am scared to give it to someone else too. This was a waste of my money." 
Camille talked on Nutrafol, "My aunt gave me excellent reviews on this as she had used it before. So it was an excellent help for me to get some pointers from her. It has been over three months, and my hair looks healthy. I almost can't believe my hair fall has reduced, and my locks look nourished and stronger now. My husband is in love with my hair once again!"
FAQs | Hair La Vie VS Nutrafol
What is the main difference between Hair La Vie and Nutrafol?
The main point of difference is that while there are about 4 clinical studies successfully conducted by Nutrafol on women to evaluate their product's efficacy game, there are no evidence or clinical investigations of Hair La Vie to back up the assurances given by the brand on hair growth. Apart from that, both brands use different ingredients to make your hair healthy.
Who should not take Nutrafol?
The brand advises that pregnant ladies, or that nursing or breastfeeding, steer clear from Nutrafol supplements. Apart from them, users who already have a history of hair loss due to certain diseases, those who have undergone cancer treatment like chemotherapy and radiation, and patients who have added anticoagulants or blood-thinning medications also need to avoid these hair growth products.
Why do people use Clinical Formulas for Hair Vitamins?
Hair La Vie's supplements have been specially prepared to enrich your locks with the maximum benefits. And the formula does so by deriving the total goodness of your body's nutrition, like a power bank. Every ingredient that helps in amplifying your hair growth has been carefully studied to give your locks a voluminous bounce, increase vibrancy and shine, and encourage overall health.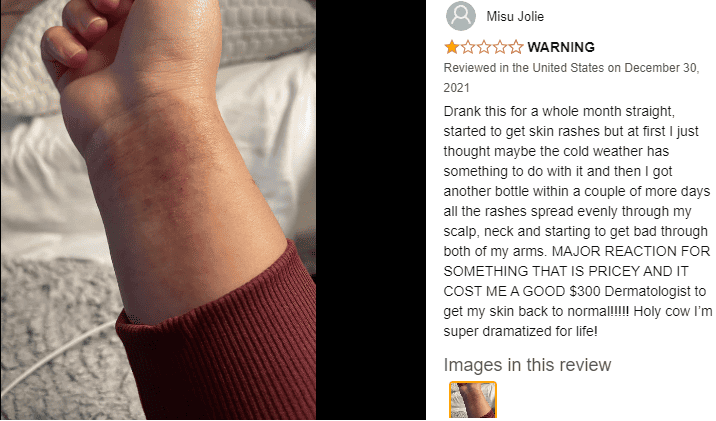 Are there any dangers in taking Nutrafol?
A particular risk is involved with taking Nutrafol because of the brand's key ingredient, biotin or vitamin B7. Taking too much biotin can aggravate allergic reactions and lead to redness, skin rashes, and high blood sugar levels. Users may also feel nauseatic after taking this, suffer from abdominal cramps, and have episodes of diarrhea.
Is Hair La Vie safe to use?
Many rumors have pointed out that Hair La Vie's ingredients are not 100% safe. And because there are no clinical studies of the brand to back up these claims, users are very skeptical about their decisions. Several things can go bad headaches, indigestion, diarrhea, nasal congestion, anal leakage, shortness of breath, and muscle pain.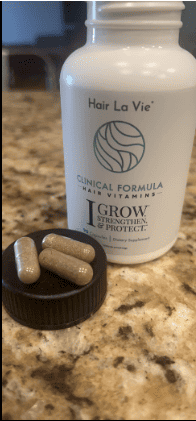 Which is more convenient, Nutrafol or Hair La Vie?
There is little difference to consider regarding the convenience of application between Hair La Vie and Nutrafol. In the case of Nutrafol, users have to intake 4 supplements a day at once. This might be irritating for many, as we usually like to take gaps between each pill. At the same time, when it comes to Hair La Vie, users must take three capsules daily, with a meal and a full glass of water.
Where to buy Nutrafol?
You can purchase Nutrafol Hair supplements from several places like Amazon, Walmart, Desertcart, and Ubuy. Apart from these, to make your purchase more accessible, you can directly visit the brand's official website. This will also allow you to buy the products at a much better discount or in bulk.
Closure
We all dearly love our hair or what's left of it. So there is no question of messing up with the volume that we currently have. This is why you must ensure the products you put in your hair are safe for your hair and scalp. Nutrafol and Hair La Vie pose certain risks, where things can go south and leave your hair strand. However, from careful observation, Nutrafol is much better than the latter. 
The products have undergone clinical trials, and only an overdose will give you side effects. On the other hand, no scientific backing or evidence shows that Hiar La Vie is safe, making it an easy choice. But if you aren't sensitive to any speculations about their products, you might as well try it because many users are happy with the results it brought their hair.
Money is everything, and Nutrafol costs a lot in this Competiton between Hair La Vie VS Nutrafol. Hair La Vie will be a cost-effective option if your wallet does not allow you to be so humble with your spending. Apart from that, all other essential heads have been mentioned with the dos and donts of them. Make sure you dont get carried away with other's people's opinions and judge for yourself!
Marilyn's deep interest in fashion, beauty, and lifestyle has led her to pursue a fulfilling career as a freelance writer and blogger. With her bachelor's degree in fashion design from the Fashion Institute of Technology, she has developed a keen eye for style and trends, making her well-equipped to offer valuable insights into the latest fashion and beauty trends.