One thing's for sure. Most of us have been haunted by hair fall stories from our near and dear ones, and it is even more terrible when you live it yourself! There's no denying that on this day, healthier hair is the crush of a significant part of the globe, and people are busy searching for that one magical thing that will change their life for good. However, this miracle is not easy to come by, especially after the health challenges of the global pandemic. But has anyone managed to find the solution for hair loss yet?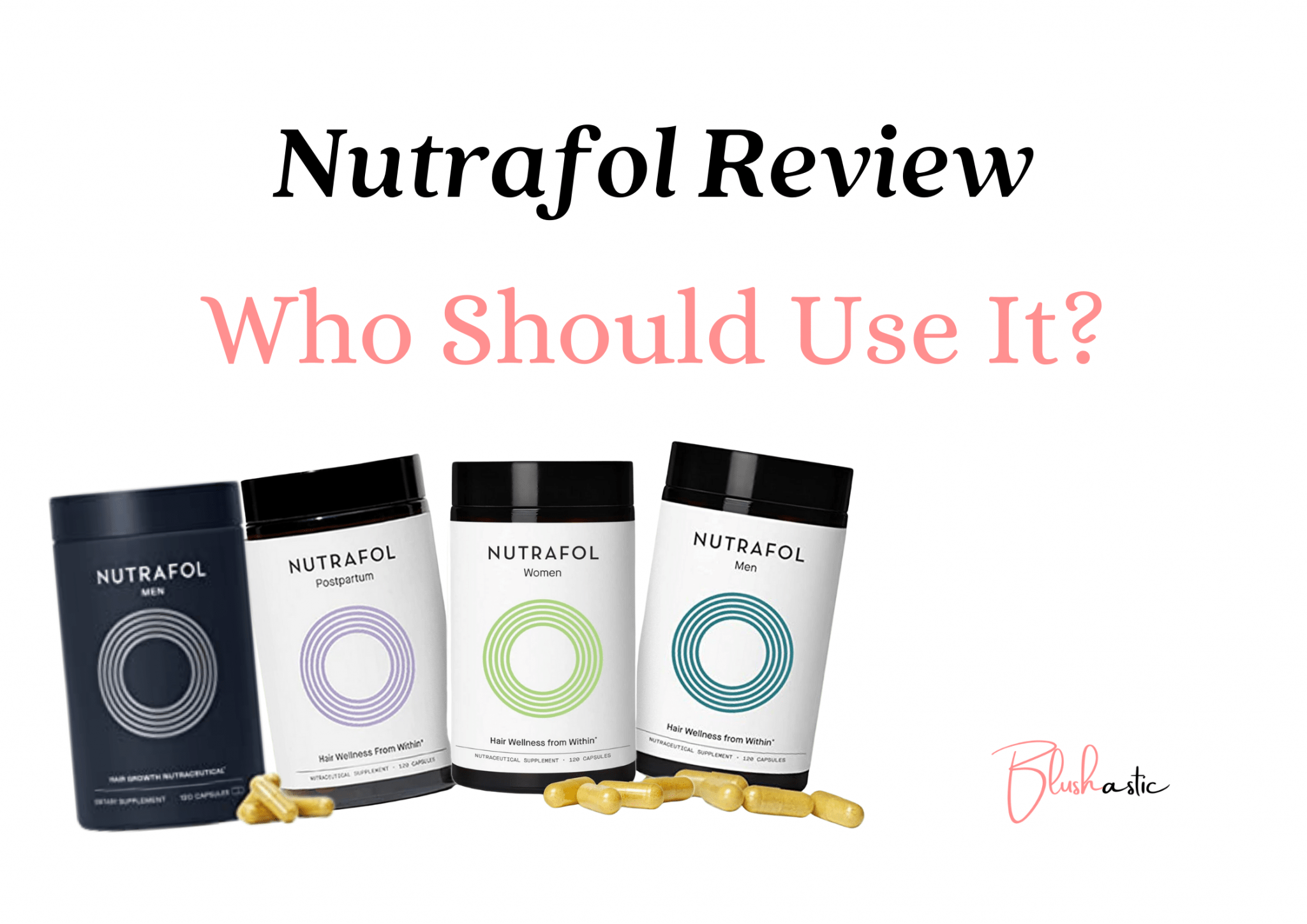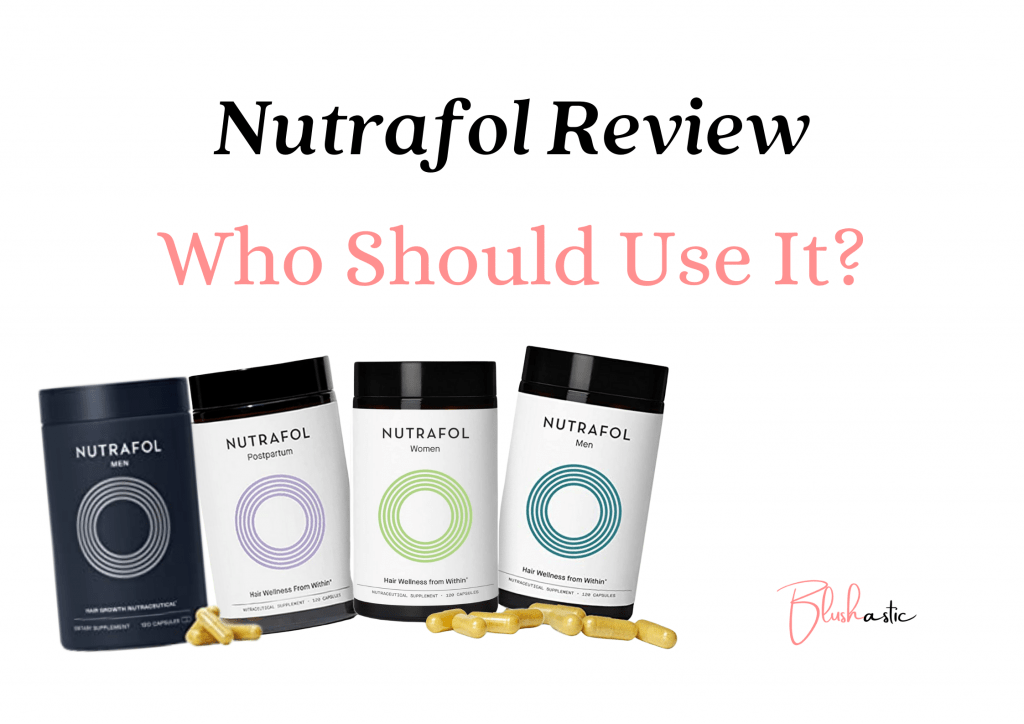 If you have been on this quest for a long time and still have not found your match, you are on the wrong trail! According to Nutrafol, the brand specializes in hair growth supplements and claims to offer you everything your hair has been begging to get. Or is it just another scam like every other treatment or DIY concoction they have been feeding us? These Nutrafol reviews will help you get to know everything about it.
The brand has assured that it reflects only natural things in its products that will help boost hair growth and hide all your imperfections. But should you believe it? Will everyone benefit from it? We have broken down the entire topic so you can use reliable sources. Let us unravel the truth!
Nutrafol Reviews | Your Road To Healthy Hair?
It is the age of hair growth supplements because we can hardly do anything alone! Nutrafol has risen to its zenith of popularity, for it is all things hair and offers 100 % drug-free hair supplements to help make your life easier. When we go through different stages in our life, our hair needs different kinds of care for each age.
The brand has different hair growth formulas depending on other age groups, making it a cult-favorite choice among users. There are products for people of the 18-44 age group who experience hair thinning, women of 45+ age, women who are experiencing post-childbirth hair loss or adapting themselves to their new life routine, and a lot of physician-formulated haircare and boosters.
Men, it's time to feel happy because there is something for you too! Most men go through premature baldness for various reasons, and the damage is already done by the time they realize it. Thanks to the Physician-formulated, power-packed, 21 medical-grade, natural ingredients, which help boost your hair follicles without hampering your libido or affecting your sexual performance. There are protective thinning formulas, hairline defenders, and full support.
A lot of clinical studies point out that more than 83% of users saw an improvement in their hair growth in just 3 to 6 months of using it. But is that all you need to know?
Perks
Designed with 100% natural ingredients
Free from hormones or any kind of drugs
Products have undergone many successful clinical trials
It contains collagen, which boosts hair structure
Strengthens and fortifies lash follicles
It gives better quality of sleep
Reduces both mental and physical stress
Products available for people with different age groups and concerns
It provides noticeable results in just 3 to 6 months itself
Improves concentration of keratin
It has elements that contribute to beautifying metabolism and the immune system.
It helps block DHT hormone and remedies hair thinning
Reduces continuous hair loss
Improves overall health, including better skin and nails
Cuts down brittleness of hair by enhancing hydration
Products are bio-optimized and cruelty-free
Shields hair roots and scalp from environmental aggressors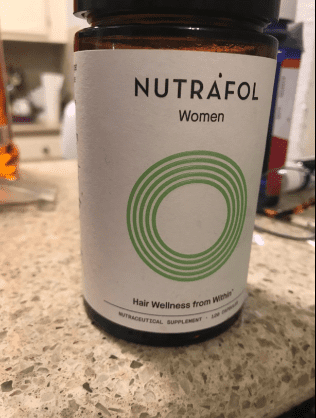 Drawbacks
Products are costly and do not cater to everyone's budget.
Users have to intake four capsules daily, which is monotonous and hectic.
Possible dangers of side effects like nausea, skin rashes, and cramps.
The composition is not vegan.
Some products are high in vitamin and mineral composition, which may be harmful.
BestSellers Of Nutrafol
Nutrafol Women
Do you also keep wondering why your hair grows in places you dont want it to grow, whereas it does not do the same where you want it to? You are not alone! As strange as it may get, Nutrafol Women is here to make your wishes come true. This supplement claims to give you everything you have wanted for a long time. Visible volume, check. More thickness, check. Less shedding, check.
Faster hair growth, review. Recommended for women ages 18 to 44, this supplement aids primarily in amping up hair growth, enhancing the thickness of your strands, and strengthening them from within. Not only that, if you have wanted to get defined brows and lashes, this will be your best friend, for it promises to deliver you healthy brows and fluffier lashes.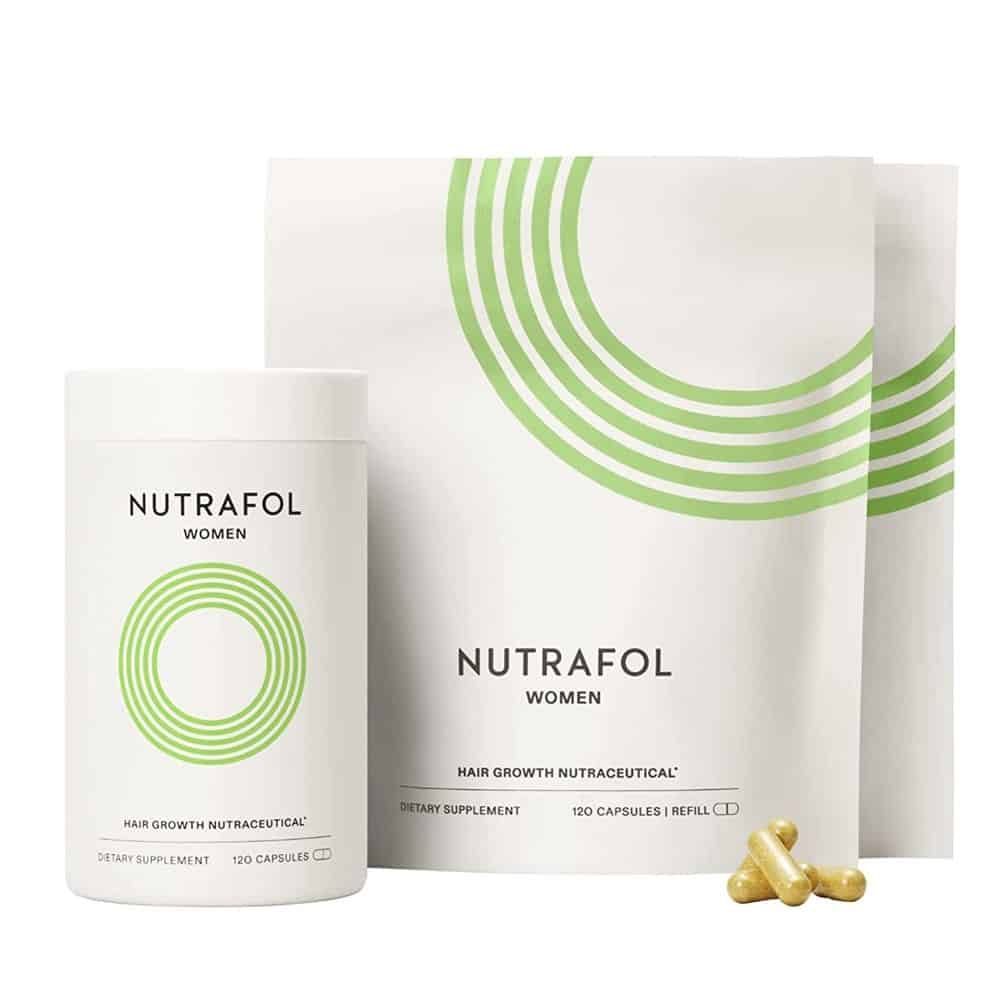 The formula depends upon key ingredients like Sensoril ashwagandha, maca, astaxanthin, extra saw palmetto, tocotrienol complex, and marine collagen. Collagen is crucial for acting as a foundation for your skin, bones, and teeth, and it also helps fortify follicles, prevent thinning, and boost strength. What users love the most about this formula is it also gives you special treatment by reducing feelings of stress and improving your quality of sleep.
Nutrafol Men
Sleep is precious and will only go farther away from your life if your head cannot stop stressing over hair loss. So, what do you do? According to reviews, users have been more inclined towards the Nutrafol Men formula by the brand, which solely targets issues like scalp nutrition, thinning of hair, and remedies theme by delivering a fuller crown with no sparse areas, thicker volume, faster-growing hair, and more robust locks. It also fights hair loss, often caused by metabolic changes in our body or stress and anxiety.
When clinical trials were conducted to test its efficacy, it was revealed that 83% of users saw noticeable improvements in hair quality, and 72% saw better scalp coverage. Most male participants claimed to see results in 3 to 6 months. However, this might vary from individual to individual because everybody has a different body and metabolism. You have to take supplements regularly if you want to see good changes.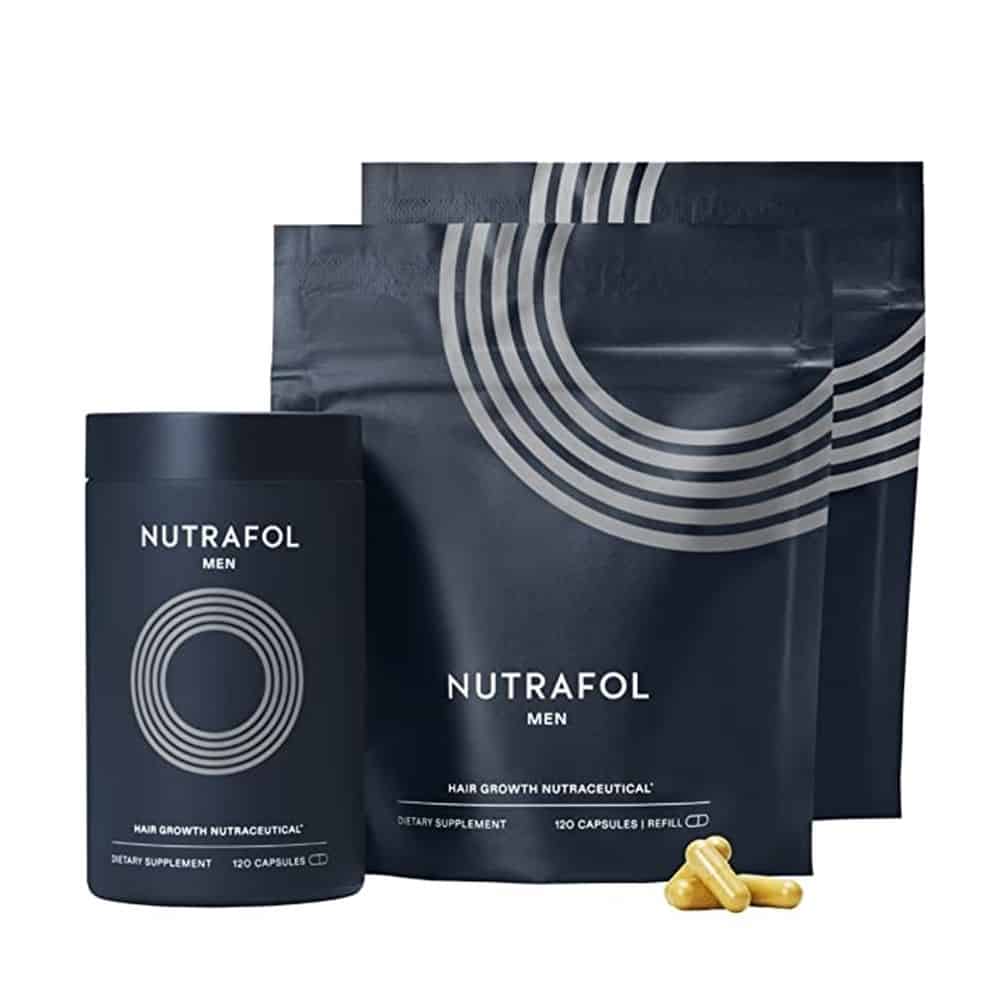 Men usually worry about taking different supplements, fearing they might affect their libido. Nutrafol claims that it does not compromise your sexual performance and instead contains saw palmetto, tocotrienol complex, and Sensoril, which help eliminate stress and offer better sleep.
Nutrafol Postpartum
Chronic stress is a significant reason our hair follicles are weak and damaged. Owing to our busy lifestyle, we hardly pay attention to it as it should, and this condition worsens after giving birth. After this process, there are a whole new set of stressors, and the level of estrogen and progesterone fall abruptly. This combination of the physical and emotional stress of a new life and common triggers of hair growth.
Some women also experience that their bodies are high in amounts of cortisol which prevents hair from growing, thereby delaying time. According to the evaluation of research conducted in 2013, it was found that women started experiencing hair fall after 2 to 4 months of childbirth. This hair shedding may even begin during pregnancy, making it look like more of a nightmare. Thanks to Nutrafols' Postpartum formula, it has been specially designed for this purpose. The composition consists of theanine, an amino acid that deals mainly with reducing the stress of preventing cortisol from rising.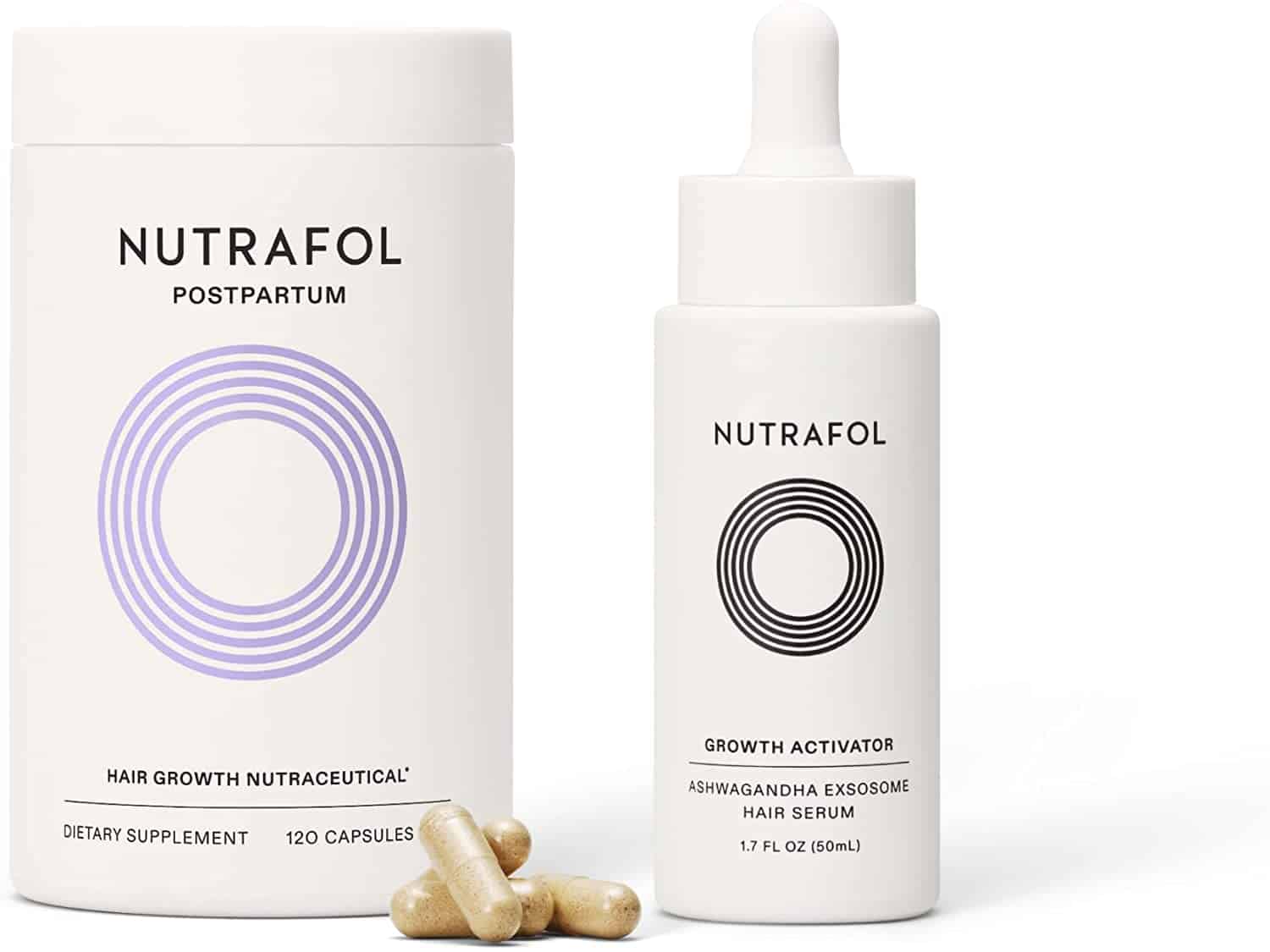 The brand has stated that these postnatal vitamins should not be consumed during pregnancy. Nutrafol claims that the ingredients are safe to intake while you are breastfeeding. However, you should always consider talking about it with your doctor beforehand. Collagen and other antioxidants. Promote relaxation, and bring a balance between physical and mental stress. This allows the hair cycle to pump up and boost after 15 months of giving birth.
Nutrafol Women's Balance
The Nutrafol Women's Balance is targeted at women who are 45 or older as these age groups often deal with issues like widening gaps on the scalp or thinning of hair. Thai formula features an exotic blend of 21 potent vitamins A, C, and D, biotin, iodine, zinc, and more.
This formula aims to bring back your lost volume by boosting hair thickness, reducing the breaking out of hair shedding, enhancing faster hair growth, boosting length and strength, providing smoother sleep quality, and mitigating hot flashes.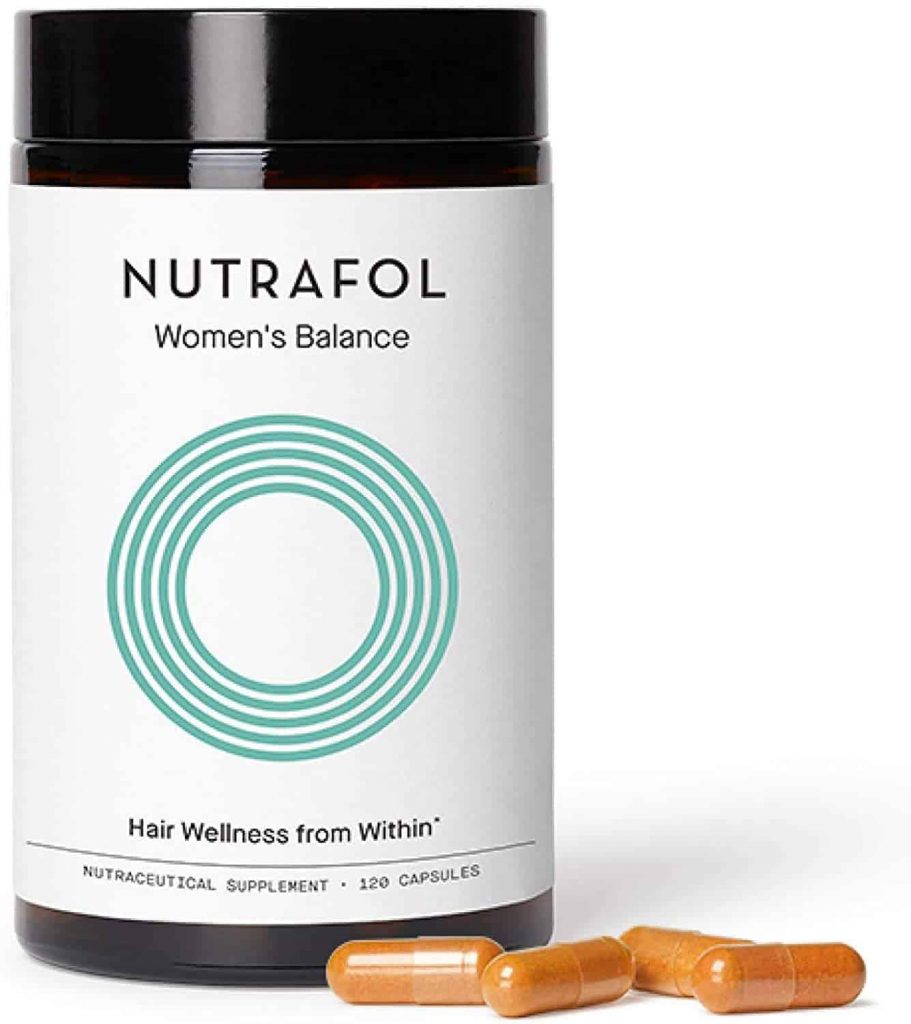 Women usually get on hormonal imbalances during menopause or perimenopause, often leading to more hair shedding. This formula helps restore your actual volume and the thickness your strands possessed before falling. Users usually wonder how it is different from the composition of Nutrafol Women. The answer is this one puts more importance on ingredients like maca, astaxanthin, and extra saw palmetto to deal with low levels of estrogen and progesterone. The clinical studies reveal that 93% of users saw an improvement in dryness in just 6 months after using it.
Who Should Use Nutrafol?
People suffering from hair loss
People wanting to revive new hair growth
Users trying to remedy thinning of hair
Women who have hair fall and are adjusting to motherhood
All those who are suffering from breakage
People with damaged hair follicles
People with unhealthy scalps are affected by environmental aggressors
Women dealing with hair loss after childbirth
Men trying to cover empty spaces in their scalp
Who Should Avoid Nutrafol?
Those who are already on blood thinning medication
Women during their pregnancy
People with conditions like diabetes or high blood sugar
Women who are nursing or breastfeeding
People with susceptible skin must not overdose themselves with biotin.
All those who have frequent episodes of nausea, cramping, or diarrhea
Customer Feedback | Nutrafol Reviews
When it comes to hair growth, a vast crop of options is available for users. Hair concerns have different formulas: dryness, brittleness, breaking, falling, thinning, or whatnot. Nutrafol has come forward to carefully pamper its clients with various procedures that deal with your woes. However, liek anyone else is looking to try something new to save their hair, and you might be thinking if it is safe or not. So we gathered some statements from real-time users about their experiences with this brand. See for yourself what they have to say about it.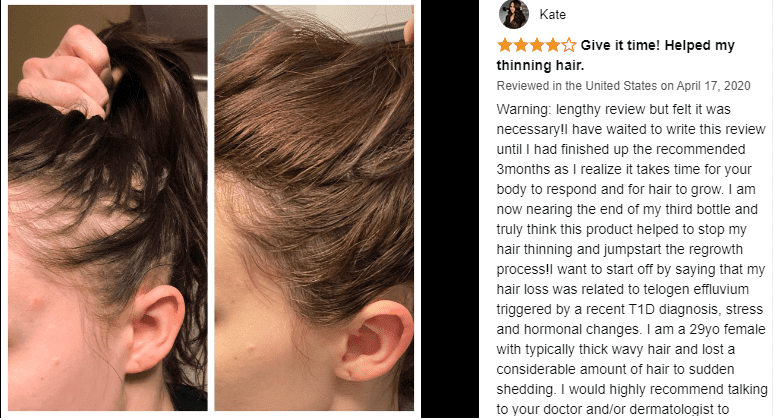 Kiki commented, "Since my teenage days, I have had many episodes of hormonal imbalance. After my mid-forties, I started losing a lot of hair daily, and I even noticed that the density of my hair was becoming thinner and thinner. I knew I had to do something quickly because everything I had tried was not working, making me more irritated. When my cousin suggested me this. I was willing to try it, as nothing worked out. Surprisingly, I started seeing noticeable differences in my hair in a few months. My strands are thicker than earlier, and I cannot express how relieved I am to say this!"
Vivian pinned, "I was amazed by reading such positive reviews online that I bought it the next day. It's been four months, but I dont see any good improvements in my hair. My locks still look dull and weak. Not happy with this purchase at all."
Hannah mentioned, "Usually, I dont go for such hair supplements, but my condition forced me to. At first, I thought I was just throwing money down the drain as only a handful of products suited my hair. I have a sensitive scalp, so I have to be extremely careful about what I use. This turned out to be good, and my hair feels and looks very healthy now. Everyone should try it at least once!
Rosalie said, "What bugs me the most is the price tag of this product. I wanted to try it out, but it was so expensive I couldn't afford it in one go. I wish the brand would come up with cheaper or mini versions of it that we can purchase and try first."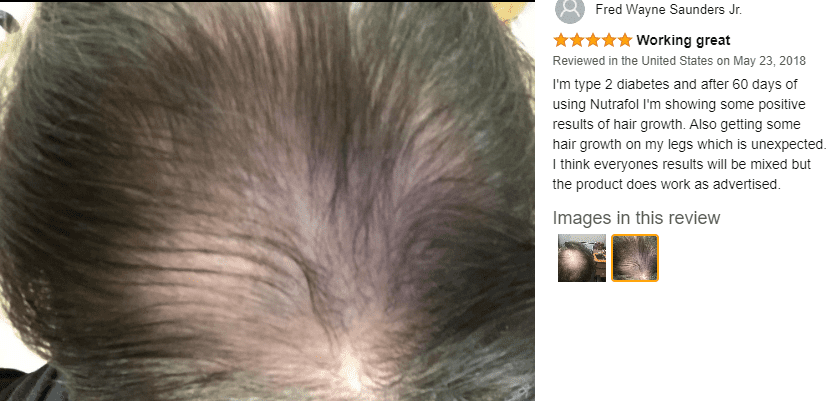 Lyla said, "If it hadn't been for my best friend, I would never have gotten to try such an amazing thing for my hair. It suits my scalp perfectly and has nourished the look of my locks. What I love the most about this is it boosts collagen, which helps repair broken bonds. My hair is stronger and healthier, and I can't stop flaunting it everywhere I go!"
FAQS | Nutrafol Reviews
Why is Nutrafol not approved by the FDA?
Nutrafol is not approved by the FDA. The sole reason behind this is FDA only regulates prescription and over-the-counter drugs. It does not restrict the supplements that Nutrafol offers. The brand claims all its products are 100% drug-free and have been designed in an FDA-certified facility that adheres to the United States Food and Drug Administration (FDA) requirements.
Does Nutrafol grow back hair?
Nutrafol is one of the leading hair growth brands in the skincare industry and helps revive your hair like before. It offers hair loss supplements that have been clinically tested to improve your hair growth by 80%. When a study was conducted, it was found that 100% of women saw an improvement in their hair growth after 9 months of regularly using the product.
What are the side effects of Nutrafol?
Biotin is a common ingredient found in most Nutrafol products or supplements. Side effects of this ingredient include unwanted situations like nausea, cramping, and diarrhea. If you take excessive amounts, causing an overdose of biotin, you may get rashes on the skin and higher blood sugar levels.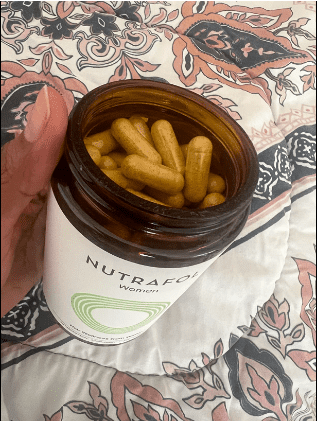 How long does Nutrafol take to work?
All ingredients present in Nutrafol are dedicated to enhancing your whole body from the inside out, as they will help get healthy hair growth. This happens by strengthening the hair follicles and ensuring your scalp gets all nutrients it deserves. Most users revealed that they started seeing improvements in their hair quality after 3 months, which continued up to 6 months. However, this might be different for some. Some users may even see it after 9 months, while some may see it earlier. To depends upon your body and if you are taking it regularly or not. You can also amp up the results by taking up clean and good habits in your everyday life.
Do I have to take Nutrafol forever?
According to the brand's official website, it is advised that users need to intake Nutrafol every day regularly for at least three months if they want to see any substantial results in their hair growth. Even after getting good changes, you should incorporate them into your wellness routine. If you do not see any changes even after a long time, consult your doctor before you decide to alter your regime.
How much does hair grow in a month on Nutrafol?
The hair growth speed of every individual will vary. Per month users might notice an increase of 0.5 inches to 1.25 centimeters. On an annual basis, you might see a growth of 6 inches or 15 centimeters.
Closure
Prompting hair growth according to individual hair types is not an easy challenge, yet Nutrafol Reviews have pointed out that the brand has done an excellent job making many people's dreams come true. Like there are two sides to the coin, Nutrafol is not complete without its flaws. Although it gives effective results to most users, according to clinical studies, some reviews have also pointed out not to receive any noticeable results they can cheer on. Thus, you might want to choose the alternative.
On average, most thoughts are positively overwhelming, so everyone suffering from this nightmare seeks this cult-favorite brand's supplements. Many users were excited to overcome the sparse spots on scalps, which helped them regain confidence. Others hesitated because the products do not cater to everyone's budget and might ask you to loosen your purse strings. It's high time we get ready to grow some new hair. And luckily, we know where to look!
Marilyn's deep interest in fashion, beauty, and lifestyle has led her to pursue a fulfilling career as a freelance writer and blogger. With her bachelor's degree in fashion design from the Fashion Institute of Technology, she has developed a keen eye for style and trends, making her well-equipped to offer valuable insights into the latest fashion and beauty trends.