If every one of us became bald, it would bring so much respite than being in that situation alone. So in the meantime, how do you deal with something, mainly when you have exhausted all the methods, emptied your kitchen pantry of all essential oils, and squandered a bunch of DIY pastes? We have a solution for you!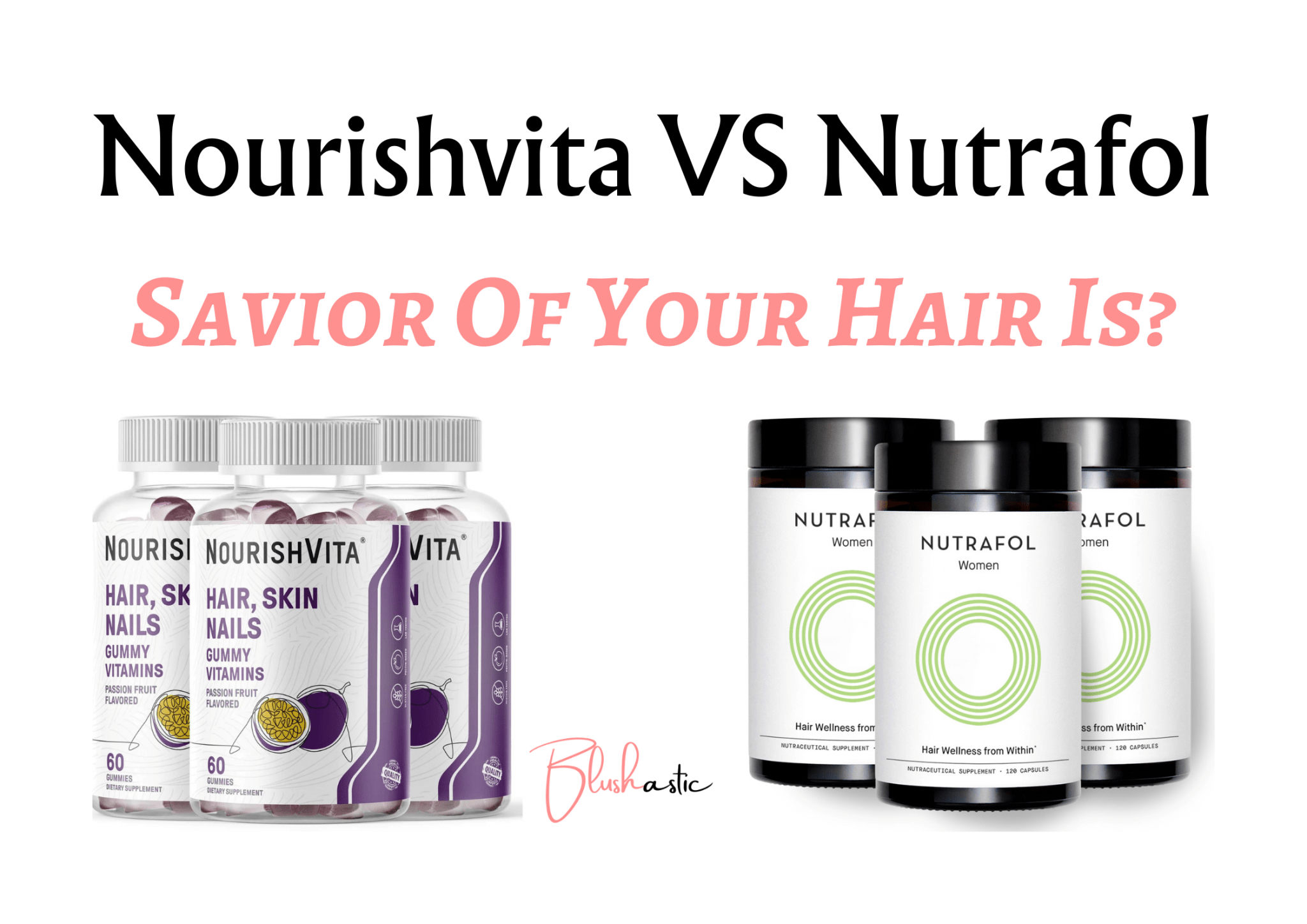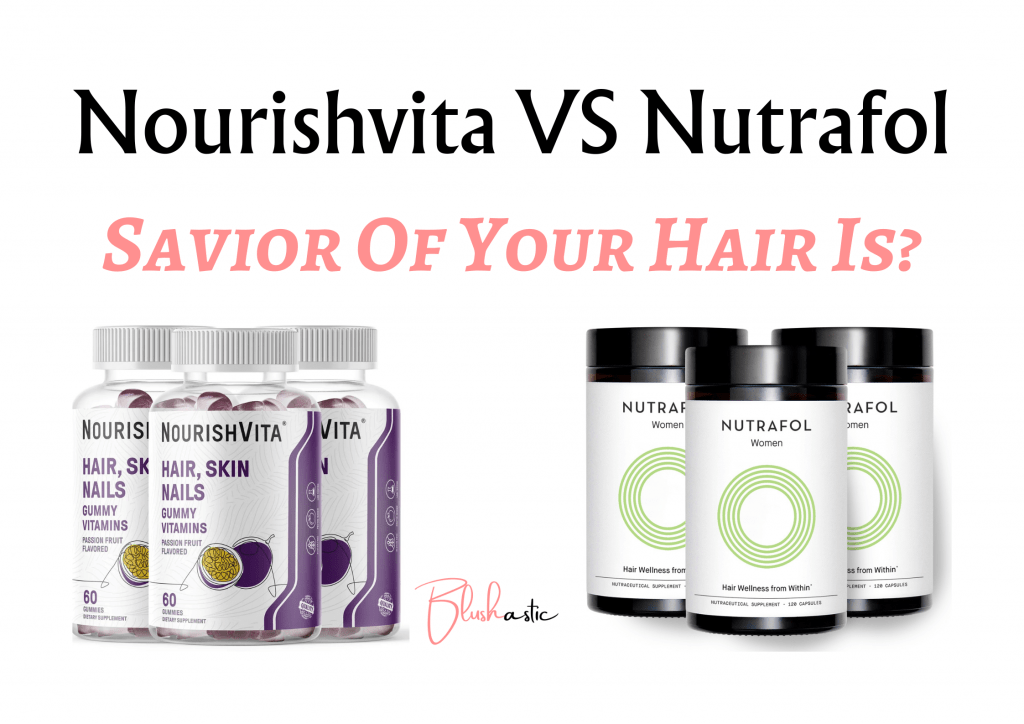 This comparison report of Nourishvita VS Nutrafol talks about two leading hair growth brands that provide specialized formulas to receive your follicle's health and boost new hair growth while healthifying existing locks. As both brands deal with supplements that promise to get your tempting tresses back in business, which one would you vote for? Can you say which is the safest option?
Below, we have broken down this edit into different factors you want to consider before deciding. Let us see which one takes the trophy home!
Nourishvita VS Nutrafol | Savior Of Your Hair Is?
Product Range
You will be surprised to know what all Nourishvita offers when rejuvenating your hair from its lackluster. For your hair, brow, and lash growth, you can choose between vitamin pills or cute and delicacies gummies that fill the same purpose. There are different type of gummies that decreases hair breakage and lead to thicker and stronger hair. You get gummies in many flavors like passion fruit, cherry, apple cider vinegar, raspberry, ashwagandha, turmeric, ginger, and cumin. That is not all.
The brand has other popular branches worldwide, like NourishBrow, which provides one of the most exotic brow-growth serums that you can use to amplify your arches. NouirshLash has the reputation of being the best lash-enhancing solution in the cosmetic industry and caters to the beauty needs of many who are not blessed with bushy brows. Besides that, NourishMax offers you everything you need to build a good army of skincare routines. Moisturizers, creams, treatments, masks, serums, cleansers, exfoliators, and toners exist. So, here, your hair and nails, and skin are made to feel at home!
Nutrafol is all things hair, and its product page is proof! The brand has different hair growth formulas depending upon other age groups because our hair needs to change at different ages and has to be pampered in a specific way. The brand understands this concept and has products for people of the 18-44 age group who experience hair thinning, women of 45+ age, women who are experiencing post-childbirth hair loss, and a lot of physician-formulated haircare and boosters. For men, too, it offers protective thinning formula, hairline defender, and full support.
Ingredients
According to NourishVita reviews, NourishVita contains a uniquely formulated blend of proprietary extracts, oils, and fruits to promote existing hair growth. The primary ingredients of Nourishvita include haircare heroes like biotin, keratin, collagen peptides, hyaluronic acid, essential fatty acids, minerals, antioxidant botanicals, and all the alphabetic vitamins. These ingredients are specially put together to prepare a blend that helps rejuvenate your hair, nourishing them from roots to tips, making them longer, and strengthening them in a matter of weeks.
All elements are designed using top-notch herbs from around the world and do not contain any form of animal gelatin in them. These supplements are formulated using high-quality, contaminant-tested components. The brand ensures that there are no extra fillers for the safety concerns of its clients. They are also free of gluten and parabens and also cruelty-free.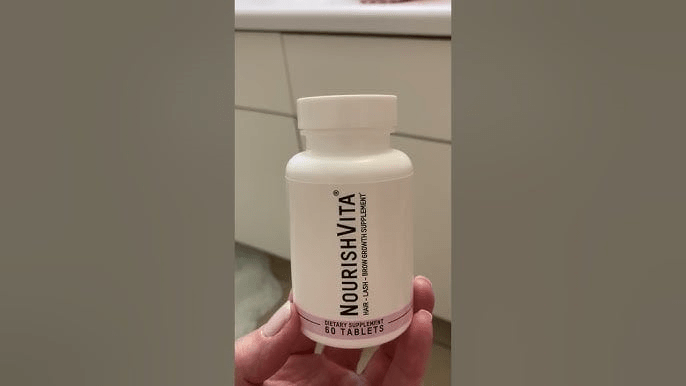 Nutrafol's hair growth supplements are Physician-formulated and powered with 21 medical-grade, natural ingredients, which help boost your hair follicles. These vitamin pills are highly sourced with rich amounts of vitamins like vitamins A, C, D, and folic acid. The ingredients have quite the reputation in the skincare niche for giving rise to significant hair growth and improving nail health. These supplements are also loaded with biotin, and Vitamin B1, B2, B6, and B12.
The role of every ingredient is unique and serves a crucial purpose that will help you get your revived locks back in business! Apart from these, other handpicked ingredients of the supplements include niacinamide, zinc, copper, and pantothenic acid. These are known to have multifold benefits and pamper your hair, skin, and nails altogether. These pills are free of gluten and non-GMO as well.
Results & Effectiveness
Anything can trigger your hair loss. Especially in the current times, it happens even more effortlessly with our lousy lifestyle, continuous hours of being glued to the screens, lack of exercise, irregular sleeping patterns, etc. Therefore, your supplements must at least work and give you some respite from this nightmare of losing your locks. Nourisvita's official website has many testimonials from real-time users who have shared their happy experiences with the brand.
Most customers claimed their supplements showed effective results in just 2 weeks, whereas the rest said it took them 1 month to see good improvements. The results may vary from one individual to individual as everyone's body is different and responds differently to a supplement. So be patient, and be diligent in your intake, for the results will show up!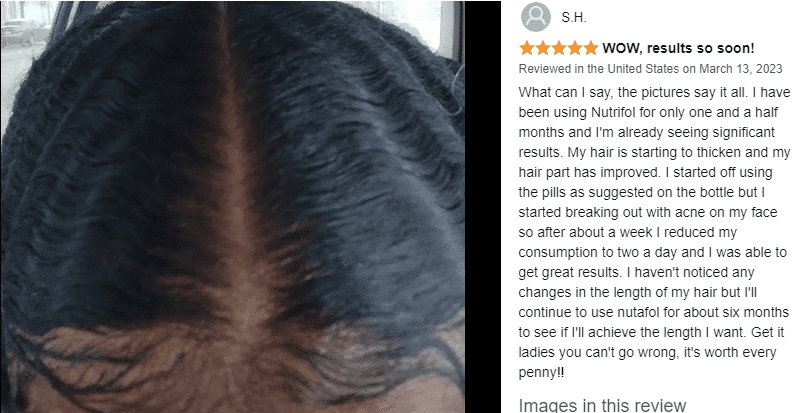 Nutrafol claims to boost your hair's health from the inside out, and hundreds of positive reviews are proof. Also, the brand has successfully made its palace in many top magazines like Harper's Bazaar, Cosmopolitan, and Forbes.
When the brand conducted a 6-month trial with women, it was found that in the end, dermatologists revealed that the evaluation counted in the count of more baby hairs and more terminal or longer tresses in women after they took this hair-amplifier as compared to the placebo group.
80% of women saw a significant improvement in their hair growth, 80% were happy to have received thickness in their hair strands, and 73% saw an enhanced growth rate. Users should expect to see results between 3 to 6 months.
Safety & Side Effects
It is enough already when dealing with hair loss or other hair problems. On top of that, you don't want to add to the burden of getting yourself a lousy product, which might make things worse for you. So, we jotted down some essential pointers you must know before stepping into the ring with either of these brands.
In the case of Nourishvita, make sure you consume only how much you are meant to. Dont take too many pills at once, thinking it will grow the hair of your dreams overnight. Because whenever you take a vitamin pill, the most important thing is to be mindful of the proper dosage. If you take more than required, you might experience nasty situations like headaches or stomach problems.
Nutrafol may be your safe space, but it has its own precautions and side effects. These include nausea, cramps, and diarrhea, all of which happen due to the key ingredient present in this product called Biotin. Also, look out for symptoms of biotin overdose, which may lead to skin rashes and high blood sugar levels. Due to the high biotin levels, it is considered not entirely safe for everyone.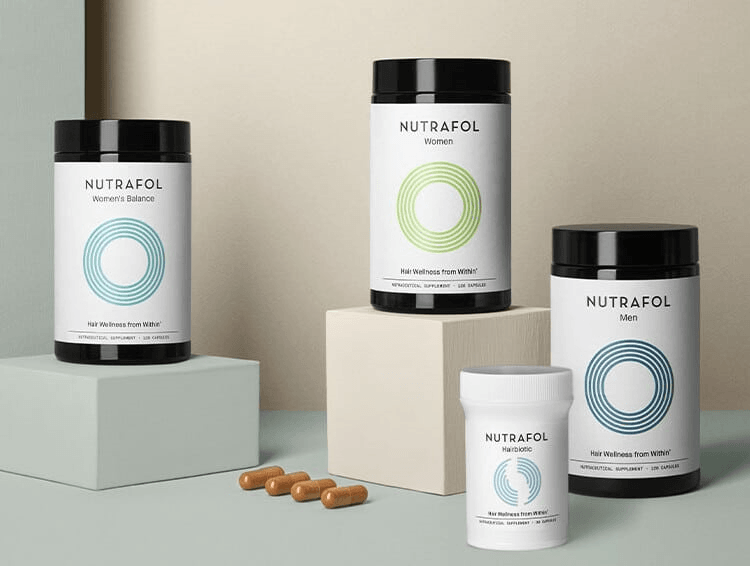 Pricing Structure
When we talk about Nourishvita, its bestselling product is the Hair, Lash, & Brow Growth Vitamin Pills that are suited for both men and women. Their cost is much less than Nutrafol's best-selling formula, the Women Nutraceutical.
On the other hand, Nutrafol costs typically over $80, on which you can avail some discounts. The only good part about this is that while one bottle of Nourihsvita gives you 60 pills to take, one bottle of Nutrafol offers you 120 at once. So, if you hate visiting drugstores repeatedly and want to stock up, you may go with Nutrafol. 
Evaluation of Pros and Cons | Nourishvita VS Nutrafol
Nourishvita Pros
Formulated with 100% natural herbal extracts
It helps in enhancing cell growth
Prevents premature aging of hair or greying
Easy to ingest
Designed with biotin, keratin, collagen peptides, hyaluronic acid, all the alphabetic vitamins, essential fatty acids, vitamins, minerals, and antioxidant botanicals
It improves the condition of your nails and skin as well
Rejuvenates your scalp and soothes its issues
Adds a lustrous sheen effect to your locks
Reduces breakage of hair
Shows improvements in 2 weeks to 1 month itself
It possesses anti-inflammatory properties that keep away any damage
Entirely vegan composition
It does not contain any kind of nasties like parabens or hormones
This is a cruelty-free formula
The website offers a lot of nutritional facts you might require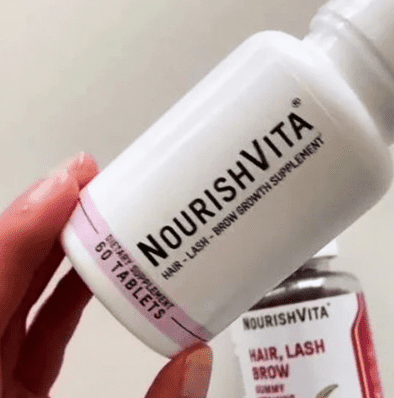 Cons
The product is sold out too often.
Nutrafol Pros
Designed with 100% natural ingredients
The products have undergone many successful clinical tests
Targets hair thinning and treats it with the DHT hormone
Concentrated vitamin E protects hair from environmental damage
Improves cellular metabolism, and the immune system
Promotes keratin production
Sufficiently enriches with hydration
Different pricing plans are available depending on your goal
Variety in pricing to cater to your budget
It also enhances the health of the skin and nails
Repair hair in just three to six months
Improves follicle repair with marine-based collagen
Hyaluronic acid helps enhance the absorption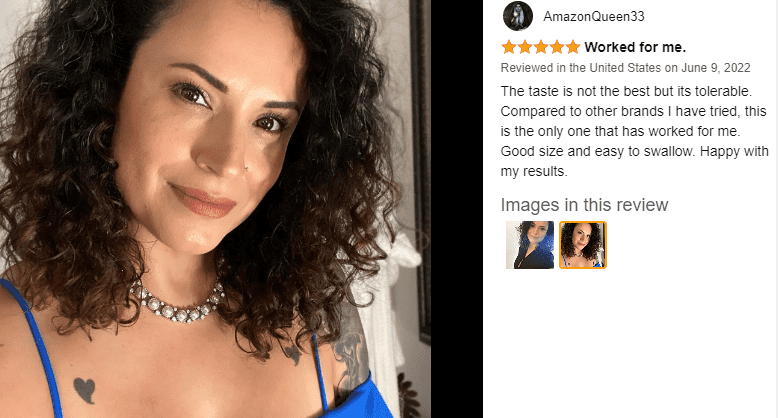 Cons
It is costly.
It may cause some side effects.
Not FDA approved
Customer Feedback | Nourishvita VS Nutrafol
Ashley commented on Nourishvita, "I am thankful to my sister for suggesting this hair supplement, which has turned my life around. My hair used to be very thin and looked dry and lifeless. I had tried everything from hair serums to DIY concoctions, but nothing would work. Thanks to this, my hair breakage has reduced a great deal. My locks even look healthy and shinier than earlier. You should go for it!"
Rosalie spoke on Nutrafol, "I thought adding this to my everyday regime would benefit my nails also, as it said. But even after three months, I can't see any improvements in the condition of my nails. They are still very brittle and look dehydrated all the time. This did not come up to my expectations."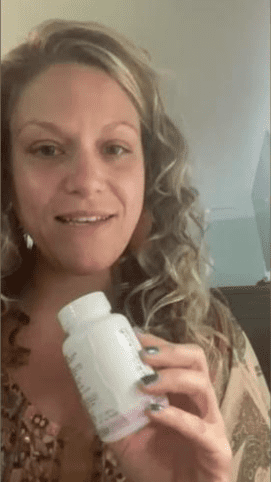 Naomi pinned on Nutrafol, "I had a scalp with many empty spaces visible to the naked eye. I used to feel embarrassed while going out with my friends and gradually stopped doing that. After I started using this, I was initially skeptical about whether it would work. But gradually, as the days passed, I noticed my crown looked very healthy and had new hair growth. It was happening slowly, but the important part is it was happening. It's been one year, and my pictures today look nothing like before. This was a very wise decision indeed."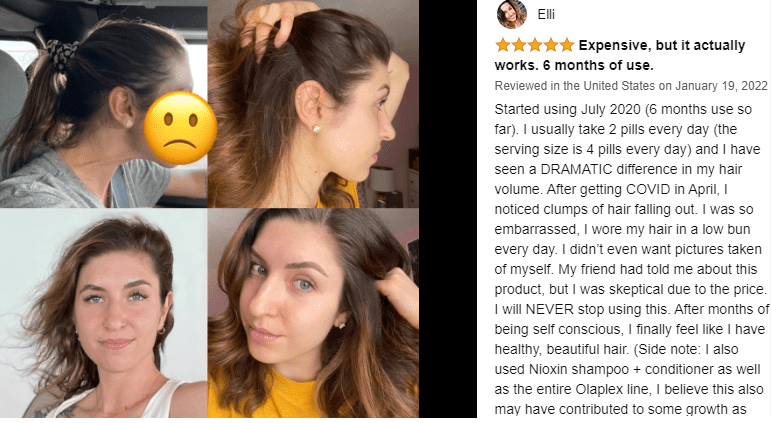 Lana mentioned about Nourishvita, "When everyone in my circle was talking about it, I knew I had to try it out and see if it lived up to its claims. However, I could find it anywhere for two months as it was sold out."
FAQs | Nourishvita VS Nutrafol
Can Nutrafol regrow lost hair?
According to reliable user reports, Nutrafol has outdone itself in the world of hair growth. Today most people deal with problems of hair loss or thinning. Based on clinical studies, this brand claims to offer you the fastest-growing supplement in the market that will deliver you healthy hair with improvement in growth. Clinical studies of the brand show that it claims to improve hair regrowth by 80%.
Does NourishVita help with hair loss?
Nourishvita has been in this business for a long time and thereby understands the needs of its clients better. Therefore, all products under this brand are supplied heavily with handpicked ingredients like Vitamin A, Folic Acid, and Biotin, which play a crucial role in the growth process of your hair and nails. These ingredients form a nutritional blend for your scalp and pump up the follicles to speed up new hair growth and nail health. They also actively participate in less hair breakage and slow down hair fall.
What are the adverse side effects of Nutrafol?
Like every coin has two sides, this brand has good and bad sides. The downside of using Nutrafol is that it causes a few side effects because of its main ingredient, Biotin. Intake of this element might lead to unwanted situations like feelings of nausea, cramping, stomach upset, or diarrhea. Also, if users end up having an overdose of biotin or these pills, it may cause them uncomfortable skin rashes and a rise in blood sugar levels.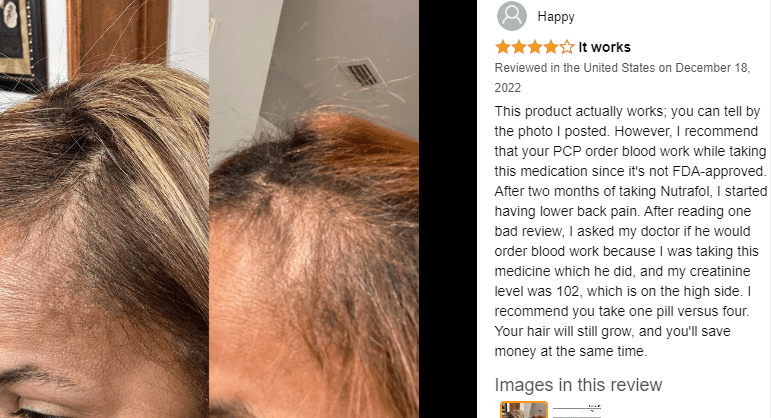 How often do you take Nourishvita?
The general advice people get while taking these pills is to take one to two capsules daily to see noticeable changes. If you have any allergies to the ingredients present in these pills or signs like irritation that you weren't experiencing before taking these pills, consult your dermatologist immediately.
Is Nutrafol safe for your liver?
Numerous ingredients in this composition are known to have properties supporting healthy liver-supporting attributes. This participates efficiently in the liver-processing method, while the antioxidants present here help shield the body against odds like free radical damage or any other environmental aggressors. But if you're wondering what happens when you stop taking Nutrafol, you can check these people sharing their experiences.
Can pregnant women use Nourishvita?
There is no mention anywhere if Nourishvita supplements or products are safe if you are pregnant or a breastfeeding woman. It is generally advised that these people consult their doctor before adding biotin or Nourishvita to their regime. This is done considering the safety purposes of the mother and the baby.
Closure
If hair isn't the weapon of your appearance, then something's wrong! However, this is not a bit surprising because most of us are dealing with this living nightmare every day and every second of it. There is no end to this tale of hair and its problems like hair fall, breakage, and whatnot. So what's the issue?
Are your hair-washing duties not going the way they are supposed to? Do you not focus on scalp health? Are you doing everything right, and yet the results are disappointing? Luckily we got our hands on this guide of Nourishvita VS Nutrafol, so you will be getting answers.
If you are still trying to decide which one to choose, let us help you! Nourishvita gives you an edge over here because it has a lot of other branches like NourishMax, NourishBrow, and NourishLash. nourishMax offers a wide platter of all the skincare must-haves you need to build a reliable everyday routine. So, it is very convenient that way, whereas Nutrafol only deals with products of all things hair.
If you are someone who needs variety, then go with NourishVita. On the other hand, if your sole concern is to healthify your locks, you might choose Nutrafol. You could consider different heads based on your needs and budget. We are getting ready to get our hair the attention it deserves. Are you too?
I'm Sarah Abraham, the founder and co-author of Blushastic.com and a professional makeup artist. Beauty is more than just skin deep, and that's why I'm passionate about sharing my knowledge and experience to help people feel confident and beautiful on the inside and out.
Whether it's skincare, haircare, or fashion, my goal is to empower women to feel their best. With my expertise in the beauty industry, I strive to provide practical advice and tips that are accessible to everyone, regardless of their skill level or budget.