Body butter is a must; especially when you don't want your skin to suffer from all it goes through throughout the day. Be it bad lifestyle habits, wrong skincare, prolonged exposure to the sun, or increased pollution. This is where the goodness of body butter is essential, as it heals and repairs your skin inside and out. However, finding the right formula can feel like an arduous task when there are so many formulas to consider.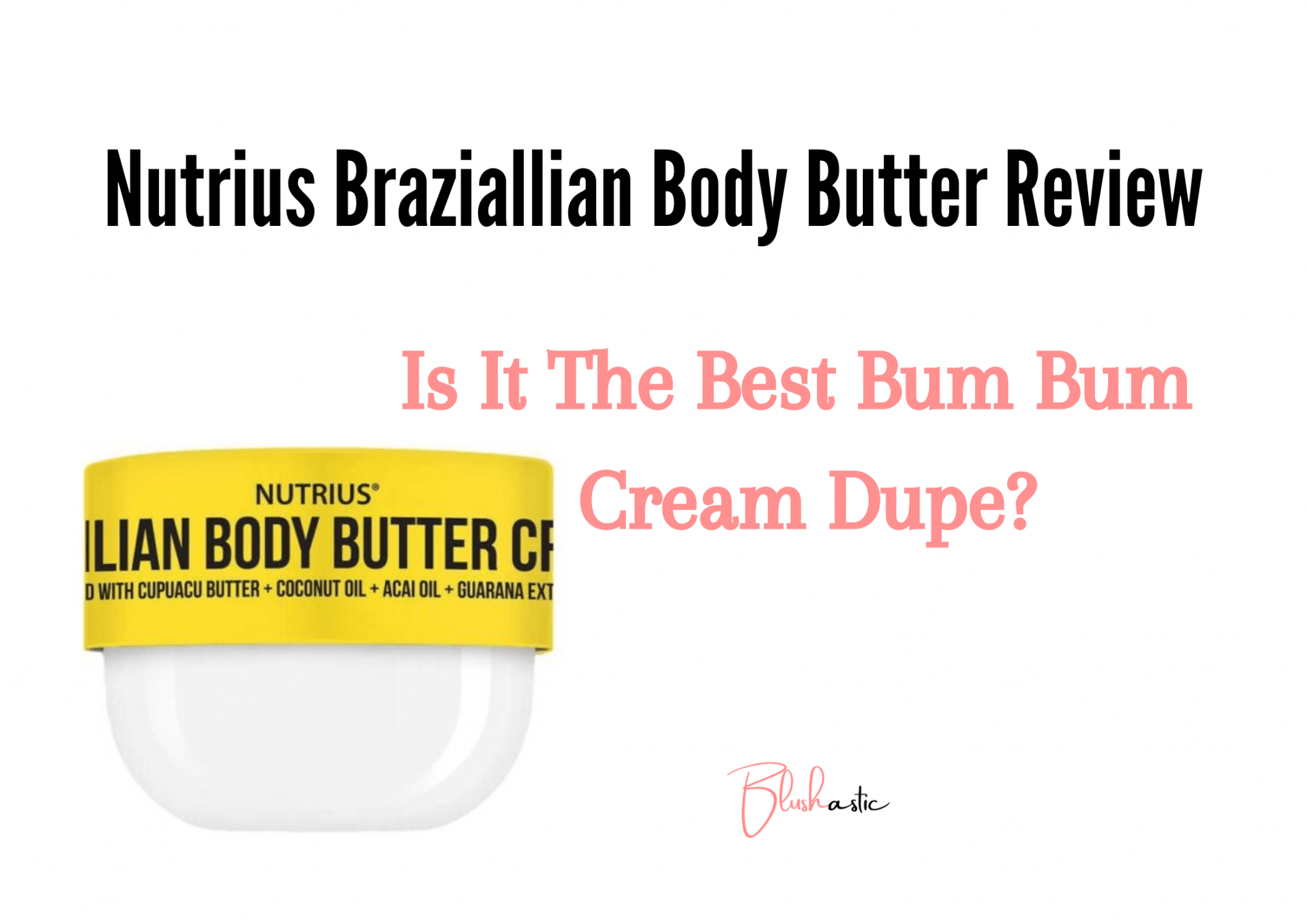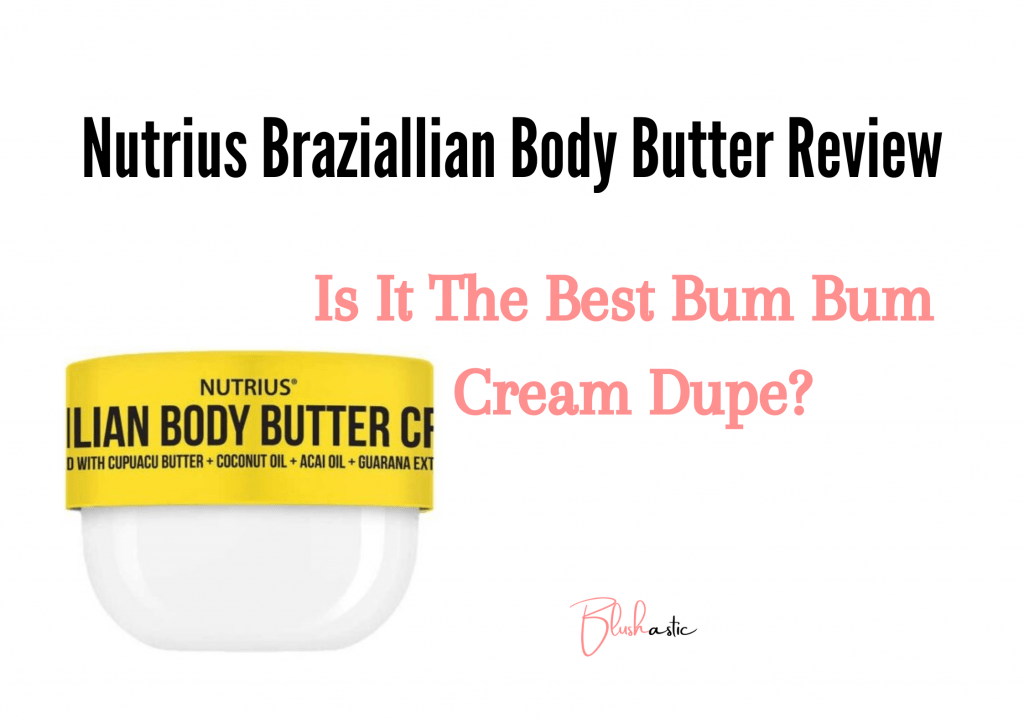 According to Nutrius Braziallian, this body butter formula can answer your prayers if you have been agitated with dry skin for some time. But is its moisturizing magic enough? Will the procedure suit every skin type? We know you have a lot of doubts, and luckily I will answer them all with some Nutrius Braziallian Body Butter Reviews. Let's dig deep to discover all there is to know about incorporating this formula.
Nutrius Braziallian Body Butter Reviews | Your Daily Dose of Moisture?
We all have a hundred different things-to-do lists every day. But how many of them get all of them done? Similarly, the correct maintenance of your body is often ignored since the whole rage of facial skincare has been making the headlines. Luckily I got my hands on Nutrius Brazilian Body Butter, which claims to solve all the problems of proper nourishment and conditioning your skin needs. But is it something we need?
Nutrius Brazilian Body Butter Cream, 6 FL OZ
Coconut Oil - Ultra nourishing & Skin- Softening
Guarana Extract - Energy Boost for smoother and faster absorption
Acai Oil - Antioxidant - Rich Helps lock in moisture
For Hand and Body. For All Skin Types
Infused with Cupuacu Butter.
After some proper research, Nutrius Brazilian Body Butter Reviews suggest that the cream has such consistency and texture that it blends effortlessly on your skin without weighing it down. Many skin-loving ingredients are embedded, like butter and botanical extracts like Cupuacu Butter, Coconut Oil, Acai Oil, and Guarana Extract.
All of them are responsible for refilling your skin's hydration levels, sealing the moisture inside, and making you feel moisturized like never before. There is no gluten or any kind of harmful ingredients put in it for safety measures. Also, the formula is cruelty-free and vegan. But is it for everyone? Can this be your solution?
How to use it?
Smoothen the cream on your entire body or on all those areas you want to focus on precisely.
Pro tip:- use it after you get out of a shower for better results. This enables better and faster working because, after bathing, the pores of our skin become open. Thus, your skin can absorb the formula barter and give you smoother results. You can also apply it once before night, as our skin's regenerative process is enhanced during the night.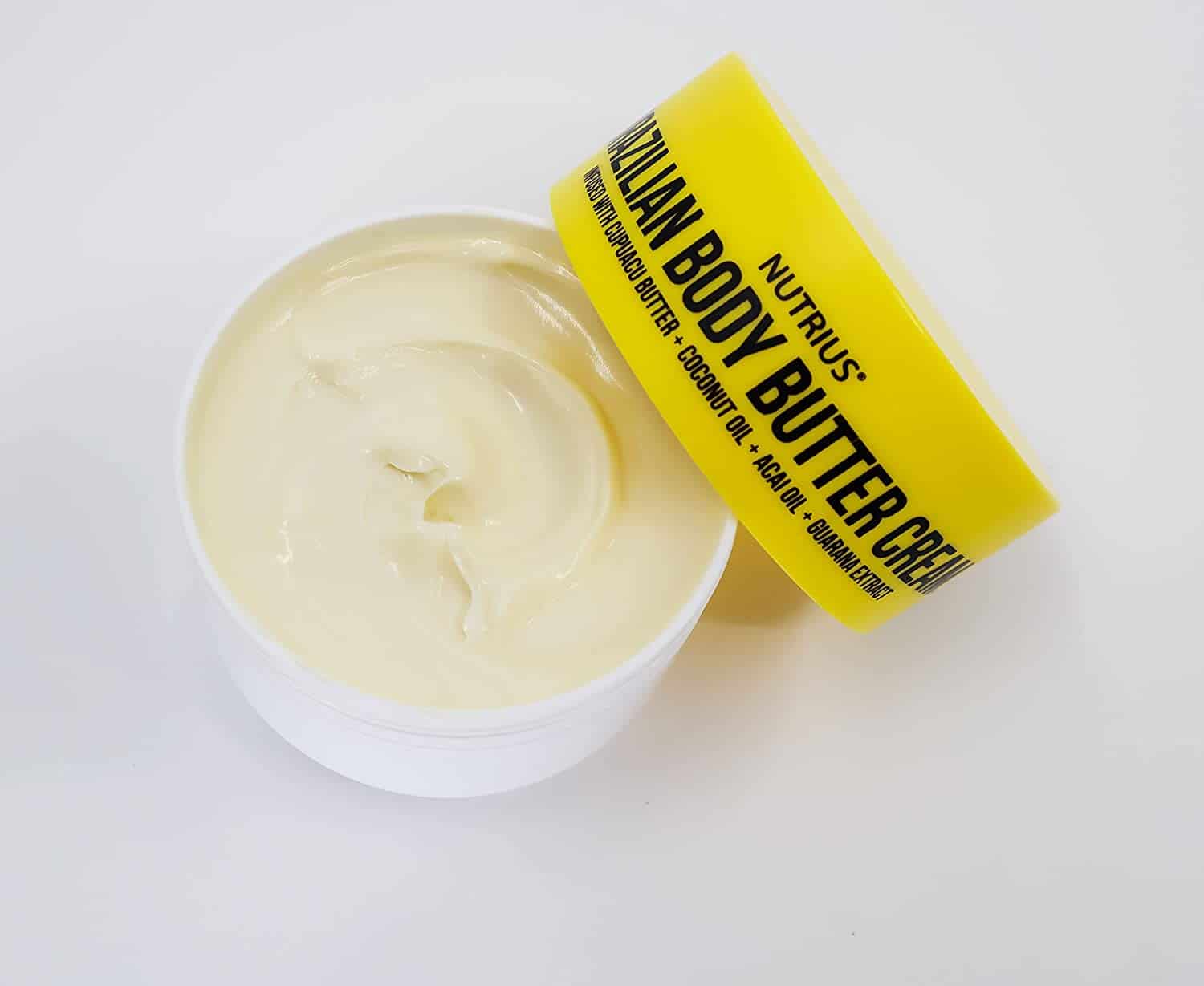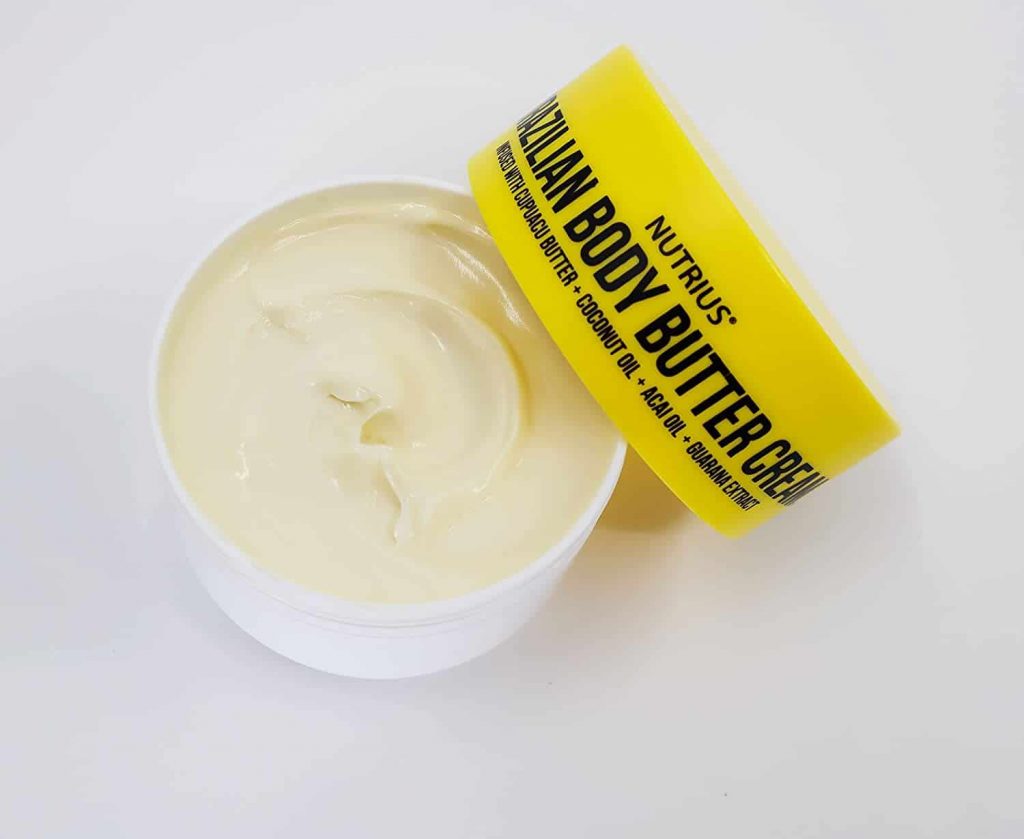 Perks
Features a fast-absorbing formula
Penetrates deep into your dermal layers
Offers intense moisturization
Infused with different butters, oils, and extracts
Heals peeling, flaking, or itching of the skin due to dryness
Works on smoothening your skin's surface texture
Softens and gives your canvas a plumping effect
It leaves a non-greasy finish
It does not weigh your skin down due to oiliness
It can be used on the entire body
The formula has reparative features
It has a vegan and cruelty-free formula
Free of nasty preservatives like phthalates, gluten, paraben, and mineral oil
Drawbacks
The cream has some amount of scent or fragrance infused in it. This may be an issue for users who are sensitive or allergic to such smells.
Key Ingredients – Nutrius Braziallian Body Butter Reviews
The good ingredients in your skincare cabinet are the key to amplifying the appearance of beauty in the proper, non-invasive manner. Especially with our body, which goes through all the harmful effects of environmental aggressors daily, we forget to care for it properly as we do for our face. Therefore, Nutrius Brazilian Body Butter incorporates some aspects in its composition that have been specially handpicked to relieve your skin from losing moisture and keep it softer and smoother. Let us look at all the essential ingredients falling under this cream.
Cupuacu Butter
The elasticity present in our skin slowly wears down when we age, which in turn brings wrinkles. Cupuacu Butter has skin-repairing properties by improving lost elasticity by filling up its deficiency. What makes it a must in your skincare routine is it prevents moisture from escaping, as it can retain 440% of its weight in water. This makes sure your skin is moisturized for a long time. This butter also can fight free radical damage, which protects your skin against the harsh effects of sun exposure.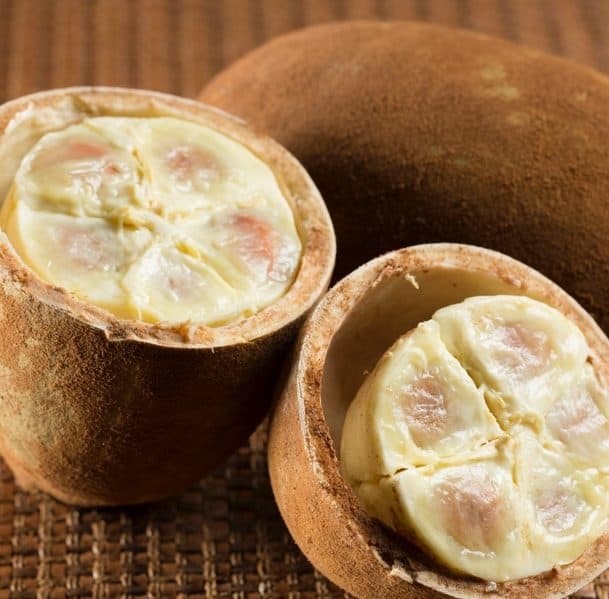 Coconut Oil
This ingredient is something that most of us can find sitting in our kitchen pantry. Coconut oil is a number one favorite because it has exceptional skin-hydrating properties that treat scaly, itchy rashes and deliver sufficient nourishment for a long time.
Acai Oil
The craze for acai berries increased with the rise in the avenues of the skincare industry. These deep-colored purple berries are richly packed with antioxidants, giving your skin the necessary nutrients. Brazilian culture is fond of this staple ingredient as it shields your skin against oxidative stress and keeps your protective barrier uncompromised.
Guarana Extract
Native to Brazil, the Guarana plant is considered a hero of the beauty industry when it comes to repairing damaged cells and preventing premature skin aging. Thanks to its antioxidant and antimicrobial properties, which further improve skin elasticity, enhance tightness, fight sagginess, and reduce dynamic wrinkles on your face.
Apart from the above-mentioned vital ingredients, other ingredients have been mixed with the Nutrius Brazilian Body Butter. Carrot root extract, brazil nut seed oil, glycerin, vitamin E or tocopherol, soybean oil, etc.
Who should use Nutrius Braziallian Body Butter?
Those who have dry skin
People dealing with forms of eczema
Users who want to add a little more nourishment to their body care routine
People wishing to eliminate the sagging of skin
Those who want to improve the elasticity of their skin
People who wish their skincare range to have anti-aging benefits
Customer Feedback | Nutrius Braziallian Body Butter Reviews
Most of us fall into marketing traps of different brands with their catchy headlines and punch statements. And in the meantime, we must understand if a product will benefit us. Some people buy popular products just because their favorite celeb or influencer uses them. But this may backfire sometimes. To prevent such dire circumstances for you, we talked to reliable sources who speak Nutrius Brazilian Body Butter.
Angela commented, "I have tried my luck with many body creams, butter formulas, and lotions, but none have ever worked for me or made any improvement. I have dehydrated skin, which limits my options more than normal people. A friend recently suggested this body butter; I used it for 3 months. I have to say I am impressed and shocked at the same time. Because I had not expected it to work. My skin feels very soft and moisturized these days."
Camila mentioned, "I don't know about others, but this did not give me any good changes in my skin. I purchased it because there were so many positive reviews about it online. I wish I could get a refund."
Kira pinned, "My skin loves the texture of this cream as its thickness and creamy aspect is perfect for me. Ensure you are consistent with your usage to see better and faster results."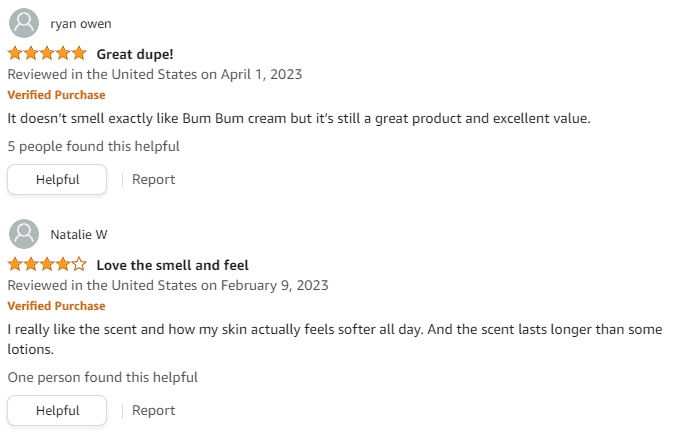 Remmy expressed, "It does not work at all. My sisters, including myself, bought it after hearing so many nice things about this body butter. All of them made sure to use it two times a day. Sometimes I would also use it three times, as my skin becomes dry easily to make it more supple-soft. The consistency is heavy for us, but it does not feel moisturizing or enriching after applying. Instead, it is making my skin sticky and oily. I don't think I am going to repurchase it."
Amelia said, "After I started using this, I realized how useless products I have been spending on my money till now. What I love the most about this formula is it has many nourishing ingredients that calm any signs of irritation on your skin and prevent it from peeling. Even my husband can't keep his hands off this cream. I can't wait to buy another tub because my skin has never felt better."
FAQs | Nutrius Braziallian Body Butter Reviews
Is Nutrius Brazilian body butter a dupe for a bum?
The face-off between the Nutrius Brazilian Body Butter and the Sol De Janeiro Brazilian Bum Bum Body Cream has a similar composition. But the Nutrius Brazilian Body Butter has a different kind of smell than the latter. Both have similar properties as they work hard to boost moisture to your skin to look rejuvenated and young. Thus, people call it the perfect Bum Bum Cream dupe.
Where to buy Nutrius Braziallian Body Butter?
You can buy Nutrius Brazilian Body Butter from retail sites like Amazon and Walmart. Look out for sales to avail yourself of the products at better discounts and deals. Do your research correctly, as it gives a lot of meaningful insight about the product you buy.
Is the Nutrius Braziallian Body Butter safe for sensitive skin?
The formula of this body butter does not contain harmful chemicals like gluten, parabens, phthalates, or mineral oil. This makes it suitable to be used for sensitive skin. Apart from that, the body butter also features a vegan composition by nature and has not been tested on animals for the safety purposes of the clients.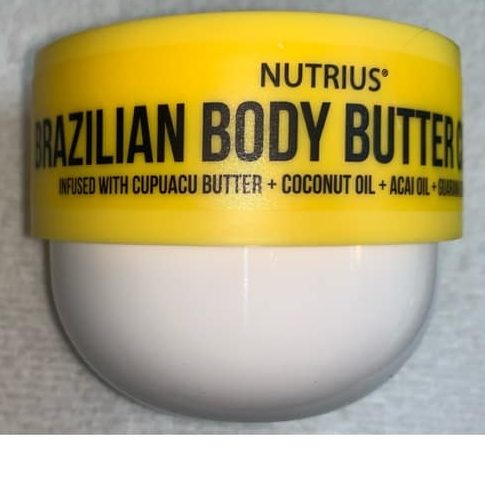 Can I use Nutrius Brazilian Body Butter on my face?
On a general basis, the formula of all body butter is very moisturizing. For this reason, they can be applied to your facial skin to eliminate any kind of irritation due to dryness. On the other hand, if you experience discomfort on your face after using the cream, immediately wash it off. This irritation and tingling sensation may be because some ingredients in the formula are not suiting your skin type. If you continue using this by ignoring all these signs, the body butter cna instead strip your face of all essential moisture.
Closure
More than just drinking enough water is required. Sometimes our skin needs a lot more, and body butter is a great way to fuel your skin with this hydration. According to Nutrius Braziallian Body Butter Reviews, the cream is filled with many selective plant extracts that soothe your skin. After comparing all the pros and cons of the Nutrius Brazilian Body Butter Reviews, it has come to light that a significant portion of the crowd wants to get their hands on this cream.
The most important reason behind this is it gives extra TLC to your canvas after it has been through all the ruggedness of daily activities and environmental pollution. While users are going all out to introduce this to their beauty routine, some people need an impactful experience. Some were unhappy that the cream came with some fragrance in it. Others said it did not give them the moisturization they required.
I'm Sarah Abraham, the founder and co-author of Blushastic.com and a professional makeup artist. Beauty is more than just skin deep, and that's why I'm passionate about sharing my knowledge and experience to help people feel confident and beautiful on the inside and out.
Whether it's skincare, haircare, or fashion, my goal is to empower women to feel their best. With my expertise in the beauty industry, I strive to provide practical advice and tips that are accessible to everyone, regardless of their skill level or budget.