Everyone wants to have those lengthy and full eyelashes. Some go with falsies, and some are blessed with naturally beautiful and full lashes. But it isn't the case with everyone; some people still would love to flaunt their natural lashes rather than wearing false eyelashes. But with the advanced makeup and cosmetic industry technologies, eyelash serums' emergence and widespread use have genuinely become a savior for people.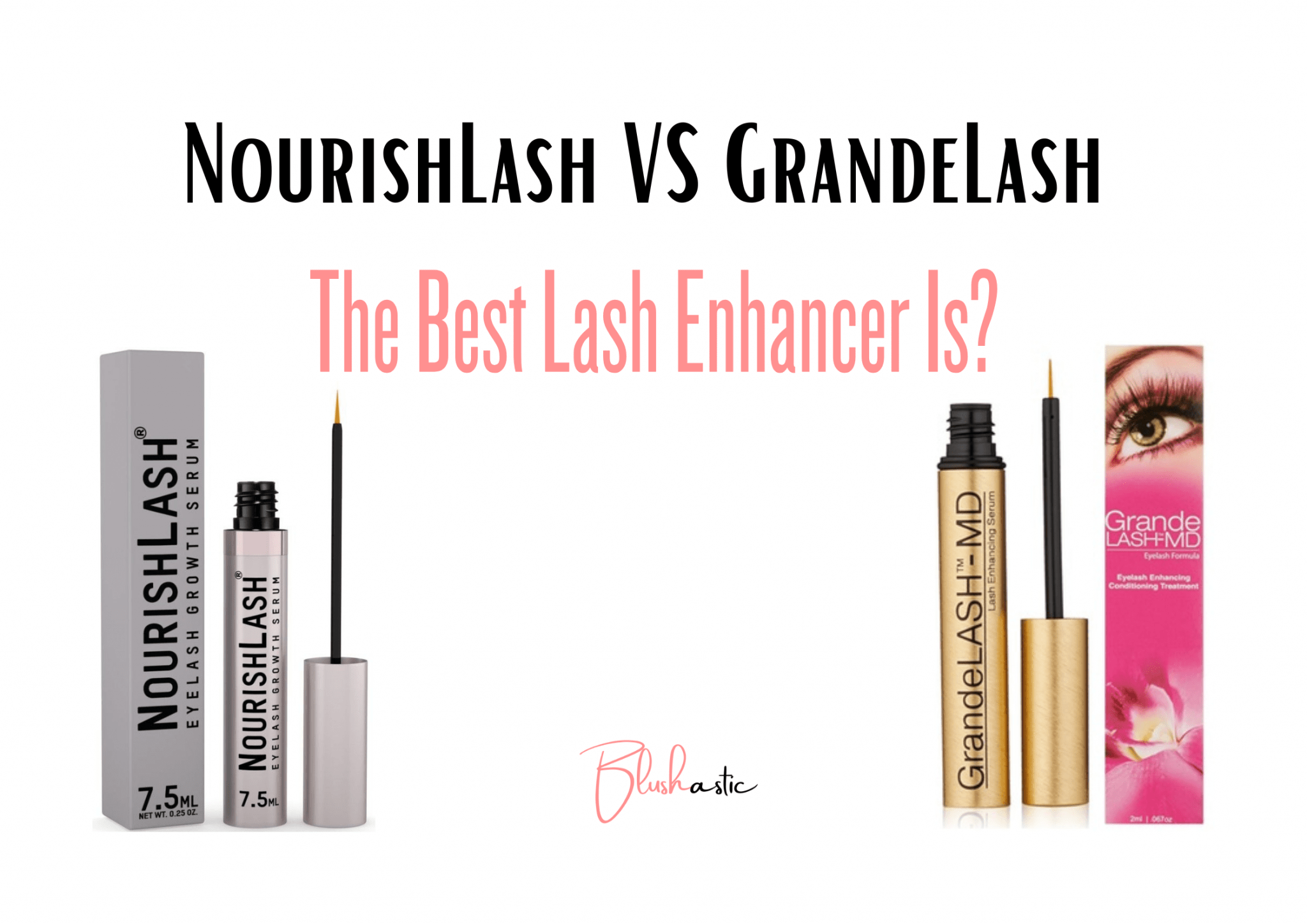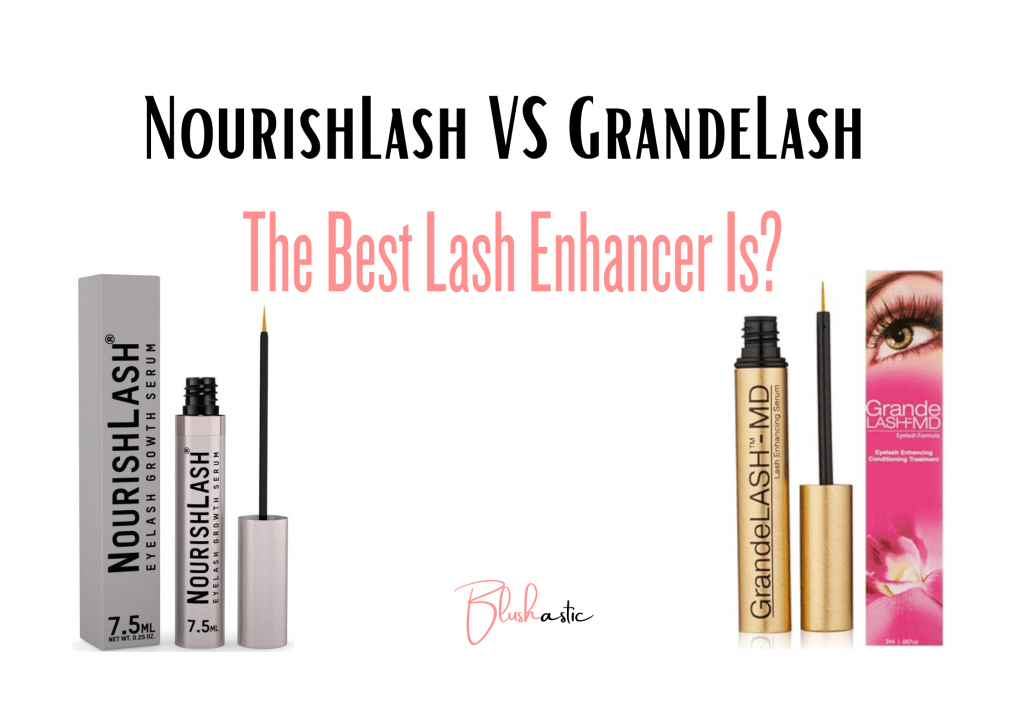 It's time you stop worrying about your gone lashes and start working on bringing life to them. Brands like NourishLash and GrandeLash are among the most formidable competitors in today's lash growth serums. If you are a newbie trying to find the right one, this report showcasing the comparison of NourishLash VS GrandeLash will help you!
NourishLash VS GrandeLash | The Best Lash Nourishment Is?
Product Range
NourishLash is a subpart of the brand NourishMax, which uses American plus world-famous Korean skincare, including nature, as inspiration. The brand takes pride in presenting its products that are plant-based and clean formulas. With clean formulas, you know you can trust the brand with its skin-friendly compositions that are gentle with your skin. 
The brand has various sub-parts like NourishVita, NourishBrow, and NourishLash, which offer products like Ferulic Serums, Vitamin C serums, eye creams, and NourishBrow Eyebrow Growth Serum. And if you thought that was it, you are in for a treat! The brand also offers products like Vitamin Pills and Gummies of different flavors such as Ashwagandha, Elderberry, and many more.
Offering a variety of products is one factor that makes a brand appealing to its customers, and considering that fact, GrandeLash makes sure it doesn't stay behind. Coming under the brand name Grande Cosmetics, you can find products that nourish your brows, hair, and lashes! These come in the form of mascaras, serums, lash tools, and many others. Not just that, we'd love to burst your bubble, as the brand also offers products for your lips, hair, and skin! It also offers supplements in the form of gummies in different flavors.
Ingredients
It is the set of ingredients that makes a product special. Taking that forward NourishLash has created its Lash growth Serum formula by having its critical elements as some of the most beneficial ones, especially the ones that promote hair growth while providing nourishment to them.
The complex peptides present are lash-specific ones that enhance your lash length while making them look thicker within a few days. One of the most famous ingredients found in many serums, Biotin, or Vitamin B7, has properties that help fight hair breakage to give you strong and healthy hair. Another widely-preferred form of Vitamin B, Panthenol, also nourishes the lashes. Other vital ingredients include Calcium Pantothenate, green tea, and red clover, all of which nourish your lashes and promote healthy hair.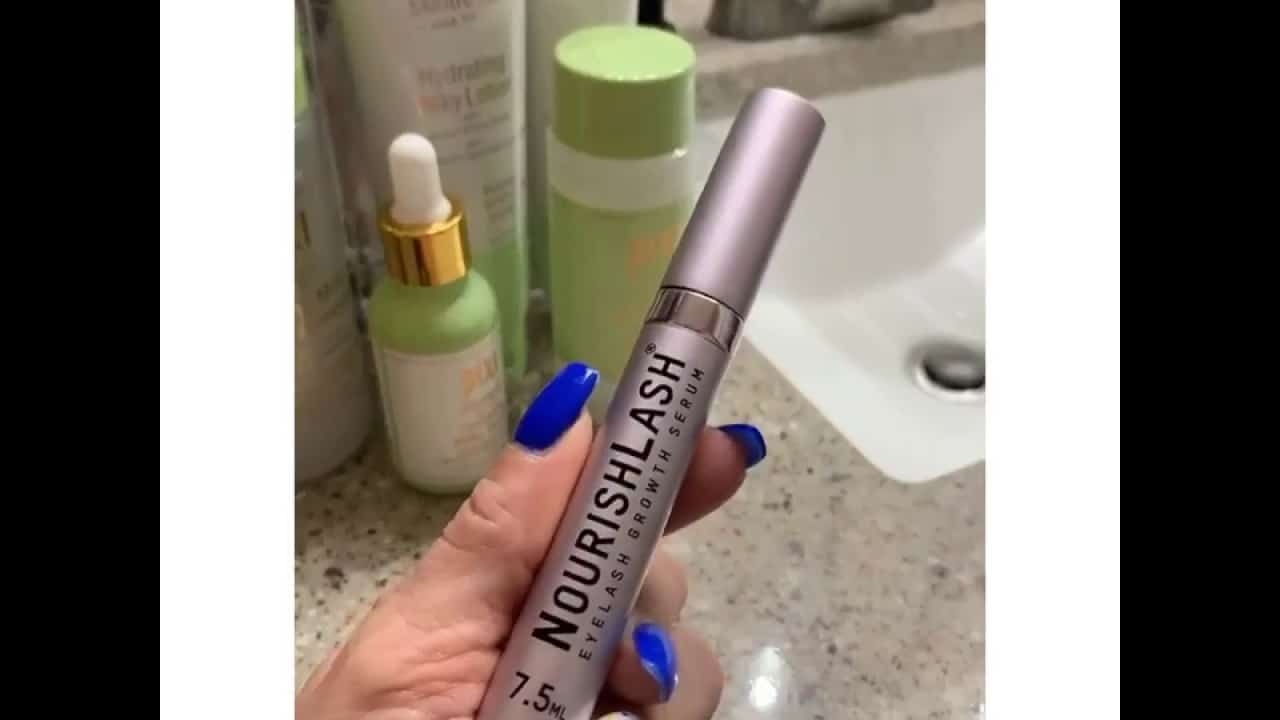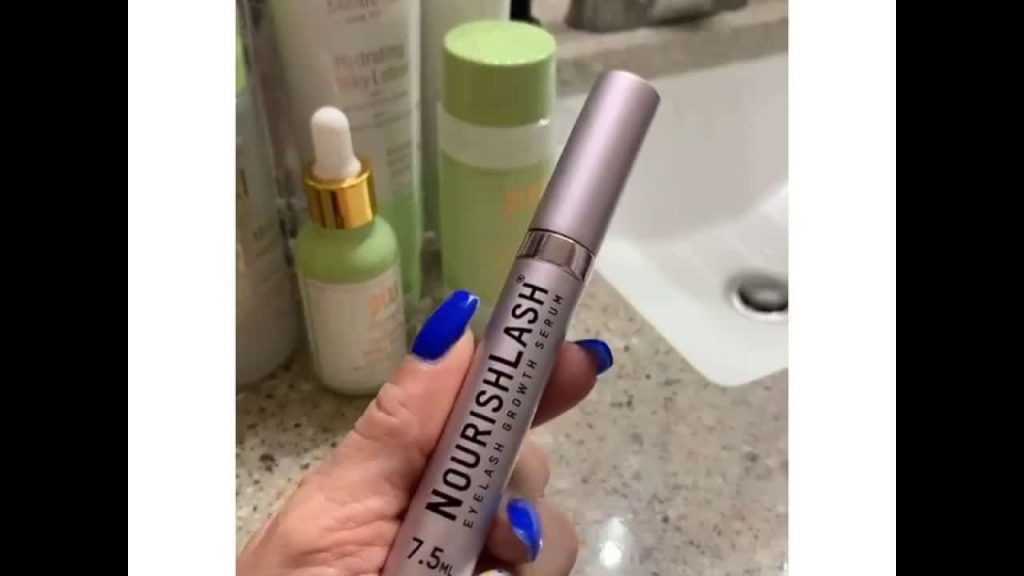 Being a formidable competitor to NourishLash, GrandeLash has also made many eyes turn hearty eyes with its breakthrough formula that is proven to give you long and thick lashes within weeks. The GrandeLash – MD Lash Enhancing Serum is known for its number of awards won, and there you know it is one of the best. And this is probably because of the careful and essential ingredients used in the serum that has made it what it is today!
The Lash Serum is power-packed with amino acids, the basic building blocks of collagen essential for healthy and strong lashes. Apart from that, the serum contains Hyaluronic acid, one of the widely-loved and used ingredients because of its excellent hydration properties, as it can hold up to 1000 times its weight in water. The grape Seed extract is enriched with Vitamin E. You can rest assured of the antioxidant properties it will provide. It also contains honey and aloe vera extract that not only nourish your lash but help in giving you soothing effects.
Effectiveness & Results
NourishLash lash growth serum ensures noticeable improvement in the length and thickness of your lashes after 3 weeks of use. The bio-peptide-infused formula with natural ingredients works super fast, making you say bye to your mascaras. 
With stronger and thicker lashes, as promised by the brand, you can also notice and experience the conditioning effects and nourishment felt to your lashes with a reduction in breakage and brittleness.
GrandeLash has become an iconic breakthrough by gaining the title of the #1 Lash and Brow Serum brand in the U.S. You know it must be worth trying when a product or a brand has received that title. The GrandeLash-MD Lash Enhancing Serum has proved its superiority with a 12-week consumer study conducted on 30 people. As per the study, 94% of people noticed healthy lashes, and 97% noticed more volume. 91% of people were left satisfied seeing their lashes get longer than before.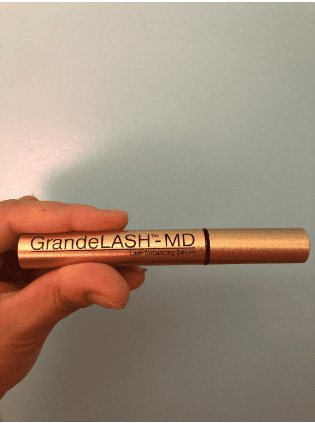 Safety & Side Effects
Safety should be the primary concern, especially when dealing with sensitive areas. And for that very reason, you must do a patch test before you move on with the full application. As per NourishLash, no harsh or harmful chemicals are present in the formula, making it safe for all skin types.
Most lash serums cause a permanent and increased brown pigmentation of the colored eye, but the brand says with the correct serum usage, you may not have to experience any such thing as the brand has already worked on it. In some rare or sensitive cases, people can experience redness in the eye and even dryness with itchy or irritated skin. In sensitive cases, some of their allergies may be triggered, leading to swelling or other skin issues.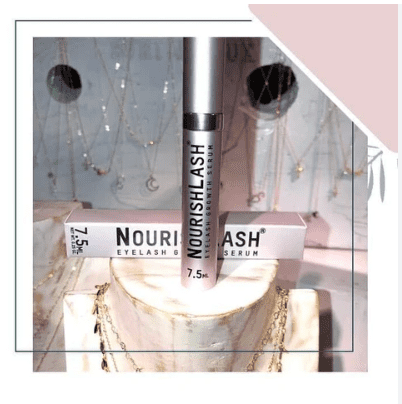 With GrandeLash, a small percentage of users have reported some side effects; These include burning sensations and tingling. When the lash serum went viral on TikTok, several women out there complained of worry about the change in their eyelids and even the loss of fat around that area. People with monolids can have double eyelid structures because of fat loss.
To avoid such effects, it is essential to know that the GrandeLash serum is not meant to be used with any other lash serums and should be used individually, as the brand's CEO had stated.
Evaluation of Pros and Cons
NourishLash Pros
NourishLash is made with natural ingredients that are of premium quality.
The serum helps in reducing the breakage of your lashes.
Your brittle lashes are turned into smooth and nourished ones.
You can see a noticeable difference in your lashes within 3 weeks.
Thin and weak lashes are transformed into strong, healthy, and fuller ones.
It prevents your lashes from falling out.
It is free from harsh chemicals like phthalates, parabens, oils, silicones, and fragrances.
It provides shiny lashes.
It is infused with ingredients that promote hair growth and provide hydration.
It also provides your lashes with the nourishment they need.
The brand offers a 60-day money-back guarantee.
The serum is clinically tested.
Dermatologists and ophthalmologists also review it.
Cons
A few side effects of using the serum include eye dryness and redness.
It may irritate the eyelids.
May show results after prolonged use of the serum.
It can be expensive. Several dupes in the market are budget-friendly and give similar results, like RevitaLash, Premium Eyelash Growth Serum, and even Maybelline's Lash Sensational Boosting Eyelash Serum.
GrandeLash Pros
The power-packed ingredients enhance lash growth while providing them with nourishment and hydration.
It promotes healthy-looking lashes that are accompanied by long and dense lashes.
The presence of amino acids in the serum is a great plus point as it bathes our lashes with antioxidants.
It helps in conditioning the lashes from the lash line to the tips.
Hyaluronic acid helps in providing hydration to the lashes.
Soothing effects are felt because of Aloe Vera extract and honey.
There is an increased thickness of the lashes.
It brings life to your lashes by rejuvenating them.
It helps improve and enhance your lashes within a month of consistent use.
The brand offers a 90-day money-back guarantee.
It isn't sticky and dries quickly.
It is free from parabens.
It comes at an affordable price and will not break the bank.
Ophthalmologically-tested.
Cons
Several side effects have been reported, like changes in the eyelids, redness of the eyes, and a few more.
The Lash Serum has had a lawsuit filed because of its side effects caused on some people.
It is said to have an ingredient that has the possibility of causing iris discoloration.
Customer Feedback | NourishLash VS GrandeLash
Cheri Ralph pinned her comment about NourishLash, 'It is an amazing product! You may have come across several other reviews of the serum, but for me, the NourishLash really works. I had sparse, short lashes with empty spaces on my lash line. I have been using the serum for about 2 months now, and my lashes are full and have increased in length! I have even skipped using mascaras and curlers. I am very pleased with the product and my purchase!'
Miss Kerrin said about GrandeLash, 'As of now, I like it; it is working. I wanted to give this lash serum a try. I have been a consistent lash extension person for about 5 to 6 years. As of now, I decided to give it a break because of how costly they were. Plus, they take quite a lot of your time. After skipping the extensions, I decided to grow my natural lashes, and from February 11th, I started using the lash serum.

The photos posted show the difference within 2 weeks of use. I try using it every night but sometimes forget or miss a day. As of now, I feel my lashes are definitely growing, and maybe the product is working. Will continue using the serum for some more time.'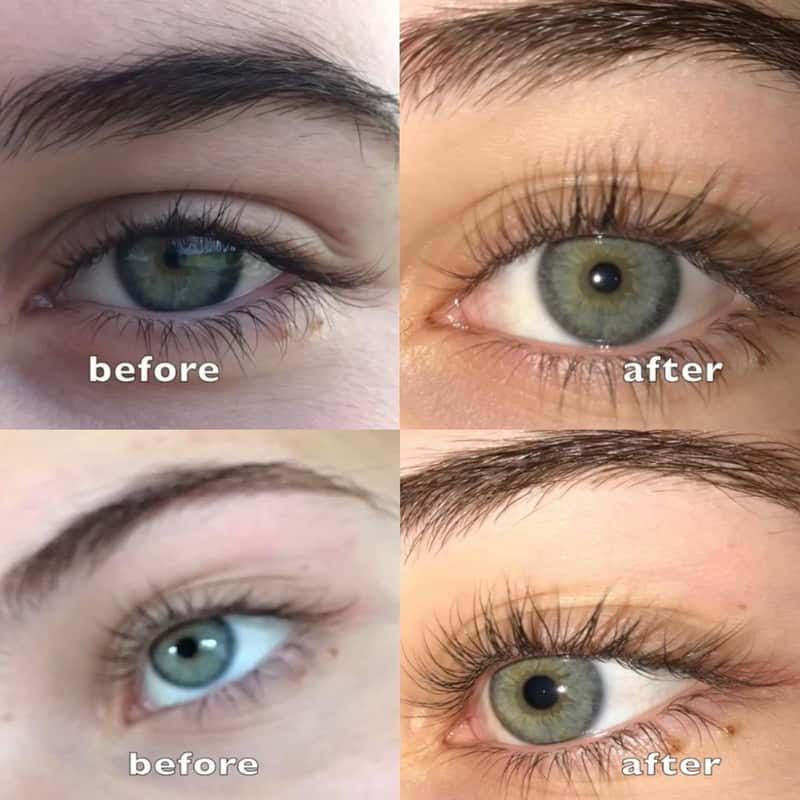 Jackie said about NourishLash, 'The NourishLash serum has helped me with my short lashes. At the corners of my lash line, my lashes are short but are visibly longer in the middle. I purchased this serum to help me with shorter lashes and increase their thickness. However, I have seen an increase in the length of my shorter lashes but haven't noticed any improvement in the thickness. Honestly, I have been using it for less than 8 weeks.'
Todi A Hilton commented about GrandeLash, 'I must say, be careful! The serum works, as I noticed thick and dense lashes in about a month. However, the scary part was when I got my eyelids stained and saw small veins forming a dark line. I even observed the whites of my eyes getting discolored gradually. The overall look it gave me was very different because I have a fair complexion with blue eyes. After experiencing these, I gave up on it and tried other drug-store serums that did the same job without causing any irritations or side effects.'
FAQs | NourishLash VS GrandeLash
How fast can we see the NourishLash results?
Firstly, knowing that the results vary from person to person is essential. Since the brand recommends using it two times a day, there are good chances that you can see the results within 3 weeks. Patience is the key, as many users saw a significant improvement in the length and thickness of their lashes after 7-8 weeks of usage. Apart from this, lifestyle, age, and body science play a great role in deciding the time of the results.
Is it safe to use GrandeLash?
Though the brand claims it is a clinically effective formula infused with several ingredients like amino acids, hyaluronic acid, and a few more, there have been reports of some side effects of using GrandeLash. These include iris discoloration and redness and dryness of the eyes.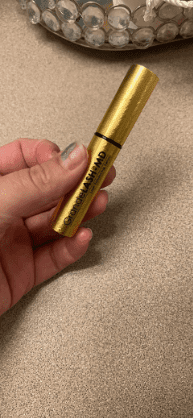 Can I apply NourishLash if I wear contact lenses?
The brand recommends you can apply the serum if you wear lenses as it is used on the lash line. However, take utmost care while applying it so it does not enter your eyes. Hence, you should remove your lenses before applying the serum and wear them back after 15 minutes.
How often should I use the GrandeLash serum?
The brand recommends using the GrandeLash-MD serum once daily for about 3 months. After 3 months, you can start using it on alternate days.
What will happen if I stop using GrandeLash-MD serum?
According to the claims made by the brand, if you stop using the lash serum, you may be deprived of all the positives you have gained from using it. Additionally, your lashes may even return to the way they originally were.
Final Verdict
The rejuvenation process, especially of your lash or brow hair, isn't a piece of cake! It requires consistent usage of the serums along with patience. NourishLash VS GrandeLash, two of the most coherent lash growth brands, help you with your rejuvenation process. Not just that, you get your lashes back to life with the additional benefits of them being healthy, shiny, and dense! And with these benefits, you can happily bid farewell to your mascaras and lash curlers.
Since both brands have achieved a lot of respect and trust among their customers, it is you who is the best judge! If you want to go for an affordable option, GrandeLash can be your choice.
However, considering the number of positive reviews, NourishLash has surpassed GrandeLash, as you can hardly find negative reviews that complain about NourishLash. Moreover, GrandeLash has faced some issues, like a viral lawsuit, because of how people felt their eyes reacted to it. But no doubt, GrandeLash has been the favorite among many users as it has got around 40k+ reviews on Amazon. If you are willing to take the risk, then make sure you consult your doctor before doing so!
I'm Sarah Abraham, the founder and co-author of Blushastic.com and a professional makeup artist. Beauty is more than just skin deep, and that's why I'm passionate about sharing my knowledge and experience to help people feel confident and beautiful on the inside and out.
Whether it's skincare, haircare, or fashion, my goal is to empower women to feel their best. With my expertise in the beauty industry, I strive to provide practical advice and tips that are accessible to everyone, regardless of their skill level or budget.