Wishing you all health and happiness this new year. But hold up, shouldn't your hair reflect all the health and happiness, and you flip your hair into 2023?
We are looking at a year filled with more efforts to keep your hair healthy and perfectly styled throughout the year. This includes bottles of serums, conditioners, hair mousse, hair gel, ironing, curling, and blow drying. Out of all the hair types, the ones that have it worse are the 4C, 4A, and 4B.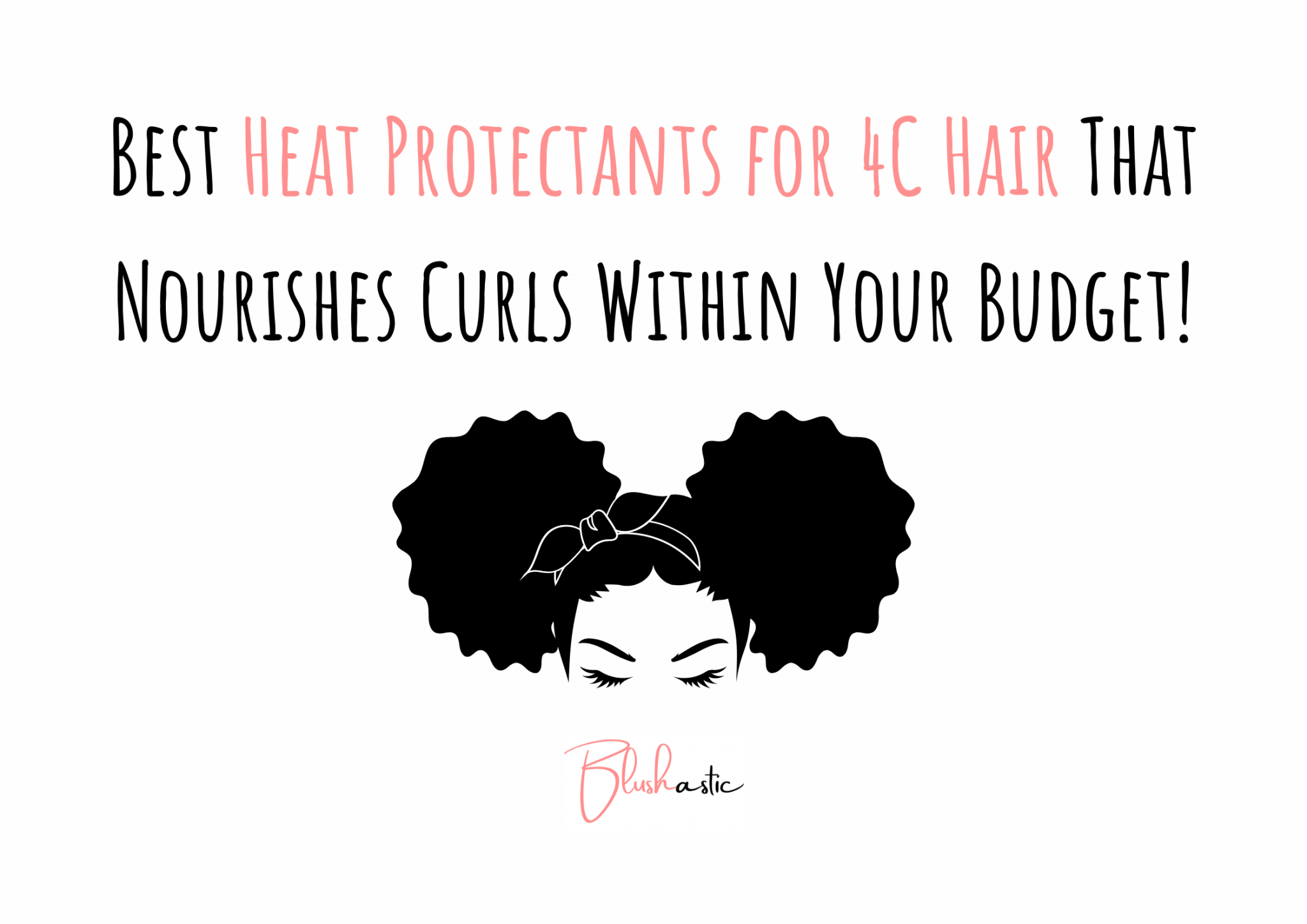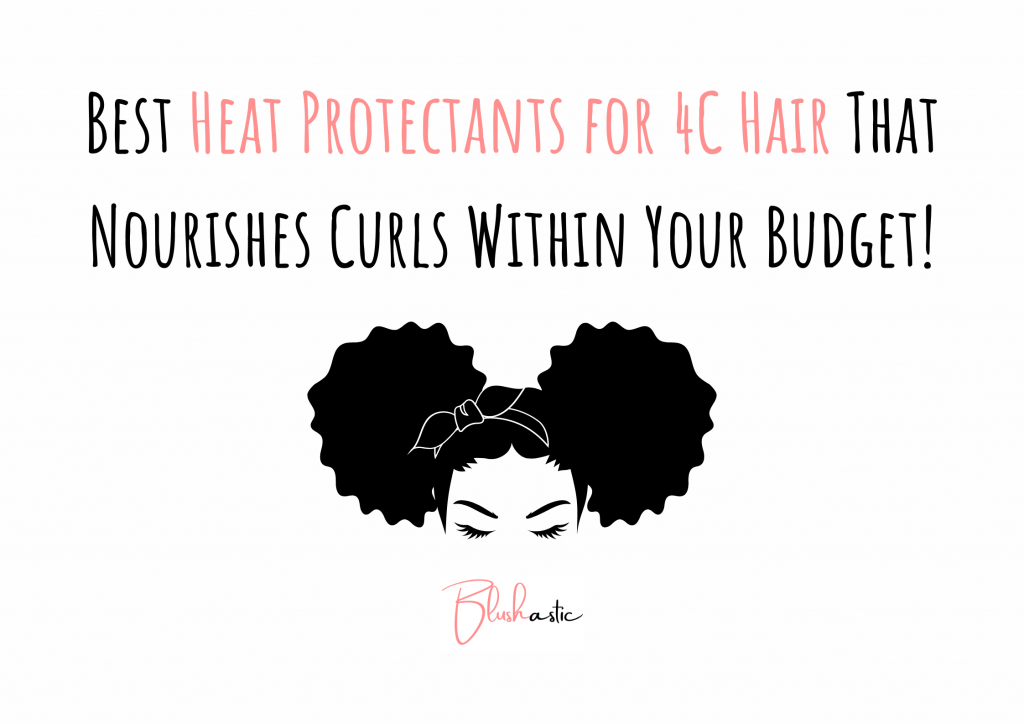 The curl queens witness excessive styling with a supplemental number of heat treatments. This results in an inevitable need for applying heat protectants every time there's a styling requirement. The hair texture is mostly brittle, so you need to nourish them before you style. The beginning of the year witnesses your hair thriving in its full glory with the utmost shine and volume. But as we start approaching the 365 mark, the heartbreaking sight of our hair losing its beauty gradually shows.
Heat protectants stand out because they can be used on wigs, extensions, and your natural hair. Together, we'll ensure that your curls remain undamaged, shining in their ultimate elegance, with or without the styling. Let's walk you through getting the best heat protectant for 4c hair we've to offer before shoving those locks between the dreadful plates of the iron.
Best Heat Protectant for 4C Hair | Your Friendly Neighborhood Hair Guide
What To Know Before You Buy?
You need to take extra care of 4C hair that is always prone to damage and breakage. If your coily hair dampens and dries quickly, your hair may have high porosity. To know if your hair is highly porous, perform a few tests yourself. Especially with curly hair, the hair cuticles lift naturally at different points along the scalp, so you feel the porosity when you treat it with any chemicals. Try to condition your hair as much as possible to lessen it profoundly. Look for the ingredients such as glycerin and propylene glycol (to reduce cracks in the hair cuticles), Keratin (for hair strength and elasticity), silicone (to shield the hair from the heat of your tools), etc., in your heat protectant. I'm attaching a screenshot of this video's discussion on the vital ingredients below. The protection level of the heat protectant should match the maximum temperature that your iron wand yields on the hair. 
Note that the heat protectant can be in the form of a spray or serum. Use the serum when you seek a shiny, gloss-like finish to your hair texture, but go for the hair spray if your only purpose is to well-support your hair during hairstyling. There are DIY heat protectants, and one of them involves using coconut oil. If you have colored hair, then worry not about your hair color fading, as it won't affect you. Lastly, apart from checking the product's details, see if the product you buy comes with a guarantee.
How to Use?
To use the heat protectant aptly, follow these steps.
Cleanse and condition your hair to receive a delicate application.
Applying the heat protectant spray or serum before you blow dry, curl, or straighten your hair.
The tail part of your hair receives the most heat, so apply the product well there.
If you use serum, only 1-2 drops on the fingertips should caress the scalp (to prevent oiliness). For the spray, spritz 8-10 inches away from the hair, avoiding it on the scalp.
Let the deposit dry and untie the knots (if any).
Now that you know the pre-buying particulars, let's hop on to our first product.
CHI 44 Iron Guard Thermal Protection Spray 
Lightweight, Spray, Works best for blow drying requirements.
CHI 44 Iron Guard Thermal Protection Spray could be your hair's best friend if a quick blow-drying session is your usual styling go-to. You've CHI Silk Infusion and CHI Keratin Infusion, which are on top of the variety CHI offers. It is one of the best heat protectants for curly hair.
Sale
CHI 44 Iron Guard Thermal Protection Spray, Clear, 8 Fl Oz
Contains an easy brush glide formula that is an ideal styling tool for all your smooth and sleek styles
It gives you superior heat protection for your hair
Suitable for all hair types
Iron Guard Thermal Protection Spray was launched by the design house of CHI
It is recommended for casual wear.
It nourishes your hair bulbs and acts as a thermal protectant inducing the positively charged silk molecules with your natural hair texture. This maintains your natural shine adding a voluminous texture.
Pros
Lightweight formula

It helps create both sleek and voluminous styles

Paraben and Gluten Free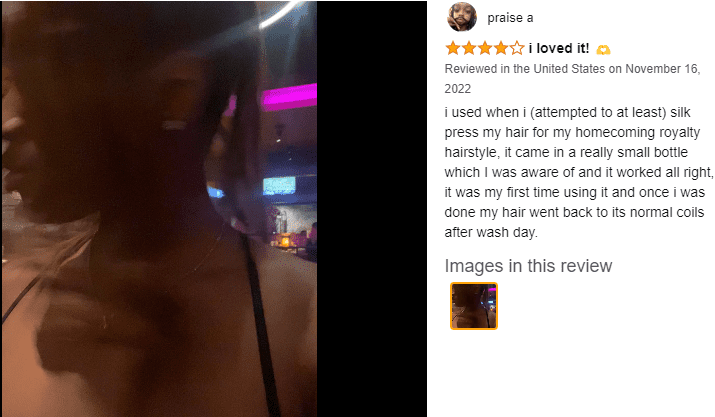 Cons
Possibility of having residue covering hair strands.
Kenra Platinum Blow-dry Spray
Frizz-control, Detangles, Smoothens, Best suited for Blow Dry Requirements
One of the major roadblocks of 4C hair face is a frizzy appearance when there are frequent heat treatments. This makes the usage of heat protectants for frizz-prone hair non-negotiable. This would be a worthy recommendation for hair that needs smoothening, detangling, and nourishment to remain frizz-free.
Sale
Users prefer Kenra because it reduces the blow-dry time by almost half, detangling the hair alongside blow drying.
Pros
Reduces blow drying time

Travel size

Lightweight

Long-lasting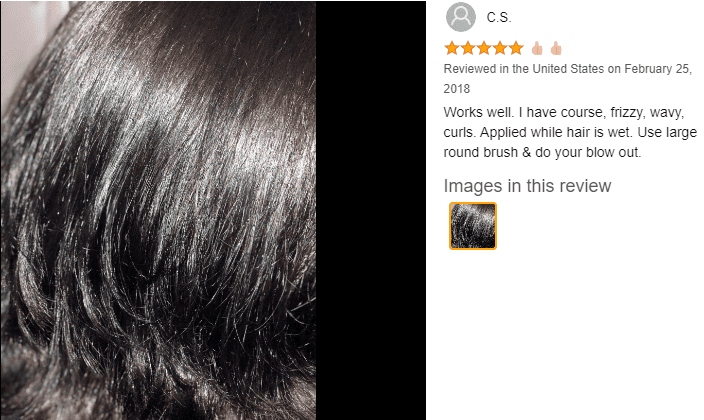 Cons
It may leave an oily overlay
Cantu Shea Butter Thermal Shield Heat Protectant
Budget Friendly, Moisturizing, Easily Accessible, Recommended For Blowdry
Curly hair, especially 4C hair, requires a relatively high amount of hair care and styling products. Curly hair care products usually are highly priced compared to other hair types. If the budget is your concern and hair care is your priority, this is the steal deal you're looking for.
Cantu Thermal Shield Heat Protectant with Shea Butter, 5.1 fl oz (Packaging May Vary)
SHEA BUTTER SHIELD: moisture barrier help protect hair from damage caused by heated styling tools up to 425°F / 220°C
SMOOTHER STYLING: added hydration creates smoother results when using heated styling tools
TAME FLYAWAYS: creates light hold on styled hair
HAIR TYPES: great fit for relaxed, permed & color treated hair
CRUELTY-FREE: absolutely no testing on animals
Shea butter is crucial to hydrate and moisturize your hair while withstanding the heat from your styling equipment. The product promises to hydrate and smoothen your skin while holding out against as much as 425°C.
Pros
Moisturizing

Budget Friendly

Offers light coverage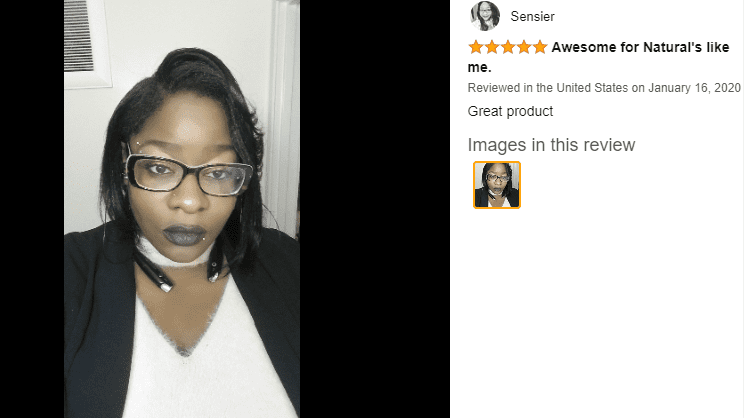 Cons
Olaplex No.7 Bonding Oil
Repairing agent, Shiny Finish, Recommended to serve Ironing requirements
Your hair goes through a torturous process of constant styling, resulting in many breakages, damage to the hair follicles, split ends, and strand damage. If your hair is amongst the damaged ones, this is for you.
Olaplex No.7 Bonding Oil, 30 ml
Reinforces hair's moisture barrier
Deeply nourishes hair
Protects against humidity and color fading
450°F/232ºC Heat Protection
Color safe
The Bis-aminopropyl Diglycol Dimaleate is their key ingredient that works like magic on your curls prone to breakage. It acts like a bonding agent and cross-links the broken bonds to rebuild them. Olaplex No.7 Bonding Oil protects your hair from thermal damage and repairs it from within.
Pros
Light on the application

Repairs the damage

Adds a shine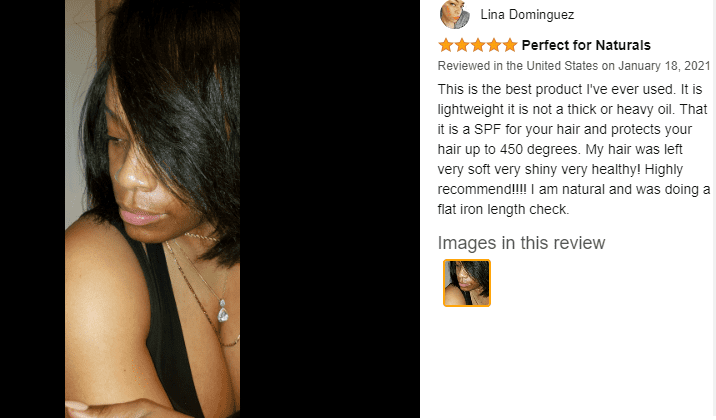 Cons
May add an oily texture

It is slightly higher priced
ArtNaturals Thermal Hair Protector Spray
All Natural, Spray Serum, Leave-in Conditioner, Most compatible with Flat Irons
The ArtNaturals Thermal Hair Protector Spray is your hair's personalized bodyguard for thermal safeguarding. ArtNaturals prides itself on using all organic ingredients for its products, and this heat protectant spray is no different.
Artnaturals Thermal Hair Protector Spray - (8 Fl Oz / 236ml) - Heat Protectant Spray against Flat Iron Heat - Argan Oil Preventing Damage, Breakage and Split Ends - Sulfate Free (ANHA-0801)
HEAT PROTECTANT SPRAY: artnaturals thermal hair protector is a weightless mist to use before styling your hair with flat irons, blow dryers, and curling wands. Our thermal shield provides protection up to 450 degrees Fahrenheit.
LEAVE IN CONDITIONER: This protection spray doubles as a leave in conditioner. Our thermal shield hydrates your hair while protecting it from getting dry and heat damaged. This professional level item will speed up drying time, and boost shine.
FOR ALL HAIR TYPES: Our heat protector hair spray can be used for all hair types including fine or damaged hair, blondes, and brunettes. This Argan hair spray is the ultimate experience. It is safe for straightening and curling.
ARGAN OIL: Argan Oil is known for its ability to help restore, enhance, and grow hair. This natural moisturizer will help repair, dry, brittle, and damaged hair from blow drying, flat ironing, and sun exposure.
SATISFACTION GUARANTEED: artnaturals offers a 100% satisfaction guarantee or your money back. Try it risk free with no questions asked and top customer service. You have nothing to lose and your health to gain.
The spray doubles as a leave-in conditioner with Argan Oil as its key ingredient that protects your hair against UV and sunlight. After switching to this, users have reported witnessing results in a few uses- their locks look shinier and are healthier to touch. However, the product can only be applied on wet or towel-dried hair, with about 5-7 minutes of absorption time provided.
Pros
Sulphate-Free

All Natural Ingredients

It has a fantastic scent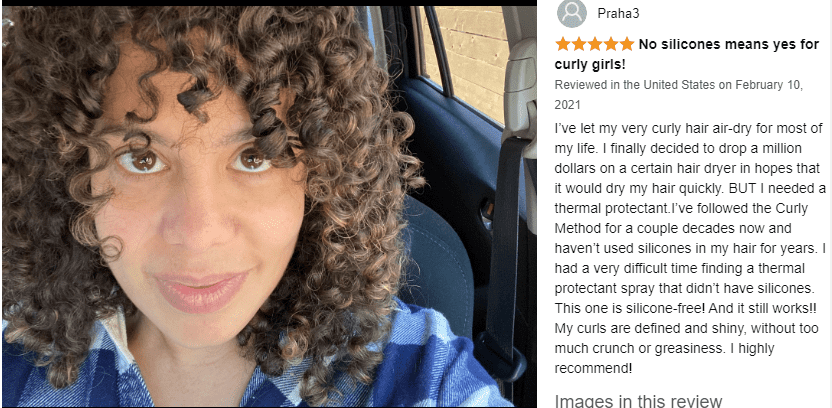 Cons
It cannot be used on dry hair

May have a residue with each use
Mizani Thermastrength Heat Protectant Serum- Designed for 4C
Best For Blow Drying, Specifically targeted towards 4C hair, Anti Breakage, Value for Money
The Mizani Thermastrength Heat Protectant Serum is specifically designed to serve the curls and the different coil textures and lives up to its promise. This anti-breakage product strengthens your hair quality, nourishing the hair bulbs from within, making it the Best Heat Protectant for 4C Hair.
Mizani Thermastrength Heat Protecting Serum | Protects Hair From Heat Damage | with Shea Butter | for Curly Hair | 5 Fl Oz
Heat Protectant: Thermastrength Heat Protecting Serum is a styling cream for curly to tightly coiled hair (3C 4A 4B 4C) that protects hair from heat when blow-drying, curling and straightening
Lightweight Formula: This moisturizing heat protectant for natural hair prevents breakage and damage from hot tools; Shea Butter and anti-breakage Ceramide technology add strength and control frizz
Key Benefits: Ideal for tight texture types; prevents breakage and damage when heat styling; controls frizz and smooths strands, taming hair and leaving it manageable and shiny; lightweight protection
Suggested Use: Apply right before blow drying, curling, or straightening on clean, conditioned hair. Use this heat protecting serum before wet setting or molding for heat protection and a glossy shine
Trusted by salons and professionals, Mizani products are tested with every level of curl and coil with kind ingredients that leave hair strong and never thirsty; perfect for the style shifter in you
The addition of Shea Butter and botanicals in this groundbreaking formula is a cherry on the top adding shine and health to your locks, and they work their way through the constant exposure to heat. The product is lightweight and helps tame the hair, making it more manageable and lustrous. The Ceramide Technology adds strength to control the unwanted frizz in those beautiful locks.
Pros
Best for highly textured hair

Reduces tension between the hair strands

Decently sized bottle for the price.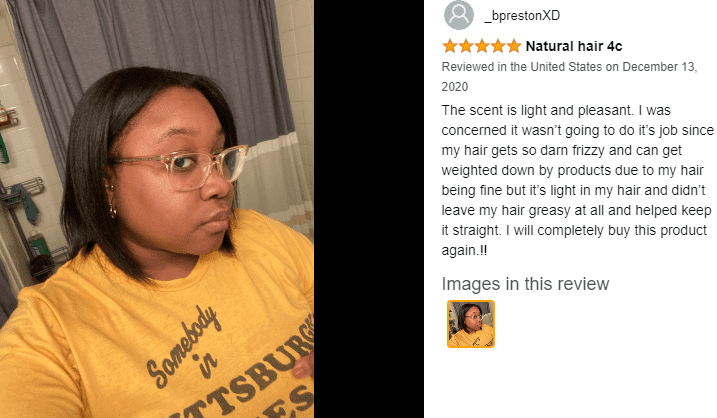 Cons
Users report a slightly masculine scent

Relatively thicker formula
Design Essentials Silk Essentials Heat Protectant
Lightweight, Moisturizing, and Suitable for all Hair textures
All my curl queens, the Design Essentials Silk Essentials Heat Protectant is a serum-based product that acts as a knight in shining armor, protecting you against all the thermal damage. The serum penetrates through the strands providing nourishment and strengthening the core against breakage, but it also helps provide all the nutritional benefits to the follicles, promoting healthier growth.
Design Essentials Silk Essentials, 4 Ounce
Healthy, shiny and silky hair
Improves the feel, gloss and manageability of hair instantly
Enriched with natural organic silk
Penetrates the cuticle easily to restore hair health
Can be used on wet or dry hair
The critical ingredient here is Amino Acids, which strengthen and help retain the natural shine. The product needs towel-dried or slightly wet hair to act as a base while the ingredients work their magic. You know where to go if you're looking for a lightweight, high-gloss finish.
Pros
Lightweight

High Gloss Finish

Improves hair manageability

Sulfate Free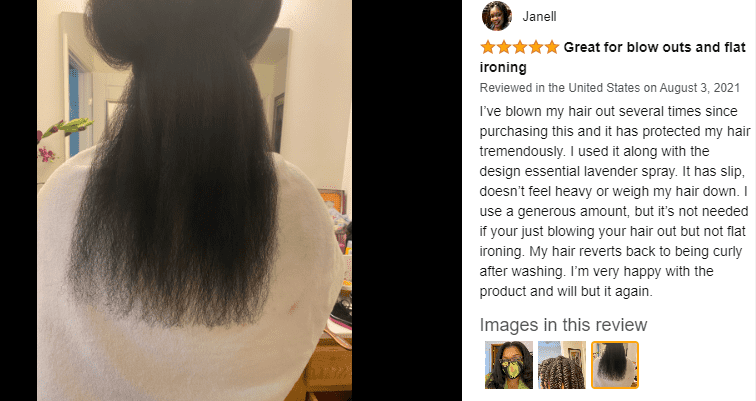 Cons
Users report an alcohol-like odor after use
Arvazallia Heat Protectant Plus with Argan Oil
Ultra Lightweight, Best suited for ironing requirements, Mist-like texture
Adding another product to the hair-care routine may have drawbacks like product build-up on the hair. However, we must maintain heat protection. To give you that same protection with a lightweight formula is precisely what the Arvazallia Heat Protectant Plus with Argan Oil is here for.
Sale
Arvazallia Heat Protectant Spray with Argan Oil - Professional Grade Thermal Protector, Leave-in Conditioner, Anti-frizz, and Shine Spray
Professional Grade Heat Protectant that shields and protects your hair from damage caused by flat irons , curling irons, hair dryers , and other heat styling and drying tools
Utilizes an Advanced Lightweight Two Layer Protection Technology that penetrates your hair follicles to repair existing hair damage while also preventing breakage and split ends
Argan Oil infused formulation Moisturizes, Conditions, and Transforms the texture of your hair leaving it with a Soft, Silky, and Smooth finish with a lasting Glimmering Shine
Contains highly effective Anti frizz and detangling agents to help eliminate frizz and improve the flexibility and manageability of your hair. Effective on all hair types including natural hair, permed hair, wigs , and extensions
Formulated with the Arvazallia signature fragrance it leaves your hair refreshed and smelling amazing. Specially formulated to work together with other Arvazallia Professional Series Hair Treatments including the Premium Argan Oil Hair Treatment , Hydrating Argan Oil Hair Mask , Fortifying Protein Hair Mask, Advanced Hair Repair System, Ultra Curl Defining Cream and the Advanced Color Care System
This heat protectant will create a barrier between the heat and your beautiful locks, keeping the damage at bay. The product's highly mist-like texture avoids any build-up or residual remains. Argan Oil is the hero in your hair-care story since it repairs the previously caused damage to your hair while the other ingredients prevent further damage. If you're looking for a quick spritz heat protectant, here are your Best Heat Protectants for 4C Hair.
Pros
Effective Anti-Frizz

Ultra Lightweight

Infused Argan Oil

Smoothens and Strengthens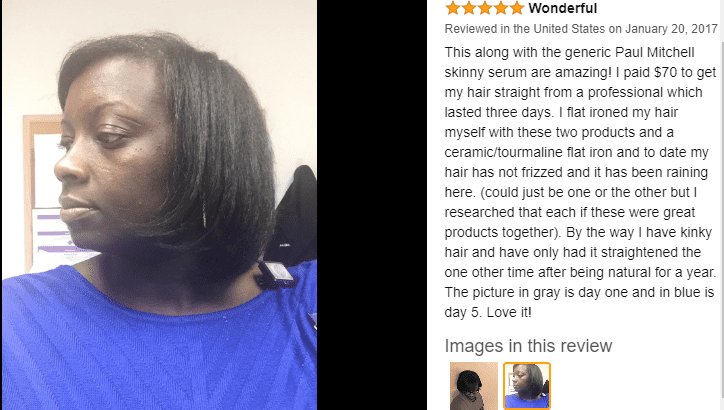 Cons
It may need to be used more frequently
John Frieda Frizz Ease Flat Iron Spray
Spray technology, Long Lasting, Keratin Infused, Best Suited with Flat Irons
The John Frieda Frizz Ease Flat Iron Spray is an amazingly put-together formula made to last. Once sprayed after a hair wash, the formula lasts till the next session. The basic makeup of human hair is laden with polymer keratin, the protein that builds a healthy strand of hair.
Sale
John Frieda Frizz Ease Keratin Infused Flat Iron Hair Spray, 3 Day Straightening Spray, Anti Frizz Heat Protectant for Curly Hair, 3.5 Ounce
ANTI FRIZZ HAIR STRAIGHTENER - Use our Flat Iron Spray as a straight hair styling product for smooth results that last up to 3 days, or your next shampoo without the unwanted frizz.
HEAT-ACTIVATED FOR A LONGER STAY - Keep your straight hairstyle with our uniquely formulated Flat Iron Spray for sleek, straight hair style that lasts.
LIGHTWEIGHT SMOOTHING SPRAY - Using a proprietary blend of polymers with keratin protein, our weightless spray removes frizz from each strand for a glossy, smooth finish.
SMOOTH, GLOSSY HAIR - Unique, anti-frizz formula for dry and damaged hair will make hair glossy and smooth.
SALON QUALITY - Combine with John Frieda Frizz Ease Shampoo and Conditioner for frizz fighting results from wild, unmanageable hair.
John Frieda added this protein in the spray, which, once used with a flat iron, makes the hair appear more nourished and gives it a shinier finish. The product is professionally made to tame your 4C hair into a sleek, straightened mane.
Pros
Anti Frizz Technology

Long-lasting

Shiny, lustrous finish

Protein Infused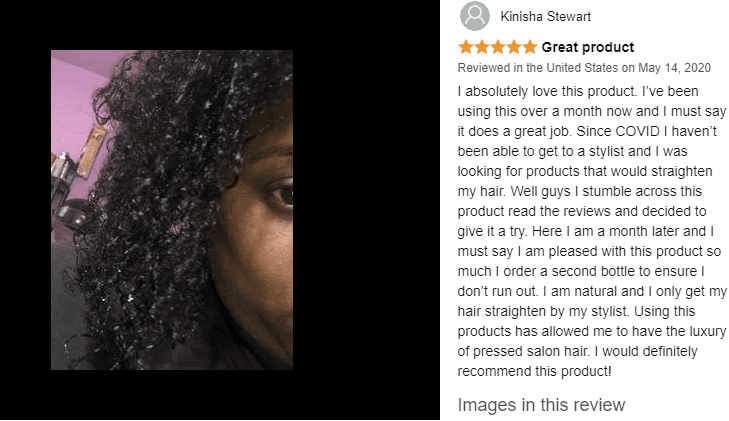 Cons
Sheamoisture Jamaican Black Castor Oil Strengthen and Restore Anti Breakage Spray
Works for color-treated hair, Anti Breakage, Restores, and repairs, Better suited for blow drying and ironing
Sheamoisture prides itself on using ingredients that will help you protect your hair against damage and add to the nourishment. The spray creates a barrier between your hair strands and heat clutches. The hair is anti-breakage and guarantees reducing breakage by 70%.
SheaMoisture Anti-Breakage Spray, Jamaican Black Castor Oil Heat Protectant with Shea Butter, 8 Fl Oz
SheaMoisture Strengthen and Restore Anti-Breakage Spray is blended with Fair Trade Organic Shea butter to moisturize and use as a hair detangler and heat protectant for natural hair
SheaMoisture detangler is blended with black castor oil, this natural hair spray creates a protective barrier around fragile strands and is also a great shine spray for hair
SheaMoisture Anti-Breakage spray instantly strengthens strands and reduces breakage by 70 percent, this anti humidity spray and curly hair spray provides nourishing hydration
Nutrient-rich Jamaican Black Castor Oil and certified organic Shea Butter blend in this hair detangler that shields and protects hair against the damaging effects of heat styling
This SheaMoisture detangler is a heat protection spray that revitalizes tresses, and smoothes split ends to leave hair looking healthy and well cared for
Castor Oil promotes hair growth, restoring its properties to its natural makeup. It also smoothens hair strands having split ends, restoring a flawless mane and nourishing your hair from the inside for the long run.
Pros
Anti-breakage technology

Adds the Castor Oil Goodness

Protects against Thermal Damage

It helps repair split ends

Works for color-treated hair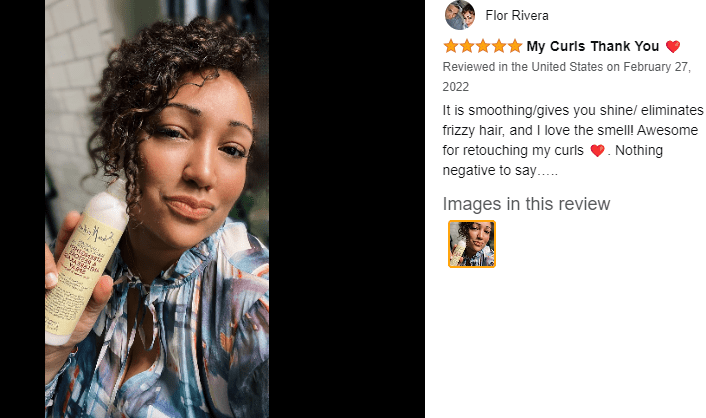 Cons
Cannot Guarantee a complete list of ingredients

Users report a film buildup one used
Head Kandy Amino Keratin Third Wheel Heat Protectant Spray
Anti-Static, Amino-Keratin Infused, Best Suited For Ironing Purposes
The Head Kandy Amino Keratin Third Wheel Heat Protectant Spray is an Amino- Keratin Infused Formula. It's the perfect blend of ingredients loaded with vitamins and minerals to make your mane shinier and add to their natural hair nourishment. It's a lightweight formula that works for all hair types.
Head Kandy Heat Protectant Spray For Hair | The Third Wheel | Thermal Protection Spray With Amino Keratin | Protects Against Heat Damage, Breakage, Humidity | 13.5 oz
ENHANCED HEAT PROTECTION: Head Kandy Third Wheel Spray is formulated with advanced AMINO KERATIN ingredients that shield your hair from the damaging effects of styling tools, reducing the risk of heat-induced damage and split ends.
SMOOTH AND SHINY FINISH: This spray not only protects your hair but also imparts a glossy and polished finish. It tames frizz and flyaways, leaving your locks looking effortlessly smooth and radiant.
QUICK AND EASY APPLICATION: The convenient spray nozzle ensures an even distribution of product, saving you time and effort during your styling routine. Simply mist it onto your hair before using hot tools for optimal results.
VERSATILE STYLING: This spray is suitable for all hair types and can be used with various heat styling tools, such as curling irons, flat irons, and hairdryers. It's a must-have for anyone looking to achieve salon-quality results at home while keeping their hair protected.
SAFE FOR COLOR TREATED HAIR: Third Wheel is gentle and safe for color-treated hair, helping to preserve your hair color vibrancy and integrity while providing heat protection during styling.
Not only does it act as the perfect barrier between you and the heat, but it also makes your hair static-free, doesn't allow the split ends to stand out, and adds a touch of luster and health to the appearance. The product is used by people with colored and natural hair and has been appreciated by customers.
Pros
Cruelty-Free

Vegan Product

Added Amino-Keratin Goodness

Reduces split ends and Frizz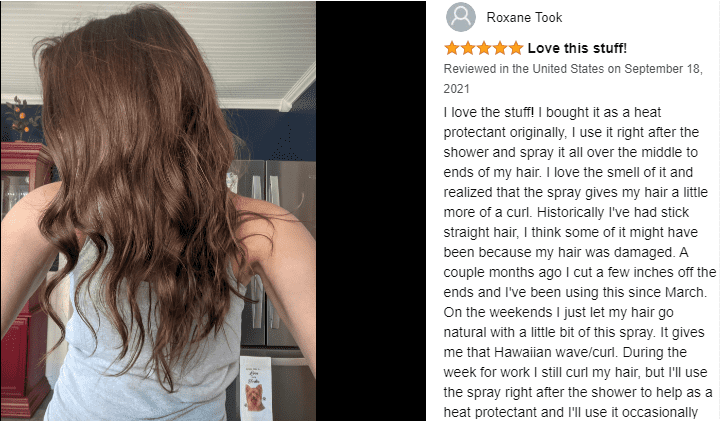 Cons
A greasy texture has been commonly observed.
Frequently Asked Questions

| Heat Protectant for 4c Hair
What are Heat Protectants?
Curly hair requires extra care; thus, we must look for good quality haircare products. But for anyone just starting with hair care, let me explain. Heat protectants are shields for your hair against the heat damage that the styling will put it through. These products create a layer between the hair and the plates of your flat iron or the hot air spewed out of your blow dryer.
How do you use heat protectants?
Before styling, dampen your hair slightly and add the heat protectant according to its application technique. Massage through your strands and ensure it is applied on all the strands that will be in contact with the heat. Some heat protectants can also be used without dampening your hair. Once thoroughly applied to the product, style your hair using any heating equipment without fear of damage.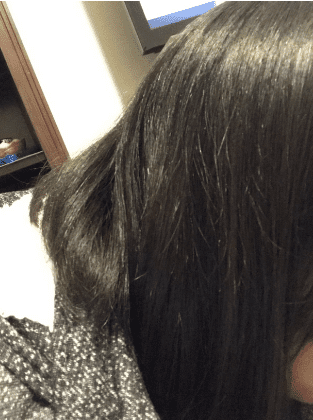 Do Heat Protectants work?
Heat Protectants are designed to safeguard your hair against heat up to a specific temperature, usually 450 degrees. Having mentioned that, ensure your styling equipment does not exceed the temperature. To ensure the best results, follow all the instructions given with the product.
Are there any Natural Heat Protectants?
Natural heat-protectant ingredients include Grapeseed Oil, Argan Oil, and Shea Butter. However, the formulas of the products mentioned above are designed to ensure the best results for the 4C hair type. Not only that, many of these products include natural ingredients like these.
Closure |
Best Heat Protectant for 4C Hair
4C hair has one of the most coily and curly hair textures. As much as they're hard to tame, they are one of the most beautiful hair types. Taking utmost care of your hair is one of the year's best resolutions. We're not compromising on the styling for party nights. After taking a walk through the above recommendations, review the products and make a wise choice for your hair type and styling requirements. Keep your hair hydrated, silky, smooth, and strong!
Rebecca is a skilled writer with a passion for makeup and skincare. With years of experience in the beauty industry, she has a deep understanding of the latest trends and products and a talent for creating engaging content that resonates with her readers. Whether she's writing about the latest skincare products or sharing her favorite makeup tips, Rebecca's writing is always informative, entertaining, and inspiring.