Since learning the term' Tech Neck,' I find myself randomly panicking while mindlessly scrolling through my phone. For that unfamiliar, Tech Neck is the premature aging of the skin on the neck caused by staring down at our smartphone screens for hours. Honestly, these panicked moments send a wave of guilt and insecurity through me. While I am attempting to limit my phone usage time, I also realized that I require something powerful to mitigate the damage already present.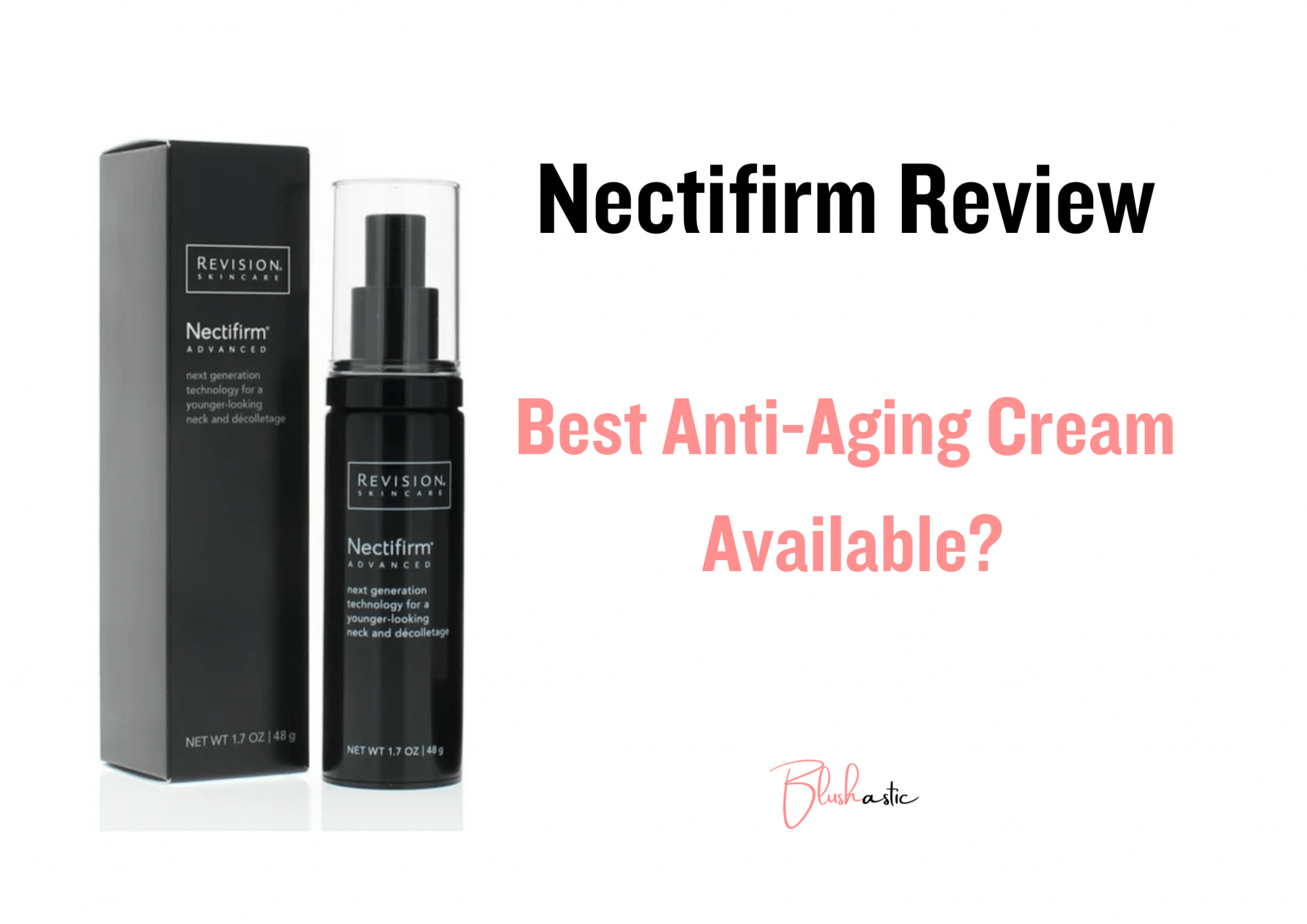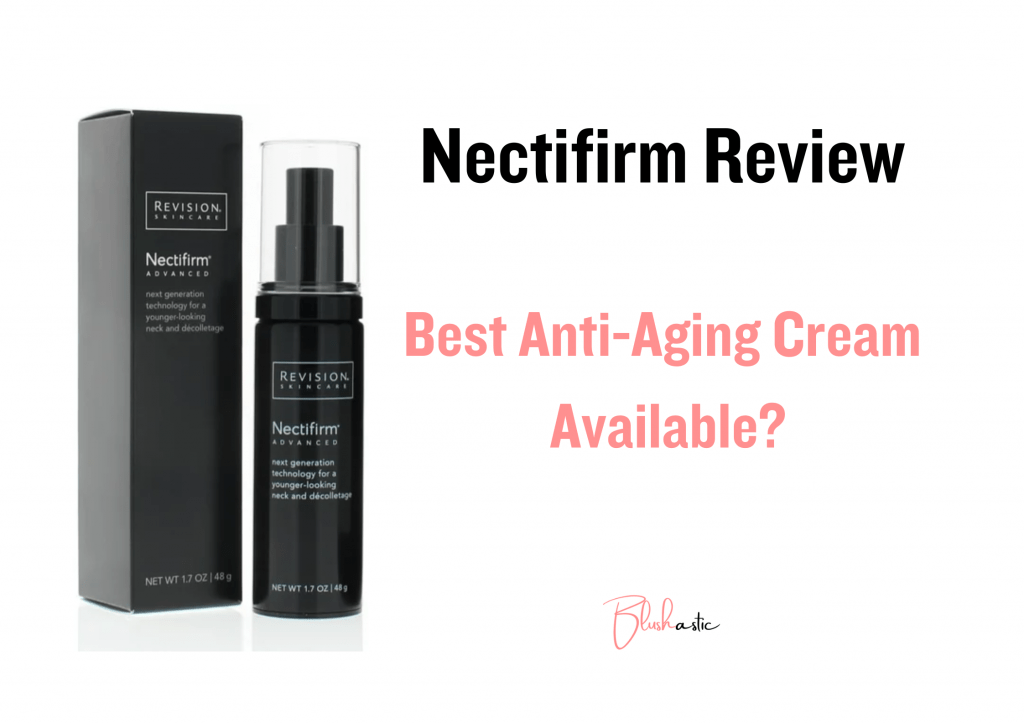 The next thing you know, I'm on the internet looking for a product to help my situation. The sheer number of products available is undoubtedly overwhelming. Still, one product that stood out to me was Nectifirm by Revision Skincare. You have to believe me when I say this product stood out because it has sleek black packaging that sticks out like a sore thumb. Not only did the packaging entice me, but so did the product's claims. I've used this product long enough to know much about it to answer the question, 'Is Nectifirm worth the money?.' So let's dig in and also look at some Nectifirm reviews to see what people think about this product.
Nectifirm Reviews | Hit or Miss?
Fine lines, folds, wrinkles, sagging, vertical bands, and brown spots are the most visible signs of neck aging. Before delving into methods to alleviate these symptoms, it is critical first to identify and comprehend the factors causing or exacerbating them. Knowing these reasons will also help you avoid worsening the symptoms by preventing the source.
Collagen and Elastin Loss – Collagen and Elastin are vital proteins that give your skin a smooth, even, and radiant appearance. While collagen aids in moisture retention and eliminates uneven texture, Elastin provides skin elasticity, tightness, and flexibility.
Regrettably, the production of these proteins naturally decreases with age, resulting in creases, folds, lines, and sagging on the neck.
Genetics – Our genetic makeup significantly impacts how quickly different parts of our bodies show signs of aging. Genetic variations can be blamed for decreased protein production that provides structure, thinner skin, ineffective moisture retention, and weak repair mechanisms, all of which can contribute to neck aging.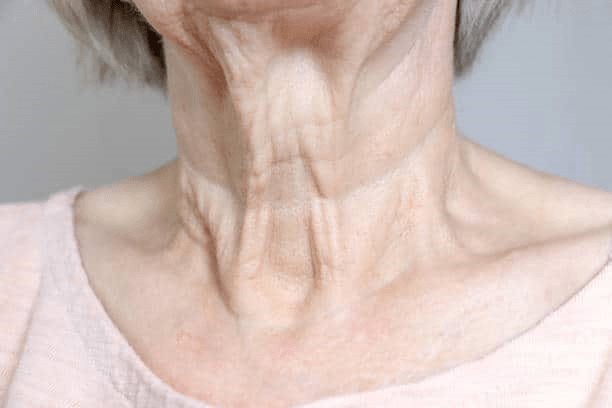 Sun Damage and Inefficient Skincare – According to scientific evidence, prolonged and unprotected UV rays exposure significantly contributes to premature aging (also called Photoaging). Fine lines, wrinkles, pigmentation, and rough texture are common symptoms.
Furthermore, failing to properly care for the skin on the neck with skincare products can hasten skin aging. Lack of moisturization and a failure to use SPF can predominantly cause your neck to appear aged.
Repeated Movements and Poor Postures – Looking down at a phone/computer screen, tilting or twisting the neck, and other repetitive movements can strain the neck muscles, forming lines and wrinkles. These repeated movements can also cause collagen and elastin degradation, resulting in skin sagging.
Poor postures, such as slouching or hunching, can also put tension on the muscles, ligaments, and discs in the neck, causing wrinkly and saggy skin to appear.
Numerous skin treatments are available to help reduce the common signs of neck aging. Botox and fillers, neck lifts, liposuction, and laser treatments are some of the most effective options. However, topicals, or products that are applied topically are popular due to their low cost, ease of use, noninvasiveness, and accessibility. These products typically contain an amalgam of scientifically proven ingredients that, when used consistently, help to reduce aging symptoms. Nectifirm by Revision Skincare is a similar product that claims to turn back the clock on aging. Let's see how true it is to its claims.
What is Nectifirm?
Nectifirm by Revision Skincare is a two-product collection of potent solutions for reducing the common signs of neck aging and restoring a youthful appearance. Revision Skincare has over 25 years of experience and strives to provide clinically-approved and powerful solutions for your beauty concerns.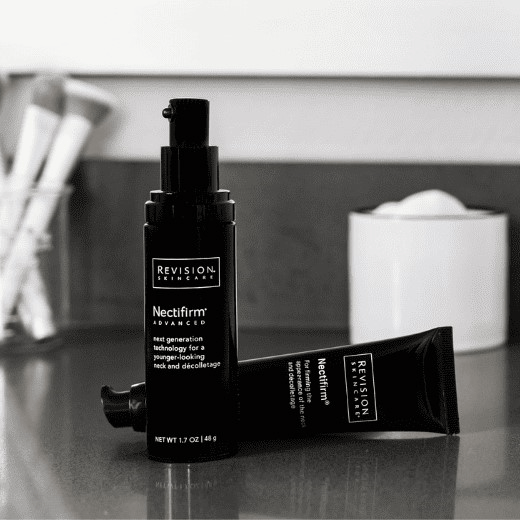 Nectifirm was launched in 2005 to address aging skin on the neck, jawline, and decolletage. Since its initial release, this product has been improved numerous times to incorporate new ingredients and technologies. The Nectifirm collection was expanded in 2017 with the introduction of Nectifirm Advanced, an improved and more powerful version of the original product that effectively combats signs of neck aging. Let's look at both to better understand their composition, functions, benefits, and drawbacks.
Nectifirm
According to Revision Skincare, the skin on your neck and decolletage ages differently than facial skin, necessitating its solution. Nectifirm is a multi-award-winning formula for firming the neck, jawline, and decolletage. It is suitable for all skin types with early to moderate aging signs. The product is packaged in a sleek black tube with a pump and comes in two sizes: 1.7 OZ and 8.0 OZ.
Nectifirm ingredients include a blend of five peptides, plant extracts, antioxidants, and other unique elements that work together to create smoother, brighter, and younger-looking skin. Peptides are potent molecules that encourage cells to produce more collagen and Elastin, reducing the appearance of wrinkles, sagging, and inflammation. Furthermore, antioxidants and vitamins aid in the neutralization of free radicals, which damage skin cells.
Pros
Has a silky and smooth texture that glides effortlessly on the skin
Contains moisturizing ingredients such as Glycerin and Squalene
Includes potent peptides that erase wrinkles, improve skin elasticity, strengthen skin barrier, and reduce inflammation and breakouts
Improves the appearance of wrinkles and crepey skin along the jawline, neck, and decolletage
Antioxidants help prevent free radical damage and reverse photodamage
Provides hydration that effectively tackles skin dryness, dullness, and roughness
Helps achieve a brighter and even-toned skin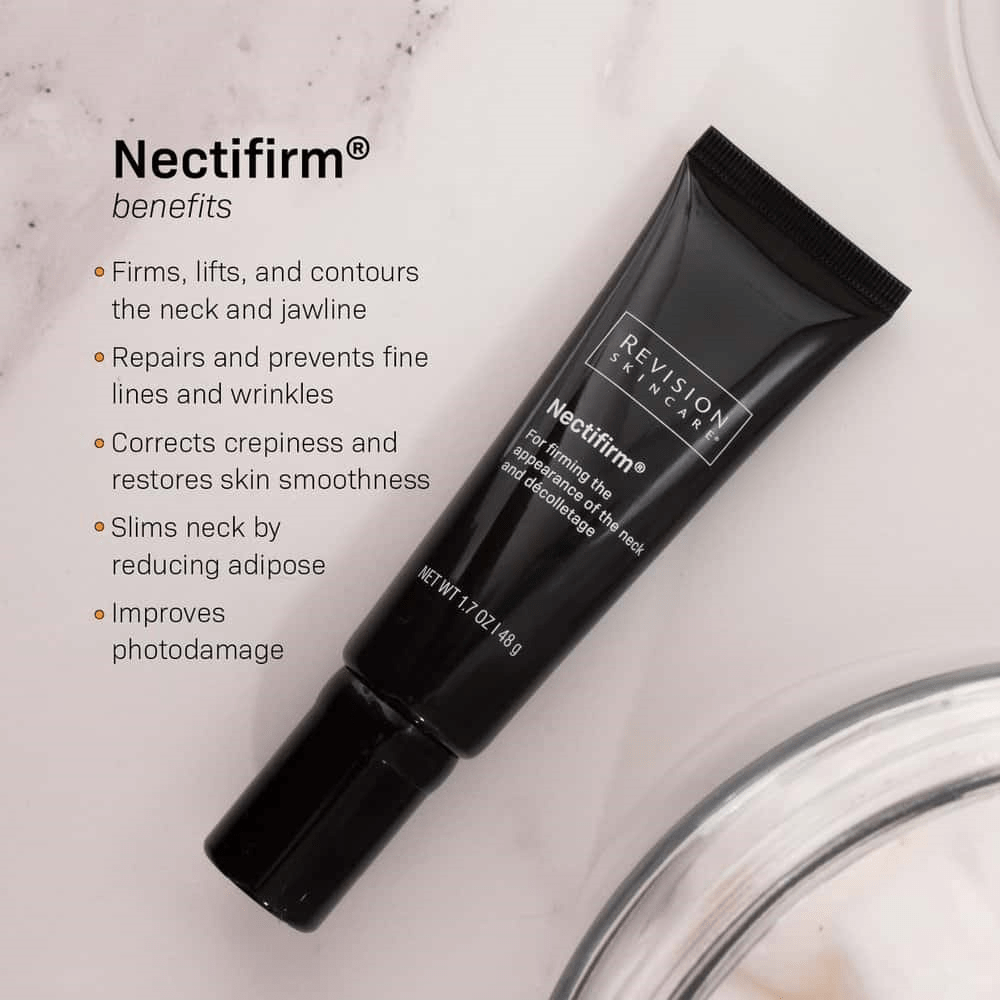 Cons
Some customers complained that Nectifirm works slowly to create visible results. Some also reported that the results achieved were minor.
This product is costly for a smaller quantity.
Includes fragrance that could irritate sensitive and acne-prone skin types.
Nectifirm Advanced
Nectifirm Advanced is an enhanced version of the original Nectifirm equipped with more potent ingredients and skin technologies. It comes in the signature black bottle with pump packaging for easy and hygienic application. It is a skin-firming solution for all skin types showing moderate to advanced signs of skin aging. It promises to reduce the appearance of aging symptoms on the neck and decolletage. It is available in a single size of 1.7 OZ (48 g). The brand also offers a travel-sized version that contains 0.5 OZ of product.
To combat stubborn signs of aging, Nectifirm Advanced uses the power of the skin's own Microbiome, eight distinct peptides, and Smart Antioxidant Technology. The product's Microbiome technology promotes the growth of good bacteria on the skin to reduce inflammation and improve skin texture. Peptides assist you in regaining firmness while maintaining a smooth appearance. Along with antioxidants, this product can combat free radicals that cause photodamage and oxidative stress symptoms such as dullness, spots, and hyperpigmentation.
Pros
Helps the skin strengthen its barrier and antioxidant system
Tackles the appearance of adipose tissue and creepy skin
Visibly reduces fine lines, wrinkles, and sagging on the neck and jawline
Ideal for all skin types to combat moderate to advanced signs of aging
Helps achieve a noticeably lifted, firm, and brighter appearance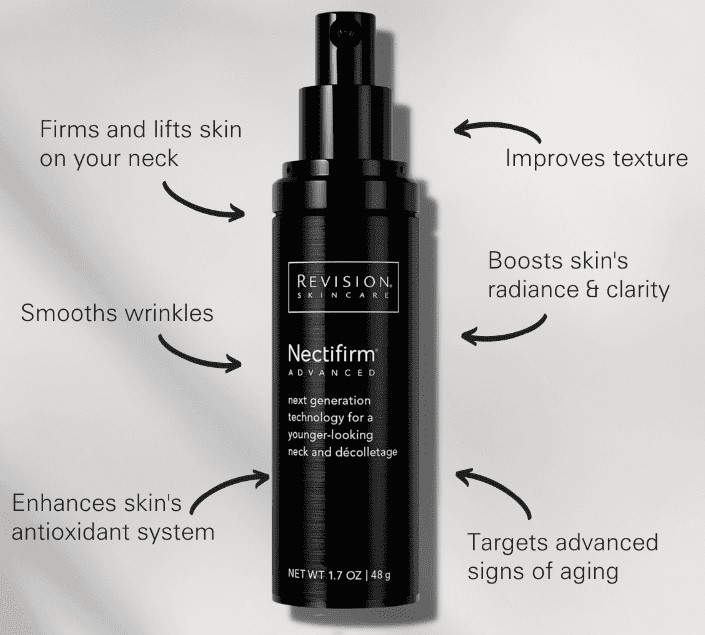 Cons
Some consumers complained of seeing little to no results.
Comes with a hefty price tag with no promo codes or discounts.
Features fragrance (parfum) that may not be appreciated by people with sensitive skin or those who like avoiding fragranced skincare products.
Customers complain that the pump packaging, while convenient, does not help them understand how much product is left. Furthermore, they cannot use the remaining product because the bottle cannot be opened.
Nectifirm VS Nectifirm Advanced
As discussed above, Nectifirm comes in two different versions that may make you wonder which product will suit you the best. Hence, I will pit both products on the following criteria to help you determine which variant will best suit your skin and concerns.
Packaging
The packaging of both products is easily distinguishable by your eyes. While Nectifirm comes in tube form, its Advanced version comes in a bottle.
You may wonder, "Why is the packaging of a product important?" While intended to attract more customers, they also make applications simple, quick, and sanitary. Most importantly, the product packaging protects the product within.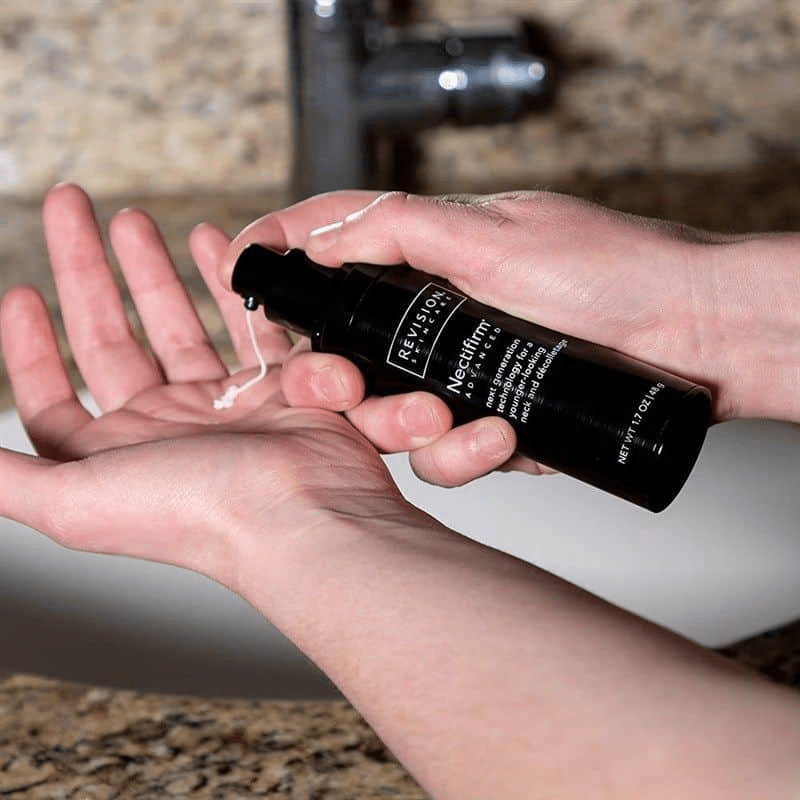 Nectifirm's Airless Packaging ensures maximum formula protection and shelf stability. However, according to Nectifirm reviews, not many people like the bottle packaging of Nectifirm Advanced in comparison, as it makes it difficult to see how much product is left. Those who prefer to use every last drop of a product will also be disappointed because this bottle cannot be opened.
As a result, Nectifirm's tube packaging takes the lead in terms of usability and portability.
Formula
A product's formulation is critical in determining whether it is a hit or a miss. Nectifirm contains essential peptides, vitamins, antioxidants, and moisturizing ingredients that have been shown to reduce the appearance of aging signs such as lines, folds, wrinkles, and sagging.
Both products have several ingredients in common, but one noticeable difference is the number of peptides they use. While Nectifirm contains five distinct peptides, its Advanced version includes eight. Although the peptides used in both formulations are effective, Nectifirm Advanced has some of the best clinically proven elements, such as Palmitoyl Tetrapeptide-7. Furthermore, the Advanced version contains more antioxidants and skin-soothing ingredients.
Nectifirm Advanced is clearly the most effective option. However, the severity of your aging signs will determine which product is best for you. Those with mild to moderate symptoms should use Nectifirm, while those with more persistent symptoms should use the Advanced version.
Performance
Before you ask, How long does it take Nectifirm to work? Let us first examine how long it typically takes for skincare products to work. As a general rule, your new skincare products will begin to show visible results in one to three months. And when it comes to dealing with significant issues like aging, one must be even more patient because results can take longer than expected. It is also important to remember that skin composition varies from person to person, meaning some products may suit your skin and produce better results than others, or vice versa.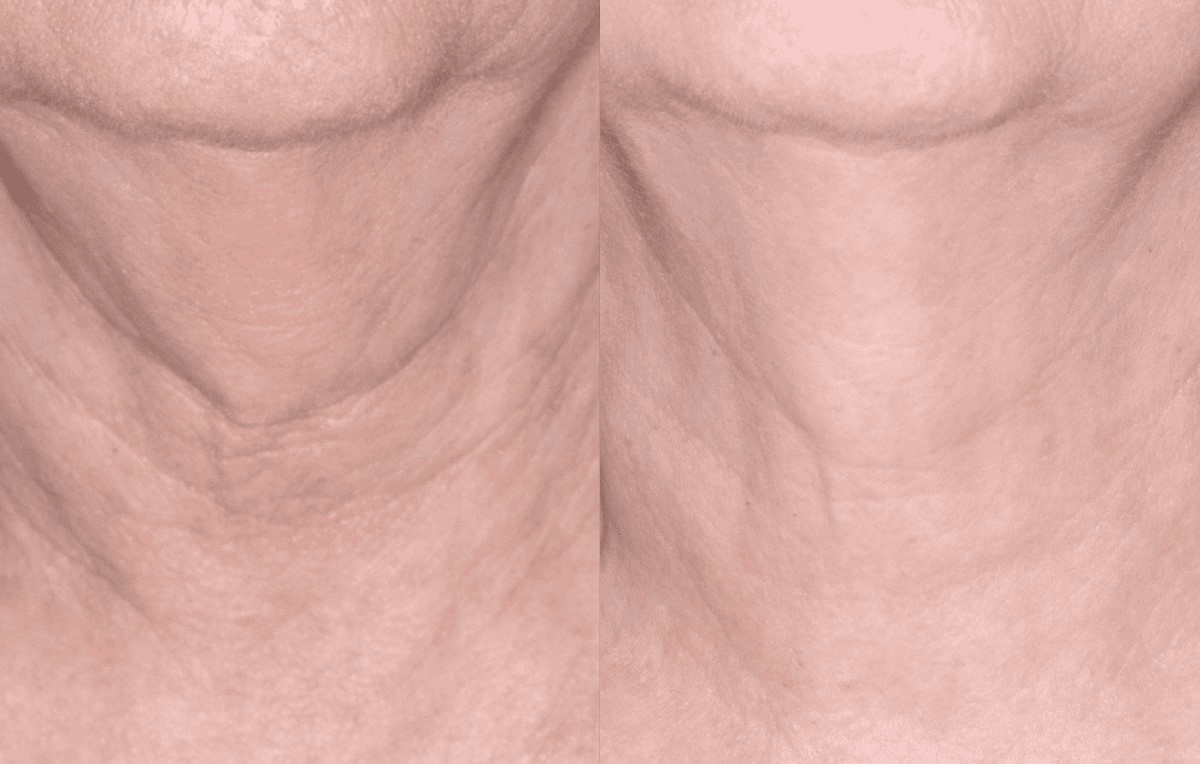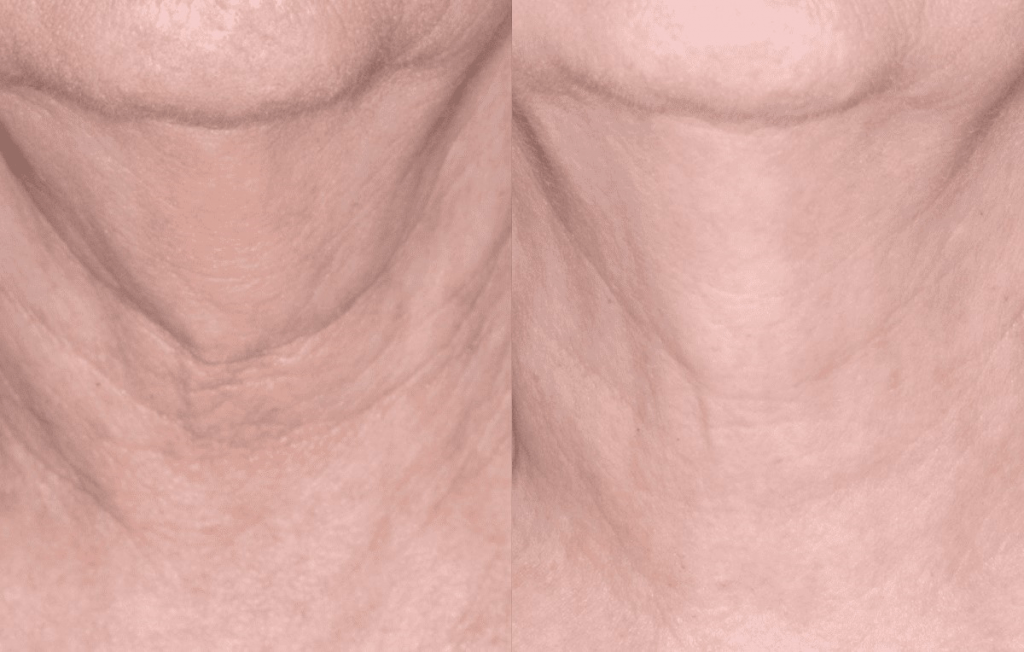 Revision Skincare does not specify how long Nectifirm will take to work, but its website displays results from a 12-week study. As a result, it's safe to assume that you'll need to use their products consistently for at least 12 weeks (3 months) to see results. Most Nectifirm reviews are positive; however, some customers complain about slow or no results.
Nectifirm Advanced is more potent based on the formulation, but your aging symptoms, skin makeup, and consistency will genuinely determine the efficacy of these products.
Affordability
Skincare is not a one-time purchase. It is critical to ensure that the products you select are within your budget so that you can easily repurchase them. Nectifirm is costly, and it is only available through authorized retailers.
Nectifirm can cost between $100 and $360, with the Advanced version costing between $60 and $155. Only orders of $75 or more qualify for free shipping. Even if you buy the travel-sized version of Nectifirm Advanced (the cheapest in the collection), you must pay a little extra.
Overall, both variants are exorbitantly priced. Even so, Nectifirm is only slightly less expensive than Nectifirm Advanced for 1.7 OZ of product.
How Do I Stop My Neck From Aging?
There are several ways to prevent and reduce the signs of neck aging. Medical professionals provide promising treatments for smoother, younger-looking skin. However, they are typically expensive, prompting us to seek alternative methods. Here are some strategies for combating neck aging.
Consume collagen supplements.
Apply sunscreen with an SPF of 30 or higher (preferably 50) liberally and reapply it every 2-3 hours.
Maintain good posture and exercise regularly.
Use anti-aging creams like Nectifirm.
Drink plenty of water and use topical skincare products that are hydrating.
Keep your phones and computers at eye level.
Include Retinol, Vitamin C, and exfoliating ingredients in your beauty regimen.
Maintain a healthy diet and manage your stress.
My Honest Opinion and Customer Testimonials | Nectifirm Before and After
Although the packaging and claims of Nectifirm enticed me, I was surprised to see triple-digit prices for these products. My main concerns are deep horizontal lines on my neck and some sagging. My assessment indicated that Nectifirm would be the best option for these complaints, but I was not prepared to spend $100+ on a cream. Instead, I opted for the travel-sized version of Nectifirm Advanced. It was the only option I could afford, but I had to pay an additional $15 for shipping. I spent a lot of money and expected this product to deliver good results.
Nectifirm Advanced (travel-sized version) only lasted me a month when used sparingly. In terms of formulation, the lightweight cream absorbs quickly into the skin. It's also gentle enough for my acne-prone skin. In terms of results, to give you a simple answer, this product did not last long enough to show visible results. It hydrates the skin well and makes it look radiant and slightly smooth right after application, but that's all I noticed. I didn't want to spend any more money on this product, so I wouldn't say I had a chance to evaluate its potency truly.
So, let's look at some online reviews to see if Nectifirm worked for others.
Martha noted, "I have been using Nectifirm Advanced for the last two years, which shows I really like this product. It helped me significantly reduce my wrinkles and crepey skin. Today, it helps me keep signs of aging away. I like this cream's hydrating nature; it instantly makes my skin supple and glowy. I definitely recommend this product."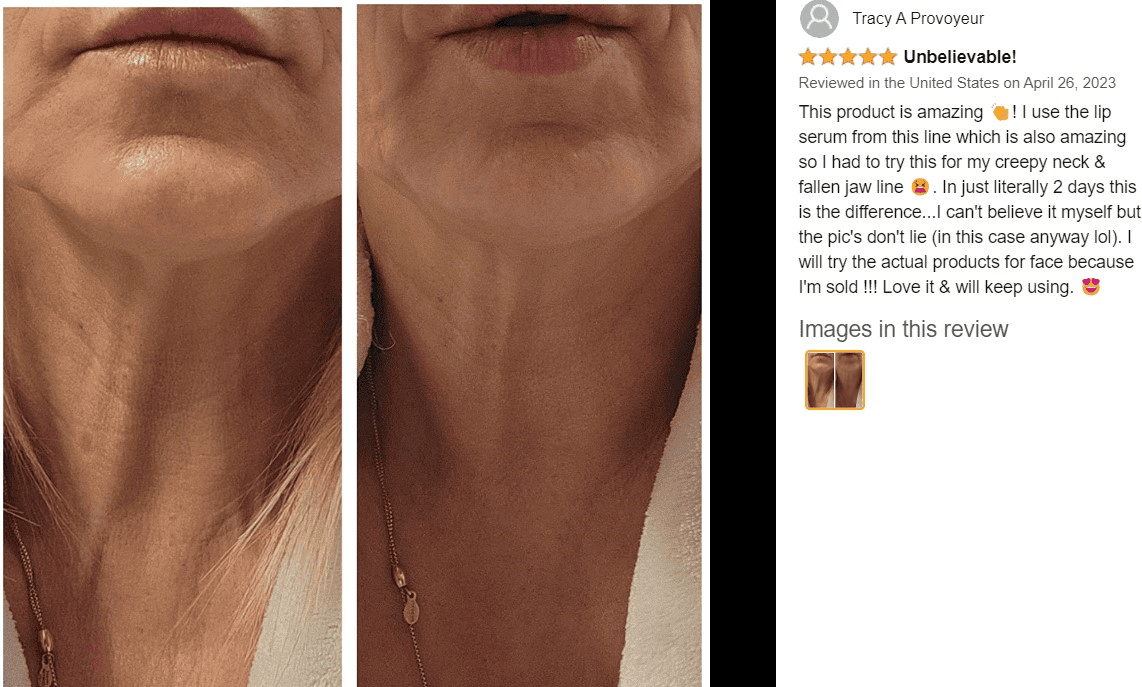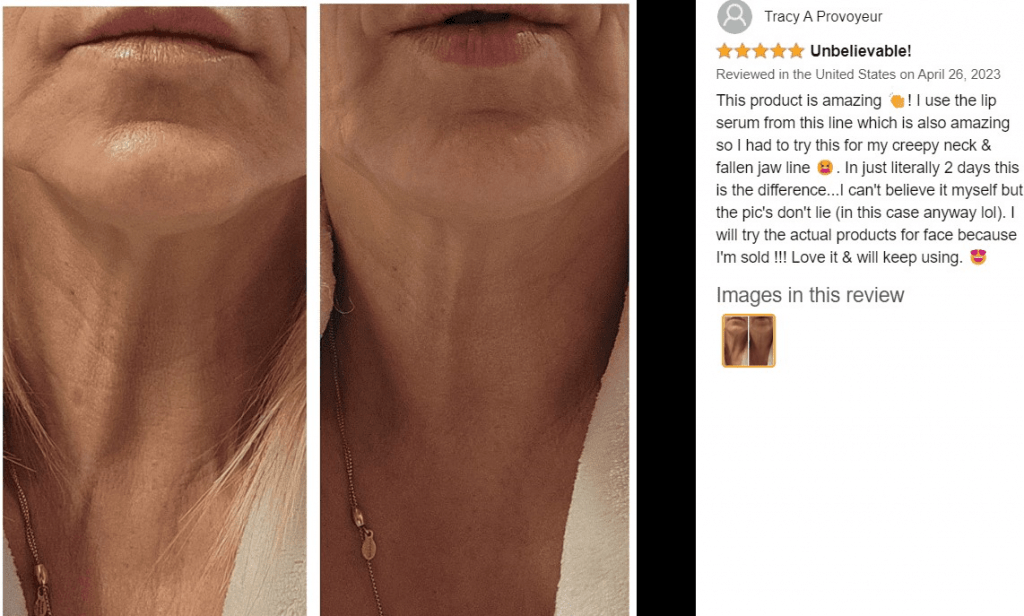 Claudia expressed, "Nectifirm showed results after five months for me. It successfully reduces wrinkles, texture, and dryness. Initially, I was discouraged to see no results, but staying consistent truly paid off. I only wish it was a little cheaper."
Daniella mentioned, "I am really disappointed with this product. I spent over $150, and this Advanced cream did not bring any results. Also, I'm not too fond of its fragrance. For such a high price, I really expected this to work. I wouldn't recommend anyone to use this product. I think there are much more effective options for an affordable price."
Frequently Asked Questions | Nectifirm Reviews
Can I use Nectifirm on my face?
Nectifirm is an anti-aging solution created to treat aging signs on the neck and decolletage, in particular. The effects of factors such as repetitive movements and poor posture, among others, place unique stresses in these areas, necessitating a different approach than the factors that cause aging on the facial skin. As a result, it is best to avoid using Nectifirm on the face and instead use a cream designed specifically to target facial aging.
How does Nectifirm work?
Nectifirm uses active peptides to help strengthen the dermal-epidermal junction. It also contains potent antioxidants, vitamins, and unique extracts that all work together to increase tightness, fill in lines/wrinkles, eliminate roughness, and provide optimal hydration for smoother, softer, and younger-looking skin.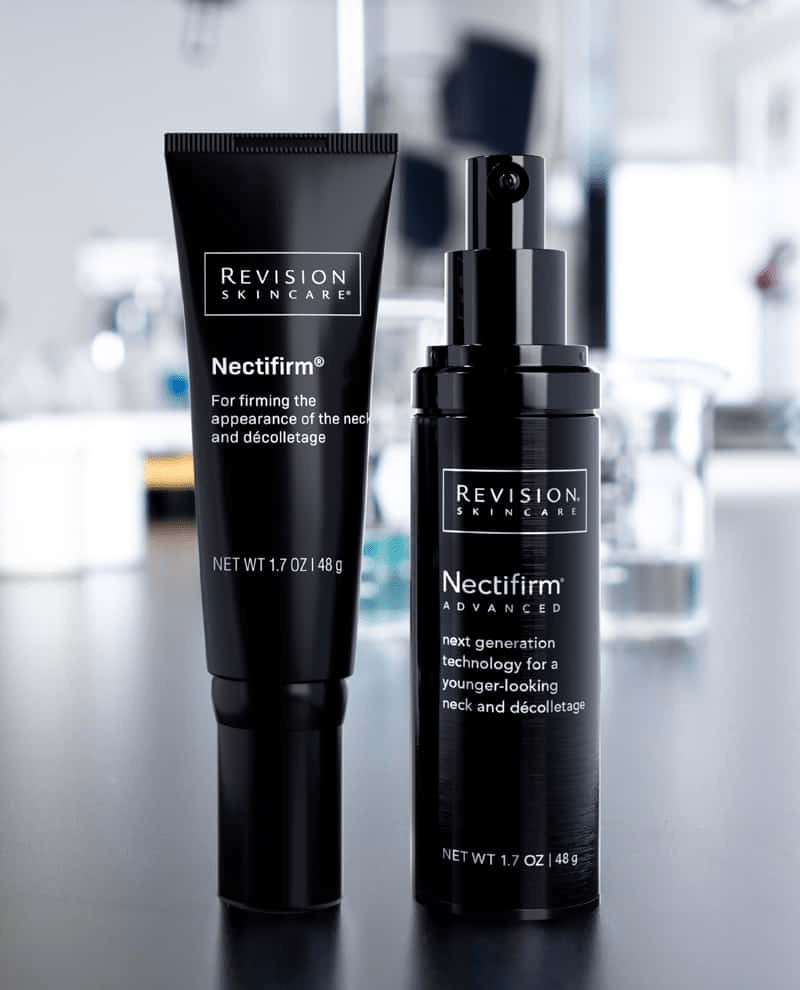 How long does it take Nectifirm to work?
Results from anti-aging skincare products take several weeks to appear. Nonetheless, after 4-6 weeks of consistent use, you should notice the first visible signs of improvement. The results obtained after 12 weeks of study are displayed on the official site of Nectifirm. As a result, it is safe to say that you must use this product for at least 12 weeks to see an improvement in your aging concerns.
What is the active ingredient in Nectifirm?
Nectifirm uses best-in-class active peptides, antioxidants, brightening agents, and innovative technologies to boost the formulation's potency. According to research, peptides, in particular, can help reduce wrinkles, alleviate inflammation, and provide an even and clear complexion.
How to apply Nectifirm?
It is pretty simple to use Nectifirm. Begin by cleansing and gently patting your face dry. Then, dispense one or more pumps of Nectifirm onto your palm and begin massaging it on your neck, decolletage, and neckline in an upward motion. During the day, you can top it off with sunscreen. It is recommended to use Nectifirm twice daily for at least 12 weeks.
Final Thoughts
The true goal of compiling all of this information was to find an answer to the question, "Does Nectifirm really work?" Based on the facts and numerous positive Nectifirm reviews, we can conclude that these creams are effective at delivering their claims. Among the many expensive and invasive cosmetic procedures available, topical creams containing anti-aging ingredients such as peptides and antioxidants, such as Nectifirm, offer a ray of hope for eradicating the stressful signs of aging.
The primary con of Nectifirm is that it is prohibitively expensive and can only be obtained from authorized retailers and medical practitioners. Some customers also complained about slow or no results. However, it is essential to remember that this product will produce different results for different people. If you have persistent issues that aren't alleviated by topicals like Nectifirm, I recommend seeking medical attention. Finally, modify your lifestyle to complement your anti-aging skin journey.
Rebecca is a skilled writer with a passion for makeup and skincare. With years of experience in the beauty industry, she has a deep understanding of the latest trends and products and a talent for creating engaging content that resonates with her readers. Whether she's writing about the latest skincare products or sharing her favorite makeup tips, Rebecca's writing is always informative, entertaining, and inspiring.