Do you dream of waking up with perfect lashes? While we can't make your lashes magically grow in one night, we can do something to boost their volume. The answer is – eyelash extensions! But not just any extension. We are talking about the glueless falsies. But can fake lashes even stick on your skin without glue? Yes, they can, and very beautifully so.
Moxielash and Glamnetic are word renowned beauty brands in eyelashes and specialize in selling magnetic eyelashes to revive your eye's lost charm. They claim to be clean, safe, and far away from the nasty hold of chemicals that threaten to damage your canvas—however, the Moxielash VS Glamnetic controversy has got everyone's brain rattled to choose which one.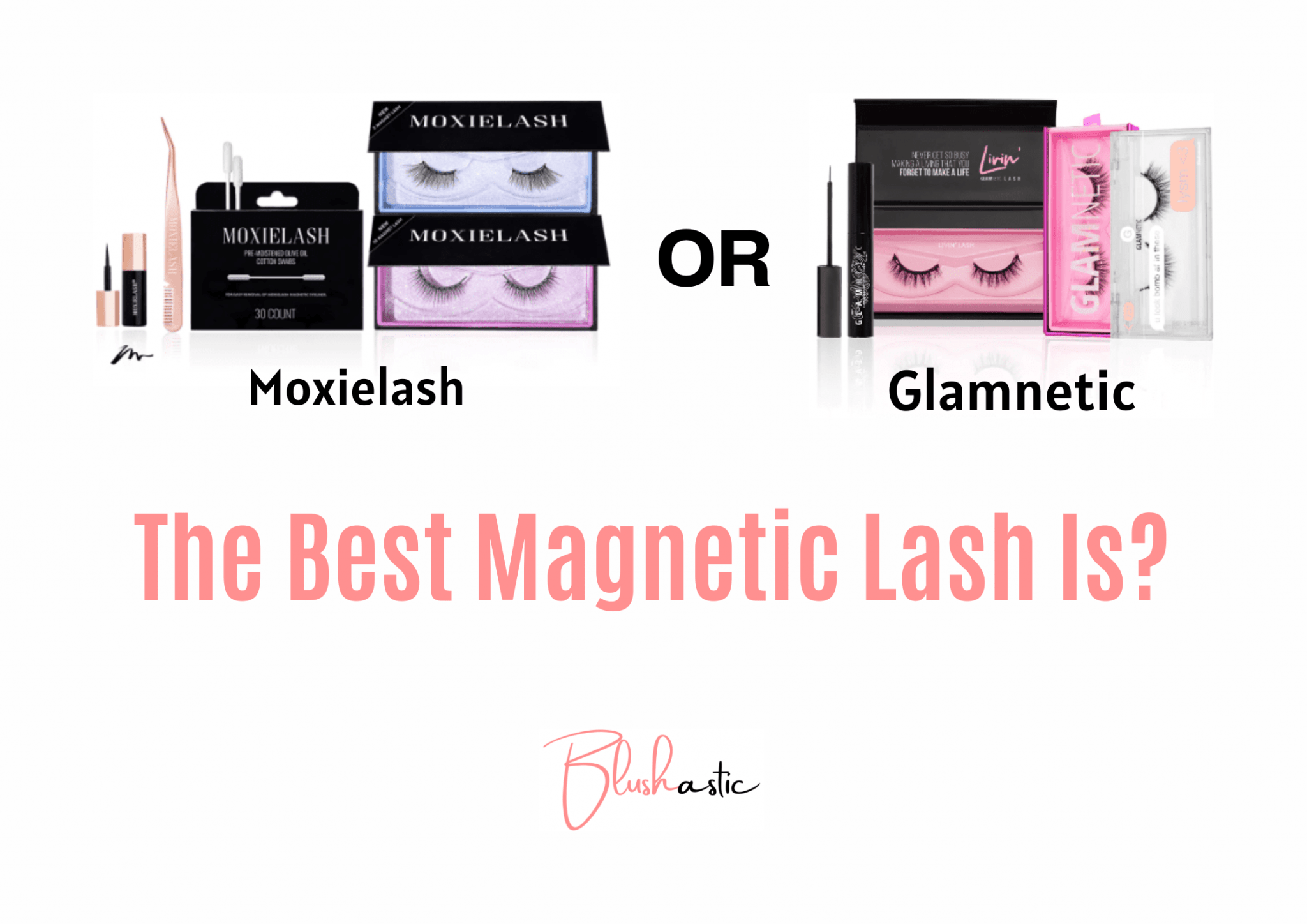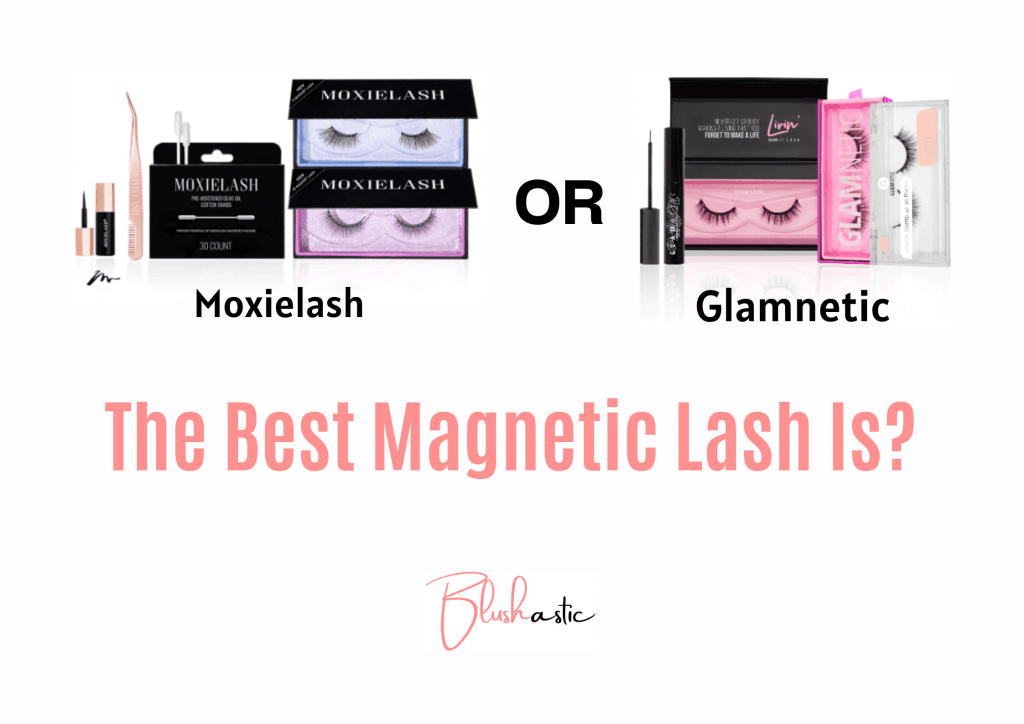 We will address different heads and how each brand performs when that factor is concerned. We believe in getting your skin the best, so calm down! Let us delve right in and determine which of these babies should be your preference!
Moxielash VS Glamnetic |
The Best Magnetic Lash Is?
Product range
While shopping, it is only fair that users get attracted to a brand that offers more. The same thing has happened in this case, too. Moxielash gives you many promising options to amp up your everyday look. These are magnetic lashes, nano-grip lashes, lash eyeliners, and accessories. The accessories are present to make your makeup application as smooth and effortless as it is supposed to be.
In this collection, the brand offers flexible edits like swabbies, a lash applicator, a makeup remover to eliminate that overdose of products, a Moxielash fan, an eyelash curler, a cute pouch, a mirror, a magnet, sanitizer, sanitizing wipes, a soap bar, and premium lash scissors. For all the brand beliefs, now your Friday night makeup inspo will be perfect, like those in magazines!
You might be getting a handful at Moxielash, but everyone goes where they get a better deal. After all, the more, the merrier, right? Glamnetic feeds on precisely this strategy. The brand has laid down a series of makeup essentials you would require to make your lashes look dazzling, and so do your nails! Yes, the brand takes care of your manicure needs, too. It offers various kinds of nails, different eyelash designs, bundles, magnetic eyeliners, and many accessories.
These accessories feature lash grab applicators, wipe-off makeup remover, lash anchors, and removal swabs to make your job fuss-free. Glamnetic also cares for effortless styling, so it provides handheld mirrors, compact mirrors, lash anchor compact, freckle filters, a makeup remover pen, a plushy makeup pouch, a mini eyelash curler, lash combs, an LED mirror, lash and brow scissors, face mask, holographic mirror, and a lot of exciting stuff you would want to have in your beauty vanity. So, Glamnetic winds this round unarguably!
Ingredients | MoxieLash VS Glamnetic
Moxielash takes pride in being the world's first-ever flex band technology infused with 10 small magnets. The lash hairs are designed with top-class quality bionic silk, as he wishes to deliver a bold look so that you can master this fall's makeup affair. The brand is careful enough to create its formula, keeping in mind your delicate skin does not come to harm from any of this collection. For this reason, it has not introduced any heavy metal in the formulations, and all products are free from parabens.
This keeps away the chances of irritation and redness. Moxielash has received the stamp of approval from both the FDA and EWG for being safer than regular lash glue products online. Iron oxide is present and enhances pigmentation without causing side effects, even on the most susceptible skin type. All formulations are certified to be vegan and have been infused with unique weather-resistant technology. This attribute keeps your lashes in place for longer hours, even if a strong wind is gushing against your face.
If you want to resort to safer methods when your lashes are concerned, what better to do than Glamnetic? The brand ensures the wellness of all its clients is followed, so it has incorporated all-safe ingredients in its formula. Being FDA-approved, Glamnetic's magnetic eyeliner and lashes are all the rage and have iron oxide in them. This is added to strengthen the procedure from within, enhancing the holding capacity. EWG has consented to use iron oxide as it does not make your skin toxic.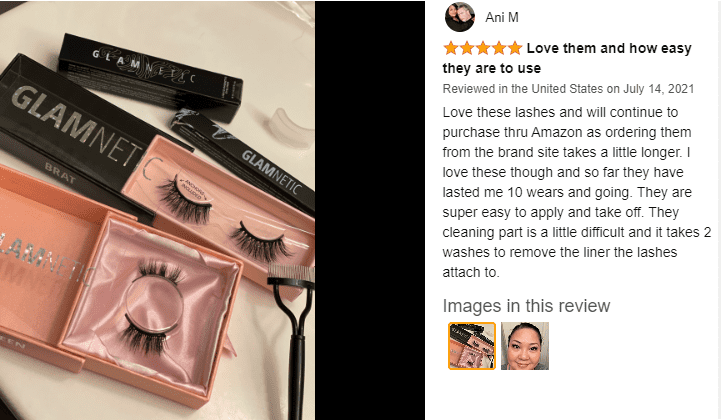 No heavy metals are included, and all products are free from nasties like parabens. There is something for everyone. Customers attracted to premium-quality ingredients might choose the lash range designed with natural mink, whereas others might have vegan lashes for themselves. These are designed with high-quality synthetic fiber. All formations, including the nails, possess a purely vegan composition.
Convenience
To spice things up with your lashes, you would need a lot more than a pair of fake falsies. This is presented to you by both brands. Moxielash ensures you can customize the lash bands according to your eye shape to achieve a fuller and deeper look. You get different kinds of wispies, cat-eyes, volumes, and mid-glams, depending on how thick or how elongated you want your eyelashes to look. If you are a lash lover, this is a great way to feed your interests because one will not be enough for you.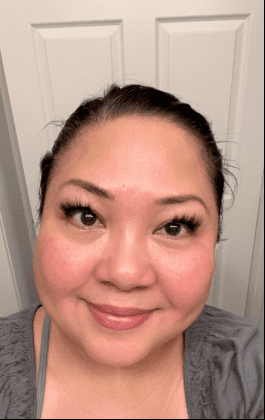 On the other hand, Glamnetic also equals the competition in the battle by offering endless options in lash types like long cat-eyes, birthday wispies, medium wispies, shorter cat-eyes, short rounds, long rounds, and more. The various designs are present, so you don't have to stick to only one pair! Both brands do a pretty good job of delivering you what they claim, so this one's a tie!
Effectiveness & Results
The beauty industry has all the answers to your burning questions regarding the pros of magnetic lashes. So we asked experts to determine whether you can trust these brands' efficacy. In the makeup regime field, Moxielash is quite the game-changer and the obsession of many. The eyelash extensions of this brand have been sworn by users, saying they attached themselves to their lashes like a pro!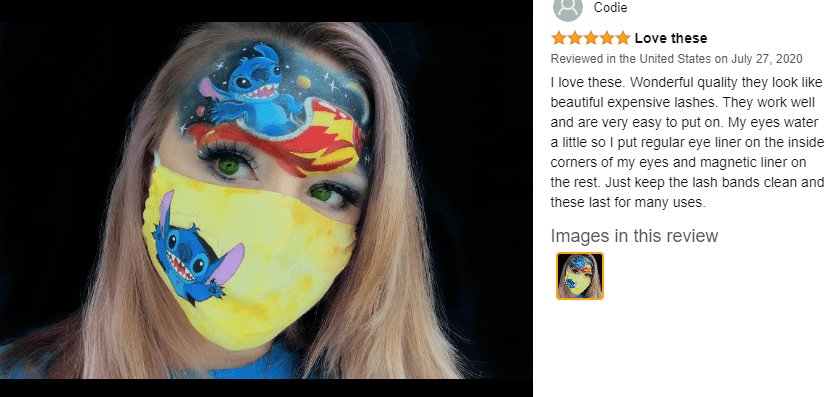 You don't have to invest a lot of me-time into these falsies, for the lashes come formulated with 10 Magnet Flexband Technology™, giving you a natural look as if they were your own. There is no fluttering front of the edges, and it gives your eye a lifted effect that you want to do. The 10 micro magnets camouflage themselves with your natural lashes and offer 24-hour hold, where you can do whatever you please, including crying!
Glamnetic is no less than a hero and is known for its ready-to-wear precut bands so that you can pamper your ensemble and accentuate your appearance. Be it slip-on nails, lashes, or even liner, the band assists healthily by offering long-lasting, all-day wear that is waterproof, smudge-proof, and of the highest quality! The Everyday kit of this brand is the favorite pick of many, be it influencers or celebs.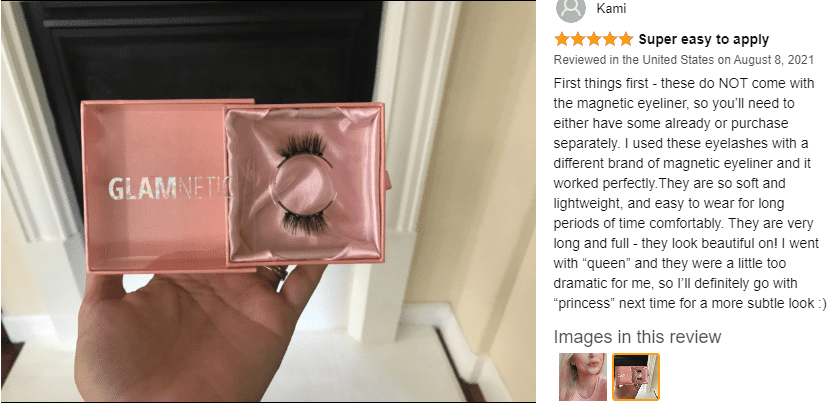 It comes with three unique styles of lashes designed with high-quality vegan synthetic fiber and can last up to 60 years with proper care. This makes your everyday ritual very quick and hassle-free. When running late for an event or a group meeting, these lashes instantly revamp your look and add high definition to those eyes. Users even claimed that the lashes from this brand are everything they need on their eyes before showing up at their essential appointments.
Safety & side effects
Although both brands stay clear from using notorious ingredients that compromise all health, there is still a faint chance that your delicate eyes might suffer from excessive use of magnetic lashes. First and foremost, one can suffer from a significant loss of lashes while plucking out the falsies. So if you don't remove your extensions, will all the special care, you can induce your natural lashes to break or to grow in a different direction.
Now, many users might have questions regarding the quality of the eyelashes. It does not matter. Yes, even if you are using top-quality fibers like mink, silk, faux, or synthetic lashes, constantly touching your eyes to put on lashes might lead to a nasty eye infection or formation of abscess on the eyelids. Other side effects linked to using magnetic lashes are as follows,
Contact dermatitis

Conjunctivitis or other eye infections

Irritation

Increased sensitivity of eyelids

Blepharitis

Allergies

Triggering of some types of hair loss, such as traction alopecia
As the FDA approves the iron oxide used in the formula, it can cause no harmful effects. Users should remember that practicing grooming methods might save them from this trouble. You can take steps like preventing sharing of your magnetic lashes with other people, keeping your eyelash box clean and closed at all times, not storing lashes in hot places, washing your hands every time you touch your eyelids, etc. Follow these steps. Your lashes will work like a charm!
Pricing range
The MAGNETIC LIQUID EYELINER from Moxielash is an award-winning formula. This formulation offers you a supply that claims to last 30 days in addition to its mega hold. Also, it might last less than that if you haven't taken proper care. To ensure their safety, ensure you don't have any residue left on your skin, as it will decrease the liner's magnetic properties, and they won't stick. The MINI MAGNETIC LIQUID EYELINER from this brand is a one-week effortless supply in case you are traveling and fear being stocked out on this black beauty.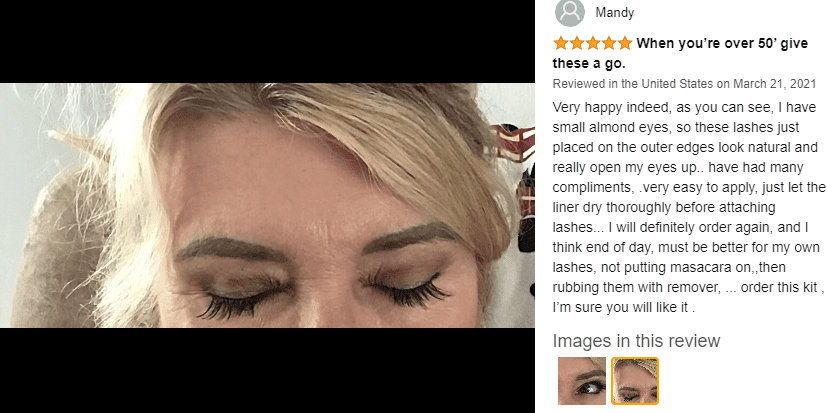 However, it costs a truckload, which is way more expensive for seven days. At the same time, the MAGNETIC LINER from Glamnetic comes in three sizes for your 30-day supply, 60-day supply, and 90-day supply. The 30-day collection consists of 8 ml. This is comparatively a lot less than what Moxielash charges from your wallet. Given the analysis between the two, trusting Glamnetic in terms of pricing will be a feasible option, both for you and your bank account! 
Evaluation of Pros and Cons
Moxielash Pros
Possesses the world's best magnetic eyeliner formula

It takes just 3 minutes to dry

It does not require glue, adhesive, or fillers

Offers an anchorless all-day hold

Composition free of alcohol, fragrance, and parabens

It does not make your lashes sticky or greasy

You can easily remove it

Features 10 Magnet Flexband Technology™

Lashes are designed from silk

It gives a seamless waterproof finish

Resistant to wind and heavily pigmented

The liner comes in 3 different shades

Prevents flaking or smudging

Adds fullness to your sparse spaces

Different lash designs for different eye shapes

Infuses hydration with vitamin E

Enriched with the strength of iron oxide

Locks your look in place all-day

Mini liquid magnetic eyeliner tub will last 10-20 uses per container

Lashes can be worn every day continuously for up to 30 days

You can use the liner up to 60 times

It comes with a precision tip applicator for drawing sharp edges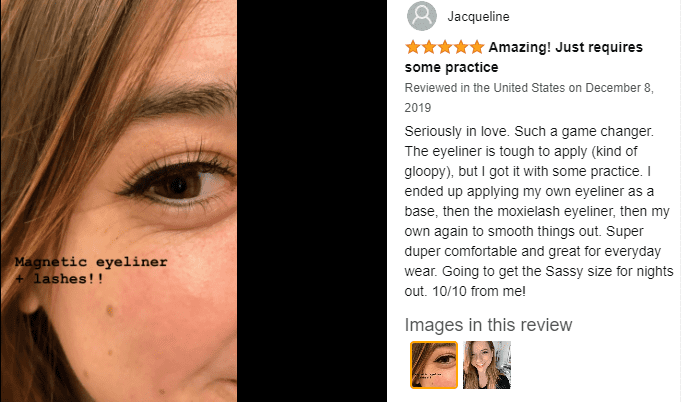 Cons
The formula might feel clumpy sometimes, and it is challenging to get off your eyes.
Glamnetic Pros
It offers a smudge-proof and water-resistant application

The formula is intensely pigmented

Available in 2 different shades

It lasts up to 60 uses

It comes with a small applicator tip

Requires only minimal waiting

Provides an all-day hold

Infused with iron oxide to offer a stronghold

Optional single magnet pieces provide extra hold

Glides on smoothly to add more definition

It contains the blackest black pigment

Features a sweat-resistant formula

It does not require any glue

Never been tested on animals

It comes with 6 magnetic lashes

Vegan composition

Lashes last up to 60 wears

Lightweight and fluffy

Designed with the highest quality synthetic fibers

Pump up your lash volume without feeling heavy

Wind-proof and strongly durable

Lashes come in more than 10 designs and different lengths and shapes 

It takes just 1 minute to apply, whereas Moxielash takes 3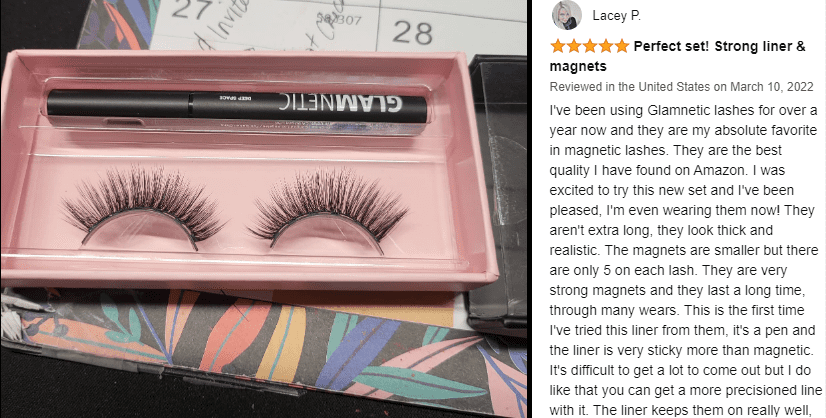 Cons
The lashes might come off from the corners after some time

Might feel heavy
Customer Feedback | Moxielash VS Glamnetic
Rylie commented on Glamnetic, "I was very overwhelmed with these falsies when I read so many positive reviews regarding the brand online. Being a lash enthusiast, I knew I had to give it a shot and see for myself. I have to say that the product did not disappoint me even a bit. First, I had to struggle with the fake lashes as it was my first time. But once I applied them, they remained without disturbing me the whole day. When I returned home, I had forgotten I had put them there. I love this purchase and can't wait to experiment with more from this range."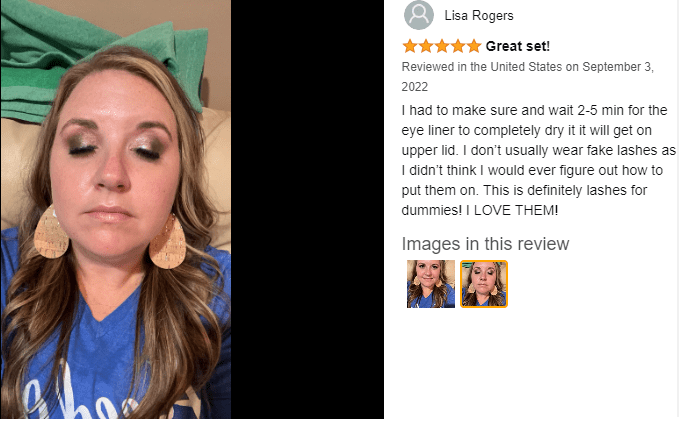 Luna pinned on Moxielash, "Had high hopes, but this sadly did not live up to my expectations. The strips felt uncomfortable, and when I finally removed them, it plucked two or three strands of my real lashes. As I have sensitive skin, it gets irritated with almost everything. Not going to repurchase this for sure."
Nicky said on Glamnetic, "Bought this after many persuasions from my best friend. Honestly, I did not feel like it was any different from others also si have tried in the past. This formula made my lashes clump, and I had to pat them down after many efforts."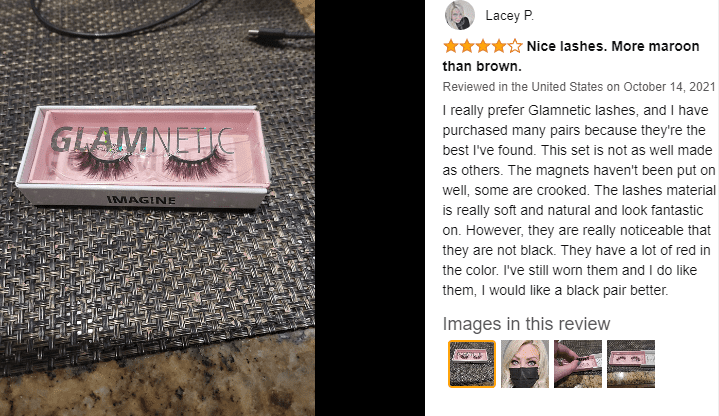 Rebekkah mentioned Moxielash, "I am not blessed with thicker and voluminous lashes that look breathtaking. So I have to depend on fake lashes to create that look. I loved these magnetic ones because they stayed in place for the day without moving. The finish is impeccable and makes my eyes stand out in the crowd. I am always traveling, so I don't have time to purchase new pairs so often. Thanks to these, they last as long as a month. I am never going back to my old falsies!"
FAQs | Glamnetic VS MoxieLash
How many times can you wear MoxieLash?
The Moxielash eyelash extensions are super light and feathery. They ensure a long-lasting life of up to 50 years.
Are magnetic eyelashes safe?
Magnetic lashes are safer than those lashes which are found online. Especially the lash extensions, which require you to stick them in your eyes with the help of glue, are considered dangerous. Things may get worse if you have sensitive skin.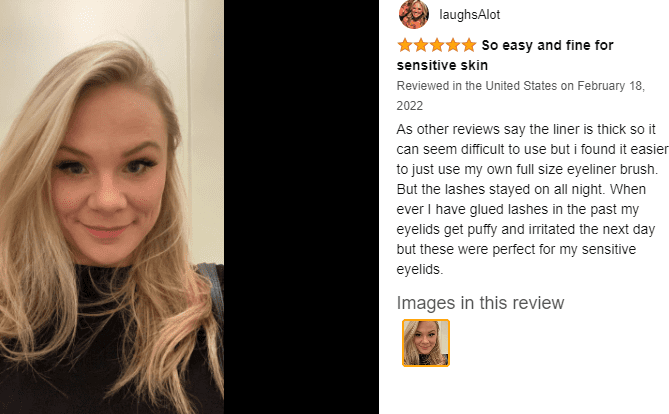 Why do my magnetic lashes fall off?
If you have not applied enough eyeliner, your lashes will fall off. This is because the liner has a formula that consists of iron oxides that exude magnetic properties and hold your magnetic lashes together,
How many times can you reuse Glamnetic eyelashes?
Irrespective of the lash style, length, or aftercare, the lashes from Glamnetic will last up to around 50 wears. If you want to enhance their longevity, you can take remedial steps.
Closure
The best makeup looks are those you can wear all year round and still not get tired of them. To achieve that, you need a complete guide on magnetic lashes' dos and don'ts, as the best of beauty begins with one's eyes. We thought this definitive article on the battle between Moxielash VS Glamnetic will reveal all you need to do to pump up the volume of your lashes. If you want a cost-effective option for you, you can choose Glamnetic.
When results are concerned, both brands do an impressive job of amping up your look without introducing harmful elements to your routine. So, make your choice, for the clock is ticking!
I'm Sarah Abraham, the founder and co-author of Blushastic.com and a professional makeup artist. Beauty is more than just skin deep, and that's why I'm passionate about sharing my knowledge and experience to help people feel confident and beautiful on the inside and out.
Whether it's skincare, haircare, or fashion, my goal is to empower women to feel their best. With my expertise in the beauty industry, I strive to provide practical advice and tips that are accessible to everyone, regardless of their skill level or budget.