With everyday summarising with a new range of brands launching their versions of the same product, we, as users and consumers, are always stuck in this infinite loop of scrolling, reading, and comparing before we add something to our cart. We know it's not just us but everyone who could relate to that.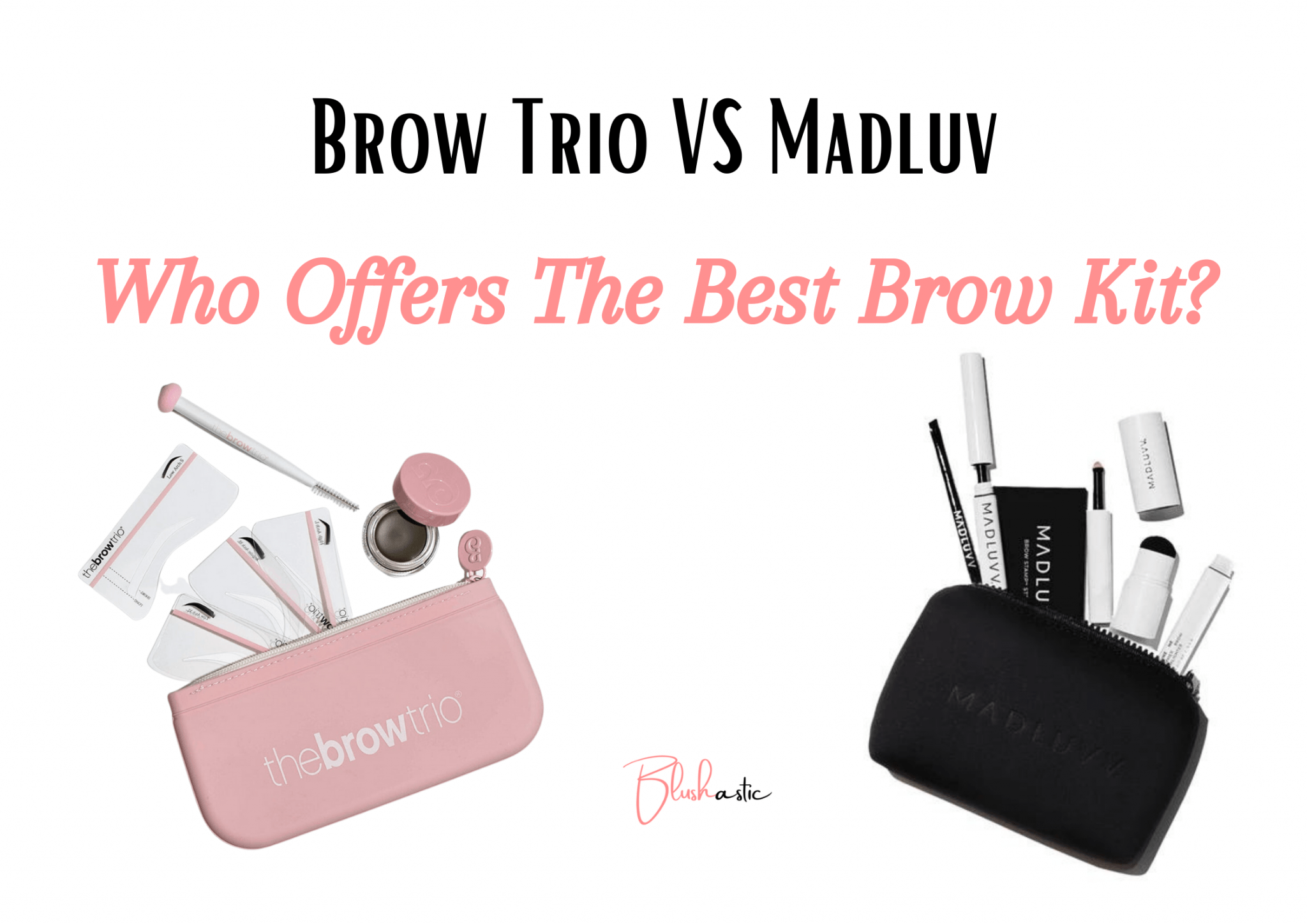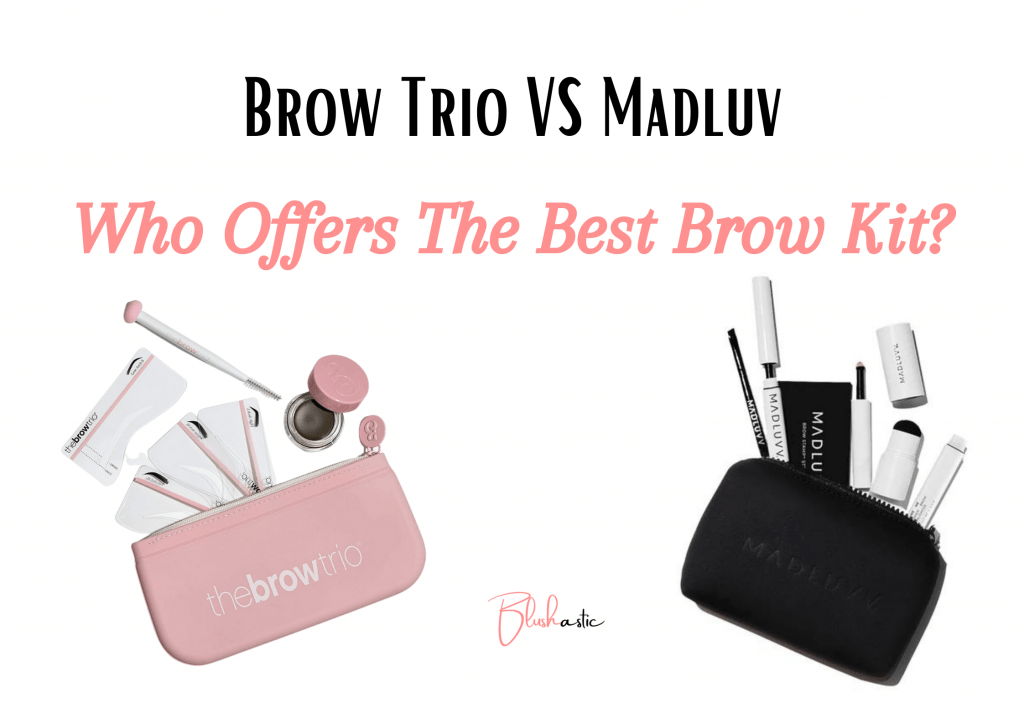 Trying out new and different products is excellent, but the part where you must do all the research before deciding which formula will cover the distance to your face is daunting. But that's what we're here for. We have encountered two brow brands with similar properties, making it hard for people to pick their favorite. This Brow Trio VS Madluv comparison will make you decide what should be in your vanity easier. 
Brow Trio VS Madluv | The Ultimate Brow Face-Off
We immediately move to our eyebrows when discussing a naturally beautiful look. There's no chance of having your face look flaky and slathered on with makeup when you make your brows look more arched and enhanced. That means your 'no-makeup' makeup is mostly how naturally enhanced your face looks, and perfect brows are the key. So, we looked around for the easiest, painless way to add brows through makeup and skincare. 
For now, we shortlisted two brands with perfect brow kits that make the upkeep of your brows. Madluv and Brow Trio have launched brow kits with the ideal assistance you need to get those MUA-ready brows. So let's have the ultimate brow face-off between Madluv and Brow Trio and finally settle on which brow product is superior.
Madluv Brow Shaping and Stamp Kit
Madluv Brow Shaping and Stamp Kit is a top-rated beauty product that helps you achieve those perfectly shaped eyebrows in just a few minutes. This kit includes a brow shaping powder, a stamp applicator, and a brush to help you create those desired natural-looking brows in seconds. Let's take a closer look at all the factors that will decide which product holds the higher ground, including the ingredients, pros and cons, and application of this product.
Ingredients | Brow Trio VS Madluv
The Madluv Brow Shaping and Stamp Kit contain natural, safe, and gentle ingredients for your skin. Let's take a look at which product make up this product:
Talc: Talc is one of the most common ingredients in any powder-based product. It is a mineral that helps absorb moisture and control oil. It is often used in cosmetics as a bulking agent that can help give your eyebrows a fuller, more defined look.
Mica: Mica is another mineral that gives the powder its shimmering effect. Hence it is an addition to the blend.
Kaolin: Kaolin is a type of clay specifically used to absorb excess oil and impurities from the skin and underneath the surface of it.
Iron Oxides: Iron oxides are additional natural pigments that color the powder.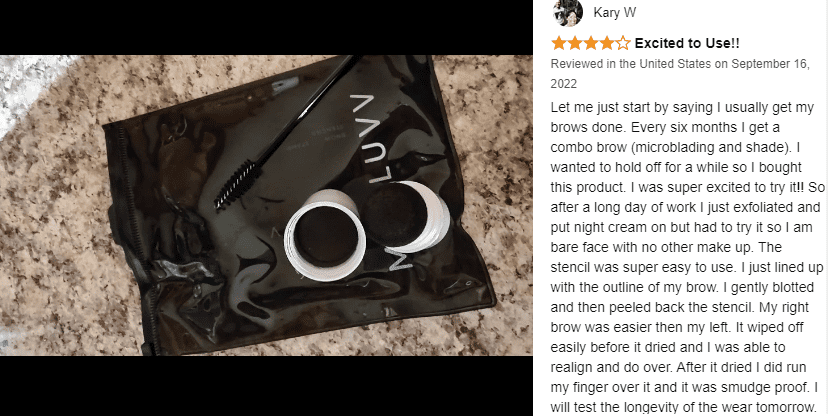 Pros and Cons
Pros
It is easy to use and can help you achieve those perfectly shaped brows in just a few minutes.
The kit has components like a stamp applicator that can help you create a natural-looking brow shape.
The powder is designed to be long-lasting and smudge-proof, so you don't have to worry about touch-ups throughout the day.
The natural ingredients in the powder are decently gentle on your skin and won't cause irritation, redness, discomfort, or breakouts.
Cons
The stamp applicator may take regular practice to get used to, and you may need to dabble around and experiment with different angles to get that perfect shape.
The limited kit is available in one shade, so it may not suit everyone.
The powder can be messy, so you may need to be careful when applying it.
Application
Here are the directions to use the Madluv Brow Shaping and Stamp Kit effectively:
Start by simply brushing your eyebrows upwards with the included brush in the kit.
Dip the stamp applicator into the given powder and stamp them perfectly placed onto your eyebrows, starting from the inner corner and working outwards.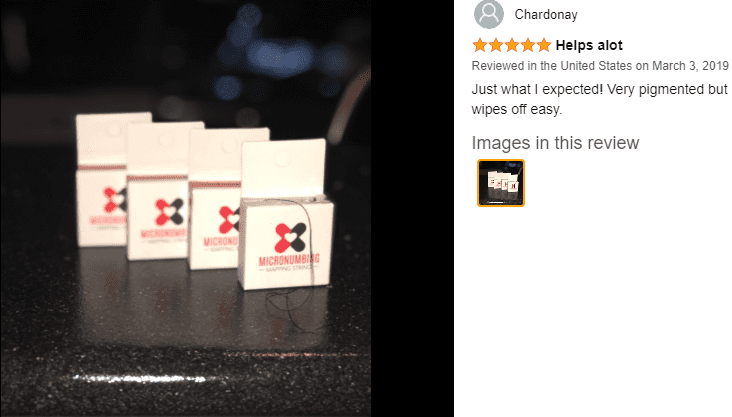 Use the brush to blend the powder into your eyebrows, filling in gaps and creating a natural-looking shape.
Repeat the same process with the other eyebrow.
Effectiveness
The effectiveness of the Madluv Brow Shaping and Stamp Kit depends on the individual user's preferences and needs. Many users have reported that the stamp applicator helps them achieve a more arched, defined, symmetrical brow shape. At the same time, the powder fills in any sparse areas for a natural-looking and fuller finish.
The long-lasting formula is also an additional factor in their favor for those who don't want to worry about touch-ups and adding products throughout the day. However, some users may find that the kit doesn't work like expected for their brow shape or skin type, so testing the product before committing or investing in it is essential.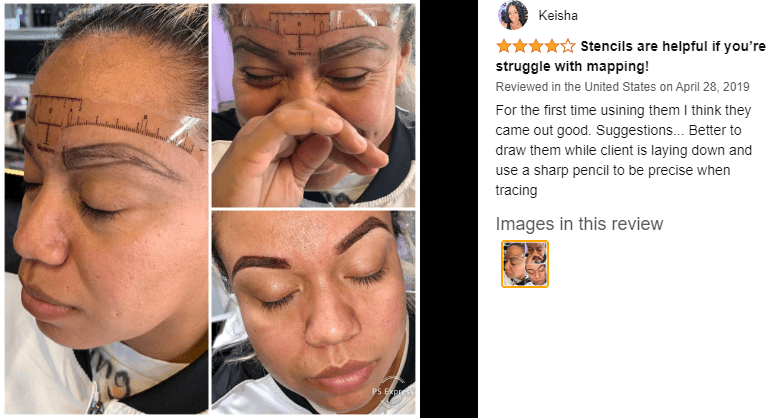 Price Point
The Madluv Brow Shaping and Stamp Kit is priced at around $**-$**, which may seem slightly expensive compared to other brow products. However, considering the added convenience and effectiveness of the signature stamp applicator and the long-lasting formula, many users find it a worthy investment. The kit also includes a brush and enough powder to last for several uses, so it's a good value for the price.
Brow Trio Stamping and Stencil Kit
The brow trio brow stamping and stencil kit is a top-rated beauty product that helps you consistently achieve that perfect, similar, and ideal eyebrow. This kit includes a brow stamp, another brow stencil, and a brow powder that allows users to create their required, perfect brow shape and fill them in with complete ease. It's a highly convenient and easy-to-use product suitable for beginners and professionals.
Ingredients | Brow Trio VS Madluv
The brow trio brow stamping and stencil kit are known to contain a variety of ingredients, such as:
Kaolin is a naturally extracted clay that helps absorb any excess oil and impurities from the skin. This keeps the skin clean and infection free.
Talc: Another mineral, previously mentioned, helps absorb moisture and gives the product a smooth texture.
Mica: Like in Madluv, even here, this natural mineral adds shimmer and shines to the brow powder.
Titanium dioxide: This mineral helps protect the skin from any external UV damage and gives the product a white hue.
Iron oxides are a set of natural pigments that give the product its color.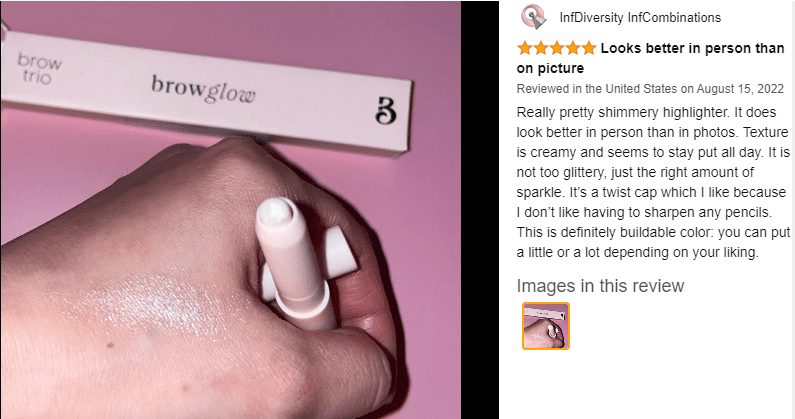 Pros and cons
Like any beauty product, the brow trio brow stamping and stencil kit have its pros and cons:
Pros
This product is easy to use; even beginners can use this kit to achieve perfect brows every time.
The brow stamp and stencil help speed up the brow shaping and filling process, saving time.
Their thoughtfully designed brow powder is typically long-lasting, ensuring the brows look great throughout the day.
This kit allows users to create their ideal brow shape and fill in their brows according to their preferences.
Cons
One of their shortcomings is that the kit may not come in a wide range of colors, making it challenging to find the perfect match for some users.
The brow stamp and stencil may create a very defined, structured look that doesn't always look natural or suit all brow shapes.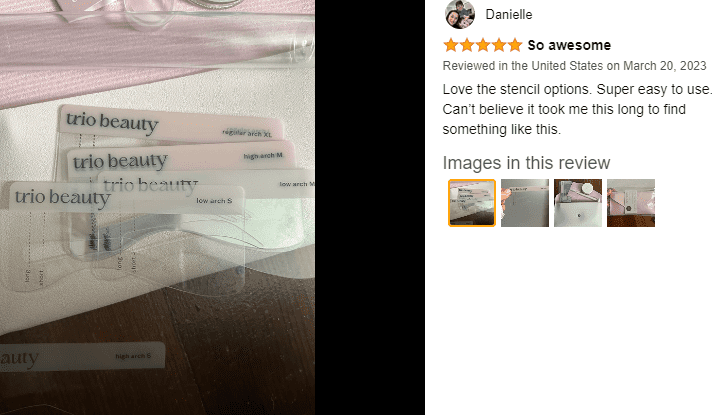 Application
Here's how to use the Brow Trio brow stamping and stencil kit:
Start by choosing the perfect brow stencil that matches your desired brow shape.
Hold the stencil over your brow and apply the brow stamp to transfer the shape onto your skin.
Use the brow powder to fill in the stamped shape, using short, feather-like strokes to create a natural look and add enough pigment to make them look full.
Repeat the process on the other brow, and we're done.
As an additional step, clean the stamp and stencil after each use to avoid bacteria buildup.
Effectiveness
The effectiveness of the Brow Trio brow stamping and stencil kit can vary thoroughly depending on the individual's skill level and user preferences. However, this kit can be a game-changer for users who struggle with shaping their eyebrows or creating symmetrical brows on both sides.
The brow stamp and stencil help create a consistent brow shape every time, which can be challenging to achieve by freehand and result from constant practice. The brow powder also helps fill in sparse areas and gives the brows a more defined look. While some users may find it challenging to achieve that natural-looking finish, with practice, users can achieve a beautiful, effortless natural look. Overall, the kit can be highly effective for those users who prefer a more structured and defined brow look.
Price Point
The price of this Brow Trio brow stamping and stencil kit can differ across brands and products depending on the brand and location of purchase. Generally, the price ranges from $** to $**. While this may seem a bit expensive, it's essential to consider the product's cost-effectiveness. The kit typically includes all components like a  brow stamp, stencil, and powder, which can last for several months of daily use in generous amounts.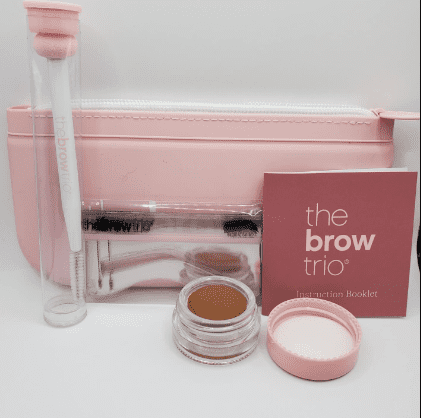 Moreover, the time-saving benefits of this kit also justify the price, as it can eliminate any need for frequent visits to the salon for professional brow shaping. Ultimately, the price point can be considered reasonable for those who prioritize achieving consistent, structured brows and want to save time and money in the long run.
Final Verdict | Brow Trio VS Madluv 
We believe both products have a high potential for giving users their desired brows. We also realize that both these products have pros and cons. However, the Brow Trio Brow Stamping and Stencil Kit outweigh the Madluv Brow Stencil kit due to their range of stencils, making it convenient for users to decide which stamp would suit their original brow shape perfectly.
It even provides a better range of components at a lesser price. However, we're staunch believers of every product acting differently on every user. So regardless of the brand, both products substantially affect the makeup and provide the desired results. Plus, makeup skills and perfection are achieved with time, patience, and regular practice, so once you're determined to achieve your skills at a certain level, both products will fit in perfectly well with your makeup. You have to use the right products to make your brows look seamless.
Rebecca is a skilled writer with a passion for makeup and skincare. With years of experience in the beauty industry, she has a deep understanding of the latest trends and products and a talent for creating engaging content that resonates with her readers. Whether she's writing about the latest skincare products or sharing her favorite makeup tips, Rebecca's writing is always informative, entertaining, and inspiring.