Are you tired of searching for good brands, especially those with claims proven to be true? Trying on new cosmetics products isn't always a good idea, but how about trying products that contain primarily all-natural ingredients, especially those globally famous for their benefits in skin care? M Asam Beauty has vouched for this and claims it through one of its best-selling cosmetic lines, the Magic Finish. Let's dive into some unbiased M Asam Magic Finish reviews to get a better insight into this.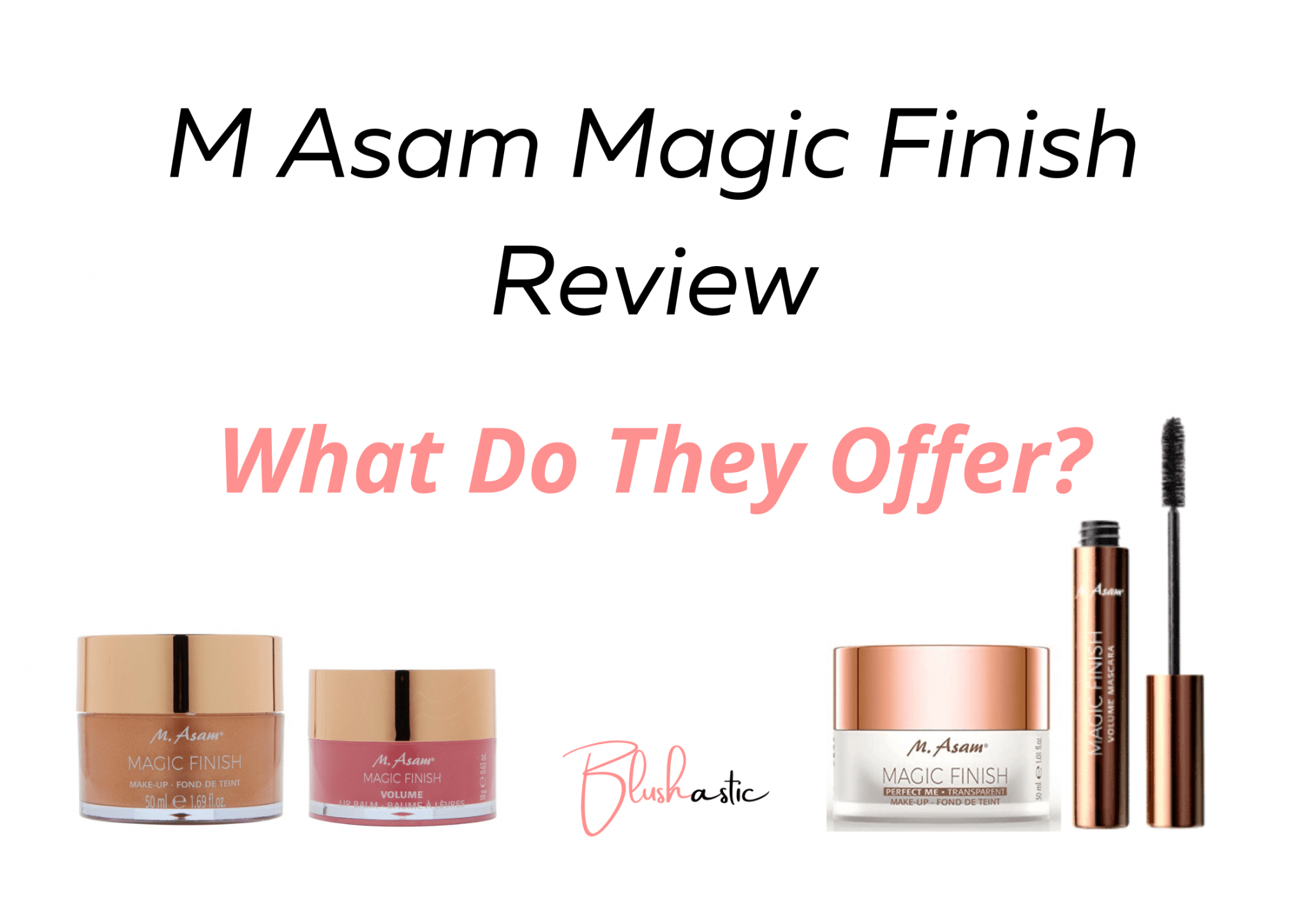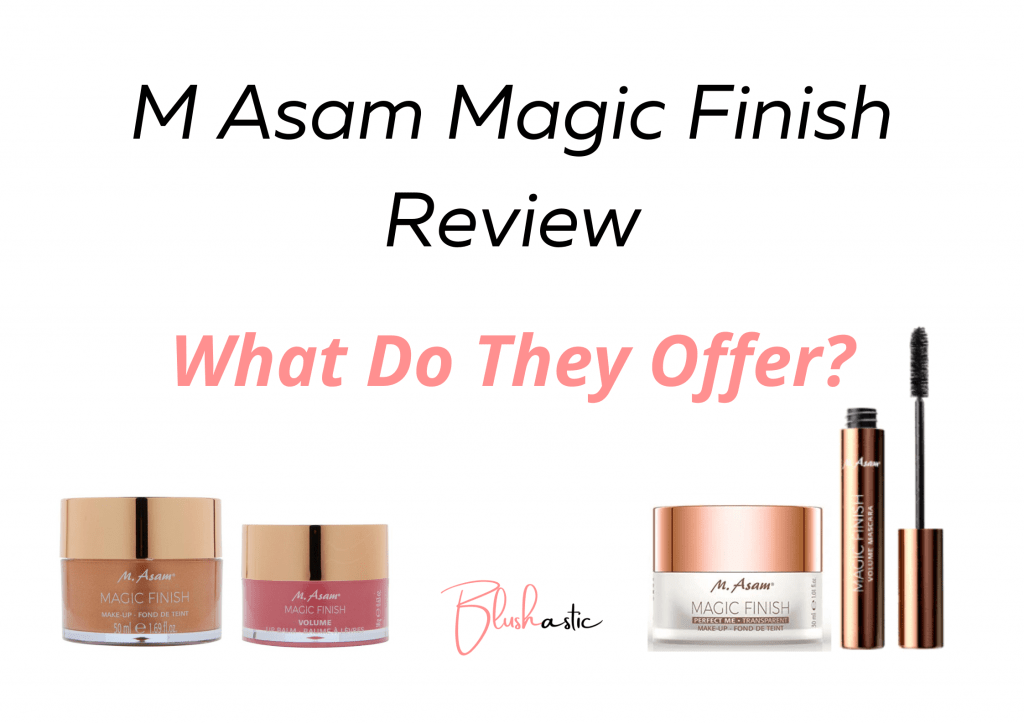 M Asam Magic Finish Reviews | About The Brand
Marcus Asam, the founder and CEO of the brand takes great pride in its product line, which is made with effective active ingredients. Asam Beauty creates its latest formulas in their 'in-house' development and research laboratory. The unique formulation of plant-based ingredients and state-of-the-art high-tech active ingredients makes the customers go gaga over their product line. 
Asam Beauty not only grabs their customers' attention with their beauty products but also with their skincare ones which, according to the brand, are made from the goodness of natural ingredients like aloe vera, Vitamin C, honey, and many more. 
The brand offers its Magic Finish cosmetic line, their bestseller, with products like eye shadows, mascaras, lipsticks, and many more. But are their best sellers worth being so? Let's look at M Asam Magic Finish reviews to conclude whether or not they are worth trying.
M. Asam Magic Finish Make-up Mousse
Among the brand's best-sellers, the makeup mousse is nothing but a powerful combo package of four. It is formulated to serve the purpose of a primer, foundation, concealer, and powder. Imagine getting all these steps worth 5-10 minutes done within seconds; impressive.
Say bye-bye to uneven skin tone and texture, as the makeup mousse blends into your skin and solves this problem. The lightweight formula instantly gives your skin a matte and natural-looking glowy finish.
M. Asam Magic Finish Make-Up Mousse (1.01 Fl Oz) – 4in1 Primer, Foundation, Concealer & Powder With Buildable Coverage, Hides Redness And Dark Spots, Vegan, For Light To Medium Skin Tones
4in1 MAKE UP PRODUCT: primer face makeup, makeup foundation, concealer and finishing powder all in one. Leaves skin looking flawless and matt. Hides redness, wrinkles, lines and dark circles.
SILKY TEXTURE, WEIGHTLESS FEEL: make up texture conceals uneven skin tone for a matt, natural looking finish. Makeup mousse provides light to medium or full coverage depending on application.
EASY TO APPLY: Apply over day cream and blend evenly. Repeat until the desired coverage is achieved. The mousse can be applied and blended with a firm brush, a make up sponge or with the fingers.
FOR ALL SKIN TYPES: Mousse adapts to the skin color. Available tones: Deep Teint for medium to deep skin tone, Summer Teint (medium), base shade (light to medium), Porcelain Teint (fair).
VEGAN AND CRUELTY FREE: clean beauty make up product formulated without alcohol, parabens, talc, phthalates. Made in Germany by asambeauty - a company with a decades-long tradition.
Formulated with ingredients like Cyclopentasiloxane and Isododecane, the mousse helps keep the skin hydrated and cotton-soft. These ingredients' presence helps improve the texture's softness, making the product glide smoothly on your skin. With a bit of touch of Silica in the makeup mousse, the product becomes anti-caked.
Positives 
The formula is very lightweight.

The application process does not require any extra hard work.

It is a package of four essential makeup products in just one.

Contains a light, pleasant smell.

It is a vegan formula based on natural minerals and ingredients.

It has got more than 10k reviews.

Does not test on animals; hence cruelty-free.

Does not contain parabens or sulfates.

Free of formaldehyde, talc, and coal tar.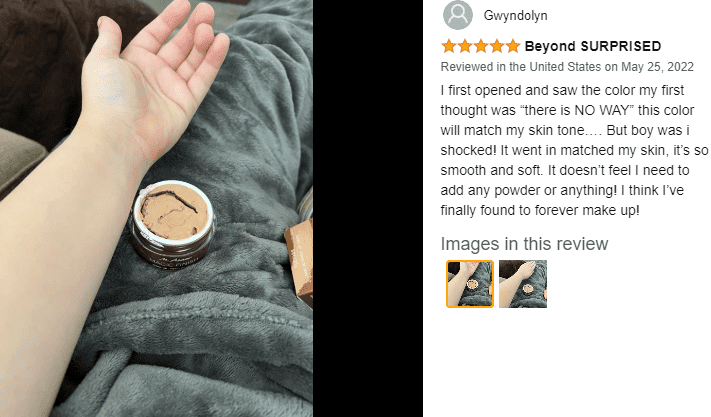 Negatives
Some users complained about the mismatch in the shades of the mousse, the shade being very dark and looking unnatural.
M Asam Magic Finish Volume Mascara 
Mascaras are a crucial element in makeup, but many mascaras are available, which becomes the reason for not being able to choose the correct option. This is another best-seller of the cosmetic line that helps your eyes feel more awake and highlighted. It is presented with an innovative brush that, as per the brand, defines and separates the lashes right from the root to the tip. Well, not just that, with the help of the brush, you can get a visibly incredible length of your lashes. 
The brush is developed with microspheres on each tip of the bristle. Why so, you ask? These microspheres are the ones that play a vital role. They help separate the eyelashes and add definitions to each one. 
M. Asam Magic Finish Volume Mascara – Black Mascara for Enhanced Eyelashes, Innovative Make-Up brush technology helps capture each eyelash for extra length, 0.33 Fl Oz
MAGIC FINISH VOLUME MASCARA: MAGIC FINISH Volume Mascara does it all. The innovative brush uses technology that helps define and separate lashes from root to tip for incredible length.
WHAT IT DOES: Innovative brush technology, with microspheres on the tip of each bristle, helps capture each eyelash for extra definition Cellulose Spheres visibly build up the volume while soft Fibers create luscious length Monoi Butter conditions the lashes and helps evenly distribute the formula.
WHO IT'S FOR: Suitable for all skin types. Get ready for spectacular volume, length & definition with just one coat of this rich-black game changing eye make-up mascara by asambeauty.
PRECIOUS INGREDIENTS: While the volumizing and conditioning formula uses high tech volume building spheres with Monoi butter to keep lashes soft and supple.
DIRECTIONS: Gently glide the brush from the root of the lashes to the tip, wiggling or rolling the brush to deposit mascara. Use as many coats as necessary to achieve desired look.
The mascara is formulated with precious ingredients, including castor oil and shea butter. As we all know, castor oil helps keep eyelashes thick and, in the long run, helps in the growth of lashes. Getting your lashes thick is all good and dreamy, but what about the softness and care of those lashes? Shea butter to the rescue! It is widely known for its hair-softening properties as it is enriched with Vitamins A and E.
Positives 
The mascara is infused with powerful ingredients that enhance lash growth, castor oil and shea butter.

As per the brand's study, 93% of users agreed that their eyes looked more open after the application.

Yet again, 93% of people also agreed that their eyelashes appeared longer after using M. Asam's mascara.

A vegan product.

Free of parabens and silicone.

Does not contain talc.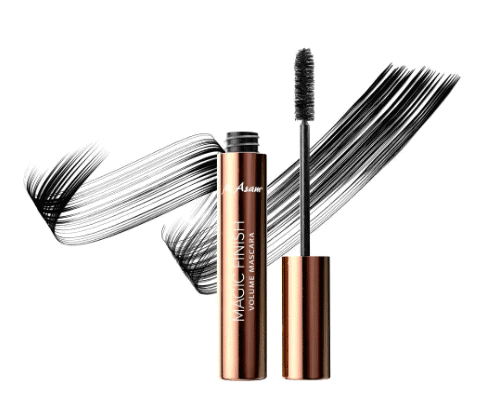 Negatives
Few reviews are available, so it can't be concluded whether the product's worth the claims.

It can be quite high priced for mascara.
M Asam Magic Finish Volume & Repair Lip Balm
Worried about your lips being dry and feeling lifeless? M. Asam has got you covered. With its Magic Finish Volume & Repair Lip Balm, you can optimize your lips within seconds. As the name suggests, it is a lip balm that repairs and nourishes your broken and peeled lips while giving them a touch of beautiful colors like many other brands. But this lip balm's finish is in 6 subtle colors, including shades of pinks and browns.
M. Asam Magic Finish Volume Lip Balm – Berry Red tinted Lip Balm for fuller-looking lips, Rich shea butter & beeswax protect & moisturize – subtle pigments add a flush of color, 0.63 Oz
MAGIC FINISH VOLUME LIP BALM plumps your pout while delivering a natural looking flush of color. Rich lipids preserve moisture and protect the delicate skin of the lips from drying out.
WHAT IT DOES: Volulip complex, with plant extracts & peptides, is known to increase moisture while decreasing roughness for fuller, plumper looking lips. Available in 2 shades, the balm is enriched with vitamin E, hyaluronic acid and Volulip to go beyond simple hydration, giving your lips volume, color and care.
WHO IT'S FOR: Suitable for all skin types – with a delicious fruity blueberry flavor & fragrance. 100% Free of: Parabens, Mineral Oil, Silicone
UNIQUE FORMULA: Rich Shea Butter & Beeswax protect and moisturize lips Subtle Pigments add a natural looking flush of color with a Glossy Finish and slight blueberry flavor.
DIRECTIONS: Apply desired amount to the lips. Repeat as required. Can be applied on its own or over a matte lip color.
The lip balm is infused with jojoba oil, a natural ingredient for its beneficial uses in lip care. It provides the hydration required for your lips to get back in shape. You'll also find castor oil here because of its multi-functional properties. It is rich in a fatty acid called ricinoleic acid, an excellent humectant. Apart from this, the presence of shea butter completes lip care by providing your lips with a smooth and nourished feel.
Positives
The lip balm is an infusion of spectacular ingredients like castor oil, shea butter, and jojoba oil. 

It also contains peptides, Vitamin E, and herbal oils that instantly promote lip nourishment.

Combo of two things, lip care + lipstick.

It has a pleasant smell.

Glides smoothly on your lips.

It gives a nourished and moisturized feel to your lips.

Made with a vegan formula.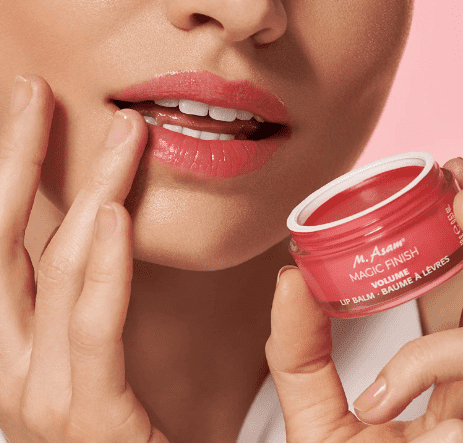 Negatives 
Few reviews are available over the internet.
M Asam Magic Finish Perfect Me – Transparent
The Perfect Me transparent makeup can be used as a primer that lays itself over your skin's complexion and hides all the flaws and irregularities. It gives your skin a nourished, smooth, and matte or blurred finish. The Transparent makeup can be used as a primer that will create a good base, or you can even go with it as a foundation for a no-makeup look. 
It is infused with efficient and nourishing ingredients, including grape vine extract, sweet almond oil, sodium hyaluronate, sunflower seed oil, and many more. The presence of grapevine and rosemary extracts in the product gives your skin a soothing effect and helps it retain youthful radiance and glow. Sunflower seed oil is an excellent emollient agent and has impressive anti-inflammatory properties. It is a non-comedogenic agent that swears not to clog pores.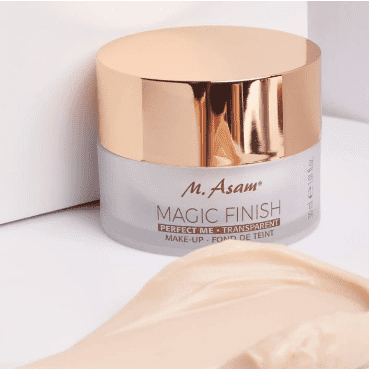 Positives 
The product contains efficient and promising ingredients like sunflower seed oil, sodium hyaluronate, and several others.

It leaves your skin feeling moisturized and hydrated, thanks to sodium hyaluronate.

The blurring technology gives a matte finish and hides all the lines and wrinkles.

It can be used for minor and quick touch-ups.

The skin feels smooth and silky.

It is lightweight.

It can be combined with a foundation or even a primer.

100% vegan.
Negatives
Customer Feedback | M Asam Magic Finish Reviews
Vanessa commented, "The texture of the Makeup-Mousse is like whipped cream. It applies smoothly and gives a matte effect but does not offer any coverage as a foundation does. People with dry skin might need a moisturizer underneath. Otherwise, you might notice peeling. There is little fragrance, but it is not overwhelming and goes away fast. I like how light it feels on the skin, making it look better than no make."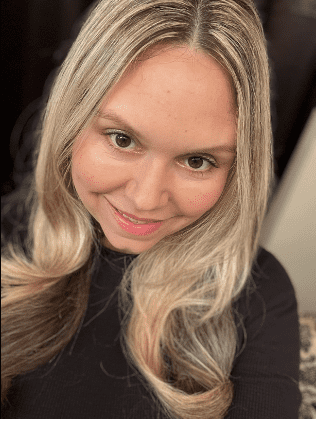 Another user Yvonne K said, "On being recommended, I wanted to try the mascara. I am completely thrilled. Volume & clean separation of eyelashes, even the little ones, to the eye's interior. It can also be washed up more intensively in the evening. Amazing results."
FAQs |
M Asam Magic Finish Reviews
Does the Makeup Mousse come in different shades?
No, the makeup mousse comes in only one shade, and if the claims made by the brand are to be believed, then this one shade is enough as it suits all skin tones.
Are all products from M Asam vegan?
According to the brand, the majority of the products are vegan. Some products contain beeswax, which is said to have significant beneficial properties for the skin.
Does Makeup Mousse contain SPF?
No, the Makeup Mousse does not contain SPF, so it is recommended that you use sunscreen while applying this product.
Closure
With these unbiased M Asam Magic Finish reviews, it is clear that most products include natural and effective ingredients globally known for their skincare properties. The 'Magic Finish' line products are among the brand's best ones. Some products did not have a lot of reviews, so in that case, it is up to you whether or not you want to go with those or not. Apart from those, the other products seemed very promising and impressive and can be added to your cart!
Marilyn's deep interest in fashion, beauty, and lifestyle has led her to pursue a fulfilling career as a freelance writer and blogger. With her bachelor's degree in fashion design from the Fashion Institute of Technology, she has developed a keen eye for style and trends, making her well-equipped to offer valuable insights into the latest fashion and beauty trends.