There are various makeup brands, but how do you know which one to trust? Makeup isn't something that you can experiment with every other day. With good claims and results, cosmetic brands win their customers' trust. One such brand is Bella Terra, which offers a wide range of makeup products to keep your skin healthy and provides many skincare products.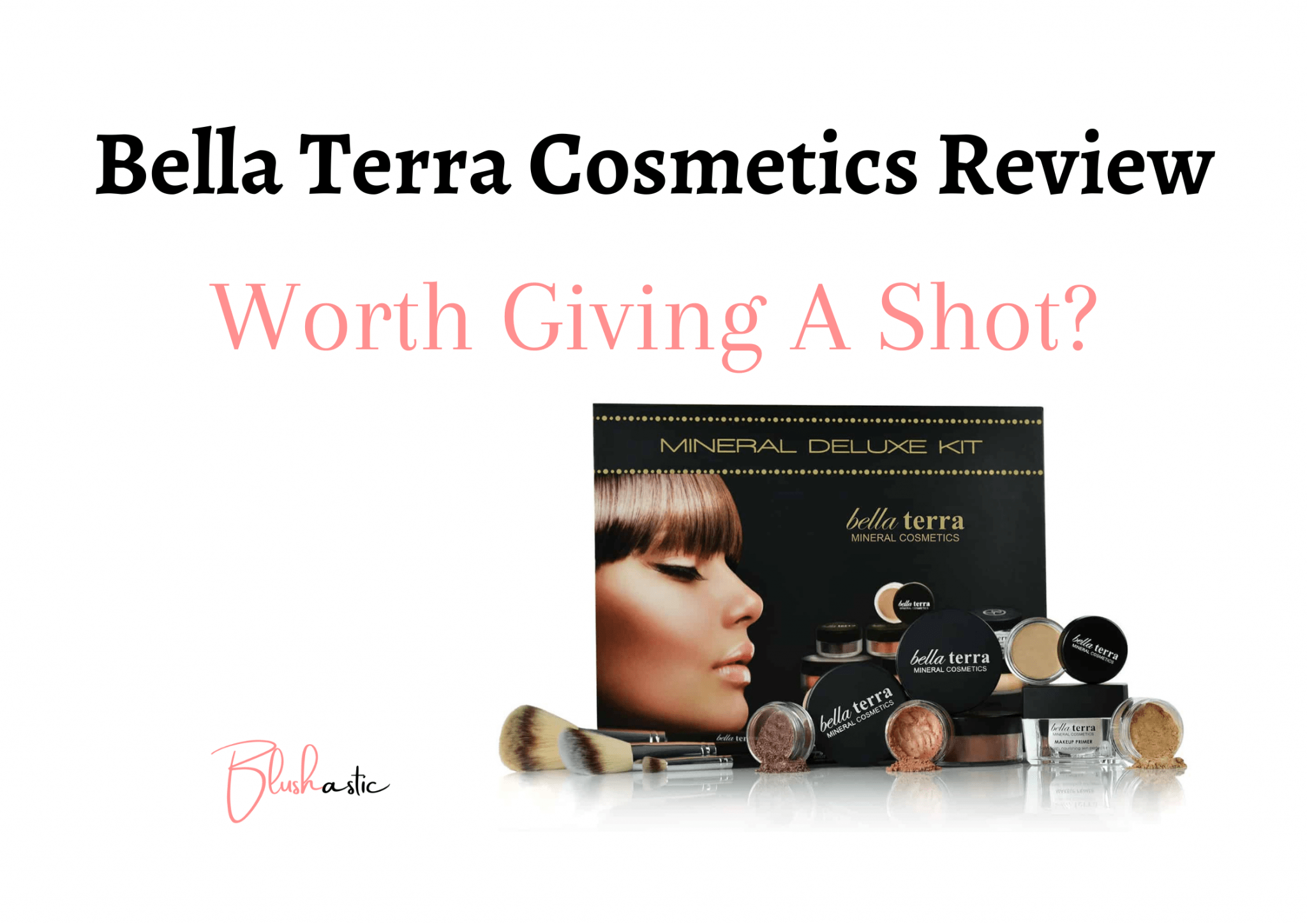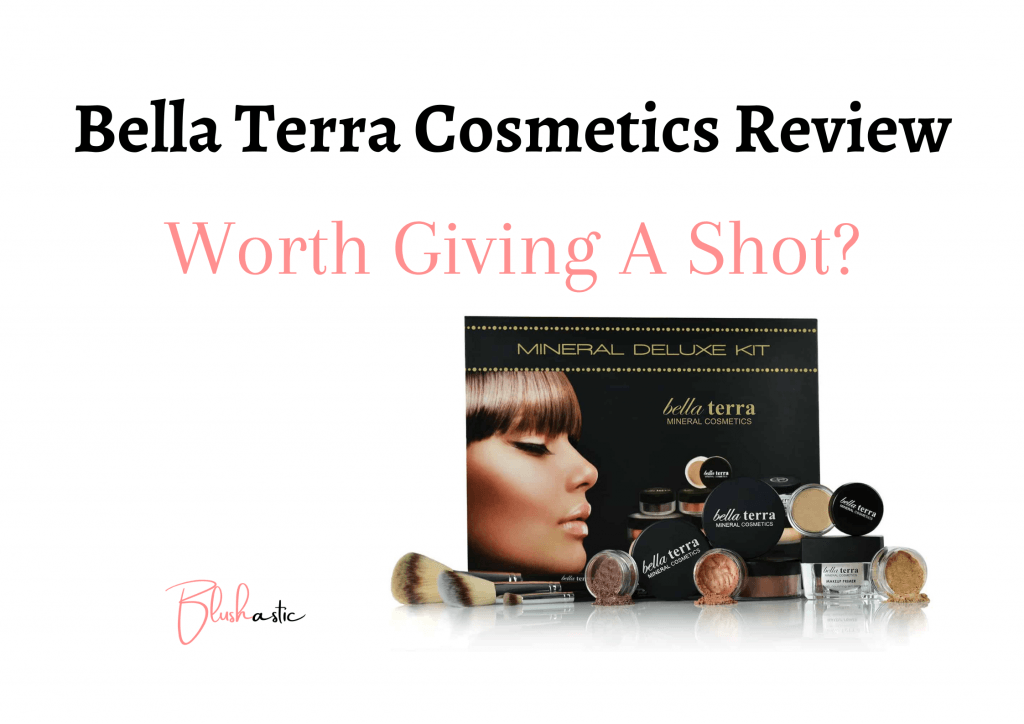 Getting all dolled up isn't just about the right makeup; it also requires a good skincare routine. Bella Terra presents a lot of skincare products and mineral-based cosmetics. So, if you plan on hopping or shifting to mineral-based makeup products, then Bella Terra claims to be the one brand of your choice. But is the brand worth trying? We have curated an unbiased report based on Bella Terra Cosmetics reviews to clear the doubts!
Bella Terra Cosmetics Reviews | Is It Worth Trying?
Bella Terra, a brand established in 2006, vows to develop its products using natural minerals from the Earth. Though it was established more than 15 years ago, it has emerged and is still keeping up with the best trends by producing mineral-based cosmetics. The brand also proudly claims that 'Mica' is the base mineral for all of its products as it is known for giving a natural glitter to products. 
Bella Terra swears by its mica-based products as it is suitable for almost every skin type and claims that all of its products are hypoallergenic, so you would not have to worry about any allergies. But can it be trusted? Find some of the brand's best-sellers here to get a clear picture.
Bella Terra Cosmetics BB Cream
Bella Terra's BB cream isn't just a Beauty Balm; it is a 3-in-1 cream that serves the functions of a moisturizer, foundation, and concealer. With a powerful combo of all these three, you can proudly hide the fine lines and dark spots on your skin. It gives off a smooth finish that will make your skin feel cotton-soft. 
The BB cream is available in around 6 shades that start from 'Fair 101' to 'Dark 108', so you don't have to struggle with finding the right shade.
Bellaterra Cosmetics BB Cream Tinted Moisturizer, Mineral Foundation, Concealer, Anti-Aging, Natural Sun Protection, All Shades 1.69oz - Medium Tan 105
BLEND AWAY BLEMISHES - BB Cream Tinted Moisturizer Blemish Balm lets you perfectly blend & build tones from sheer to medium coverage, erasing the appearance of scars, acne, dark circles and fine lines!
FOR ALL SKIN TYPES - Celebrate your true beauty and fresh youthful glow with a complexion restoring beautifier BB cream that works with dry, oily, acne-prone, combination and sensitive skin types & tones.
WEIGHTLESS & MOISTURIZING - Our hydrating BB Cream formula glides on as a gentle cream and dries into a lightweight nearly-matte, satin finish to help achieve the perfect, dewy complexion of your dreams. No cakey, heavy or oily foundation.
NATURAL MINERAL INGREDIENTS - This Tinted Moisturizer has pure minerals mica, zinc, hydroxatone and magnesium ingredients that add natural SPF, active anti aging control and prevention. No preservatives, parabens, sulphates, alcohol, additives or synthetic dyes. Hypoallergenic, fragrance-free. MADE IN USA - Not Tested on Animals.
LASTS ALL DAY LONG - Make Bella Terra Cosmetics a part of your daily cosmetic care regimen for the best glow and perfect smooth skin that will look fresh and last all day. Pick your best shade from our 6 different colors ranging from fair light to deep dark tones.
You get the silky smooth texture of the cream because of Cyclopentasiloxane, a staple ingredient that also locks in moisture to make your skin feel hydrated. With the magical infusion of safflower seed oil in the elements, the BB cream gives your skin a smooth and silky appearance. 
Pros
The ingredients have anti-inflammatory and antioxidant properties that will help your skin feel privileged. 

It provides full coverage, which is very impressive.

Gives an easy and smooth application.

Lightweight and lasts all day long.

It contains ingredients that hydrate your skin and give it a smooth finish.

Cruelty-free.

Hypoallergenic.

Contains no dyes or harmful chemicals.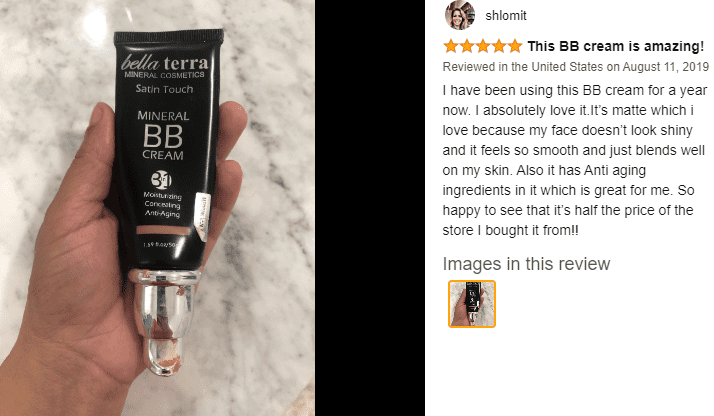 Cons
Some people reported that the pump needed to be fixed.

Falls on the pricey side.
Bella Terra – Mineral Powder Foundation
Bella Terra makes its customers go heart-eyes with its mineral-based powder foundation, which the brand gives in 11 shades. It is a multi-tasker that can correct and protect your skin with the natural ingredients present in it. With this mineral powder foundation, you can beat the sun as it contains a natural SPF 15 that protects your sensitive skin from stubborn UV rays.
The presence of mica adds a shimmer to the foundation, making your skin shine and brighten up. As present in many personal care products, titanium dioxide serves the vital purpose of becoming a UV filter to protect the skin from external or environmental damage.
Pros
The presence of natural minerals like mica sighs relief as it is suitable for almost all skin types.

Hypoallergenic, so no worries about allergies.

It contains only a few ingredients and is free from a mixture of chemicals.

Provides full coverage.

Lightweight formula.

The ingredients present will give your skin a natural glow.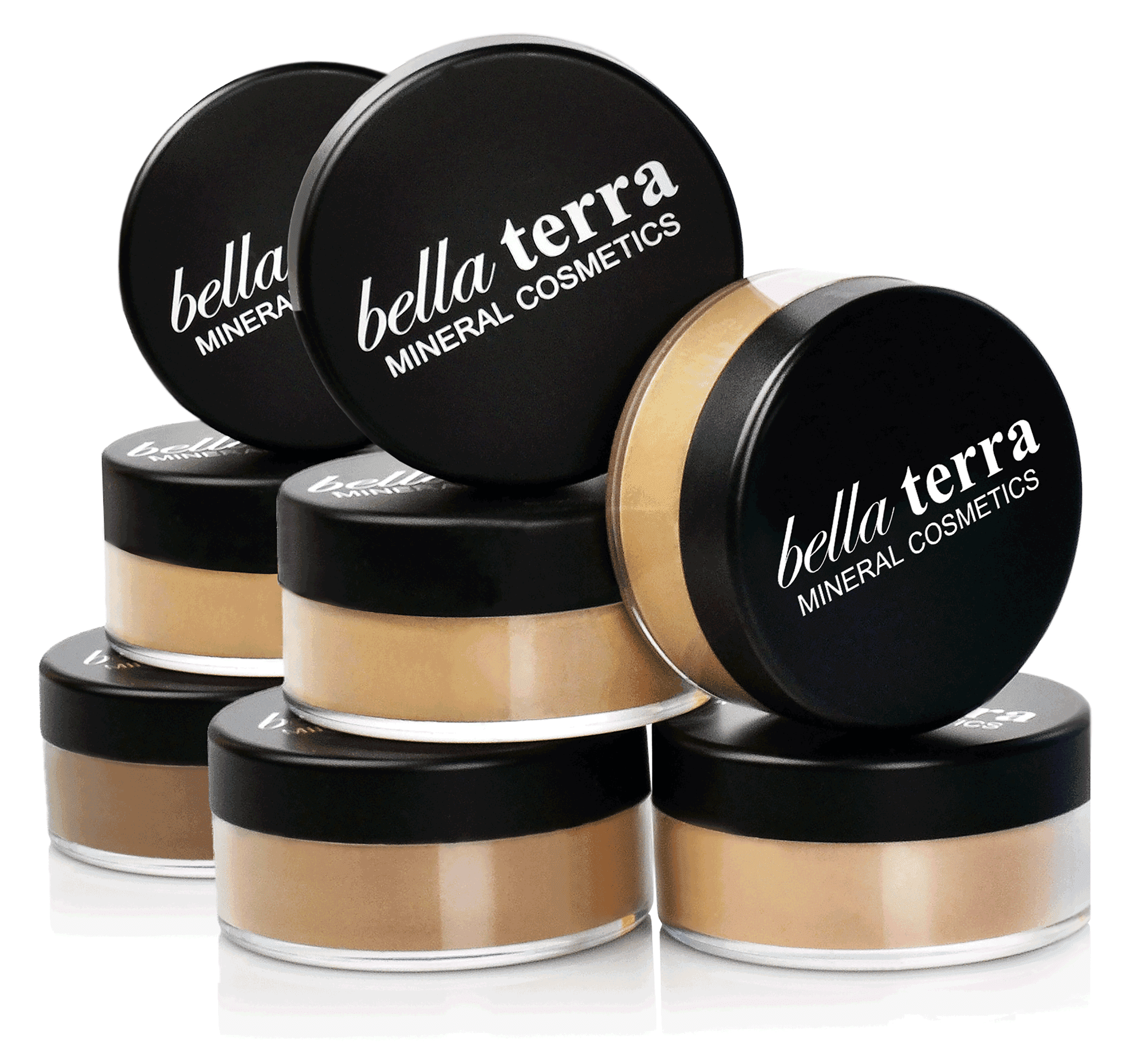 Cons
Several customers claimed the mismatch of shades.

Costly.
Bella Terra Cosmetics Anti-Wrinkle Cream
Bella Terra knows its customers well. Hence it put forward a variety of anti-aging and skincare creams, one of which is the anti-wrinkle cream. The cream contains impressive amounts of Vitamin E to fight wrinkles and expression lines. As per the brand, the cream is not greasy and will not cause any mess when applied before the foundation.
Bellaterra Cosmetics Anti-wrinkle Cream
Retinol restores elasticity and tone in your skin's tissue for a tighter skin; Made with natural ingredients to help all skin types such as sensitive and acne prone skin
Intensive anti-wrinkle treatment that visibly diminishes the appearance of expression lines, reduces even deep wrinkles, moisturizes skin throughout the day
Contains high levels of vitamin E to fight skin damaging free radicals such as tobacco smoke, environmental pollutants and radiation; Includes chamomile which fades scars and eliminates acne breakouts on the skin
Allantoin stimulates the growth of healthy tissue for a softer and brighter complexion
Lightweight formula is not oily or greasy and sits nicely under foundation
The anti-wrinkle cream contains a particular ingredient, Retinol, that will tighten your skin and bring back the lost elasticity. Retinol, along with Horse Chestnut Seed Extract, is an effective anti-aging ingredient that will give your skin youthful radiance and glow. 
Pros
Contains powerful ingredients like Retinol.

The cream has water as one of its main ingredients, providing good moisture to your skin.

Mineral oils, Glycerin, and Vitamin E, make the product auspicious.

Gives no sticky or greasy feeling to the skin.

Has not been tested on animals.

Contains no harsh chemicals or dyes.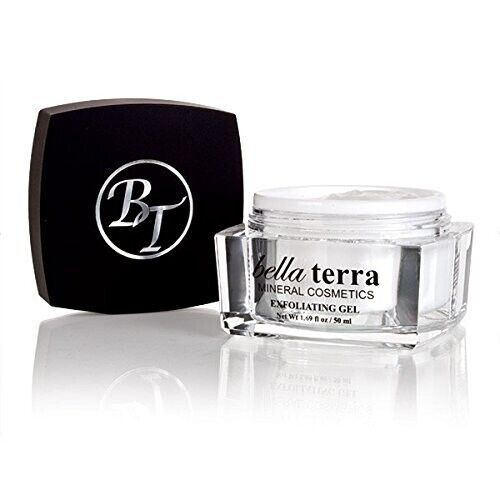 Cons
Bella Terra Daily Moisturizer 
You keep hearing that water is essential because it is. Be it for your body to function well or for your skin to feel hydrated, moisturizing and keeping your skin hydrated is supremely important. For this reason, Bella Terra put forward its Daily Moisturizer that moisturizes the skin and brings out a natural radiance. Your skin feels happy, and the texture is improved, only making your skin look younger and healthier.
Bellaterra Cosmetics - Daily Facial Moisturizer Cream – Vitamin E, Green Tea & Algae – Dry Skin Lotion (Daily Moisturizer)
Moisturizes & Protects: Our blend is infused with green tea and algae extracts, both of which are potent antioxidants. Dry skin lotion drenches skin with moisture while also protecting it from effects of time and environment.
Eliminates Signs of Aging: Dry skin is the primary cause of aging. Formulated with ultra hydrating ingredients, facial moisturizer works to treat deep lines and wrinkles, leaving your skin soft, smooth and younger looking.
Fortified with Vitamin E: Vitamin E uniquely contained in our Blue Microspheres, only activates upon contact with the skin, allowing you to reap the full benefit.
Lightweight Formula: The fast absorbing blend provides weightless hydration and absorbs quickly without leaving any oily or greasy residue. Gentle enough to be used on all skin types.
RISK-FREE MONEY BACK GUARANTEE. If you are not completely satisfied, simply contact us and we will give you a full refund, no questions asked
The moisturizer is blended with Vitamin E along with Green Tea and algae extracts. Green tea extracts show a spectacular improvement in the skin with the presence of their antioxidant and moisturizing properties. Likewise, algae, not the nasty ones you are picturing, will provide hydration and take up collagen care.
Pros
Gets absorbed easily.

It contains unusual ingredients like green tea extracts and Vitamin E that promise moisture in your skin.

Has a pleasant smell.

Does not give a greasy or sticky finish.

Contains no harmful chemicals.

No presence of dyes.

Hypoallergenic.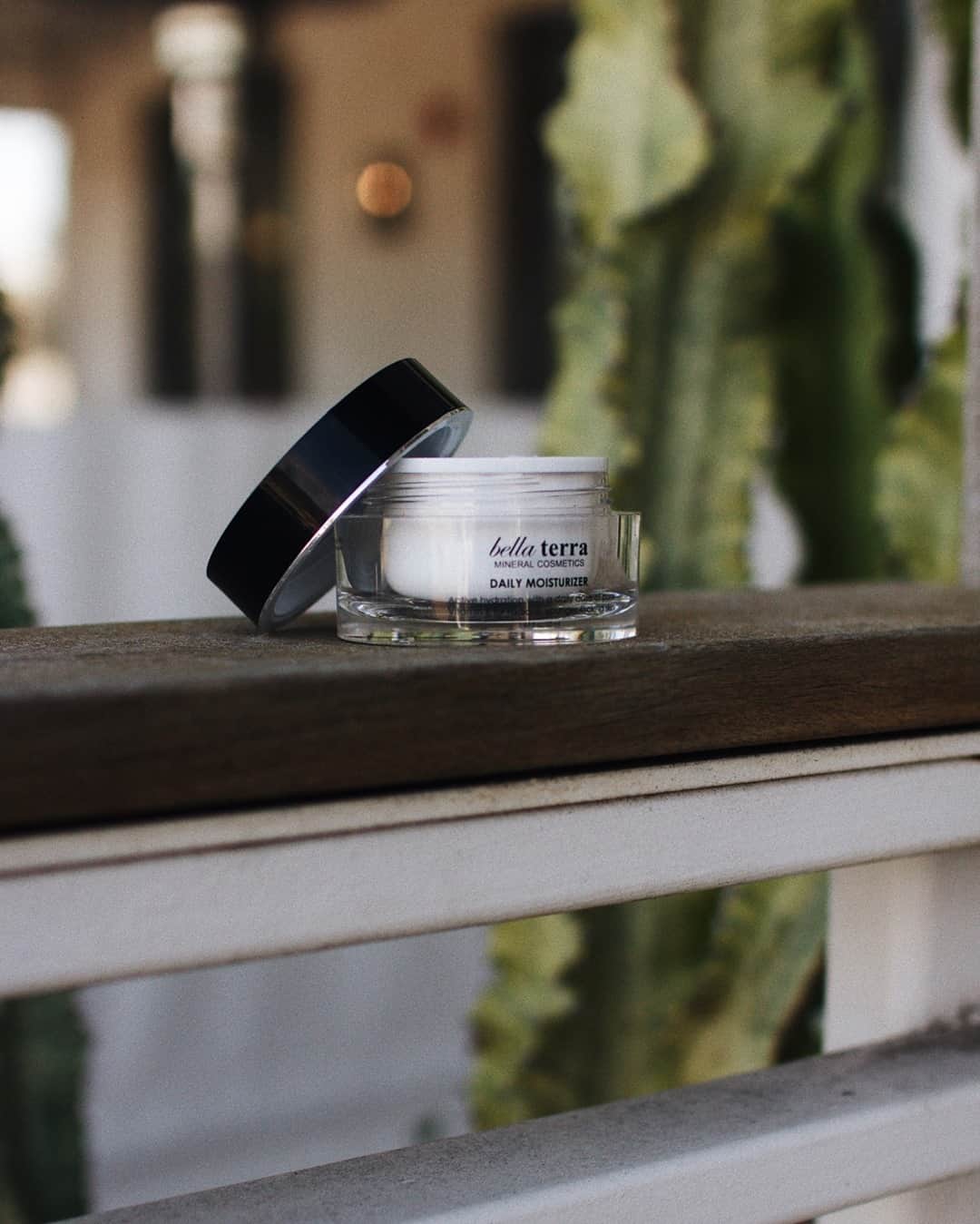 Cons
Bella Terra Facial Moisturizer – Nightly Restoration Cream
The nightly restoration cream works on 'revitalizing and repairing your skin. As mentioned in the name itself, it is a night cream that works its magic during the night, so you'll have to doze off and leave the nourishment of your skin to the restoration cream. 
Bellaterra Cosmetics Facial Moisturizer (Nightly Restoration cream)
Revitalize and repair your skin while you sleep with this rich night treatment that helps to replenish antioxidant and moisture levels, instantly relieves tightness and softens fine lines
Contains vitamins A and B; Nourishes and repairs skin while protecting it against premature aging and harsh environmental elements
Suitable for all skin types; Hydrates dry skin without leaving an oily finish
Avocado oil acts as a natural sunscreen and also slows and reverses the aging process by reducing the appearance of sun and age spots and other hyperpigmentation
Lactic acid also acts as a partner in the anti-aging process by gently yet effectively exfoliating and moisturizing the skin; Chamomile and allantois are added to soothe and calm the skin, reducing redness and swelling and taking away any irritation
The cream is composed of very effective vitamins for the skin; yes, you got it right, Vitamins A and E that, as per the brand, burst at night and nourish the skin with their antioxidant properties. The ingredients present also protect the skin from environmental stressors and prevent your skin from aging prematurely.
Pros
The cream contains Vitamins A and E that not only provide the skin with nourishment but will also repair the skin.

It helps replenish the moisture levels of the skin.

Does not leave an oily or greasy finish on the skin.

Has a pleasant smell.

The skin feels refreshed and smooth.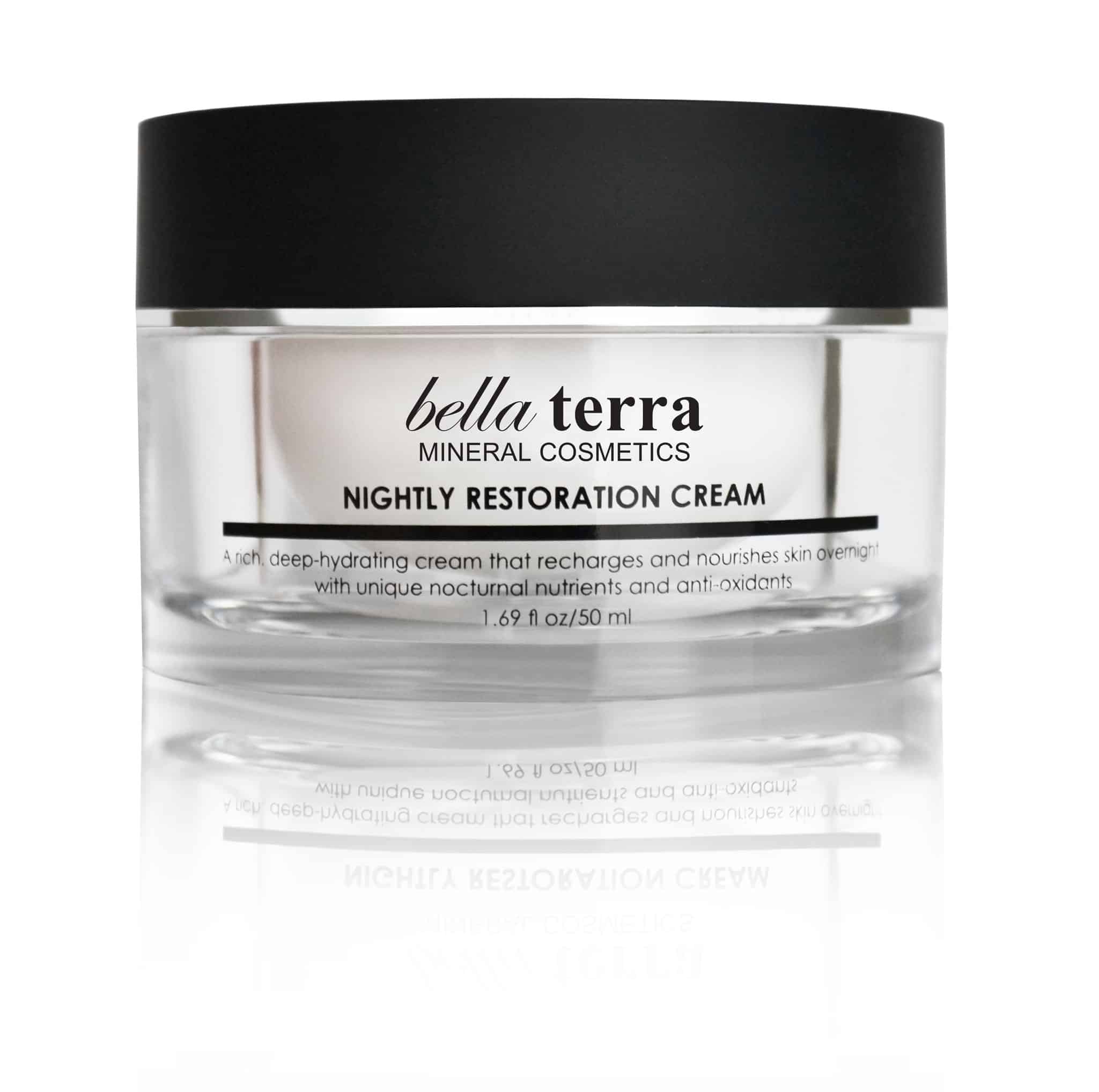 Cons
Only a few reviews of the product are present. Therefore, it is hard to say whether the product is legitimate.
Bella Terra Brow Gel
For your brows to set well and hold the product, you must apply something that will make them stay in place and well-defined. And for that reason, Bella Terra provides its 'Brow Gel' that comes in three types, Light, Medium, and Dark.
Per the brand, the brow consists of a 24-hour wearing formula that will not lose its hold or any color applied to it. The brow gel is accompanied by an innovative wand or brush that makes applying gel more straightforward. The gel is formulated to perfectly crease and define your brows, making you look more confident; who wouldn't want that, suitable?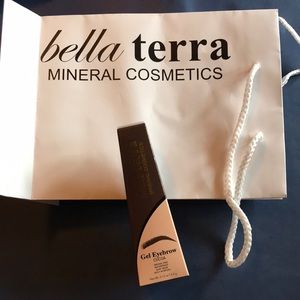 Pros
Lasts all day long.

It sets well and holds the product well.

The brows you defined will stay well-defined for hours.

The brow gel applied under the color will only make it hold onto the color firmly.

Cruelty-free.
Cons
The product has very few reviews, so it is risky to believe that the claims are valid.
Bella Terra Milky Face Cleanser
Moisturizing your face is another aspect, and cleaning your face or skin is another. Sometimes just moisturizing your skin will only work if you eliminate the dirt. So, to get your skin cleansed, Bella Terra comes up with its Milky Face Cleanser. The cleanser is formulated to remove dirt and exfoliate the skin gently. 
Bellaterra Cosmetics Milky Face Cleanser
Restores hydration, eliminates breakouts and unclogs pores; Contains natural ingredients for any skin type such as rosacea, oily skin, dry skin, and acne prone skin
Removes dirt, excess oils and also removes your makeup of the day; Can handle foundation, eye shadow and even mascara
Gentle exfoliating formula moisturizes and nourishes on a cellular level with mineral oil that soaks deep into the skin's surface
No alcohol, talc, additives or toxic chemicals
No preservatives or parabens
Made with natural and pure ingredients, the Milky Cleanser dives deep into the skin to clean out the nasty stuff that might have been residing underneath. The mineral oil helps retain the skin moisture while providing emollient benefits and making the skin feel smoother. Glycerin makes the cleansing process more accessible as it avoids any skin irritation during the process.
Pros 
It contains effective ingredients like mineral oil and glycerin, good cleansers.

Contains no parabens.

Hypoallergenic.

Anti-inflammatory along with antioxidant properties.

No additives or harmful chemicals.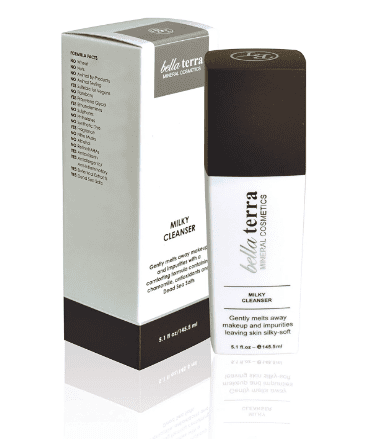 Cons
Some users felt it left a residue.

Only a few reviews are available.
Bella Terra Act 3 Face Toner
The 3-in-1 Facial toner combines removing makeup, cleaning, and toning your skin. With a quick and easy application of the toner, it removes all the dirt and impurities, detoxifies your skin, and nourishes it. It is formulated with some potent ingredients, including green tea, pomegranate, aloe vera, and chamomile.
Bellaterra Cosmetics Act 3 Face Toner and Skincare Tonic
Suitable for all skin types including sensitive skin; 3 in 1 tonic soothes and effectively cleanses skin; Removes dirt, excess oils and impurities effortlessly from the face and eyes
Use once or twice a day to replenish your skin with vitamins and protect against UV rays and free radicals
Slows down your skin's aging process; Moisturizes and nourishes your face on a cellular level with a scientific blend of vitamins, minerals, extracts and oils
Green tea and chamomile have antibacterial and anti-inflammatory properties to unclog pores, reduce breakouts and minimize redness
Ingredients contain no artificial perfumes or dyes and no harsh chemicals that can disrupt your skin
Chamomile and aloe vera help in soothing the skin and protecting it from any radical damage, reducing various signs of aging. The pomegranate in the formulation helps regenerate the skin cells and increases blood circulation, which means making your skin clear. As for green tea, it provides several moisturizing benefits with some antioxidant properties. Along with these, two powerful vitamins, Vitamin E and B5 help keep the skin healthy and soft.
Pros 
It contains natural and promising ingredients like green tea and chamomile.

Formulated with skin-efficient vitamins like Vitamin B5 and E.

Does not cause any skin irritation.

It gives skin a moisturized and nourished feel.

Contains no synthetic dyes or perfumes.
Cons
Customer Feedback | Bella Terra Cosmetics Reviews
A user, BbTexas, said, "In love with the BB cream. I had to go up in color as they were out of my lighter shade. Excellent product, and it is cheaper than purchasing directly from the brand. This goes on easily, moisturizes, and gives great coverage. I recommend the Mineral Foundation that gets applied on top of this. Amazon has this, too. Very satisfied with the BB Cream, price, and coverage! A Happy Customer."
Another user pinned her comment, "During winter, my skin is terrible. It becomes dry and oily. The Bella Terra Mineral Foundation covers up my flaws with very little of it on my skin. It doesn't feel cakey at all. It does not even feel like you're wearing anything at all & while covering the imperfections; it also helps improve the appearance of my skin. It also gives your skin a natural glow, and no highlighting or contouring is needed."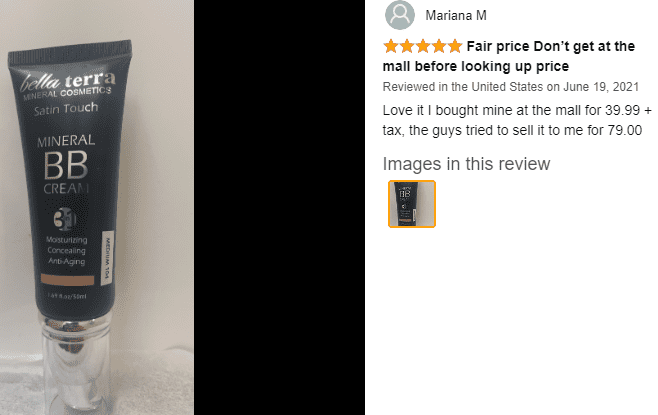 A user said, "I love the Daily Moisturizer. It's one of the few that keeps my skin clear and decreases the redness. It's lightweight and non-greasy but moisturizes well. After paying for it at an independent shop in the mall, I was happy to find it on Amazon. I use it two times, both morning and night, so I go through it quickly, but it is still a great price for a small quantity."
FAQs |
Bella Terra Cosmetics Reviews
Are Bella Terra fit for sensitive skin?
As per the brand, the products do not contain additives, dyes, preservatives, or harmful chemicals, which are some of the primary reasons for allergies or problems with sensitive skin.
Does the mineral powder foundation contain sun protection?
The mineral powder foundation is formulated with Titanium Dioxide, which is natural sun protection. However, it is recommended by the brand that you use separate sun protection that will provide maximum protection from the harsh UV rays.
Is Bella Terra cruelty-free?
Yes, Bella Terra does not test on animals. Even their synthetic brushes are made of 100% synthetic fibers.
Final Words
Trying new makeup products falling under new brands can be risky if they don't turn out to be how they were hyped for. Per the Berra Terra Cosmetics reviews, some products were worth trying as they delivered the promised results!
It is a mineral-based brand, and most of its products contain natural minerals that stay on your face all day. Apart from these minerals, most nourishing creams contain some skin-benefiting ingredients like green tea and aloe vera. The only setback and risk involved would be that the products, especially the skincare ones, are on the pricey side. Apart from this, there are only a few reviews available for specific products on the official website and Amazon, so if you would like to take the risk and keep the price aside, you should add this to your wishlist!
Marilyn's deep interest in fashion, beauty, and lifestyle has led her to pursue a fulfilling career as a freelance writer and blogger. With her bachelor's degree in fashion design from the Fashion Institute of Technology, she has developed a keen eye for style and trends, making her well-equipped to offer valuable insights into the latest fashion and beauty trends.