Do you ever wonder how all those celebrities look so dolled up and get that perfect snap or Instagram picture? Well, keeping the filters aside, the right choice of makeup plays an important role. You wouldn't want your vanity bag looking like crap with some duplicate drugstore brands, isn't it? No offense to any brand out there, but looking the best of yourself will naturally uplift your mood on any occasion.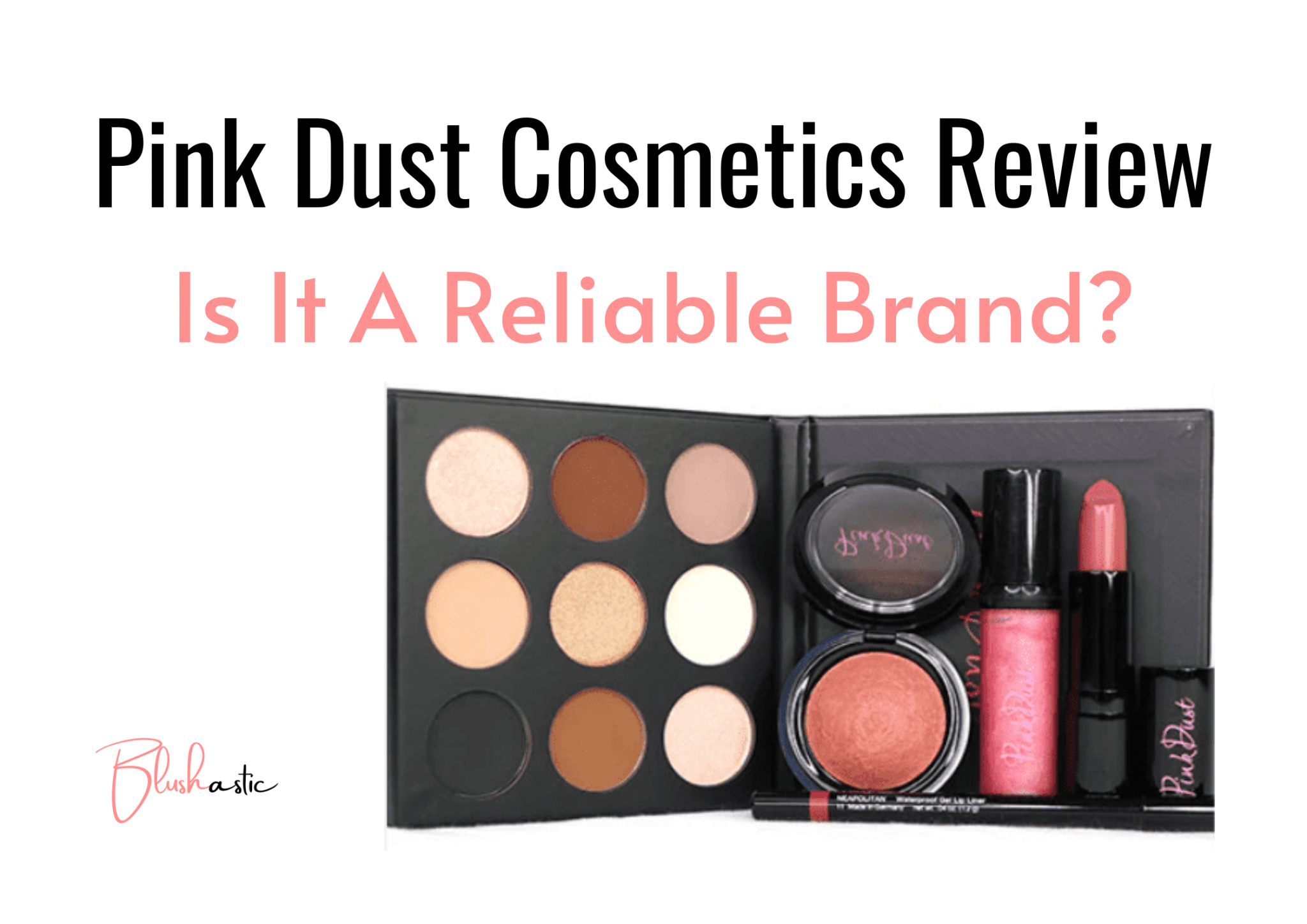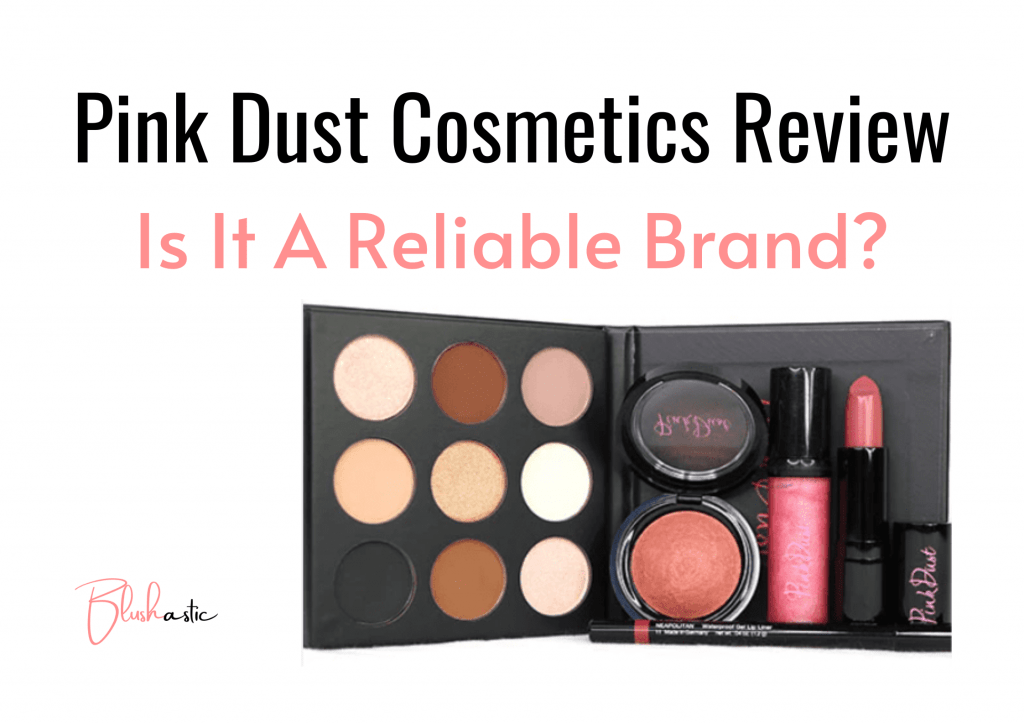 Imagine you are about to give a presentation and see your lipstick bleeding. Wouldn't that be a minor anxiety attack? This was a tiny example of choosing the right product and makeup brand. According to Pink Dust Cosmetics, the brand focuses on uplifting and inspiring fresh confidence in users that help them show off their beauty with the help of their products. But are these claims to be believed? Are the products trustworthy? With the help of some unbiased Pink Dust Cosmetics reviews, we will help you determine what's right.
Pink Dust Cosmetics Reviews | Is It A Reliable Brand?
There are thousands of cosmetic brands trying to impress customers with their claims, products, and offers. However, only some can capture people's hearts and stay tough in the competition. One such brand is Pink Dust Cosmetics, which offers a range of cosmetic products that include mascaras, lip glosses, lip liners, foundations, and many more.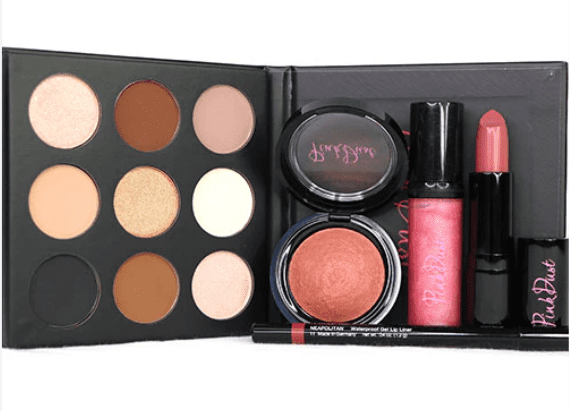 The creator and owner of the brand, Shannon Houston, believes that producing products that enhance confidence in people will help them show off their beauty with courage. She also believes that there is no right or wrong when doing makeup. Whatever style you choose defines you. It is a fun thing to do where you can be creative and unleash your skills. With these claims put forward, let us hop on some of Pink Dust Cosmetics' famous products with honest reviews.
Pink Dust Cosmetic Mineral Powder Foundation
Pink Dust Cosmetics offers its mineral-based collection with the Mineral Powder Foundation. As per the brand, the foundation gives your skin a dazzling glow even if you wear it alone or use it to set your liquid foundation. It also completed the look by giving it an opaque finish. 
Also, you need not worry about the shades because the brand has covered you with 5 of its shades available in the mineral foundation. They include 'Nude,' which is the lightest color, 'Blonde,' 'Cream,' Tender', and 'Toast', with Toast being the darkest shade available with neutral undertones. With minerals like boron nitride and aluminum hydroxide, the mineral powder foundation functions as a multi-tasker by moisturizing your skin and blurring your imperfections and hence becomes one of the best-sellers of Pink Dust Cosmetics.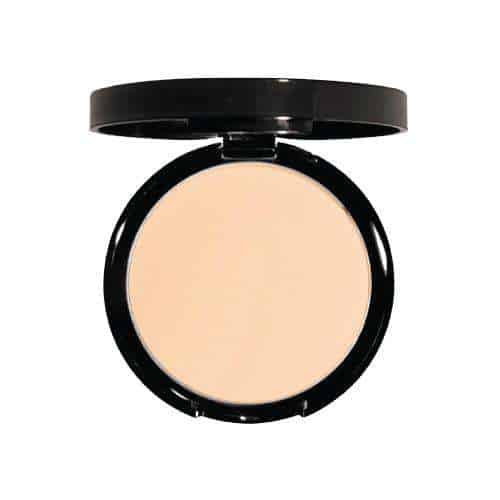 Pros
The mineral powder foundation contains minerals that help in mattifying your skin and also protect the skin from harmful UV rays.

The foundation provides buildable coverage that is quite impressive.

You can apply it alone or as a setting powder for your liquid foundation.

It gives the skin a smooth and matte finish. 

It is an easy application process and does not require any struggle.

It blends well on the skin with other products.
Cons
Pink Dust BB Cream
The brand enhances natural beauty with its Beauty Balm or BB cream containing a buildable formula. It is infused with rich and nourishing cream that works on hydrating and moisturizing your skin. The BB cream comes in three shades, Light, Medium, and Medium Deep, all of which contain an extremely hydrating formula that is good to go for regular to dry skin. 
With active ingredients like octinoxate and titanium dioxide, the BB cream protects the skin by acting as a sun filter, hiding your flaws and brightening the skin. It contains a broad spectrum of SPF 30 that will help you stay in the sun longer and protects the skin from UV rays.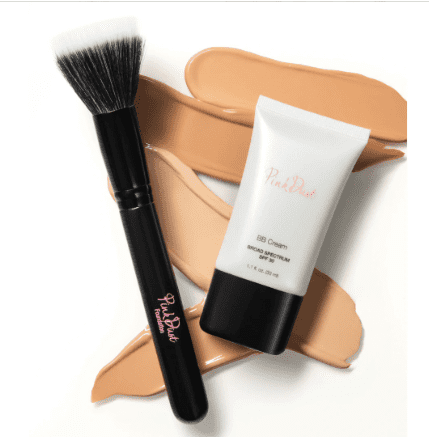 Pros
The BB cream contains a smooth and creamy texture that feels good on the skin.

It provides good coverage.

Lightweight formula.

It contains SPF 30.

The texture does not form a cakey look on the skin.
Cons
Since there are few reviews available, rusting it might be a risk. Hence, one alternative to the BB cream is Maybelline Dream Fresh BB Cream, an 8-in-1 skin-perfecting beauty balm containing broad spectrum SPF 30.
Pink Dust Mineral Photo Touch Foundation
Pink Dust Mineral Photo Touch Foundation is a lightweight and super hydrating liquid foundation among the brand's best-sellers. With its herbal or flower extracts, the photo touch foundation softens the fine lines on your skin and reduces skin imperfections. 
The foundation comes in four shades; Linen, the lightest; Tender Beige Cream Beige; and Vanilla Cream, the darkest.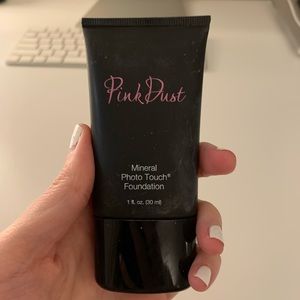 Pros
The mineral photo touch foundation, as the brand claims, is hypoallergenic. Hence it has a meager chance of causing any allergies.

It does not contain any minerals or parabens.

Talc-free.

Dye-free.

Good coverage.

Gives a smooth touch to the skin.

Provides an impressive amount of moisturizing feel to the skin.
Cons
Pink Dust Clear Brow Gel
Here comes another brand product that helps you create the perfect creased brows, not by Darekining them or so, but by assisting the brows to stay in place. Yes, Pink Dust Clear Brow Gel is a clear brush-on brow gel that helps the brows set quickly, which will, in turn, help form flawless contoured brows. It works like a hair spray but on your brows!
With simple ingredients infused in the formula like PVP, Glycerin, and Panthenol, the gel helps in giving the products a fixative power, setting your brow hair and making them stay in place.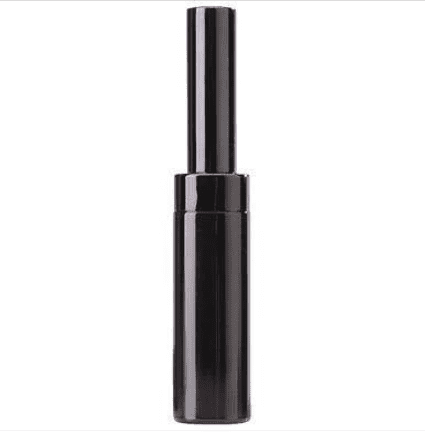 Pros
Hypoallergenic.

Cruelty-free.

Paraben-free.

Gluten-free.

Vegan.
Cons
Pink Dust Black Silk Cream Liner
Pink Dust offers another luxurious product in the form of a cream liner. Asper the brand, the black cream liner draws a perfect line over your eyelids without causing any trouble to them. It is a mixture of several ingredients, including isododecane, polyethylene, and hydrogenated polyisobutene, that help hold the elements together and give a smooth finish to the liner.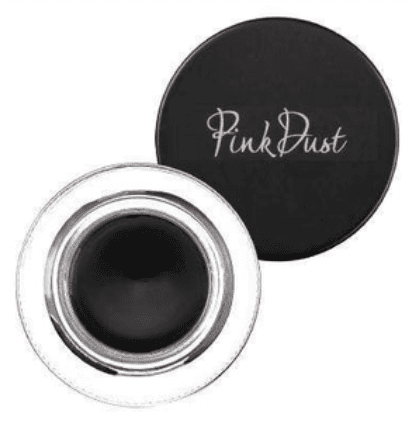 Pros 
As per the brand, the cream liner lasts for hours.

It also stays in place and does not smudge or cause chaos around the eyes.

The application process is easy.

The liner's smooth texture makes it easy to apply without much hassle.

Hypoallergenic and does not cause any irritation to the eyes.
Cons
Pink Dust Luxury Black Mascara
Setting your brows isn't enough; hence Pink Dust Cosmetics offers a non-clumping mascara that will be used after your brow gel. As per the brand, Luxury Black Mascara comes with an innovative curved brush that helps ease the process of coating given to the lashes. Each stroke of the mascara increases not only the length but the curl as well as the volume of your lashes, thereby making them dense and full.
Since there aren't many reviews about the product, we can't conclude if the product is worth trying or not.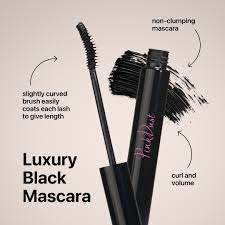 Pros
If the claims made by the brand are to be believed, then the mascara does not form any clumps. 

Each stroke enhances your lashes by increasing their volume and length.

Cruelty-free.

Gluten-free.

Paraben-free.
Cons
Pink Dust Rose Gold Blush
Pink Dust is not limited to foundations, mascaras, and creams; you get bronzers, concealers, and blushes too! One blush, which is among the brand's best-sellers, is the Rose Gold Blush. As the name suggests, the blush comes in a vibrant rose gold color that pleases the eyes. It is a very pigmented baked powder blush that is creamy and smooth upon application.
The smooth and creamy formula is mixed with super essential vitamins like vitamins A, C, and E that are antioxidants and help prevent the cells from any radical damage. As per the brand, the blush stays on your cheeks for a long time and hence gives your cheeks that radiant glow, which will probably make you blush naturally.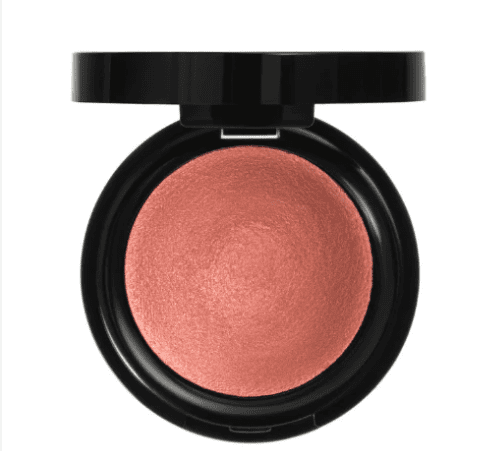 Pros
Per specific reviews, the blush complements many skin tones and is an impressive choice.

Gives a radiant glow.

Hypoallergenic.
Cons
Customer Feedback | Pink Dust Cosmetics Reviews 
There are primarily only positive reviews present, that too majorly on the official website of Pink Dust Cosmetics. Hence, it can't be concluded that all these reviews are legitimate.
Christina said, 'When I was over with the mineral foundation I had used, I started looking for new ones. The Pink Dust Mineral Photo Touch FOundation had popped up in my search, and I went for it. And it was an amazing decision made! It is perfect and dewy without shining too much and also blends perfectly. Please do not change the formulation of the product or discontinue it!'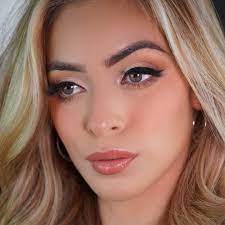 Another user, Christine G, commented, 'The rose gold brush is a game changer! It is so beautiful that people compliment me every time I use it. It gives such a gorgeous glow. It gives a perfect sun-kissed look. It is a 100% must-try product, and the formulation is great. All hearts for it!'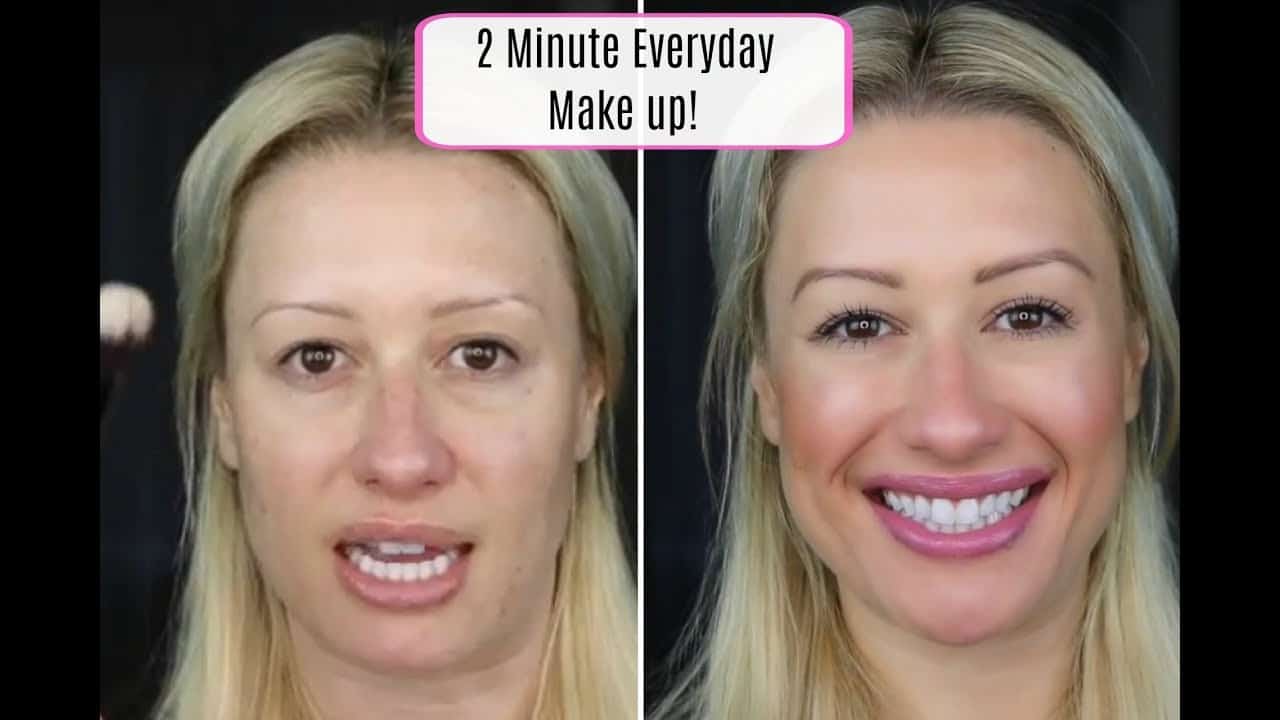 Chanel, a Pink Dust user, pinned her comment, 'The best BB Cream! I chose the shade Light, and the coverage is perfect. It is best if you choose for the everyday and natural look. It is very smooth and creamy, and I admire the fact that it contains SPF. This has to be my go-to product. Please do not stop producing the BB cream.'
FAQs | Pink Dust Cosmetics Reviews
Does Pink Dust Cosmetics offer any discount?
The brand offers a 15% discount to makeup artists, beauty professionals, and cosmetologists. They can use this discount by emailing a copy of your cosmetology registration or license to [email protected]. It is essential to know that the image of your license must include your license number.
Can Pink Dust Cosmetics help me choose a perfect shade?
Yes, the Pink Dust assists you with a color match. All you have to do is send a bare-faced selfie in proper and natural lighting to info@pinkdustcosmetics.com
Closure
The article presented has been a brief piece of content that will help you know Pink Dust Cosmetics better with some of its products or the bestsellers mentioned. Though there have been significantly fewer reviews and little information about the quality and promising factors of the products, it all depends on you whether or not to opt for the brand.
I'm Sarah Abraham, the founder and co-author of Blushastic.com and a professional makeup artist. Beauty is more than just skin deep, and that's why I'm passionate about sharing my knowledge and experience to help people feel confident and beautiful on the inside and out.
Whether it's skincare, haircare, or fashion, my goal is to empower women to feel their best. With my expertise in the beauty industry, I strive to provide practical advice and tips that are accessible to everyone, regardless of their skill level or budget.