The makeup industry has been continuously attempting to find newer methods and techniques to help us up our makeup game. The market is loaded with products that help you achieve the perfection that professional makeup provides you within the confines of your own home. The skincare industry introduced the makeup airbrush to save you all the chaos of opening a set of different products and still settling with mediocre makeup.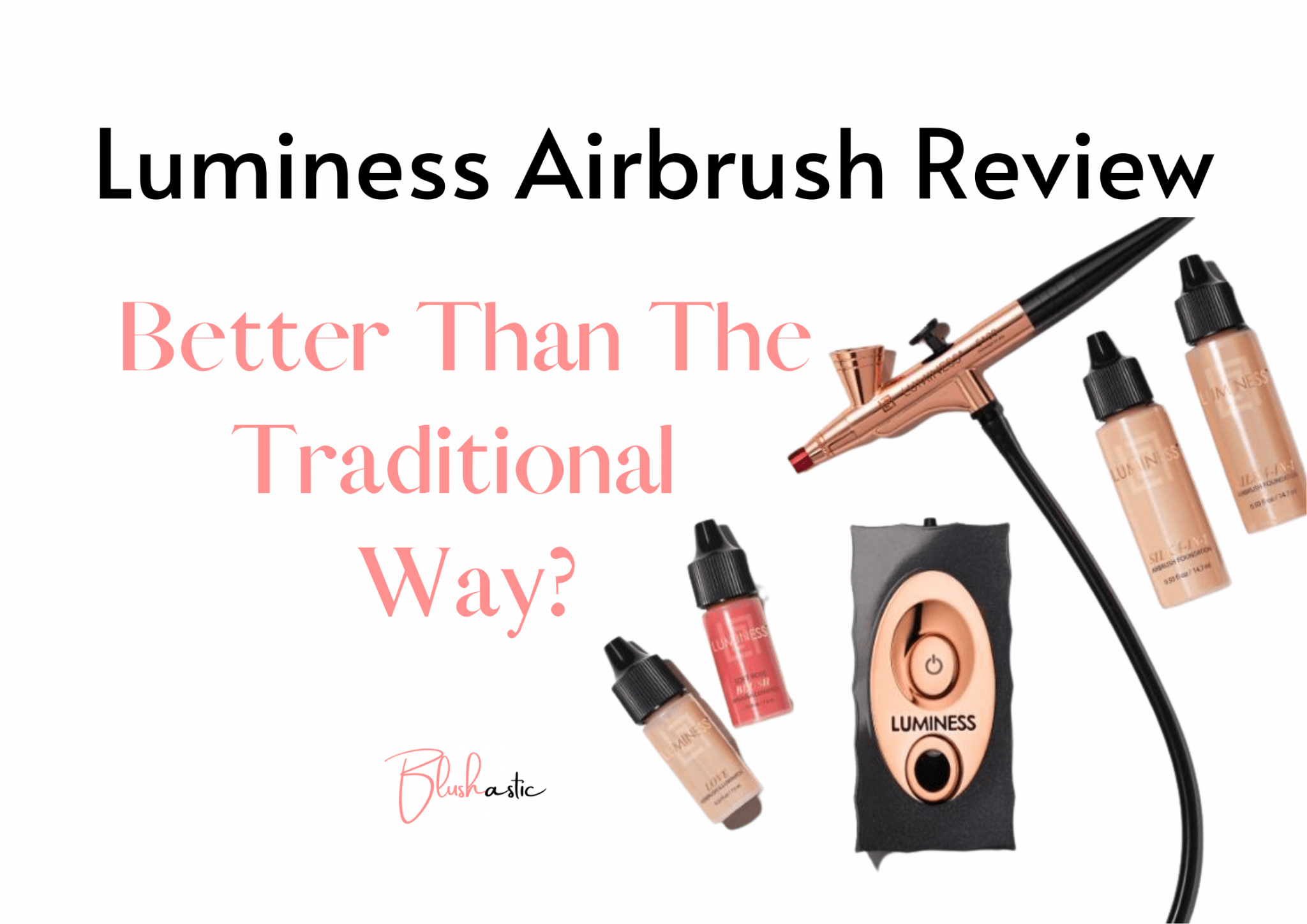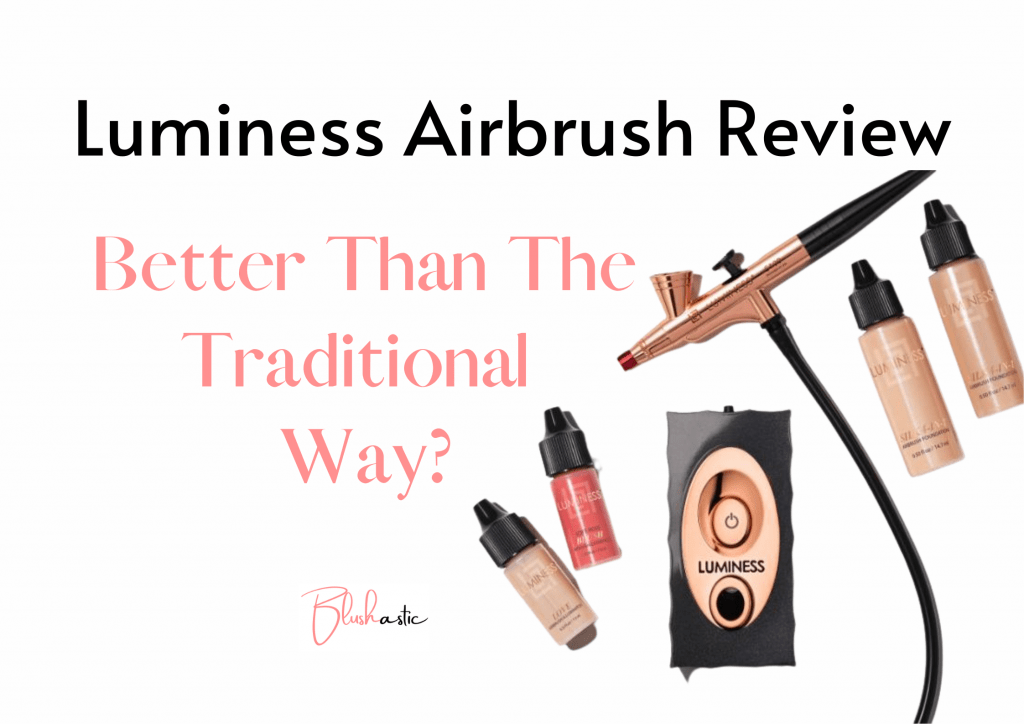 Although there are like an array of makeup brushes available in the market, we have to understand which is more suitable for our use. While understanding and reviewing a set of makeup airbrushes, we came across the Luminess Airbrush. This is a more hygienic way of doing makeup that lasts longer and provides natural-looking coverage. But is it better than our traditional way of applying makeup? Let's see what Luminess Airbrush reviews have to say.
Luminess Airbrush Reviews | Perfect Makeup Is In The Air?
It started about 25 years ago by a renowned innovator, artist, and entrepreneur Sean Mehta who specialized in the Fashion and Garment Industry. It shifted his focus to the makeup and beauty industry. Understanding the importance of the airbrush makeup method, he was told by a professional MUA that 'it's the best way to achieve flawless results in makeup.'
After this encounter, Mehta took it upon himself to make this method more household and help every woman have one. However, people didn't buy airbrushes since the application needed skill; it was loud and was especially difficult to carry around.
Luminess Air Basic Airbrush Makeup Kit and 9-Piece Silk 4-In-1 Airbrush Foundation Starter System, Medium Coverage - Quick, Easy and Long Lasting Application - Includes Primer, Blush and Glow
Photo-Quality Finish: The LUMINESS 9-Piece Air Basic System with Silk 4-in-1 Airbrush Foundation & Cosmetic Starter Kit helps you achieve flawless-looking skin in the comfort of your own home. It's easy, long-lasting makeup application without the need for brushes, sponges, or fingers. Includes 1 airbrush system, charger, 4 bottles of medium foundation, 1 blush, 1 illuminator, and 1 primer.
10X Less Makeup, 3X More Coverage: Airbrush application uniquely allows skin to breath without sacrificing coverage or creating a cakey makeup appearance. It uses 10x less makeup than traditional applications to cover up blemishes, discoloration, dark circles, bruising, varicose veins, scars, wrinkles, tattoos, and more.
Less Foundation, Better Results: LUMINESS Silk 4-in-1 Airbrush Foundation combines an anti-aging serum, primer, high-coverage concealer, and foundation into one product with 18-hour wear. It hydrates and provides rich nourishment for skin while reducing the appearance of fine lines, texture, and wrinkles. Includes skin-loving ingredients such as Licorice Extract, Cucumber Extract, Neem Extracts, Glycerin, Hydrolyzed Silk, Vitamin C, and Vitamin A.
Reasons to Love LUMINESS: Our products are reviewed by dermatologists and always paraben- and cruelty-free. Cosmetics made in the USA.
Airbrush for Everyday: Our mission to provide beauty solutions to the everyday woman without compromising on quality began over 25 years ago. To this day, LUMINESS creates professional airbrush cosmetics that are easy-to-use and deliver a finish not achievable with traditional liquid or powder foundations.
Understanding all the challenges and resolving to find a perfect solution to all these problems, he came up with the Luminess Airbrush. He worked on a smaller, more portable prototype with utmost precision and was comparatively quieter. He ensured that the product had a more 'easy-to-use-at-home' approach because not everyone could visit salons regularly to get their desired makeup done.
However, every product comes with its benefits and drawbacks. Before lathering any product on your skin, you must be thorough with all its sides and make an informed decision. Let's review all the factors contributing to its efficiency to help make you more aware of this product's details.
Directions to use
When attempting to use any new product or equipment, it's best to look for specific directions and follow them to avoid mishaps. For your convenience, we'll walk you through the set of instructions that you must follow for the best results.
Measuring the product 
Before you start adding, take a specific amount (6-8 drops) of the Luminess Foundation and add it to the well of the Airbrush stylus. Secure the whole formula using the no-spill cap.
Testing the color and distance
Once you're through with the stylus set up, switch on the airbrush and wait a little while. You may experience a certain amount of vibrations and air blowing out of the stylus for a few minutes. Once you observe a product being blown out, at a distance of four fingers from your skin, start framing small circles in the air.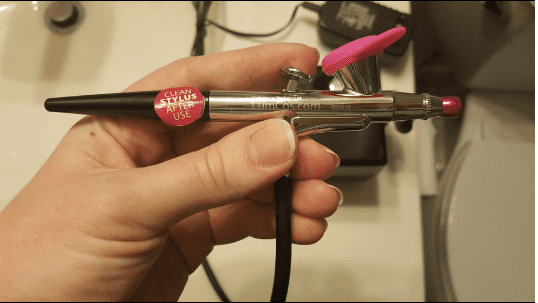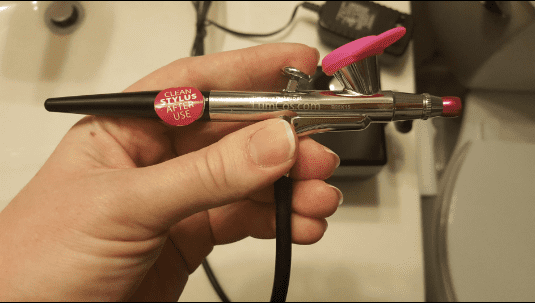 The Application
When using an airbrush medium of makeup, remember that the product isn't supposed to feel wet. If you do, this may indicate that you're applying too much product. Also, remember, unlike cream foundation, where you see the immediate difference, airbrush is a gradual build-up of layers of foundation. To avoid any patchiness on your skin, keep making the circles.
The Final Touch
The final touch would be when you feel there's enough coverage. If you find patches that need more product to even out the surface, you can add those patches in later with your stylus. And voila! Your base is done.
Benefits and Drawbacks
Benefits
Airbrush makeup is usually water-resistant and more compatible with sweaty skin.

You can get custom colors made to match your skin tone

It's lightweight as a formula but can provide medium to complete coverage

It's transfer-proof so that it won't rub off on any surface.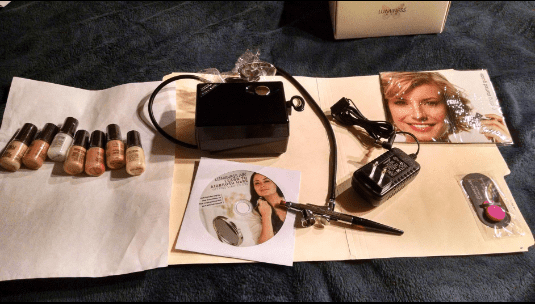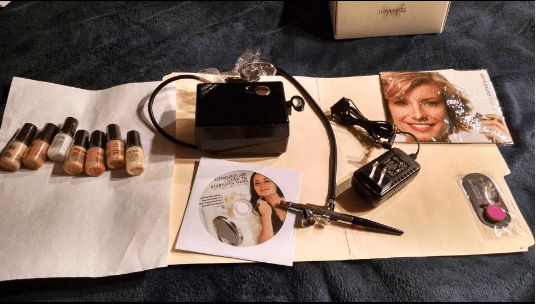 Drawbacks
This product may not work as well with tanned skin, dry skin, or skin with an excess amount of hair.

Touch-ups may break through the coverage if the formula is silicone based

The base has to be prepped with a certain amount of hydration and primer 

It needs a good amount of practice to get the technique right.
More Products from Luminess 
Luminess Breeze Airbrush Skincare
Luminess has been dominating the market using its airbrush technology to apply makeup. They took it a step further and introduced Luminess Airbrush for skin care.
Sean found a bit of concern in the thick and concentrated formula; the product has difficulty seeping into the skin. He decided to fix that by introducing skincare in a mist form, which you can airbrush; since the mist is a lot thinner, it can easily penetrate your skin.
Luminess Silk and Smooth Body Hair Remover
Luminess already had launched a hair remover that catered to an overall need of the face and the body. Working further on the concept, they made changes so that it now more efficiently works only on your body hair needs.
This product helps eliminate all body hair without discomfort, redness, irritation, or bumps. The technology targets a larger surface area.
Luminess Airbrush Prism Colour Corrector
Basically, just like a prism divides the white light into several different colors we use daily, the Luminess Airbrush Prism Colour Corrector provides a set of different colors that fit your requirements, like green, which neutralizes the reds, and orange neutralizes the greys.
You need to understand the essential condition of using a color corrector and accordingly choose a shade. Luminess presents a versatile formula to mix with your foundation or directly apply on your skin and layer the foundation on top.
Luminess Airbrush Reviews | Before and After Luminess Airbrush
While reviewing the user responses to the Luminess Airbrush, we understand that over 59% of users praise the product, while over 13% seem dissatisfied. While talking about the Luminess Airbrush, a five-star reviewer, Amber, said, "As an amateur makeup artist setting out in the industry, the Luminess Airbrush System became a quick favorite among the customers and me. The clients left with radiant skin that looked natural and well-blended. The system has easy application and is tremendously hygienic. It doesn't restrict you to the face but can be used on any other part. I highly recommend this airbrush!"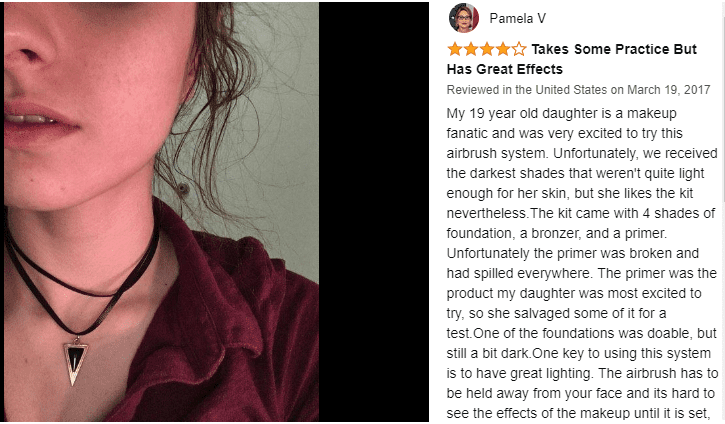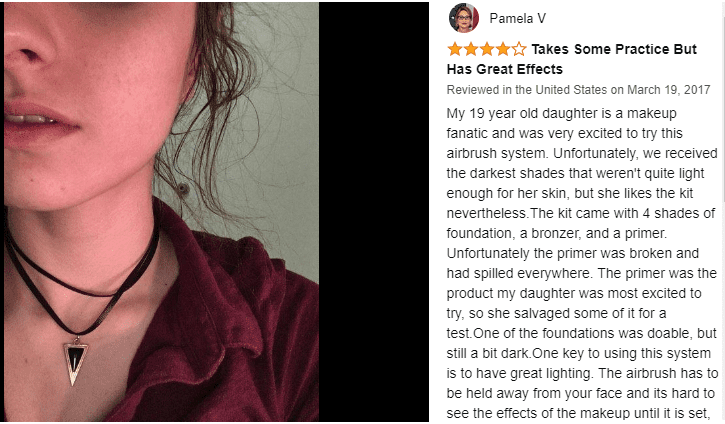 However, not all users were entirely in agreement with the previous user. Voicing their concerns regarding the affordability and durability of the makeup, Alexandria said, "I am in absolute love with this product; however, it's expensive. It isn't something I would have spent my money on, but I received it as a gift. It's meant as an investment for professionals specifically. At least that way, you can earn back the money you spent on this. The makeup applies a lightweight texture. My biggest complaint is that you can't be sweaty or even have overactive tear ducts."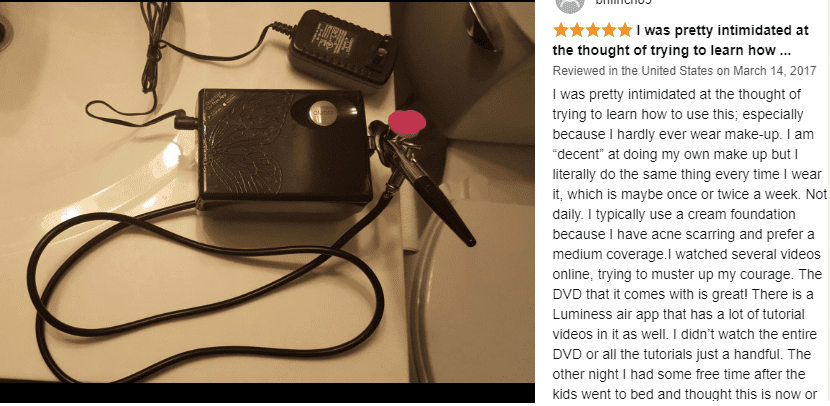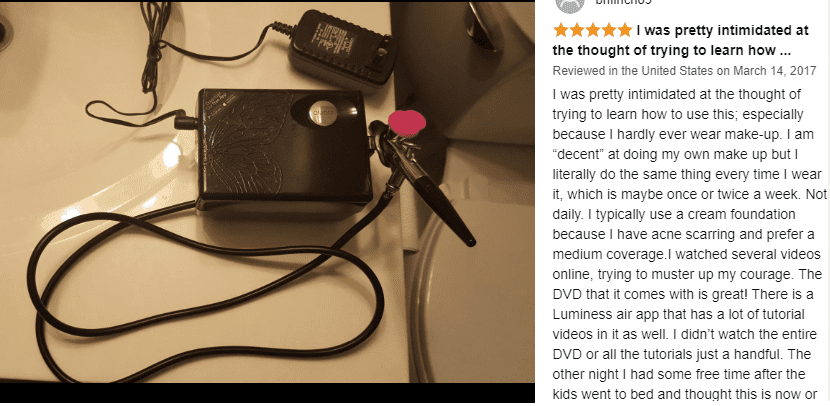 Not only did certain users have specific issues, but some were also majorly disappointed with the product. "It is not easy to use, as they mention. It does not provide any coverage. It layered on top of my wrinkles instead of blending naturally. If you are short on time to sit and practice for hours, I would highly not recommend this. It has decent quality. It doesn't have cheap ingredients. The product, I would say, is good, but the flawless look doesn't work for me."
Frequently Asked Questions | Luminess Airbrush Reviews
Can I use my foundation with the Luminess Airbrush?
The traditional foundation is made to provide full coverage and hence is a more creamy formula with a thick consistency. The airbrush isn't equipped to blow out any product of that consistency. However, you can add a certain amount of makeup thinner to make it more compatible with the Luminess Airbrush. It's essential to go through the instructions to use the airbrush with a traditional foundation.
Does Luminess Airbrush hide wrinkles?
Luminess Airbrush is enriched with all the essential hydrating ingredients, which, if applied correctly with the correct technique, helps you cover all the wrinkles and fine lines.
Does Airbrush work better on old skin?
Like it's previously mentioned, the airbrush is equipped to provide you with exceptional blending. This is especially helpful when you see skin embellished with fine lines, blemishes, wrinkles, and pigmentation. The answer is an absolute yes; Luminess Airbrush will give older skin a more youthful look and a natural finish.
Can you wear Airbrush Makeup every day?
The answer to that is a yes; not only is it okay to apply every day, but you can also reapply the product whenever you need a slight touch-up. Because it is an airbrush technique, you can keep adding layers based on your coverage requirements. Even with all that, it doesn't give a cakey look to your skin.
Final Thoughts
The Luminess Airbrush provides the easiest way to give you the most radiant natural makeup. But when it comes to makeup, and art, the work level also depends on your skill level. And when we say skill, we also realize it improves with practice. Airbrush is a technique that needs a lot of practice to go into it, but as a product, Luminess provides you with the perfect base to start. It is convenient, portable, and priced at an affordable rate because it is a one-time investment. However, we can never be sure until we try a product ourselves. So before you decide on whether a specific product is right for you or it isn't, consider giving it a shot.
Marilyn's deep interest in fashion, beauty, and lifestyle has led her to pursue a fulfilling career as a freelance writer and blogger. With her bachelor's degree in fashion design from the Fashion Institute of Technology, she has developed a keen eye for style and trends, making her well-equipped to offer valuable insights into the latest fashion and beauty trends.