The primary purpose of CC creams is to correct the color of dark spots, redness, or pale skin. Though they are meant to go under the foundation, they can even replace foundations. Dermablend CC cream is one such makeup product that has been in almost every vanity bag. But is it worth your money? Let us quickly look at the report based on honest Dermablend CC Cream reviews.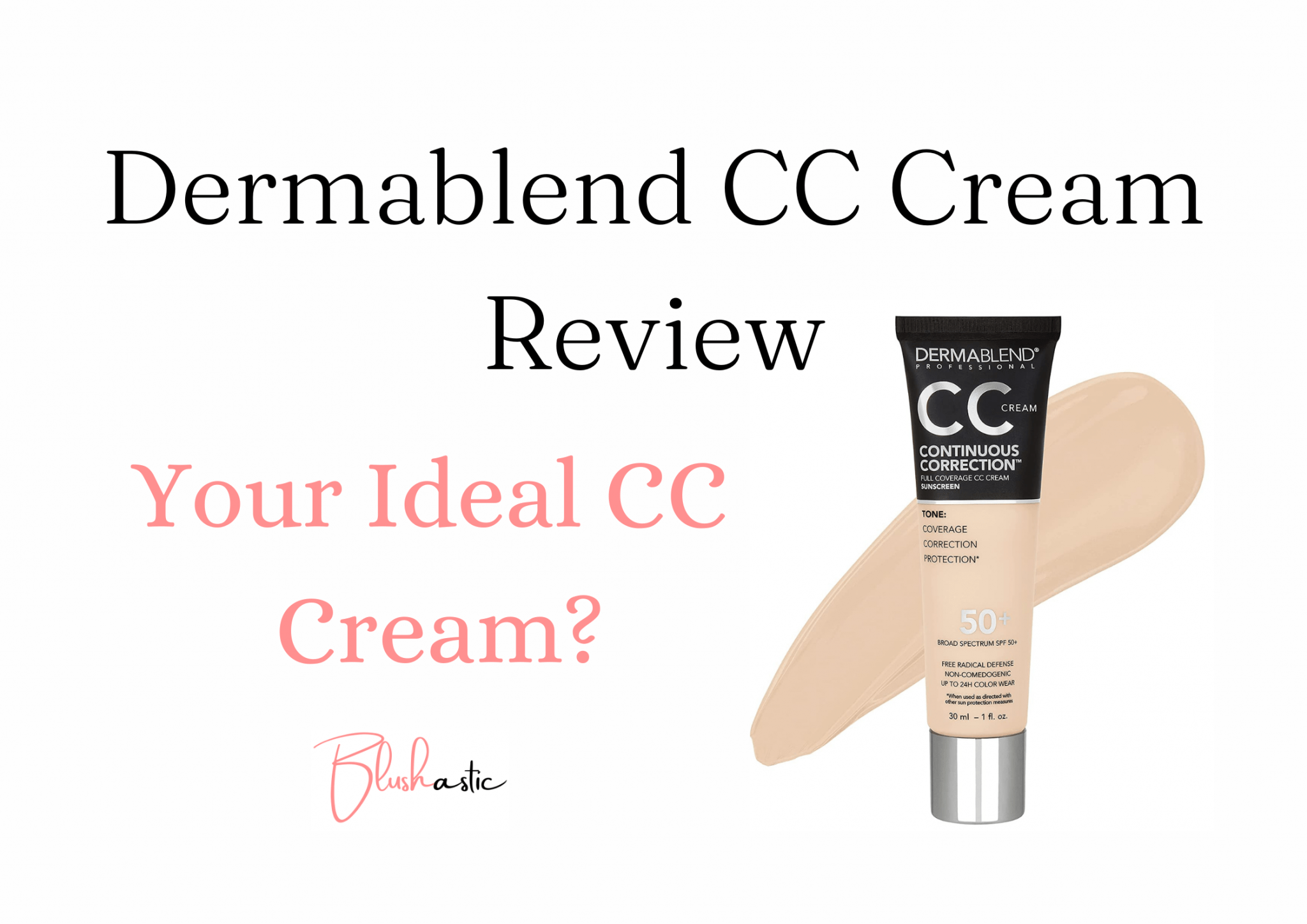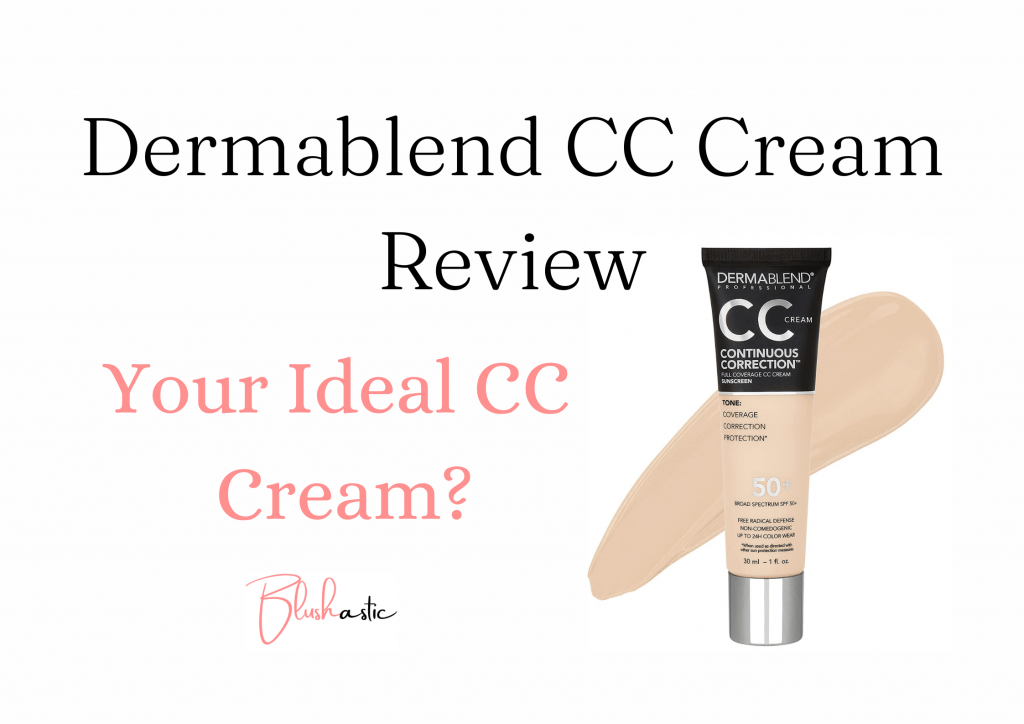 Dermablend CC Cream Reviews | Better Than The Rest?
Dermablend takes pride in claiming it is the #1 Dermatologist Recommended Coverage Brand. This Continuous Correction cream is about providing your skin with the right tone coverage, correction, and protection. Protection how, you ask? This CC Cream has an SPF of 50+, so you can freely go out and enjoy the Sun while the cream protects your skin from UV rays.
Sale
The CC cream is weightless and breathable, so your skin does not feel suffocated. If you are looking for some clinical proof or studies, rest assured because Dermablend's CC Cream has been clinically tested and has shown results that visibly improve the skin's radiance after a month. If used as directed, as per the brand, the SPF can fight sun damage and even prevent signs of aging.
Dermablend CC Cream Ingredients
The full coverage and correction provided by the CC cream are because of the fantastic mixture of antioxidants that include Baicalin, Niacinamide, vitamin E, and caffeine. One of the active ingredients in the cream is Homosalate.
Baicalin 
Extracted from the Baical skullcap plant, Baicalin is a natural skin care ingredient with some excellent anti-aging effects. It absorbs harmful UV rays and has some appreciatory anti-inflammatory and antioxidant properties. Additionally, Baicalin has some skin-calming properties that help the skin from harsh environmental stressors.
Niacinamide 
The presence of niacinamide in the cream helps build cells in the skin, and it has been proven beneficial for severe acne. The anti-inflammatory properties it contains make it a good ingredient for acne-prone skin. Apart from this, it also works on fighting signs of aging along with internal and external stressors like toxins, pollution, etc.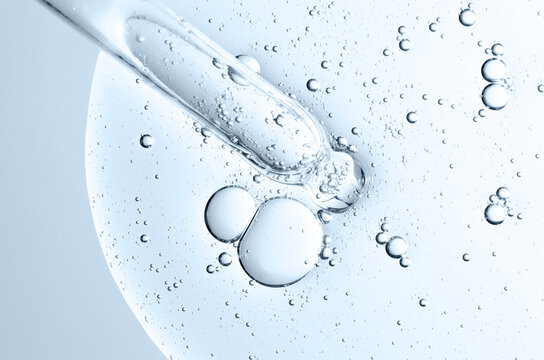 Vitamin E
If you have had skin problems like acne and have opted for medications, then you would know the importance of Vitamin E, be it in the form of capsules or skin care products. When you read Vitamin E, you read skin care. This is because it has a fantastic ability to promote skin elasticity and repair the skin. It also helps you get radiance and glow with the proper development of your skin.
Homosalate 
Homosalate is an organic sun filter that can absorb UVB radiation. Being the active ingredient in the list, this ingredient helps your skin by protecting it from environmental damage or harmful rays. 
How To Apply Dermablend CC Cream?
CC creams are lightweight formulations that can be used instead of foundations or primers. It is a straightforward application, and you only need a little of the product. 
Initially, cleanse your skin thoroughly.
If you have dry skin, apply a rich moisturizer or face oil to nourish your skin and help the CC cream glide on quickly. However, if you have oily skin, you can skip the moisturizer and use toner for a smooth base.
Squeeze some small amount of CC cream onto your fingers. Mark those areas where you have blemishes or redness and apply them on those areas for coverage.
Blend the cream outwards with a brush or blender, and here you go.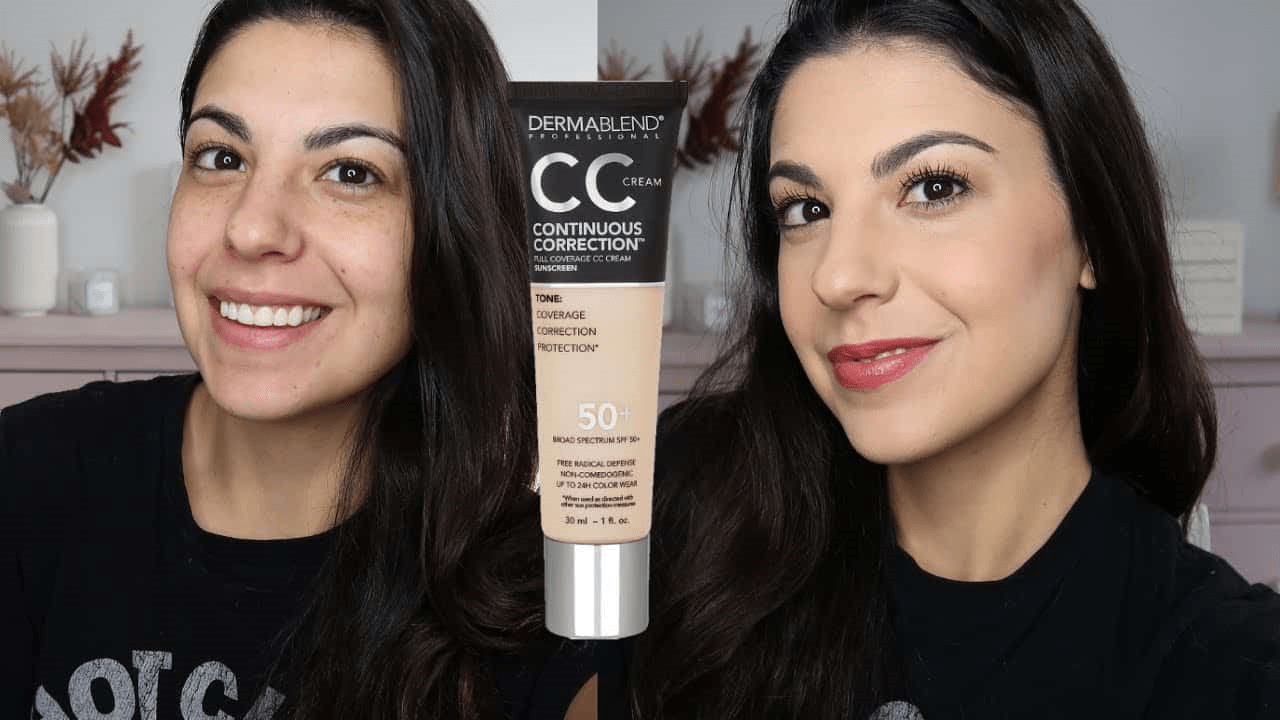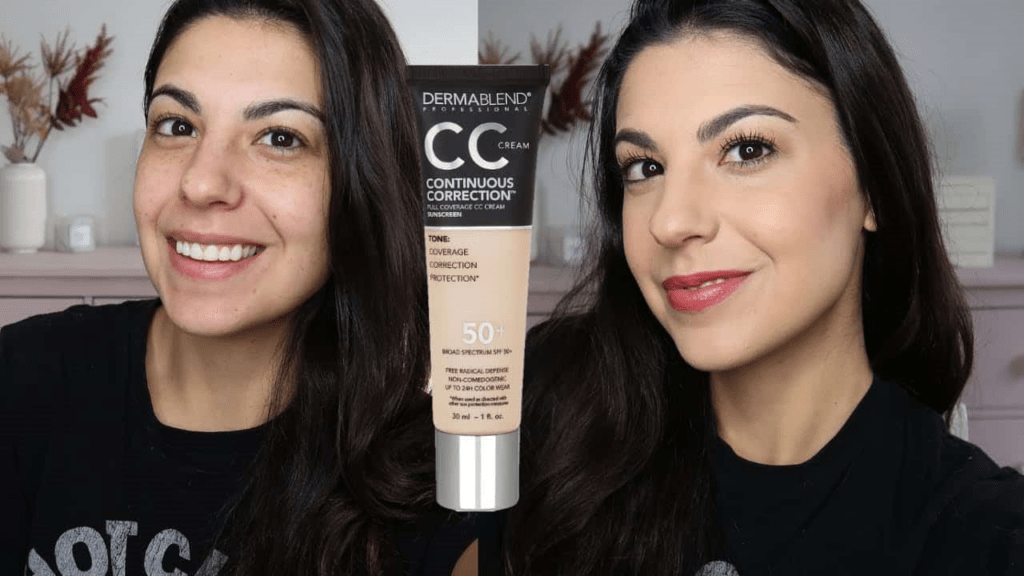 Benefits
The formula infuses practical and beneficial ingredients like Vitamin E and niacinamide.

It also contains many ingredients that prove to fight sun damage.

Very lightweight.

Breathable formula

Contains anti-aging properties.

It is non-comedogenic.

Dermatologist-recommended.

Has a broad color spectrum.

Cruelty-free.

Phthalate-free.

Vegan formula.
Drawbacks
Some users felt the coverage was too light.

Quite pricey.
Dermablend CC Cream Reviews | What Do The Customers Say?
Elizabeth M. Thompson said, "I like the CC Cream for its coverage. However, it is thick, and I must mix it with some moisturizer so it goes smoothly. It only takes a minimal amount. I bought it partly for the high sunscreen protection but found it takes very little. I don't think it provides enough protection, so I still put my other sunscreen under it. I do think that it covers my blemishes and dark spots well, though not completely. I would purchase it again."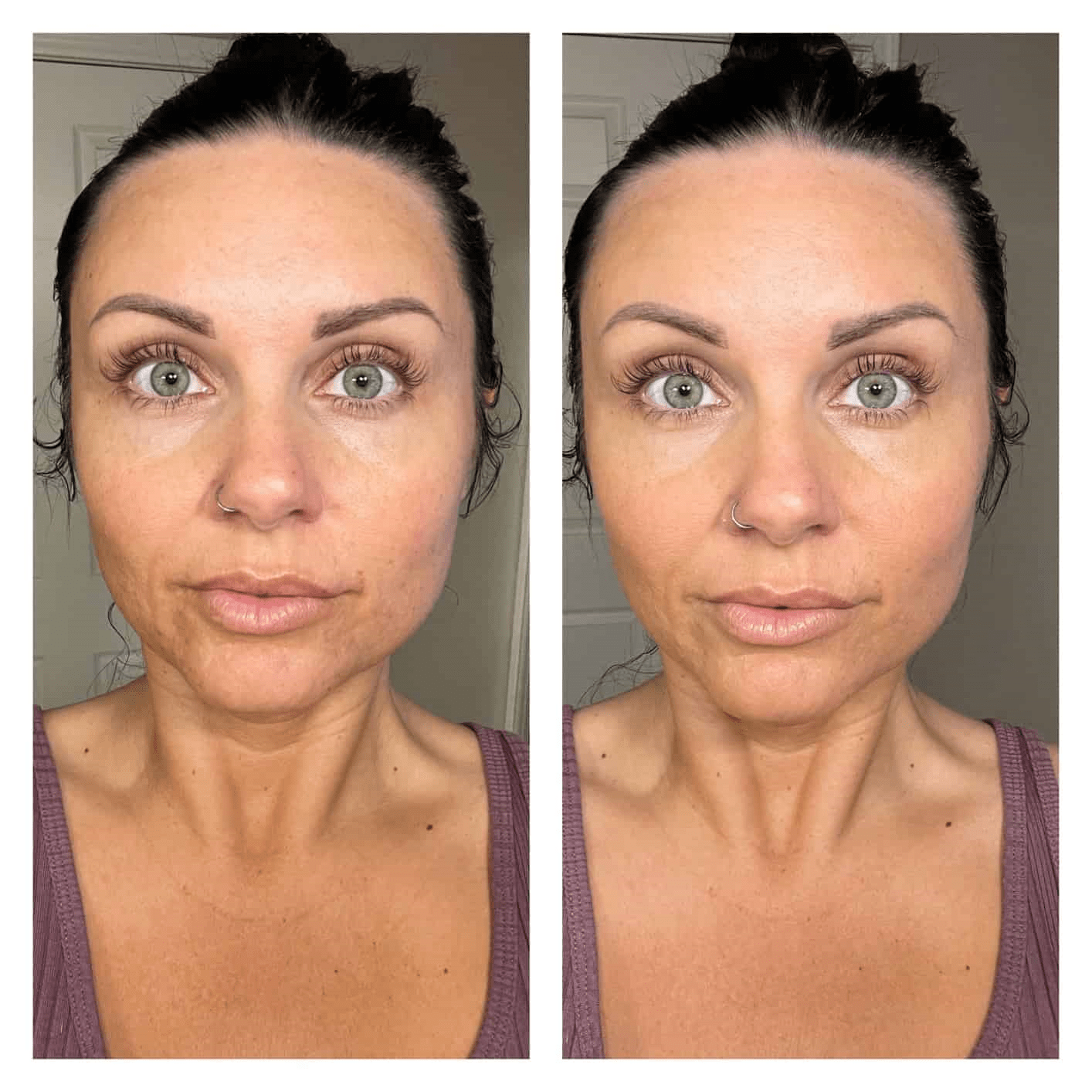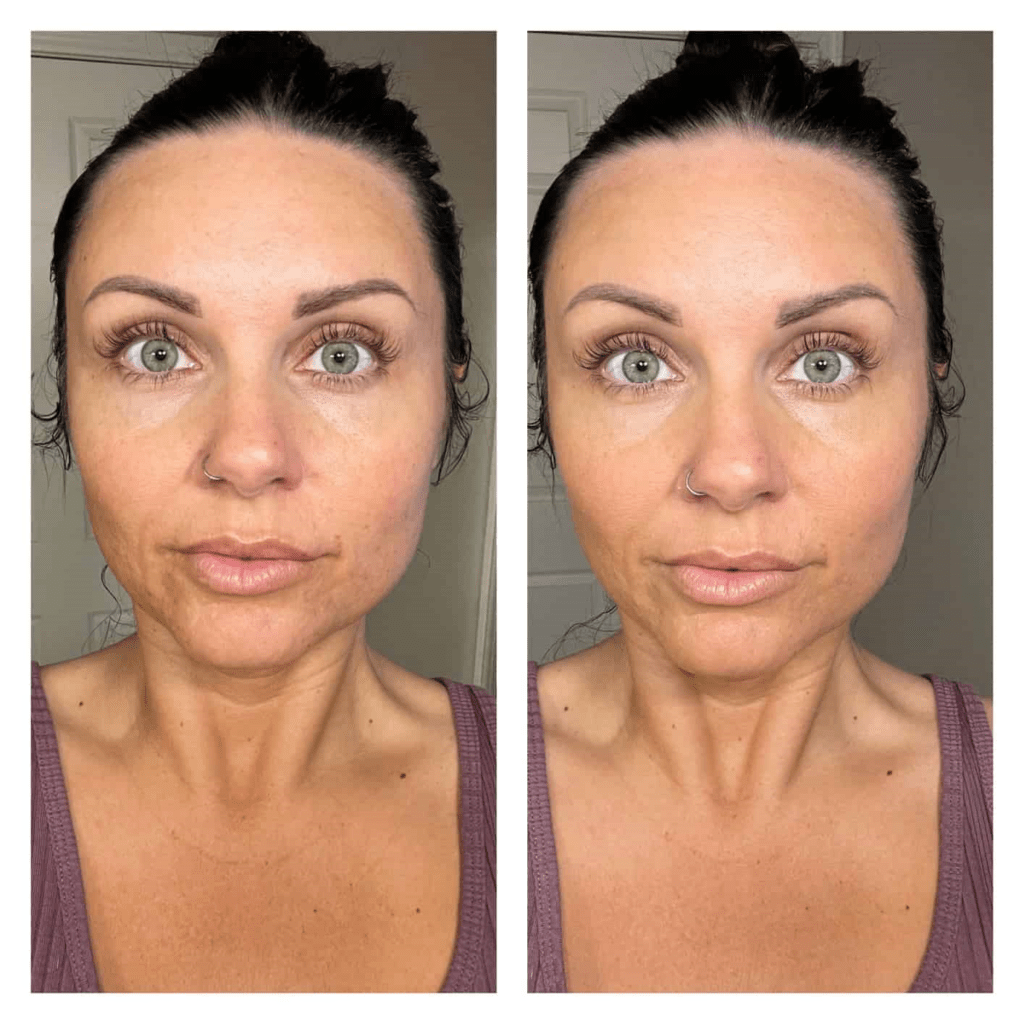 Clark commented, "The Dermablend Continuous Correction Tone-Evening CC Cream Foundation SPF 50+ matched my skin color very well. It is a reasonably lightweight foundation, and with the SPF being 50+, it is great for summer wear. It isn't full coverage, so if that is your preferred foundation coverage, this is not for you. It's slightly buildable, but you will get medium coverage at best. If it isn't used with a primer, it gets a little greasy during the day, but it covers just enough to make it worth the purchase. I find my skin clearer during the summer months. Anyway, this worked very well for me."
Dani said, "The CC cream has good coverage. Don't get harsh with it; it is best to use it in a restraint quantity and build the coverage you require. If you come in the category of people with oily skin and want a matte finish to your look, you may need a mattifying primer before applying this CC cream. Next, use a setting powder over the CC cream.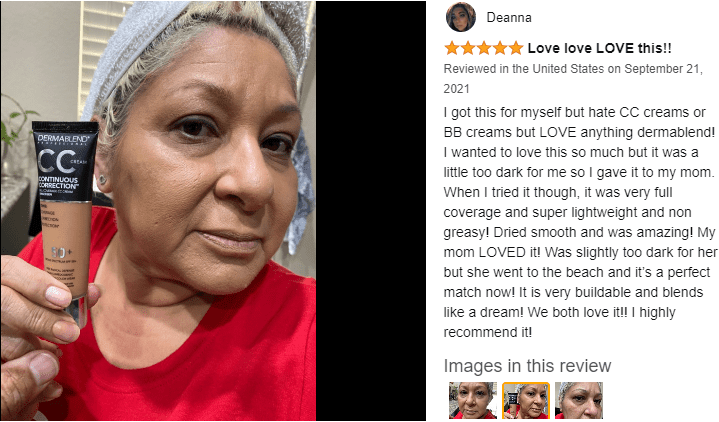 Considering the drawback, I have acne scars that create an uneven texture along the hollows of my cheeks. The product settles in those hollows and makes the texture visible. I have reached a certain age, so the foundation showed some grooves I didn't know I had on my skin. It can be simple, like changing my primer or the setting powder. Hopefully, I will figure it out. However, if I don't, I will move it to my drawer of forgotten products."
FAQs | Dermablend CC Cream Reviews
Can I use CC cream instead of foundation?
CC creams are makeup products that can replace foundation or even primers. They have a lightweight, breathable formula that hides blemishes, redness, and imperfections. CC creams are a better solution to avoid patchiness but have light coverage.
Is Dermablend pregnancy safe?
The brand confirms that the ingredients used in the products are evaluated for safety. However, it has not tested the products specifically on nursing or pregnant women. So, always consult your doctor and follow their recommendations for the safer side.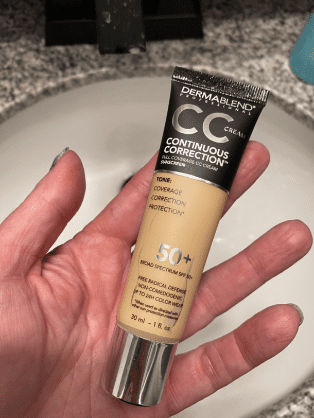 What is the difference between CC cream and BB cream?
The main difference between a BB cream and a CC cream depends on its coverage and texture. BB creams are Beauty Balms that correct blemishes. CC creams are color correctors and have lighter coverage compared to BB creams.
Do I need to apply powder after CC cream?
Applying a powder is helpful as it removes the excess oil or product. They even help extend the makeup's longevity and can prevent caking.
Is Dermablend CC Cream sweatproof?
If the claims made by the brand are to be believed, then applying setting powder over your CC cream can make it sweatproof.
Final Words
Having blemishes or redress shouldn't stop you from going out and acing your natural look. However, CC creams are a good option if you wish to cover them. And considering the present days and trends, Dermablend CC Cream is all about doing its job correctly. So, with some unbiased Dermablend CC Cream reviews, we hope you get a better insight into the product and conclude whether it is worth trying.
I'm Sarah Abraham, the founder and co-author of Blushastic.com and a professional makeup artist. Beauty is more than just skin deep, and that's why I'm passionate about sharing my knowledge and experience to help people feel confident and beautiful on the inside and out.
Whether it's skincare, haircare, or fashion, my goal is to empower women to feel their best. With my expertise in the beauty industry, I strive to provide practical advice and tips that are accessible to everyone, regardless of their skill level or budget.