Nails are yet another part of our body that requires our attention and care. Beautifying and caring for them adds more grace to our look. Now, at least till a few years back, getting your nails done was a tiring job; either you go to the salon and spend quite a lot of bucks on them or put in a lot of effort from your side. But we live in times where almost everything is turning into DIYs, and of course, no complaints about it!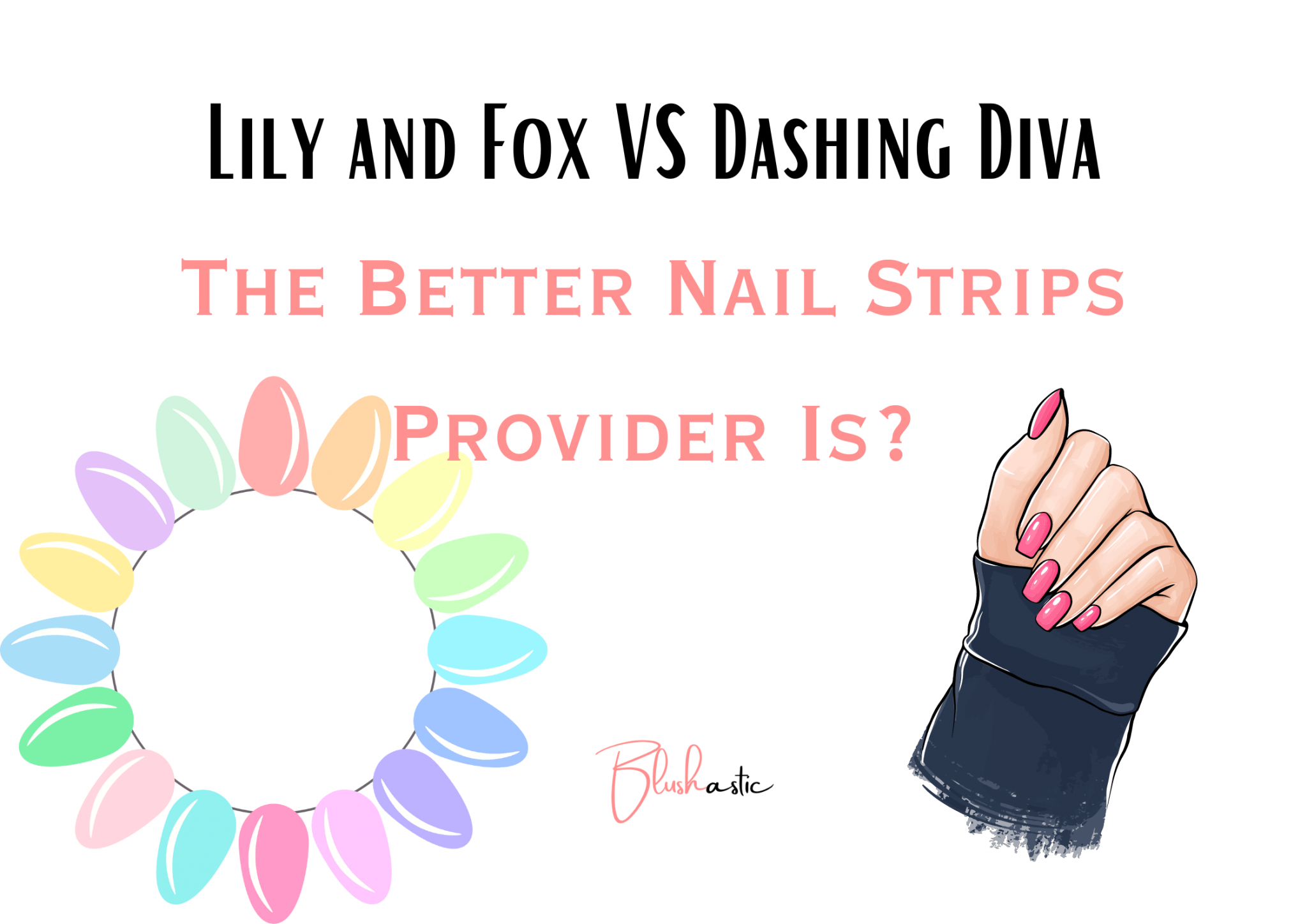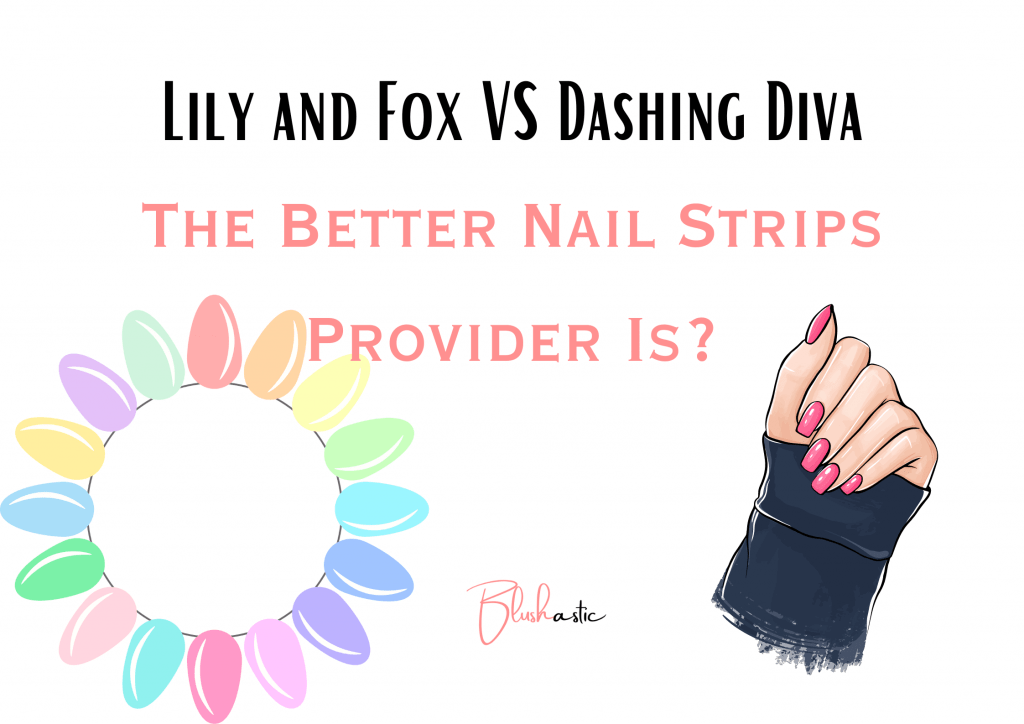 With these DIY salon-quality nail makeovers at home, nail strips have been among the popular choices. Lily and Fox and Dashing Diva are two leading brands offering these nail strips. You might be confused with the ongoing Lily and Fox VS Dashing Diva comparison if you are new to this. Let's dig in.
Lily and Fox VS Dashing Diva | The Nail Strip Showdown
Application
Lily and Fox has mentioned its steps for applying the nail wraps. So all you have to do is follow these simple steps. You can achieve salon-looking nails at your home hassle-free.
Initially, start by cleaning your hands so no extra residue or other products are left on your nails that may stop the nail wraps from hugging your nails. You can even use alcohol swabs to clean and make your nails look sparkling.
Have the choice of size sorted so you do not waste much time.
Peel off the plastic covering from the nail wraps.
From the top side of your preferred nail wrap, remove the excess. This excess gets filed away.
Avoid touching the adhesive so it stays sticky. Place the nail wrap at your cuticles; from there, it gets pushed down.
If there is any excess, then file it away.
You can add an extra layer of gloss to make your nail strips shine.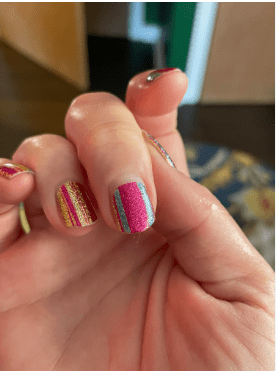 Dashing Diva's nail strips also have an easy application process. Below mentioned are the steps that will make it easier for you to apply the nail strips.
Wash your hands and prep your nails by filing them and cleaning them with an alcohol swab.
With the help of a cuticle pusher, push back the cuticles of your nails.
Next, match the lengths of your nails with the nail strips so they fit perfectly. If they don't match, go with a nail strip that is more petite than your nail.
With the help of a tweezer or even your finger, pick up the nail strip and place it on your nail. Make sure to keep it stuck very close to your cuticles. Stick it smoothly and perfectly so you don't get any air bubbles.
Push the left-out stick in the downward direction and get rid of it with the help of a filer.
If you want to add more gloss to your nails, add an extra layer of gel base on the nail strips to make them look shiny.
Let your nails dry under the drying machine for about a minute! You are ready.
Evaluation of Pros and Cons
Pros of Using Lily and Fox Nail
The brand offers various nail wrap colors and designs.
This variety can be matched easily with your outfits.
The application process is simple and does not require extra effort.
You can remove them and apply them again later if required.
The re-application is also easy as they will stay clinging to the nail, and the glue is set in place that does not come off quickly.
They stay in place for more than a week.
Applying a top coat will make them last longer.
These nail wraps can be applied on any type of nail, including bare nails, nail polishes, or even acrylic nails.
They are budget-friendly.
Vegan and cruelty-free.
Cons
Since the nail wraps are pretty thick, the filing process of the excess becomes difficult.
If you do not apply the top coat, then there are higher chances of the nail strips trapping water and dirt under them.
The nail wraps may appear sticky after some time.
Pros of Using Dashing Diva
The application process is easy.
The brand offers very shiny nail strips with different designs,
There are a lot of options for colors available.
They last up to 14 days.
Cruelty-free.
Vegan strips.
The brand offers 12 different sizes for your convenience.
Do not break the bank.
They don't cause any harm to your nails.
They are very durable.
The removal process is also easy.
They are made with a non-wrinkling formula.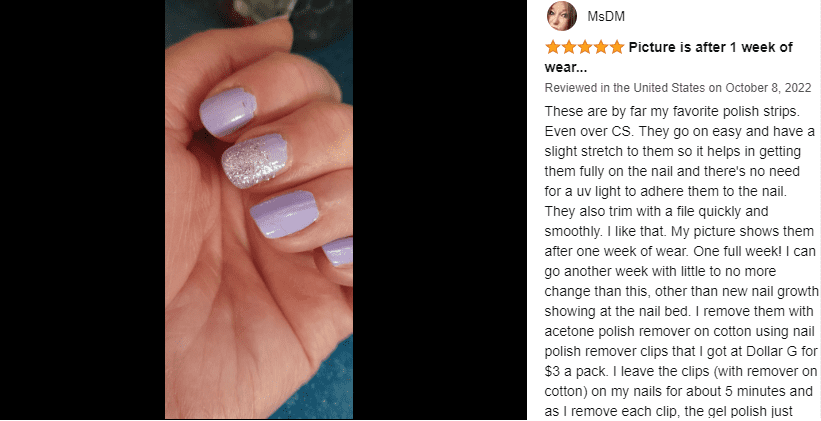 Cons
They can be quite stretchy, making it hard to get a clean top edge.
A dark color palette may not suit people whose nails grow quickly.
People might have to be extra careful while doing heavy work or removing labels.
Affordability
Lily and Fox offer various colors and designs worn with any outfit. They use a genuine approach to nail art. They provide many holiday patterns and festive themes from Christmas to Valentine's Day. While aiming at giving your nails a natural finish, the Lily and Fox nail wraps can happily be used as a nail polish alternative.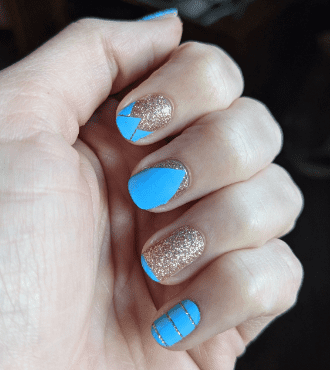 Dashing Diva is no less, as it has come up with several designs of its 'alternative to nail paints,' the nail strips. With gloss, glow, and glaze, the brand offers nail gel strips that provide ultra-shine to your nails without you having to give some extra time for an LED cure. 32 nail strips come in a box and last for about 2 weeks. Dashing Diva is more affordable than Lily and Fox, with excellent designs and many nail strips.
Customer Reviews | Lily and Fox VS Dashing Diva
Andrea P. commented about Lily and Fox, 'The nail strips give very classy vibes and are flattering. I am very pleased with them; they have become my favorites. They lasted about a week on my nails, but just to put it out there, I am quite rough with my nails because of washing dishes, cleaning using chemicals without gloves on, and other ways. So considering these, yes, they are durable!'
A user named M&LG said about Dashing Diva, 'The nail strips are a little flexible and stretch. It is a good point for providing good coverage for the nail, but it gets hard to get a clean top edge. It's been four hours since I have had them on, and I can already see the fuzz on the top of my nails. Will go for another brand next time.'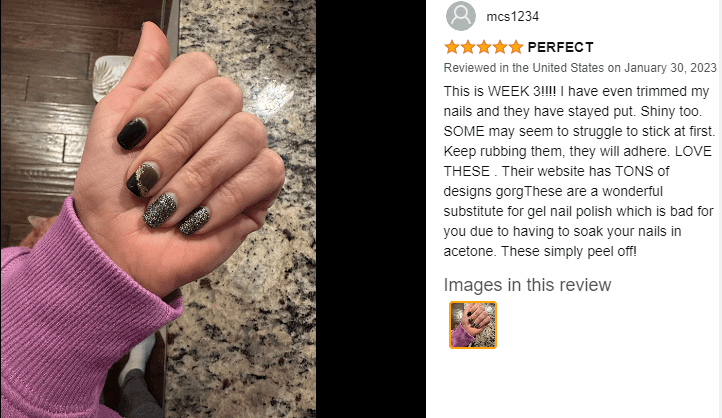 Another user, Emma, said about Lily and Fox, 'Honestly, they aren't up to the mark. They can start having air bubbles if you get them into hot water. These then dissolve the adhesive, which makes the stickiness disappear, and I can't put them down again.'
FAQs | Lily and Fox VS Dashing Diva
Can Lily and Fox Nails be applied to acrylic nails?
Yes, Lily and Fox's nails can be applied to any nail. Just ensure your nails are free from any dirt, oil, or grease that may become a barrier between the adhesive and your nail strips.
How to prep my nails before using Dashing Diva nails?
Clean your hands with oil-free soap so there isn't any residue left on your nails. Push back the cuticles as much as possible with the cuticle pusher and dry your nails before sticking the strips.
How long do Lily and Fox nails last?
According to the reviews, Lily and Fox's nails last up to two weeks or maybe lesser. However, you must give them attention and protection and do be harsh or rough with them.
How to stop Dashing Diva from peeling?
Before applying the strips, ensure your hands and nails are dry and don't have any water or oil on them. Additionally, pushing the strip toward the cuticle keeps it in place for a long time. Also, don't forget to file off the extras.
Final Words
There are a few factors to be considered when you choose a winner. In the case of Lily and Fox VS Dashing Diva, it has to be affordability, ease of application, reviews, and durability. Though Lily and Fox offer many designs and colors, Dashing Diva may win hearts better with its affordable range of products. Considering the reviews, both of them have positive and negative ones, but we noticed that some reviews stated Dashing Diva nails lasted quite long, sometimes even more than 2 weeks. Ultimately, it all depends on you, and talking about how they are not expensive, there is no harm in trying them!
Rebecca is a skilled writer with a passion for makeup and skincare. With years of experience in the beauty industry, she has a deep understanding of the latest trends and products and a talent for creating engaging content that resonates with her readers. Whether she's writing about the latest skincare products or sharing her favorite makeup tips, Rebecca's writing is always informative, entertaining, and inspiring.