We all feel that rush of laziness when it comes to removing that heavy bedsheet of mascara after a whole day of benign out. So we switched to the easy option – fake eyelash extensions. But it was only sometimes till this became a nightmare for many lash lovers.
You need to start prioritizing the long-term health of your lashes if you do not want to make it to the famous list of the people whose Fake Eyelashes Gone Wrong that every beauty site liek WebMD, Healthline, Cosmopolitan, and Instyle can't stop talking about. In this manner, you can avoid a lot of untrained individuals who promise to do your lashes for less money. Initially, this might seem an irresistible idea, but will your eyes accept it?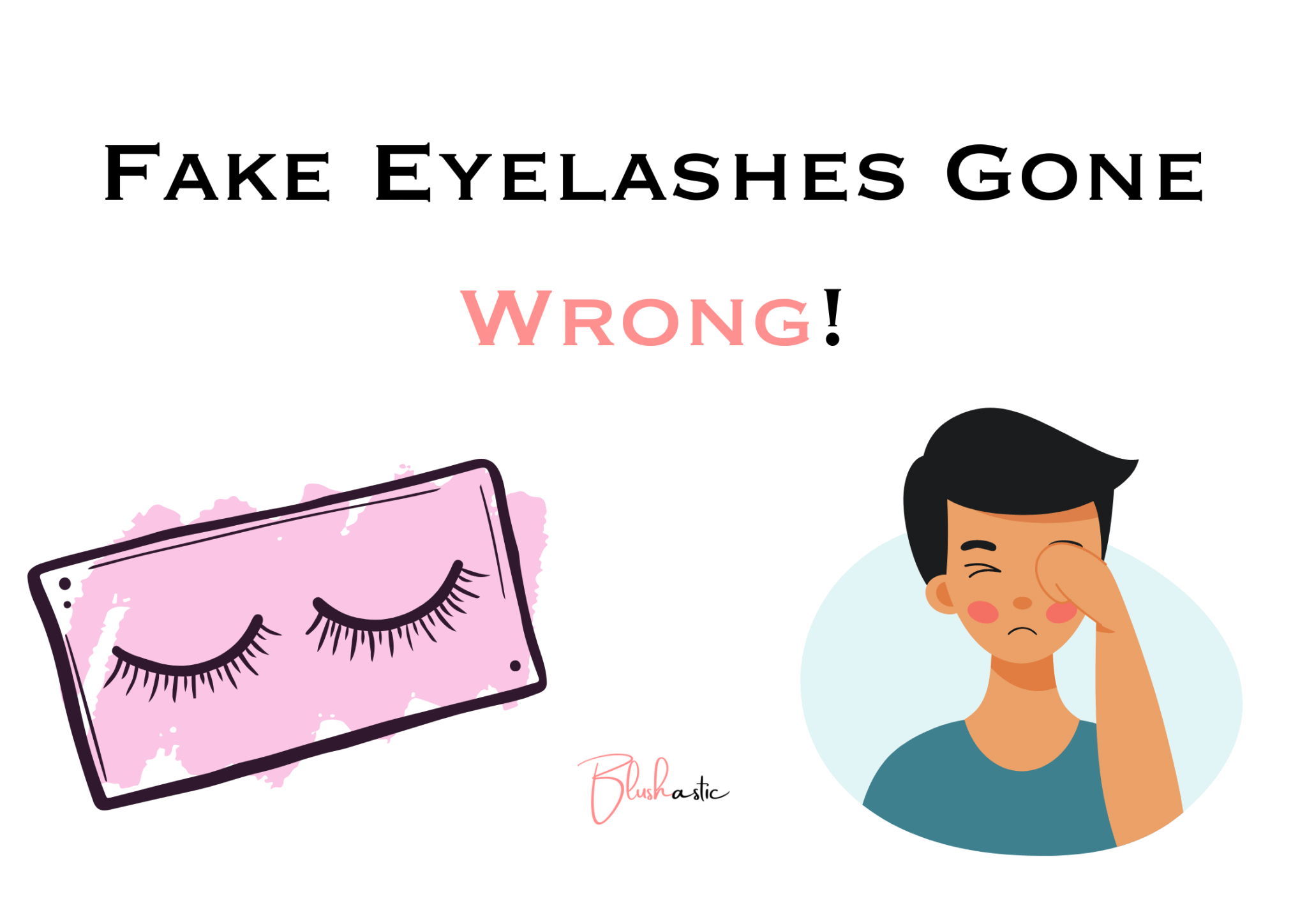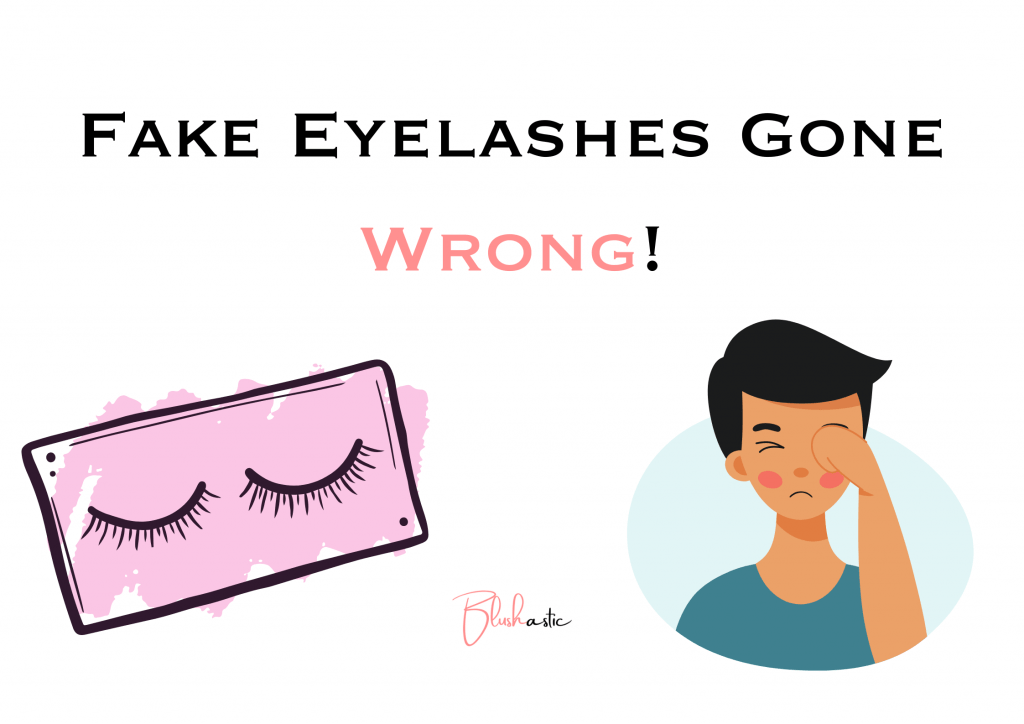 Here are three cases from 3 other individuals, where each one is complaining about the fault in their stars for landing in such a situation. Let us see what we can learn from them!
Fake Eyelashes Gone Wrong!
Case 1
The story of Isabella Edith Kun from Metro will shock you for sure. The 20-year-old nursing student living in Ottowa at that time expressed her story. On a fine Tuesday, she got a fresh set of fake extensions. We all love amping up this volume, and so did she. She always went to the same salon for the past year or more, so she knew her eyes were in good hands.
Her previous lash glue extension procedure was questionable because her eyes became swollen. So this time, she asked her beautician if they would use the same adhesive. Her aesthetician replied that she didn't know the name of the glue they used, but it will be good. So Isabelle went ahead with her procedure. On Thursday, she woke up to see that her eyes had swollen off entirely to the point that they were closed.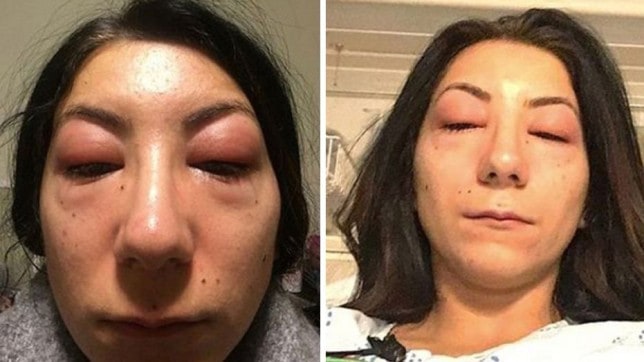 When CTVNews.ca asked about this to Isabelle, she revealed that she couldn't even see her girlfriend, who had slept over and was having difficulty swallowing and breathing. When she Ubered her way to the hospital, she found out that the lash extension process had affected her eyes and caused a lot of inflammation in her tonsils. Isabelle took an Uber to the hospital, where she discovered that her eyes were severely swollen and her tonsils were inflamed.
To bring the swelling under control, she was given some antihistamines and steroids intravenously, but even after taking them, her eyes looked the same. She was later sent home and asked to intake antihistamines as pills. Kun expressed that she was terribly worried that her eye condition might not improve because she couldn't get the glue out of her lash line because her eyelids were too swollen.
Case 2
Demi Donnelly, from the United Kingdom, shared her experience in her Youtube video, where she had gone to revive her lashes that day. When she returned and sat in her car, she cried and complained of the sharp, stinging sensation in her eyes. She revealed that the feeling continued for a couple of hours and was so unbearable that she couldn't keep her eyes open.
For several hours her eyes kept watering, and there was partial redness in her right eye. She was highly annoyed because she knew the technician must have put lash glue in her eyes or misapplied them. She wanted to film an honest video of her experience, so she got ready and sat down for it. Demi said that "It physically hurts to open my eye."

She later said that she got her eye wash done in that palace, so an extension must have been clamped too close to her waterline, constantly irritating and hurting her. Donnelly was very upset because she had her extensions done by the same lady before as well, so she did not feel it necessary to get a patch test done again this time. She also added that she would wait another day to see if the effects wear off, or else she would have to dial 911. 
Case 3
According to sources, we came across a story of Fake Eyelashes Gone Wrong, which it talks about a woman whose name was kept hidden for privacy purposes. The article calls her Jane. Jane just had her eyelash extensions done by an untrained artist, and that is when all the fuss began. Like most people are crazy to rock this trend, she wanted to give her eyes extra attention for her upcoming birthday. The pictures below indicate an eye infection that seems to be branching out of her lids because of improper steps during application. As a result, the synthetic eyelash extensions have taken a toll on her lash lines.
Before and After pictures of Jane from her lash extension procedure and just to finish the story from Jane above – she ended up making a full recovery. She even recommends eyelash extensions despite having her own 'eyelash extensions gone wrong' horror story. When speaking to Buzzfeed News, she warned that girls, in general, should be cautious in this case. She just got her extensions done by some individuals, and it turns out that they used nail glue on her lashes to stick the falsies.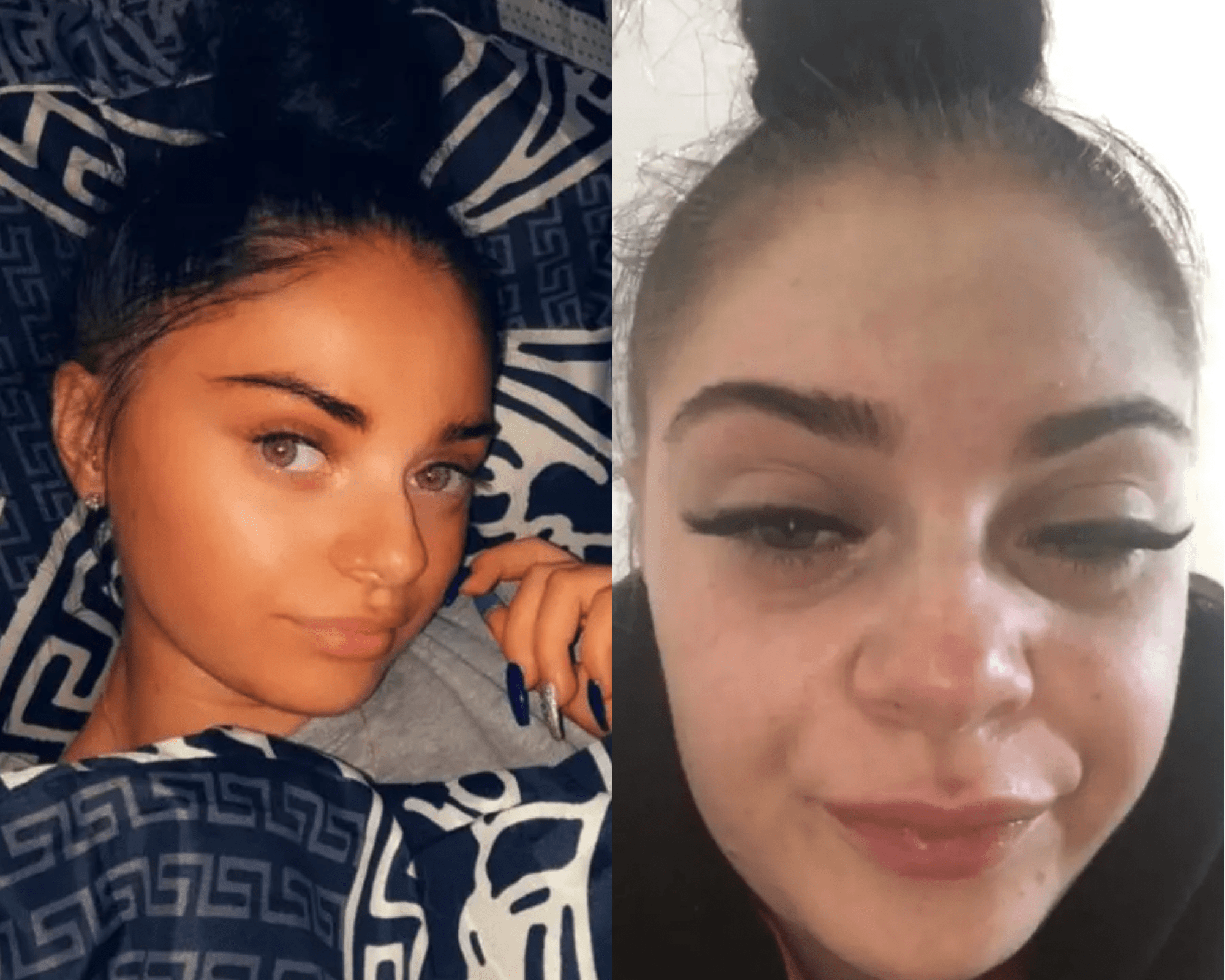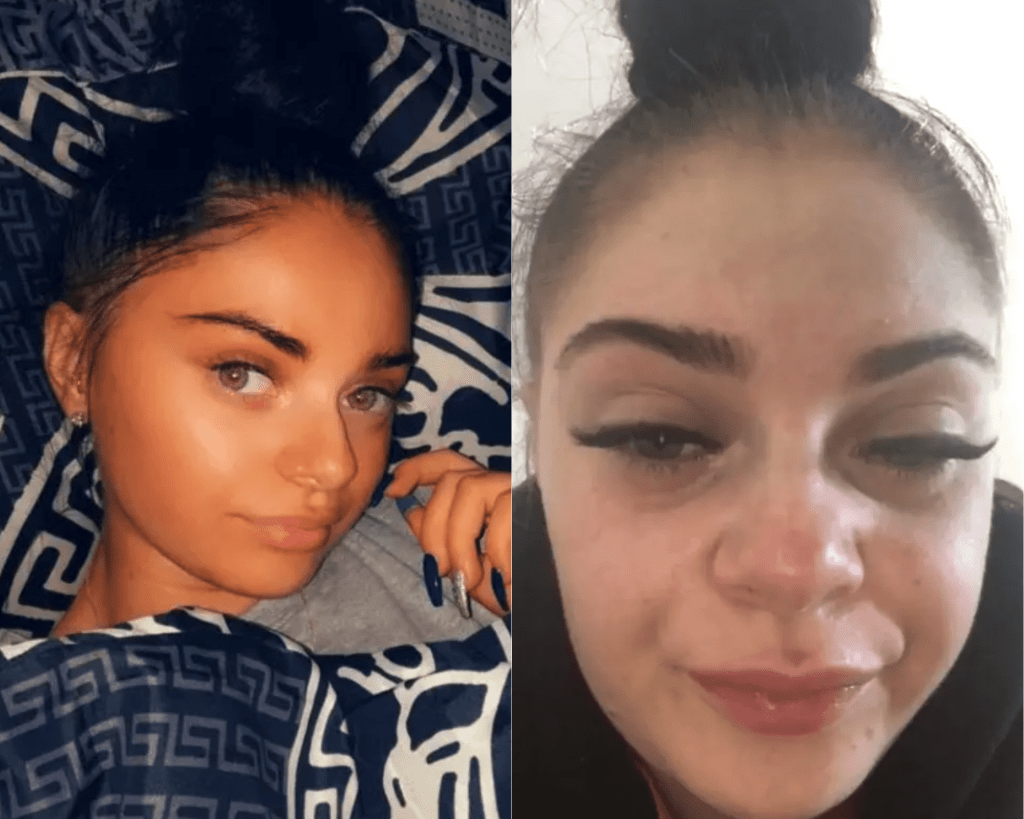 She went on to express desperately that she genuinely lost her sight for 2 hours and felt helpless. Eventually, the swelling came down, but her eyes still felt sore. She requested every lash enthusiast out there to be mindful of such happenings. Jane's first advice for all the beauties out here would be to seek professional help in this procedure. Apart from that, always carry out a glue sensitivity test. Apart from that, ask to see the glue of the beautician when they are about to use it.
Proven side effects?
Reliable reports from webMD have finally spilled the beans on what you need to know before setting an appointment with your lash technician. Here is the following list of things one needs to consider on why fake eyelashes are ruining the health of your natural lashes. Let us take a look on what are the various red flags. 
Users may face allergic reactions due to the lash glue.
Drooping of eyelids might happen because of increased stimulation of eyelids.
Irritation, itchiness, redness, or infection
Falling off or breakage of natural lashes
Red bumps on the eyelid or under your lash line, which are painful
Users need to be super careful while applying and removing their fake lashes. There are a lot of invisible bacteria just sitting on your hands that the naked eye can't see. When this hand or finger comes in contact with your eyes, it may cause an eye infection. So make sure to wash your hands.
Even Healthline came forward to reveal that false pairs of extensions pose many threats to your eyes. According to the American Academy of Ophthalmology, the complications involved with using falsies are, 
Swelling of the lids
Loss of eyelashes and these effects may be temporary for some, whereas it might be permanent for others.
Irritation of the eyelid
Infection of the eyelid or cornea
According to trusted sources, it has also come to light that fake eyelash extensions might not be for you if you have allergies of a certain kind because our normal tendency is to rub our eyes many times during the day. If you do this while wearing falsies, it can spread the glue or kickstart any bad thing.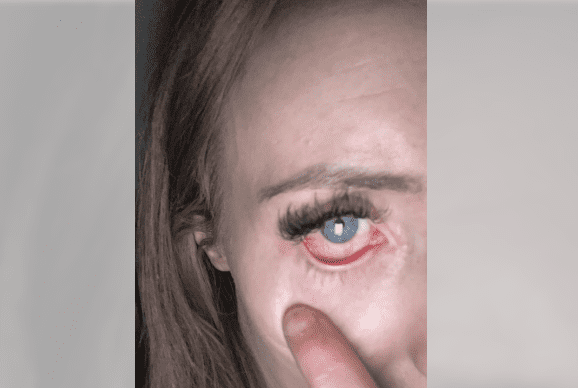 A Cosmopolitan source said Zaina Al-Mohtaseb, MD, an assistant professor of ophthalmology at Baylor College of Medicine in Houston, revealed something shocking too. Because frequent wearing and removal of false extensions put a lot of weight on your natural lashes, and there is a lot of tugging involved with each process, your natural lashes may start to fall out because of the constant weight and friction. 
Worth the Risk?
Your eyes are already going through a lot daily. The list is endless: screen time, constant rubbing, lack of sleep, working on the laptop from a close distance, and not wearing sunglasses in the sun. On top of that, it is even more pitiful when you are getting terrible outcomes from lash extensions. It is almost as if people are paying loads of money from their bank account to get eye troubles. The choice is straightforward.
If you are not ready to live with the horrific consequences that might happen to you, then you need not step into this pool. Eye infections or allergies can lead to permanent loss of sight, which is a big thing, even more, significant than your craze to get into bed with this dramatic-looking-eyes mania!
Final Verdict
There will always be two kinds of people. One who sees the glass is half empty, and one who sees the glass is half full. So it depends entirely on your situation. If you got lucky with your extensions before, the confidence to do them again naturally swoops in. However, if you got one bad episode of the Fake Eyelashes Gone Wrong, you wouldn't stop talking about it for the rest of your life. Involving your eyes with something like this can be very dangerous because if things go south, it will cost you a lot more money than it did to get your lashes done.
Your eyes are the most delicate part of your body and must be handled with TLC. So it's better to visit certified professionals than beauticians because it will be cheaper! Remember, beauty lies in the eyes of the beholder. If your eyes aren't well, you won't be able to cherish your beauty in the mirror! 
Here's more for you:
Rebecca is a skilled writer with a passion for makeup and skincare. With years of experience in the beauty industry, she has a deep understanding of the latest trends and products and a talent for creating engaging content that resonates with her readers. Whether she's writing about the latest skincare products or sharing her favorite makeup tips, Rebecca's writing is always informative, entertaining, and inspiring.