Lash fanatics are present in every nook and corner of the planet, and I am guilty of being one too! Be it mascara, lash extensions, lash-enhancing serums promoting hair growth, lash-lifting procedures, or a pair of harmless fakes, my eyes have been through it all. I have tried anything that is even remotely associated with lashes. Everything may be visible to your eyes, but the goal is to make your eyes visible to everyone, right?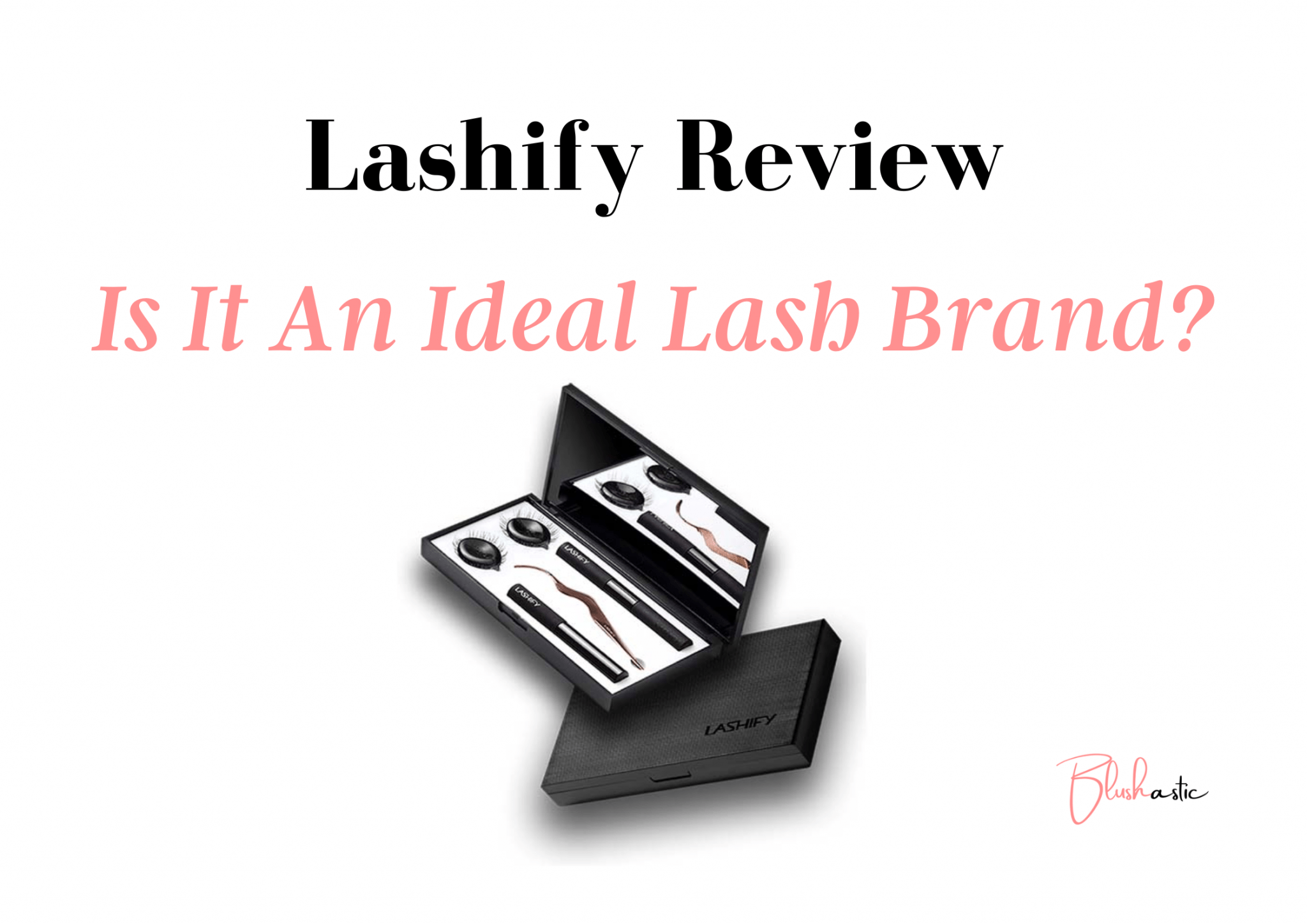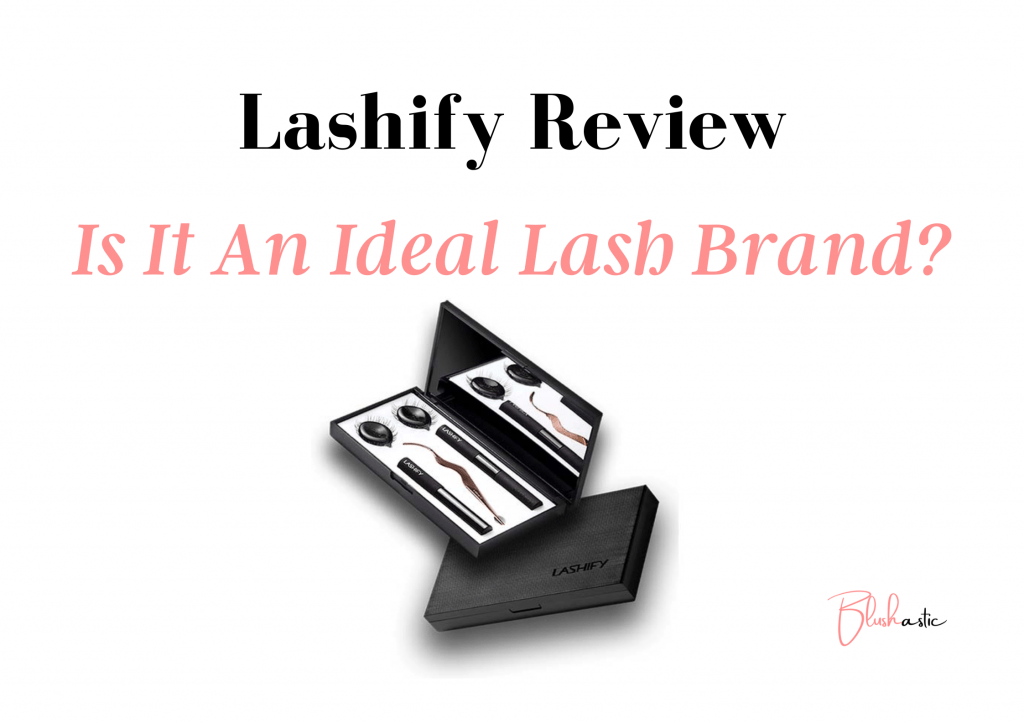 However, with time, stress, and daily lifestyle, we tend to degrade our lash health, which causes them to break and become thin and brittle. So ultimately, you get gaps on your lids that can't be filled even with goops of eyeliner mascara. So what better way to do it than DIY Lash Extensions, which seem to be sending everyone crazy with their unparalleled charm? And according to Lashify Reviews, this is just the shopping stop you must make ASAP!
But will these guarantee the drama your eyes need? Or will it be a problem for your sensitive skin instead? Are they worth your money? Having such questions roaring in your head is okay, so let's dive deep and discover everything you need to know.
Lashify Reviews | Holy Grail For Your Lashes?
Do you often think how nice it would have been if you had been born with fluffy lashes that almost make your eyes challenging to see? Do you also wish there was something you could do about encouraging your lash health without getting expensive treatments done? You have found your answer! Lashify Reviews prove that you will no longer need to cry over your kismet because its extensions will give your eyes an ultimate look to stand out! Trusted sources have revealed that these cases were everything they have been looking for, but is that true?
Many everyday things often damage our natural lashes, and we primarily treat them carelessly at the hands of cheap falsies. These lashes ensure our eyes dont suffer, so they do not put any extra weight on them. One of the many perks of these DIY extensions is that you can easily customize your lashes according to the look that suits you best, be it extended length or more volume, you will have it. The brand understands that the average women are tired of putting harmful glues in their eyes, so it offers a fusing wand and bonding adhesive to make the job clean and sleek! But is there no downside to them? Let's find out!
How to apply Lashify?
Text may need to be more, so make sure you rummage through the internet first for youtube tutorials and Instagram videos for reference. Live tutorials done by makeup enthusiasts are helpful, but you get a transparent picture of all the odd situations you might have to face and a solution for them.
The first and most crucial step is to prep your lashes because a clean canvas makes the product stick better. You can use Lashify's Pre-Cleanse solution to do this. A lint-free cotton pad or a disposable mascara spoolie will be a feasible option to wipe your lashes clean before you begin. Alternatively, you can also just wash your face and dry your lashes.
Take the black Whisper Light and apply a thin coat of this to the underside of your lashes. Do this action from the roots until the end, ensuring better application. Repeat this process and go for your second coat. Do this as you wiggle your mascara in a zig-zag manner close to the roots of your lashes. A third coat is required again to put the lashes in place.
Place your desired lash design on your fingers, with the lash fibers going upwards. With the help of the Fuse Control Wand, pick them up from the tip. Skip out a few lash hairs on the innermost corners of your lid, then place the Gossamer on the underside of your lashes. Make sure to do it away one to two millimeters from the waterline.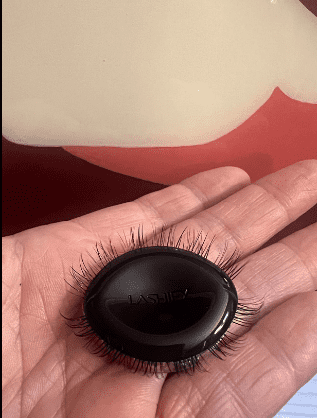 Repeat this process as often as needed to reach the outermost corner of the eye. Skip the last few lashes like you did in the first. Overlap the lashes if you want to conceal any kind of gaps.
Take the Fuse Control Wand with the Wandoms for better application as it presses and seals the lash hairs on your real ones. Take the applicator tip and apply a light coat of Glass to the spines of the Gossamer.
Allow it to dry, and your eyes are ready to steal everyone's gaze!
Pro tip:- Make sure that if the Wand gets stuck accidentally to your lashes while pressing, do not tug it quickly or pull it as it can damage your natural lash hair/ or rupture your follicle, which causes breakage. Instead, gently blink until you get the wand out.
How to remove Lashify?
Lash removal doubles the patient process than it took in the application. So you cannot panic. What you need to know beforehand is. The Control Kit doesn't come with a remover, so you can hunt the brand's oil-based make-up remover called Melt Away for this purpose.
Shake up the remover nicely to prevent clogging of the product.
Soak a round cotton pad in it humbly
Gently press the pad against your lashes and hold it over your eyes
Keep it in place for 30 to 60 seconds, as it will dissolve the excess bond
Do not tug, rub, or pull your lashes, as you dont want to do any damage
Wipe away the extensions with finesse!
Pro tip:- Hot seamy showers or direct contact with water like in a pool, bathing can also loosen the bond and allow your lashes to come off quickly.
If you do not have Melt Away, then no worries. You can use any other make-up remover. For example, you can get help from options like Lashify's portable Release, a dissolving oil, and Pond's Cold Cream. Massage the formula gently, and let it sit undisturbed for 1 to 2 minutes. Then slide them off quickly. Use a gentle cleanser after that to break off any left-behind residue.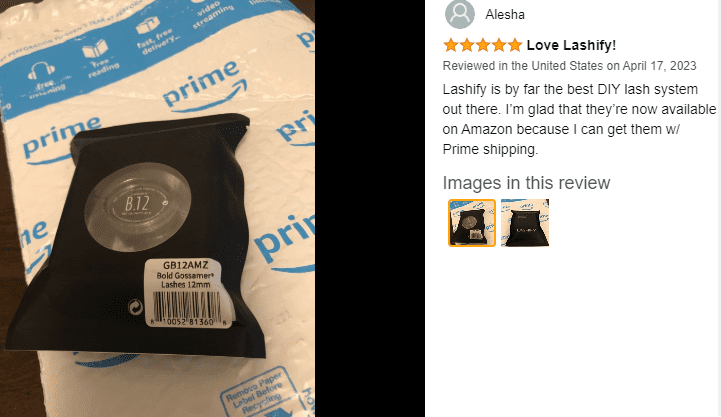 Perks
Very easy and convenient to apply
It saves you a lot of time and trips to salons
The lashes are weightless and comfortable
The glue is flexible and allows you to undo mistakes during the application.
Does not put extra pressure on your lids
They go undetectable and hide the lash strip seamlessly
Many options to choose from, depending on curls and lengths
The lashes are customizable according to your needs
The lasting period of individual lashes is up to seven days
They are straightforward to remove
It doesn't require dollops of mascara or makeup
Boost current volume and adds definition
Designed to last longer than traditional false lashes
You can reuse the lashes back to back
This lash kit is very affordable than eyelash extensions
Drawbacks
The lash bonds will break off and come apart upon coming in contact with any kind of oil.
Still, very time-taking takes practice to put the lashes ideally.
Names of different designs could be more precise for the customer.
These don't last as long as professional lash extensions.
It may come off during sleep.
These are very expensive compared to lash strips.
Do you find Lashify a little expensive? Here are some Lashify dupes that won't break your bank.
How Long Do Lashify Lashes Last?
These lashes' first day's beauty cannot be compared to any other day. According to reliable sources, the lashes do last a long. But this may be different for everyone. For some, the lashes lasted for seven days, just liek the brand claims, whereas some had to put them away on day five. Some users also felt that the lash bond was weakening after the first day, which can happen if you haven't been through with your application. But mostly, they will still make your eyes look good at the end of day four!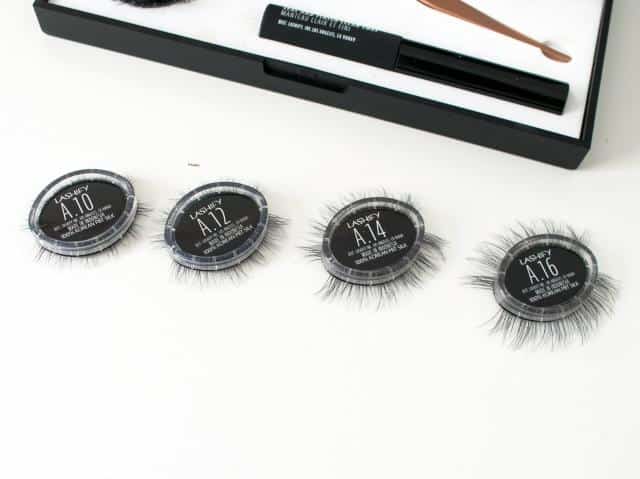 Who Should Wear Lashify?
Those who have gaps in their lid lines.
Users who want to amp up the length of their lashes.
People who have thin lashes which do not look good even after mascara
Those who want to add that extra bit of volume and wispiness
People who love to do eye makeup
Those who do not wish to use falsies every day
People who want to eliminate all the time that is required to put bad glue on their lashes frequently.
Customer Feedback | Lashify Reviews
After scouring through many top magazines online, it has come to light that Lashify Lashes are stealing hearts from all over the globe. These DIY extensions mostly turn up the wheat because they give you the perfect volume and length to add that fluttery feeling compared to falsies. There are soem downsides too that users are facing. Given below are soem statements that reliable sources have shared regarding their experiences. Take a look at them!
Amanda mentioned, "I have not used fake lashes that many times in my life, and all the times I have done it, there are at least two other people in the room to help me with it. So it has always been a very hectic job for me. I remember seeing many tutorials to get it right in the first take because I did not want to waste any product.
I have to say the small strips of Gossamers were convenient and easy to use. I could clamp them into place without messing up the particular glue, which is good. I think I may be finally getting the hang of using these extensions. My husband is glad he does not have to take me to the salon again for this!"
Christina said, "After seeing so many ads, and influencer videos, I decided to give them a go. However, DIY lash extensions are costly, and I dont understand how many people buy them. I bet I could get a lot of good mascaras or lash-enhancing serum at that price."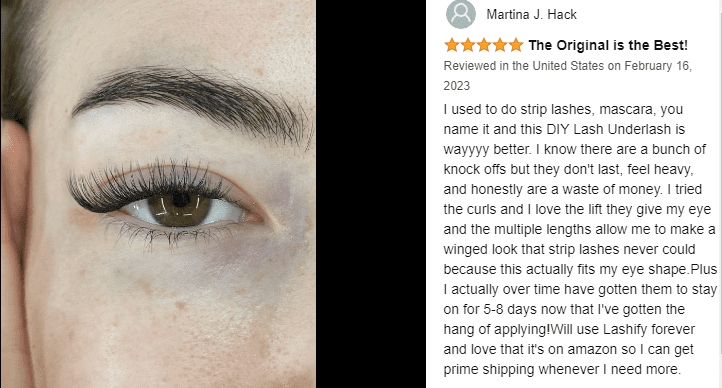 Lizelle expressed, "Wasn't sure at first but used them anyhow. Contrary to the brand claims, these extensions took me much time to apply, maybe because I am a beginner. But the final look they produced was unexpectedly unique. My eyes look fluttery and wispy, and I can't stop staring in the mirror all day. I love how these add so much definition that it has enhanced my hooded eyes even more."
Rachel pinned, "I sleep on my left side most days because I feel comfortable that way. And this has become a bad thing for me now. The lashes come off after four to five days, and I must reapply them often. I wish there were something else I could do."
Samantha W. commented, "All the ladies must try this one out right. You might have to experiment and surf to find the perfect fit for your eyes, but it will be worth it. These lashes instantly brought many highlights to my eyes, and I loved how I looked, especially in pictures!"
FAQs | Lashify Reviews
Can you wear eyeliner with Lashify?
Yes, Lashify claims that its lashes are very much compatible to be used with eyeliner. This is because these DIY lash extensions are applied directly to your lashes from underneath, whereas the liner is applied on top of the lid. This way, the liner won't mess up the lashes. There is no direct contact between them which makes the whole process easier.
Can I sleep with my Lashify?
You can sleep with these extensions placed on your eye. That is because these are designed with a special bonding agent, formulated only to be on your eyes even while you indulge in waterful activities like showering, swimming, exercising, and sleeping or if you are going for a spa day! The brand further assures clients that the lashes will not affect their lifestyle. However, some reviews claim that when you sleep on your sides, the lashes may come off in a few days because of this.
Why won't my Lashify lashes stay on?
This is a common misconception that most of the face that using too much of the product will make your lashes stay longer and better. However, this is where it needs to be corrected. Over-bonding is a bad idea as it will prevent the tiny pods of gossamer from sliding off smoothly. Extra glue will prevent adhesion and also create more stickiness. This might even irritate your eyes by getting inside them. The waterline will also get itchy and uncomfortable because the lashes do not stick there.
Do celebrities use Lashify?
Lashify won the vote of approval of a lot of celebs. Hollywood diva like Jenna Kristina is reportedly to be a big fan of Lashify. Apart from her, Megan Fox, Haley Lu Richardson, Meghann Fahy, and Jennifer Coolidge are all excited about their journey with this brand.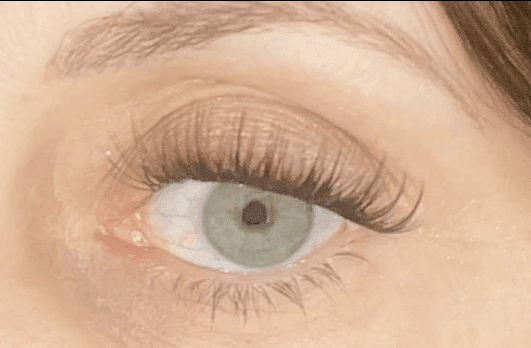 Can I swim in Lashify lashes?
Lashify lashes feel proud to be water resistant. This allows you to swim wearing these lashes and do other water sports without any worry. You can also exercise and sweat while wearing these lashes. However, you must wait 24 hours before getting these lashes wet. Also, prolonged exposure to steam from hot showers can loosen the Gossamer® lash and soften the bonds. So make sure to dry your extensions before fusing.
Can I reuse Lashify?
Suppose you have yet to use your classified lashes that roughly or regularly; you can reuse them. Make sure to clean your lashes by wiping them nicely or following the apt procedures, and then you can re-wear them. Take them off if you notice they are losing their shape or not in good condition. Generally, a pair of lashes will easily last you five to seven days. However, this may be different for some.
Closure
Many makeup lovers are taking the plunge and going all out for DIY lash extensions rather than a fake pair of falsies you must use and throw each time. After reading the Lashify Reviews, it is clear that many big names in the industry, like Cosmopolitan, Glamour, and Byrdie, have been discussing it for quite some time.
Its efficacy has taken aback many beauty believers. From what seems the obvious thing, most people are going crazy over these lashes because of many factors that they come with. The most common is they save time, last for about a week, add a beautiful and dramatic effect to your eyes, and fill up the sparse areas in your lids that you are often embarrassed about. You also get to customize them according to your needs.
But just like the two sides of a single coin, this brand has also suffered criticisms. The most common is that they are too heavy on your wallet and do not cater to most people's needs. So, if you are unwilling to shell out most of his cash, you must keep your options handy. Some users were unhappy with the lashes only lasting four to five days rather than a week because of indulging in too many water sports or side sleeping positions.
I'm Sarah Abraham, the founder and co-author of Blushastic.com and a professional makeup artist. Beauty is more than just skin deep, and that's why I'm passionate about sharing my knowledge and experience to help people feel confident and beautiful on the inside and out.
Whether it's skincare, haircare, or fashion, my goal is to empower women to feel their best. With my expertise in the beauty industry, I strive to provide practical advice and tips that are accessible to everyone, regardless of their skill level or budget.