Wake up and makeup. But most of us are still not ready to drag ourselves out of bed, follow 100 rules before makeup, and when we finally perfect it, it all goes black in a few hours. This is where the love for BB creams emerged, as people have little time but still want to achieve that illuminating radiance that blinds people.
Erborian BB Cream claims to be different from all the other boring ones because it can create a baby-skin effect for you instantly! On top of that, have you ever heard of a BB Cream protecting your skin? This one does! You are already excited, but doesn't it sound too sugar-coated? This Erborian BB Cream review will solve your doubts regarding BB cream.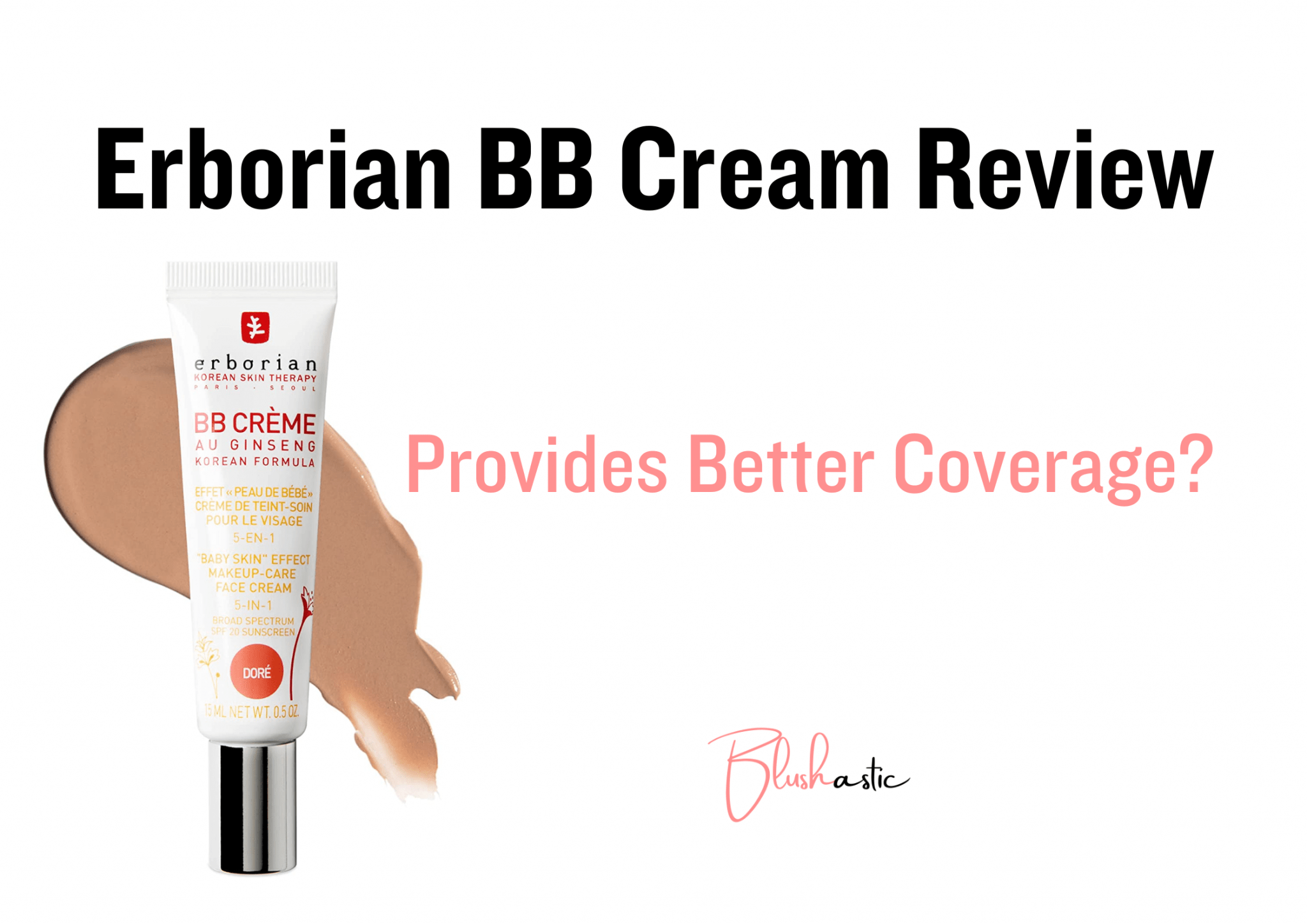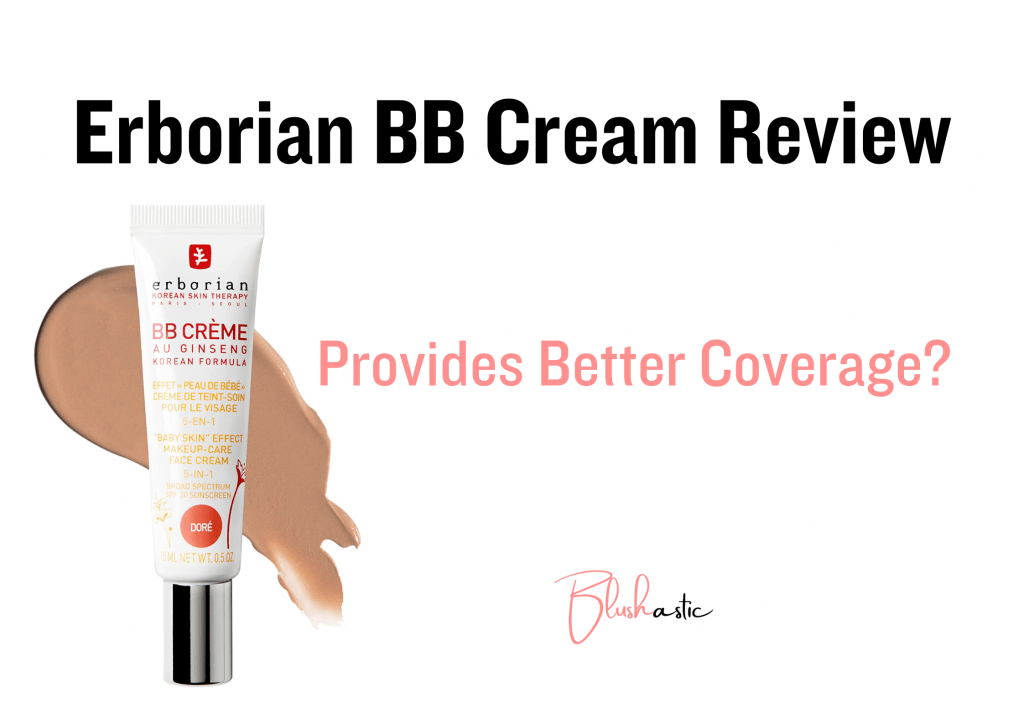 It is understandable if you feel something does not add up. But that is why I have put together this guide on everything you need to know about this BB cream that has made people gaga over it. Let's see if these claims hold up and if everything is accurate.
Erborian BB Cream Review | Baby Skin Even Under Makeup?
Suppose you have been dealing with speculations until now; it's time to stop. After reading the Erborian BB Cream Review carefully, it will be proper to agree that achieving that baby skin effect is possible even after wearing makeup. This may sound like bananas to some people, but it claims to blur your imperfections.
A study done by the brand on people using the cream revealed that 91% of users were happy to see that the cream helped conceal their imperfections, making them untraceable. 97% of respondents approved that the formula allows your skin to breathe without stuffing it too much. After 1 month of regular and consistent usage, 80% of users said their skin felt smoother upon touch. 
Erborian BB Cream with Ginseng, Tan (Dore) - Lightweight Buildable Coverage with SPF & Ultra-Soft Matte Finish Minimizes Pores, Blemishes & Imperfections - Korean Face Makeup & Skincare - 1.5 Oz
Erborian BB Cream Doré: The true secret of Korean skin perfection, BB Cream has smoothing properties of Ginseng with medium, buildable coverage. Your complexion results in a velvety, ultra-soft matte finish. It gives you all the moisturizing, nourishing benefits of skincare balanced with perfecting makeup, for your most flawless complexion yet! Formulated with SPF 20 to help protect your skin from sun damage. Doré is the best shade for medium skin tones. 1.5 oz.
Specialty Ingredients: Our White Ginseng Complex combines white ginseng with licorice, wild yam, horsetail plant and Kigelia to smooth and moisturize your skin. All ingredients are carefully tested for both instant visible results and long-term care.
Korean Know-How: With Korean beauty ideals in our DNA, our products are formulated with the best of tradition and technology. Unique and majorly beneficial ingredients meet hybrid and multitasking formulas, delivering instant gratification and long-term benefits in easy-to-use products.
What's Inside Matters: Erborian products are tested on real people for real results and never ever tested on animals. We also formulate our products to leave out the nasties. No gluten, sulfates, parabens, formaldehydes or forama-releasing agents, phthalates, oxybenzone, or coal tar.
Skincentric With a Beauty Focus: We know the key to complexion confidence comes from both instant results and long-term care. Erborian aims to bring you unique and easy to use products that promise to always put you and your skin first.
This proves the efficacy of the formulas and explains why thousands of makeup lovers are keen on having this in their beauty cabinets and why skincare enthusiasts are taking this with them wherever they go.
The vegan bestseller of the brand has also bagged many awards and does not include any parabens that will irritate your skin. 100% mineral pigments are scattered throughout the cream and help give you the perfect complexion. It also has some fragrance that makes its smell pleasantly fulfilling. But is that alright? 
Erborian BB Cream Ingredients
The primary ingredients that this cream is proud of are as follows. Let us take a good look!
White Ginseng
K-beauty fans can't stop gushing over this ingredient's multifold benefits, as it will infuse collagen and promote elasticity, making your skin softer. According to Healthline, these roots improve the circulation inside your dermal layers, enhancing skin health. This complex has been further loaded with herbal plant extracts like wild yam, kigelia, horsetail, and licorice, which help even out your texture and give your complexion a glowing, bouncy feel from within.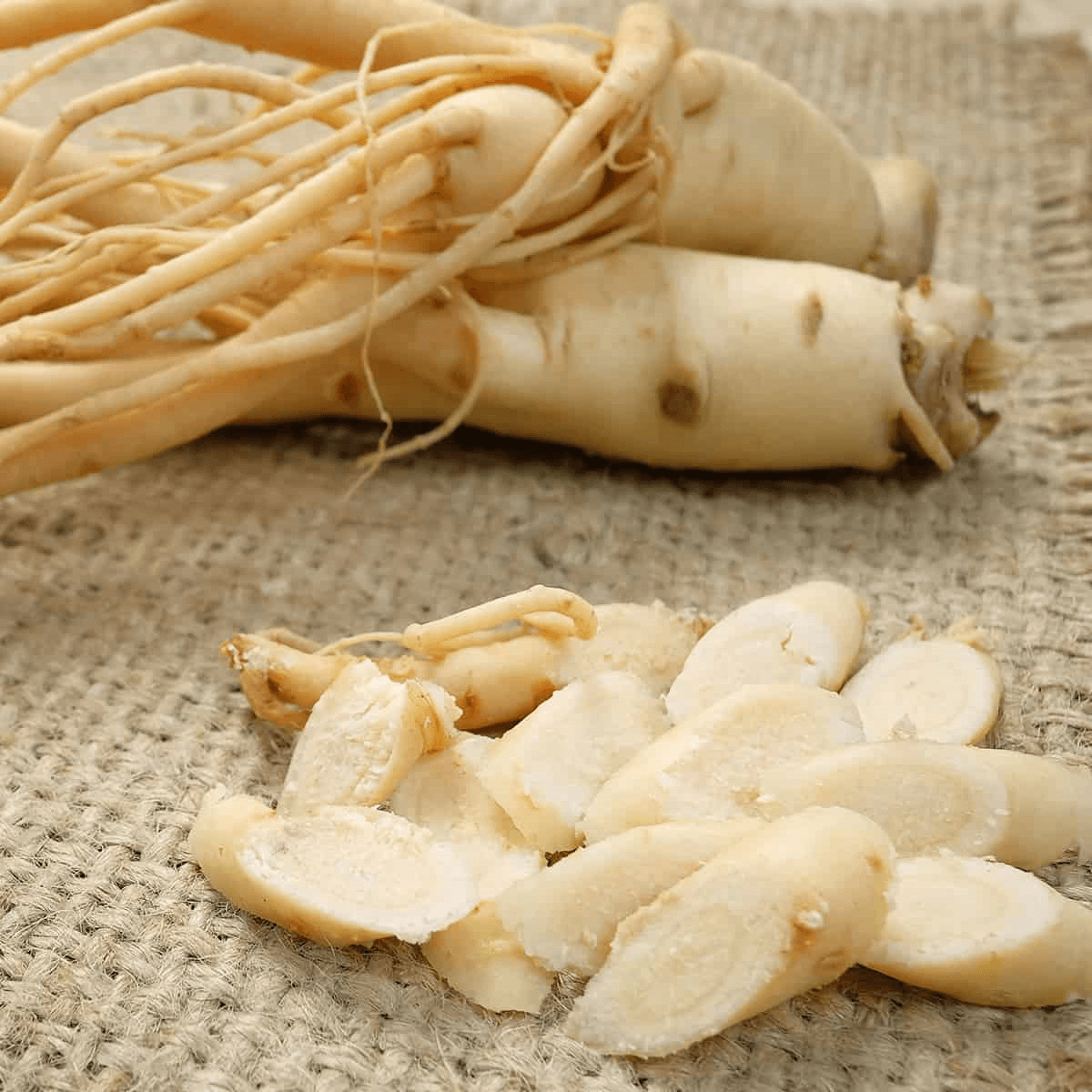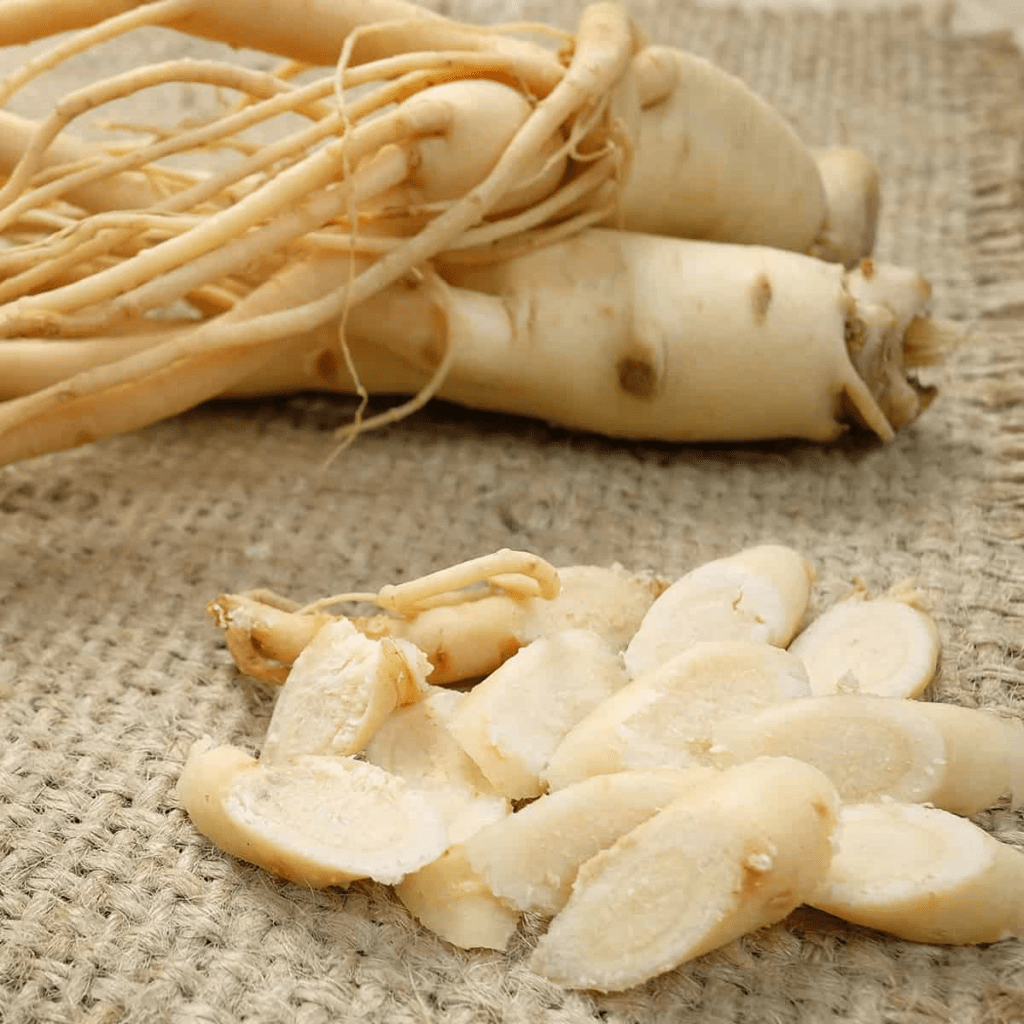 Fermented Ginseng Flower
The fermented form of ginseng formula makes it easier to absorb onto the skin by preventing resistance to agitation or stress, which our skin faces daily. This may be emotional or environmental stress and prevents our skincare from working as efficiently as it would work without it.
4% Niacinamide
Niacinamide is the hottest new trend in skincare and continues to be in this position because of its beauty-enhancing properties. This builds keratin and prevents an overdrive of oiliness from sebaceous glands, which is a significant factor in keeping your skin healthy. This gives more benefits, like preventing clogging of pores and keeping breakouts at bay. This percentage also helps in dealing with acne and treats hyperpigmentation.
Glycerin
One of the primary reasons for infusing the BB Cream with glycerin is to keep your skin soft and supple. Makeup usually feels harsh after some point, which bothers your canvas and leads to dryness or caking. This emollient ensures the consistency is creamy and velvety so that your skin can retain moisture beneath it and feel refreshed and breathable for the rest of 8 long hours. It also possesses antimicrobial benefits, which shield your skin's barrier.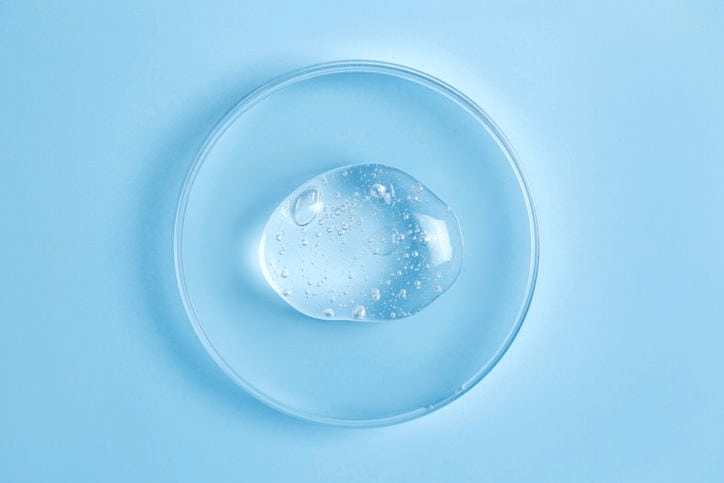 Sun filters
Sun filters like iron oxide are present in the formula, which is an effective tool to deal with the harmful effects of UVA and UVB rays of the sun. This way, this BB cream helps you avoid problems from environmental aggressors.
Who Should Use Erborian BB Cream?
Those who like to have a moisturizing factor in their makeup
Users who need a BB cream with sun protection that filters out harmful UVA and UVB rays
People who do not like comedogenic makeup
Those who opt for lightweight and breathable formulas
Users wanting to receive their skin's bounce
People who want to introduce radiance to their complexion
Those who want to hide blemishes, dark spots, and other imperfections
Users who try to stay away from cakey makeup
Those who wish for better coverage than a regular and boring BB cream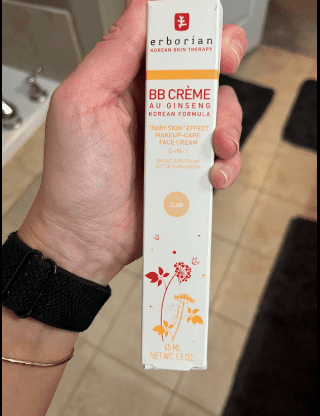 Who Should Avoid Erborian BB Cream?
People who are outside for a more extended period need a higher SPF.
People with significantly darker skin tones, as only dark shades in this series, may not complement your complexion.
Although the brand does not use cruelty-free products, pregnant women should consult their doctor before using them.
Breastfeeding or nursing women should take prior medical advice before incorporating this cream into their routine.
People with extremely sensitive or acne-prone skin should consider doing a patch test first because the brand is not entirely free of preservatives.
Perks 
Lightweight and easily blendable
The product comes in 5 exotic shades to choose from
Feels rich and velvety
It does not leave behind greasiness
Infused with SPF 20 that shields the skin against UVA and UVB rays of the sun
The formula contains 100%mineral sun filters to keep oxidative stress at bay.
It does not form a cakey or cement-like appearance
It delivers more coverage than the BB Cream
It gives you a clearer and brighter skin tone in just 28 days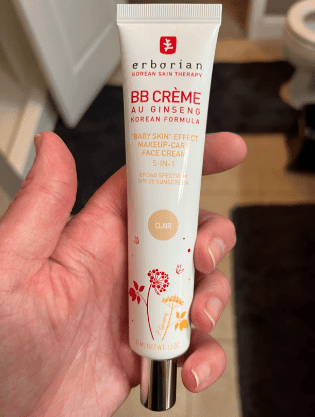 Drawbacks
A bit expensive
There is some fragrance in it, which might bother some users. 
How to Use Erborian BB Cream?
Wash your face with a gentle cleanser
Pat dry with a clean towel
Make sure there are no water droplets
Complete your skincare routine
Apply a modest amount of the cream on your fingertip all over the face and neck.
Do this from the center, and work your way toward the outward direction
Blend all the formulas with a brush or a beauty blender. You can even use your fingers.
Time to look your best!
Later, you can take the help of a makeup remover oil to get all the product out of your face efficiently. You can also use Centella Cleansing Oil, and the Centella Cleansing Balm, which are the brand's top picks to remove any residue from the cream.
Customer Feedback | Erborian BB Cream Review Before and After
To meet a new acquaintance, with the pressure of liking them or not being able to get along with them, is quite severe. Therefore a little backstory always helps to mend your thoughts. Skincare is the same. Knowing what you are stepping into before you do it is always good. At this point, you could use some help to help you make your decision without bias. So we collected genuine statements from users who purchased this cream after reading many positively overwhelming reviews online. Real-time sources have shared their journey with this glow enhancer. So let's find out if they will purchase it again or say goodbye to this tube forever.
Emily mentioned, "My love for BB creams is on the next level, so you must know I had to buy it when I started hearing so much praise. All of our cousins purchased it on the same date because we wanted to be sure about its efficacy. On my first day of application itself, I was impressed with the formula. It sat on my skin without feeling heavy and did not feel like I was putting on makeup. What I loved the most is that it does not become cakey or start cracking up. I am also impressed with how it gives my skin a lovely flush of radiance and feels comfortable to wear from morning to night."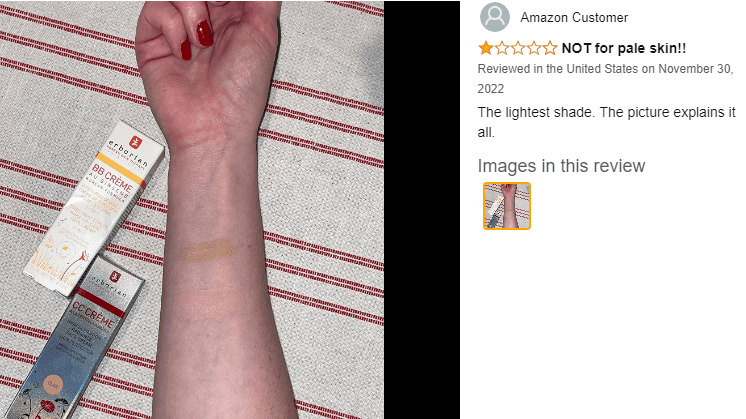 Gabriella commented, "I was very excited about this, but it did nothing for my skin. There was no improvement or any bad effects. My skin as it is after using it for a week, as before that. I could have saved my money if I had done more research."
Candice said, "My skin loves the mere touch of this velvety cream. I did not find it earlier. Everyone should have this in their makeup vanity!"
Monique pinned, "Never in my dreams will I purchase this again. I just did it for the sake of trying something new. I understand it makes your skin look good, but I have cheaper alternatives, and they work just the way this does. So this one is a no for me."
Portia expressed, "Love that there are so many shades to choose from. I do a lot of mix and match to create different looks for different occasions. That is exactly why this cream has been a great addition to my makeup routine. What stood out for me is the skin-loving ingredients put in this to recharge your skin with nutrition while making you look flawlessly photogenic! Honestly speaking, I can't wait to buy another tube!"
FAQs | Erborian BB Cream Review Before and After
Is the Erborian BB Cream safe?
The formula has been approved by dermatologists who swear the procedure is non-comedogenic and will not block your facial pores or cause acne or breakouts. Ingredients like white ginseng with licorice, wild yam, horsetail plant, sun filters, glycerin, and kigelia have been encompassed into this mixture to give your skin a boost of youthfulness, moisture, and relief from environmental aggressors that steal our beauty. 
What is the difference between BB cream and CC cream Erborian?
Coverage is the most crucial difference factor between the Super BB and CC Cream from Erborian. The Super BB cream has the highest coverage, which hides your blemishes, spots, and other imperfections with finesse. It leaves your skin looking flawless, without any hint of product on it. At the same time, the CC cream possesses the lightest coverage and can only help to conceal minor flaws. So, in other words, it can be said that the BB cream can replace your foundation, and the CC cream can form a skin-like coverage with its lightness. 
Does Erborian BB Cream have any side effects?
There is no mention of users facing any side effects from this on the brand's official page. They do not test their products on animals; they are non-comedogenic and safe to use.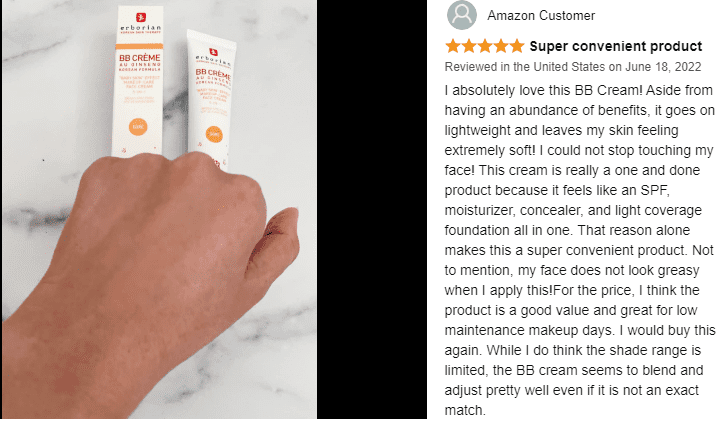 How long does Erborian BB cream last?
The cream infuses a glowing radiance into your skin without feeling heavy or shiny. It has buildable coverage, which goes almost untraceable on your canvas, and is suitable for wearing daily. You can apply it on your face and not worry for the next 8 hours, for it lasts smoothly.
Is the Erborian BB Cream good for mature skin?
According to reviews from users, and the claims by the brand, the Erborian BB Cream will complement your mature skin nicely without any fuss. It has hydrating properties that supply moisture to your skin and balance out any extra oiliness. The formula is super weightless and absorbs evenly on your skin without settling into the fine lines or causing creases. Not only that, the procedure does not powder at all. It lasts long to give you good daily coverage and promotes a healthy appearance.
Where to buy Erborian BB Cream?
There are a couple of places that you can go to to buy the Erborian BB Cream for yourself. You can shop online from Amazon, Walmart, Ubuy, and Desertcart. Users can also visit the brand's official website and order from there. This allows you access to a lot of information you might need before and after purchasing the product. There are usually a lot of discounts going on, so you would save considerably less.
Closure
BB Creams have been the obsession of those who fall between makeup and non-makeup users. You don't want to go all out, but you also don't want to have the FOMO of it. All thanks to my Erborian BB Cream Review, which gives users a lot of closure on its dos and don'ts. I scoured many articles that clearly show how users react to it. While most of the makeup community is crushing over this BB cream daily, some are not very impressed because of its fat price tag. If you are on a budget, this may not be your option.
Some are even upset that they cannot use it because it has fragrance. However, you can go for products with similar ingredients that are available for a cheaper rate. On the other hand, a good part of the beauty town remains satisfied that this feels weightless and does not cement or crack your skin like other BB creams do after some time. On top of that, users also love that it is available in 5 different ethereal shades, which gives you a lot of room to experiment and play around. 
Marilyn's deep interest in fashion, beauty, and lifestyle has led her to pursue a fulfilling career as a freelance writer and blogger. With her bachelor's degree in fashion design from the Fashion Institute of Technology, she has developed a keen eye for style and trends, making her well-equipped to offer valuable insights into the latest fashion and beauty trends.